Thin and crispy M&M Cookie Brittle – the taste of a cookie, with the crunch of a brittle. Beware: disappears quickly!!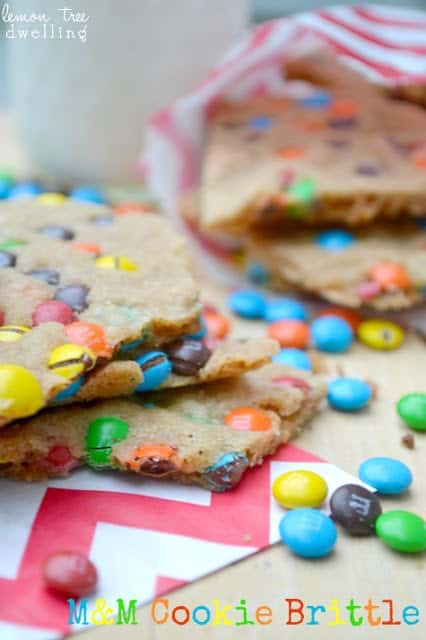 One thing that is definitely true about me is that, left to my own devices, I'm a nibbler. Especially when it comes to desserts! A nibble here, a nibble there….and before I know it, I've made a serious dent in the plate or pan of whatever it is I'm nibbling! When I was a kid, I used to think no one would notice – that the ever-shrinking pan of brownies would somehow never look any different to anyone else. I'm quite certain I was wrong…(when half the pan is suddenly gone, people notice! Even if it happened one nibble at a time!)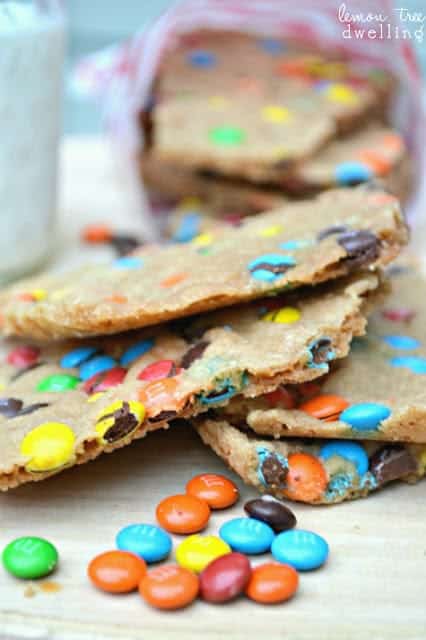 As an adult, I still try to trick myself into believing that the nibbles don't count. At this point, of course, I'm less concerned about someone else noticing….and more concerned about making sure my pants still fit (which is a real concern when you're constantly making and sampling new treat recipes!) Let me give you an idea of how it goes: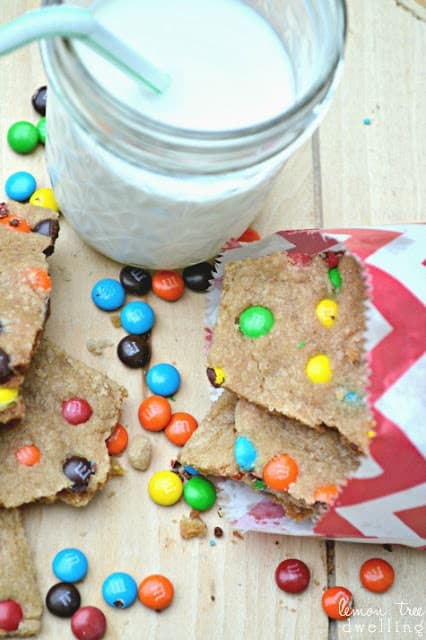 Hmmmm…..wouldn't it be fun to try making Cookie Brittle!? I wonder how you would go about changing a cookie recipe to taste more like brittle. Attempt #1: Peanut Butter Chocolate Chip Brittle: after 4 nibbles, I decide it tastes burnt. Attempt #2: M&M Cookie Brittle: tastes just like cookie cake. After 7 nibbles, I decide it's good, but definitely not brittle. Attempt #3: Triple Chip Cookie Brittle. I like this one. After 9 nibbles I decide it has a little too much butterscotch and not enough color. Attempt #4: M&M Cookie Brittle, perfected. Thin, crispy, colorful, and DELICIOUS!! So delicious, in fact, that after 18 nibbles I decide I should probably send the rest to work with Jorden. And I do.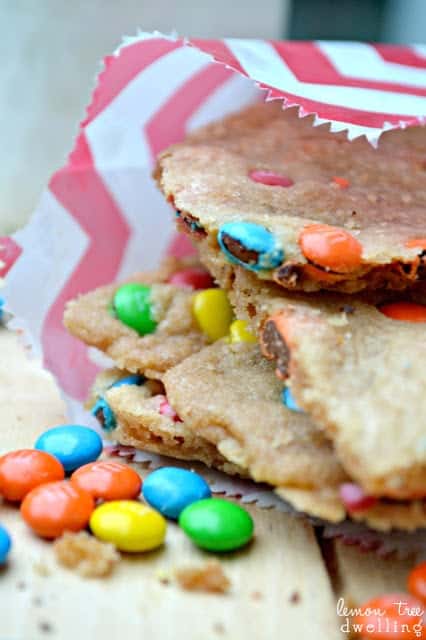 The good news? No more nibbles for me. Which is also the bad news, of course….but good for now. Because, after a while, my pants really DO notice! Go figure.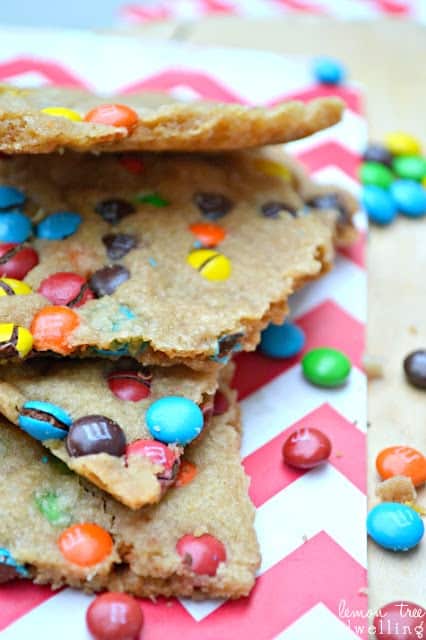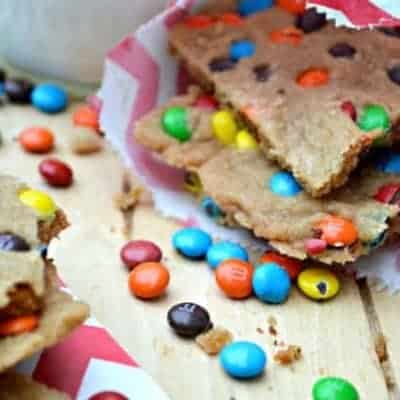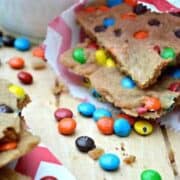 M&M Cookie Brittle
Ingredients
1

stick

1/2 c. butter, softened

1/2

c.

packed brown sugar

1/4

c.

granulated sugar

1

tsp.

vanilla

1

c.

flour

1/2

tsp.

baking soda

1

c.

mini M&M's
Instructions
Combine butter, brown sugar, granulated sugar and vanilla and mix until smooth.

Add flour and baking soda; mix until thoroughly combined.

Stir in M&M's.

Cover a large jelly roll pan with aluminum foil. Spray with cooking spray and spread dough as thinly as possible (should cover all or most of a 16x12 inch pan).

Bake at 375 degrees for 12 min.

Cool on pan; break or cut into irregular pieces.