If you love all things LEMON, you'll go crazy for these Lemon Poppy Seed Cupcakes! Sweet, dense lemon cupcakes topped with homemade lemon buttercream frosting…these cupcakes are completely bursting with citrus flavor.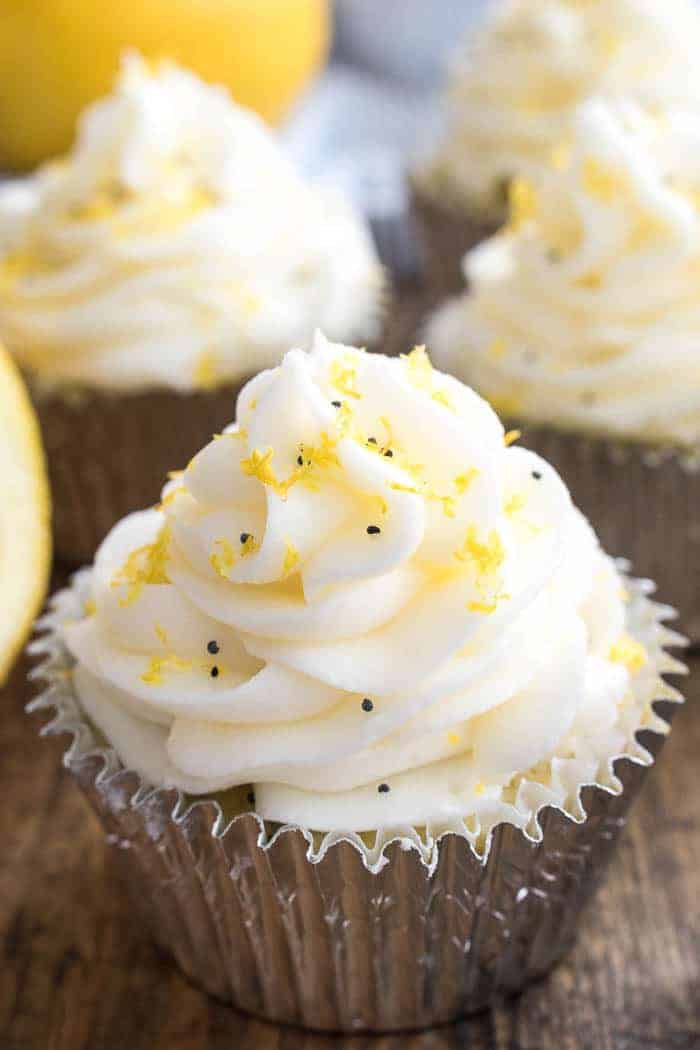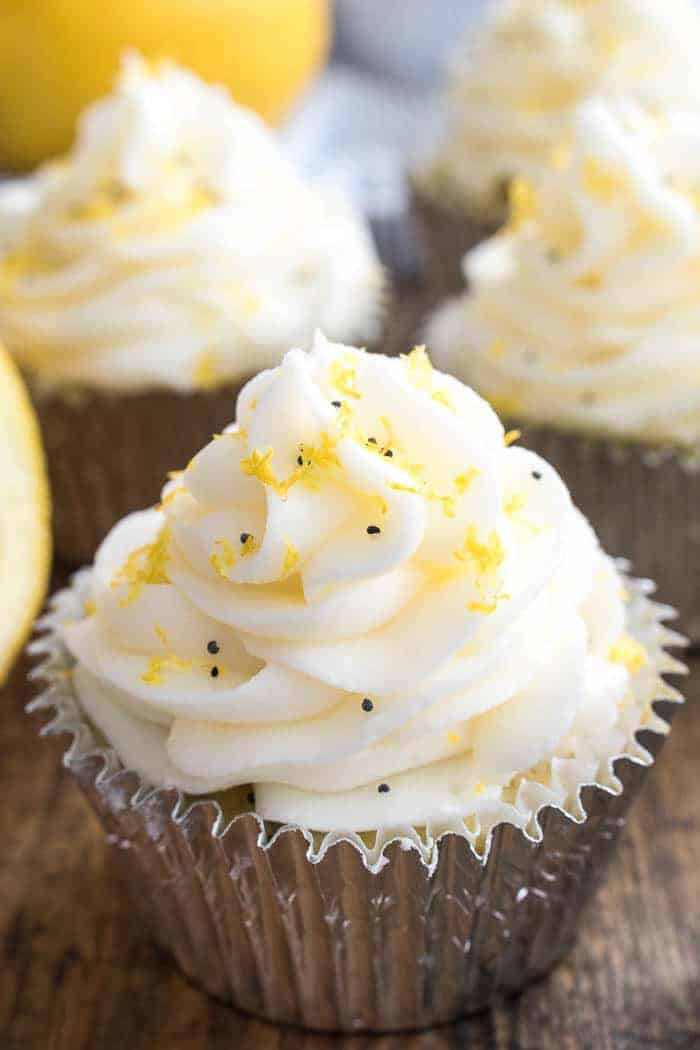 HOW DO YOU MAKE LEMON POPPY SEED CUPCAKES?
Measure your ingredients accurately. Most importantly? Be sure you spoon your flour into the measuring cups instead of scooping. This ensures that your cupcakes won't end up dry.
If possible, use fresh lemon juice. As with any fresh ingredients, fresh lemon juice will give you the most authentic (and delicious) lemon flavor!
Use a cookie scoop to measure batter. I love using a cookie scoop to guarantee that all my cupcakes turn out the same size.
Double the frosting recipe. If you're anything like me, the frosting is the best part. Don't be afraid to double it up!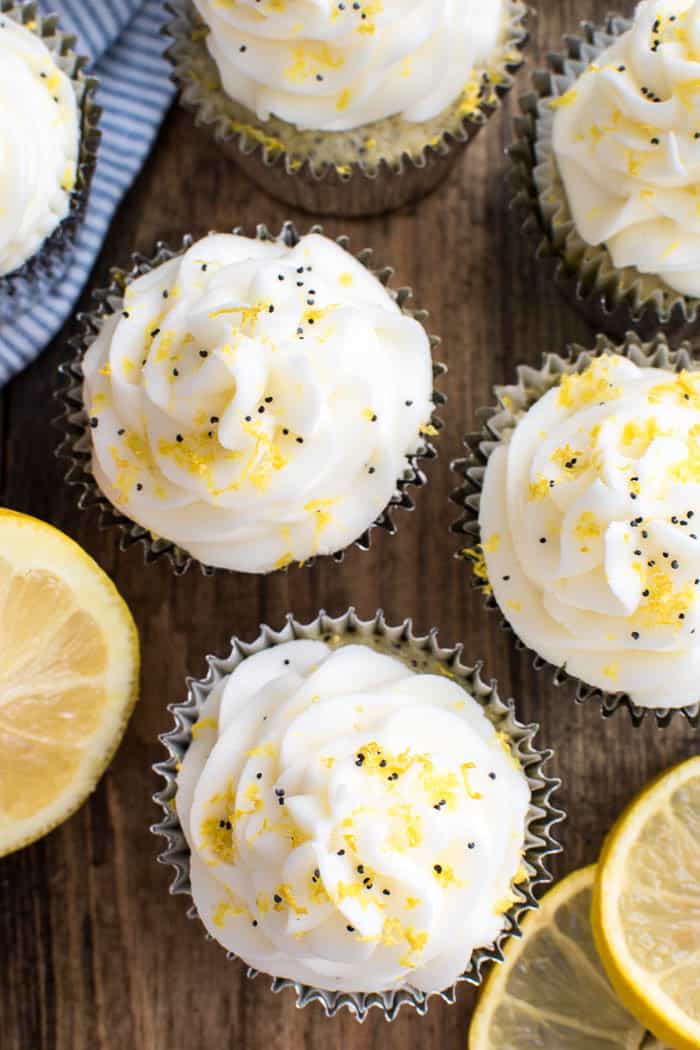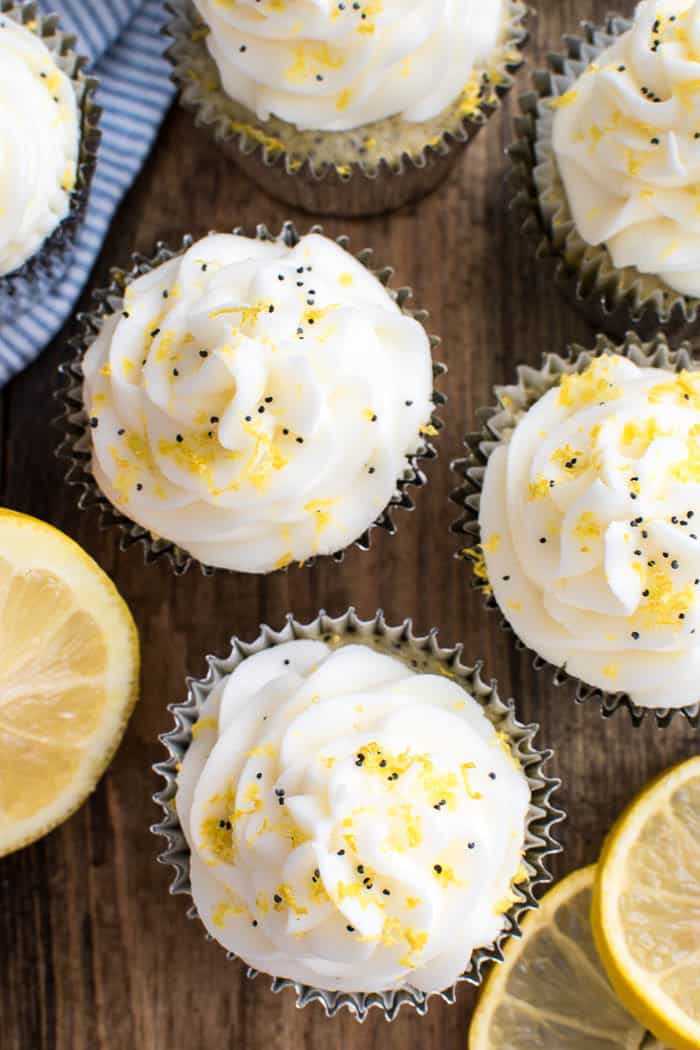 So. I have to say. I'm kind of loving this winter so far. It's been a strange one….that's for sure. A couple winter thunderstorms, some seriously cold weather, snowstorms followed by 50 degree days….
But for some reason, none of it seems as bad to me this year.
Maybe it's just a matter of getting older? And accepting the fact that this IS Wisconsin, after all? Or maybe it has to do with the fact that I don't really leave my house that much? And when I do….I don't really spend any time outside? Or maybe those 50 degree days have been just enough to make it all okay….
Whatever the reason, I'm feeling very content with the fact that it's late January. Which is something I'm not sure I've ever said.
But really…before we know it, February will be here, and then March, which is basically spring! Right?
And in the mean time, I'm focusing on all the good things winter has to offer. At the top of my list? LEMONS.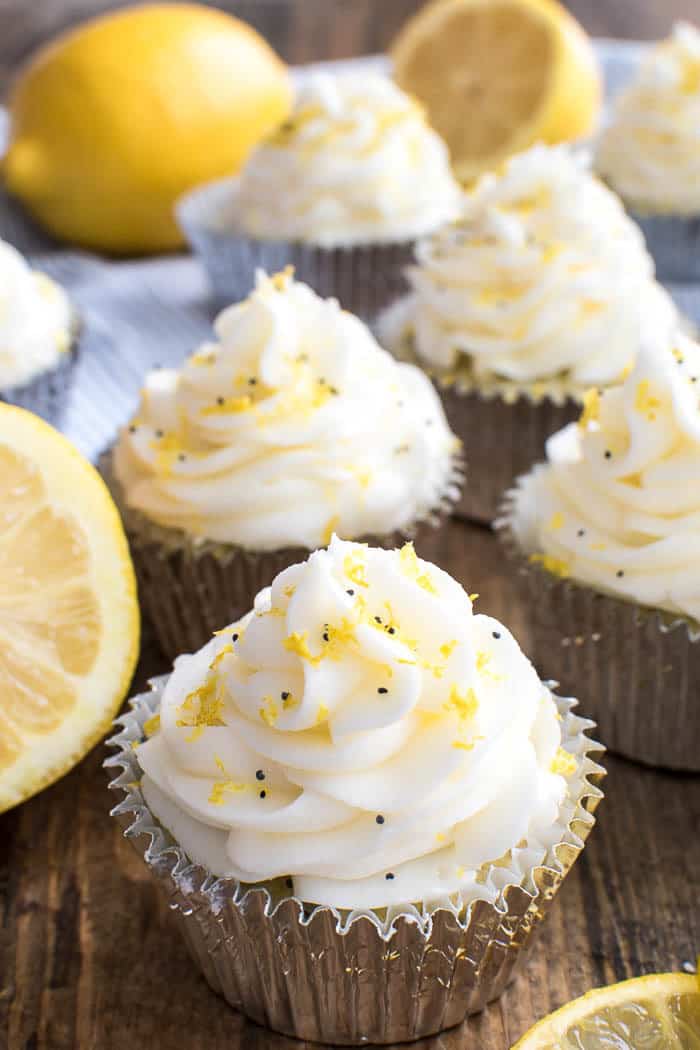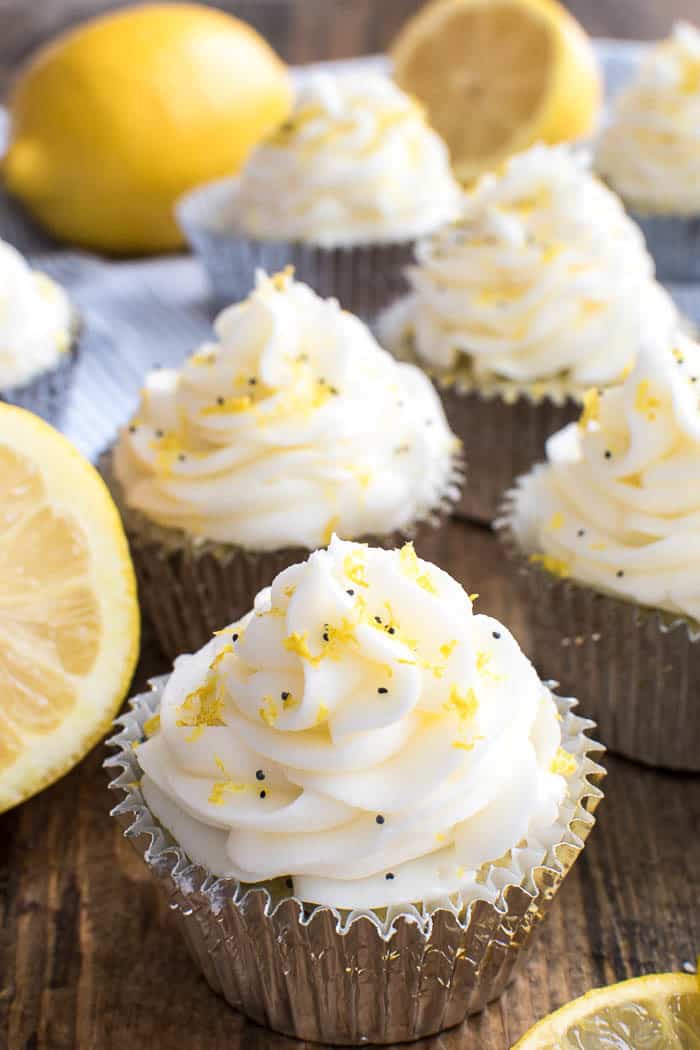 I've been absolutely LOVING lemons! And not just lemons, but all the fresh citrus fruit that's in the stores this time of year. I recently made Lemon Chicken Piccata (SO good) and have had a steady supply of fresh limes on hand for Irish Mules.
But just this week? I've had a taste for something sweet. And these Lemon Poppy Seed Cupcakes came to life.
Not only are they perfect for citrus season, but they're especially perfect for occasions that call for an extra special sweet treat.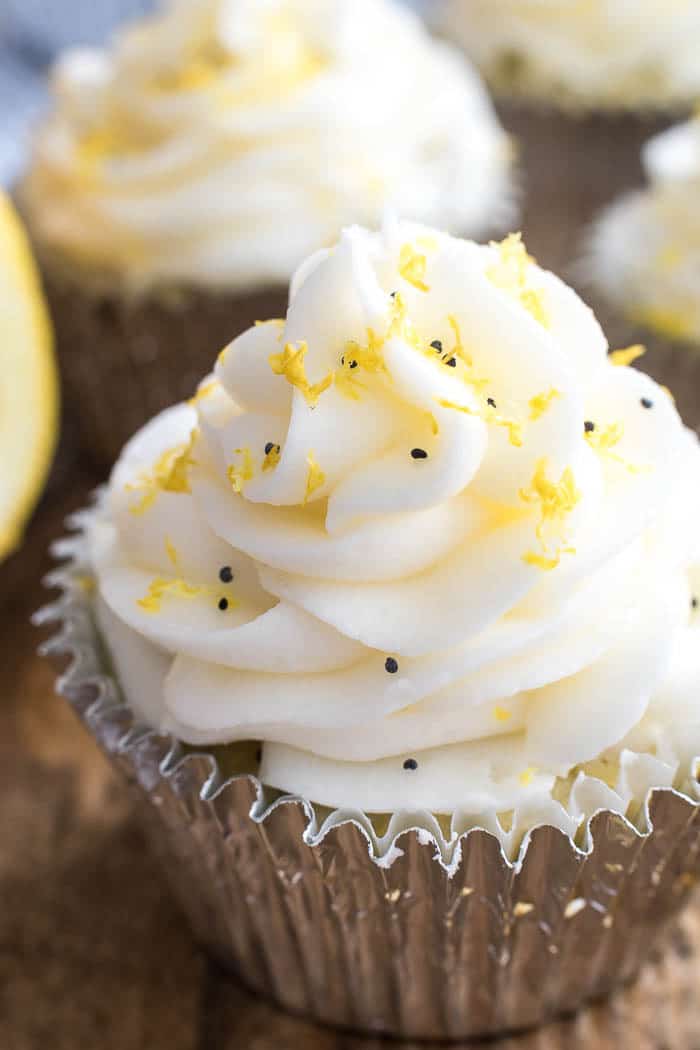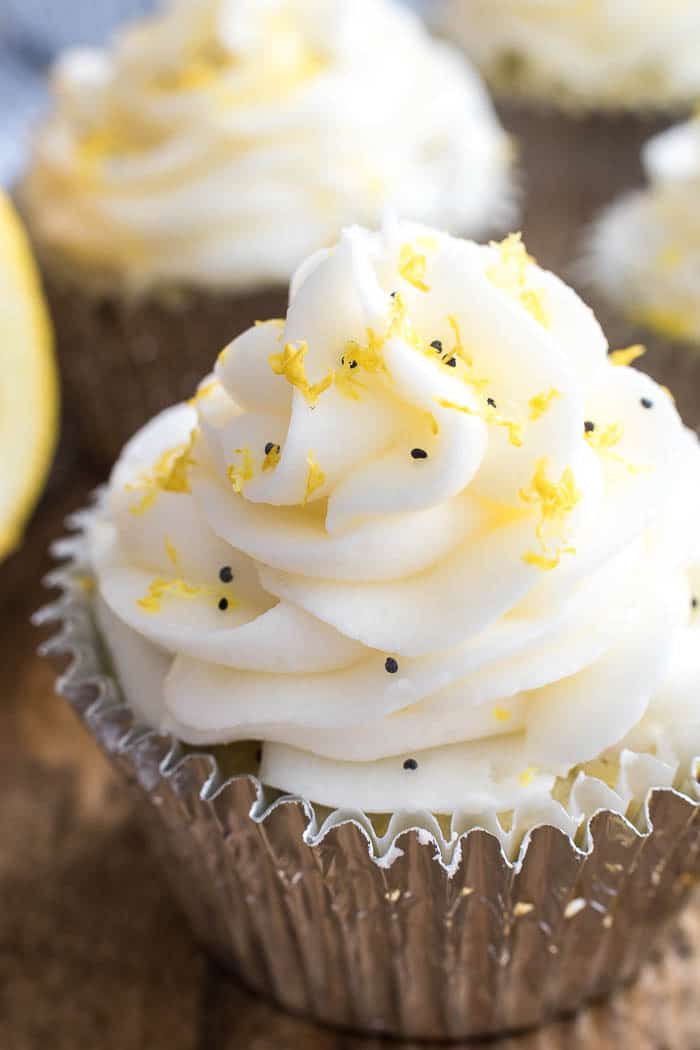 I'm beyond excited today to be part of a virtual baby shower for my friend Lindsay, who blogs over at Life, Love and Sugar, and is expecting TWINS!!! I've known Lindsay for a couple years now, and have been waiting for this day since the day I met her.
I'll never forget sitting in a hotel room with her in San Francisco, listening to her talk about her struggles to get pregnant. And I'll never forget thinking….of all the people I know….what an amazing mother she would someday be.
And then….the announcement came. She was pregnant with twin boys! And suddenly, everything was right with the world.
Now, I know that ALL baby showers are special, but there's no denying there's something particularly special about this baby shower.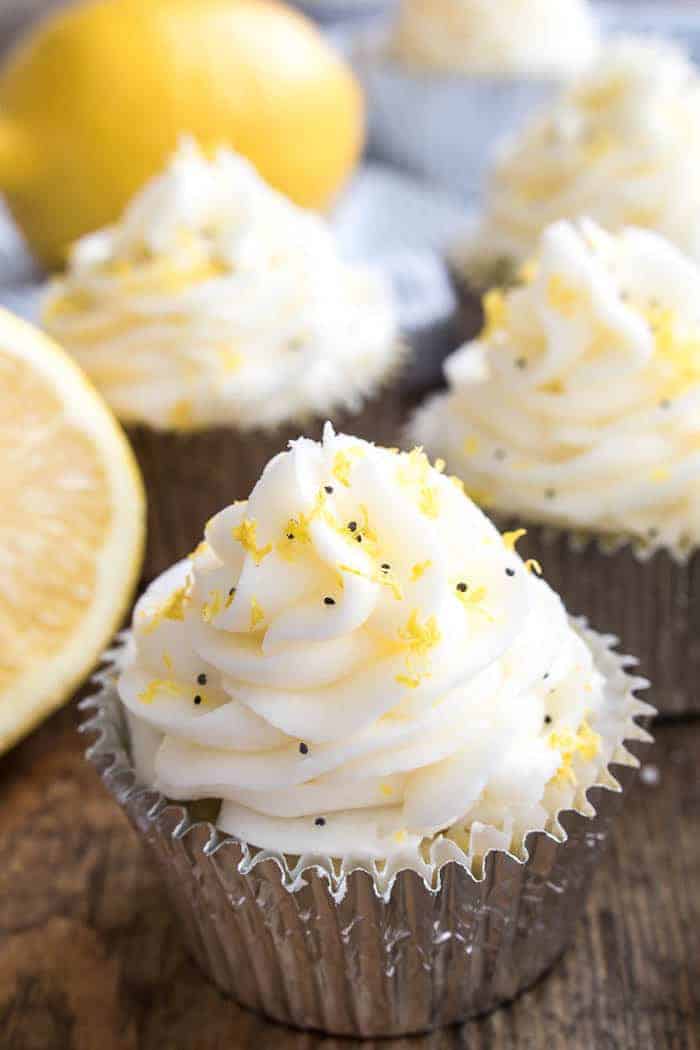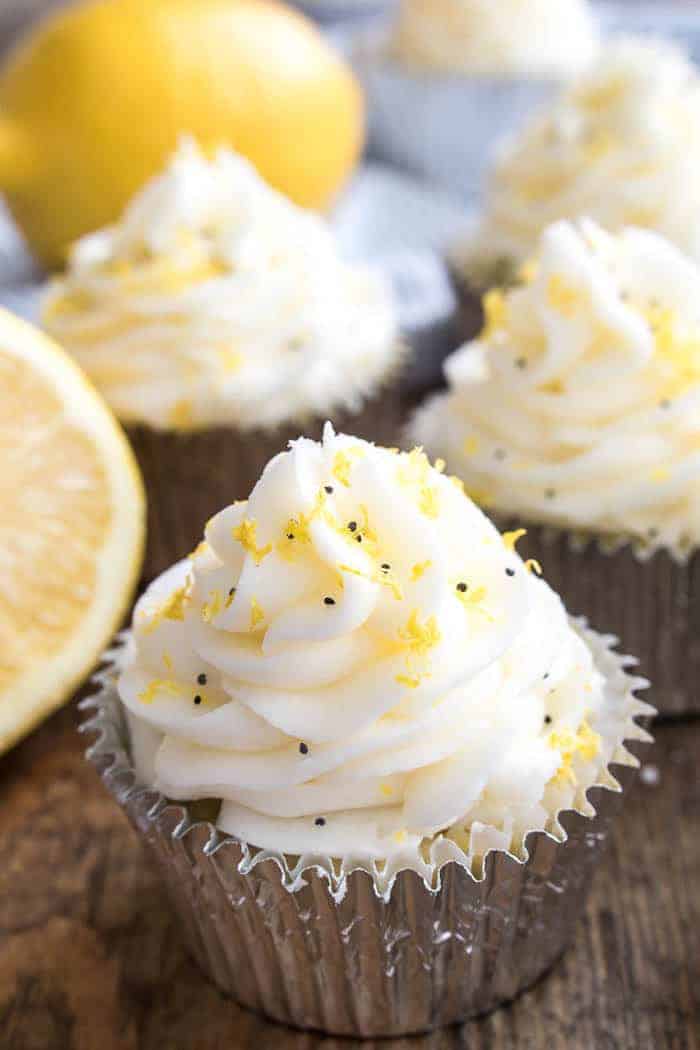 And when you have a particularly special occasion? Of course you want to bring a particularly special dessert. Like these Lemon Poppy Seed Cupcakes!
I don't know about you, but I like my cupcakes a little bit on the dense side, and these cupcakes are exactly that. They're the perfect balance of sweet and lemony and cakey and chewy. And loaded with lemon flavor. In other words, they're absolutely perfect.
And when you top them with JUST the right amount of lemon buttercream? They're out of this world delicious. Perfect for winter, and baby showers, and any time you need something to celebrate. Because these Lemon Poppy Seed Cupcakes are definitely something to celebrate.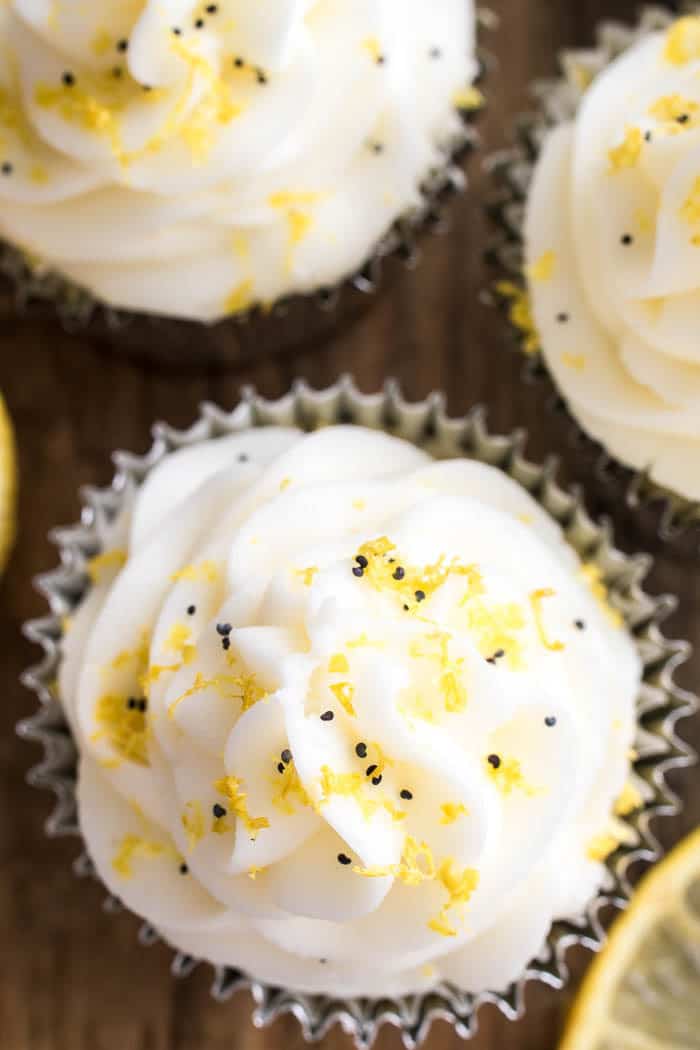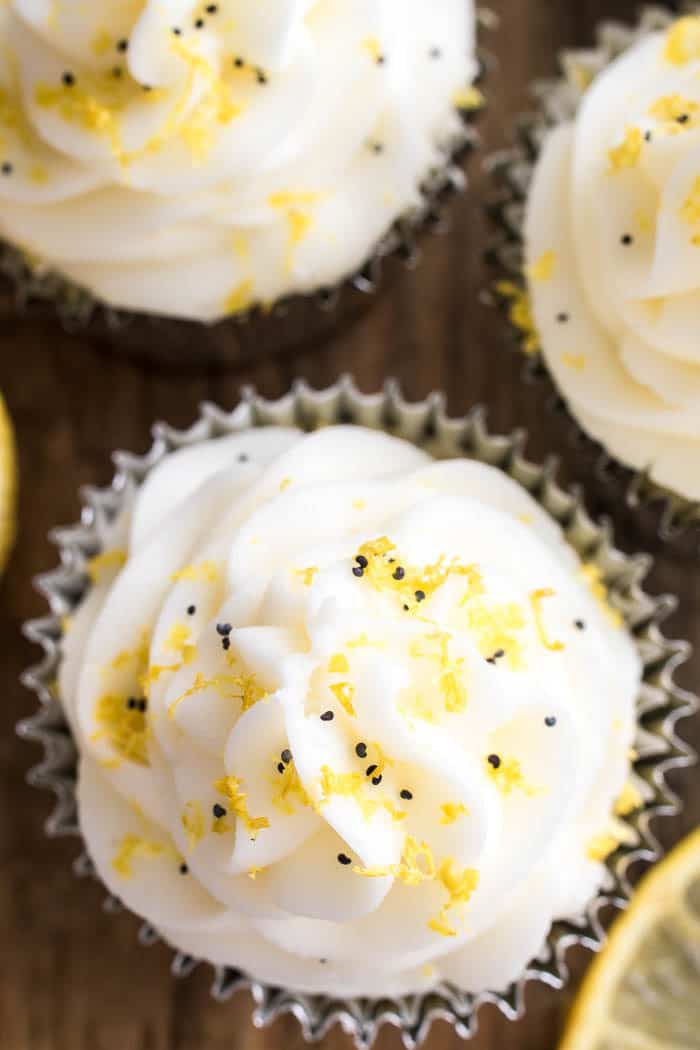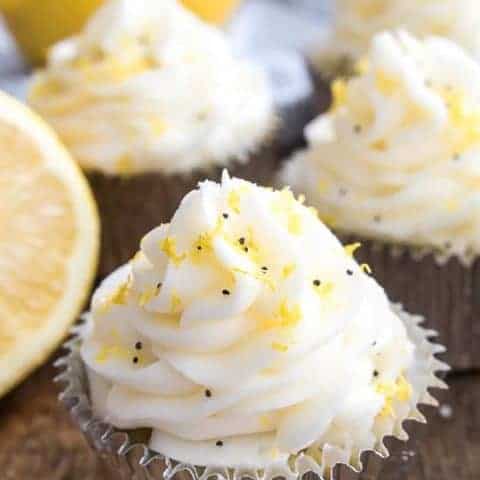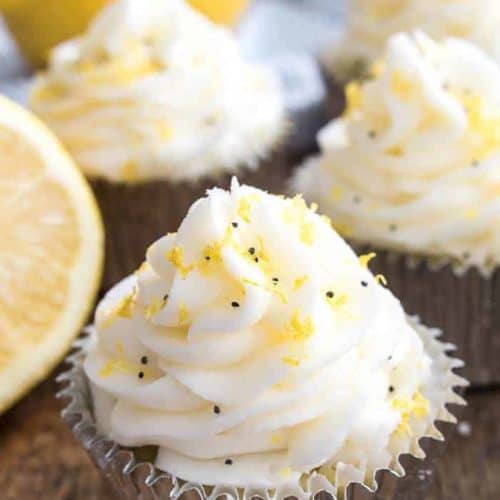 Lemon Poppy Seed Cupcakes
Yield: 24

Prep Time: 10 minutes

Cook Time: 20 minutes

Total Time: 30 minutes

If you love all things LEMON, you'll go crazy for these Lemon Poppy Seed Cupcakes! Sweet, dense lemon cupcakes topped with homemade lemon buttercream frosting...these cupcakes are completely bursting with citrus flavor.
Ingredients
Lemon Poppy Seed Cupcakes
2 1/4 cups all purpose flour
1 1/2 tsp. baking powder
3/4 tsp. salt
5 tsp. poppy seeds
3/4 cup unsalted butter, at room temperature
1 1/2 cups granulated sugar
1 Tbsp. lemon zest
2 large eggs
3/4 cup milk
2 Tbsp. lemon juice
Lemon Buttercream Frosting
1/3 cup unsalted butter
4 cups powdered sugar
2 tablespoons milk
2 tablespoons lemon juice
Instructions
Preheat oven to 325°. Line two 12-cup muffin pans.
In a medium mixing bowl, combine flour, baking powder, salt, and poppy seeds.
In a separate large bowl, beat butter, granulated sugar, and lemon zest until light and fluffy.
Add the eggs one at a time, beating well after each addition.
Add half the flour mixture and beat on low speed just until blended.
Add milk and lemon juice and mix on low speed until combined.
Mix in remaining flour mixture.
Divide batter evenly among the muffin cups, filling 3/4 full. Bake until golden brown, 20-25 minutes.
Remove from the oven and cool on a wire rack.
For the frosting, beat the butter until light and fluffy.
Gradually add 2 cups powdered sugar, beating well.
Slowly add in milk and lemon juice, then beat in remaining 2 cups powdered sugar.
Pipe frosting on to cupcakes; top with lemon zest and poppy seeds.
Notes
For extra frosting, double the recipe.
Nutrition Information:
Yield: 24 Serving Size: 1
Amount Per Serving: Calories: 363Total Fat: 12gSaturated Fat: 7gTrans Fat: 0gUnsaturated Fat: 4gCholesterol: 45mgSodium: 118mgCarbohydrates: 64gFiber: 0gSugar: 53gProtein: 2g