Lemon-Coconut Golden Angel Food Cake is a light and airy dessert topped with lemony whipped cream, toasted coconut, and candied lemon slices. This cake is lightened up with Truvia® and perfect for Easter or any spring celebration!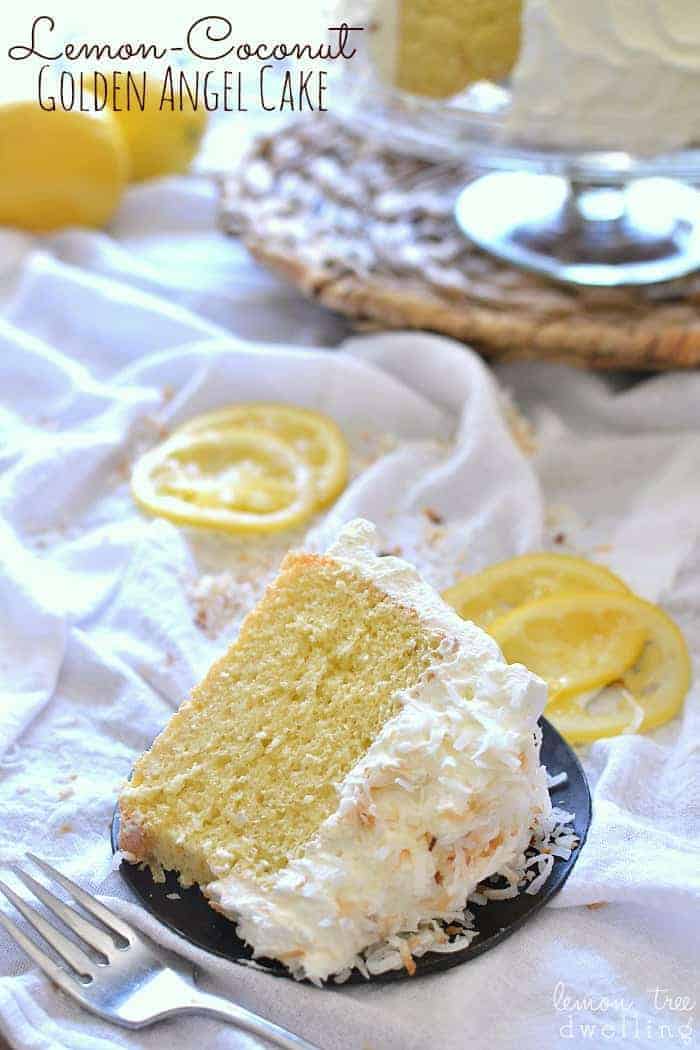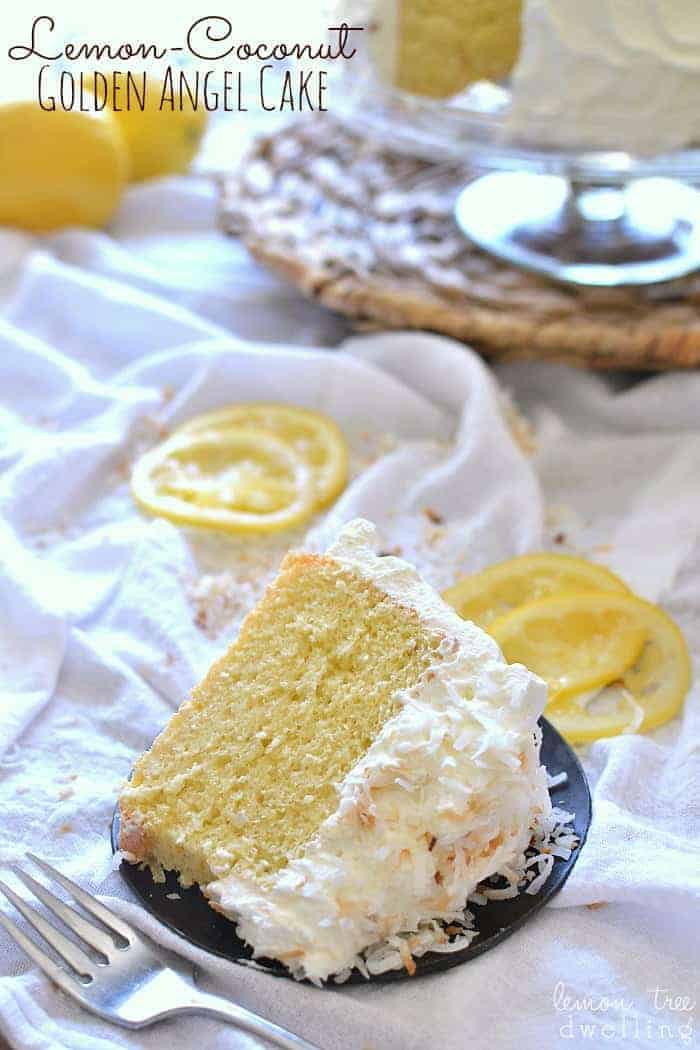 I had a shocking realization the other day, when I was looking through my dessert recipes in search of something that would be appropriate to make for Easter. I found a few cutesy little treats, like Lemon Birds' Nests and Malted Milk Fudge….but nothing that would qualify as an "actual" Easter dessert.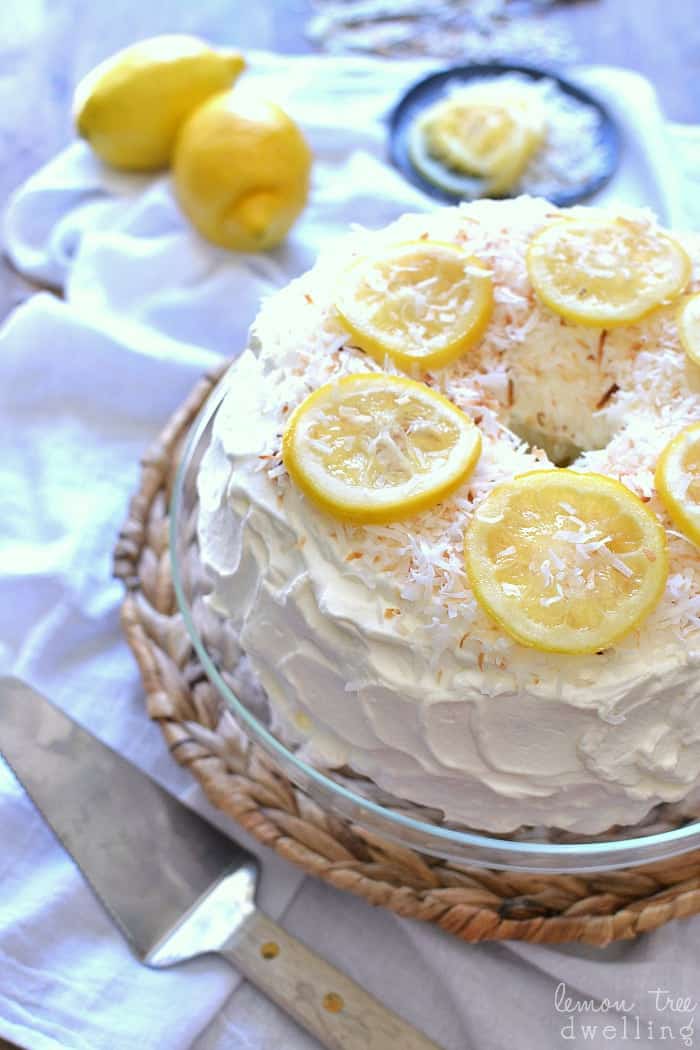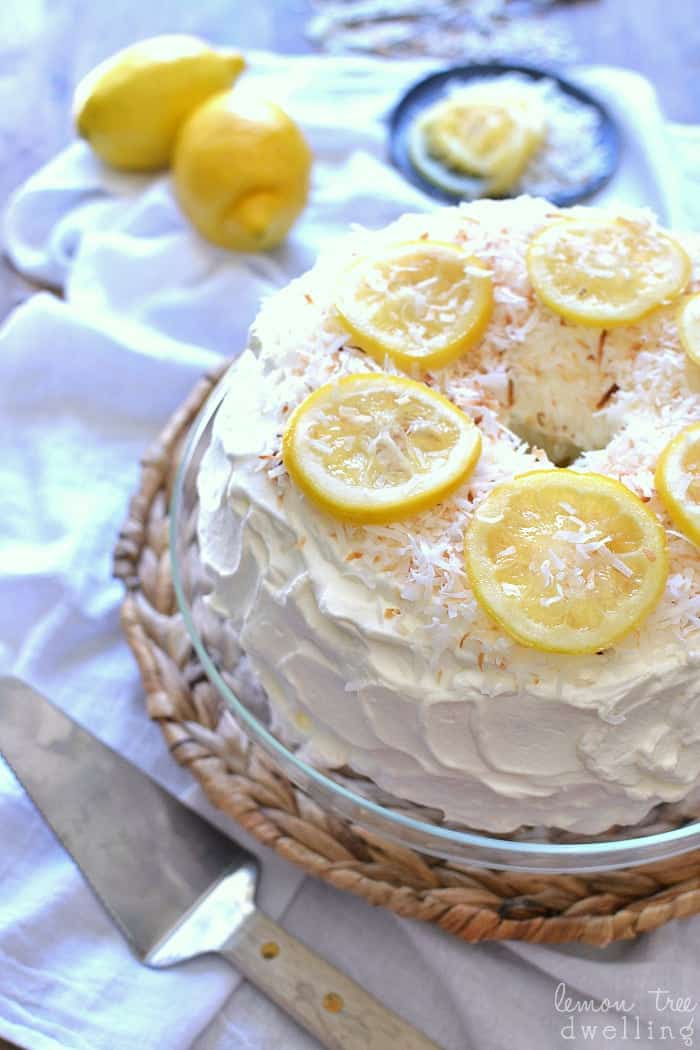 So I decided to expand my search to recipes I've made for other holidays, thinking maybe I could adjust a few things and make it work for our family celebration. And it was then that I realized I am falling seriously short in the celebration-worthy desserts category!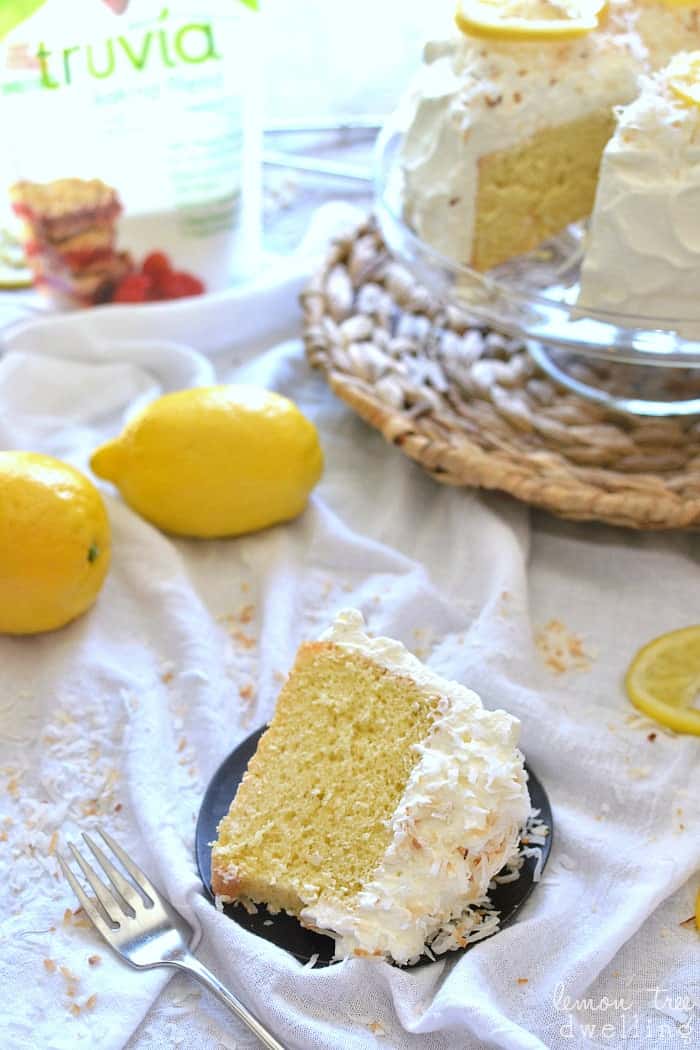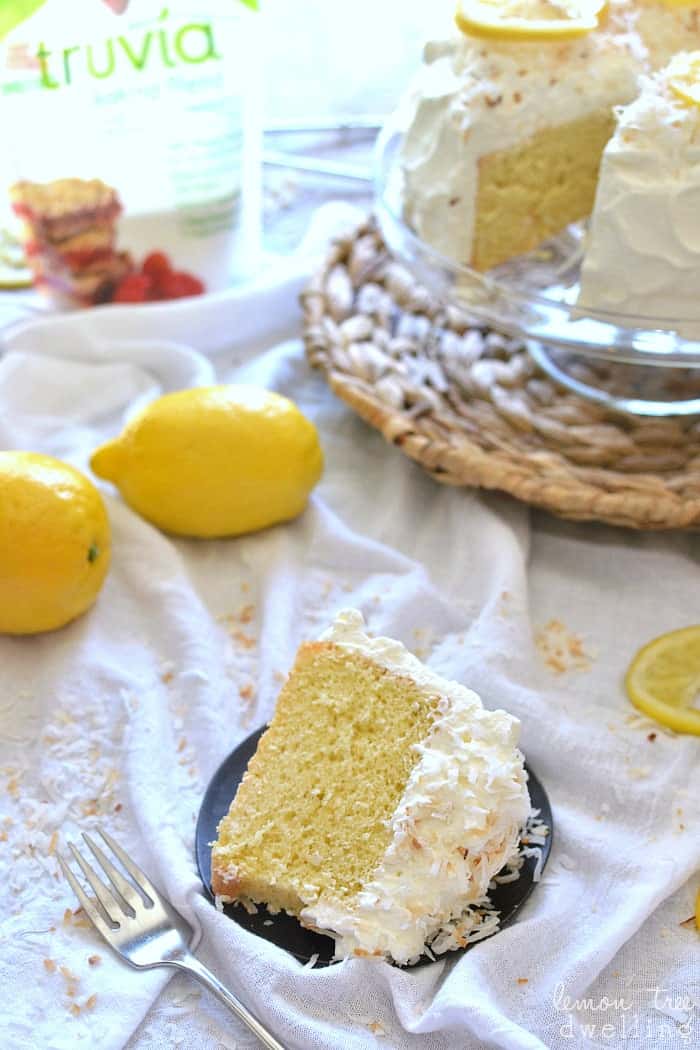 It makes sense, if I think about it. My "go to" contribution to most family gatherings is some type of salad, or maybe even an appetizer, but very rarely a dessert. Because when it comes to desserts, I feel like the pressure is on for it to be amazing! It is, after all, the finishing touch to the meal!
Lemon-Coconut Golden Angel Cake – A perfectly spring dessert
But. I can't hide behind salads forever now, can I!? So I decided it was time to step out of my comfort zone and come up with something fit for Easter: a cake! But not just any cake. A cake that combines all things spring and screams CELEBRATION! A Lemon-Coconut Golden Angel Cake.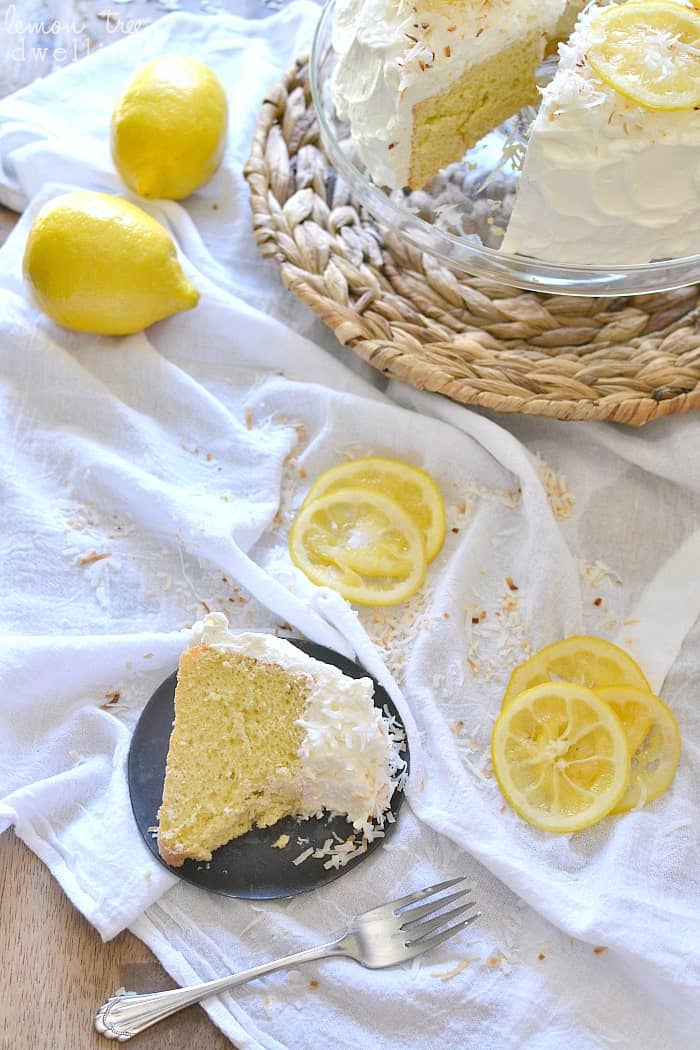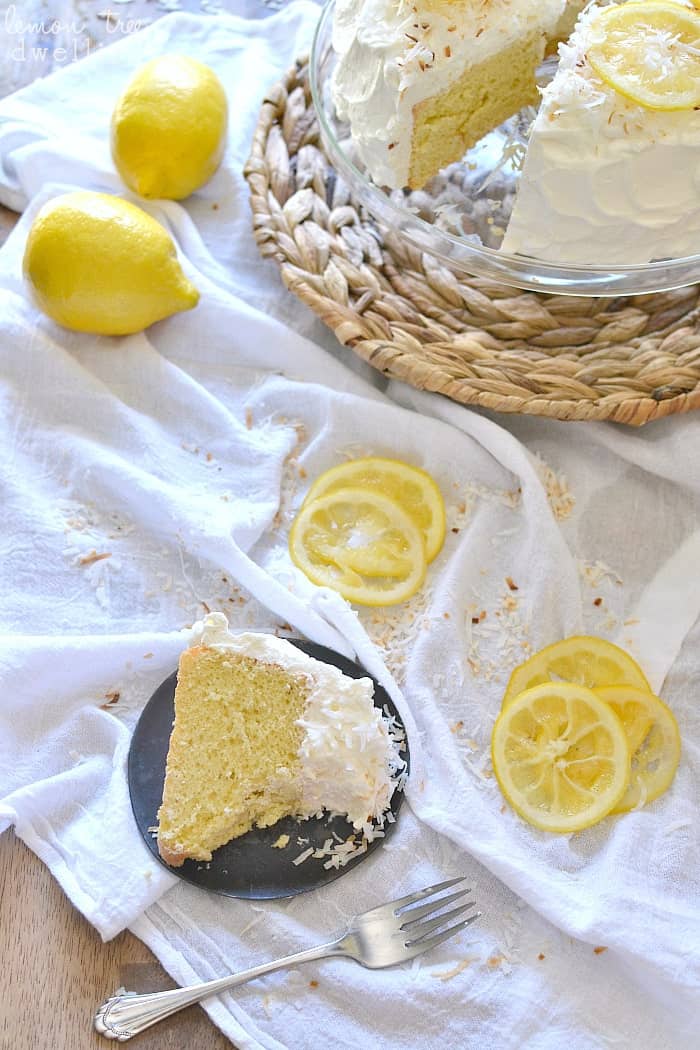 If you've never heard of a Golden Angel Cake, it's a lot like an Angel Food Cake, but with the yolks. I love the contrast of the yellow cake and the white whipped cream topping, and with a little lemon and a sprinkle of toasted coconut, this cake is all dressed up and perfect for your celebration. Even better? It's made up with Truvia®Baking Blend so it's extra light and delicious! The perfect end to an Easter meal. And definitely celebration-worthy!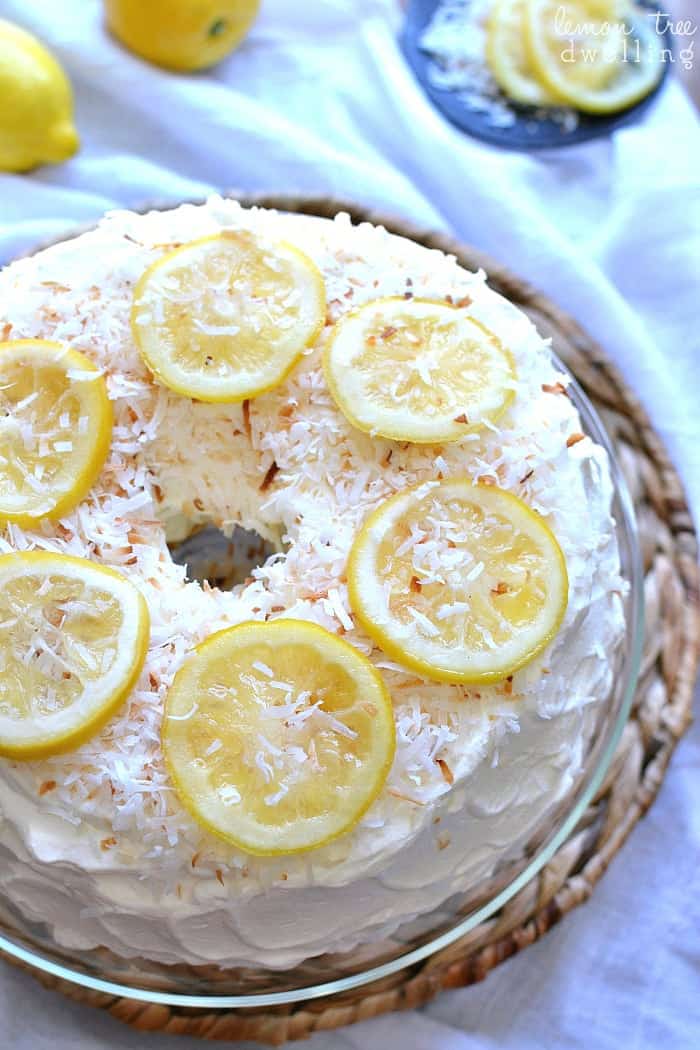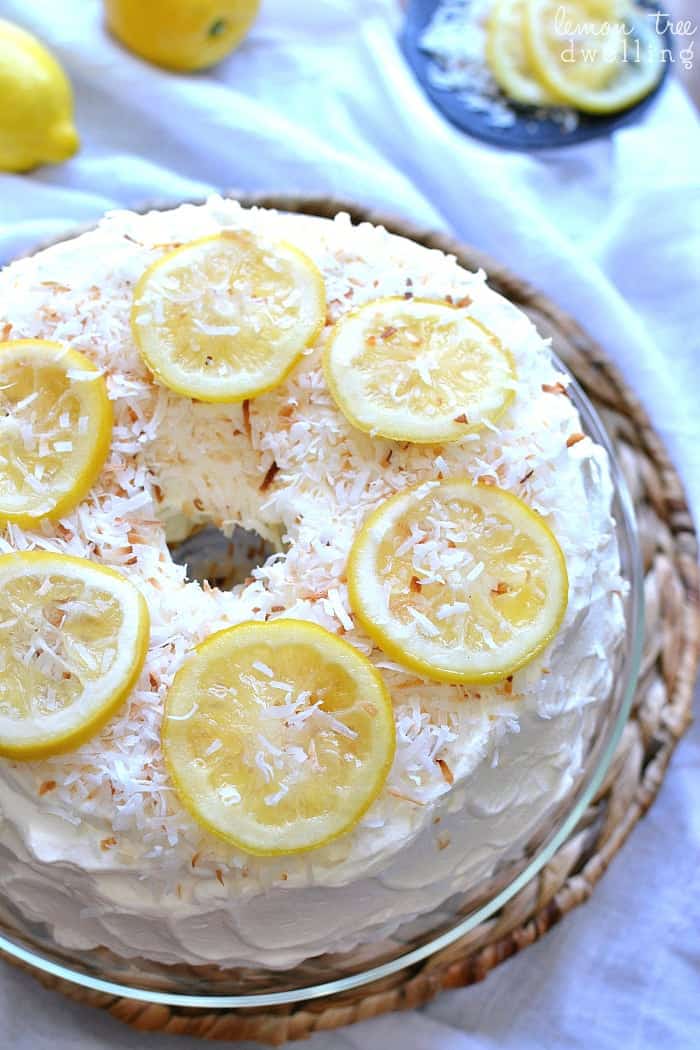 Lemon-Coconut Golden Angel Cake Recipe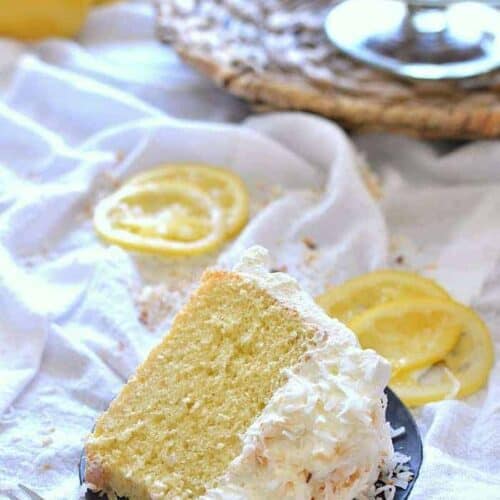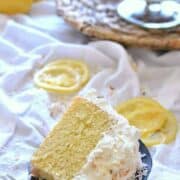 Lemon-Coconut Golden Angel Cake
Total Time
1
hour
30
minutes
Ingredients
6

egg yolks

6

egg whies

1/2

c.

water

3/4

c.

Truvia Baking Blend

1

tsp.

vanilla

3/4

tsp.

cream of tartar

1 1/2

c.

cake flour

1/4

tsp.

salt

For whipped topping:

3

c.

heavy whipping cream

3

Tbsp.

Truvia Baking Blend

1

tsp.

lemon extract

1/2

c.

lightly toasted coconut

or more, to taste

For candied lemon slices:

1

lemon

thinly sliced

1/2

c.

Truvia baking blend

*To substitute regular sugar for Truvia

simply double the amount in each step.
Instructions
For cake:

Beat 6 egg yolks until thick, 3-4 minutes.

Add 1/2 c. water and continue beating until thick, about 3 minutes.

Add Truvia a little at a time.

Add vanilla and mix until combined.

In a separate mixing bowl, beat 6 egg whites until they hold a point, but are still shiny.

When they start to turn foamy, add cream of tartar.

Slowly fold flour and salt into egg yolk mixture.

Fold egg white mixture into egg yolk mixture.

Pour batter into a large ungreased tube pan and bake at 325 degrees for 1 hour.

Invert to cool.

For Candied Lemon Slices:

Combine 1/2 c. Truvia and 1 c. water in a small skillet.

Bring to a boil over medium-high heat, stirring until the sugar dissolves, 3-4 minutes.

Add the lemon slices and simmer until tender and translucent, 5 to 7 minutes.

Drain and cool on a wire rack.

For Whipped Topping:

Combine heavy whipping cream, 3 Tbsp. Truvia, and lemon extract in a large chilled mixing bowl.

Using chilled beaters, beat at medium speed until stiff peaks form.

Spread generously over cooled cake and top with toasted coconut and candied lemon slices.