All the flavors of classic hummingbird cake in a delicious monkey bread. The perfect addition to your Easter or spring brunch!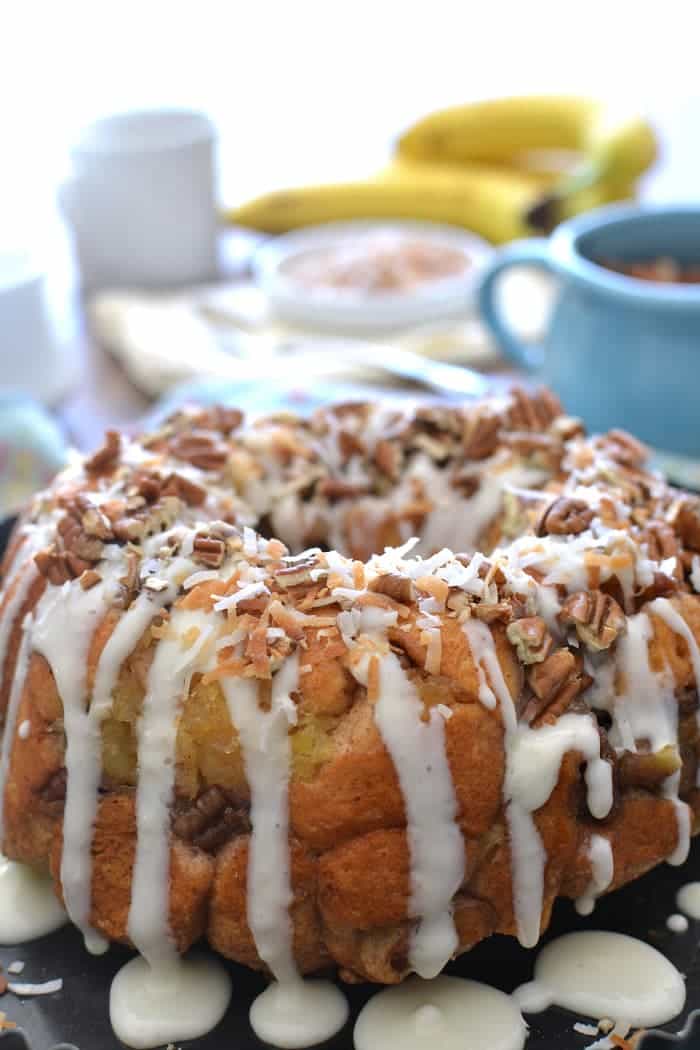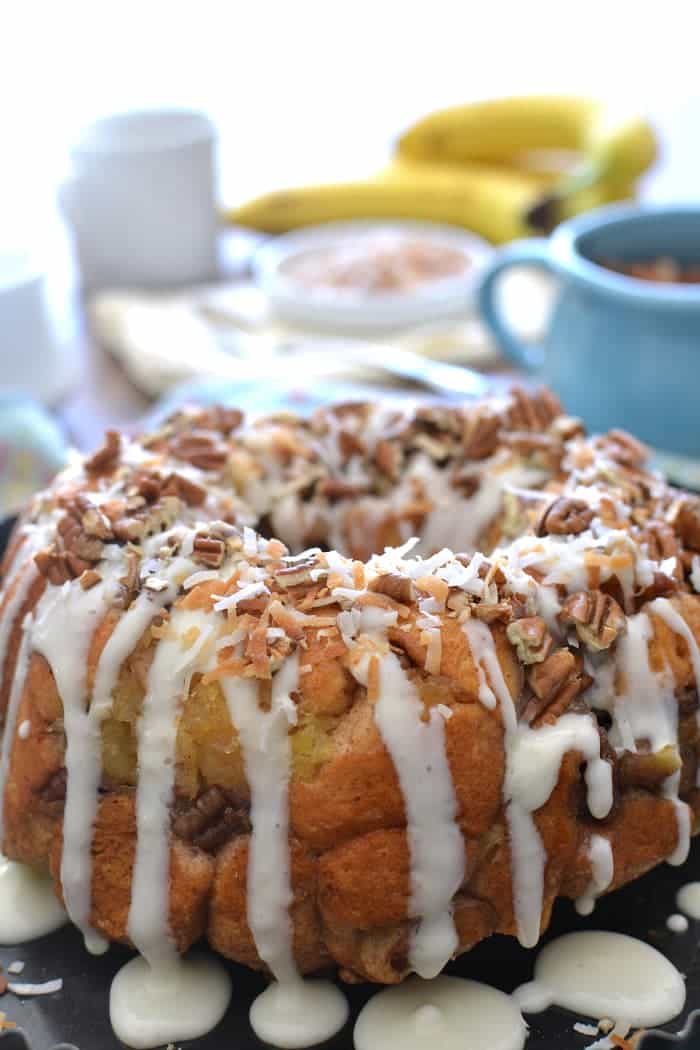 I apologize for the lateness of this post….in more ways than one! Not only is it coming to you just three days before Easter, which doesn't give you a lot of time to fathom its deliciousness before inevitably making it part of your menu…..but it's also coming to you late in the day! Because I had a late night hosting an Arbonne Spa Party at my house. And after soaking my feet and scrubbing my face and enjoying a few glasses of wine, the last thing I felt like doing was staying up late on my computer.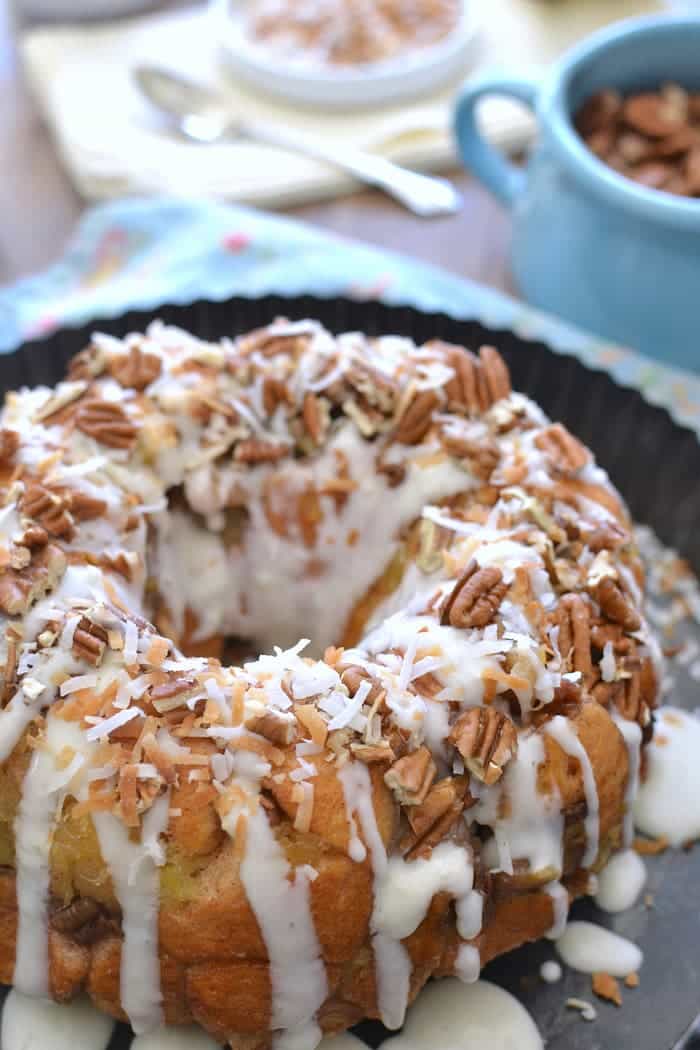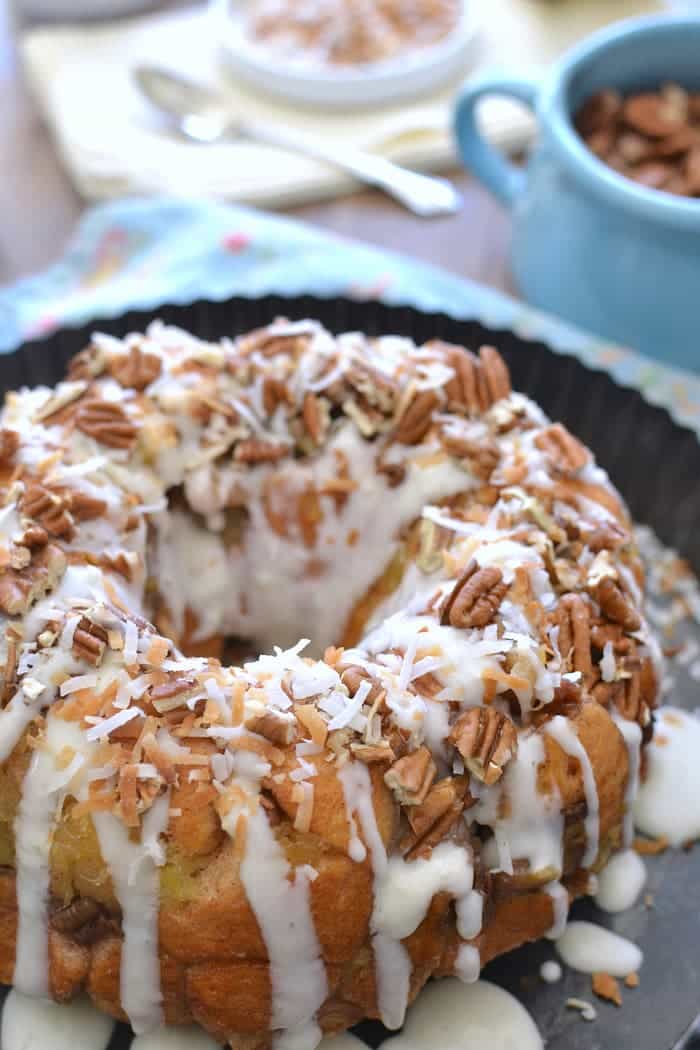 Have you ever heard of Arbonne? I had only heard of it in passing until my sister recently decided to become a sales rep. And even though I typically pass on home parties like this, I couldn't say no to being my sister's first party….! So I sent out the invites and made the reminder calls and cleaned my house and made the food…..and at the end of the day, I had a really good time!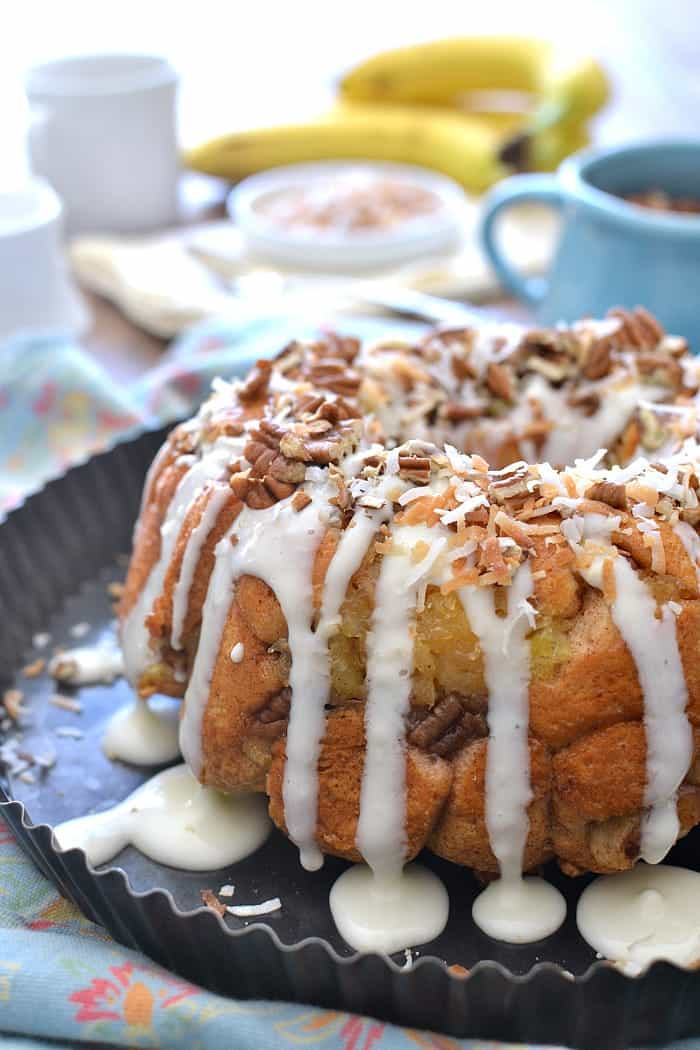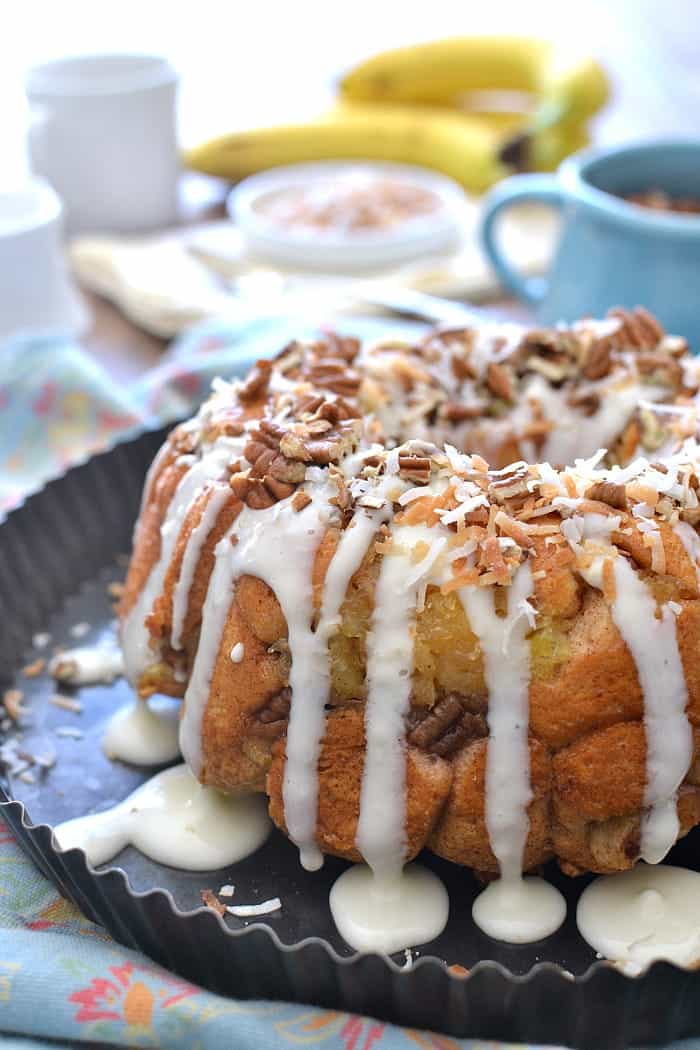 I somehow (miraculously) ended up with about 12 guests – a mixture of family and friends from various parts of my life. We talked and laughed and ate and drank and gave ourselves mini spa treatments the whole time…..and then a small group stayed after everyone else had gone. Which is always my favorite part.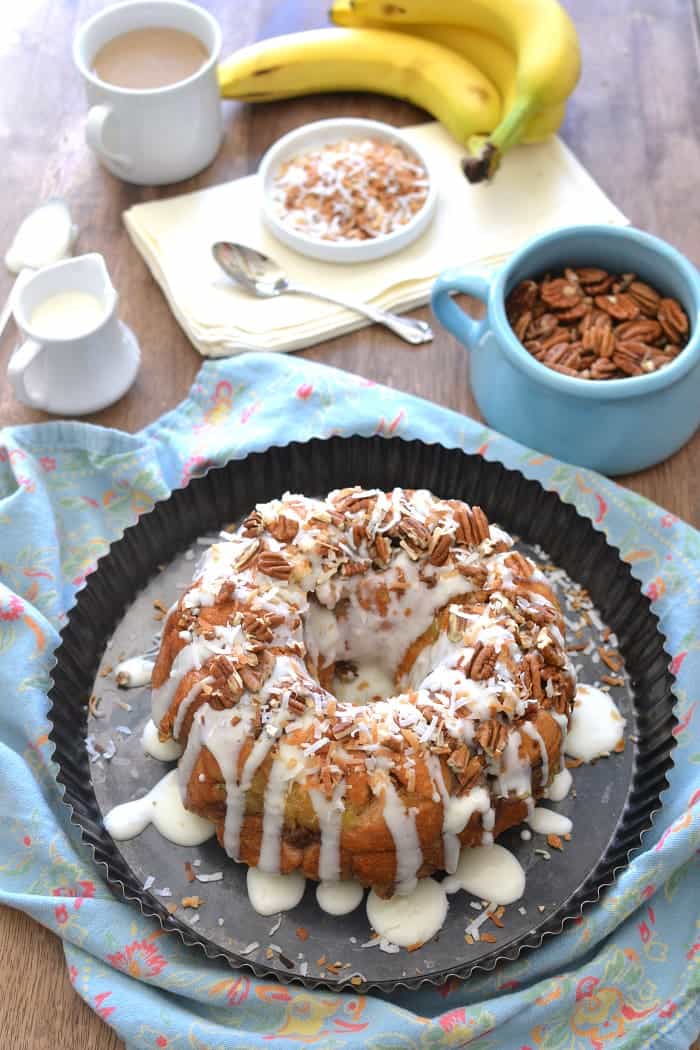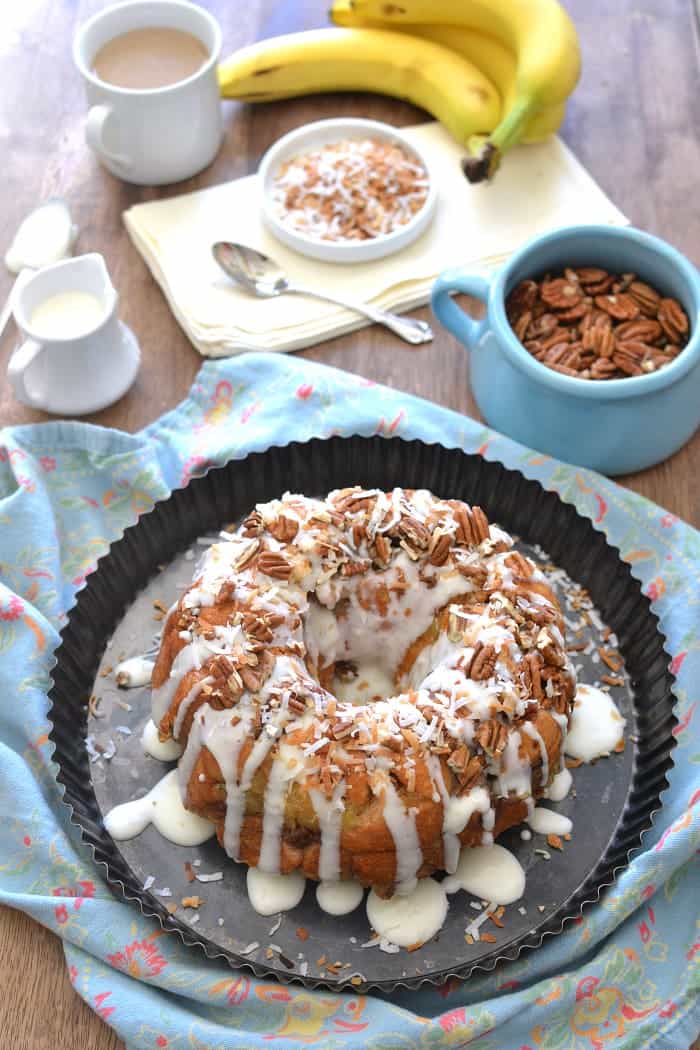 It actually reminded me how much I love bringing people together…..and it made me think that I should really host something else sometime soon! Easter is out of the question, since we're having it at my mom's house, but I'm thinking of a different kind of thing, anyway. A night time soiree. Kind of like a repeat of last night…..only maybe I won't be selling anything next time.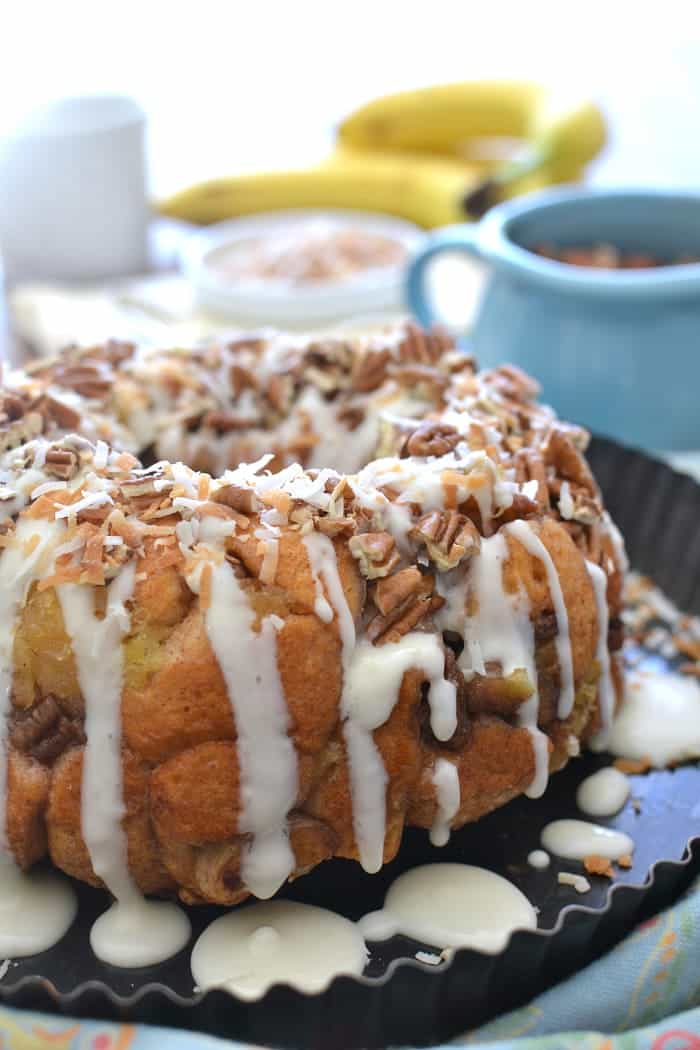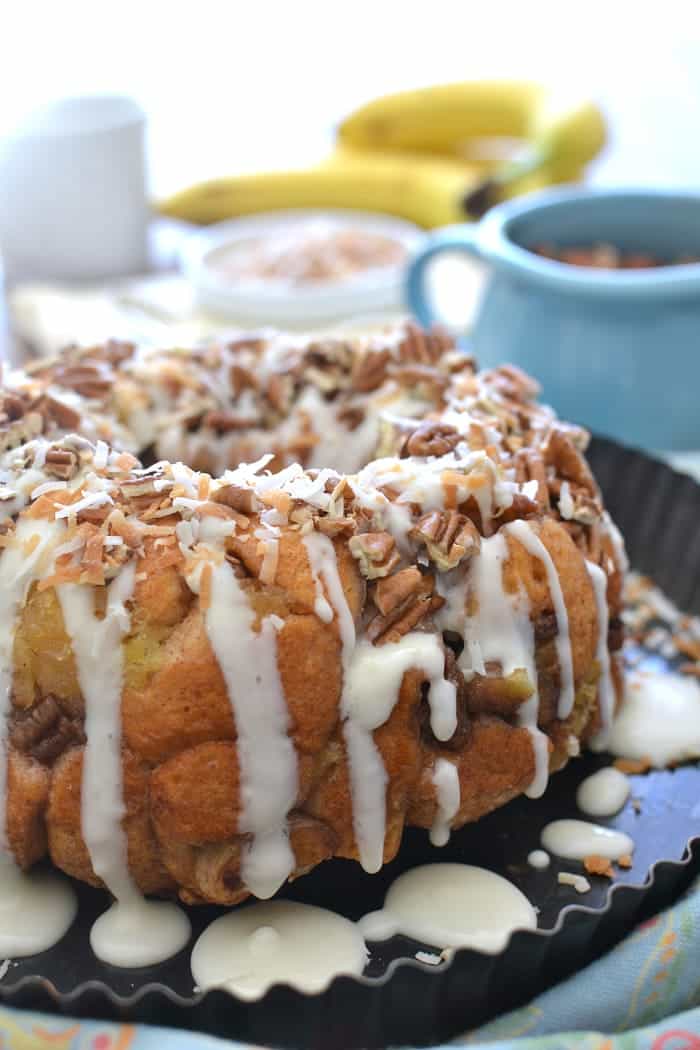 But back to Easter. I'm actually glad I'm NOT hosting….because it frees me up to make something really delicious, like this Hummingbird Monkey Bread! It's loaded with crushed pineapple and fresh banana slices and chopped pecans and cream cheese drizzle, then topped with toasted coconut. It seriously couldn't be more delicious, or springy, or perfect for Easter! So. You've got 3 whole days. Time to grab those ingredients and get ready…..you're gonna love it!
Happy Easter, my friends! I hope you have a wonderful day!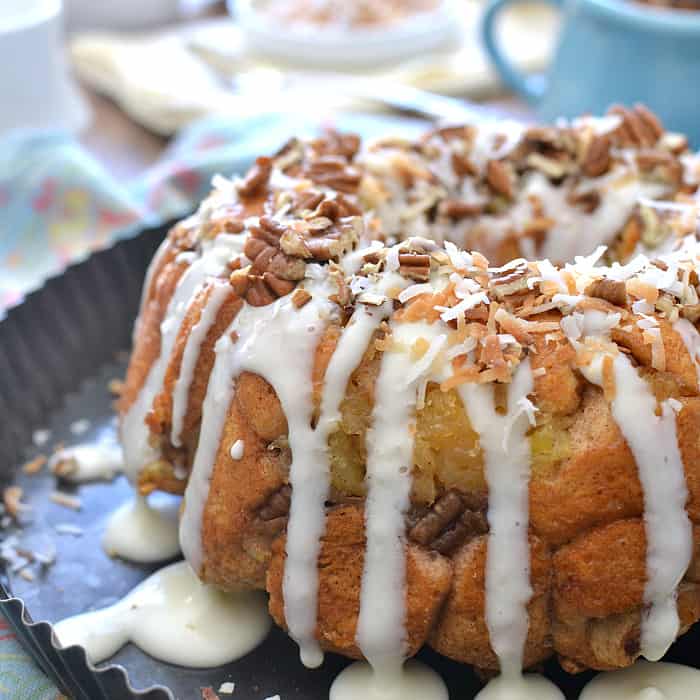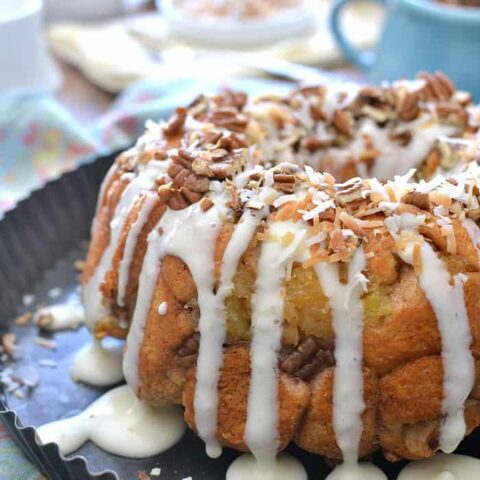 Hummingbird Monkey Bread
All the flavors of classic hummingbird cake in a delicious monkey bread. The perfect addition to your Easter or spring brunch!
Ingredients
2 packages (16 ounces each) refrigerated biscuit dough (like Pillsbury Grands)
1 1/4 cups sugar
1 teaspoon cinnamon
1 cup well-drained crushed pineapple
1 cup chopped pecans
2 bananas, sliced
1/2 cup butter
1/4 cup toasted coconut
1½ cups powdered sugar
3 ounces cream cheese
3 Tablespoons half & half OR milk
1 teaspoon lemon juice
Instructions
Unroll biscuits and cut into sixths.
In a gallon-size Ziploc bag, mix 1/2 cup sugar and 1 teaspoon cinnamon. Add cut biscuits and shake to coat.
To the same bag, add crushed pineapple (be sure it is very well-drained), chopped pecans, and sliced bananas. Shake gently to combine.
Pour mixture into greased 12-cup fluted tube pan.
In a small saucepan, combine 3/4 cup sugar and 1/2 cup butter and heat, stirring, until butter is melted. Pour over biscuit mixture in pan.
Bake at 350 degrees for 45 minutes or until golden brown.
While bread is baking, prepare icing by mixing powdered sugar, cream cheese, half & half, and lemon juice until smooth.
Remove bread from oven and cool 5-10 minutes before inverting onto a serving plate.
Drizzle with icing and toasted coconut.
Serve warm.
Nutrition Information:
Yield:

16
Serving Size:

1
Amount Per Serving:
Calories:

276
Total Fat:

14g
Saturated Fat:

6g
Trans Fat:

0g
Unsaturated Fat:

7g
Cholesterol:

23mg
Sodium:

144mg
Carbohydrates:

38g
Fiber:

2g
Sugar:

32g
Protein:

2g