Hot Chocolate Crescent Rolls – stuffed with sweet hot chocolate cream cheese and marshmallow fluff and drizzled in milk chocolate and more marshmallows! These quick rolls would be perfect for Christmas morning, New Year's Day, or a winter birthday breakfast!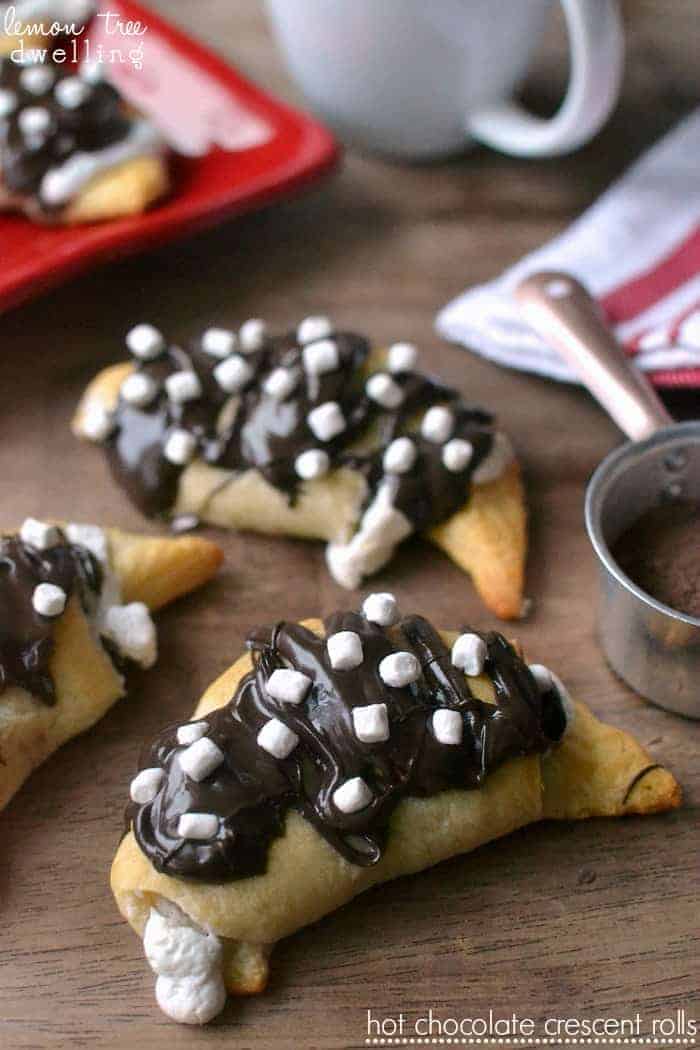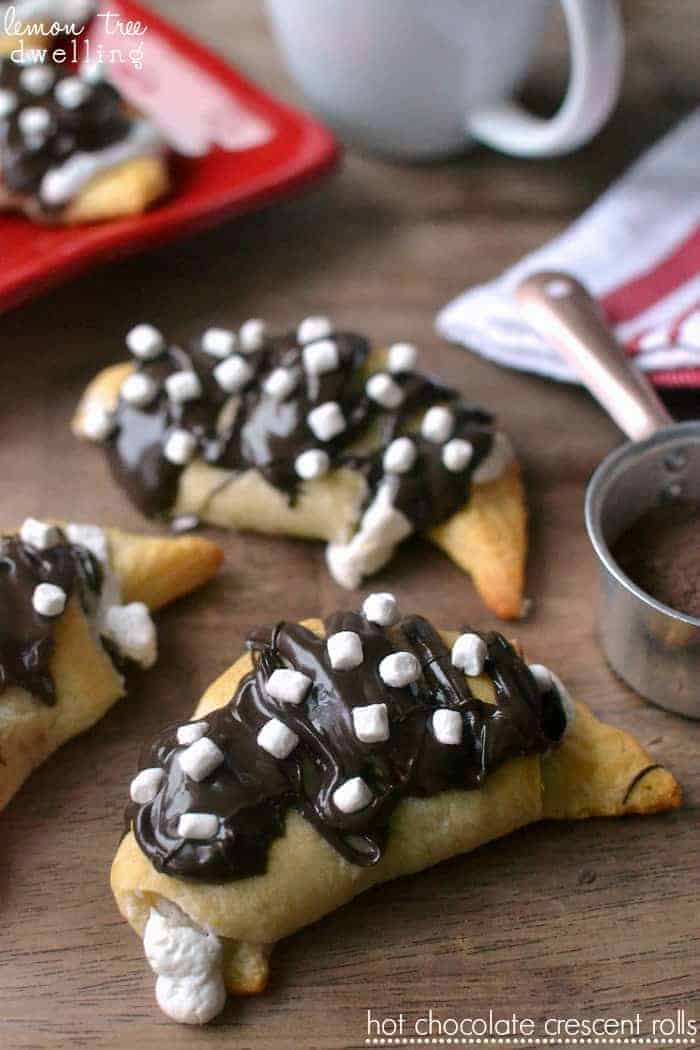 Can we talk about Christmas concerts for a second? We're smack dab in the middle of them…..with one last night and one tonight…..and I gotta say I won't be said when they're over!! Don't get me wrong – I love seeing my kids perform with their classmates and I love the fact that it's a special night for them. But for us parents? Well….it's a different story.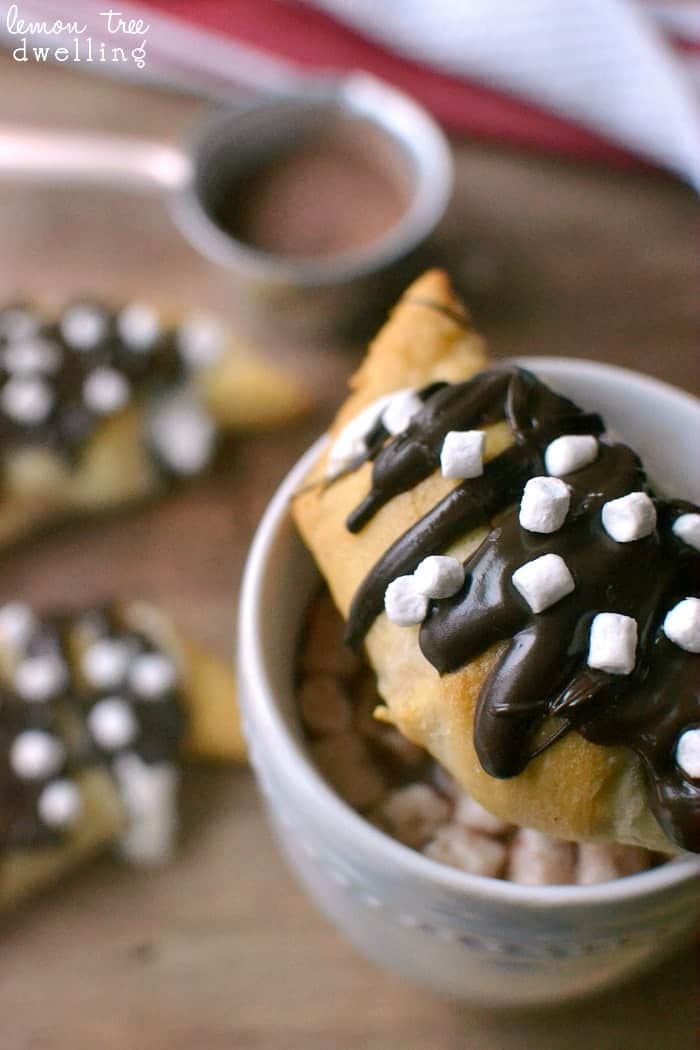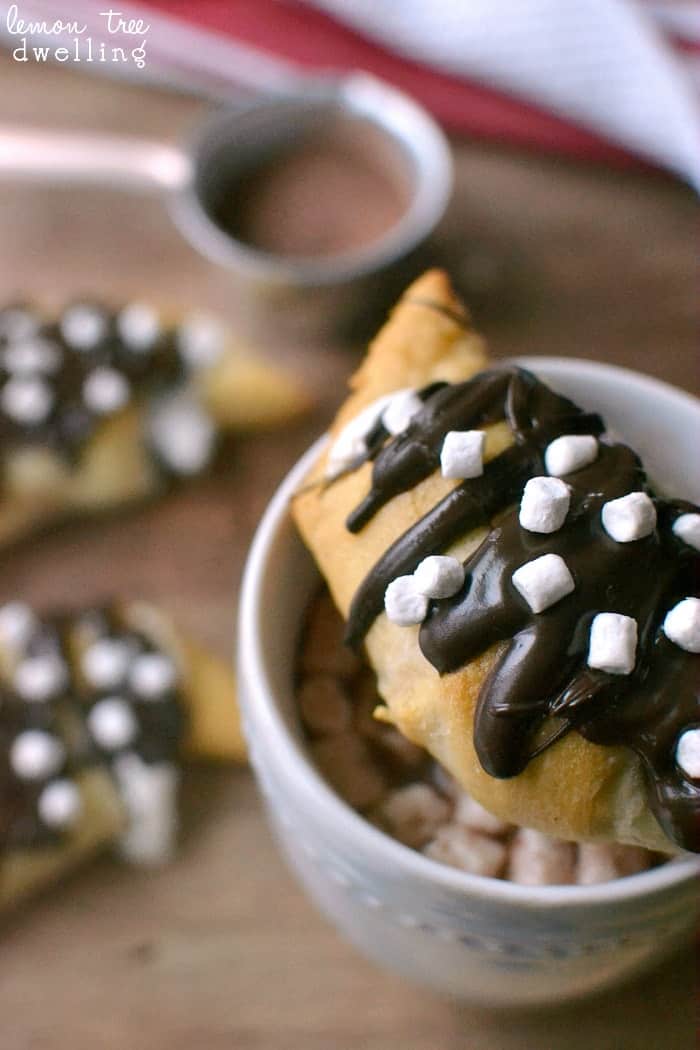 Part of it is the timing. 5:40 is early…..and hard to make happen! Especially when your kids don't get home until 4:30 and your husband is rushing from work. And part of it is the fact that it's already such a crazy time of year, with so much to pack in. But the biggest issue I have with it is the fact that we have never once been able to sit down for the show. Because the gym is jam packed and we always get there too late!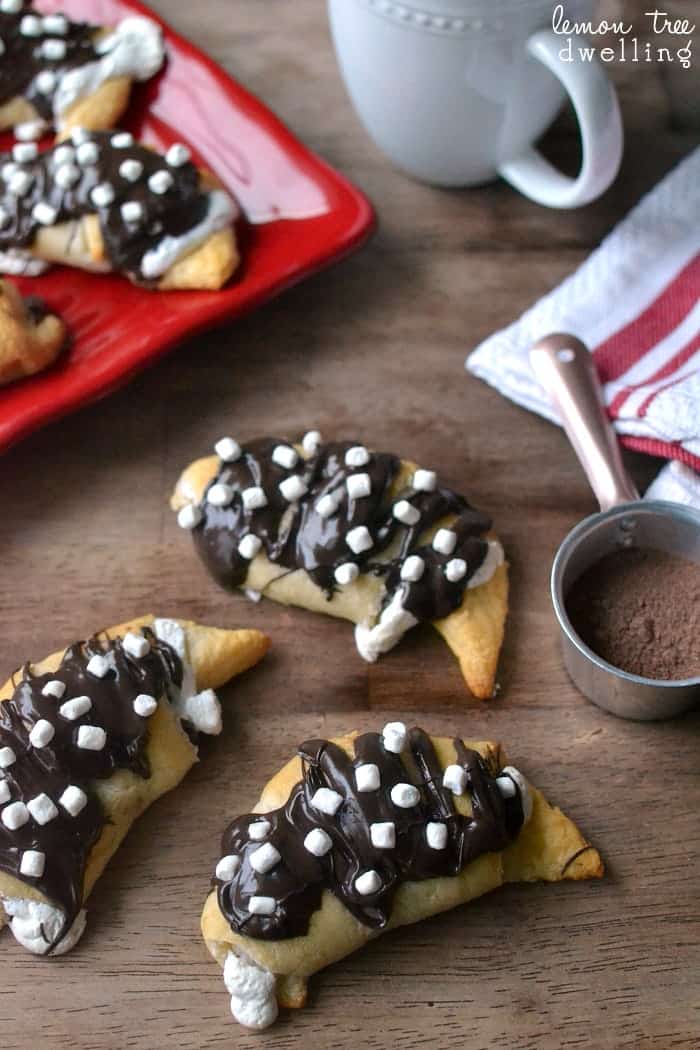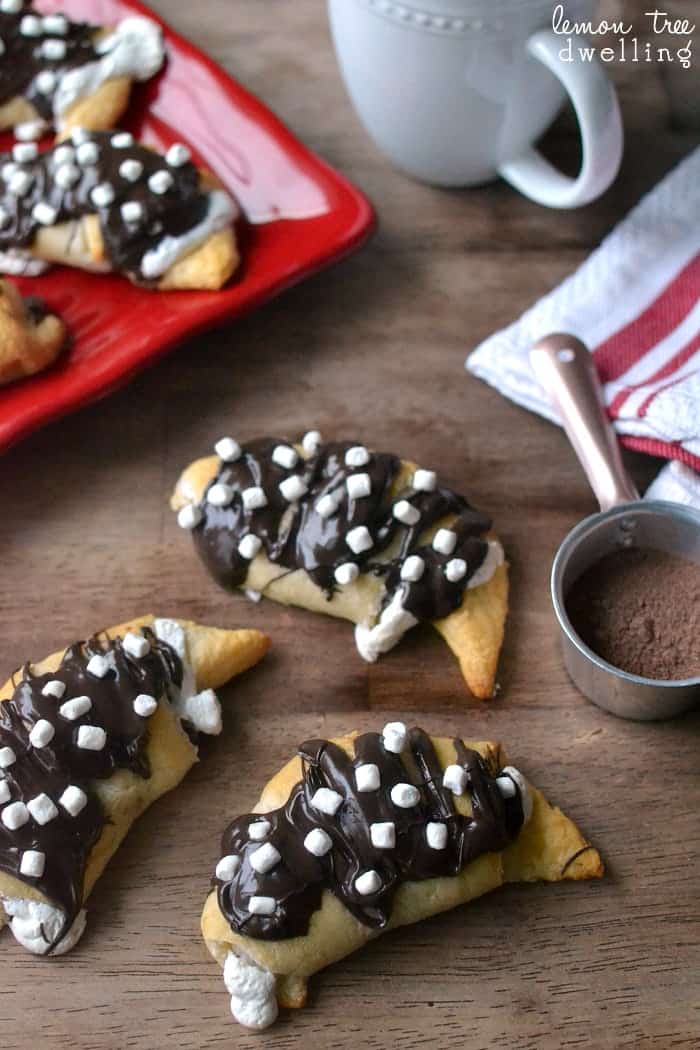 So we've gotten used to standing. And being hot and cramped and a little bit crabby. It's all just part of the Christmas concert experience! If you can call it a Christmas concert, that is…..(there is nothing resembling a holiday song in the mix!)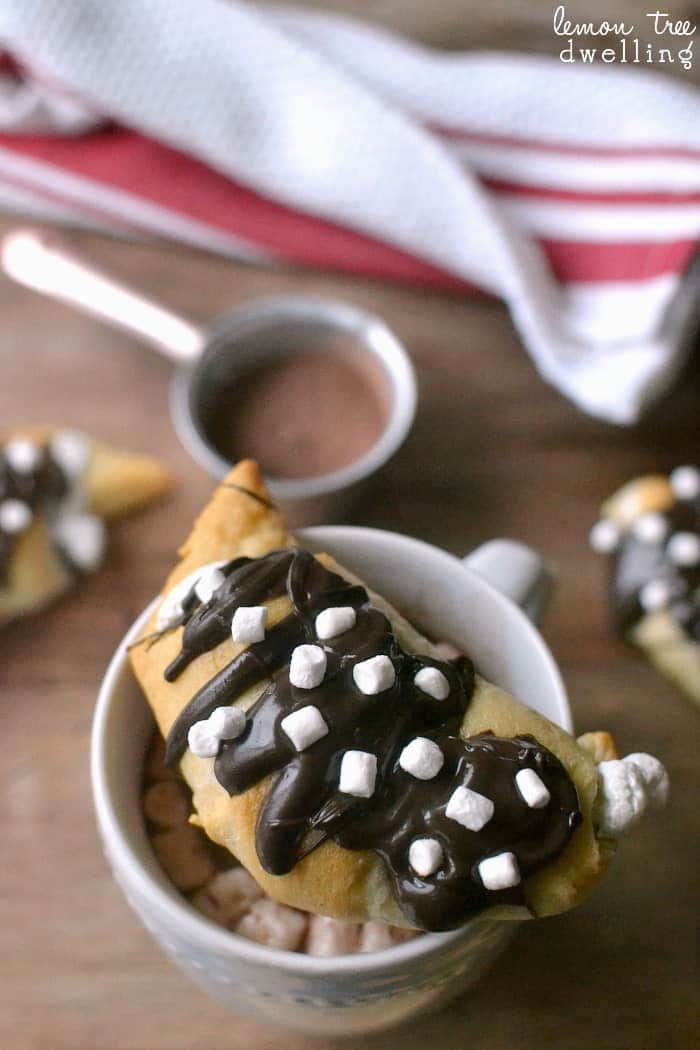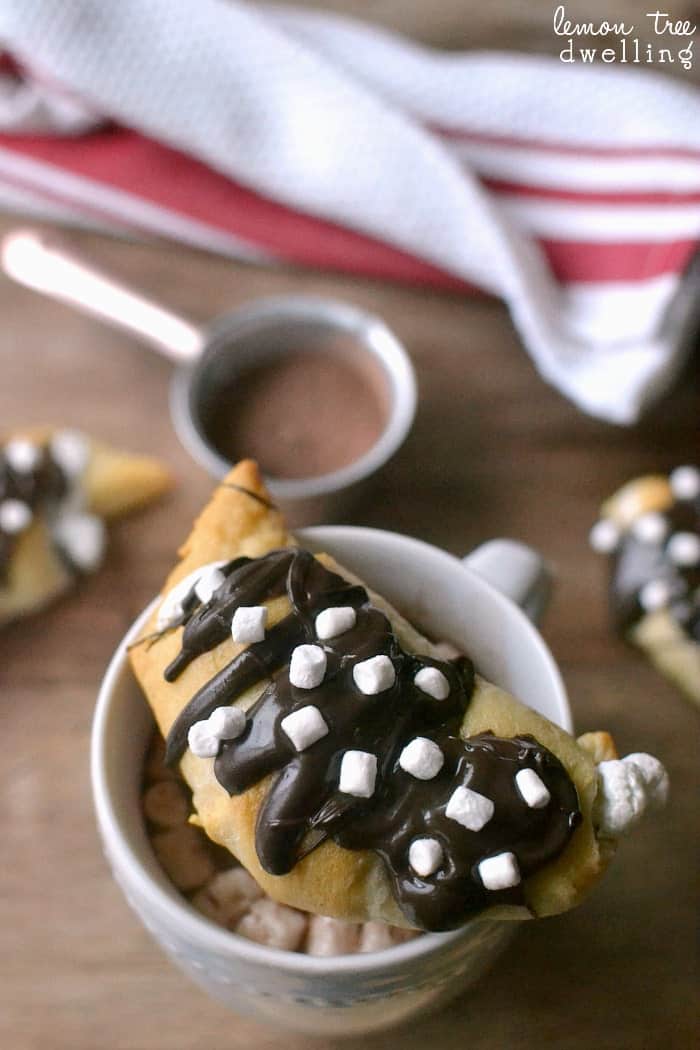 Now before you get all over me for having no holiday spirit, just admit. You feel the exact same way! Sure, you get your kids all dressed up in their holiday finest, you bring your camera and take video on your phone, and you maybe even take them out for ice cream when it's all over. But you're glad when it's over….just like I am!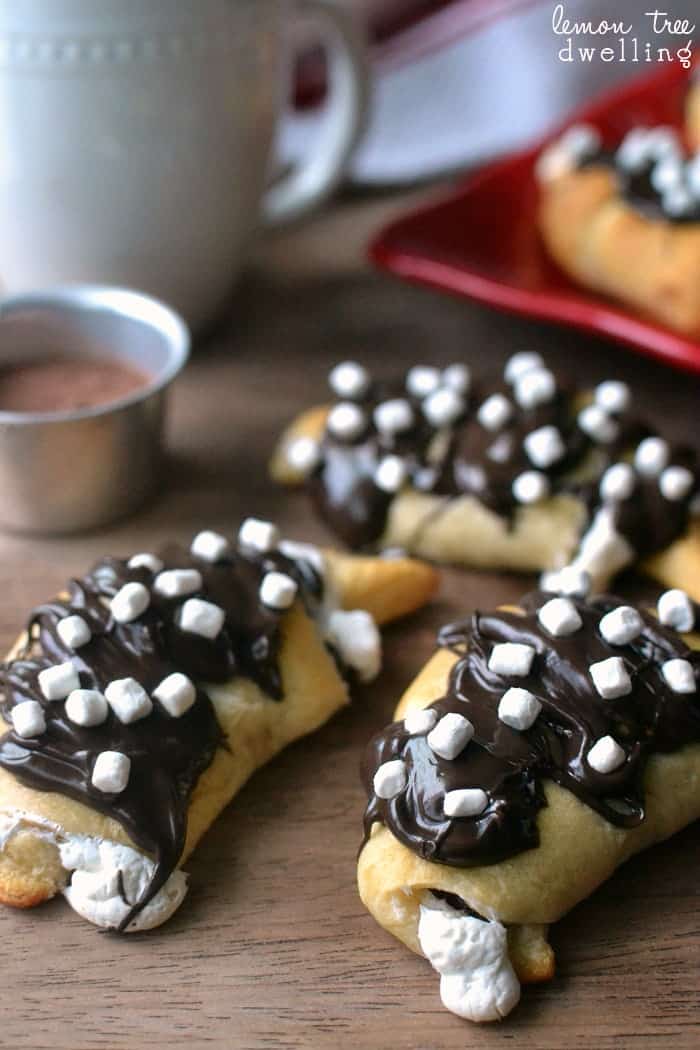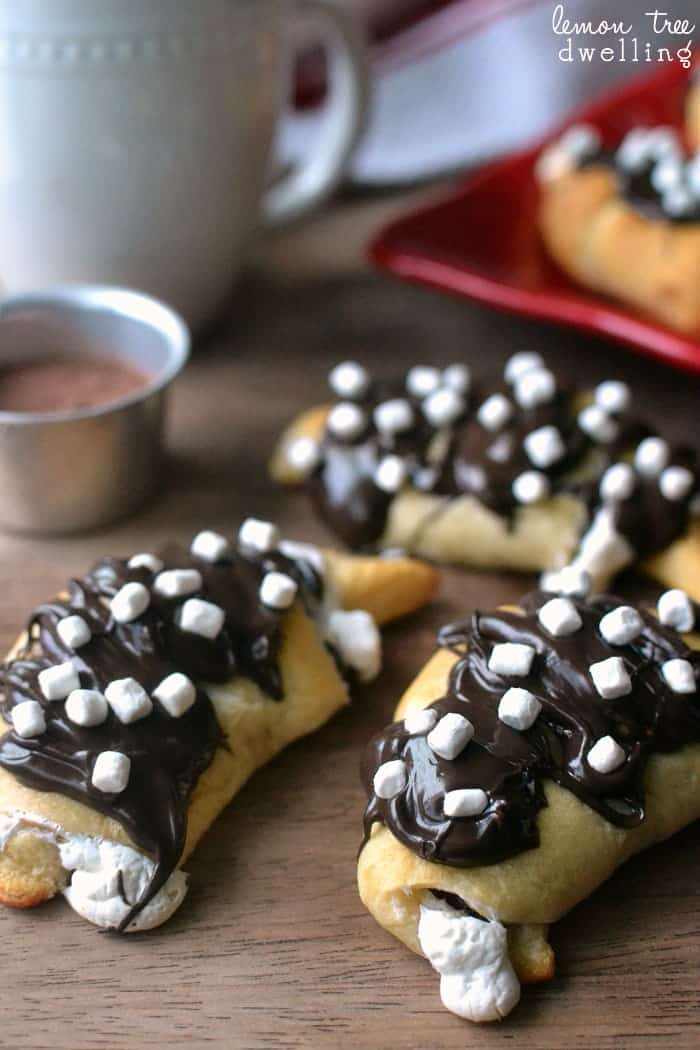 Hot Chocolate Crescent Rolls
Okay, enough about Christmas concerts. Now on to these delicious hot chocolate crescent rolls. They're quick, easy, and they taste like ooey gooey hot chocolate! They're perfect for Christmas morning…..and unlike your kids' Christmas concerts, you won't be glad when they're all gone!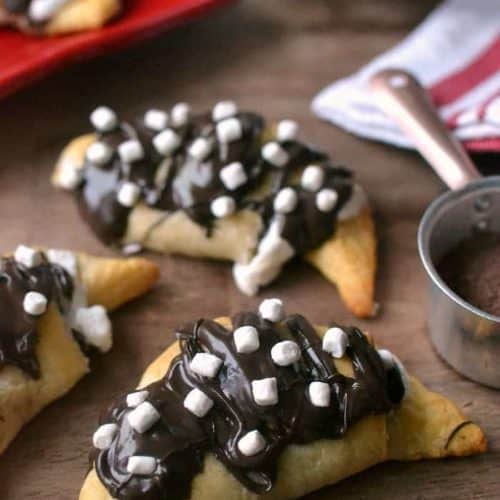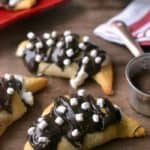 Hot Chocolate Crescent Rolls
Ingredients
1

tube

8 count refrigerated crescent rolls

4

oz.

cream cheese

softened

1

packet hot chocolate mix

1/3

c.

marshmallow fluff

1/2

c.

milk chocolate

1/3

c.

marshmallow bits
Instructions
Roll out crescent rolls on large baking sheet.

In a small mixing bowl, combine cream cheese and hot chocolate mix, stirring until smooth.

Fill each crescent roll with with 1 Tbsp. cream cheese mixture and 2 tsp. marshmallow fluff.

Roll from large end to small end to form crescent shape.

Bake at 350 degrees 10-12 minutes or until golden brown.

Remove from oven and allow to cool 5 minutes.

Melt milk chocolate over low heat; drizzle each roll with 2 Tbsp. melted chocolate and top with marshmallow bits.
I'm a big fan of hot chocolate flavors. And if you are anything like me, you will love my other hot chocolate recipes. Perfect for a cold winters day!


Like our Facebook Page for more great recipes!