M&M Cookie Dough Stuffed Fudge is an easy, delicious recipe thats perfect for the holidays. This 5 minute fudge is made with white chocolate stuffed with an M&M cookie dough and topped with more M&M's! A crowd pleaser and a great gift!
Making a difference. It's something we hear about a lot at this time of year, and we all know there are countless ways to make a difference in our own lives or the life of someone else. But what about making a different kind of difference? One that will impact us in a different kind of way? Today we're talking about wind power, friends….and how you can tap into its benefits!
So….what is wind power? In a nutshell, it's power that is obtained by harnessing the energy of the wind through the use of turbines. When wind blows over the blades of a turbine, the blades turn a shaft that runs a generator, which produces electricity.
Simple enough, right? But why should you care? Well, because wind power is a renewable energy source, meaning it's not depleted when used. It takes advantage of an abundant natural resource – a resource that's free, widely available, and clean, producing no air emissions or waste. Which means it's better for the environment, and, in turn, for us! And, since it's produced domestically and affordably, it offers greater electricity price stability and preparation for the future.
Okay….so how can we take advantage of wind power? For those of you who live in Colorado, Minnesota, New Mexico, Wisconsin, or Michigan, through a green power program called Windsource. Windsource is one of the nation's leading voluntary green power programs and enables Xcel Energy's electric customers to purchase renewable energy. The energy purchased is generated above and beyond the renewable energy in our standard energy supply and cannot be counted toward meeting state renewable energy requirements. In other words, it directly increases the amount of renewable energy in each state served.
Customers pay a small monthly fee to purchase renewable energy blocks. One block of Windsource (the starting subscription level) is enough to power all the lights in a typical home for a month. Windsource renewable energy credits (RECs) are retired on behalf of customers and Windsource RECs are non-transferable. Windsource is also certified through Green-e, the leading consumer protection certification for green power programs. It is currently being used in more than 57,000 homes and 1,200 businesses nationwide. Not only is it an easy, inexpensive way for individuals to support renewable energy, it's a great way for businesses to meet environmental compliance targets, receive LEED certification points, reduce environmental impact, enhance public image, and position themselves as an environmental leader.
M&M Cookie Dough Stuffed Fudge – Energy saving dessert!
To enroll in Windsource, please visit ResponsibleByNature.com/Windsource. And after you're done with that…..how about making some quick and easy energy-saving M&M Cookie Dough Stuffed Fudge? It comes together easily in the microwave, which uses 70% less energy than the stovetop (!) and makes a perfect treat for teachers, neighbors, coaches, friends, or anyone on your list. So you can make a difference in more ways than one….and making a difference in our energy usage is always something to feel good about.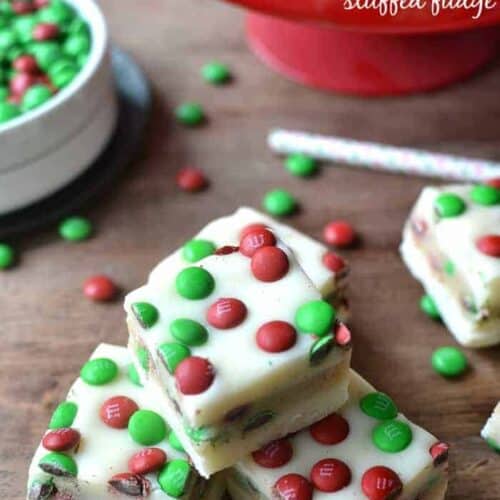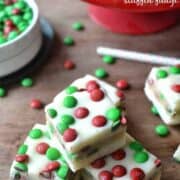 M&M Cookie Dough Stuffed Fudge & Renewable Energy
Ingredients
24

oz.

white chocolate

I used Vanilla Candiquik

1

can

14 oz. sweetened condensed milk

2/3

c.

butter

at room temperature

3/4

c.

sugar

2

Tbsp.

milk

1

tsp.

vanilla

1 1/2

c.

flour

1 1/2

c.

mini m&m's
Instructions
Combine 12 oz. white chocolate and 1/2 can sweetened condensed milk in a microwave-safe bowl.

Microwave 2-3 minutes or until completely melted, stirring after each minute.

Pour mixture into 9x13 inch pan lined with aluminum foil and refrigerate until set.

In a medium mixing bowl, combine butter, sugar, milk, and vanilla and stir until smooth and creamy.

Add flour and stir until completely incorporated.

Stir in 1 c. m&m's.

Press cookie dough evenly over fudge (once fudge is set).

Prepare top layer of fudge in the same way you prepared the bottom layer.

Pour over cookie dough layer; top with remaining m&m's.

Refrigerate until set.
Another quick and easy fudge to try is my
Snickerdoodle Fudge.
So delicious and a great gift this holiday season.


Disclaimer: This is a sponsored conversation written by me on behalf of Xcel Energy. The opinions and text are all mine.