Classic Black & White Cookies with a St. Patty's Day twist of green! Flavored with fresh lime juice and zest, these soft cookies are just like the original! A delicious treat with a hot chocolate!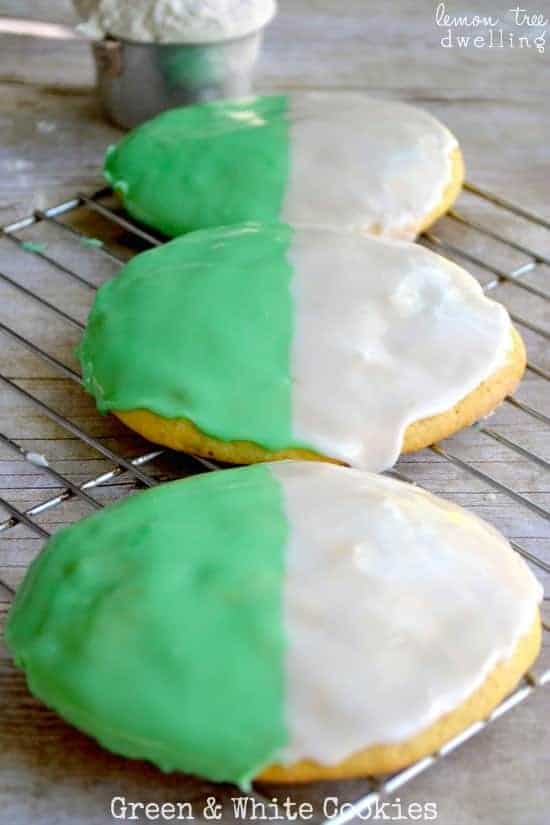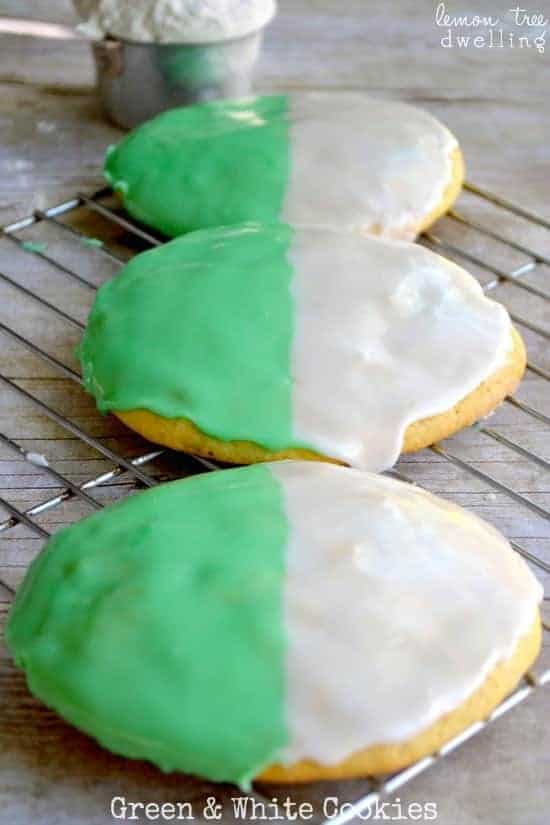 For much of my life I basically lived in coffee shops. I spent the majority of my free time there…although, by free time, I mean time spent studying, writing papers, preparing lesson plans, and grading assignments….! I'm pretty sure it started in college, when I quickly realized I was NOT a library person and had to find an alternate place to study. Not only did I love coffee, I loved everything about coffee shops! The sounds, the smells, the people watching….(the distractions)….and the overall feel of them. Yes, I'm a coffee shop person, through and through.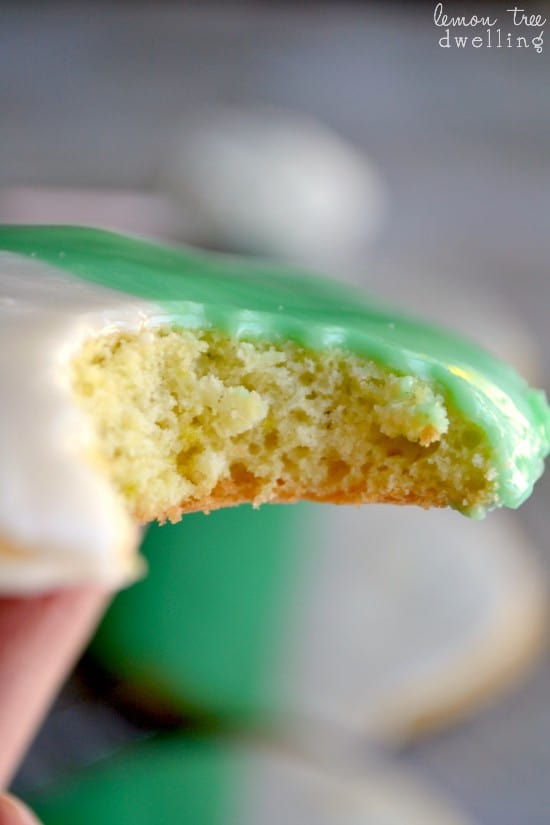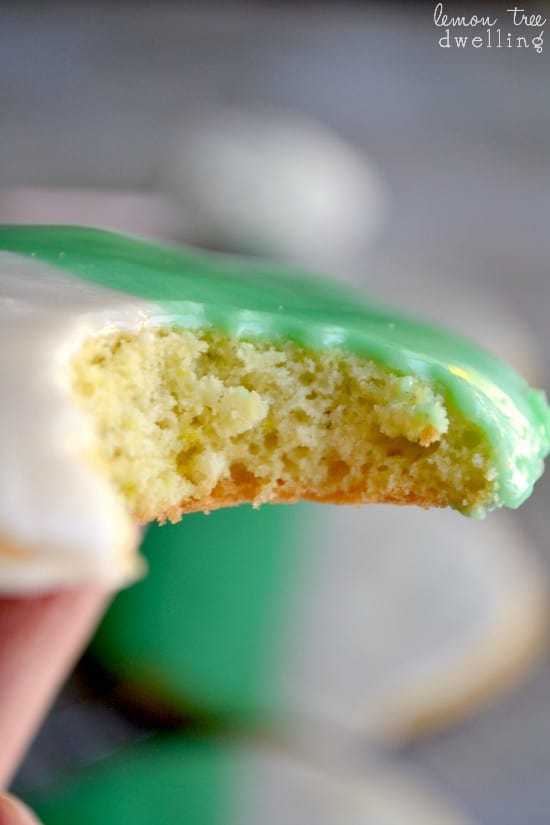 After college I started my first job as a high school English and theology teacher, and once again, found myself frequenting coffee shops. I would often spend all day there, working on lesson plans and grading the endless piles of papers and projects that came my way. I was in WAY over my head as a new teacher (I had never even student taught!) and there was something comforting about doing my work at a coffee shop, with other people, rather than being isolated in my classroom or even my apartment.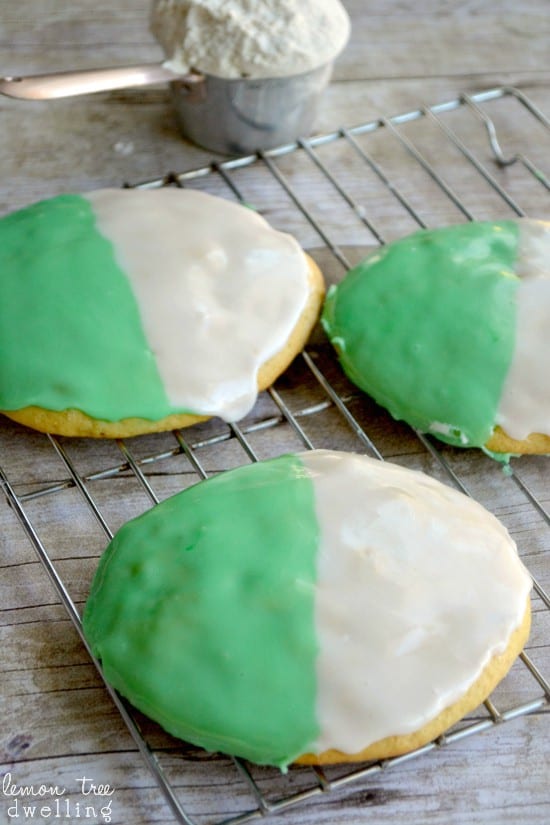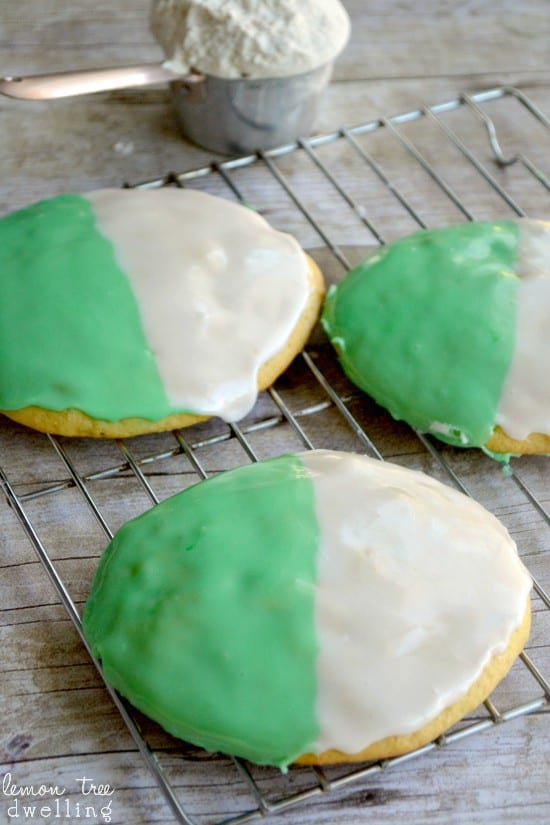 Jorden and I started dating just a few months into my first year as a new teacher, and almost certainly found the amount of time I spent at coffee shops CRAZY!! He has never been a coffee person at all, let alone a coffee shop person…! (He was one of those library people, and could never understand how I could get anything done with so many distractions around me!) Not only was he baffled by my ability to work through distractions, he was horribly bothered by one thing in particular: the SMELL! Whereas I loved the smell of coffee and the fact that it permeated my clothing and followed me home….he did not care for it in the least!
Green and White Cookies
But there was one thing he did like about my obsession with coffee shops….and that was the chance that I might bring him a black & white cookie! As an avid Seinfeld fan, he has a special affinity for black & white cookies, and every now and then he would get lucky…! Well, now that we have 3 kids and I'm a stay at home mom, I rarely visit coffee shops (or leave my house at all, but that's another story!) So it's been a while since Jorden has enjoyed one of these treats. What better time to "get lucky" with a black & white cookie (with a twist) than St. Patrick's Day?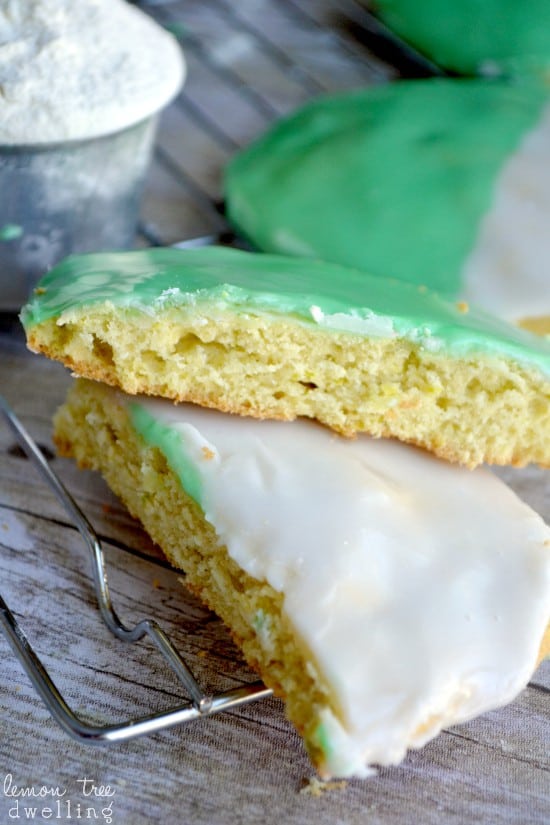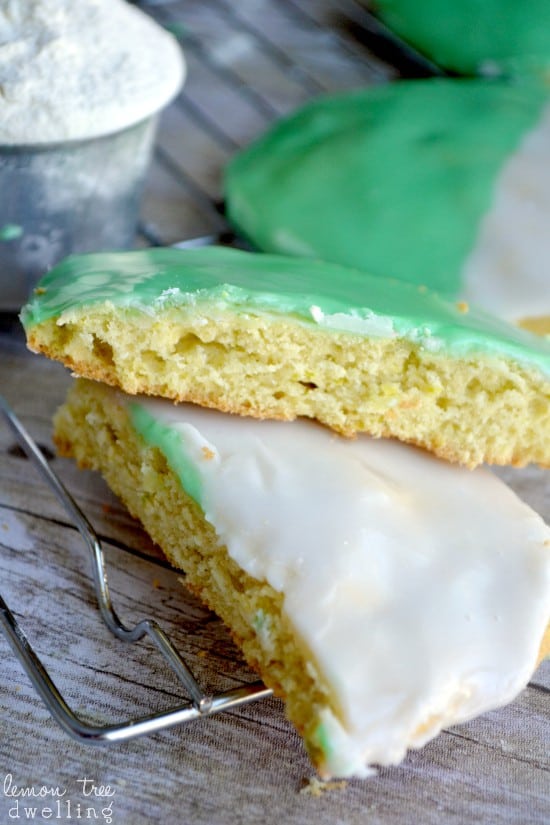 Of course, I didn't really know where to start with the recipe…..so I took a look at a few different recipes and descriptions online. I learned a few important things about classic black & white cookies: they are more cake-like than cookie-like (who knew!?) and the frosting is not really meant to harden completely on top. (Turns out the black & white cookies Jorden was enjoying from the coffee shop weren't actually the "real deal"!) I also learned that you are supposed to frost the bottoms and not the tops of the cookies….although I decided to stick with the tops. And, of course, classic black & white cookies are chocolate and vanilla….whereas mine are flavored with lime juice. But overall, these green & white cookies are a fairly authentic nod to the original, based on this recipe, and they are delicious. Lucky you!!
Green and White Cookies recipe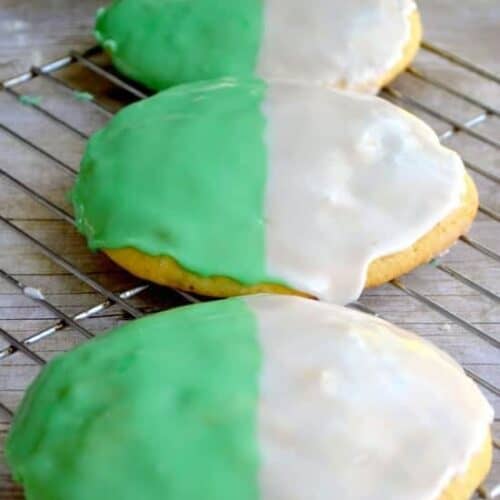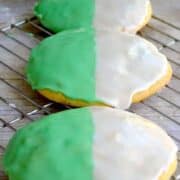 Green & White Cookies
Ingredients
Cookies
1 1/4

c.

all-purpose flour

1/2

tsp.

baking soda

1/2

tsp.

salt

1/3

c.

milk

2

small limes

zested and cut in half

1/3

c.

unsalted butter

softened

1/2

c.

sugar

1

large egg
Icing
1 1/2

c.

powdered sugar

1

Tbsp.

light corn syrup

1/4

tsp.

vanilla

1

Tbsp.

water

juice of 1 lime

green food coloring
Instructions
Combine flour, baking soda and salt in medium bowl.

In small bowl or cup, mix together milk and juice of 2 limes.

Beat butter and white sugar together in a large mixing bowl with an electric mixer for about 3 minutes or until it's evenly distributed.

Add egg to butter and sugar mixture and beat until blended.

Gradually add flour mixture and milk mixture alternately and mix until smooth.

Spoon batter in 1/4 cup size servings onto a baking sheet lined with parchment paper. Makes 6 giant cookies.

Bake on middle rack at 350 degrees for about 15-17 minutes.

Place on a cooling rack, and allow to cool completely before icing.
Icing
Combine powdered sugar, corn syrup, water, and vanilla in small bowl and mix until smooth.

Divide in half.

Add lime juice and green food coloring to half of icing.

Frost cookies using half green, half white.

Allow frosting to set before storing; store in airtight container between layers of wax paper.
For another great cookie recipe try my Rainbow Mint Circus Animal Cookies