Skittles Rainbow Fudge is a quick and easy treat that will be the hit of your St. Patrick's Day. This fun dessert is colorful and filled with fun Skittles candies! A delicious fudge!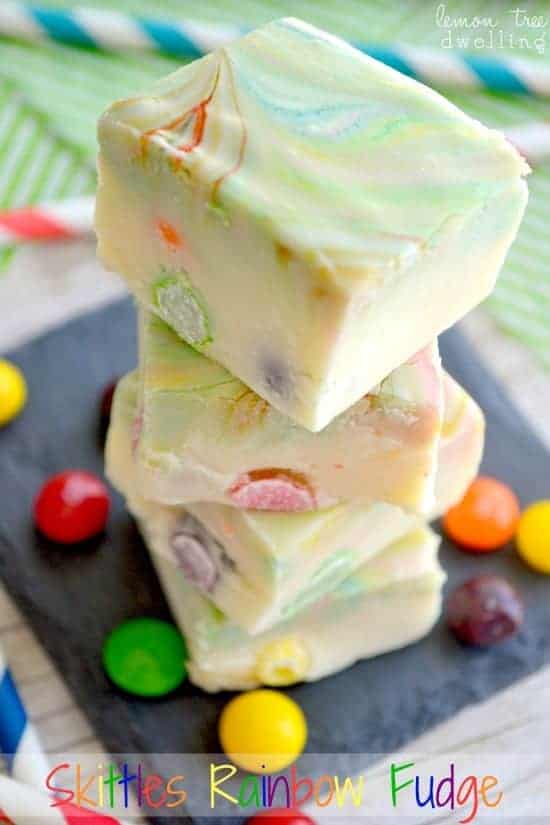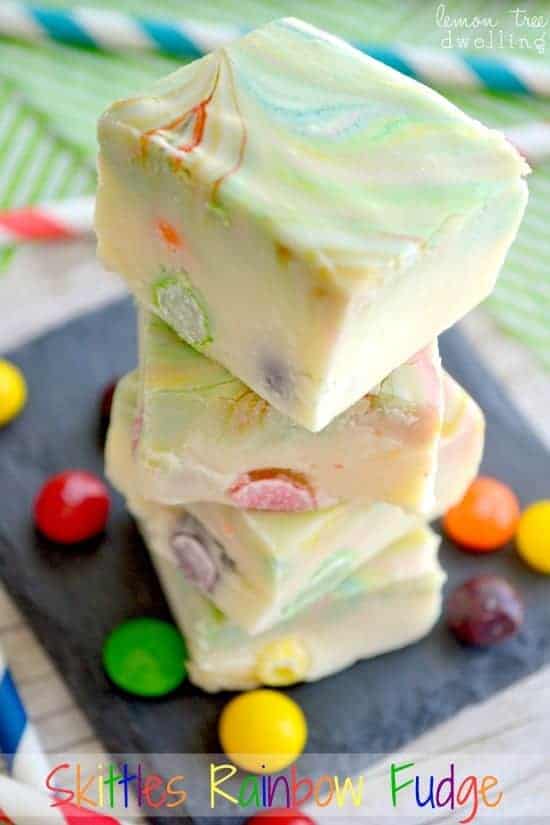 Sometime around middle school I developed a ritual with one of my friends, where we would go out to eat together and then have a sleep over at one of our houses. Our restaurant of choice was a little place called Coco's, and we would both order the same thing every time: stir fry. We would sit for a couple hours, feeling all grown up, and when we were done we would walk next door to the grocery store and load up on everything we would need for the night. Namely, CANDY!!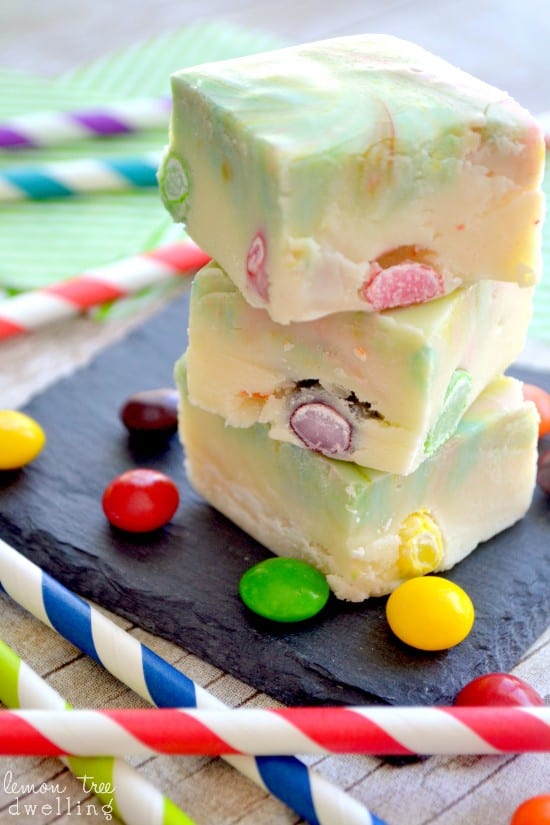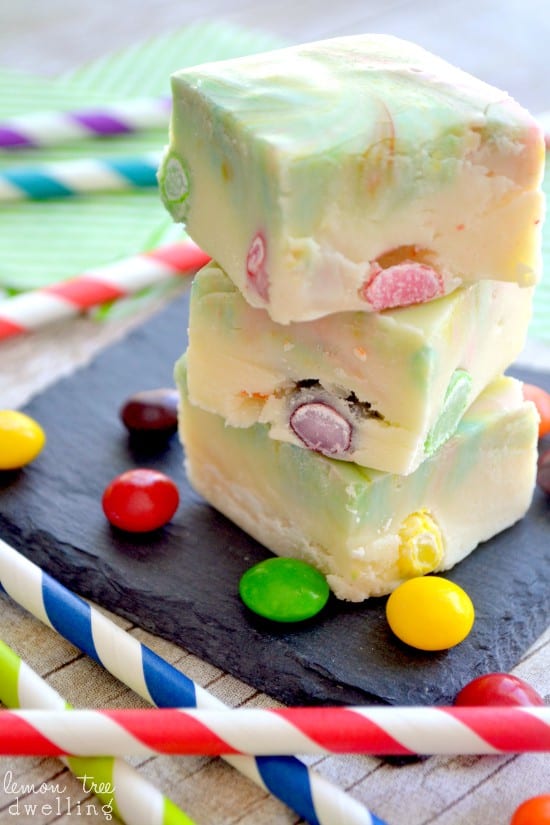 Sometimes it was the bulk "pick a mix" candy, and other times it was licorice. But the candy we chose most often was gummy bears. Our parents would pick us up from the grocery store and drive us to one of our houses (usually hers), where we would down those gummy bears like nobody's business. We had a blast together, hanging out, talking, laughing, and, of course, munching on candy…! I think what we liked most about it was the sense of independence those nights gave us. We were doing what we wanted and loving it!!
Skittles Rainbow Fudge
I'd be lying if I said I didn't still enjoy a good handful of gummy bears, or licorice, or any sugary candy for that matter! One of my favorites? Skittles!! I love the sweetness, the tartness, the crunchiness, the chewiness….and, at this time of year, I love the fact that they're the ideal RAINBOW candy! Perfect for St. Patrick's Day!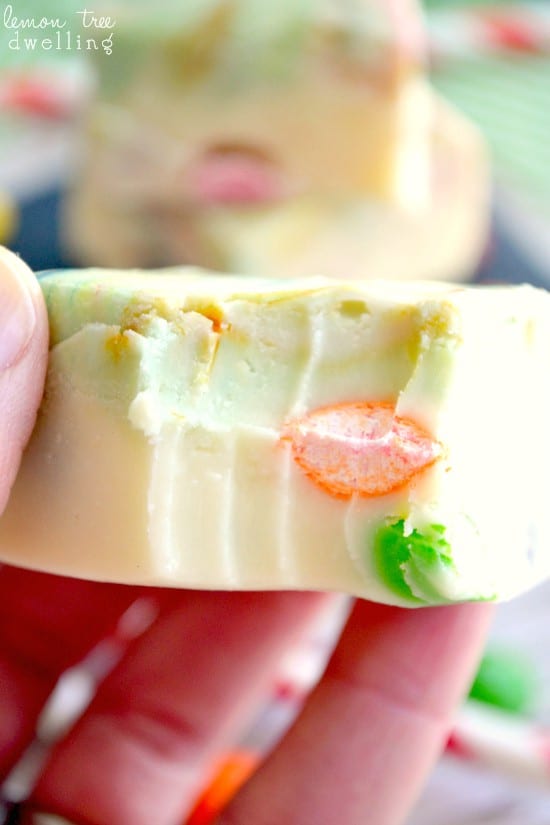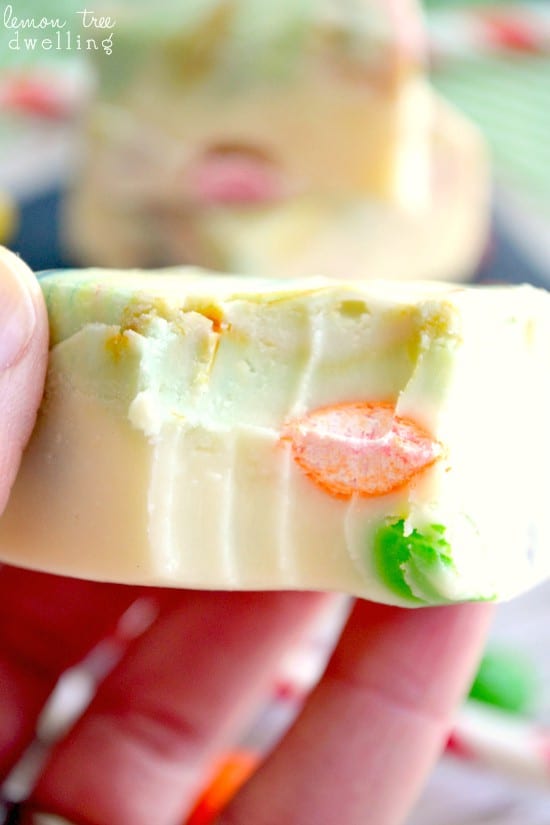 What better thing to do with a handful (or two) of sugary candy than throw it into a sweet fudge….right? After all, when you're a candy lover, there's no such thing as too much sugar! Ha! Let's be clear – this is not a recipe for the faint of heart. This is one serious fudge!! Crunchy, creamy, tart, sweet…..a lot like Skittles, themselves! Which means there has never been a more perfect fudge for St. Patrick's Day fun!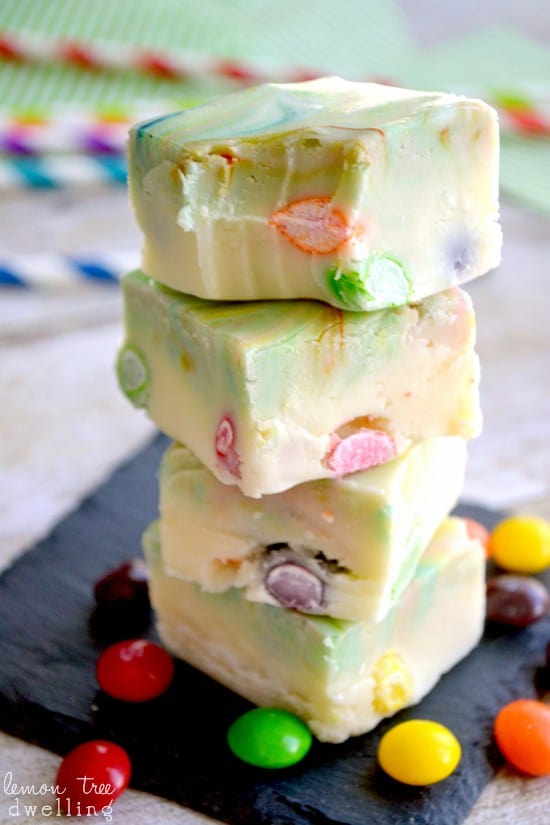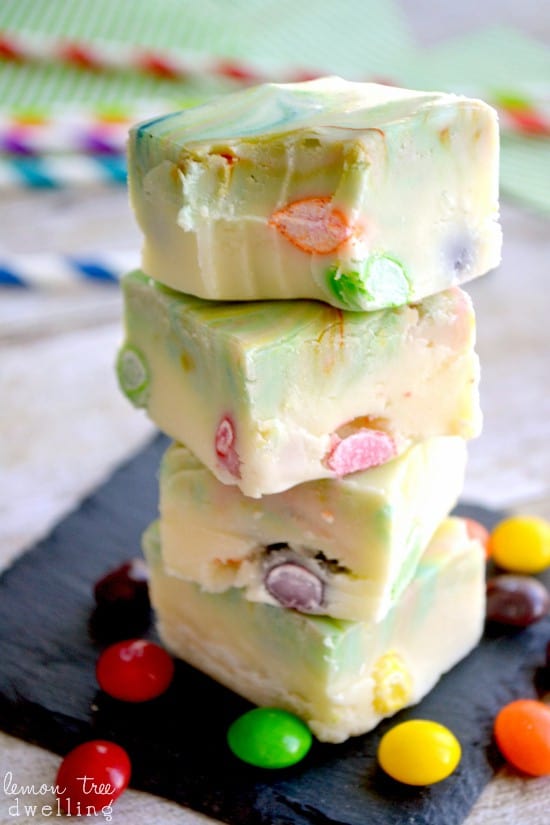 Skittles Rainbow Fudge Recipe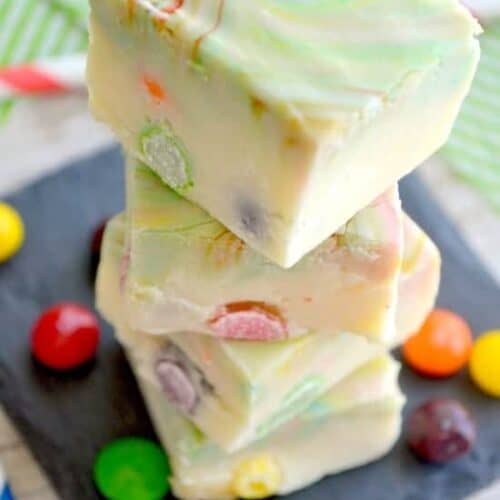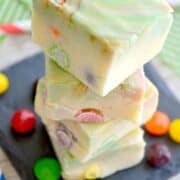 Skittles Rainbow Fudge
Ingredients
3

c.

white chocolate chips

1

14 oz. can sweetened condensed milk

3/4

c.

Skittles

food coloring
Instructions
Combine white chocolate chips and sweetened condensed milk in a small saucepan.

Melt over low heat, stirring constantly, until mixture is smooth and completely melted.

Stir in Skittles.

Pour into an 8-inch square pan lined with parchment paper.

Squirt one drop of each color food coloring in a different corner of the pan; use a knife to create swirls of color.

Refrigerate or freeze until firm.


Looking for more FUN St. Patrick's Day recipes?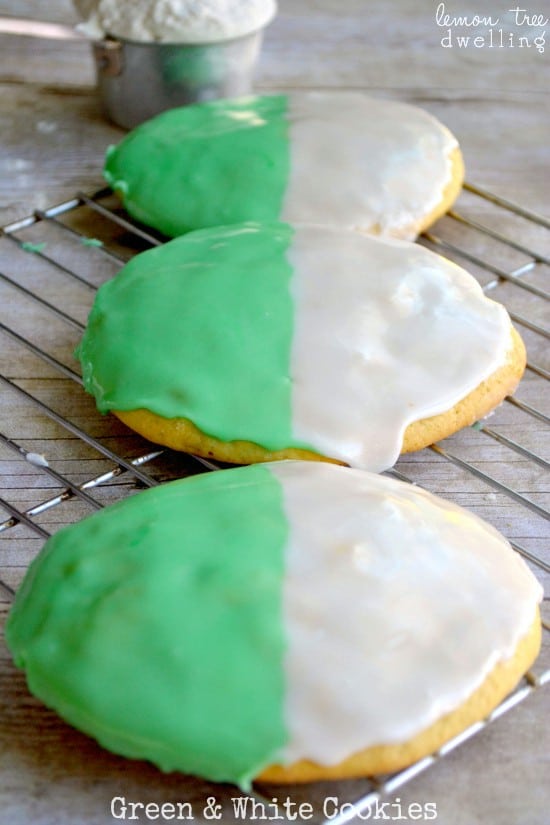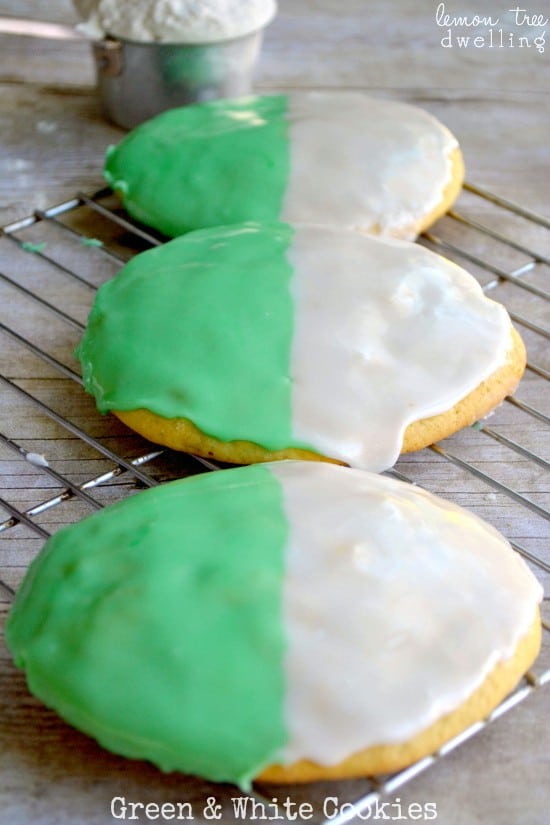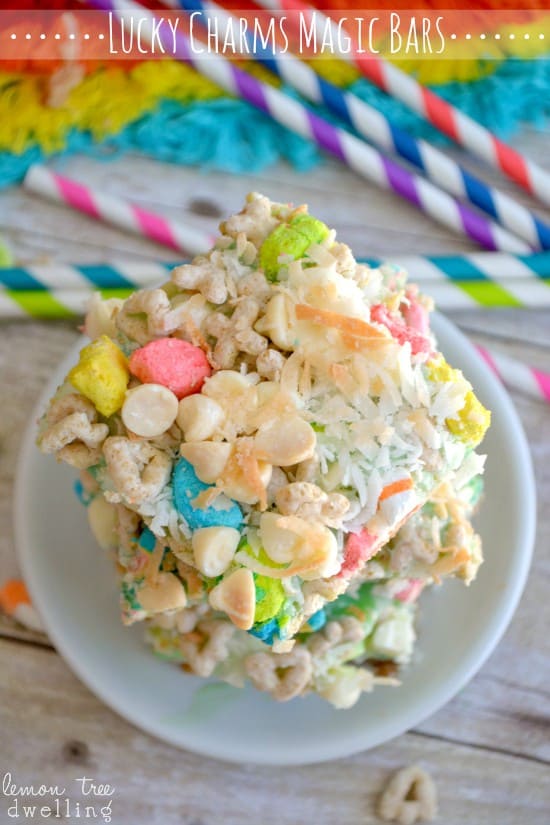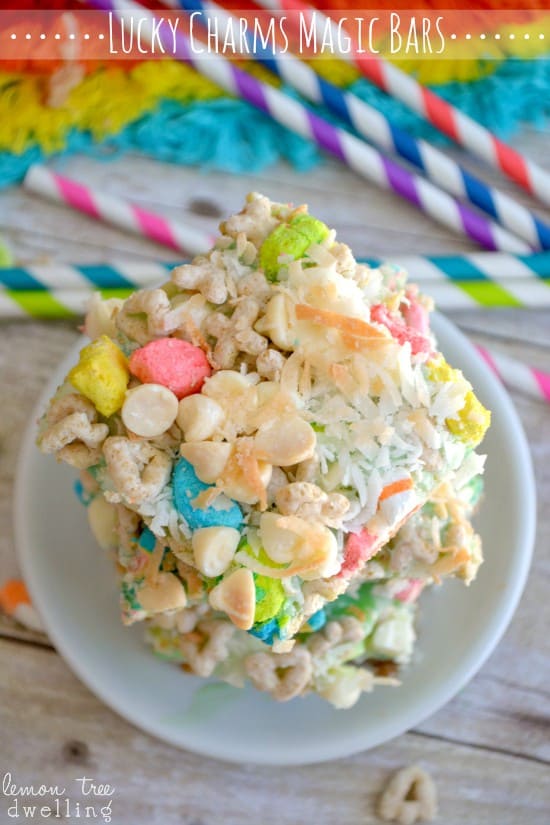 You should try this recipe for White Chocolate Cocoa Pebbles fudge from my friend Wishes and Dishes