Fortune Cookies are always a favorite way to end a meal. These simple chocolate covered fortune cookies are flavored with cinnamon, nutmeg, and allspice. Destined to bring you good luck in the New Year!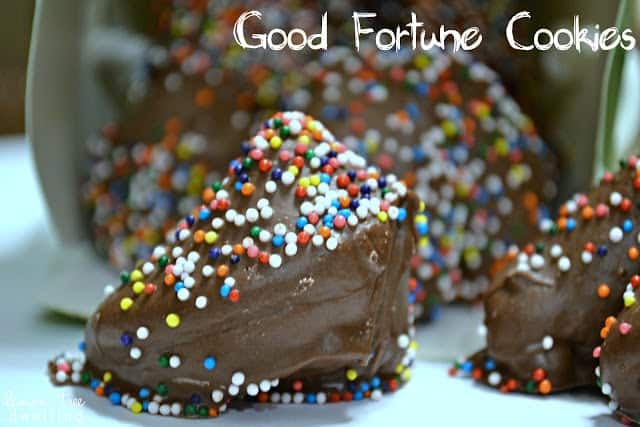 You can learn a lot about a person by the way they watch a Packer game. When Jorden and I were dating, he used to gather all his Packers bobbleheads on the coffee table in front of the tv. As the game progressed, he would position various bobbleheads in different ways – facing toward or away from the tv and one another – in order to bring good luck to the team. I'm not sure how this ritual developed…and I can guarantee it never altered the outcome of a single play…but there was something about it that felt lucky to him (almost as lucky as his red lobster underwear… 🙂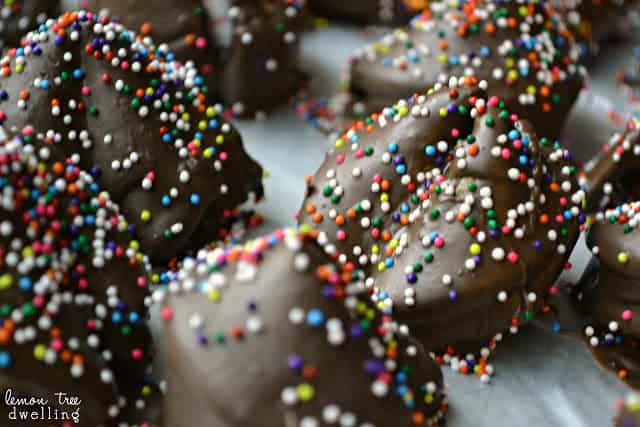 Fortune Cookies
I'm not big into superstition (no lucky underwear for this gal!) but as the New Year approaches, I can't help but hope for good luck in 2013. Isn't that what the New Year is all about… looking forward to the future and inviting good fortune into it?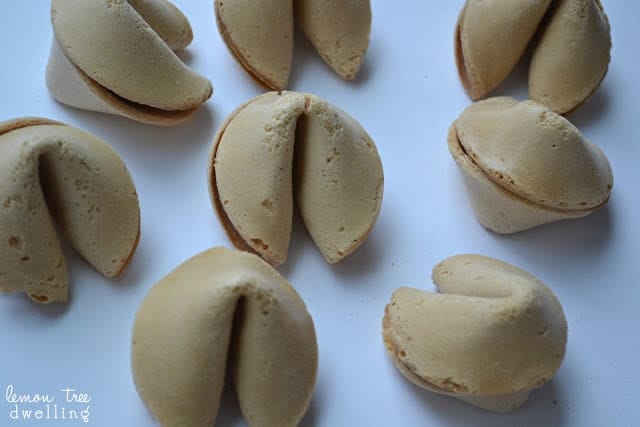 My mind immediately went to fortune cookies. And how better to dress them up than with chocolate…?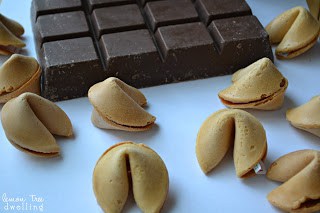 And then I started thinking – I wonder what spices are associated with good fortune? Well, turns out there are TONS….but I chose the three that would taste best with chocolate: allspice, cinnamon, and nutmeg. All are associated with prosperity, success, and good luck – perfect!
I just melted the chocolate, stirred in the spices, dipped, sprinkled, and waited.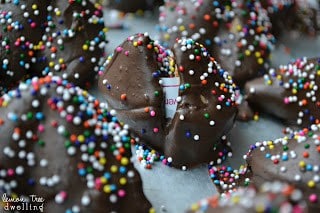 Then I tasted. Mmmmmmmmmmmmmm.
Let's hope they work better than Jorden's bobbleheads…..but it not, at least they taste good!
Good enough to eat, good enough to share, good enough to make you feel like maybe, just maybe, luck is already on your side.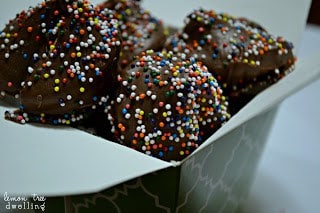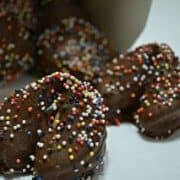 Good Fortune Cookies
Ingredients
3

dozen fortune cookies

24

oz.

chocolate candy coating

I used Almond Bark

1

tsp.

allspice

1

tsp.

cinnamon

1

tsp.

nutmeg

colored sprinkles
Instructions
Melt chocolate in medium saucepan over low heat.

Add allspice, cinnamon, and nutmeg and stir to combine.

Dip fortune cookies into spiced chocolate, tap to remove excess, and place on wax paper-lined baking sheet.

Decorate as desired.
If you are a fan of chocolate than be sure to try my Best Chocolate Chip Cookies!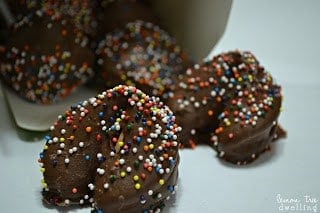 Don't forget to follow us on Pinterest for more great recipe ideas!