Easy No-Bake Petit Fours are a quick and easy dainty made with shortbread cookies, Nutella, and Vanilla Candiquik. An adorably delicious Valentine's Day treat that the kids can help make!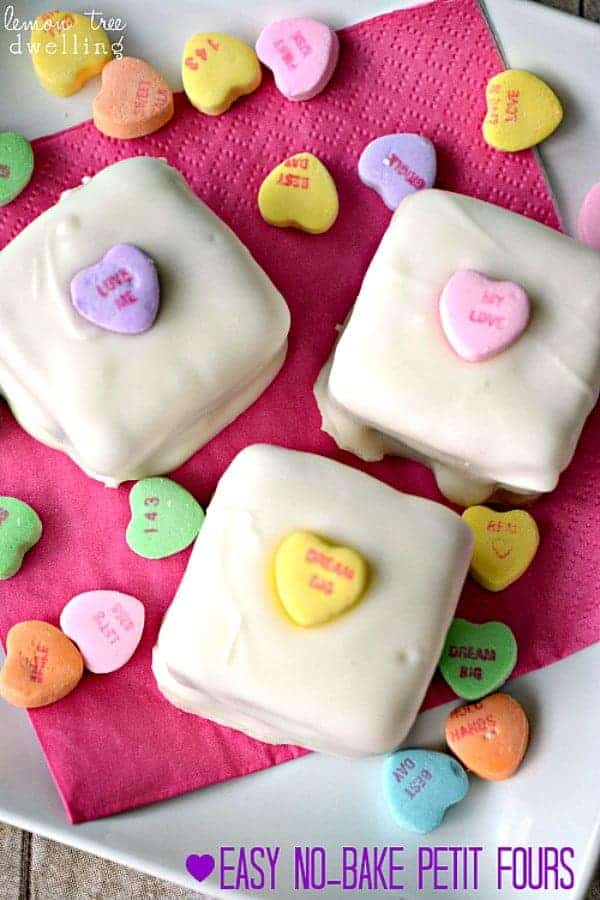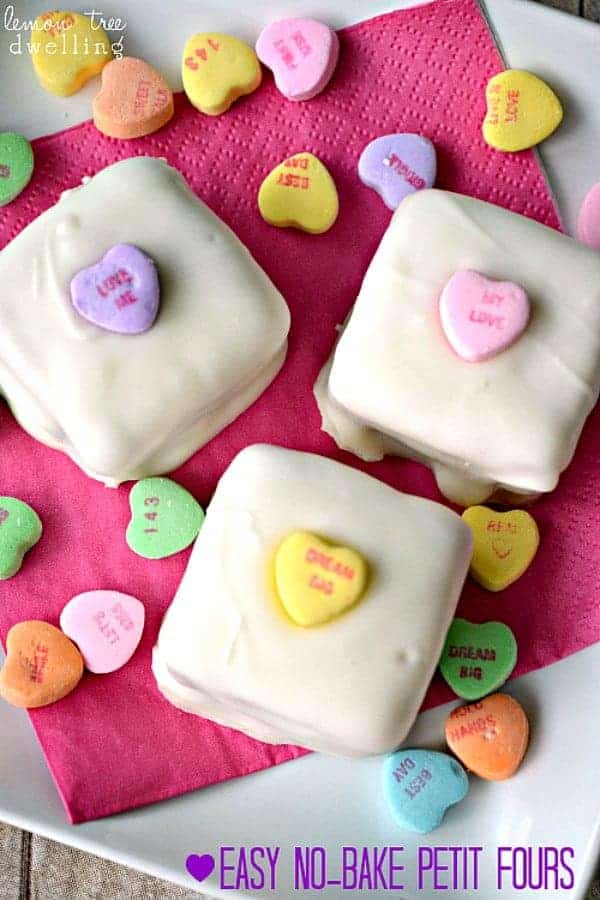 In case you haven't notice by now, I LOVE no-bake recipes. I think it's because I can start them one minute and finish them the next….and have a fun, delicious treat in the end! So in between phone calls and emails, diaper changes and sandwich making, coloring and Play-doh…..I often find myself day-dreaming in no-bakes! Ah…..the life of a stay at home mom blogger.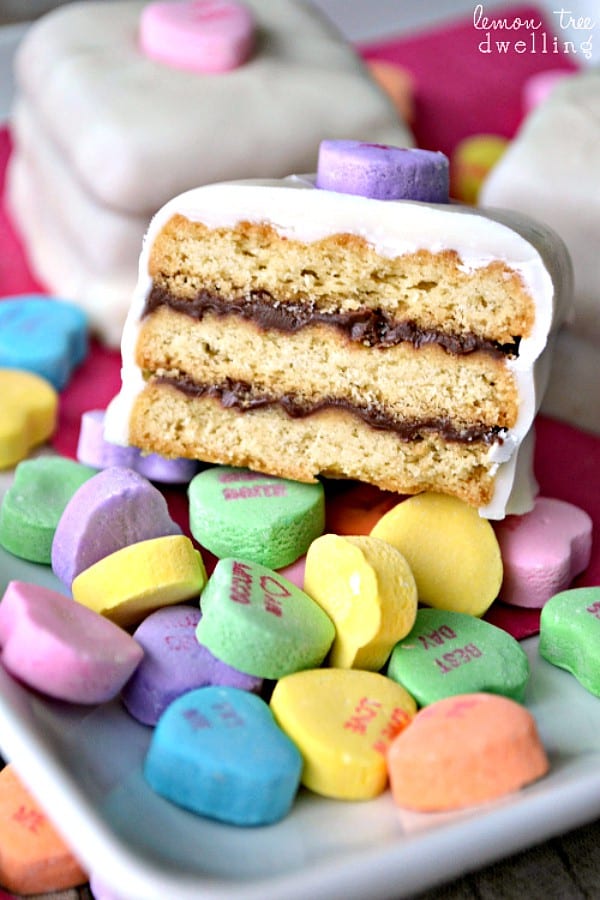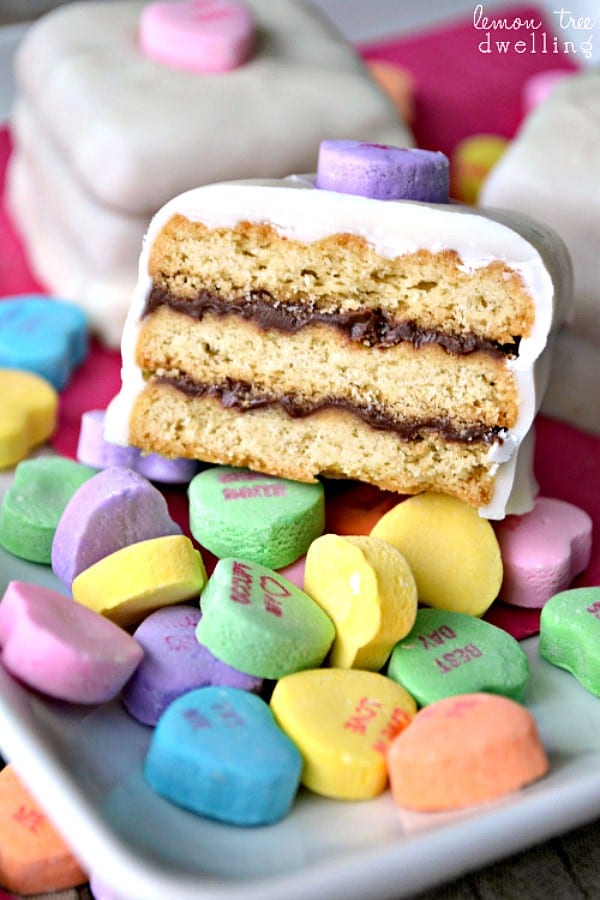 Another thing I love about no-bakes? They are always a HUGE hit with my kiddos! I don't know what it is…..maybe the fact that they are usually bite-sized and chocolate candy coated…..just right for little hands and taste buds? And I don't know why it makes me so happy when the kiddos approve. Like their opinions are actually trustworthy…..? But, nonetheless, their approval does matter!
Easy No-Bake Petit Fours
Which is why yesterday, when Nora couldn't keep her hands off these No-Bake Petit Fours….and Ellia and Greta dove for the plate of them the minute they got off the bus, and proceeded to tell me they were the BEST thing I've ever made…..it literally made my day! I felt like I had accomplished something great! Never mind the fact that they only took me 10 minutes to make.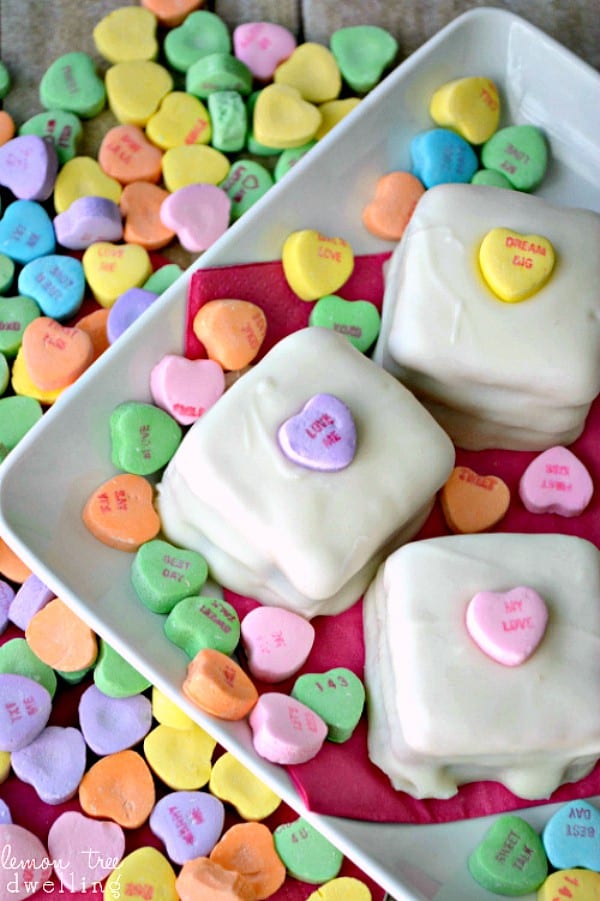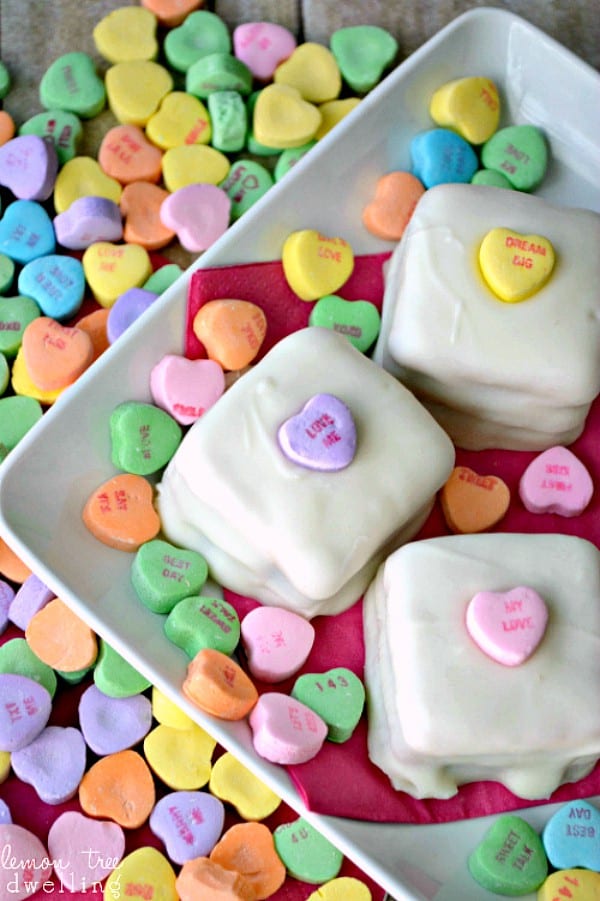 Now……if only I could get them to have that kind of reaction to dinner…!!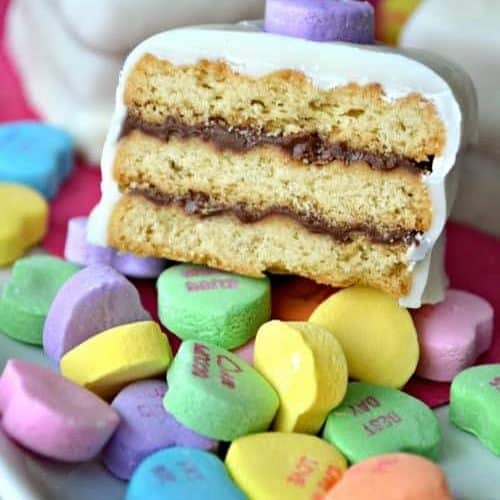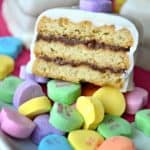 Easy No-Bake Petit Fours
Ingredients
24

Lorna Doone shortbread cookies

8

oz.

Vanilla Candiquik or other meltable white chocolate

1/2

c.

Nutella

8

conversation heart candies
Instructions
Stack 3 shortbread cookies, filling the middle two layers with Nutella (approx. 1 tsp. per layer)

Melt Candiquik over low hear; spoon over shortbread stacks to cover completely.

Place Petit Fours on wax paper; top each with 1 conversation heart.

Cool in refrigerator or at room temperature until chocolate has hardened.
Enjoy!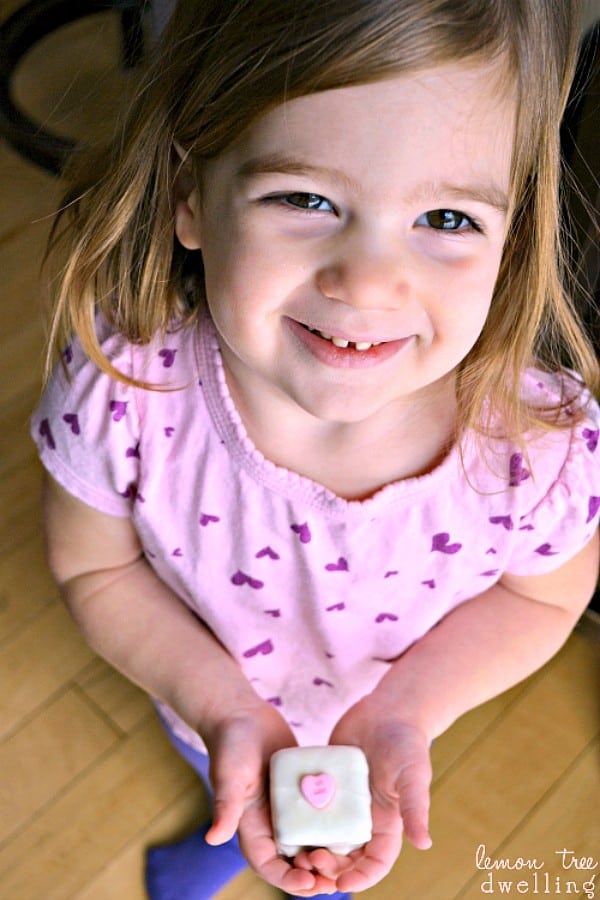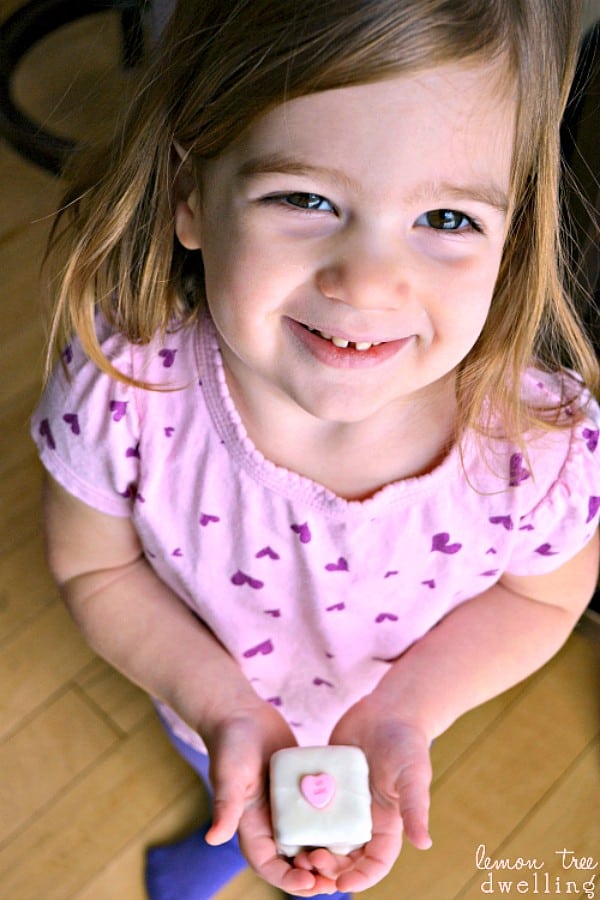 Looking for more delicious no-bake Valentine's Day recipes?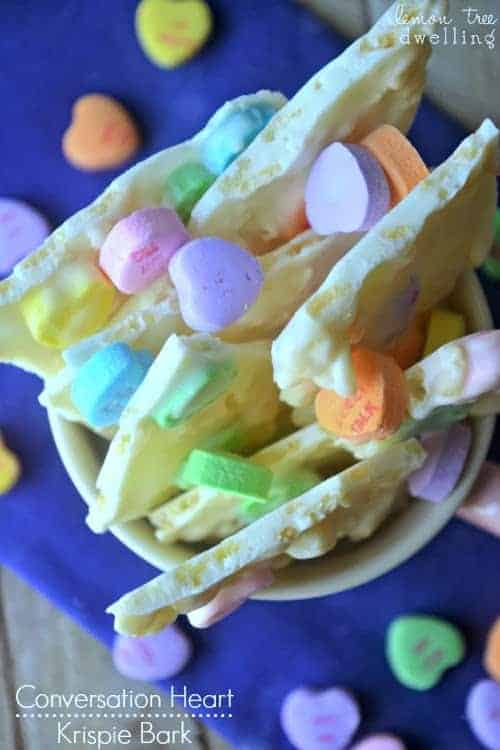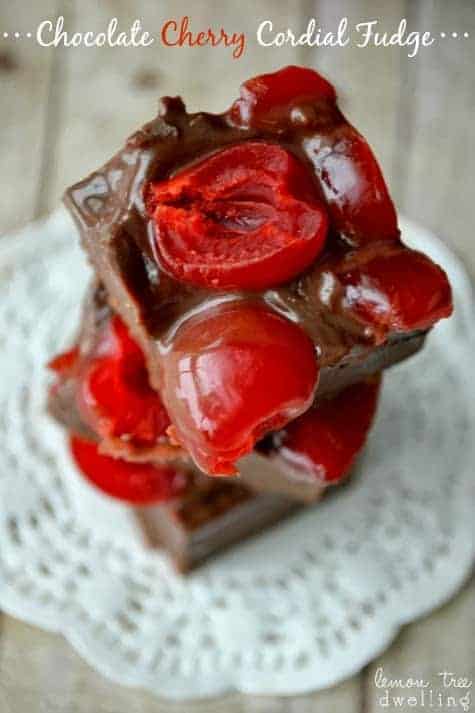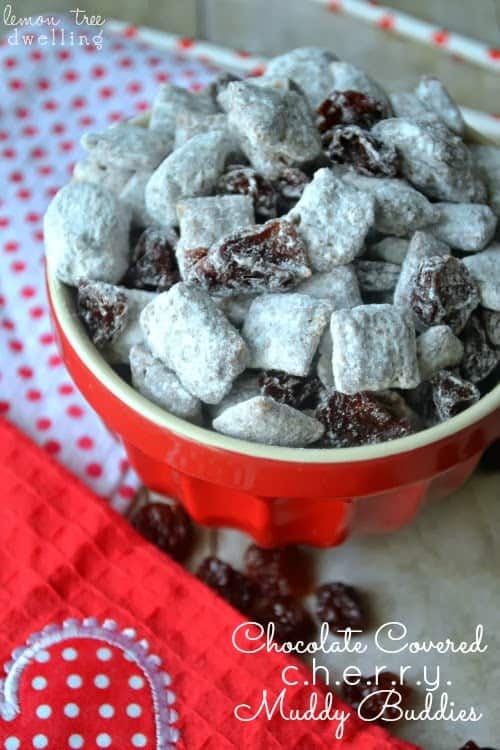 For a wonderful Valentine's Day drink to enjoy, try this Chocolate Cherry Cha-Cha from Mix That Drink