An Oatmeal Scotchie Pizookie is a deep dish decadent dessert everyone can enjoy! This lightened up version is a perfect hot dish for those cold winter nights, reminiscent of a warm oatmeal cookie!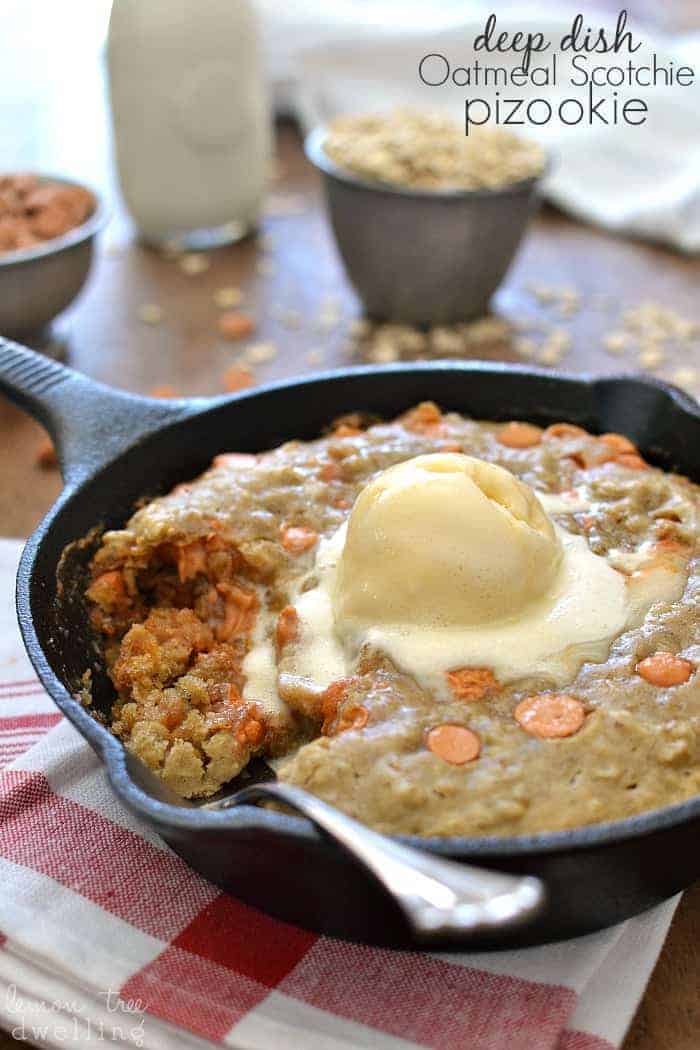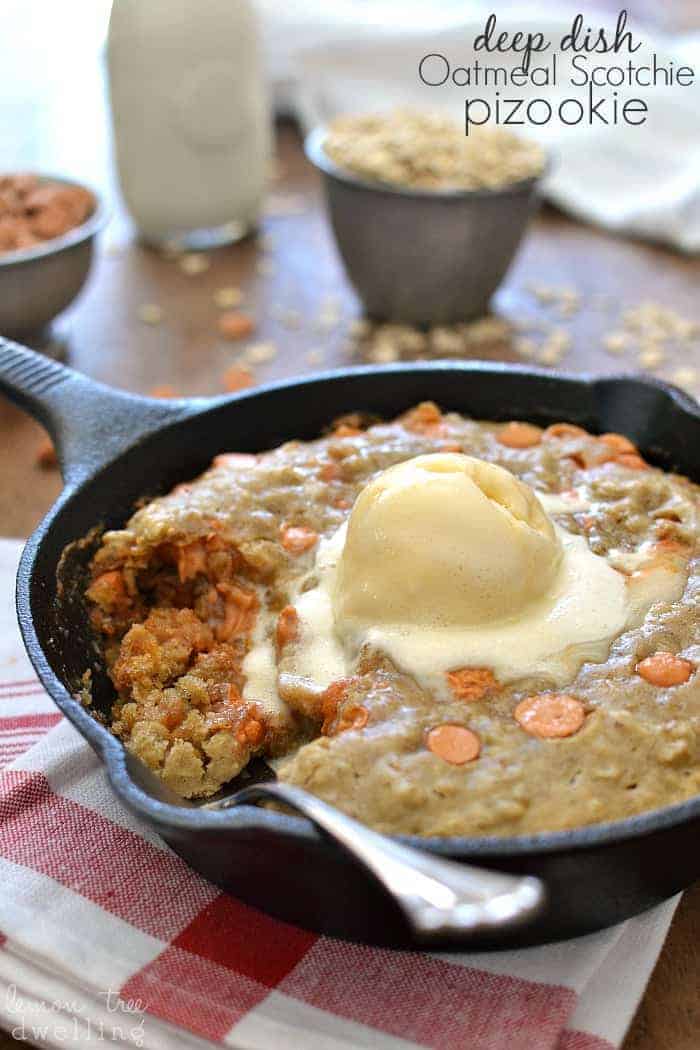 Am I the only one who feels like the older I get, the harder it is to find willpower? I know that winter is coming to an end, and soon we'll all be sporting tank tops and bare legs…..and I know that probably means I should be exercising at least a little bit of willpower…..but the truth is it seems to be in excessively short supply!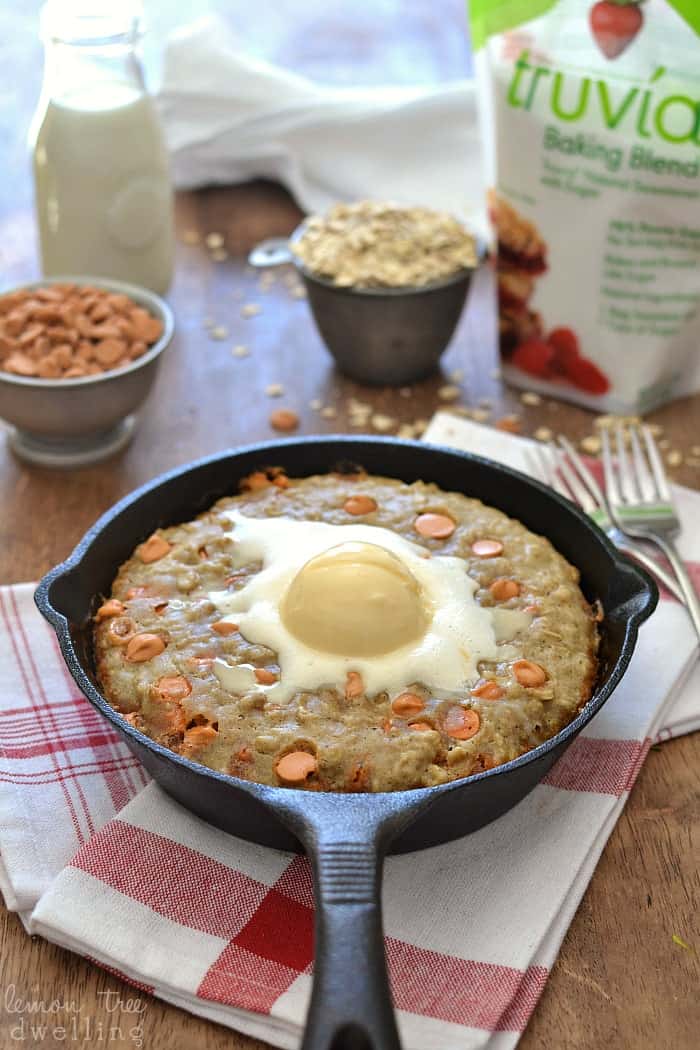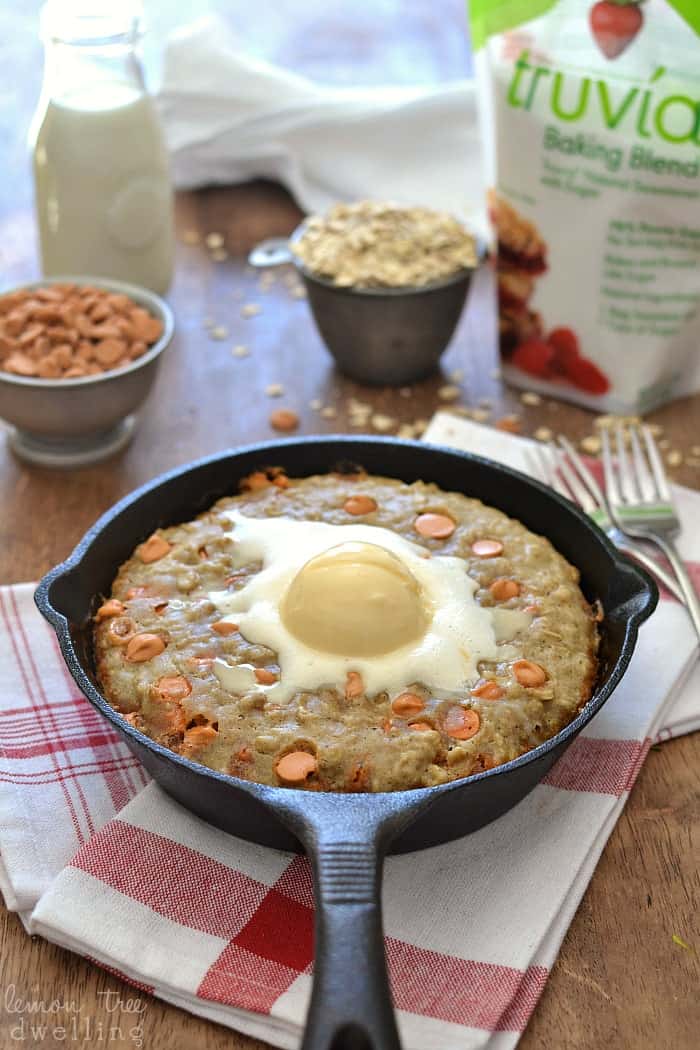 Maybe it's because I spend so much time in the kitchen, and I'm always surrounded by delicious food. Or maybe it's because I know that spring is still a little further away than I'd like to admit. Or maybe it's just because I'm getting older…and I don't care quite as much how I look in a swimsuit (not that you'll actually catch me in a swimsuit – ha!). But whatever it is, all I really want to do is cozy up by the fire and have dessert!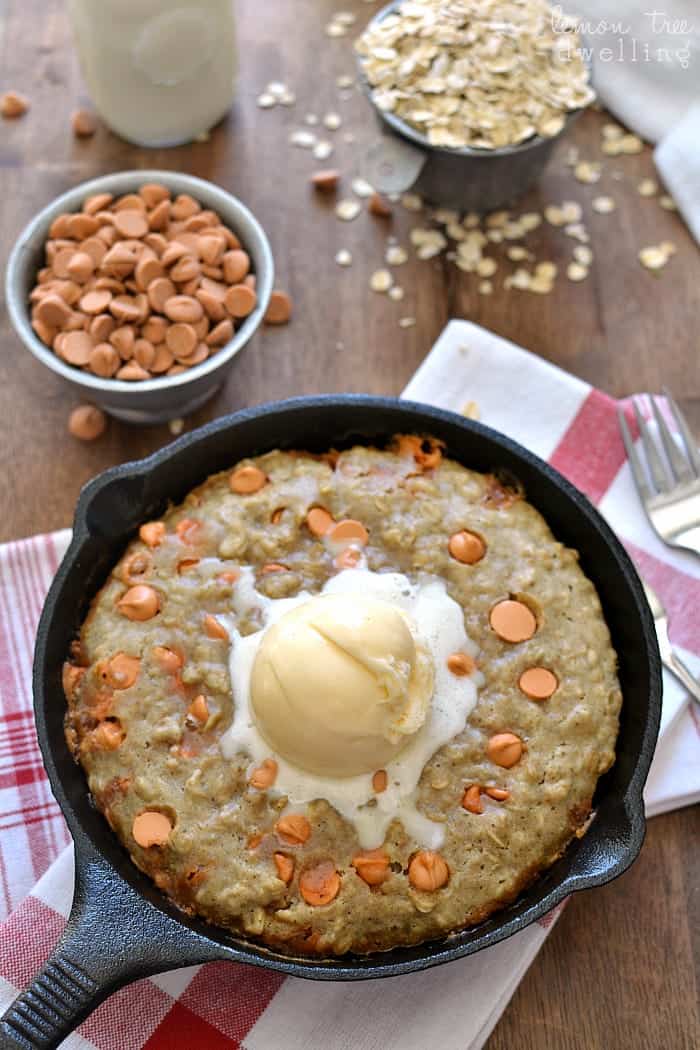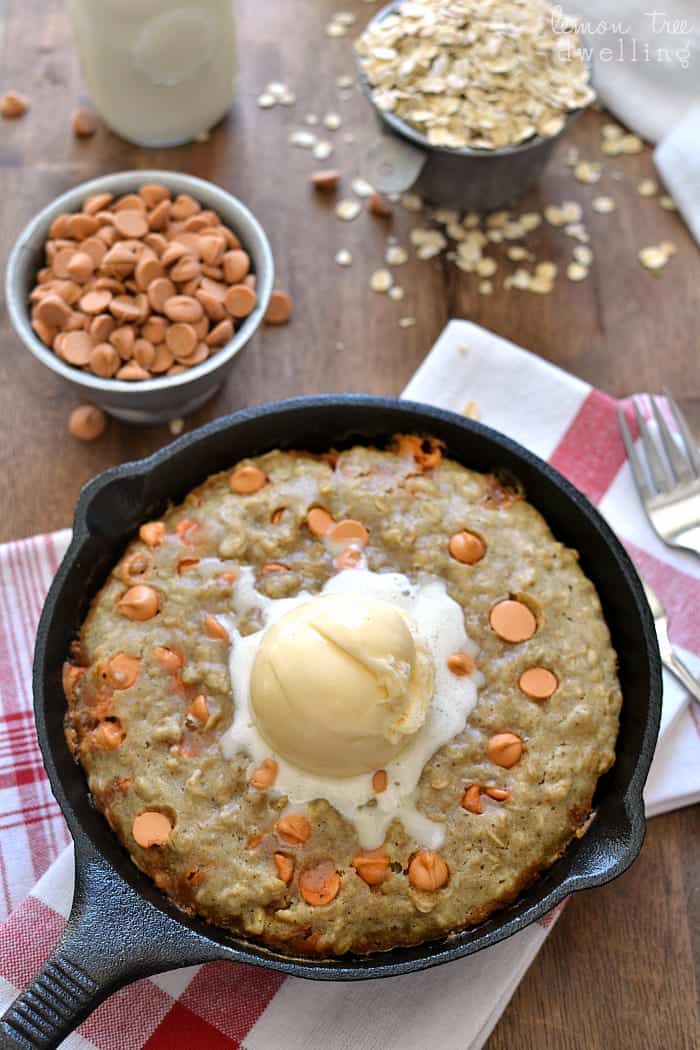 That being said, I've been thinking maybe I should look for some middle ground. The place between complete indulgence and impeccable self control. Of course, no matter what, if I'm going to eat dessert it needs to feel indulgent. Because if it doesn't feel indulgent, then what's the point? Am I right??
Oatmeal Scotchie Pizookie – A decadent dessert
Enter: Deep Dish Oatmeal Scotchie Pizookie. This bad boy is 100% indulgent (hello deep dish), completely delicious (oatmeal & butterscotch!?), and a great base for a scoop of vanilla ice cream. I opted for frozen yogurt because….middle ground….and enjoyed it right out of the oven because…..fresh baked cookie!! Best of all, I made it with Truvia Baking Blend! So it still tastes indulgent, but since Truvia has 75% fewer calories than regular sugar, it's a great exercise in preparing for swimsuit season. Without spending any unnecessary time searching for willpower. You're welcome!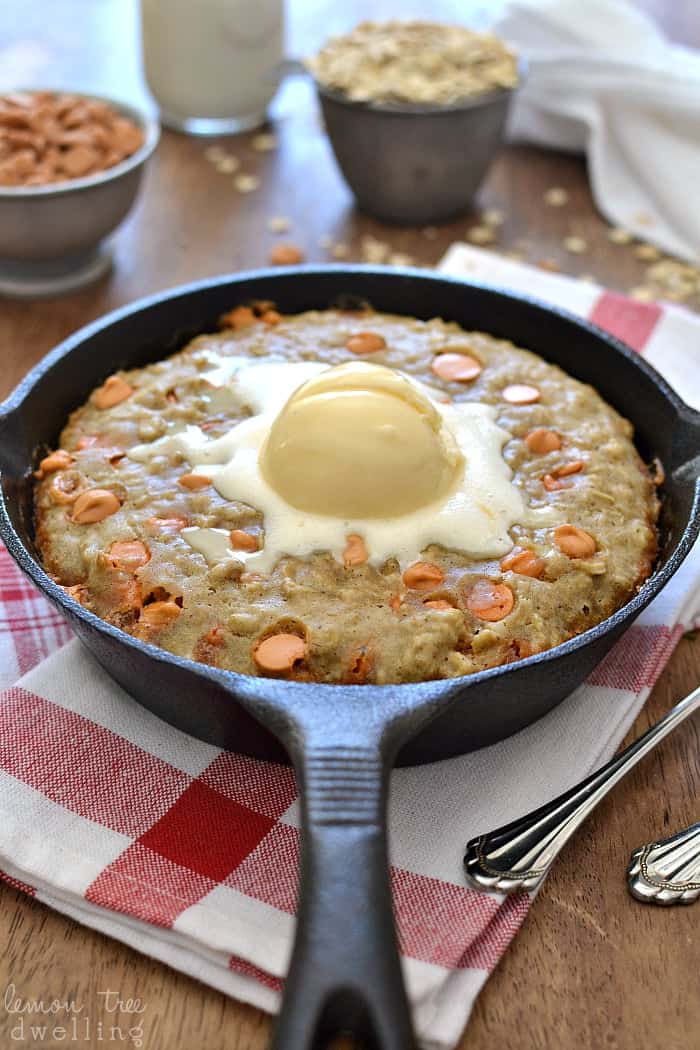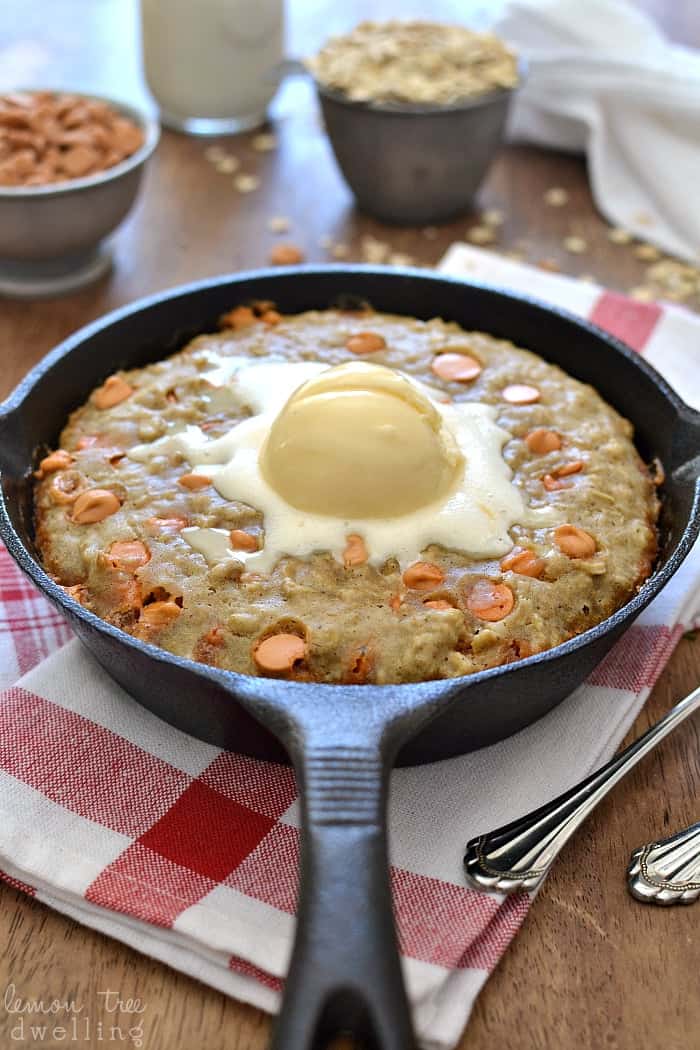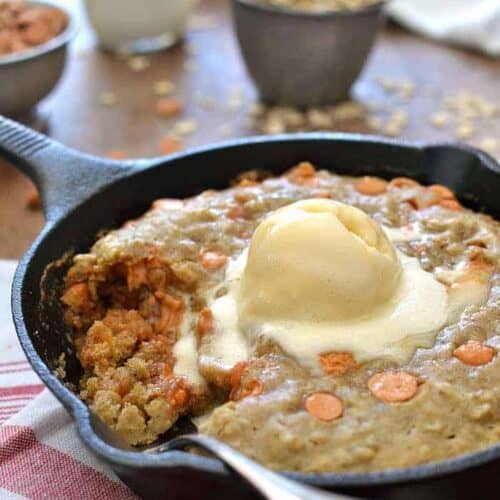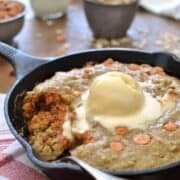 Deep Dish Oatmeal Scotchie Pizookie
Ingredients
1/2

c

.water

1/2

c.

oil

1

egg

1/4

c.

Truvia Baking Blend

1/2

tsp.

vanilla

1

c.

flour

scant

3/4

tsp.

baking soda

1/4

tsp.

salt

1/4

tsp.

nutmeg

1/4

tsp.

cinnamon

1/8

tsp.

ground cloves

1

c.

quick or regular oats

uncooked

1

c.

butterscotch chips
Instructions
Combine water and oil in a medium saucepan; bring to a boil, cover, and boil 6 minutes.

Remove from heat and cool 10-15 minutes.

Add egg, Truvia, and vanilla and mix well.

In a separate bowl, combine flour, baking soda, salt, nutmeg, cinnamon and cloves.

Add to mixture in saucepan and stir to combine.

Add oats; then stir in butterscotch chips.

Pour mixture into a 5 inch cast iron skillet, coated with cooking spray.

Bake at 375 degrees for 15-18 minutes.

Remove from oven; top with vanilla ice cream or frozen yogurt (optional).

Enjoy!
These fabulous cold day recipes are perfect for warming up!