Banana Cream Cheesecake Parfaits combine the delicious flavor of a banana cream pie with the decadence of cheesecake. This 5 minute, no-bake dessert is easy to make and so delicious.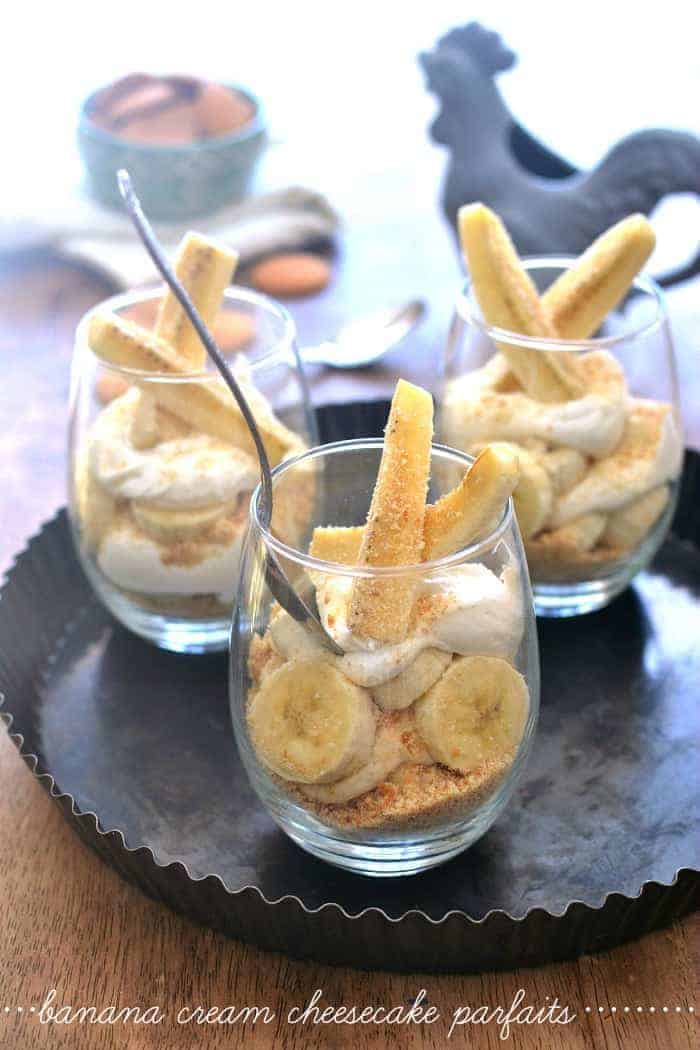 I don't know what it is about bananas, but I find them to be the ultimate dessert fruit. I know they're humble, and ordinary, and a little bit plain…..but if you ask me, there's no better vehicle for desserty goodness. (Not even a strawberry!)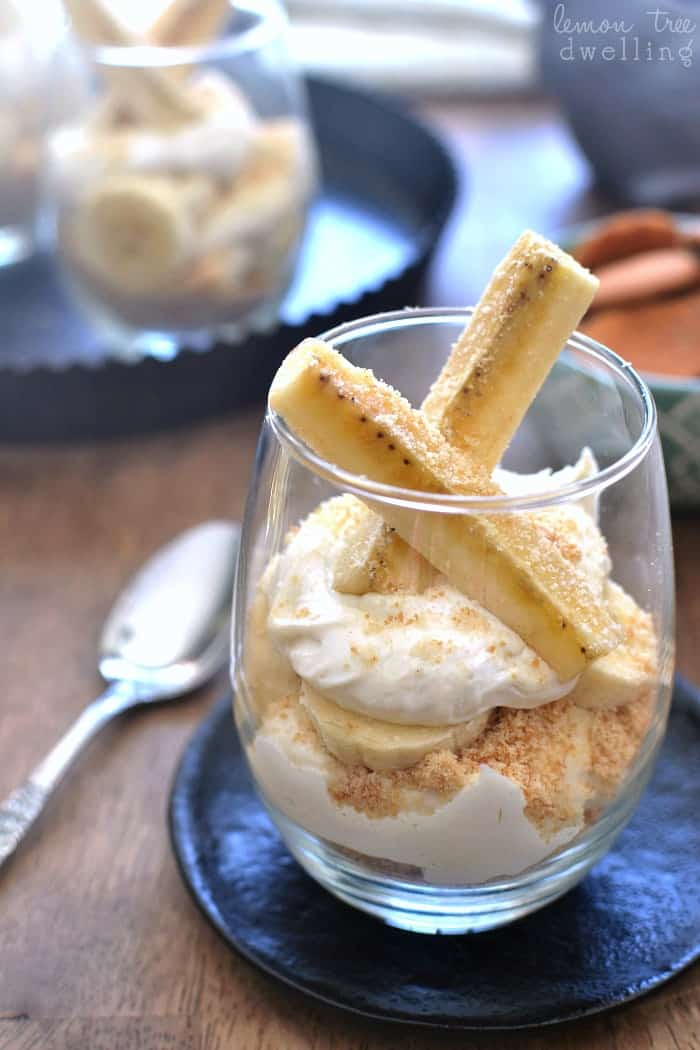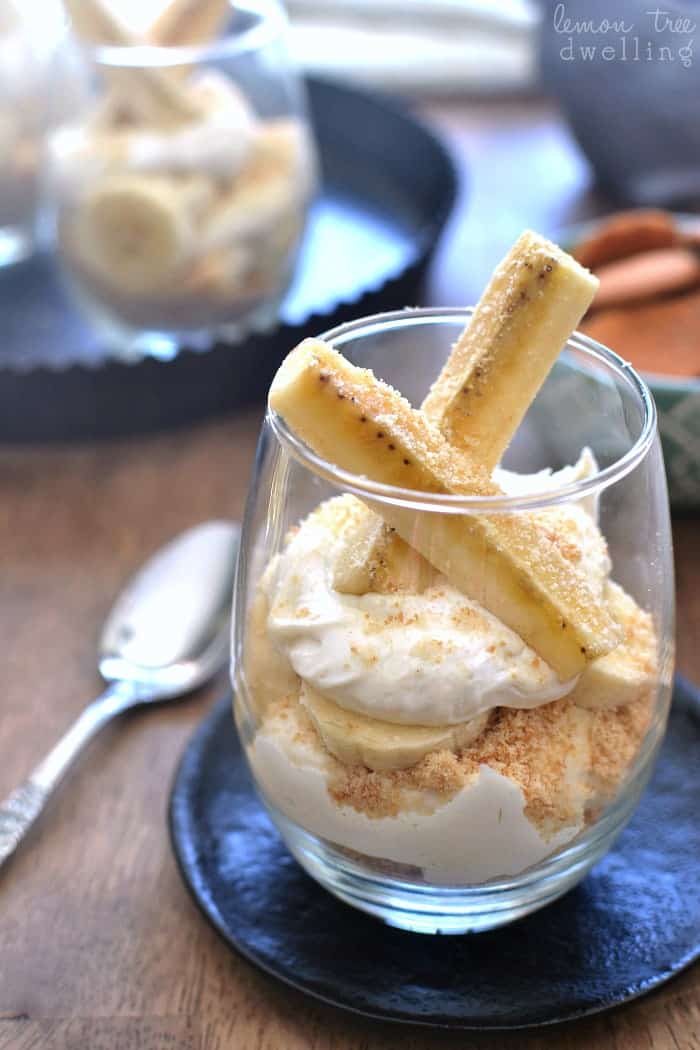 Now, I know some of you might disagree with me….especially about the strawberries….but let me explain. Not only are bananas hearty (so you actually feel like you're eating something substantial) and big (much bigger than strawberries), but they're incredibly versatile! You can top them with chocolate or caramel or peanut butter….or a combination of all three….you can put them in a banana split or a smoothie or even slice them up with strawberries and whipped cream, you can make them into a banana boat, or a cake, or, of course, you can make a pie…..!
Banana Cream Cheesecake Parfaits – Pie in a cup!
Banana Cream Pie is the one thing I craved most during my last pregnancy. Of course, I never indulged…..which is probably why I still find myself craving it to this day…..so I finally decided to make it happen. Of course, I didn't go so far as to make an actual pie, but I did decide to whip up a little something delicious. These Banana Cream Cheesecake Parfaits are very reminiscent of the pie I've been craving.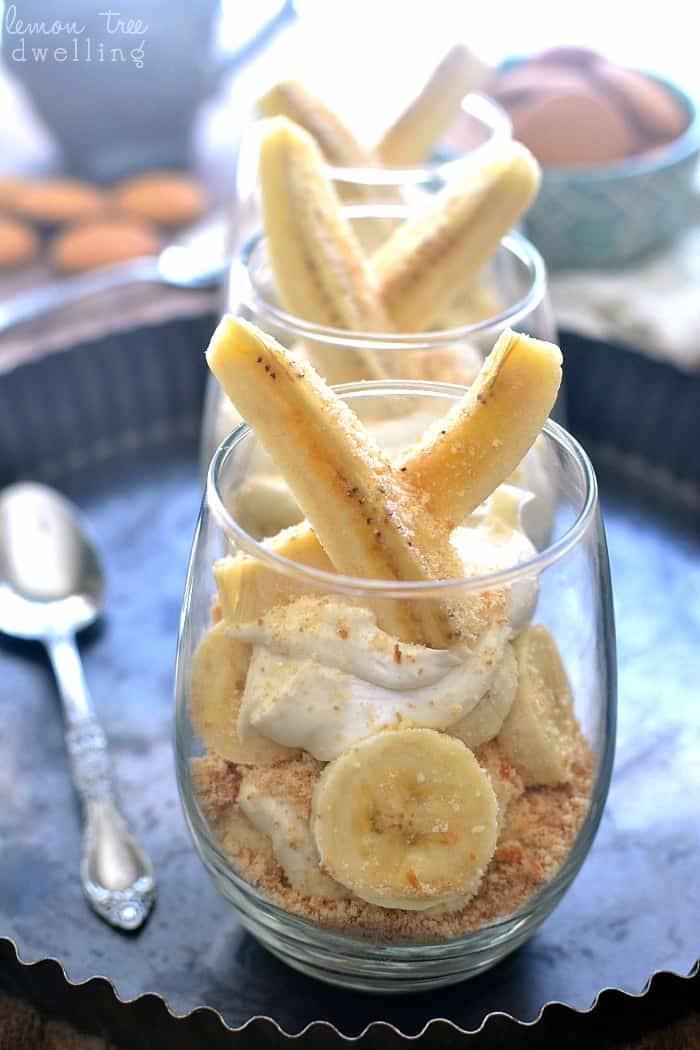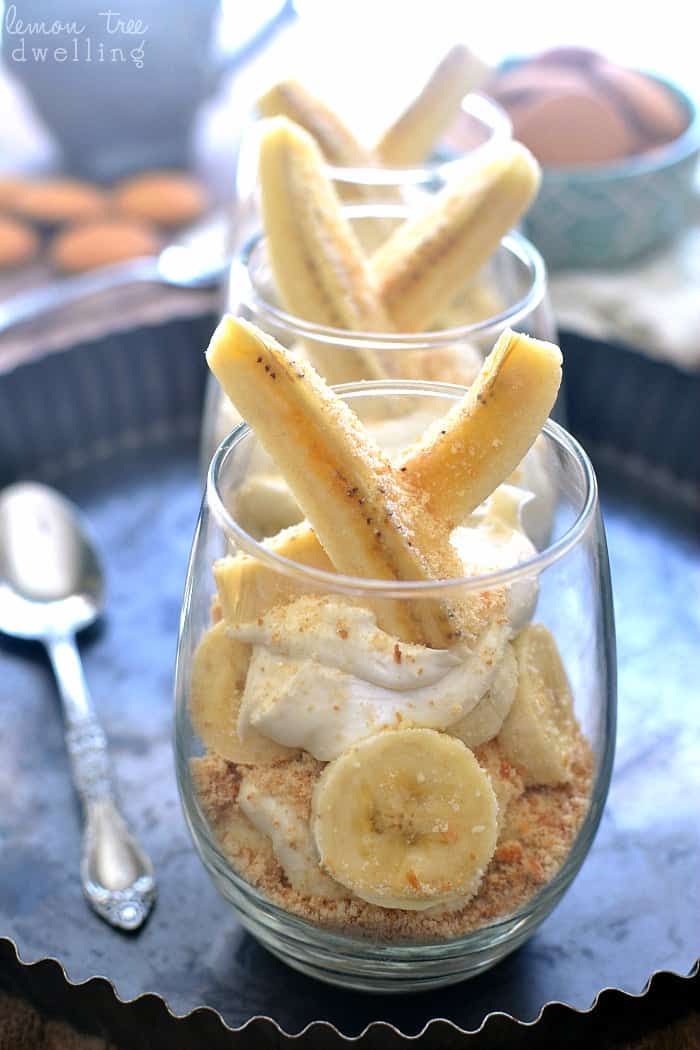 I love making individual parfaits in place of a full sized dessert, and I especially love how simple they are to pull together. Perfect for a last minute dessert or an unexpected craving…..and sure to satisfy, without all the fuss!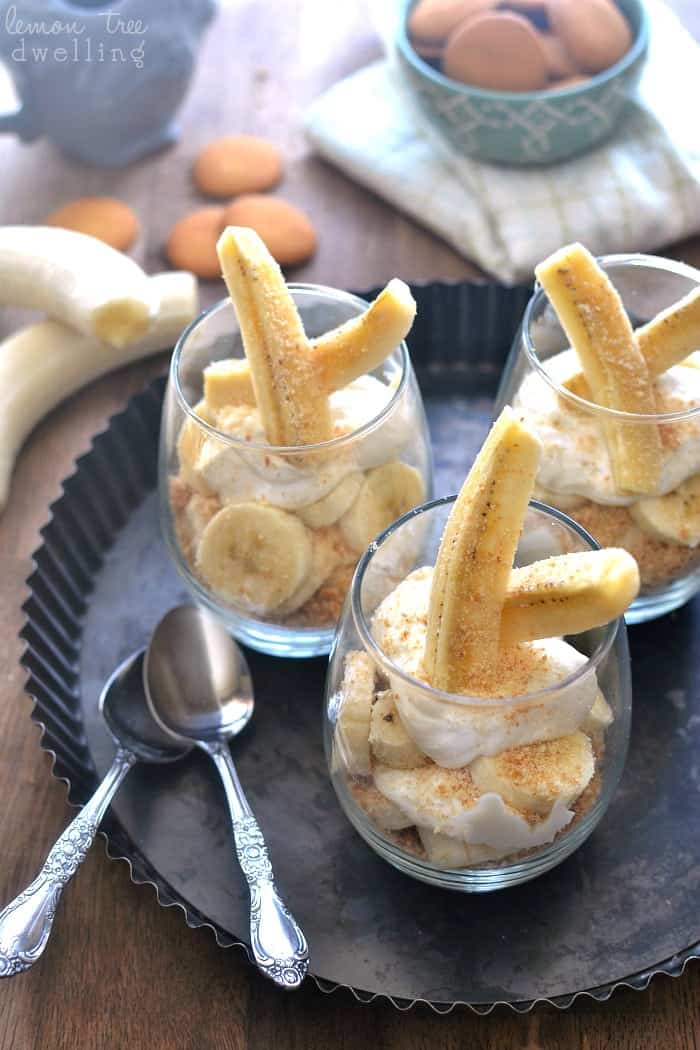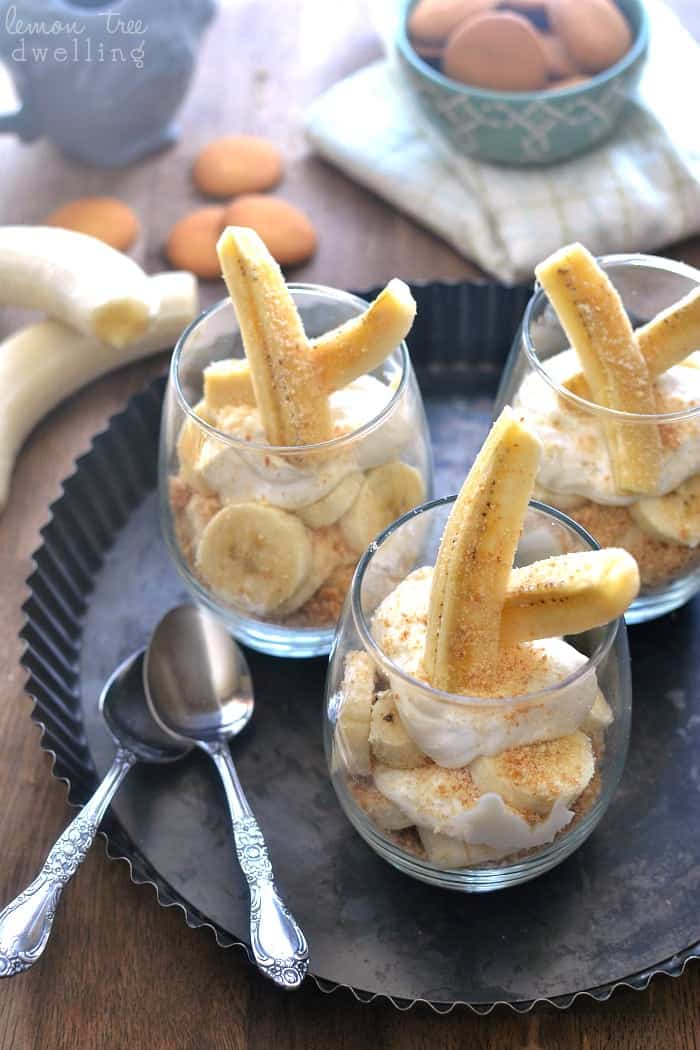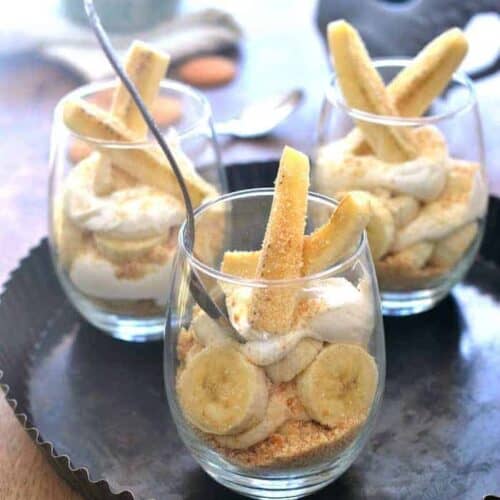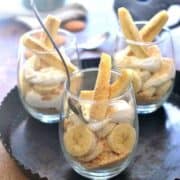 Banana Cream Cheesecake Parfaits
Ingredients
8

oz.

cream cheese

1/4

c.

sour cream

1/3

c.

sugar

1

tsp.

vanilla

3

bananas

1

c.

vanilla wafer crumbs

2

Tbsp.

butter

melted
Instructions
Combine cream cheese, sour cream, sugar, and vanilla in a medium mixing bowl.

Beat on medium-high speed until smooth and creamy.

In a separate small bowl, combine cookie crumbs and melted butter and mix well.

Divide cookie crumbs evenly among 4 small serving dishes.

Slice 1/4 banana into each dish.

Top with 1/8 cream cheese mixture.

Slice an additional 1/4 banana into each dish.

Sprinkle with additional cookie crumbs as desired and top with banana spears.
Looking for more delicious banana treats?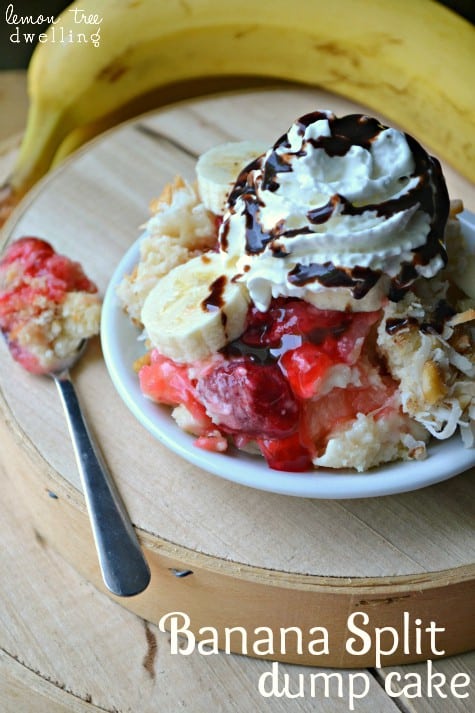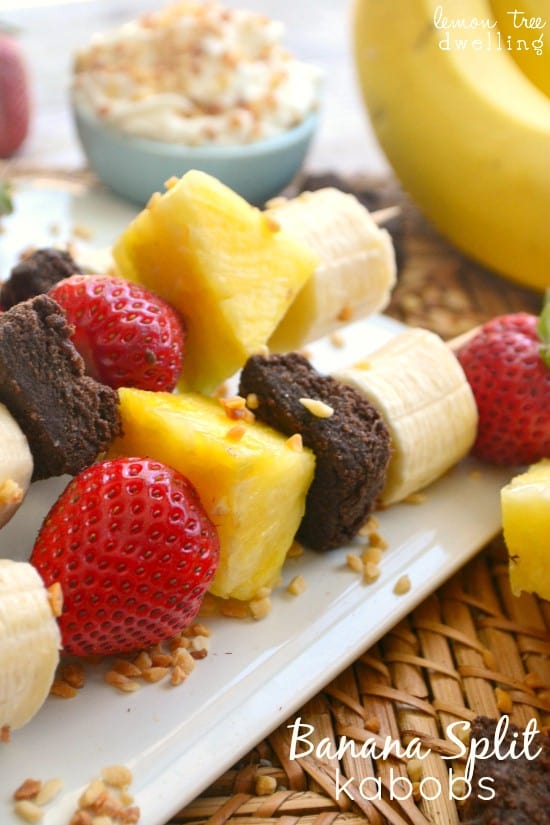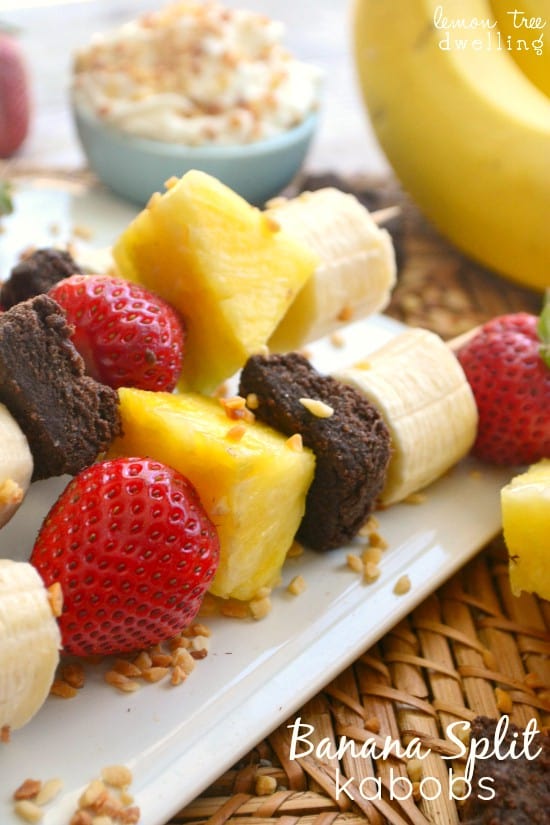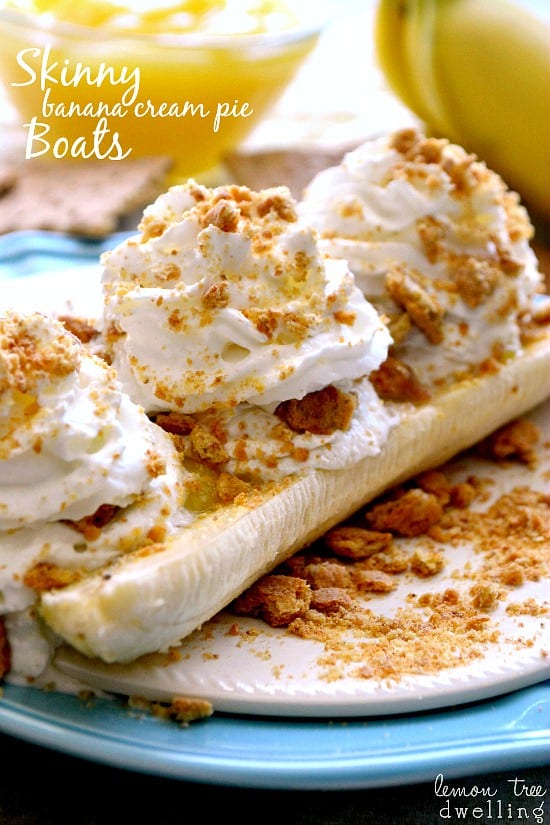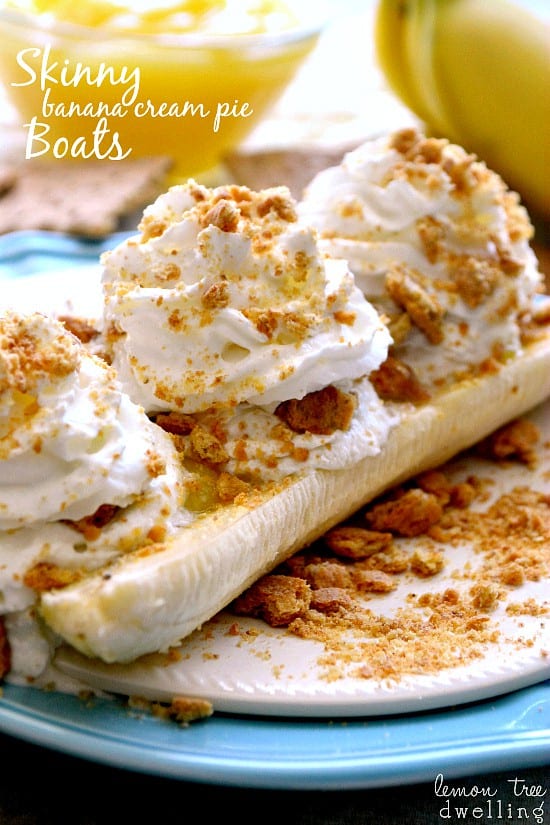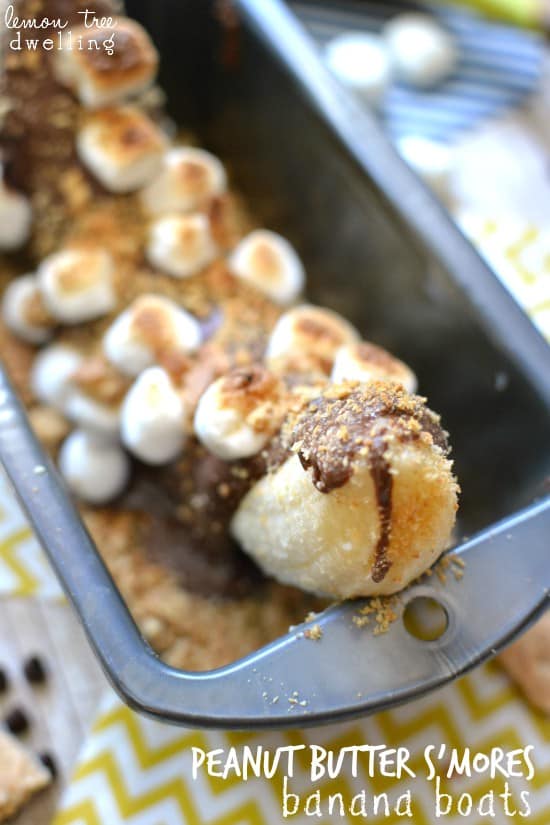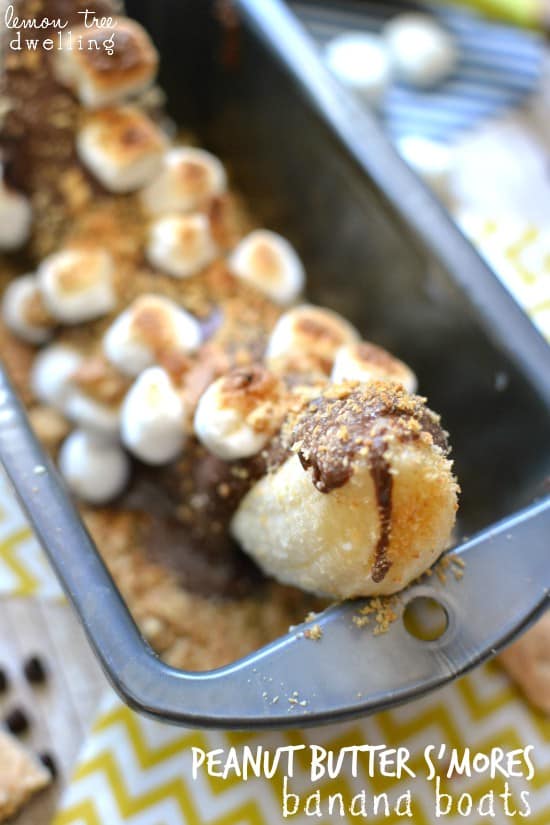 My friend Amanda at Fake Ginger has a great mash up dessert with this Raspberry Cheesecake Brownies!