Creamy Mac and (Beer) Cheese is a grown up take on the classic kids meal. Made with Kraft Macaroni & Cheese flavored with beer, vegetables, spices, and plenty of extra cheese. A delicious blend of mac & cheese and beer cheese soup!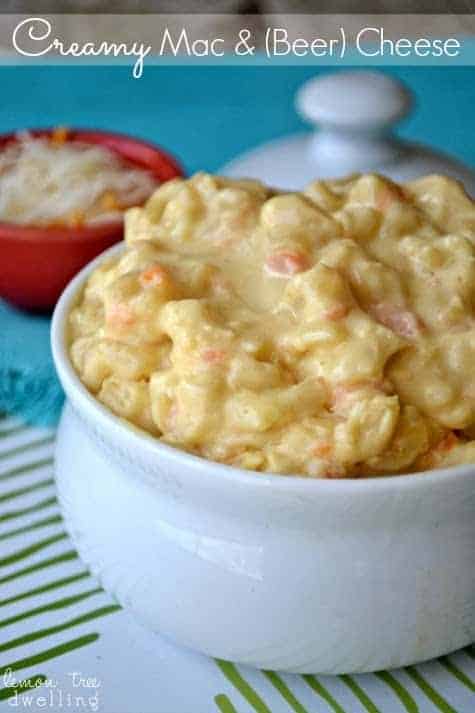 Back in the days before kids…..(which I can hardly remember)…..Jorden and I LOVED going out to eat! Big surprise, I know…..who doesn't love eating out!? We had our favorite spots, of course, one of which was Champps, and mostly for their amazing beer cheese soup!! We would typically go there on Saturdays, when we knew they would be serving it, and order a cup while we waited for our meals. There was something about it – so rich and creamy and delicious – that was absolutely to die for! It actually makes me hungry just thinking about it.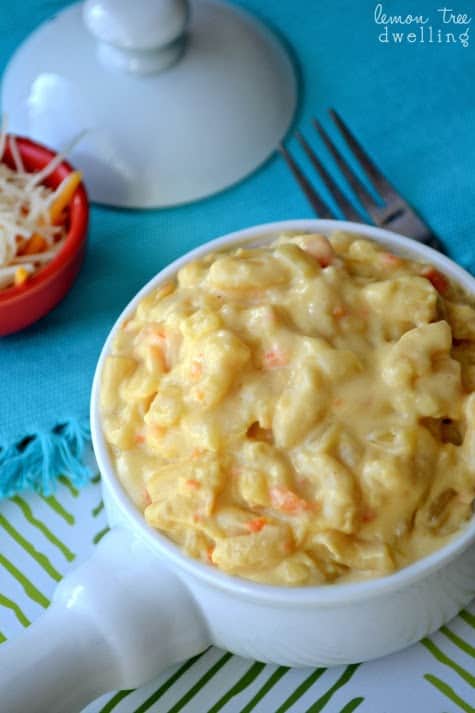 Now that we have three kids, and eating out is kind of a big deal, it's been a very long time since we've eaten at Champps. If anything, we'll order their salads to go and eat them at home after the kids go to bed. But, as much as I love their soup, somehow it never feels worth it to risk a traveling soup container!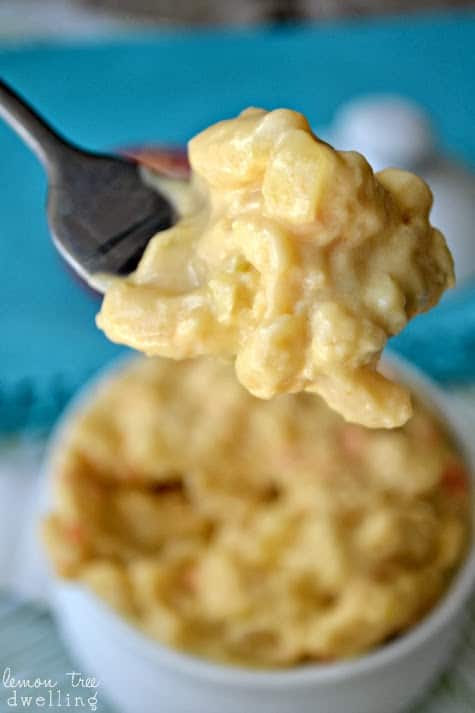 Creamy Mac and (Beer) Cheese
So…..like any good beer cheese soup loving girl would do…..I've decided it's time I learn how to make my own beer cheese deliciousness! So we can enjoy it any Saturday, or every Saturday, or any day of the week our little hearts desire…..without having to get a babysitter OR brave a restaurant with three kiddos! (I'm honestly not sure which is worse!)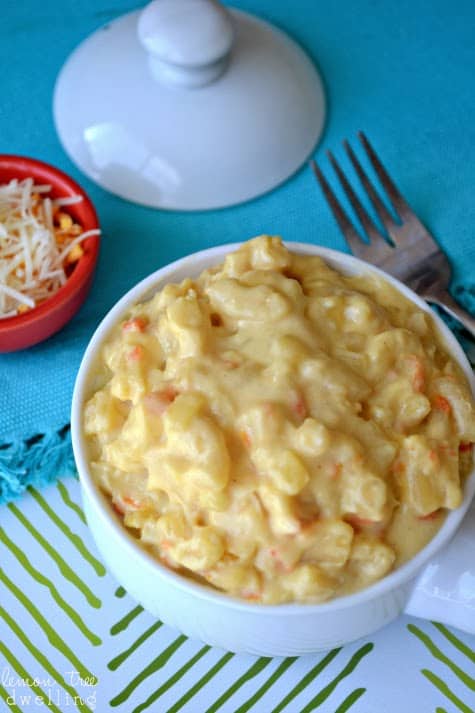 I started with this basic recipe I found online for Otto's Beer Cheese Soup, and then I tweaked it a bit by adding more vegetables and seasonings. Then…..I decided to really shake things up by adding some boxed mac & cheese! So instead of beer cheese soup, you have an incredibly smooth, Creamy Mac & (Beer) Cheese! Like a beer cheese soupy mac & cheese, if that makes any sense. And if not, don't worry. Once you try it….it will ALL make sense!
Creamy Mac & (Beer) Cheese
1/2 c. unsalted butter
1 chopped medium sized yellow onion
1 c. chopped carrot
1 c. chopped celery
1 c. all-purpose flour
2 c. chicken broth
1 (12-ounce) beer of choice (I used Miller Lite)
6 ounces extra-sharp Cheddar, shredded
6 ounces processed Swiss cheese, shredded
2 boxes Kraft mac & cheese (I used Thick 'n Creamy)
2 cups half-and-half (I used fat free)
1 teaspoon salt
1/2 teaspoon dry mustard
1/2 teaspoon Worcestershire sauce
1/8 tsp. cayenne pepper
Melt butter in a stockpot over medium heat. Add chopped onion, carrot, and celery. Saute until softened. Add flour. Cook for about 4 minutes, stirring often. Add chicken broth, beer, and mac & cheese noodles. Heat until it comes to a boil. Slowly add shredded cheese and mac & cheese powdered cheese packets. Continue stirring until just boiling and smooth. Add half-and-half, salt, dry mustard, cayenne pepper, and Worcestershire sauce. Reduce heat to low and cook until sauce has thickened and noodles are tender.
For another great pasta meal, try my Chicken Bacon Ranch Pasta.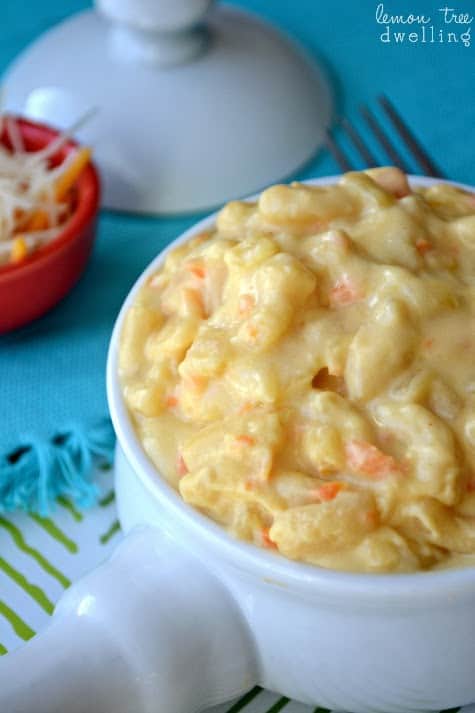 Enjoy!