These Creamy Chicken Enchiladas are the BEST enchiladas ever! Perfect to make ahead and even freeze, they are an awesome quick dinner for feeding a crowd.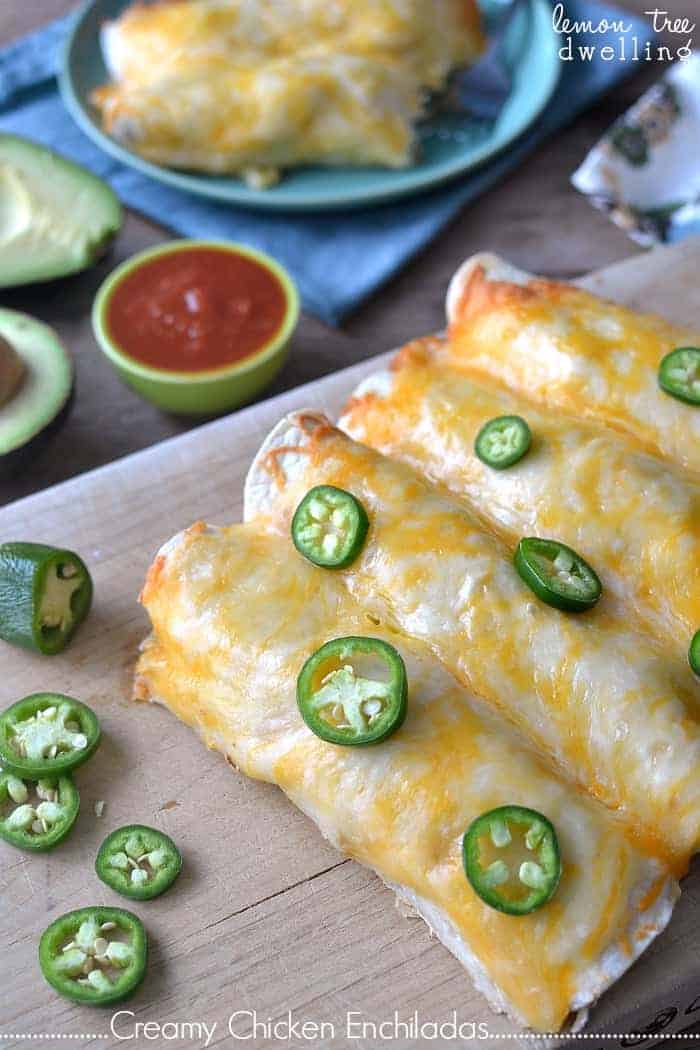 We are in the middle of a hard week around here….but a week that had to come. It's a week of trying to reverse some of the bad habits we've apparently been fostering in our little Nora. Habits that are largely related to sleep (at least that's where we're starting….she's got habits for every occasion!) But for this week, we're focusing on all things bedtime.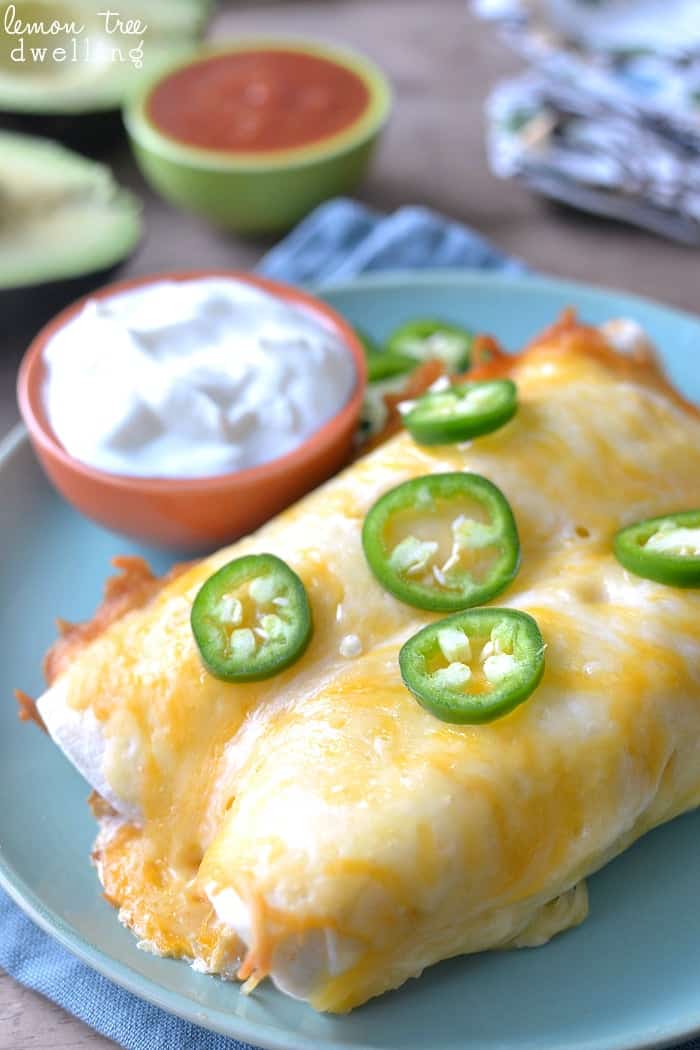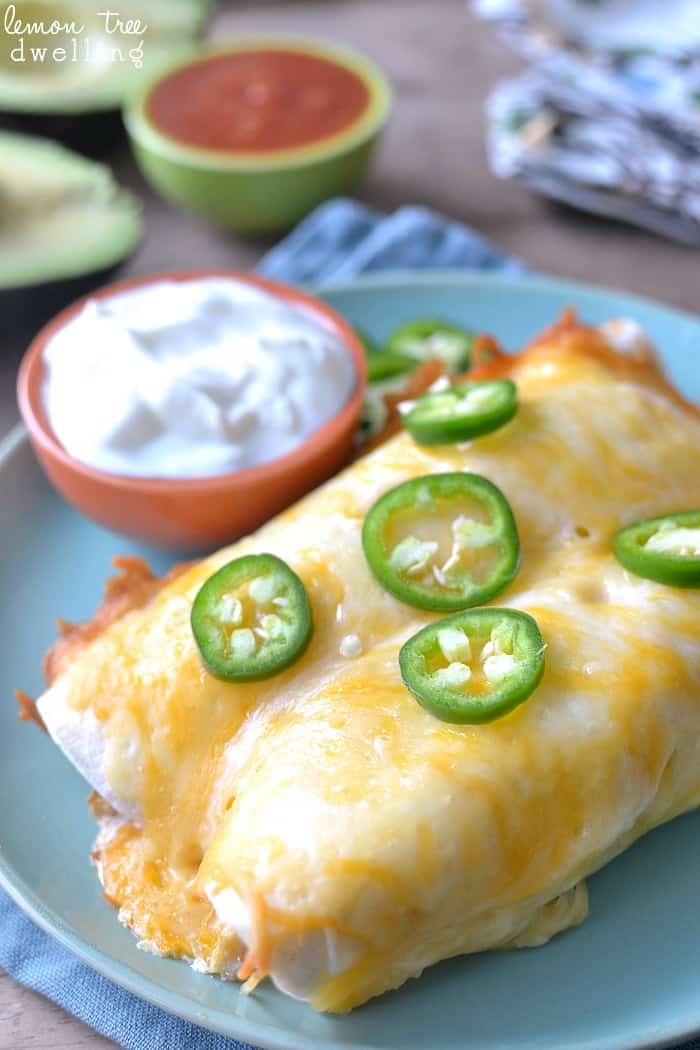 I'm not exactly sure when or where or how it started, but somewhere along the line, bedtime with Nora has become an absolute nightmare. She wants us to rock her and read to her and lay with her and snuggle her and leave the light on and leave the door open and stay upstairs with her…..and that's just the start of the night. The rest of it is even worse, and it's pretty much become an all night, every night thing!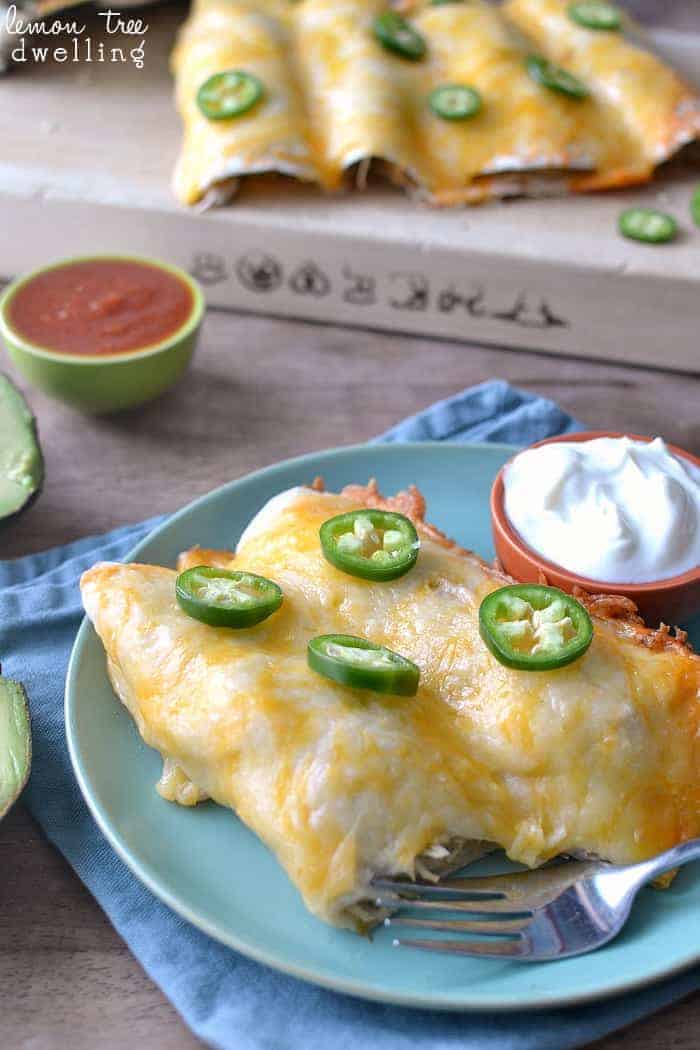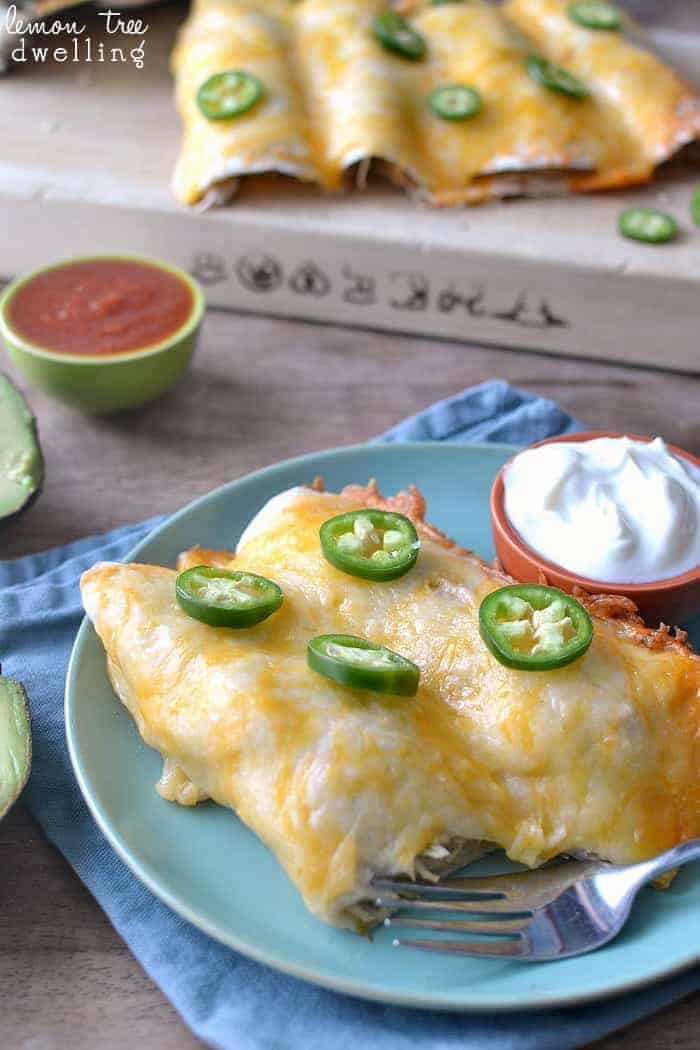 Needless to say, it is not a good situation. And it's come to the point where it needs to change! So I've started promising her ponies in exchange for a good night sleep. If she can sleep through the night, without crying or yelling or ending up in our bed, she gets a new My Little Pony hair clip. And guess what? It's working! Or I should say it has worked for the past two nights….which feels amazing, nonetheless. The tide is reversing!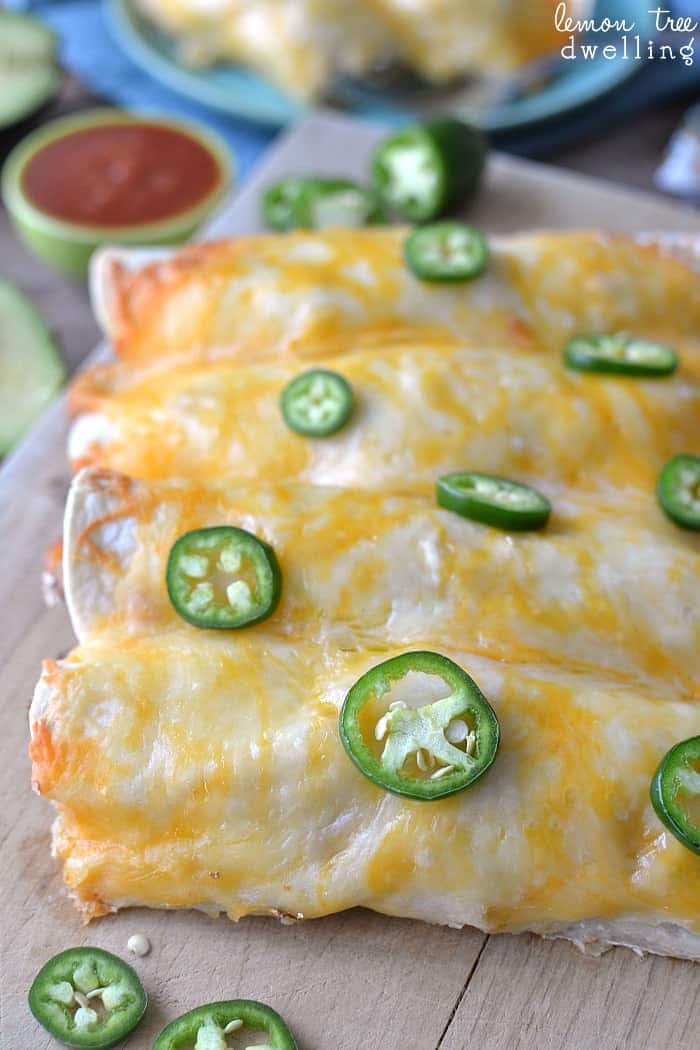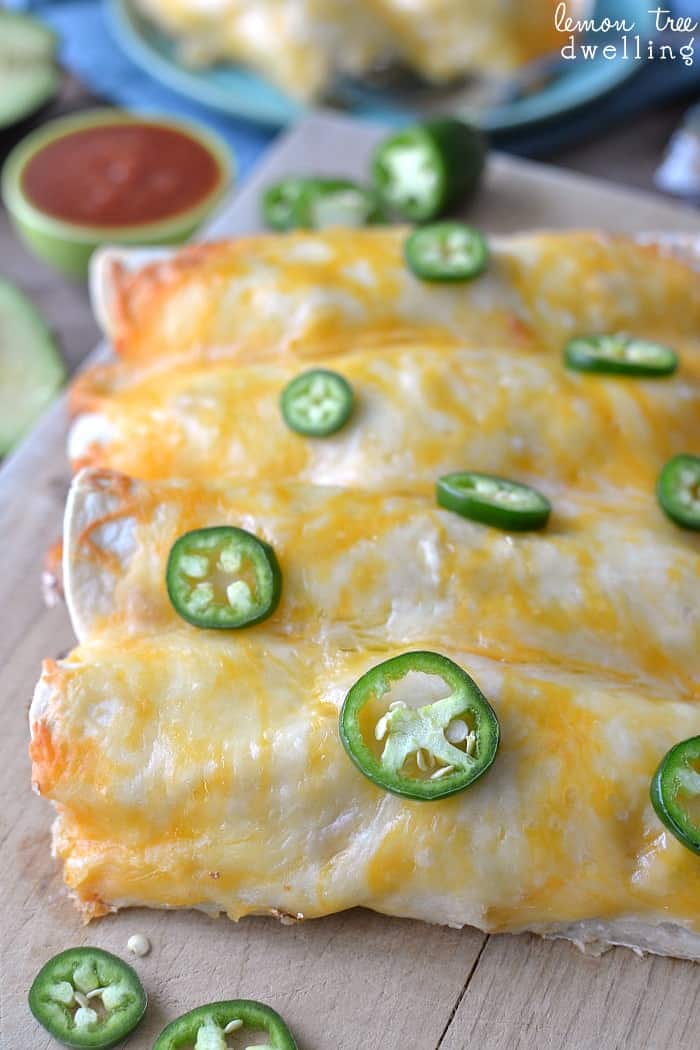 Creamy Chicken Enchiladas – A quick dinner
I don't want to get ahead of myself, but I think we're getting close to the end of an era…..and when the time comes, we're definitely going to need to celebrate! With a big batch of these Creamy Chicken Enchiladas. They're hands down the creamiest, cheesiest, most amazingly delicious enchiladas I've ever had. I could probably eat them for breakfast, lunch AND dinner…..and I just might, when the time comes. Of course, getting Nora to sleep through the night is just one small feat among many. But it's a start, and it's leading me to enchiladas. Which is ALWAYS a win!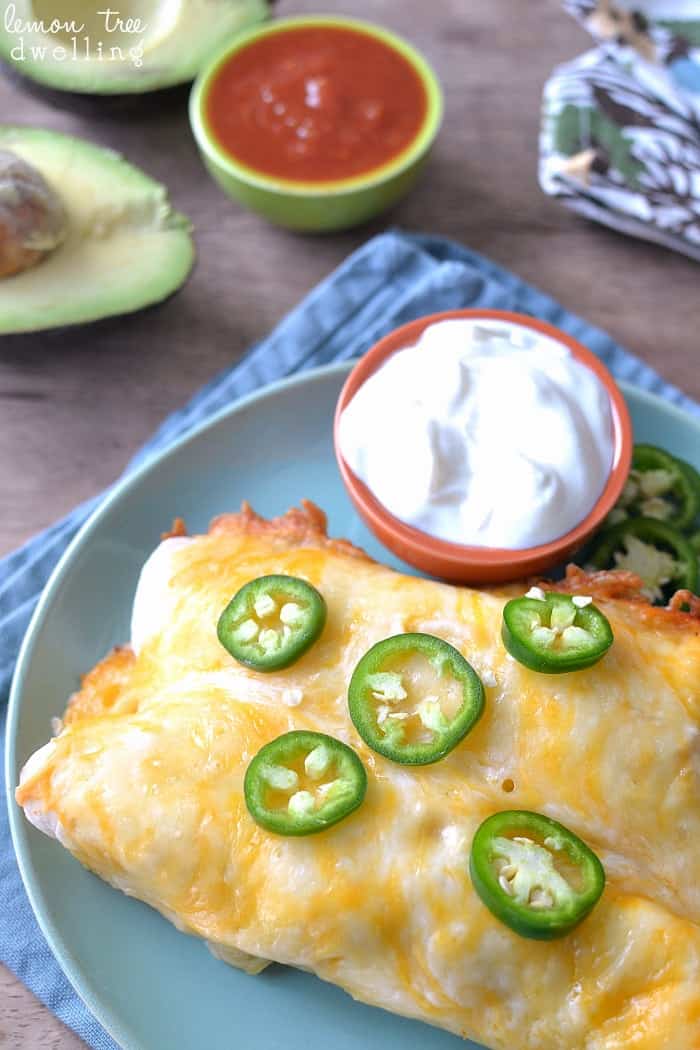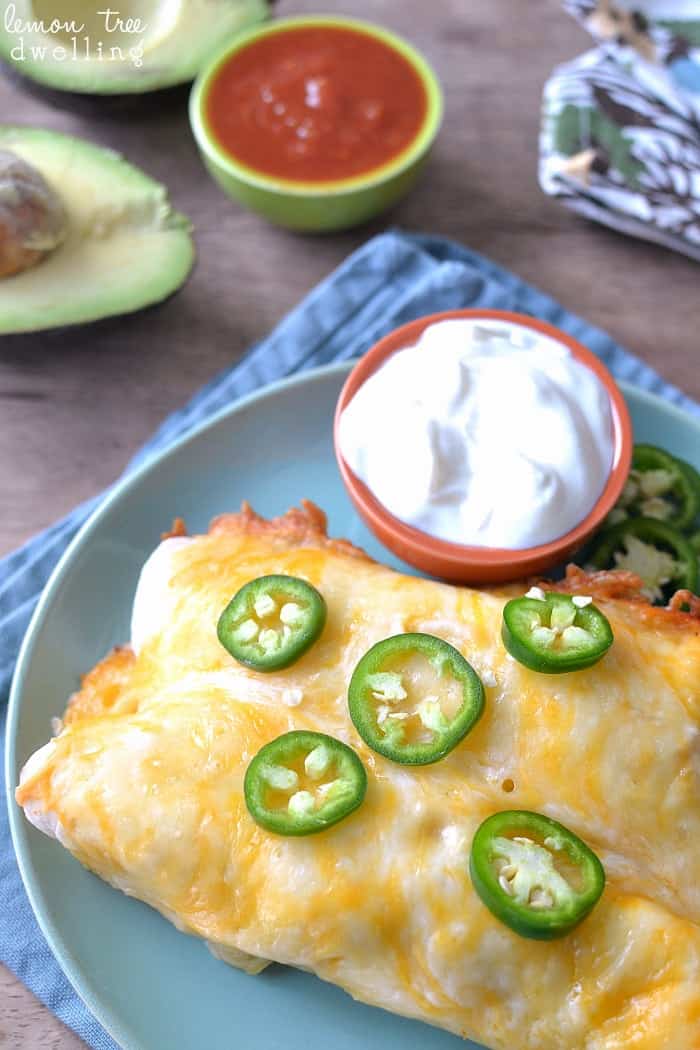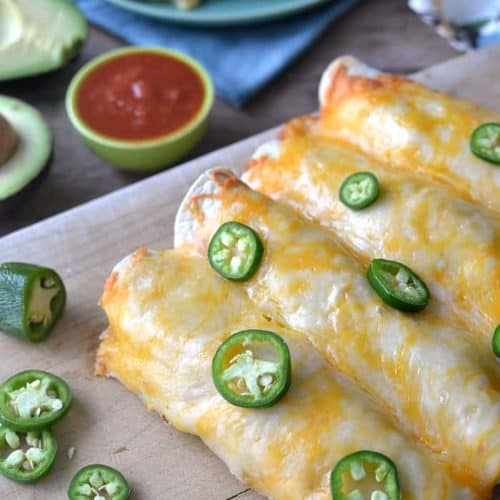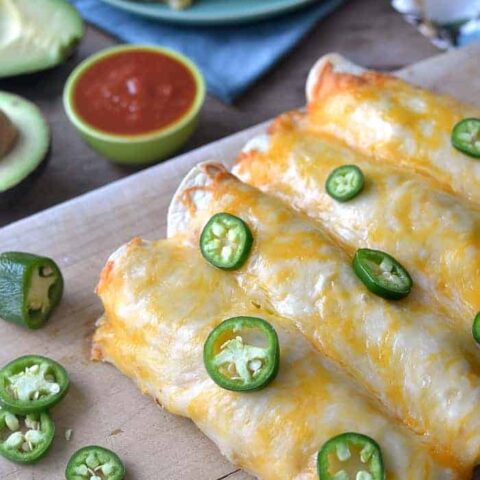 Creamy Chicken Enchiladas
These Creamy Chicken Enchiladas are the BEST enchiladas ever! Perfect to make ahead and even freeze, they are an awesome quick dinner for feeding a crowd.
Ingredients
2 Tablespoons butter
1 onion, thinly sliced
2 pounds shredded chicken
8 ounces diced green chiles
6 ounces cream cheese
10 small flour tortillas
1/3 cup half & half
8 ounces shredded cheese
1 jalapeño, thinly sliced
Instructions
Melt butter in a large skillet over medium heat.
Add sliced onion and saute 5-10 minutes or until onion is tender.
Remove from heat; combine with chicken, chiles, and cream cheese and stir until cream cheese is melted and mixture is thoroughly combined.
Divide mixture evenly among tortillas (approx. 1/2 cup per tortilla).
Roll and place seam-side down in greased pan. *You may need to use 2 pans.
Pour half and half evenly over enchiladas; top with shredded cheese.
Cover with foil and bake at 350 degrees for 35 minutes or until cheese is melted and center is hot.
*Enchiladas can also be prepared in advance and stored, covered, in refrigerator until ready to use. Reserve half & half and cheese until just before baking, and increase oven temperature to 375.
Serve hot with sliced jalapeno, sour cream, salsa, guacamole, and all your favorite toppings!
Nutrition Information:
Yield:

10
Serving Size:

1 grams
Amount Per Serving:
Calories:

506
Total Fat:

26g
Saturated Fat:

12g
Trans Fat:

0g
Unsaturated Fat:

11g
Cholesterol:

117mg
Sodium:

529mg
Carbohydrates:

32g
Fiber:

2g
Sugar:

3g
Protein:

34g