I've partnered with Pick 'n Save to bring you this delicious salad recipe, but all opinions are my own.
This Cranberry-Orange Harvest Salad combines mixed greens with dried fruit & nuts, gorgonzola cheese, and a zesty orange vinaigrette. It's packed with flavor, perfect for fall, and delicious served with Pick 'n Save Pot Pies!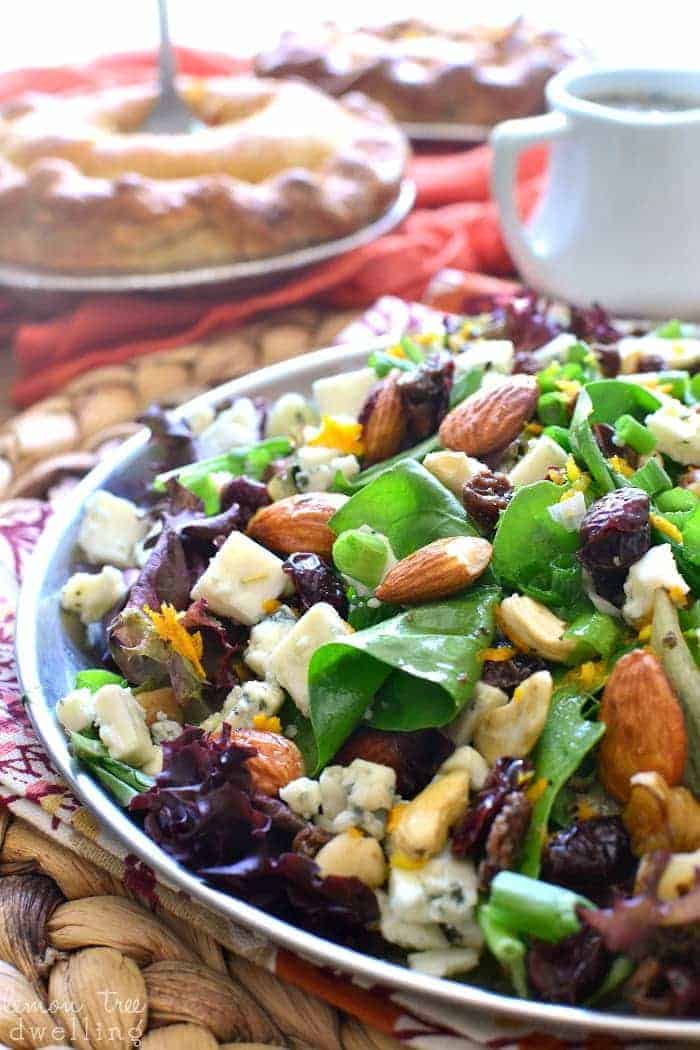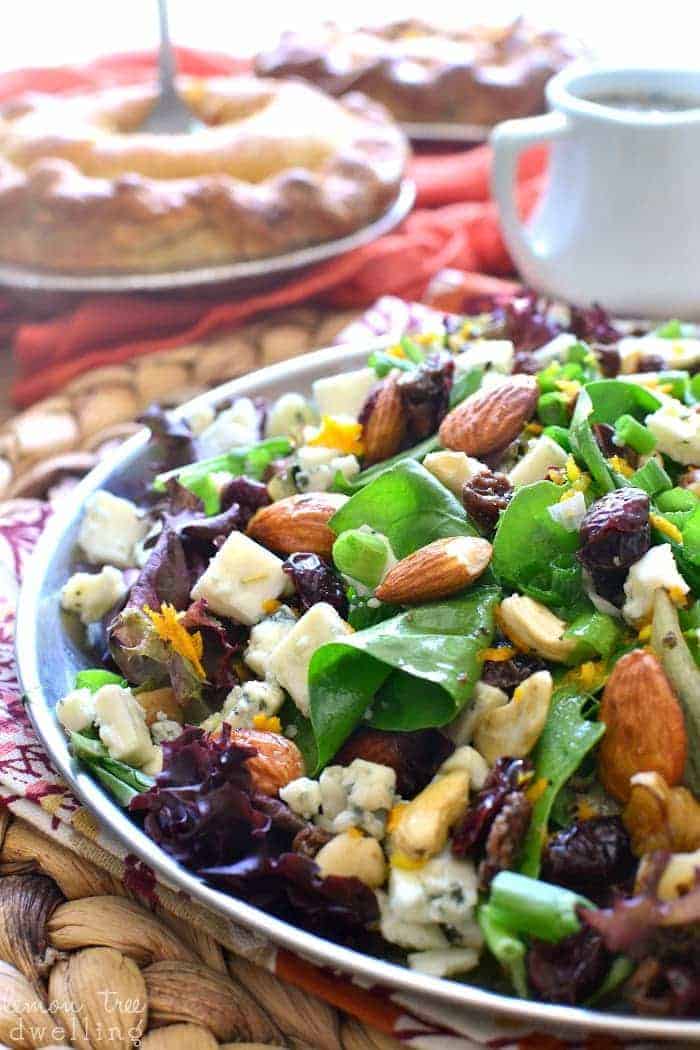 A funny thing happened to me yesterday. Involving 70 degree weather and pumpkin spice lattes and an unexpected lunch with a friend. And it made me realize just how ready I am for fall…and for everything that comes with it!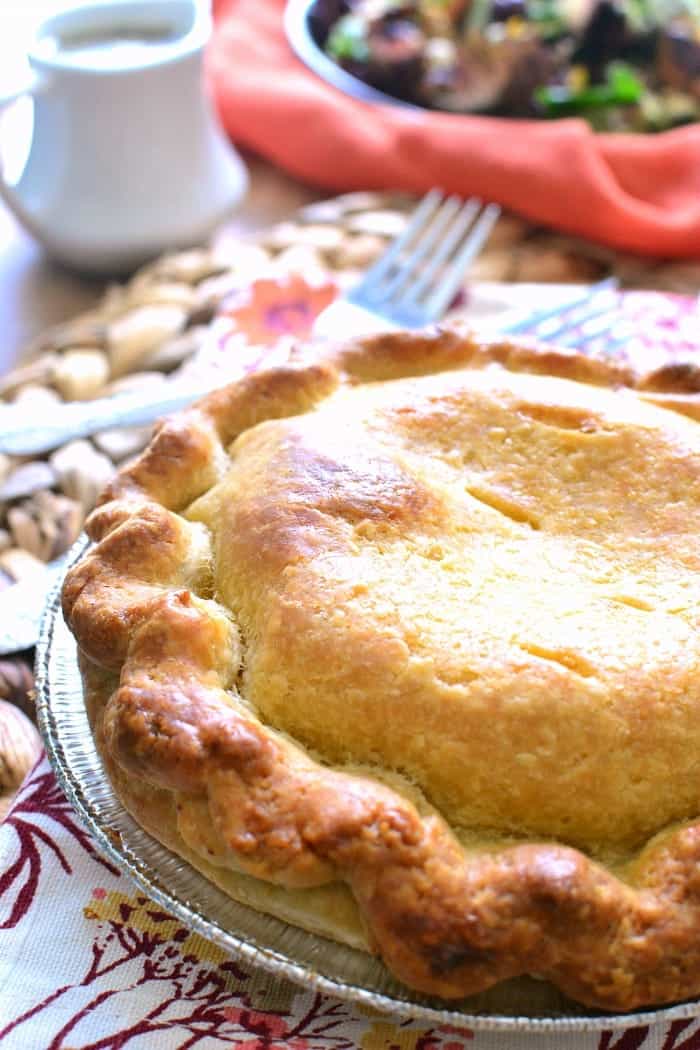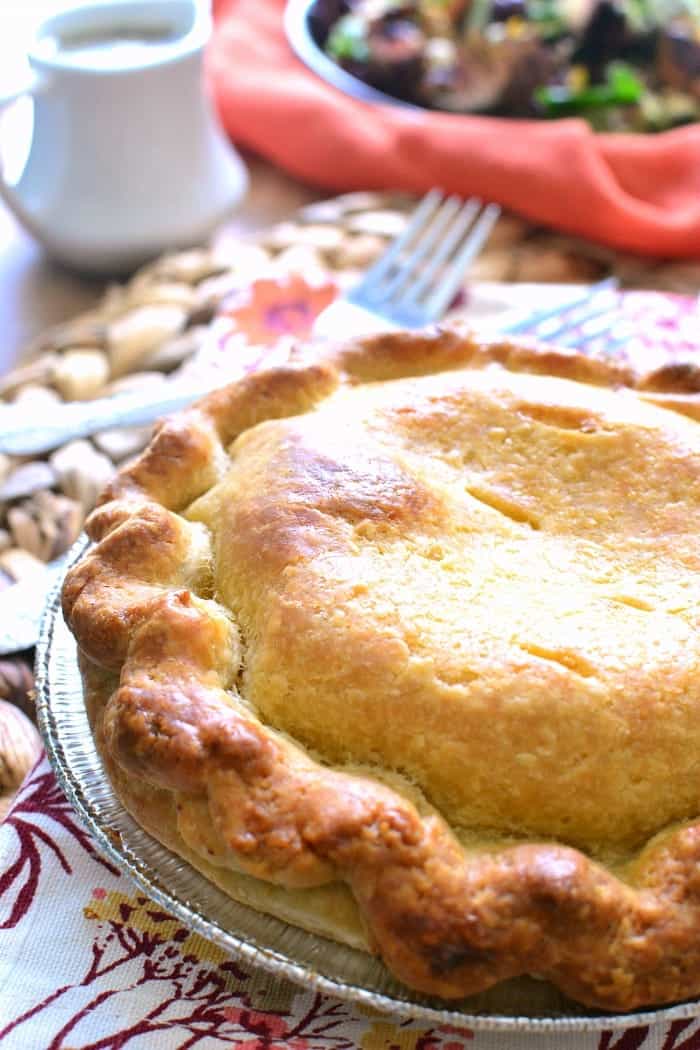 It all started when my good friend Erin texted from work, saying she would be stopping by and asking if I was in the mood for a pumpkin spice latte. In the mood? For a pumpkin spice latte? That seems like a no-brainer, don't you think?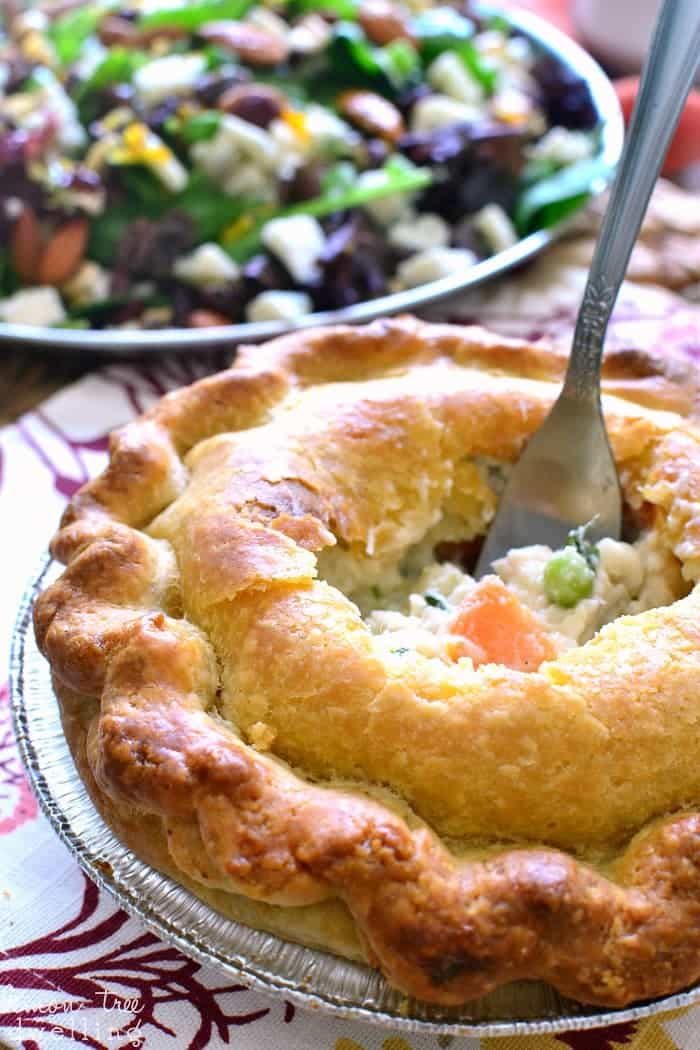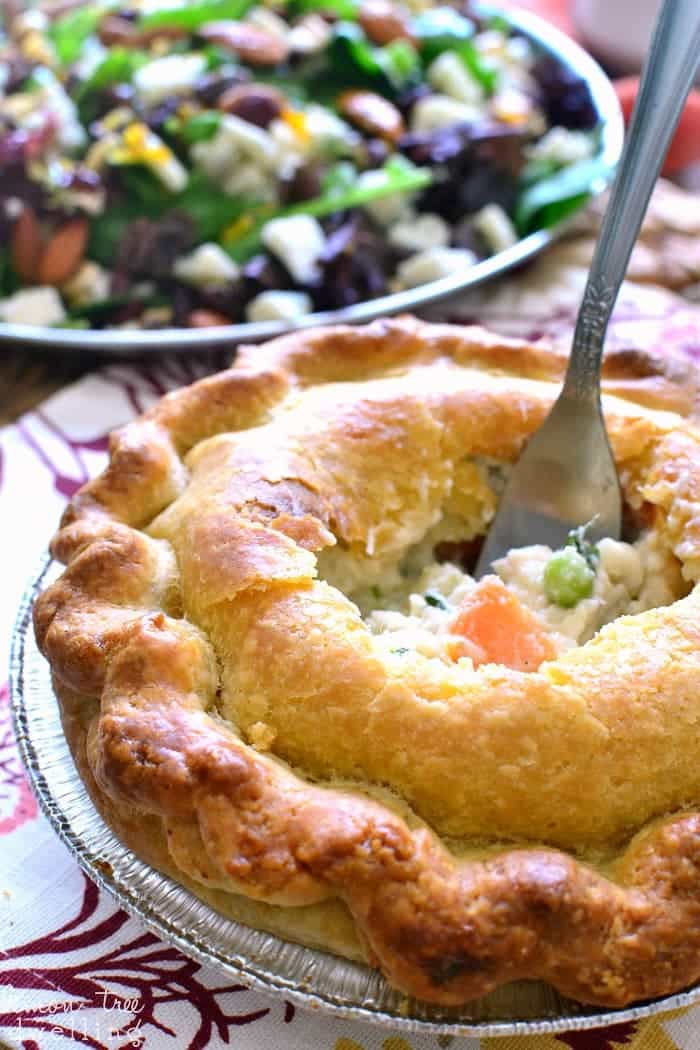 And then….I stepped outside. And instantly realized it was 70+ degrees, and not the brisk fall day I was imagining. And do you know what? I actually got annoyed! At the fact that it was warm! Clearly I don't need to explain what is so very wrong with this picture…..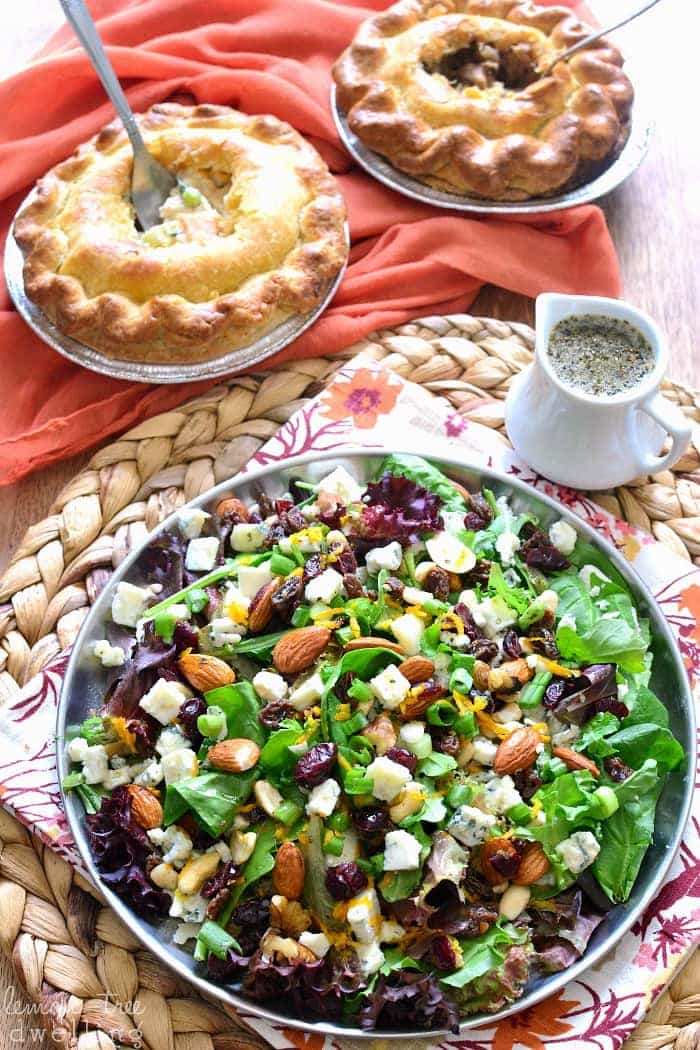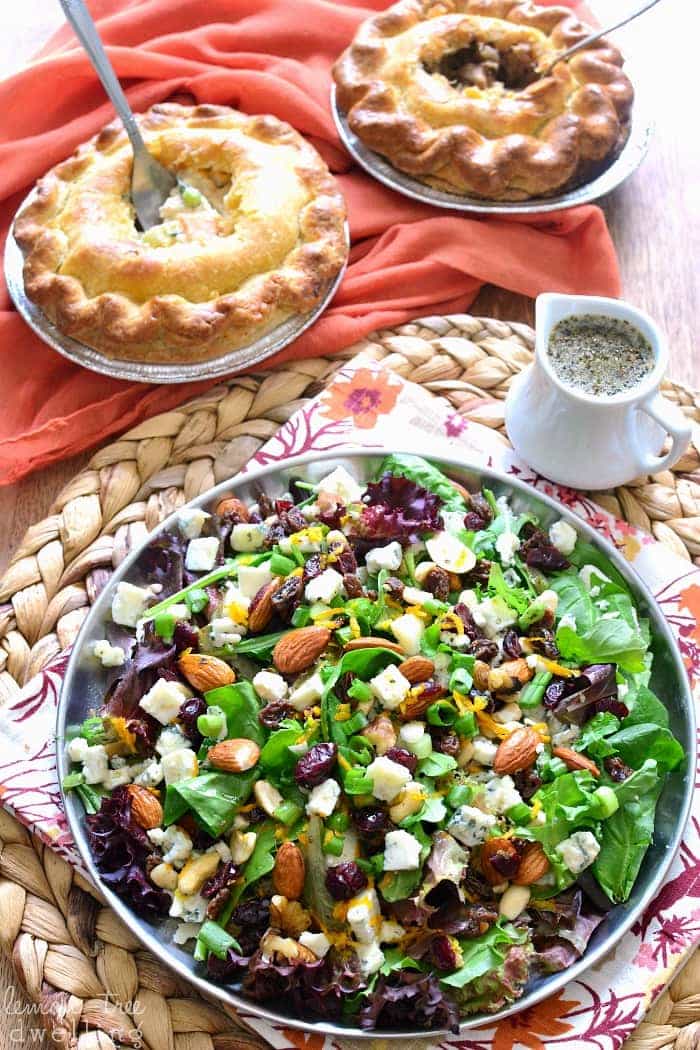 See…we live in Wisconsin. Where warm weather is hard to come by…and definitely not to be taken for granted. Certainly not to be annoyed about! But. When it lingers on too late in the year, and we are ready for our pumpkin spice lattes, well, it's another story, altogether.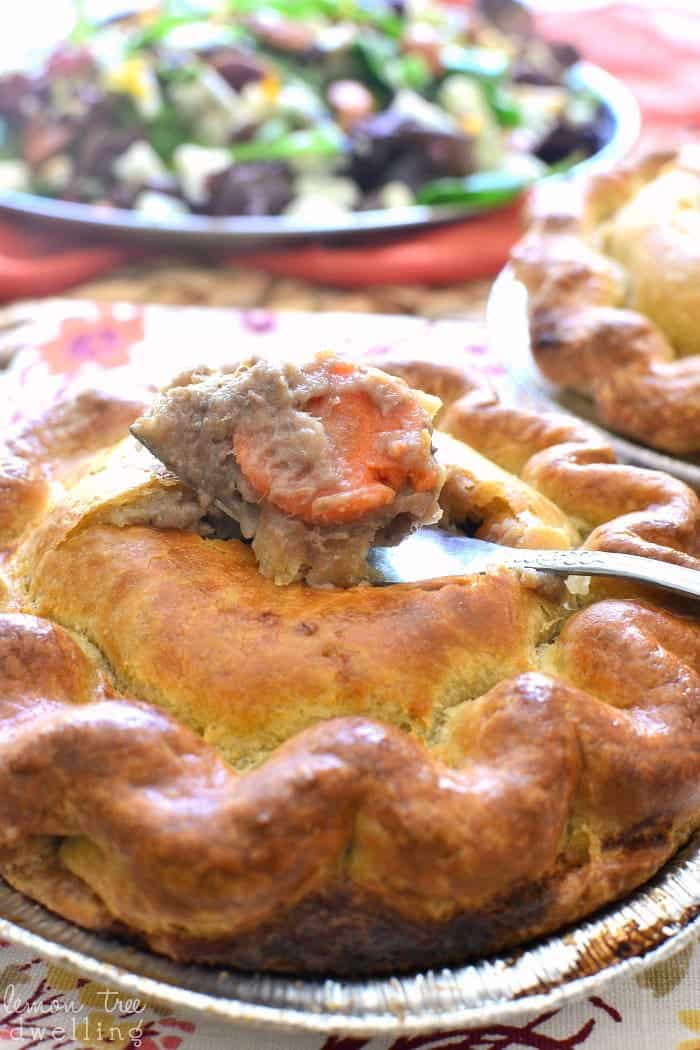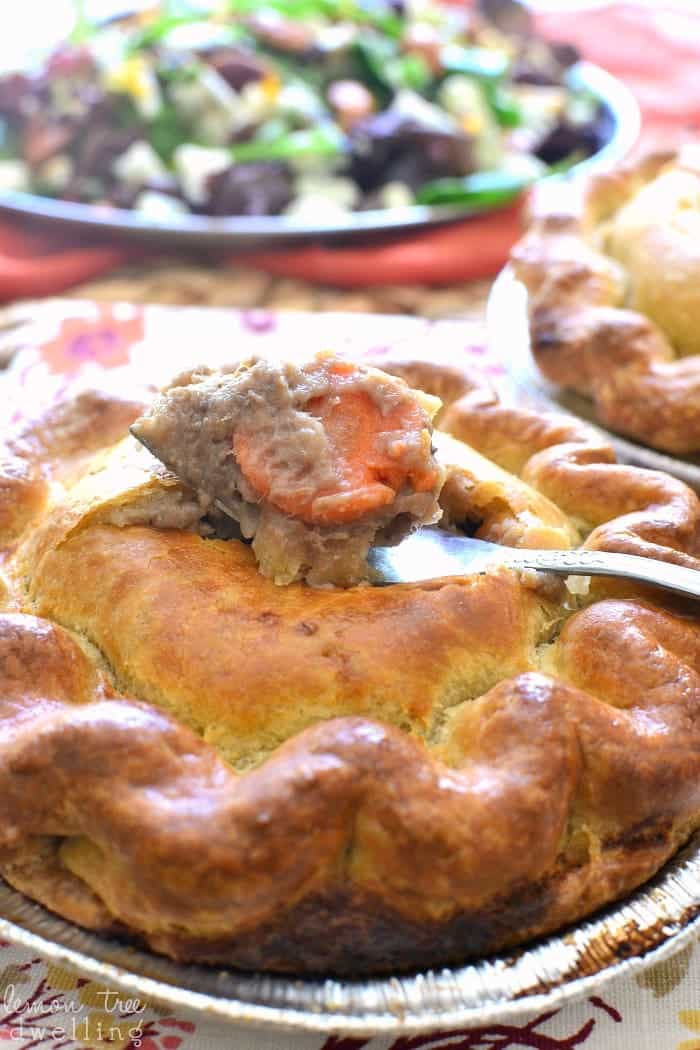 So….I guess I'm there. Ready for fall. And long sleeves. And boots. Ready for fall drinks (PSL's) and fall comfort food….like these delicious pot pies from Pick 'n Save! I discovered them recently and must say I see MANY of them in my future. They're handmade daily at the Roundy's Commissary in Kenosha, WI and delivered to Pick 'n Save stores to ensure freshness. They're thick and creamy and packed with veggies and a flaky crust and either chicken (my personal favorite) or beef. And they're perfect for busy weeknights or lazy weekends….or both!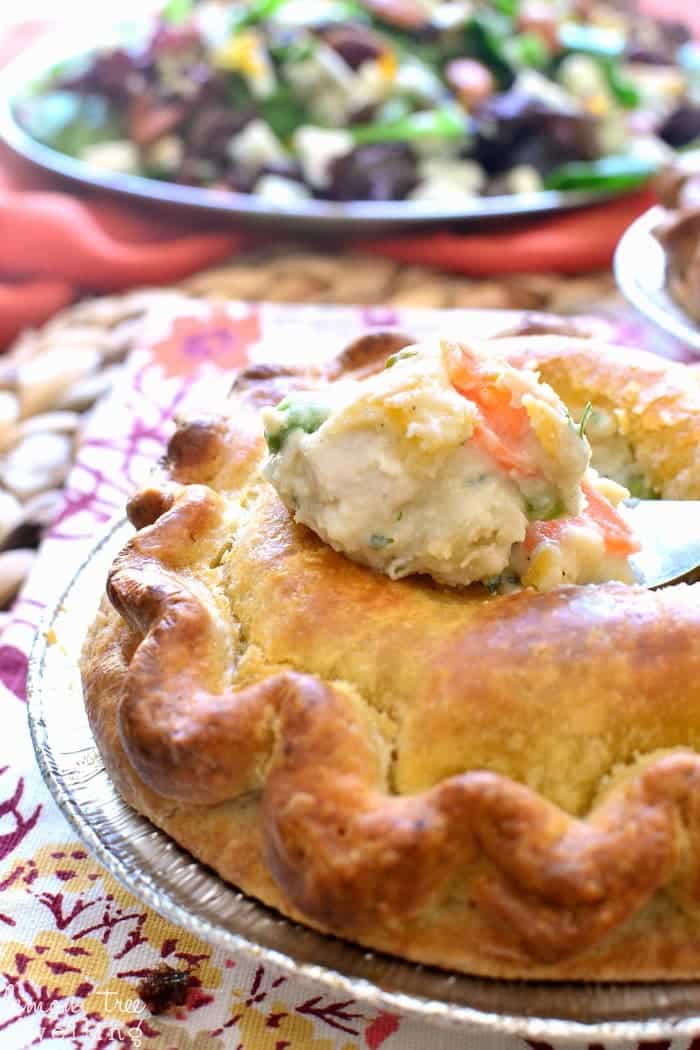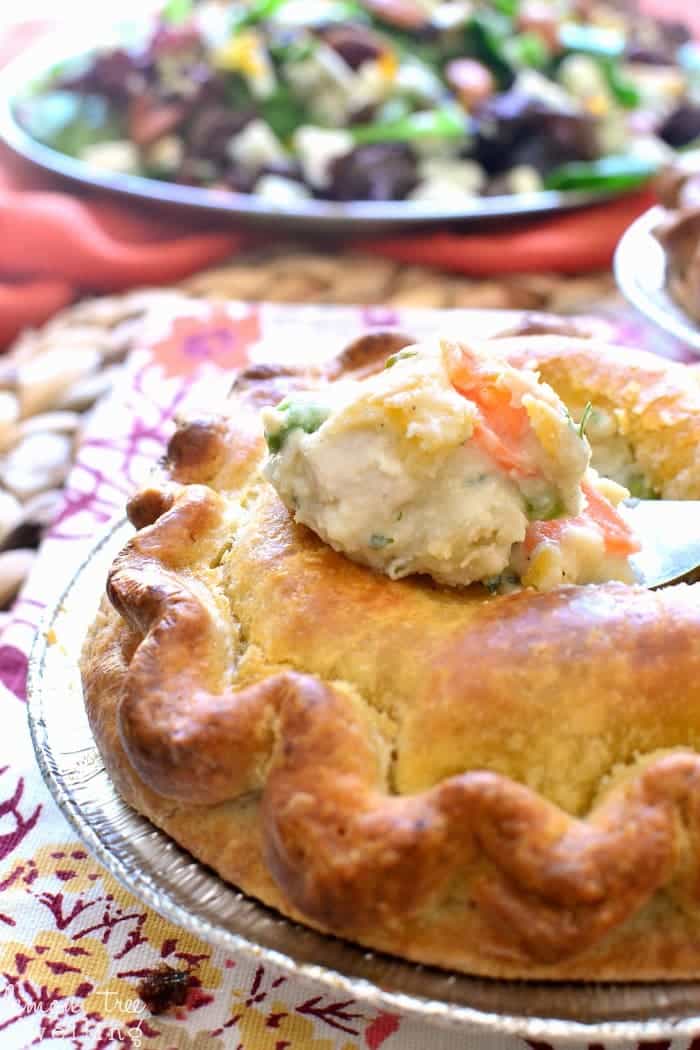 Of course, every good meal needs a salad to go with it….and since the pot pies are already chock full of veggies, I thought a different kind of salad was in order. One with fruit and nuts and delicious cheese and orange vinaigrette. One that screams fall…and pairs well with fall dishes! This salad has it all. A little bit of savory, a little bit of sweet, a little bit of crunch, and a whole lot of flavor. And when it's paired with a delicious pot pie, it's the perfect fall comfort meal. Now if only fall would hurry up and get here….!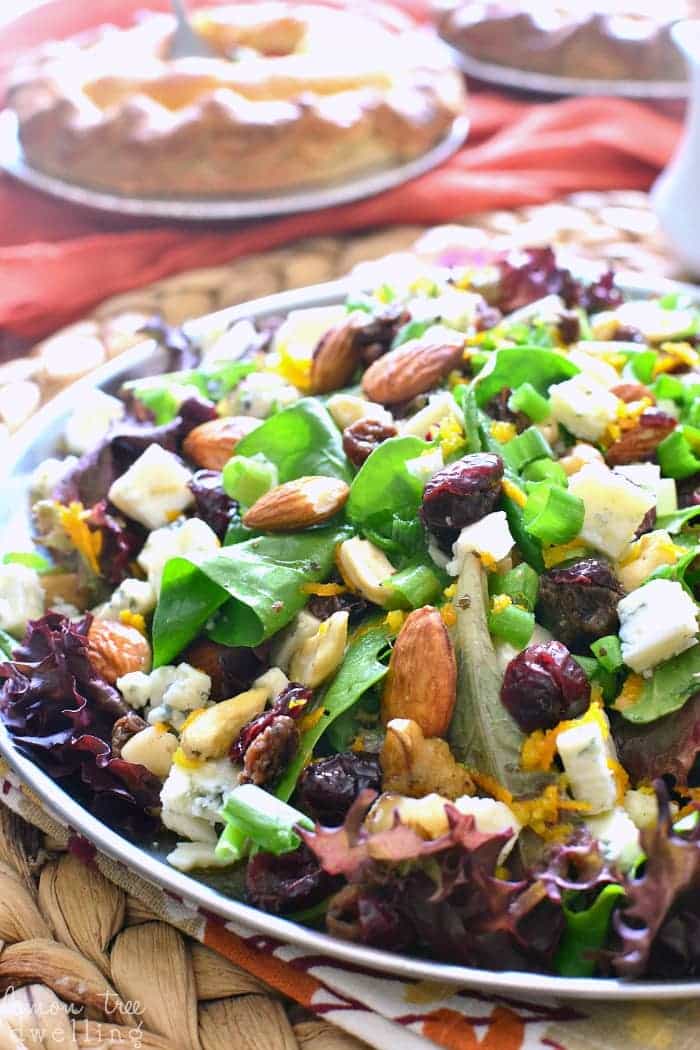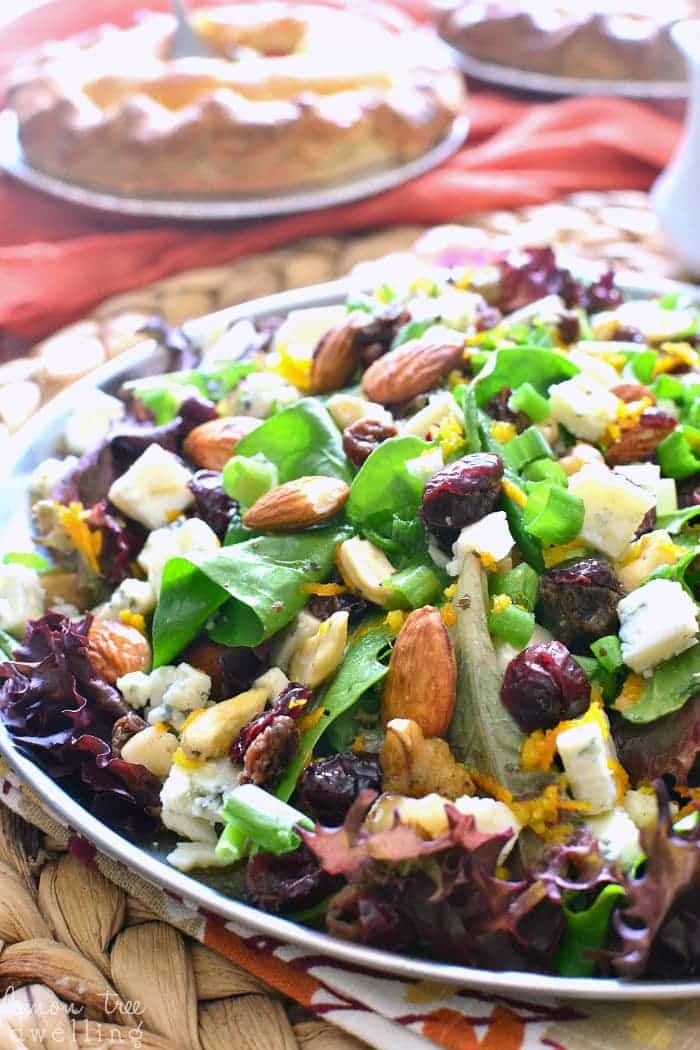 To help celebrate National Pot Pie Day on September 23, participate in Pick 'n Save's Pot Pie Showdown. From Wednesday, September 23 through Saturday, September 26, you can taste Pick 'n Save's chicken and beef pot pies in Milwaukee-area stores and cast your vote for a chance to win prizes. Make sure to visit Pick 'n Save's Facebook page to find out Milwaukee's favorite pot pie in the next few weeks.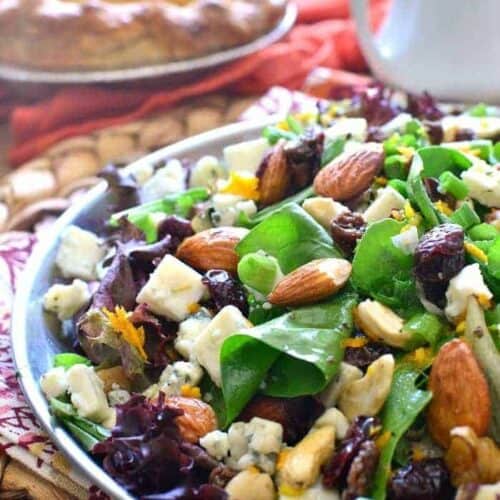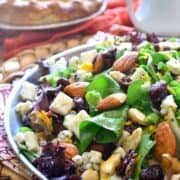 Cranberry-Orange Harvest Salad
This Cranberry-Orange Harvest Salad combines mixed greens with dried fruit & nuts, gorgonzola cheese, and a zesty orange vinaigrette.
Ingredients
4

c.

mixed greens

1/2

c.

Roundy's Organic Fruit & Nut Trail Mix

1/2

c.

gorgonzola cheese

crumbled

1-2

green onions

chopped

For dressing:

1/3

c.

olive oil

1/3

c.

white balsamic vinegar

juice of 1/2 orange

1/2

tsp.

dried basil

1/4

tsp.

ground ginger

1/4

tsp.

pepper
Instructions
Prepare salad by layering mixed greens, trail mix, gorgonzola, and green onions.

Prepare dressing by adding all ingredients to a small mason jar and shaking vigorously.

Add dressing to salad as desired.