White chocolate covered pretzel rods covered in a generous coating of crushed Candy Corn M&M's.
A perfectly fun, simple, and tasty treat for Halloween!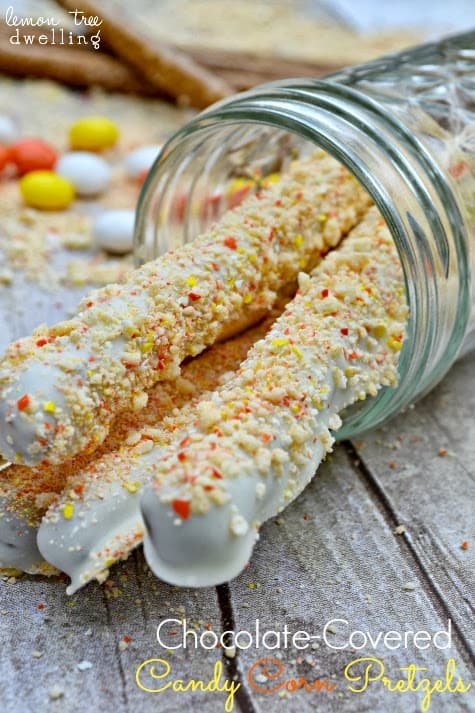 Chocolate covered pretzels are one of my favorite treats EVER. There is something about the sweet and salty combination that really hits the spot….and today is DEFINITELY a day that calls for a special treat! Not only because we made it through a weekend full of kids' birthday parties, play dates, and soccer games….(although that feels treat-worthy in itself)….but because we've now successfully made it through the first 10 weeks of our fourth pregnancy! Woo hoo!! And let me tell you – it has been a LONG 10 weeks!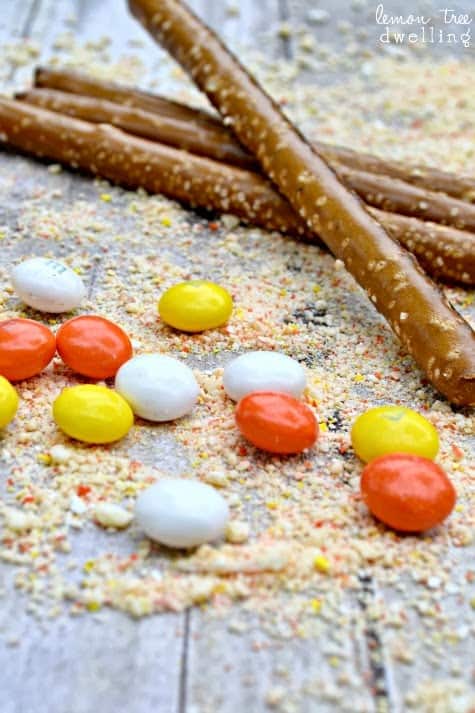 I won't bore you with my exhaustive list of pregnancy complaints (I'm sure you've either heard or experienced them all before) but I will say I'm excited to be finally reaching the point where food doesn't sound like a terrible idea. Not only is it not easy to be a mom when that's the case…but it's not easy to be a food blogger when that's the case! And when sleep sounds like the best idea ever, well, just forget accomplishing much of anything. So there you have it.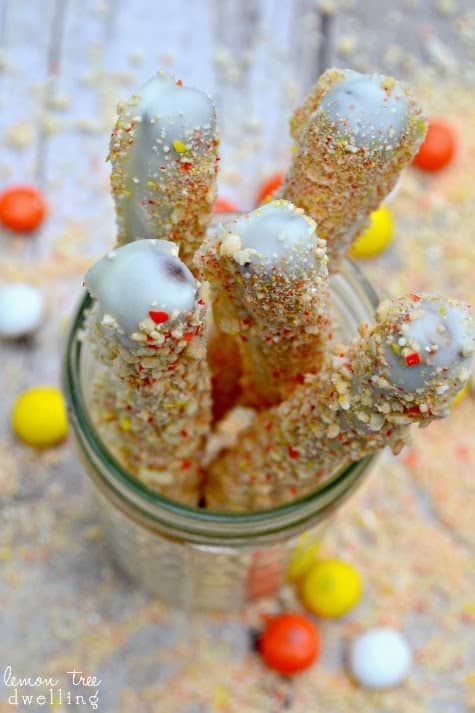 We had a 10 week ultrasound today and everything looks good. My due date is May 18th. Only 7 more months….only…..which is why I've decided I just need to treat myself every time we reach a milestone. Like today, or the end of the first trimester, or the first time I need to wear maternity clothes (not nearly as exciting as it was the first time around), or the day we find out if it's a boy or girl. This will likely be our last pregnancy, so all of it feels especially important. And I can't wait to share it all with you!!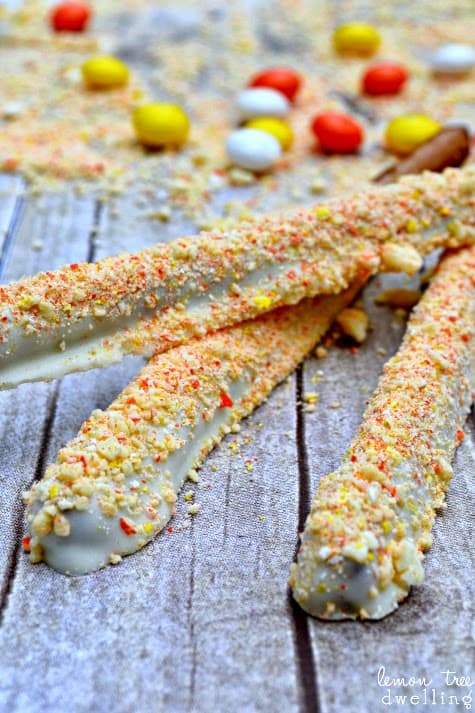 For now, I'm going to sit back and enjoy one of these delicious Chocolate Covered Candy Corn Pretzels – the perfect little treat for pregnancy milestones and, of course, Halloween. And don't worry….even though Halloween is right around the corner, these are easy enough to make in a day. Pregnant or not pregnant. I promise!

Chocolate Covered Candy Corn Pretzels
15 pretzel rods
8 oz. white chocolate (I used Vanilla Candi-Quik)
1/2 c. Candy Corn M&Ms, crushed
1. Melt white chocolate over low heat, stirring constantly.
2. Using a spoon, drizzle melted chocolate over 3/4 the length of the pretzel rods.
3. Place on parchment paper; sprinkle generously with crushed M&M's.
4. Cool completely.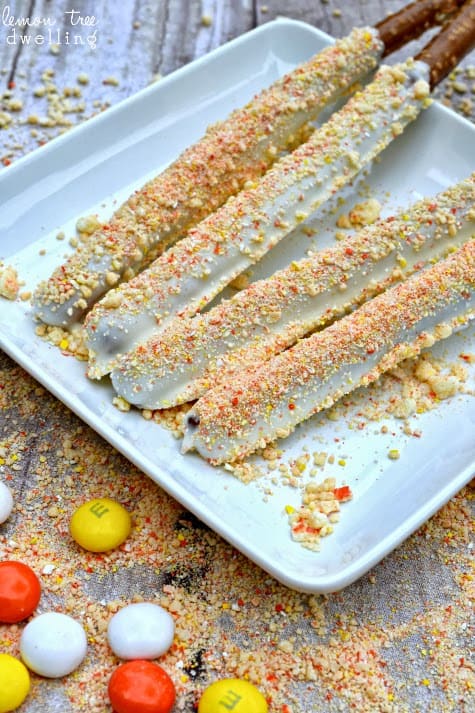 Enjoy!
Be sure to check out some of my other favorite Halloween treats!