Ooey gooey cheesecake filling, paired with apples and stuffed inside a flour tortilla, grilled to perfection and dusted with a sweet cinnamon sugar topping. Who says you can't have dessert for breakfast?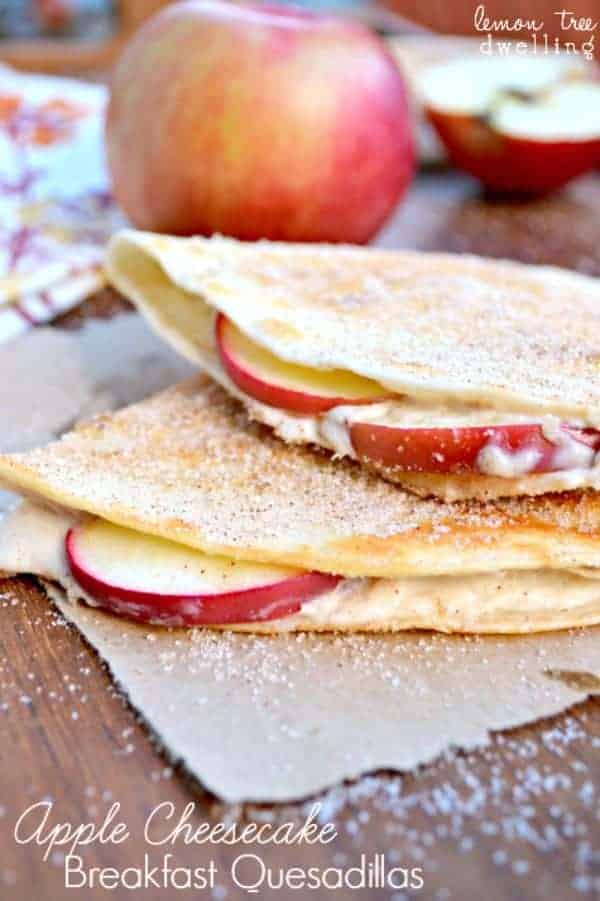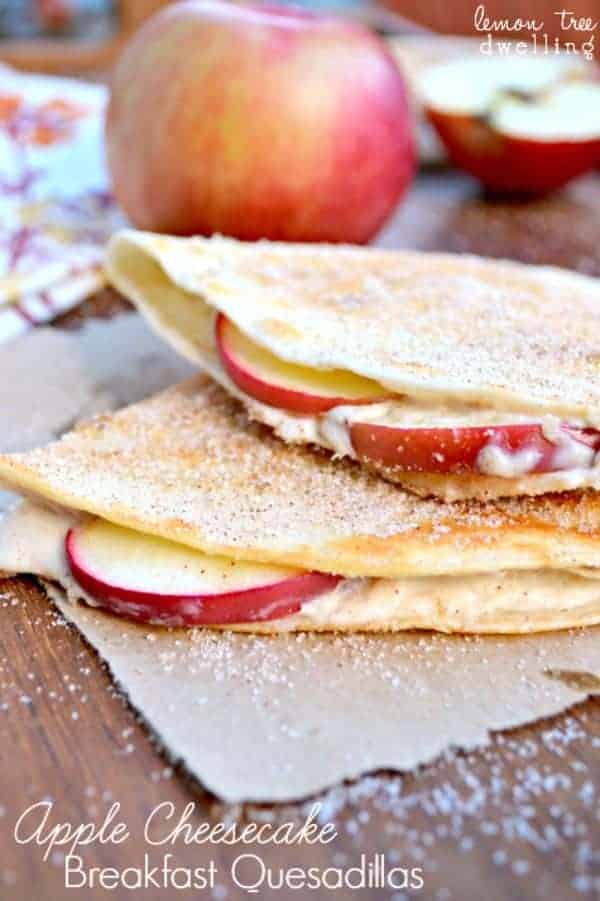 A few weekends ago, Jorden and I took the kiddos apple picking. And, for better or for worse, that's basically all it ended up being. We went, we picked, and we left. With a LOT of apples, of course. But there was no frolicking, no frills, no "day at the orchard" for us…..we just. picked. apples. It may have had something to do with the long list of rules they handed us as we drove in…..about not climbing trees and only picking from certain rows and paying for every apple you pick and so on. Or the giant signs about shoplifting that were staring us down every time we turned a corner. Those definitely put a different spin on things….or made us feel like we MUST be doing something wrong! No wonder we didn't exactly want to linger….!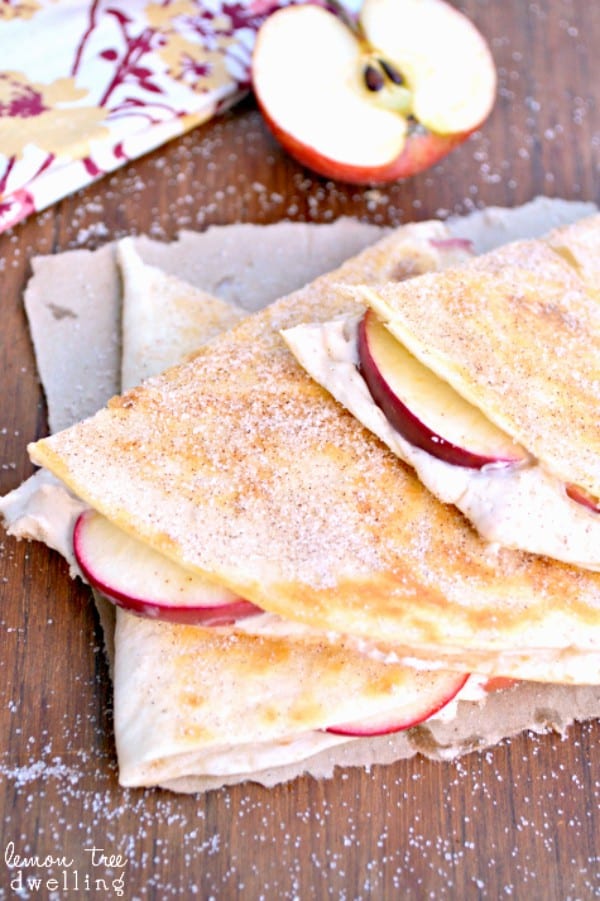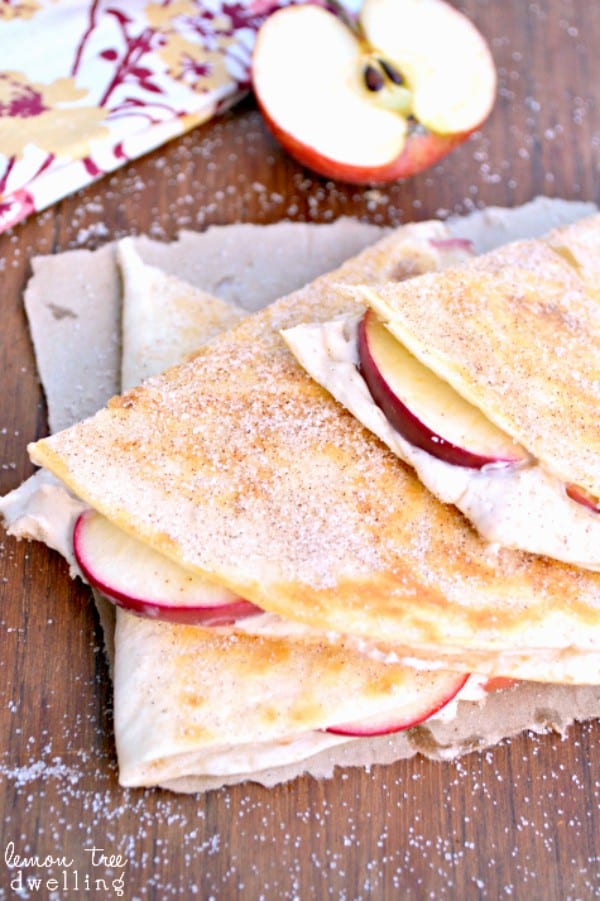 At the end of the day, though, what really mattered was that we came home with a big bag of apples. From an orchard. That we had picked! So many apples that I was convinced I'd be using half of them for baking. Or not! Because when I opened the fruit drawer the other morning, I realized there are just a handful of apples left! From the entire bag! Which is a good thing….because it means we've been eating them….but at the same time, what about my baking?!?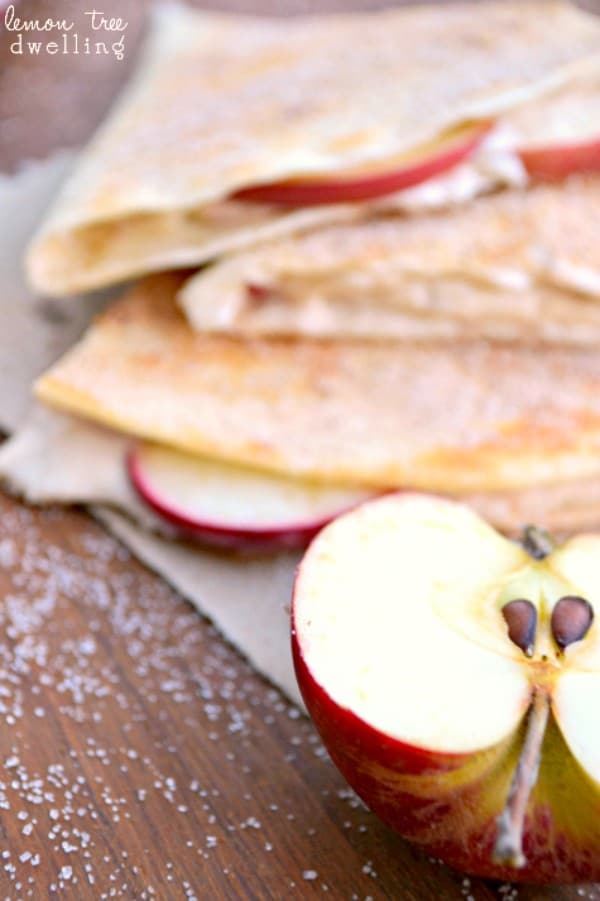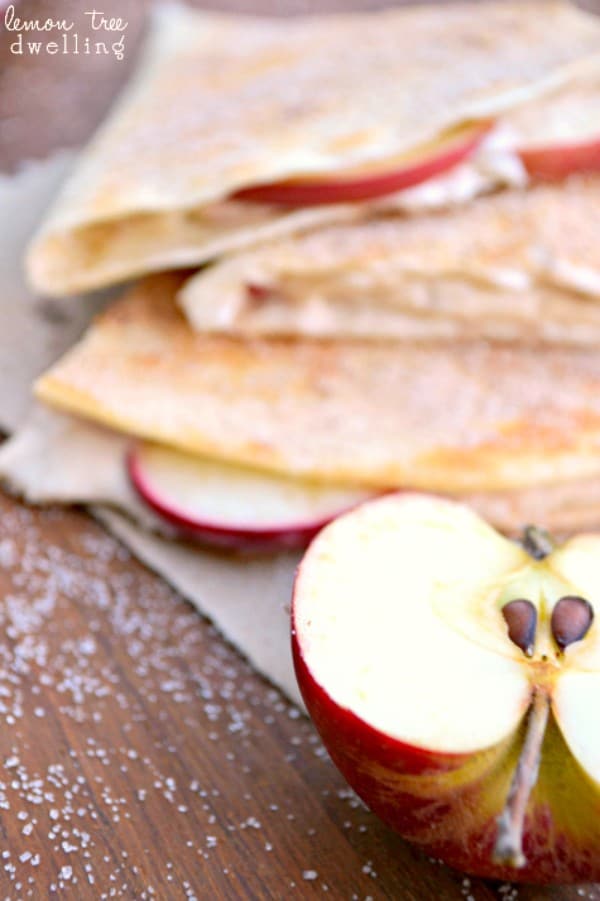 I know this isn't actually baking, but I knew I needed to do something….and quickly! So I grabbed just one small apple (no one will ever miss it) and dreamed up this breakfast idea. A little something sweet for the morning, made with ingredients that are totally breakfast worthy. If this doesn't win my kids over, I don't know what will. They're suckers for anything with a hint of sweetness. And this is SURE to hit the spot.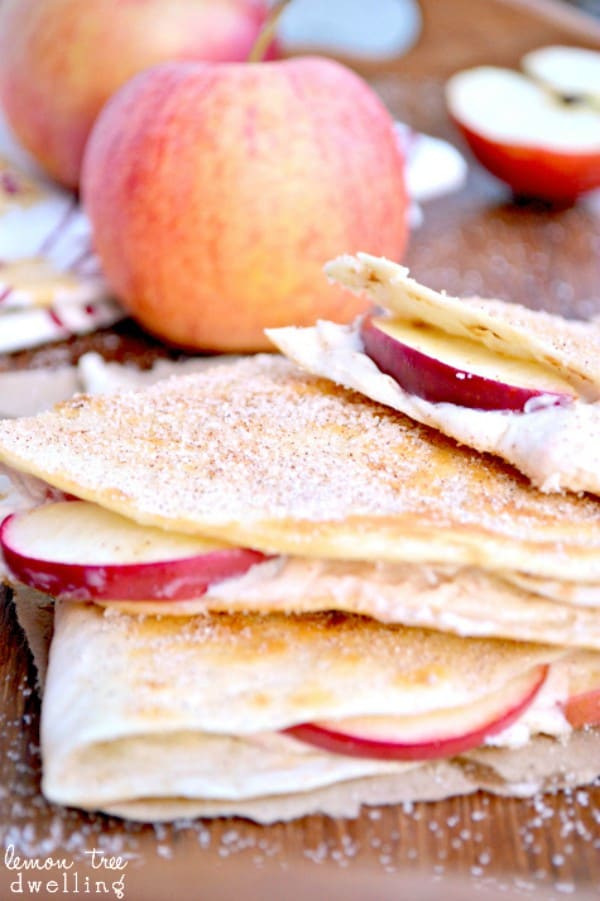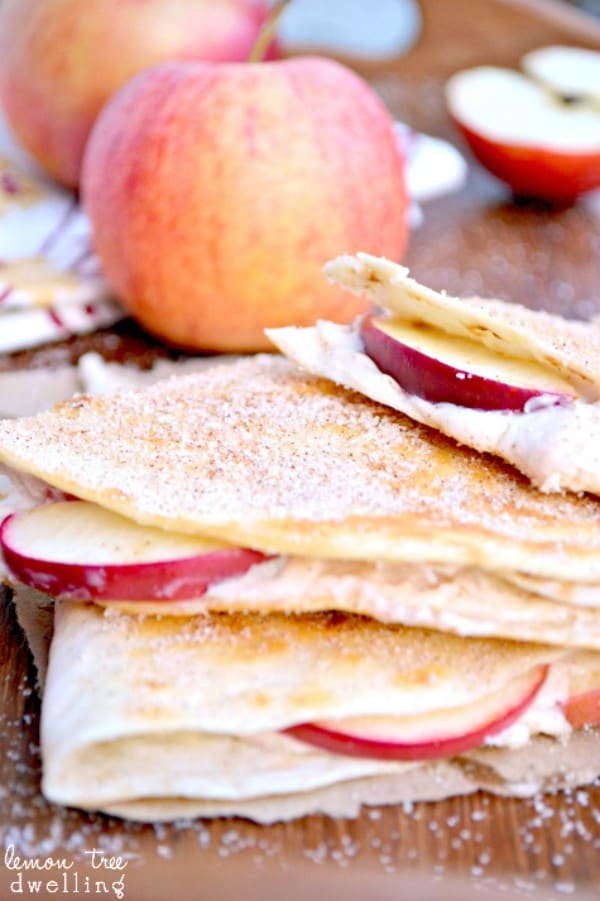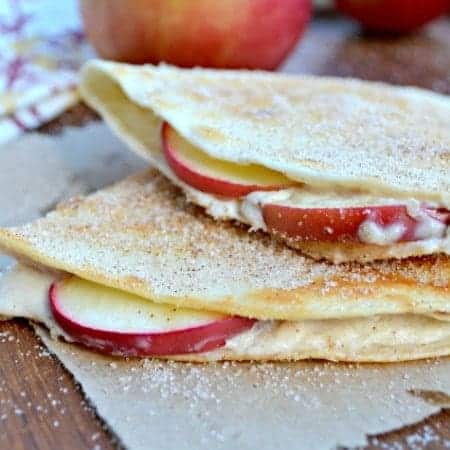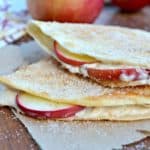 Apple Cheesecake Breakfast Quesadillas
Ingredients
Apple Cheesecake Breakfast Quesadillas

1

large

10 inch burrito size flour tortilla

4

oz.

cream cheese

softened

1

Tbsp.

sugar

1/4

tsp.

vanilla

1/8

tsp.

cinnamon

1/2

small apple

thinly sliced

butter

cinnamon & sugar
Instructions
Mix cream cheese, sugar, vanilla, and cinnamon with a hand mixer until smooth and creamy.

Spread on one half of large tortilla. Top with apple slices; fold tortilla in half.

Melt a small amount of butter on griddle. Cook quesadilla until golden brown on one side; flip and cook the other side.

Brush both sides of hot quesadilla with butter and sprinkle with cinnamon & sugar mixture.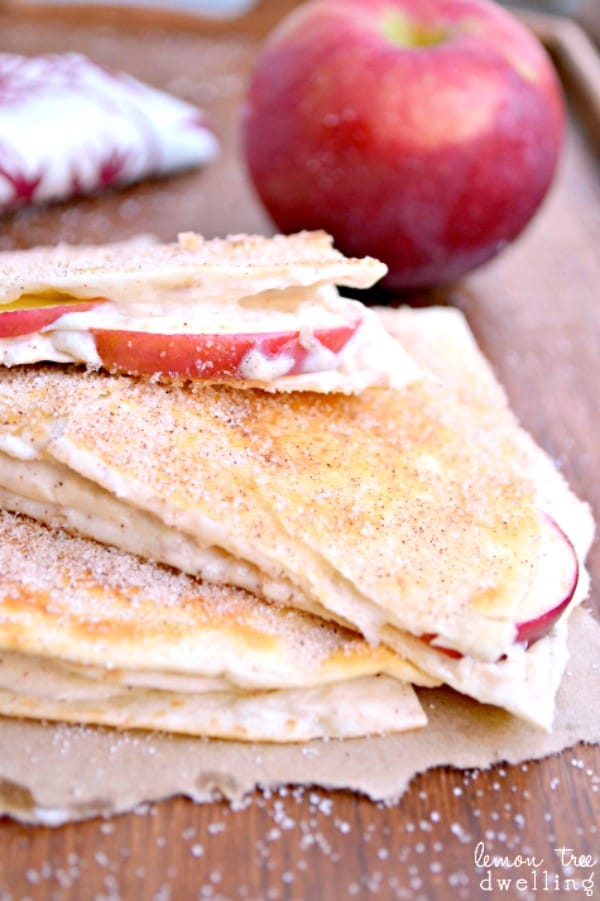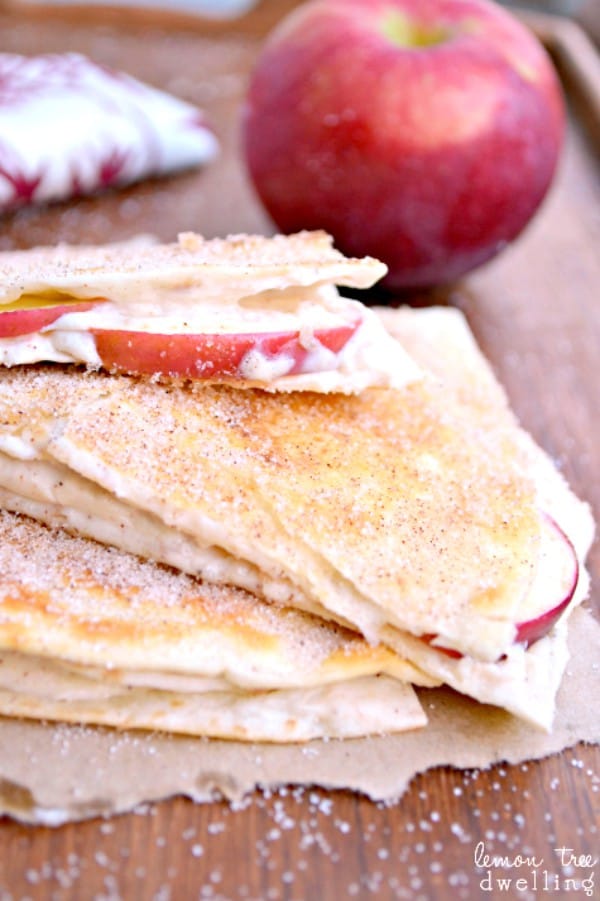 Enjoy!
Check out some more of my deliciously sweet breakfast ideas!