Little Smokies, kicked up a notch with the addition of lime juice and chipotle peppers in adobo sauce.
Just as quick, easy, and delicious as the original…..but so much more FUN!
Perfect for holidays, game days, or any days you are looking to kick it up a notch!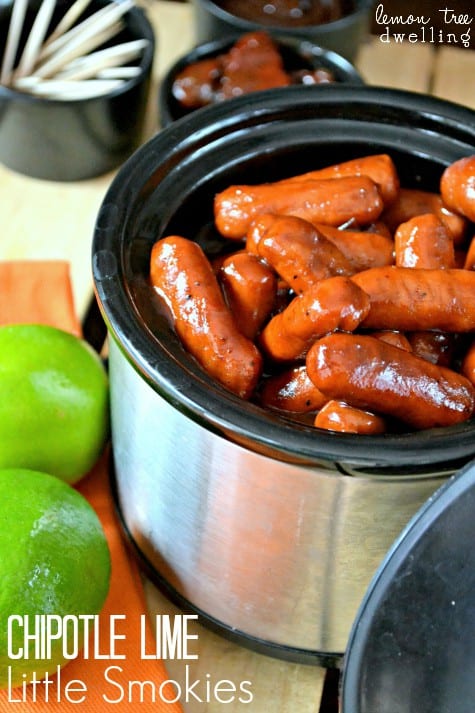 Happy Labor Day! I hope you are spending the day with family and friends, enjoying the last bits of summer while you still can! We are heading over to some good friends of ours to spend our day eating, drinking, talking, laughing, and……bouncing!! That's right – my friend rented a bounce house to help us send summer out with a bang….SO FUN, right?! And right on par with our entire last week of water slides, amusement park rides, zoo trips, eating out, birthday parties, staying up late, eating too much….and really living it up!! We have definitely sent summer out with a bang, and I think it's safe to say that by the time today is over, we all will have had our fill!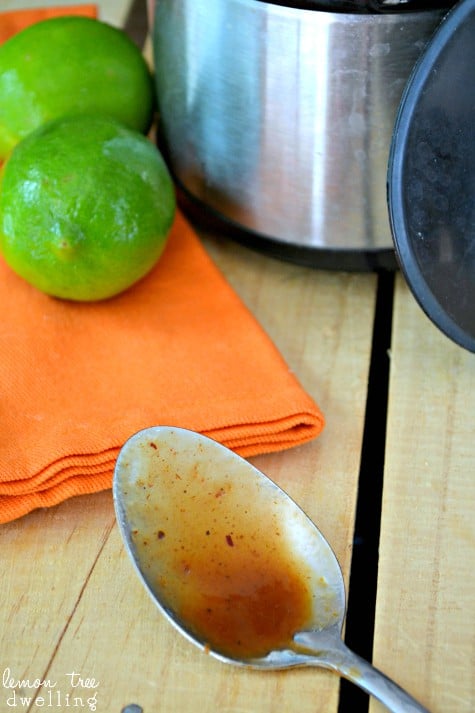 Ha! Okay….maybe not all of us. I'm sure if you asked the kids, this type of fun could go on forever! But I know, for myself, that I'm ready for a change. I'm ready for fall! And one of the parts of fall I am MOST excited about? Football!! (Any of you who really know me are probably laughing right now…because you know that the real thing I love about football is not watching the games, but having the parties!) True. But that doesn't mean I love it any less!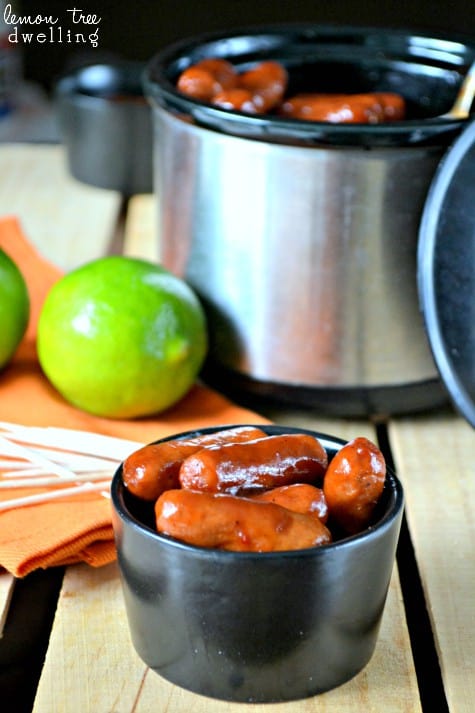 I LOVE having people over and I LOVE feeding them….and football games just happen to be a great way to make it happen! There's no thinking about it or scheduling it or trying to find a time that works for everyone….because everyone is free during game time! So after a summer of running around to summer school, swimming lessons, and kids' activities, fall has a way of bringing everyone back to a common schedule. With a common desire to sit and relax and watch the game! (Or…if you are me…talk/eat your way through it!!)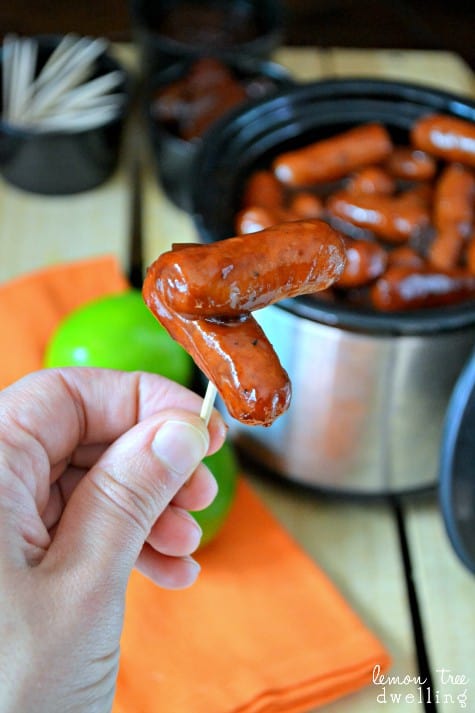 So….in preparation for football season, I've been trying out some new appetizers. Because as much as I love the same old taco dip, I also love trying and serving new things! The only criteria? They must be delicious and, of course, EASY! Because no one has time on a Sunday morning to spend hours preparing snacks for the game….and no one wants to spend precious game time tending to them, either. After all, the game only lasts so long….and you wouldn't want to miss out on any time that could be spent talking….er….watching!!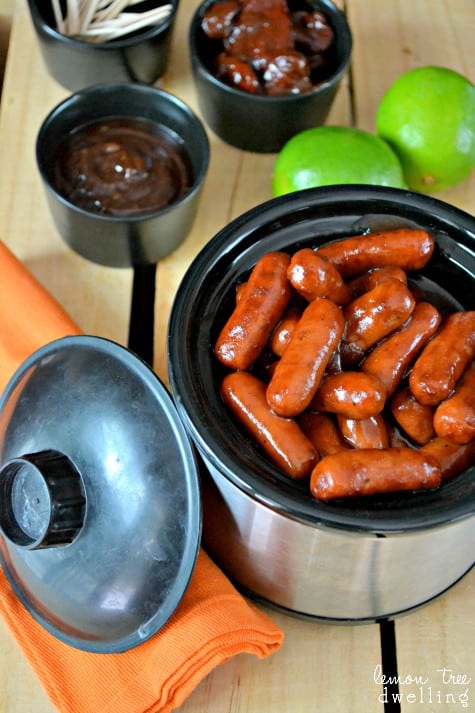 Chipotle Lime Little Smokies
1 (14 oz.) package Little Smokies (I used Hillshire Farms turkey)
1/2 c. honey flavored bbq sauce (I used Sweet Baby Ray's)
2 Tbsp. lime juice
1-2 Tbsp. adobo sauce from canned chipotle peppers + 1 canned chipotle pepper, finely chopped (*adjust heat by adding more or less adobo sauce and/or peppers)
1. Combine all ingredients in a small saucepan; stir well.
2. Heat over medium heat, stirring occasionally, until hot.
3. Transfer to small crockpot to keep warm.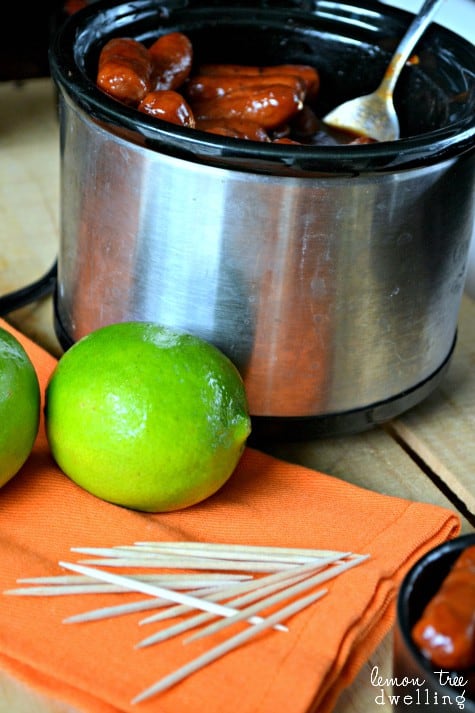 Enjoy!
Be sure to check out these other delicious game time appetizers, too!