Sweet mini peppers stuffed with cream cheese, blue cheese & ranch dressing, wrapped in bacon, and baked until bubbling…..the perfect little weekend or game day bite!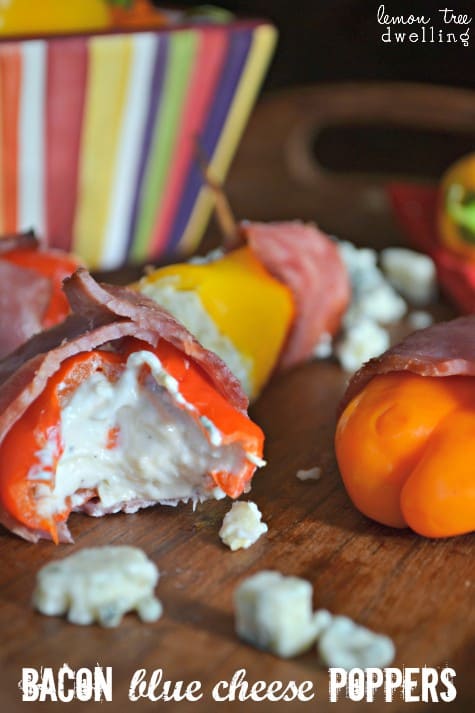 Well….today is the day. The long-awaited first day of school (long-awaited by me, that is…the girls had their own ideas about it…)! After a summer that sometimes felt like it never would end, here we are. At the end of summer! Amazing how that happens, isn't it? To be honest, now that the day is here, I have mixed emotions. I am both relieved and a little anxious….both excited and a little sad. Ellia is now in 2nd grade and little Greta is starting kindergarten! Kindergarten!! So suddenly it's just Nora and me home together, all day, every day. It will definitely take some getting used to! But at the end of the day, I know it will be good for us.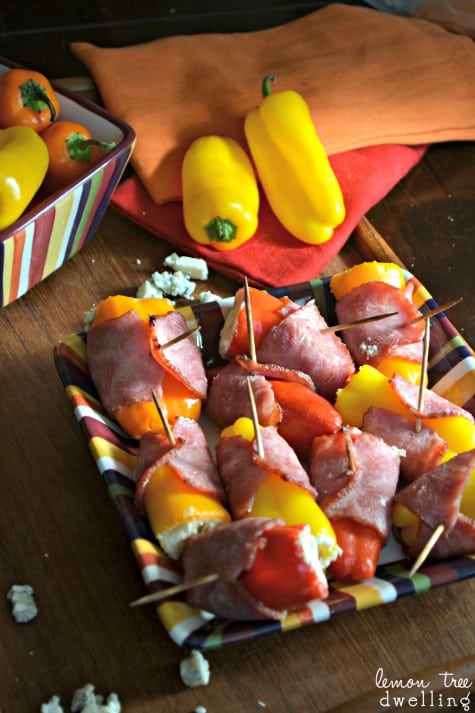 It will be good for ALL of us! Because the truth is, I'm not awesome at summer break. I'm not awesome at figuring out how to structure it, or setting limits around it, or making sure we all have some time to ourselves each day. So by the end of summer, I am exhausted! And SO ready for a change. And, even though the kids would never admit it, I think they are, too! The great thing about the school year? You see your kids less often….so all the time you have with them feels more special! During the school year, I actually have a chance to miss them (something I'm not used to)….and to feel the excitement of seeing them after a day apart (something I'm also not used to)! Don't get me wrong – I know I am lucky to stay home with them, and I am so grateful that I can! But that doesn't change the fact that a full summer spent with kids is LONG….and I'm ready for a break.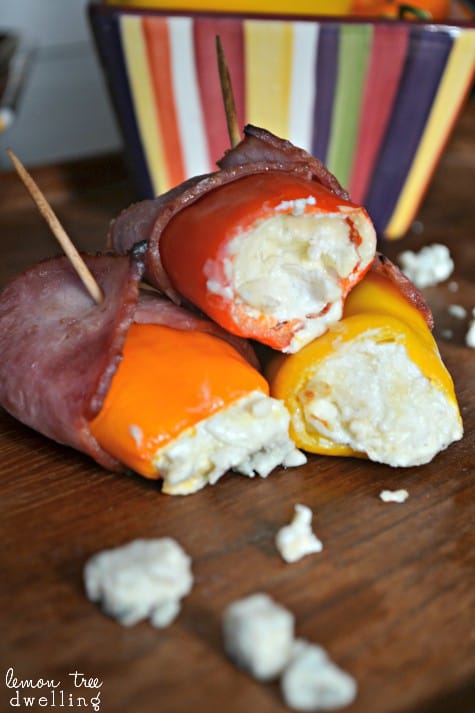 You know what else I'm ready for? Fun fall weekends!! Because, when the kids are in school during the week, weekends take on a whole new meaning! We are more focused on doing things as a family….and on making sure we have fun together! So soccer games, family walks, leaf raking, apple picking, pumpkin carving, bonfires…..here we come! And let's not forget about football games….or delicious snacks, like these Bacon Blue Cheese Poppers! I'm ready for it all….and hopefully I can help you get ready for it, too! Hello, fall!! We've been waiting for you!!!!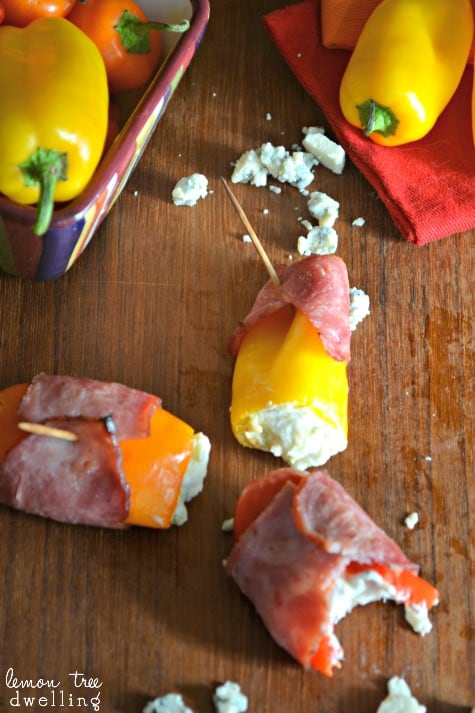 Bacon Blue Cheese Poppers
8-12 sweet mini peppers
4 oz. cream cheese, softened
1/4 c. blue cheese
2 Tbsp. ranch dressing
approx. 6 pieces bacon, cut in half (I used turkey bacon)
1. Wash peppers and remove stems and seeds.
2. In a small bowl, mix cream cheese, blue cheese, and ranch dressing until blended.
3. Fill each pepper with approx. 1 Tbsp. cream cheese mixture.
4. Wrap 1/2 piece bacon around each pepper and secure with a toothpick. (Depending on the size of your peppers, you may need more than 1/2 piece per pepper.)
5. Place stuffed peppers in an oven-safe baking dish, making sure that the open end of the pepper is up so the filling doesn't leak out while baking. I used a 1.5 qt. Corningware dish and propped the peppers up on their ends.
6. Bake at 425 degrees for 15 minutes.
7. Let peppers cool slightly before serving.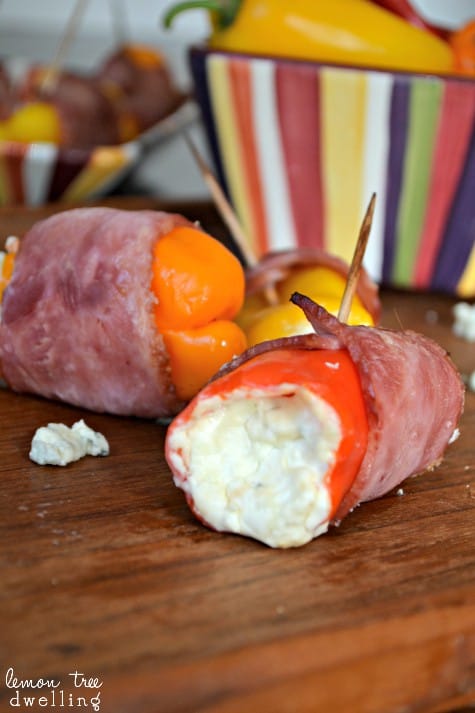 Enjoy!
Be sure to check out these other delicious game day ideas!