This simple 6-ingredient cheesecake packs all the creaminess of cheesecake with the added punch of candy corn and new Candy Corn Oreos….sure to be a new fall favorite!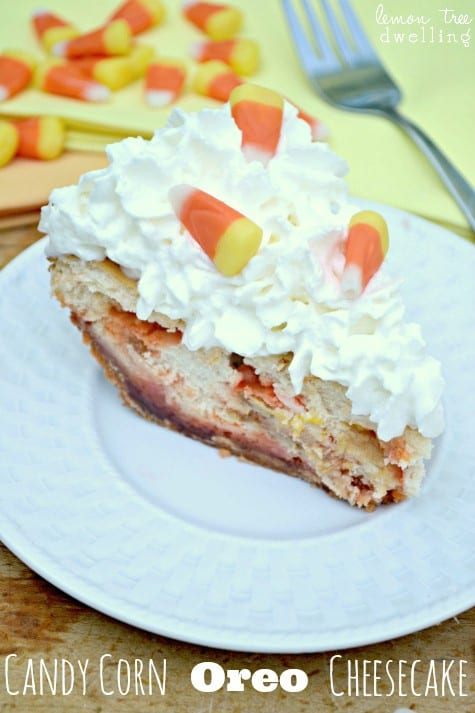 Let me just start by saying I'm sorry I haven't been around more this week. Jorden took the week off for one last hurrah before school starts, and we've been going like crazy all week! We spent a day at the zoo, an overnight at a waterpark, and all of yesterday at an amusement park. We've been surviving on fried food, Twizzlers, and enough snacks to last till Thanksgiving….and although it's been fun, let's just say we are ready to be done. Especially me!! I am ready to be out of my bathing suit, off of the spinny rides, and in the comfort of my own home. Where I can sleep in my own bed, eat at my own table, have my own routine, (clean my house!) and get back to making yummy food to share with all of you!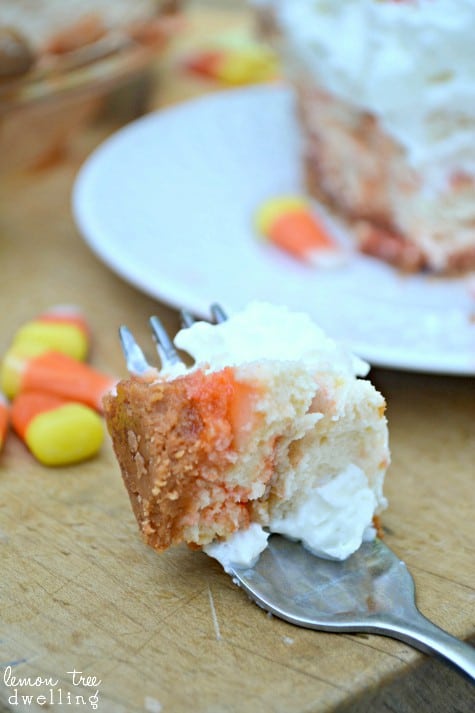 See….I'm a person who likes my routine. And I always have been. I like eating the same breakfast, drinking the same coffee, going for the same run at the same time, checking in with the same people, and more or less doing the same thing every day! Or at least knowing that I can, if I want to. I realize that doesn't make me sound like a ton of *fun*….but let me tell you….I'm a lot more fun when I stick to some sort of routine than I am when I don't! All week long I've been stressing about when to fit in a workout, how to make time to check in with people, why I've been letting my kids eat so much junk, how many emails I haven't responded to…..(the list goes on and on)…..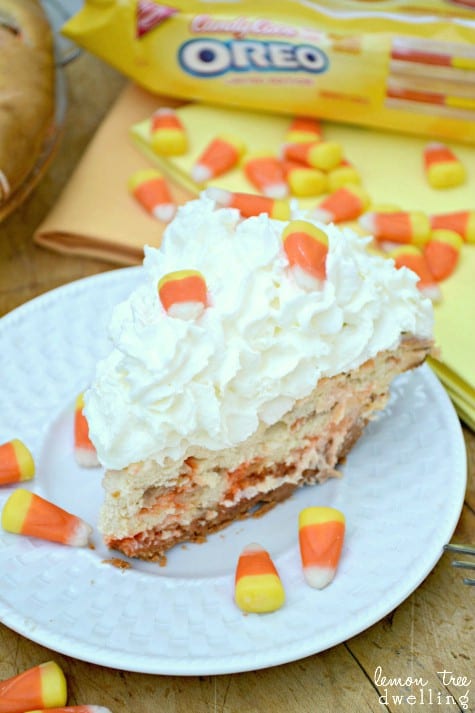 So yeah…..I've been loads of fun!! Which is why, more than ever, I am certain that summer needs to end and the school year needs to start. Because I need some more structure to my days. Because I have about a million and one things that have to get done. Because I can only handle so much fun in my life…..before I need it to go back to normal!! The good news? I made this Candy Corn Oreo Cheesecake when I was still in "fun" mode. So it's exactly that: FUN!! With chunks of Candy Corn Oreos and whole pieces of candy corn baked right in, the only thing that would make it more fun is…..more candy corn! Which is why I decided to throw some on top….right after the mounds of whipped cream. Because when you're in fun mode, you might as well go all out!! After all, once school starts Tuesday, the fun will all be over. (And no….I couldn't be more excited about that!)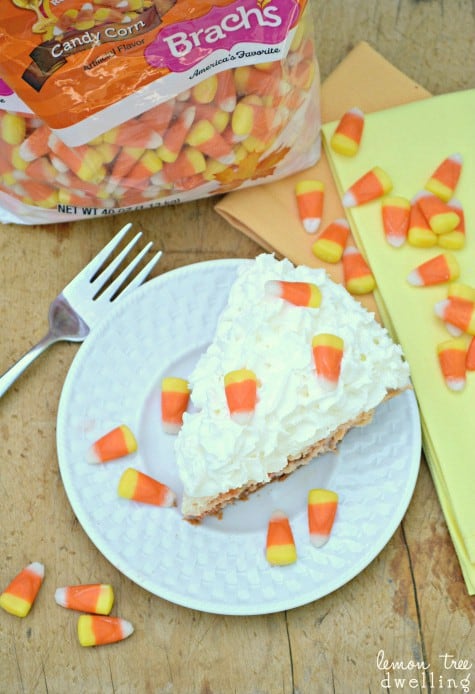 Candy Corn Oreo Cheesecake
1 package Candy Corn Oreos
1 c. candy corn (I used Brach's) plus more for topping
3 (8 oz.) bricks of cream cheese, softened
3/4 c. granulated sugar
3 eggs
1 Tbsp. vanilla
whipped cream (optional)
1. Using a food processor or powerful blender, finely crush 20 Candy Corn Oreos. Press into bottom and up sides of greased pie plate.
2. In a medium mixing bowl, combine cream cheese, sugar, eggs, and vanilla and beat at medium-high speed 5 minutes.
3. Break remaining 10 Oreos into pieces and fold into cheesecake mixture. Add 1 c. candy corn and stir to combine.
4. Pour mixture into Oreo crust (you may have more than will fit in the crust) and spread evenly.
5. Bake at 375 degrees for 45 minutes. When done, top will be golden brown and cracked.
6. Cool in refrigerator for 8 hours.
7. Before serving, top with whipped cream and additional candy corn pieces.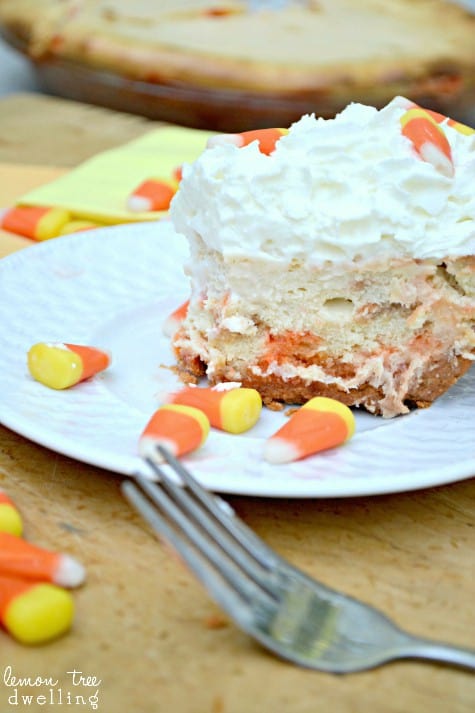 Enjoy!
Take a minute to check out these other fun & delicious recipes!