Chicken Tortilla Soup is one of our family's favorites... and this recipe is the BEST! Made with simple ingredients and packed with the most amazing flavor, it's a quick and easy dinner recipe you're sure to come back to time and time again.
One of our favorite things about this Mexican chicken soup, of course, is all the fun toppings. We love loading ours up with fresh cilantro, avocado, shredded cheese, tortilla chips, sour cream, and even fresh jalapeños for an extra spicy kick.
The good news is it's delicious with or without the extra toppings... and everyone can choose for themselves. Which makes it the perfect choice, not only for family dinners, but for game days and parties too!
If you're looking for a new go to soup recipe that everyone will love, you've come to the right place. This is it!!
As anyone with kids knows, there are few meals the whole family can agree upon. And for us? This Chicken Tortilla Soup is one of them. And for good reason! Not only is it incredibly flavorful and reminiscent of another favorite (tacos!)... but who doesn't love a meal you can load up with all your favorite toppings!?
My kids literally beg me to make tortilla soup for dinner, and I never say no. Because in addition to being complaint-free, it's also super easy to make and ready in under 30 minutes.
And since it's so customizable, it's the perfect dish to serve for game days, parties, or any type of get togethers! Just be prepared for everyone to ask you for the recipe, because I can almost guarantee they will. It's THAT good.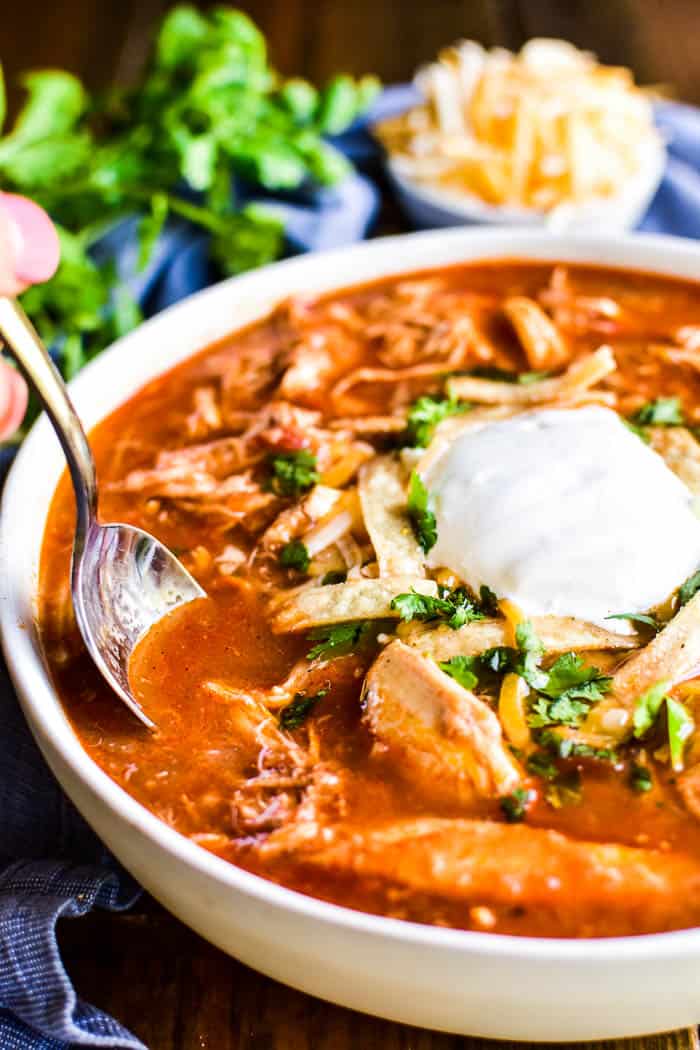 What is Tortilla Soup?
Tortilla Soup is a classic Mexican soup consisting of a tomato base, Mexican seasonings, and shredded chicken. It may include other ingredients such as onions, black beans, corn, or other vegetables, and is often topped with a variety of ingredients like shredded cheese, avocado, fresh cilantro, and tortilla chips.
Ingredients:
8 c. chicken broth
4 c. shredded chicken
1 large can crushed tomatoes
1 large onion
4 cloves minced garlic
3 Tbsp. olive oil
2 Tbsp. chili powder
1 Tbsp. cumin
½ tsp. salt
Juice of 1 lime
¼ tsp. cayenne pepper
Toppings (fresh cilantro, shredded cheese, tortilla chips, sour cream, avocado, jalapeños)
Instructions:
Heat olive oil in a large pot. Add garlic and onions and cook, stirring, until onions begin to brown.
Add crushed tomatoes, seasonings, and lime juice.
Bring to a boil, stirring constantly.
Add chicken broth, reduce heat, and simmer 15-20 minutes.
Add chicken.
Serve with toppings of your choice.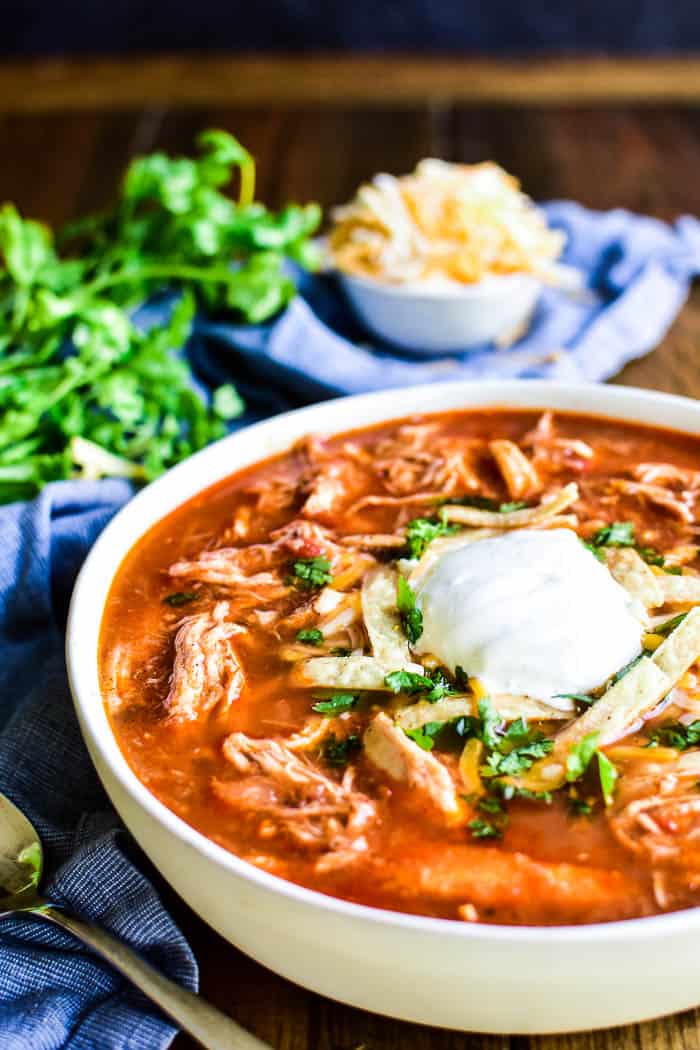 What to serve with Chicken Tortilla Soup:
Quesadillas
Chips & guacamole
Nachos
Fajitas
Enchiladas
Burritos
Tacos
Side salad
Recipe variations:
This is the perfect recipe to add to or alter depending on your tastes. Some delicious additions would be black beans, rice, corn, diced tomatoes, coriander, minced jalapenos, or your favorite salsa. You can also adjust the spice level by adding more or less cayenne pepper, stirring in some hot sauce, or topping it with fresh sliced jalapeños.
Can you freeze it?
Yes! Soup freezes and reheats extremely well. To freeze this recipe, let it cool completely, then transfer it to an airtight container before adding toppings. It can be stored in the freezer for up to 6 months. To reheat, either defrost it in the refrigerator overnight or just transfer it frozen into a large pot and heat over medium heat.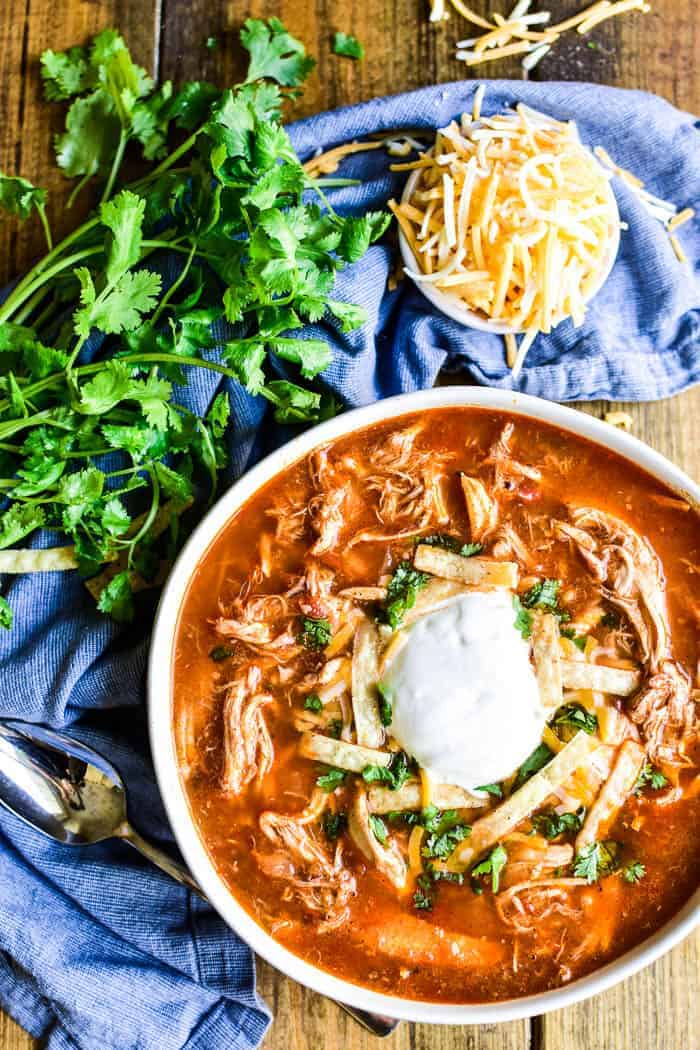 Side dish ideas:
More Mexican-inspired dishes: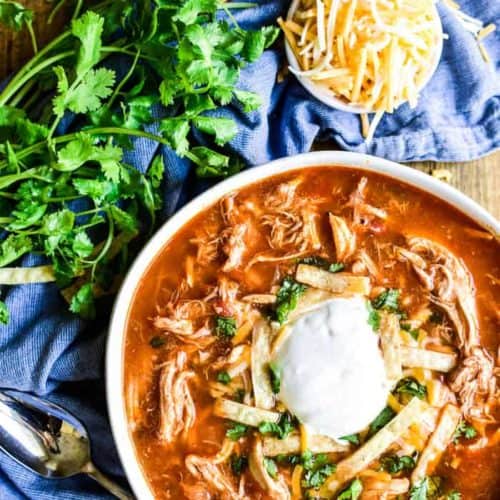 Chicken Tortilla Soup
Ingredients
8

c.

chicken broth

4

c.

shredded chicken

1

large can crushed tomatoes

1

large onion

chopped (about 2 c.)

4

cloves

garlic

minced

3

Tbsp.

olive oil

2

Tbsp.

chili powder

1

Tbsp.

cumin

½

tsp.

salt

1

lime

¼

tsp.

cayenne pepper

more to taste

avocado

shredded cheese, sour cream, crushed tortilla chips, cilantro
Instructions
Heat olive oil in a large pot over medium-high heat. Add garlic and onions and cook, stirring, until onions begin to brown.

Add crushed tomatoes, chili powder, cumin, cayenne pepper, and juice of ½ lime.

Bring mixture to a boil, stirring constantly.

Add chicken broth; reduce heat to low and simmer 10-15 minutes.

Stir in chicken.

Serve, topped with your choice of fixings!