Butternut Squash is one of our all time favorite side dishes, and I'm here to share with you all the best tips and tricks for making the perfect roasted butternut squash.
From peeling to cutting to seasoning to baking, once you make this tried and true recipe you'll see just how easy it is to whip up a delicious side dish that pairs well with any meal.
Whether you're looking for a new favorite to add to your holiday menu or a dinnertime staple to add to your weeknight rotation, you're sure to fall in love with this deliciously simply seasoned roasted squash!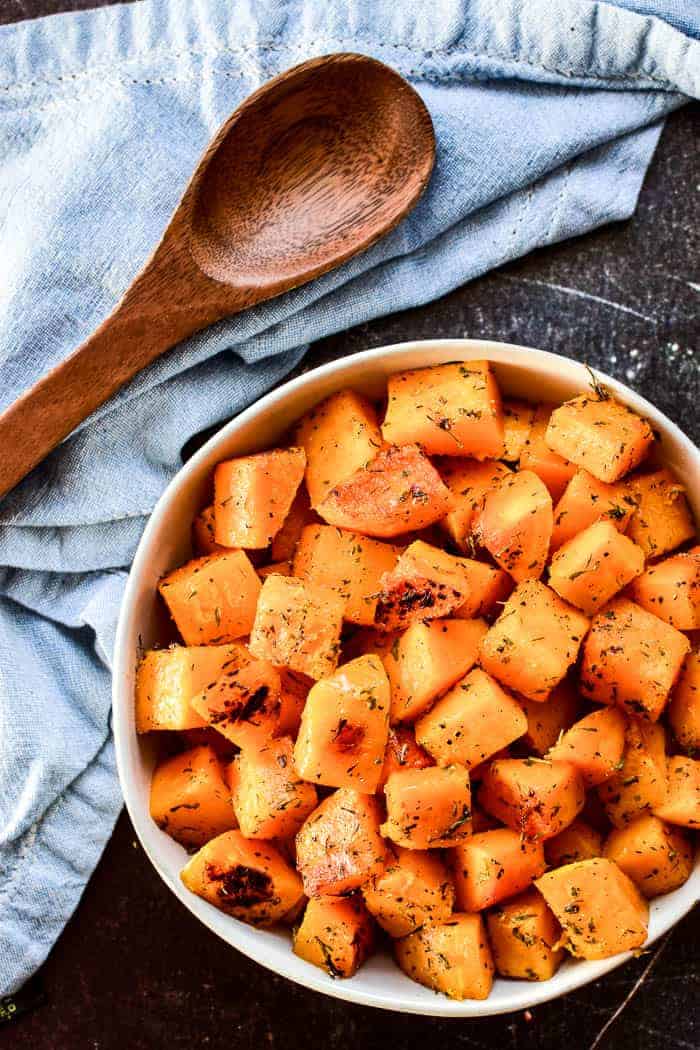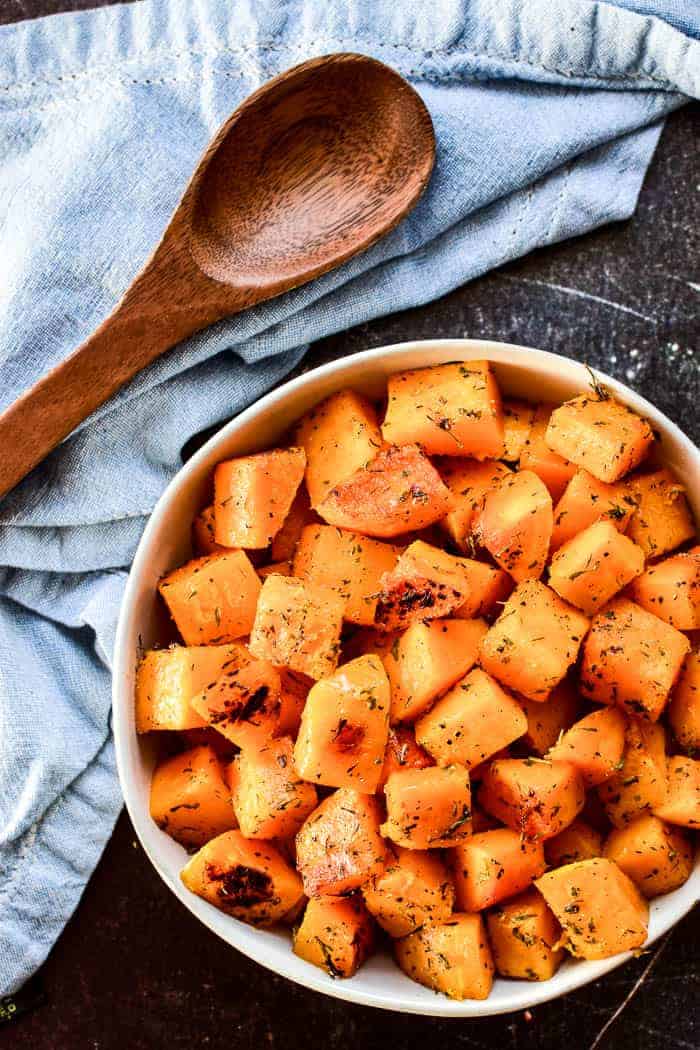 We've all been there. Staring at the huge selection of squash at the grocery store. Not sure exactly what we're looking at, but somehow wanting to buy one. Just to try it. Despite the fact that we have no idea what to actually do with it.
Well…I'm here to tell you. The waiting and wondering is over. Sure, there are lots of butternut squash recipes out there. But this Roasted Butternut Squash recipe is the ONLY one you'll ever need.
Not only is it super simple to prepare, and made with just a handful of ingredients, but it's one of the most versatile side dishes ever. And it can be easily adjusted to match different flavors.
I'll be the first to admit – my kids were skeptical of it when they first tried it. But after one bite, they were sold! And I have no doubt in my mind that you will be, too.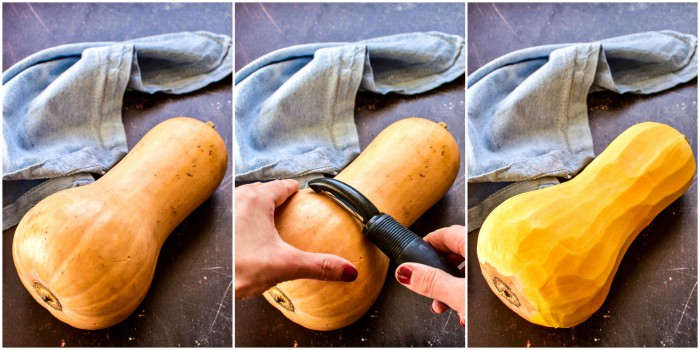 What is Butternut Squash?
Butternut Squash is a popular winter squash that has a bell-shaped fruit with sweet orange-yellow flesh. Although we typically think of it as a vegetable, butternut squash is actually classified as a fruit. It can be prepared either savory or sweet.

Ingredients:
1 butternut squash (approx. 3 lbs.)
2 Tbsp. olive oil
1/2 tsp. kosher salt
1/2 tsp. dried thyme
1/2 tsp. dried parsley
1/4 tsp. garlic powder
fresh pepper, to taste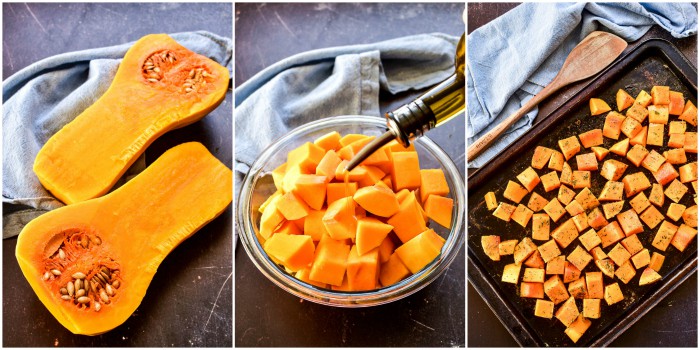 How to peel butternut squash:
The best way to peel the squash for this recipe is with a sharp vegetable peeler. Holding the opposite end of the squash, push the peeler across the skin away from your body.
PRO TIP: Before peeling, pierce the skin several times with a fork and microwave on high 1 minute. This will soften the skin, making it easier to peel.
How to cut it:
Once your squash is fully peeled, cut off the top and bottom of it and discard. Then cut the squash in half lengthwise and remove the seeds with a large spoon. Finally, cut the flesh into equal sized cubes (typically about 1 inch).
How to cook it:
Season squash with olive oil, herbs, salt & pepper.
Spread seasoned butternut squash on a large roasting pan.
Roast at 400° for 20 minutes, tossing halfway through.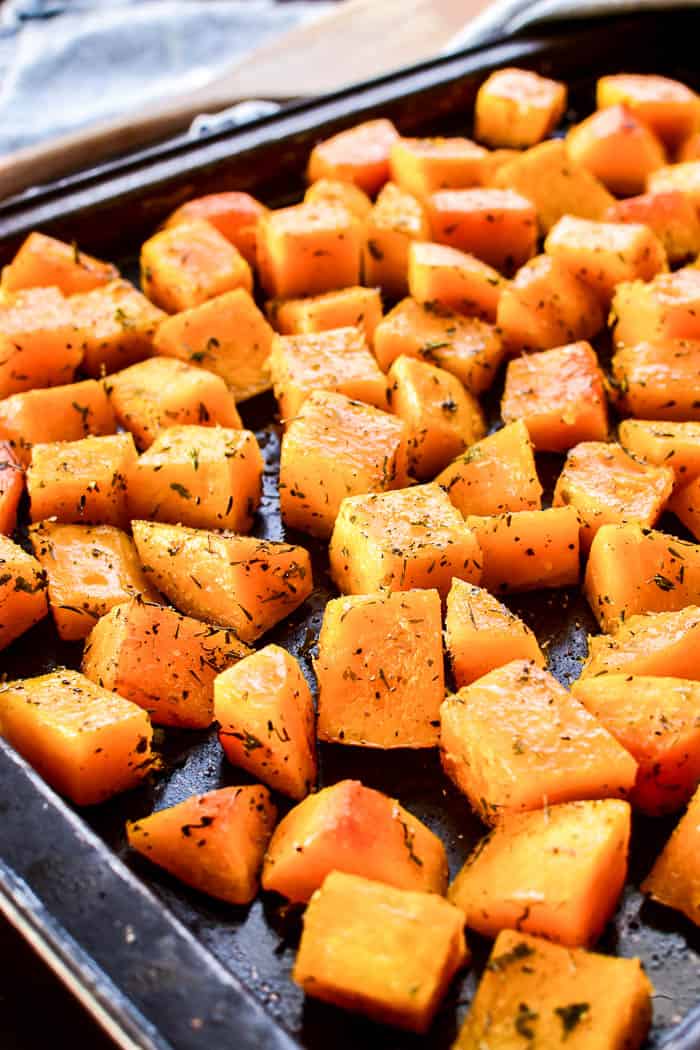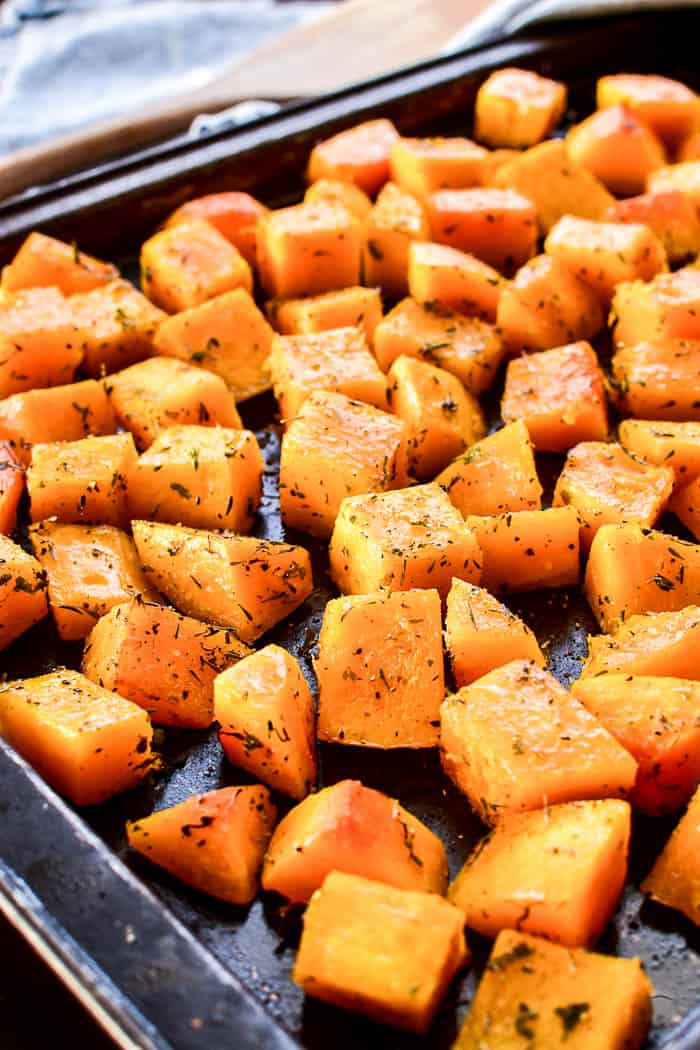 Other ways to season it:
Swap dried herbs for fresh herbs
Exchange thyme and parsley for any of the following: rosemary, oregano, basil, sage, cilantro
Add some heat to your squash with chili powder, cayenne pepper, or paprika
Sprinkle on some parmesan cheese either before or after cooking
Give it a sweet twist by swapping the olive oil for melted butter and swapping the herbs for brown sugar, honey, or maple syrup
Add chopped pecans, walnuts, or almonds
How to store leftovers:
Transfer leftovers to an airtight container and store in the refrigerator for 3-5 days.
How to reheat leftovers:
Leftover squash can be reheated in the microwave, in the oven, under the broiler, or in a skillet on the stovetop. Cook just until heated through, as extra time will soften the squash further.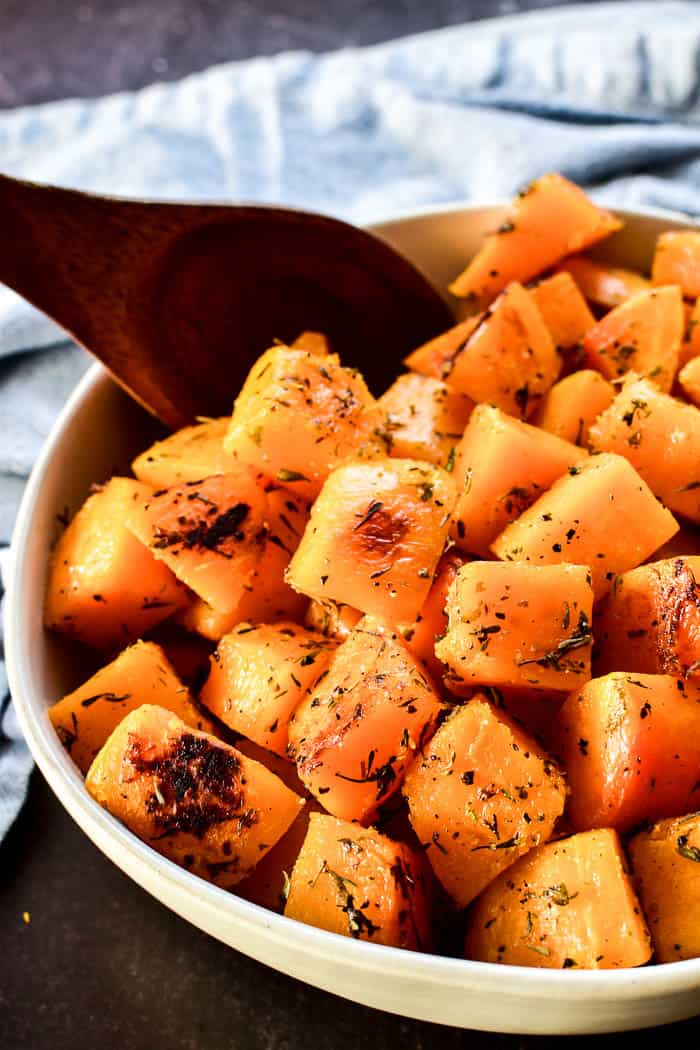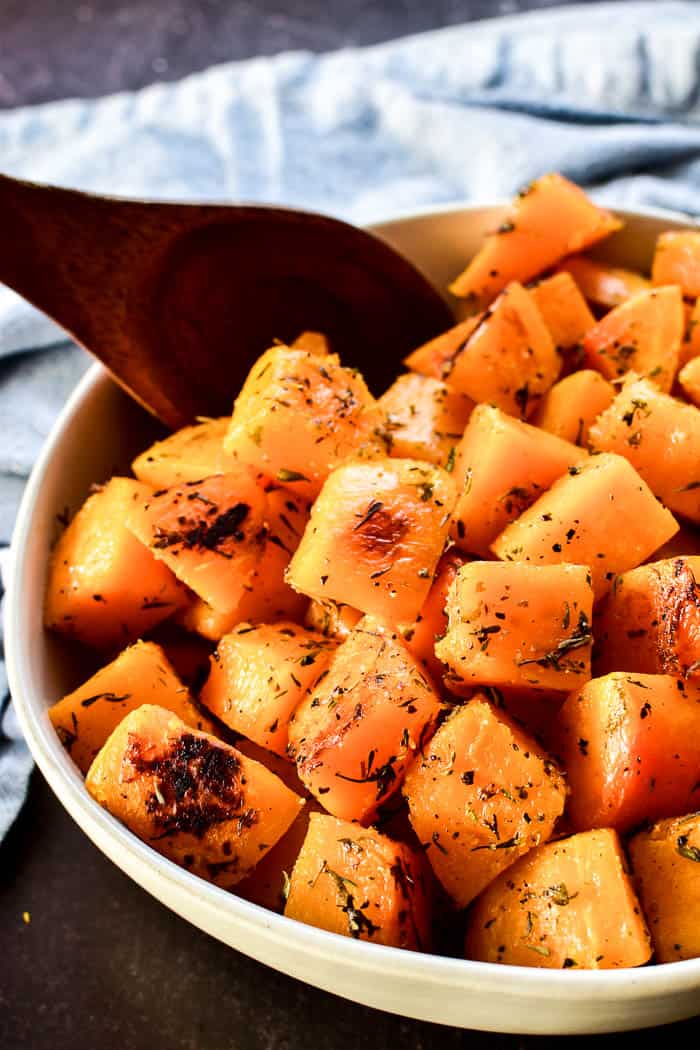 More squash recipes: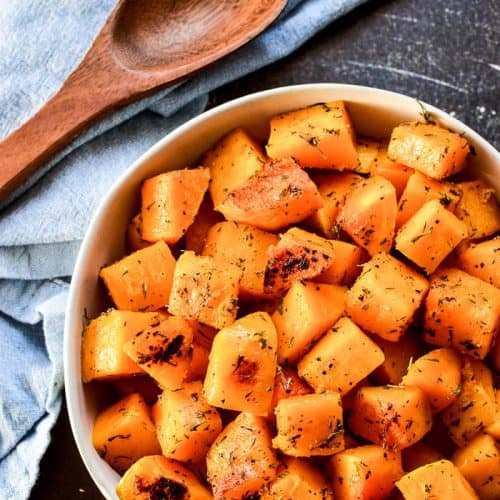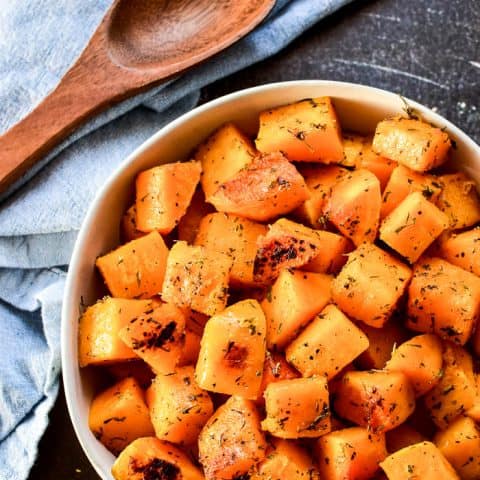 Roasted Butternut Squash
Yield: 8

Prep Time: 15 minutes

Cook Time: 20 minutes

Total Time: 35 minutes

Roasted Butternut Squash makes a delicious side dish for any meal! This recipe combines simple herbs with olive oil, salt and pepper for a quick and easy dish that's sure to be a favorite.
Ingredients
1 butternut squash (approx. 3 lbs.)
2 Tbsp. olive oil
1/2 tsp. kosher salt
1/2 tsp. dried thyme
1/2 tsp. dried parsley
1/4 tsp. garlic powder
fresh pepper to taste
Instructions
Preheat oven to 400°.
Peel squash, remove seeds, and cut into one inch cubes.
Place in a large bowl, drizzle with olive oil and seasonings and toss well to coat.
Spread on a large roasting pan. Roast for 20 minutes, tossing halfway through.
Nutrition Information:
Yield: 8 Serving Size: 1
Amount Per Serving: Calories: 41Total Fat: 3gSaturated Fat: 0gTrans Fat: 0gUnsaturated Fat: 3gCholesterol: 0mgSodium: 147mgCarbohydrates: 3gFiber: 1gSugar: 1gProtein: 0g