Soft, tender biscuits, loaded with all the flavors of Chicken Parmesan. This dish comes together easily and makes a delicious appetizer or dinner. Perfect for game day!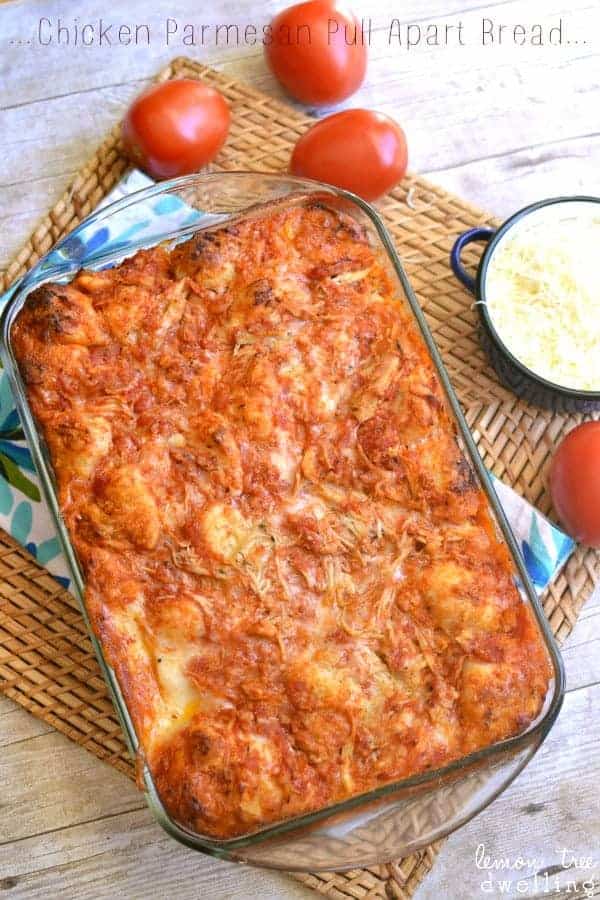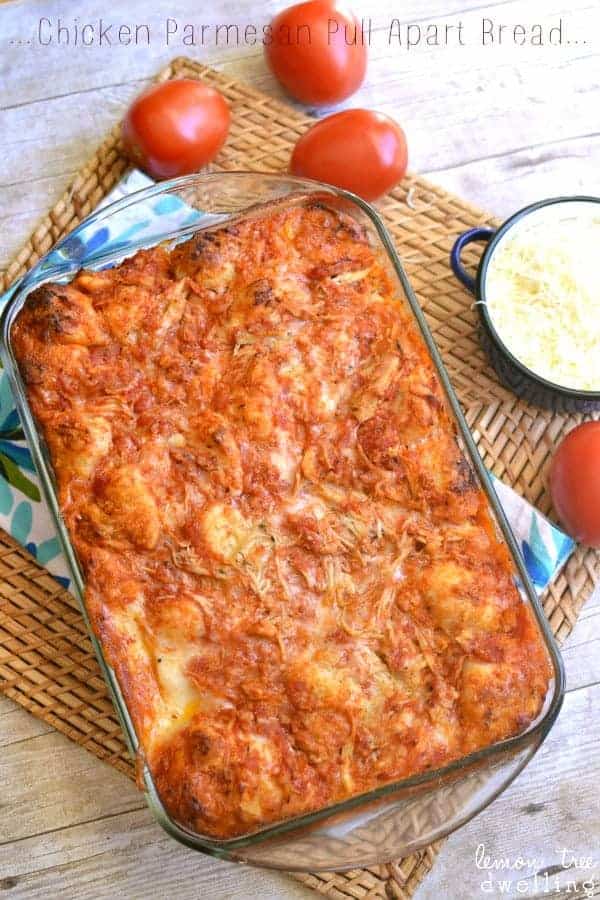 So. I had the BEST meal of my life the other night. The kind of meal you know is going to be amazing the minute you start perusing the menu. The kind of meal where you want to savor every bite, remember every flavor, and continue eating way past the point of fullness. The kind of meal you would LOVE to re-live…..and not just once!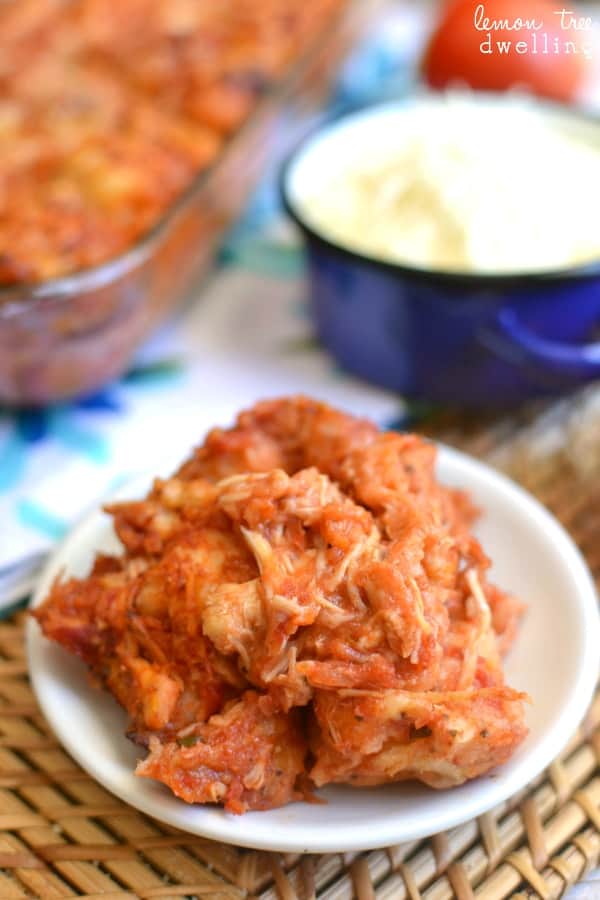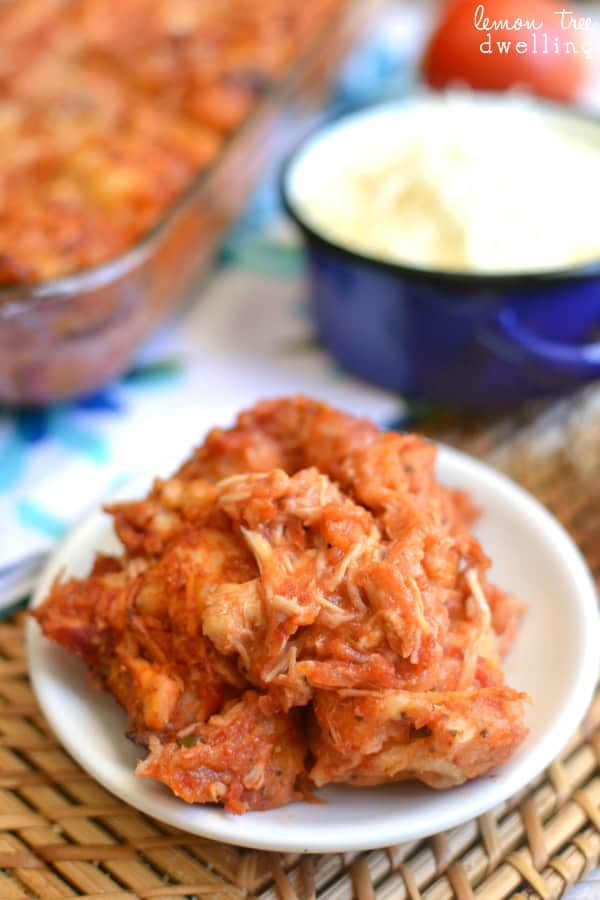 Jorden's business partner Jim was in town for the night and wanted to treat us to a nice dinner out. In his words, he wanted to "go a little crazy" and told us to order whatever we wanted. I don't know about you, but I'm definitely not used to being able to order whatever I want. I honestly didn't even know where to start….!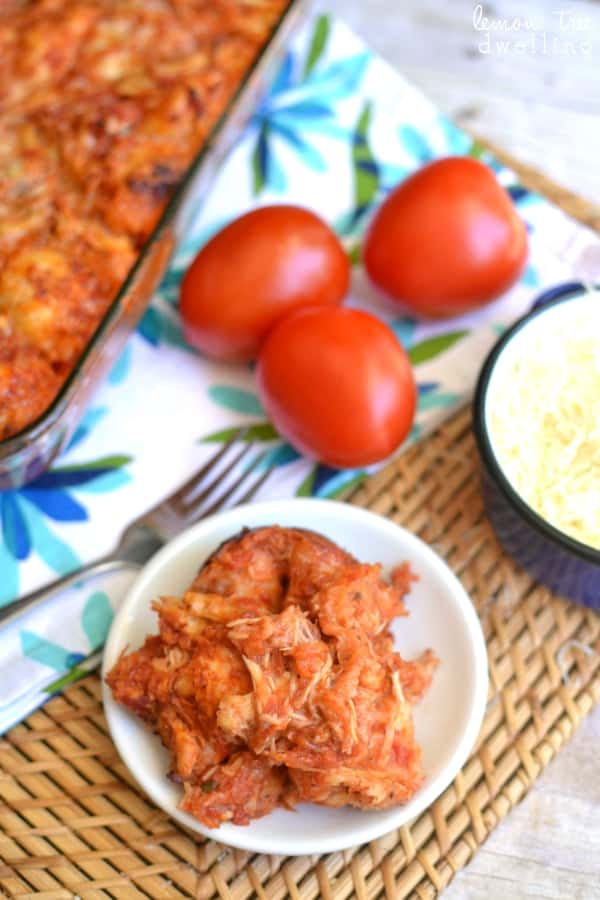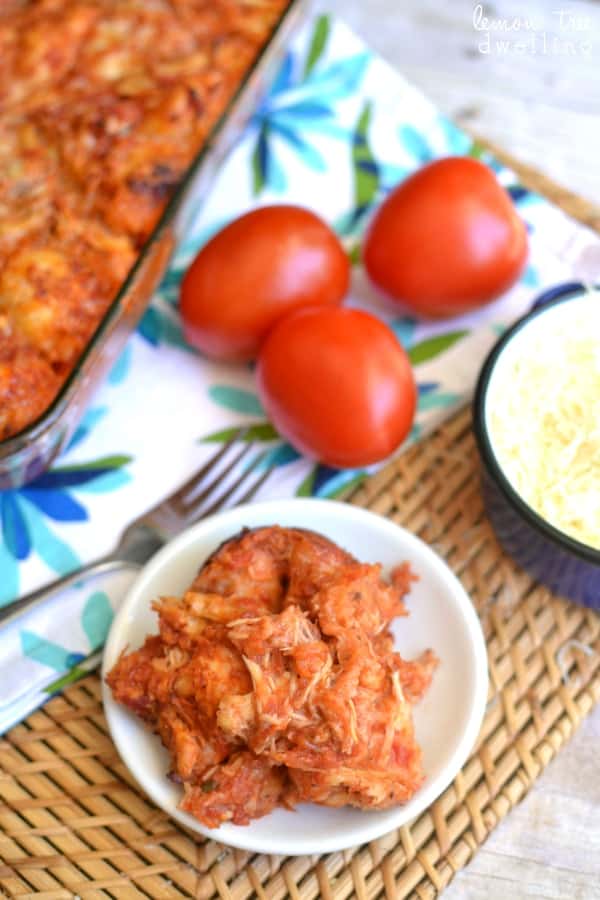 I decided on a delicious Cabernet, and we ordered tuna tartare and rock shrimp for the table. An incredible salmon dinner with crab legs, truffled mashed potatoes and sauteed spinach later……I was in foodie heaven with just enough room for the chocolate cake that ended the night. Enough said?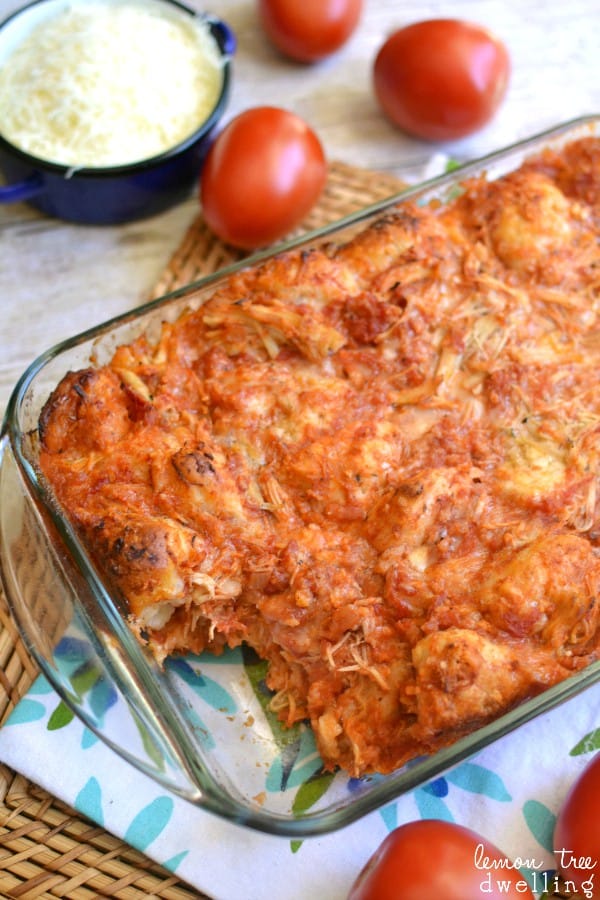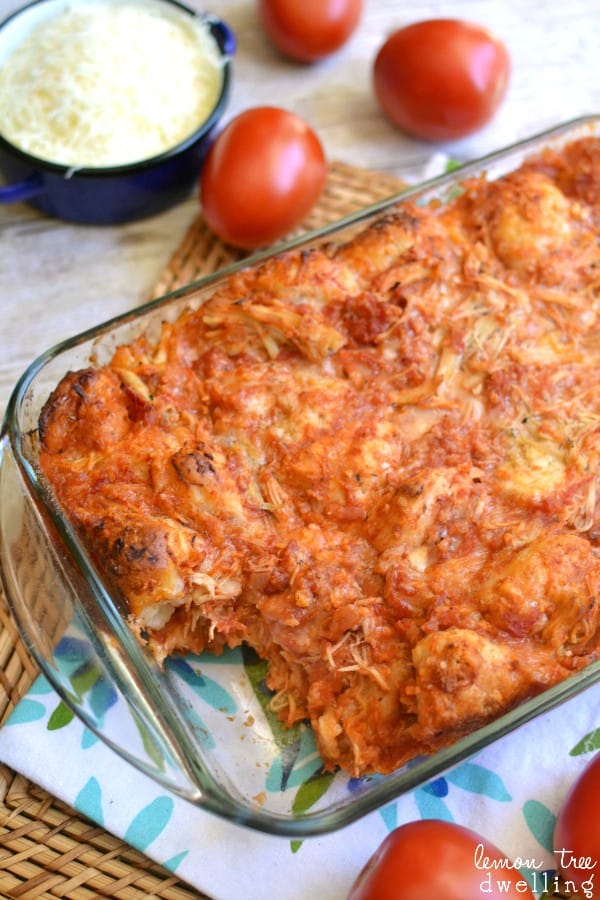 To be fair, it wasn't JUST about the food. It was my first time meeting Jim, who has been Jorden's business partner for 4 years and is incredibly easy to spend time with. The night was full of good conversation, great stories, and plenty of laughter. It was nice to see Jorden in his element and, let's be honest, nice to have a kid-free night out. But the FOOD. I'll be dreaming about it.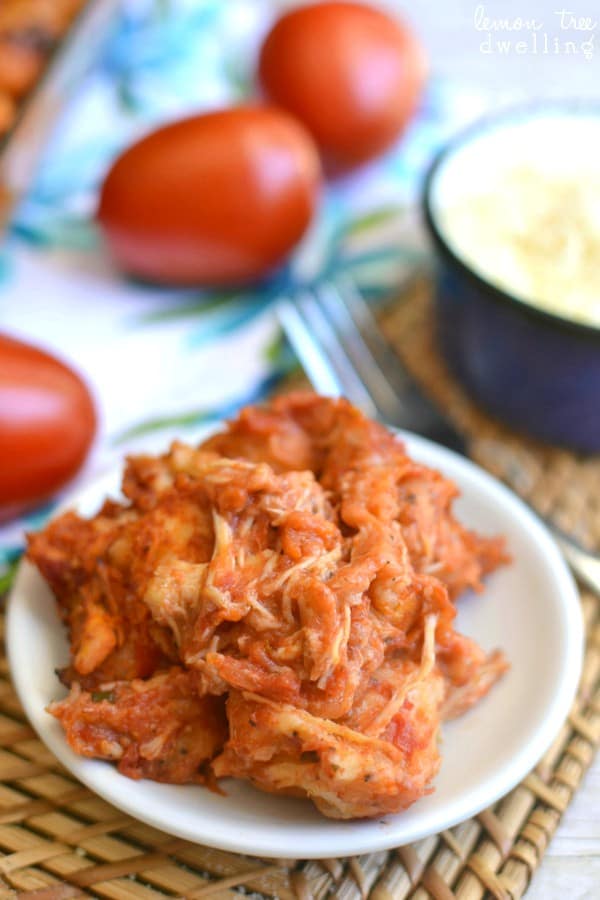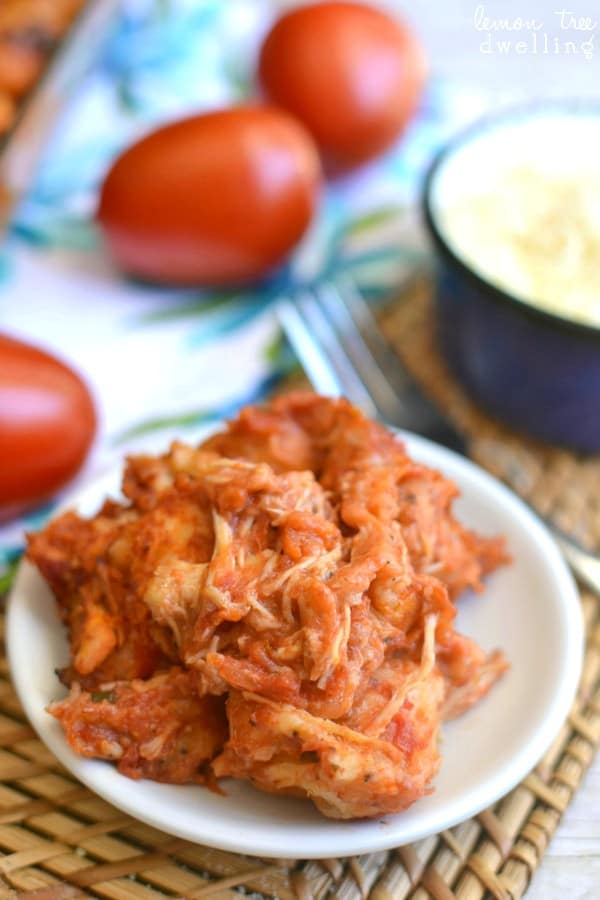 Of course, now it's back to life as usual……and as much as I'd love to be making gourmet dinners for the family, this Chicken Parmesan Casserole is much more our everyday style. Quick, simple, and delicious…..with flavors we love, and enough carby cheesiness to satisfy the masses. It's what's for dinner! A close second to Tuna Tartare, don't you think……??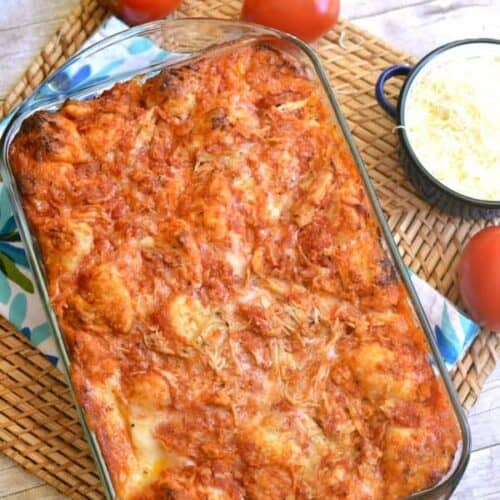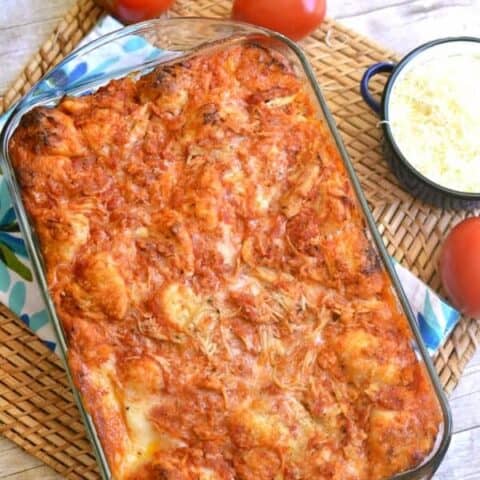 Chicken Parmesan Casserole
Total Time:
1 hour
10 minutes
Ingredients
1 can, 16 oz. refrigerated biscuits (I used Pillsbury Grands)
1/2 c. panko bread crumbs
2 c. cooked, shredded chicken
2 c. marinara sauce
2 c. shredded mozzarella cheese
1/2 c. Parmesan cheese
Instructions
Cut biscuit dough into sixths and place in gallon size Ziploc bag with bread crumbs.
Shake until evenly coated.
In a large bowl, combine panko-coated biscuit dough, chicken, marinara sauce, mozzarella cheese, and Parmesan cheese and gently fold ingredients together.
Spoon into greased 9x13 inch pan.
Bake at 350 degrees approximately one hour, or until biscuits are baked through.
*Cover with foil after 45 minutes to prevent over-browning.
Nutrition Information:
Yield:

12
Serving Size:

1 grams
Amount Per Serving:
Calories:

270
Total Fat:

12g
Saturated Fat:

4g
Trans Fat:

0g
Unsaturated Fat:

7g
Cholesterol:

31mg
Sodium:

627mg
Carbohydrates:

25g
Fiber:

2g
Sugar:

4g
Protein:

14g