Sweet & Salty White Chocolate Candy Corn Muddy Buddies with dry roasted peanuts and a healthy dose of peanut butter. These are dangerously delicious and make the perfect Halloween treat!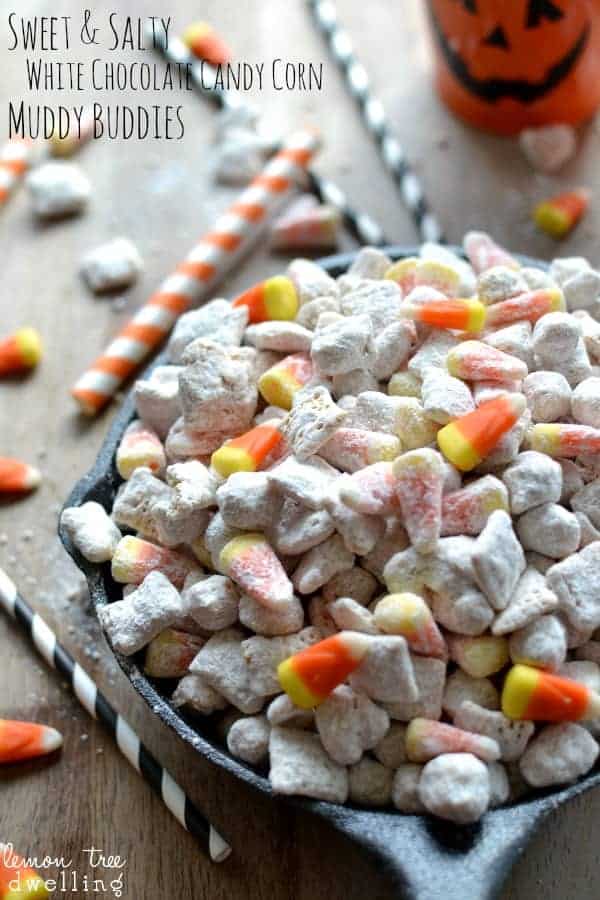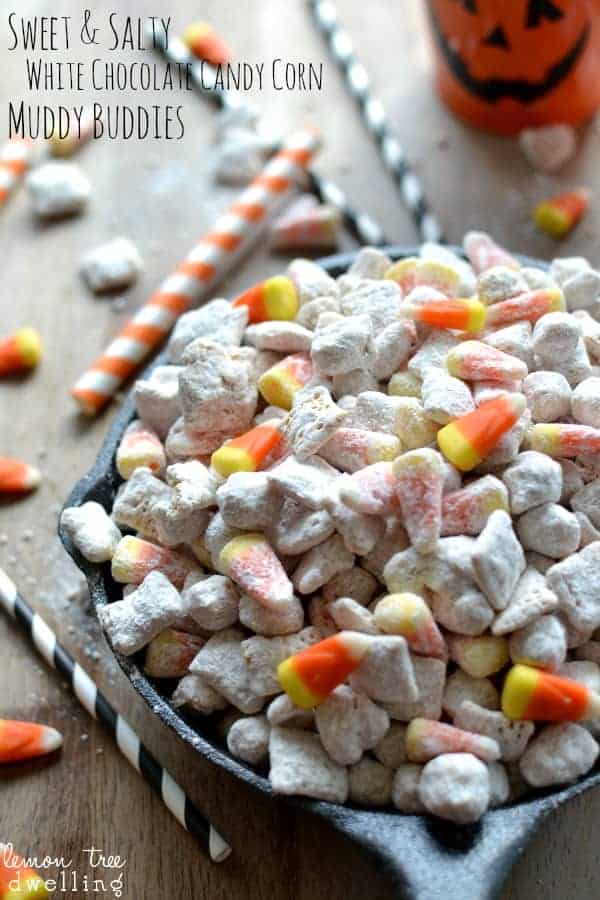 Let me just start by saying this post will be short and sweet. In case you haven't noticed, this is my second (yes, second) post of the day……which is pretty much unheard of around here lately! But Greta is home sick, so Nora has a playmate, and Myla has had a great day of sleep…..which means I had just enough time to sneak in this post before Halloween!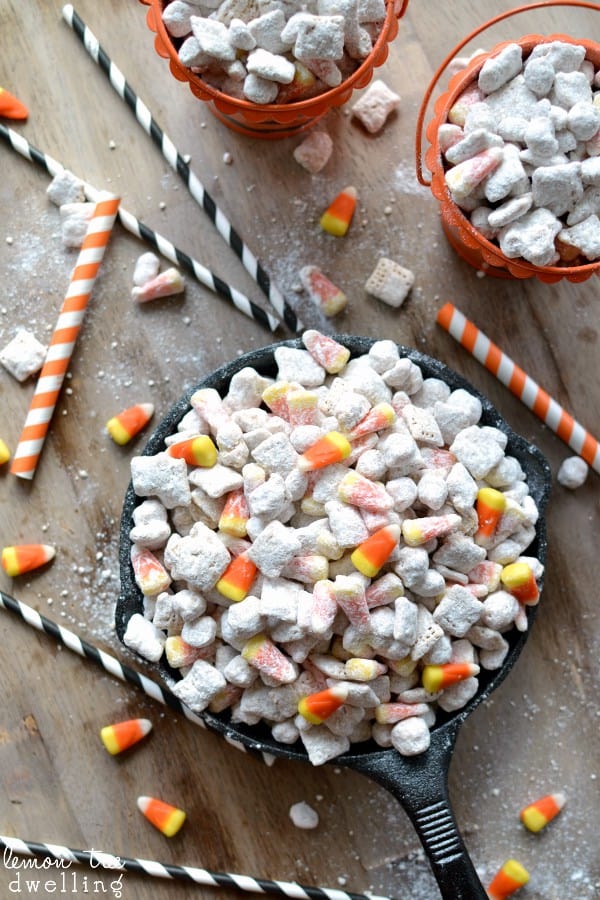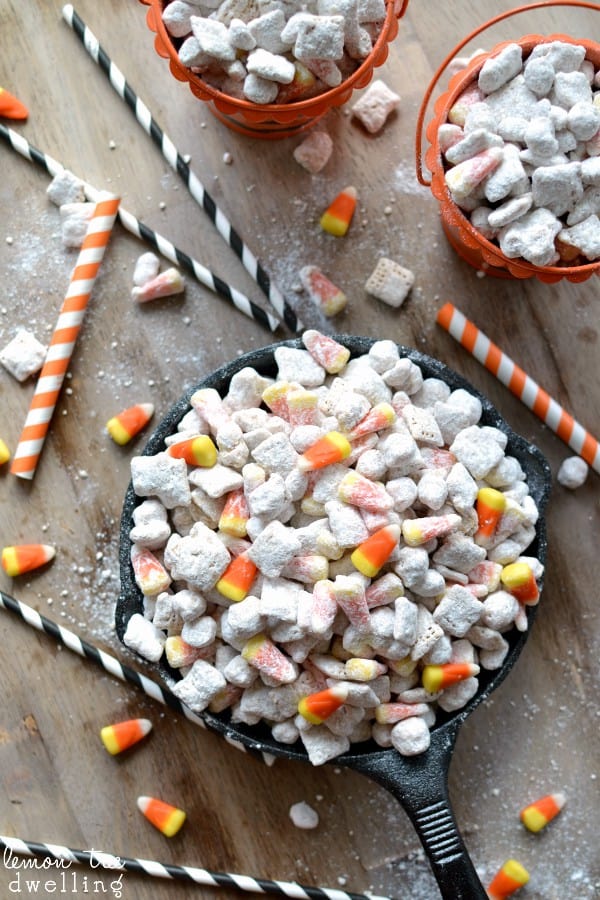 Yep, you heard that right. Greta is SICK!! She came home from school with a 102 fever yesterday….and despite a full night's sleep, plenty of fluids, and multiple doses of Advil, her fever is still hovering right around 101. Not awesome.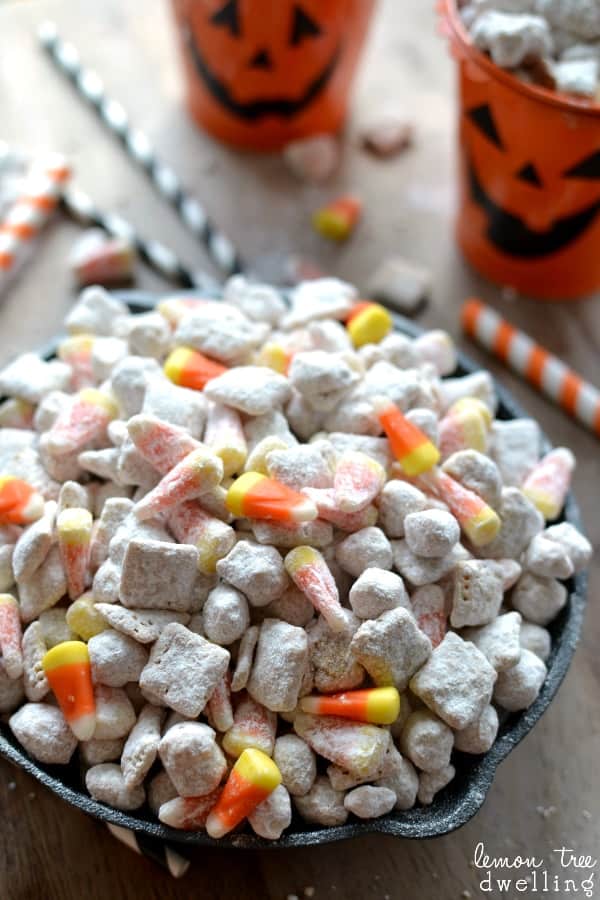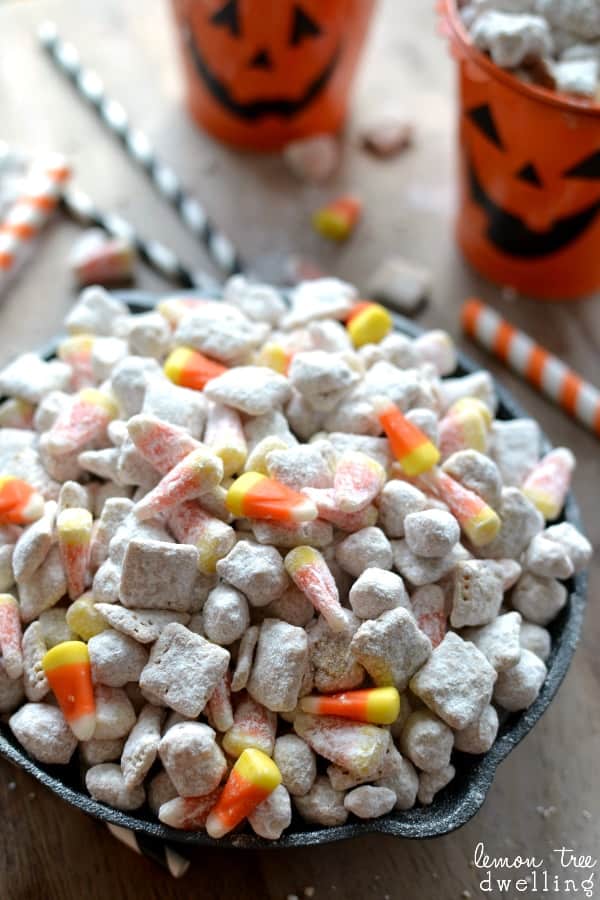 Of course, it's never awesome for your kids to be sick……but the day before trick or treat?? It's the PITS! As a kid, I lived for trick or treat! I can only imagine how sad Greta will be if she has to miss it. So, to brighten her spirits, we decided to make our own treat today. These White Chocolate Candy Corn Muddy Buddies!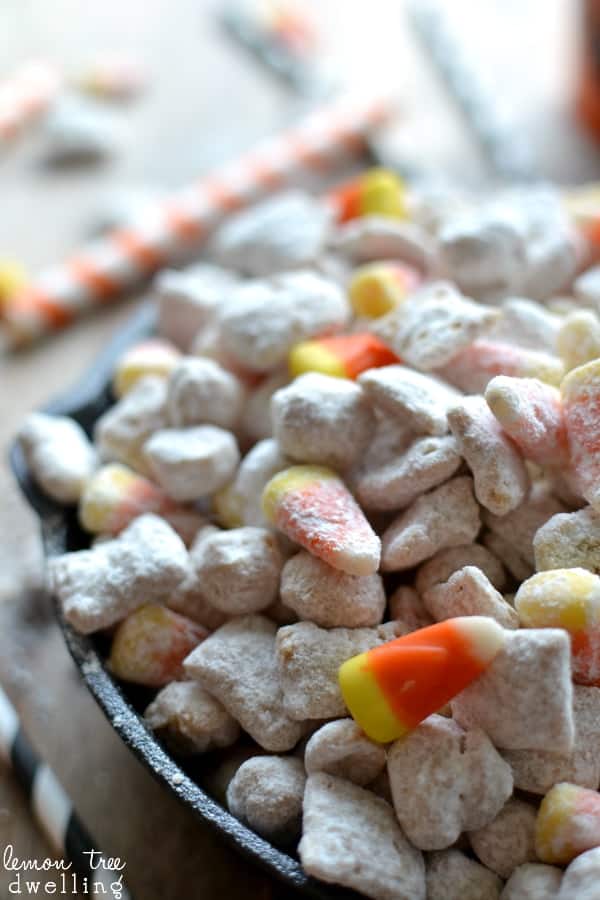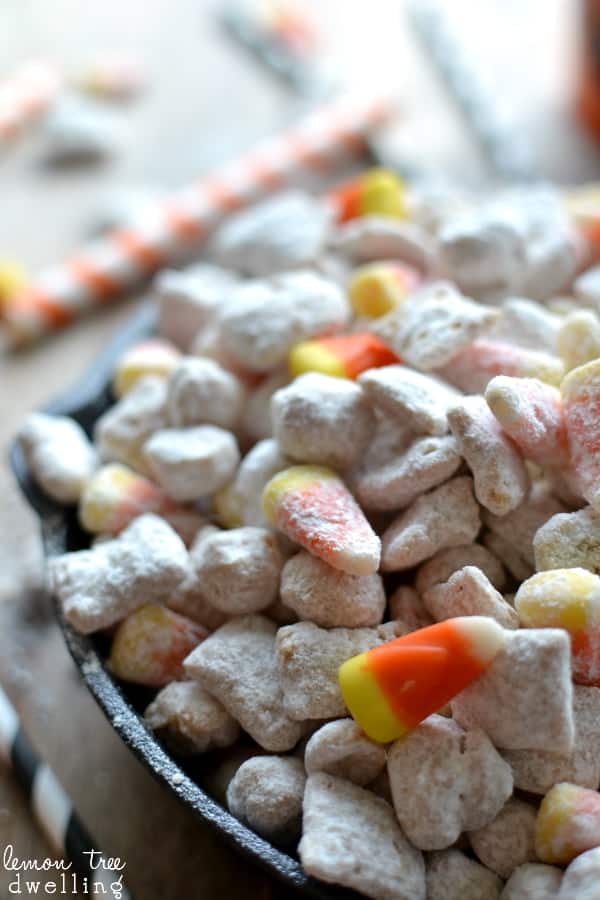 It's a recipe I've been thinking up for a while, but somehow haven't gotten around to making. Good thing I waited, because it was the perfect treat for a sick kiddo. 2 different types of Chex cereal, Reese's Peanut Butter Puffs, dry roasted peanuts, candy corn, white chocolate, peanut butter, and enough powdered sugar to make a person VERY happy. Happy enough that they don't mind missing trick or treat? I'll keep you posted.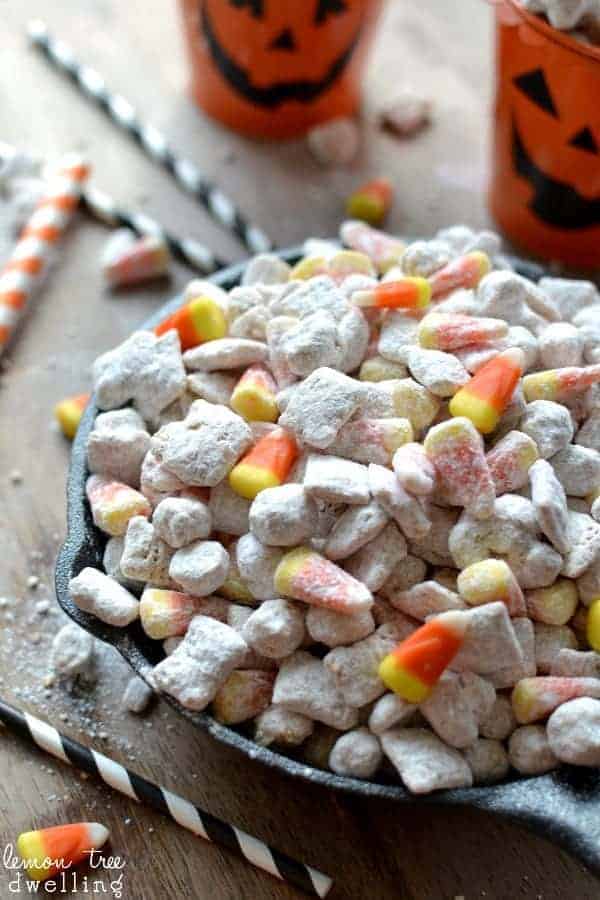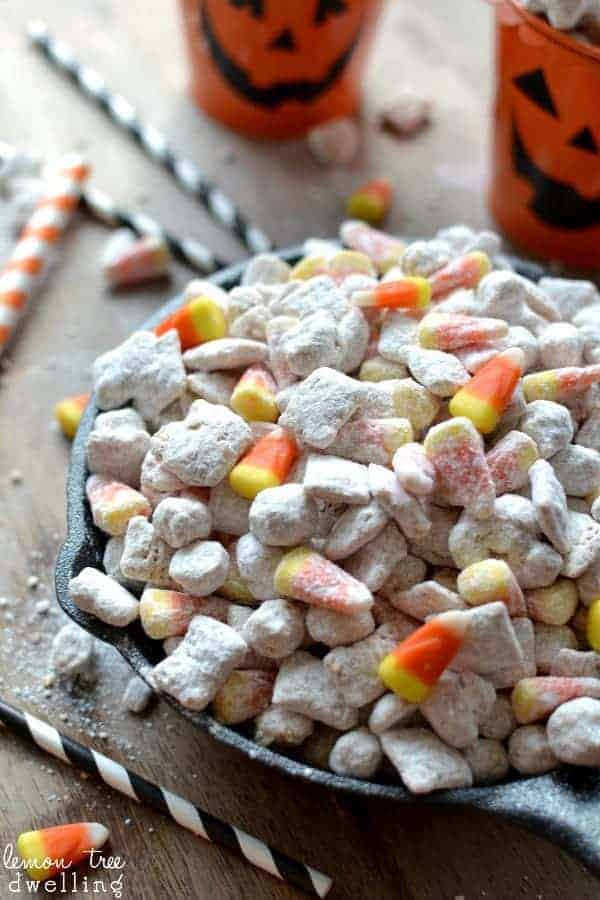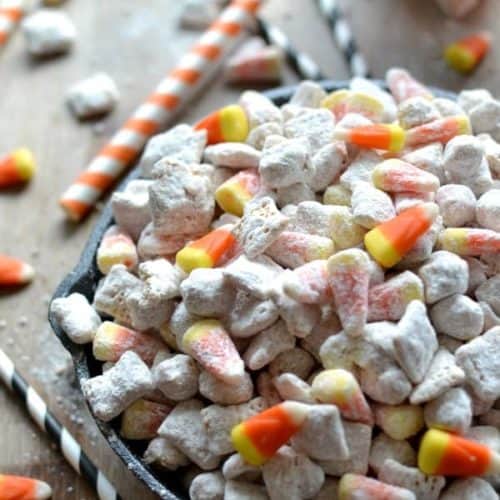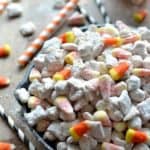 Sweet & Salty White Chocolate Candy Corn Muddy Buddies
Ingredients
2

c.

Corn Chex

2

c.

Rice Chex

2

c.

Peanut Butter Cap'n Crunch

2

c.

dry roasted peanuts

2

c.

white chocolate chips

1

c.

peanut butter

2

c.

candy corn

3

c.

powdered sugar
Instructions
Combine cereal and peanuts in a large paper grocery bag.

In a small saucepan, heat white chocolate and peanut butter over low heat until melted. *Be careful not to overheat!

Pour melted white chocolate mixture over cereal; fold bag and shake until evenly coated.

Let stand a few minutes to cool.

Sprinkle with 2 c. powdered sugar and shake to coat.

Add candy corn and remaining powdered sugar and shake until evenly coated.

Spread on baking sheet to cool.