This Cheesy Cauliflower Soup is creamy, comforting, and packed with delicious flavor! Perfect for busy weeknights or lazy weekends at home….and you won't believe how easy it is to make!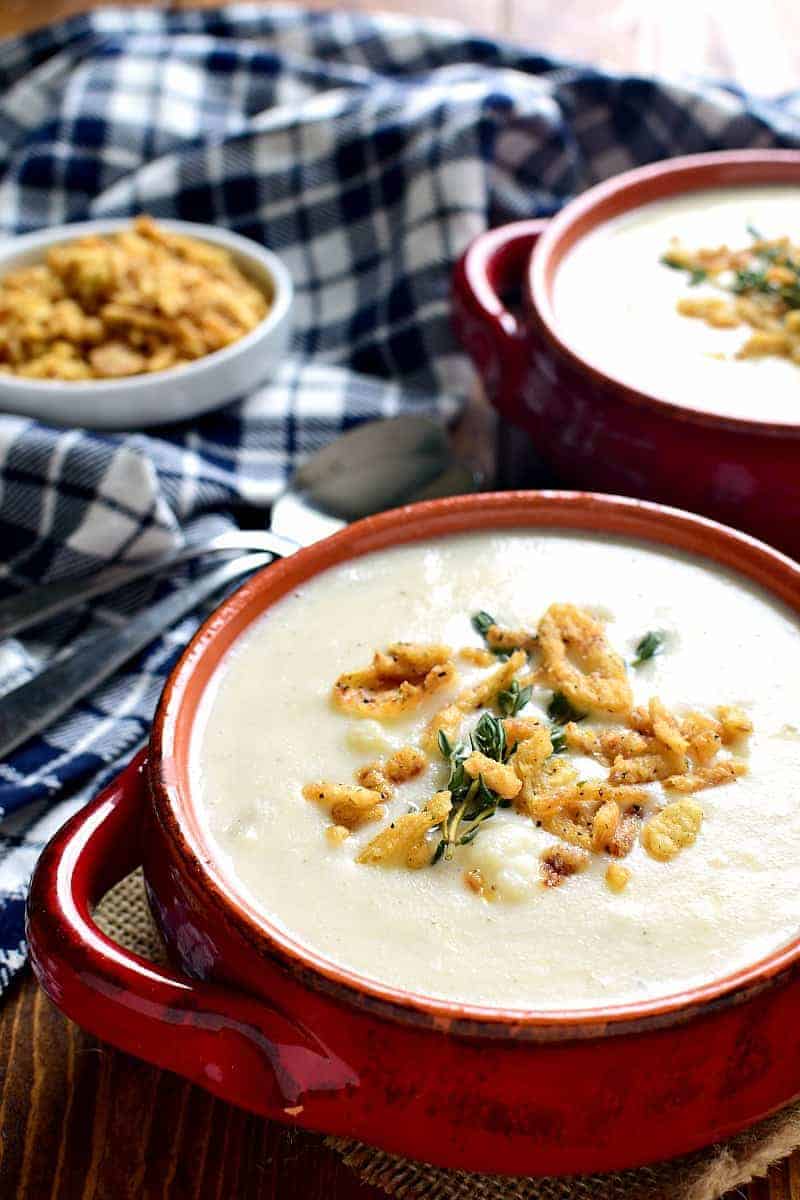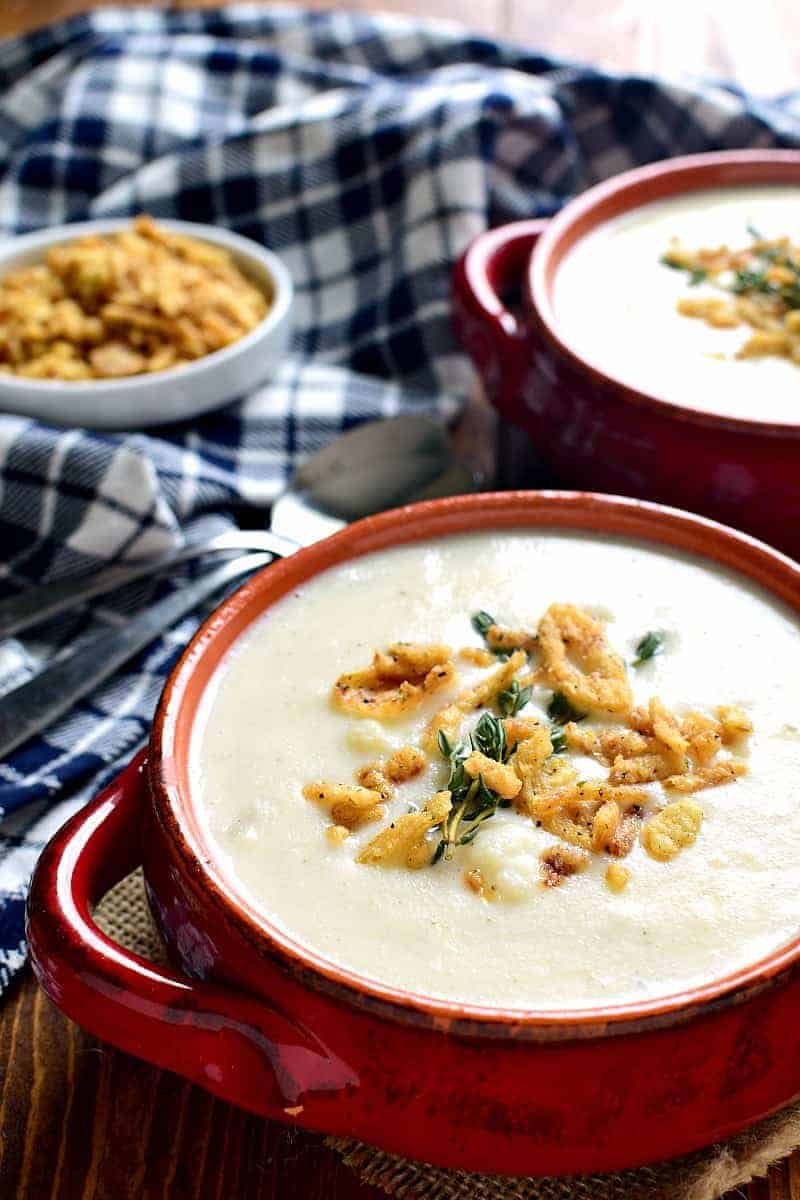 So I'm making an attempt to shop less. Not a New Years Resolution, per se….but just an attempt. To use up more of what we have, to stop buying new things with the plan of using them someday, to continue the process of decluttering that I started over winter break. Because I realized something in the few days our house was really clean: having a clean house feels amazing.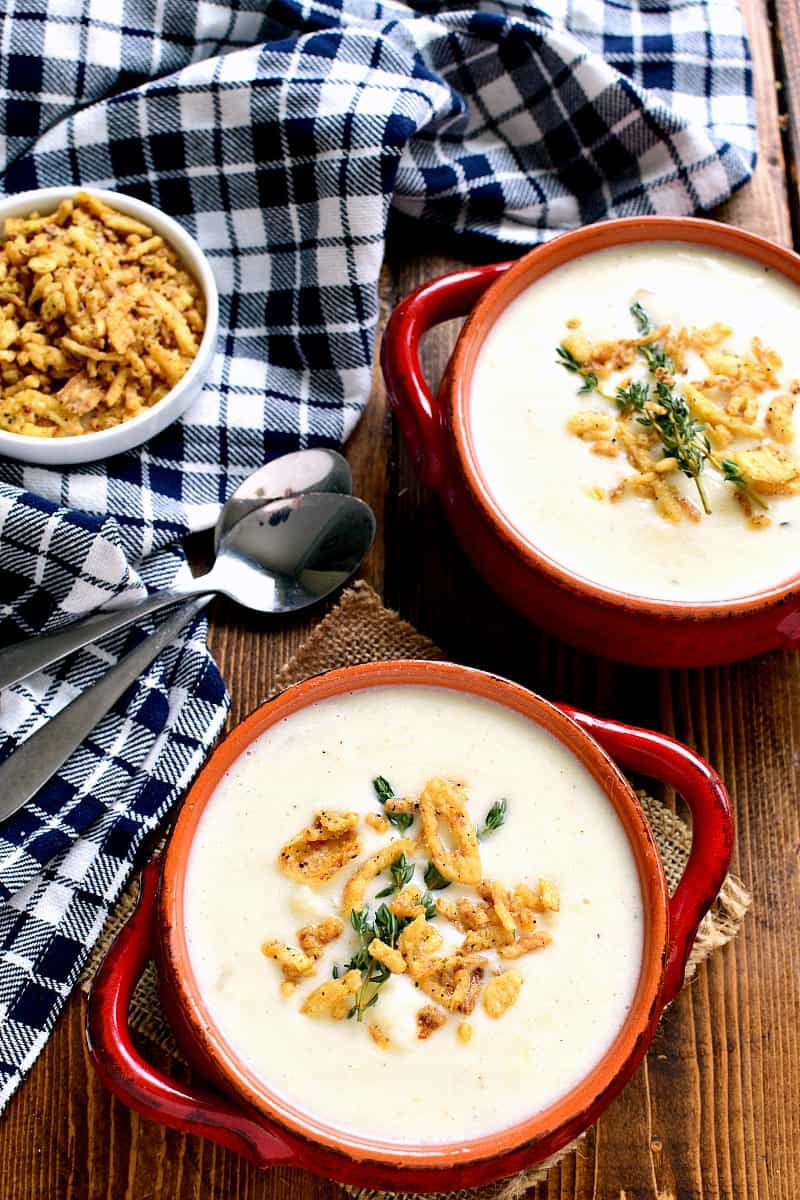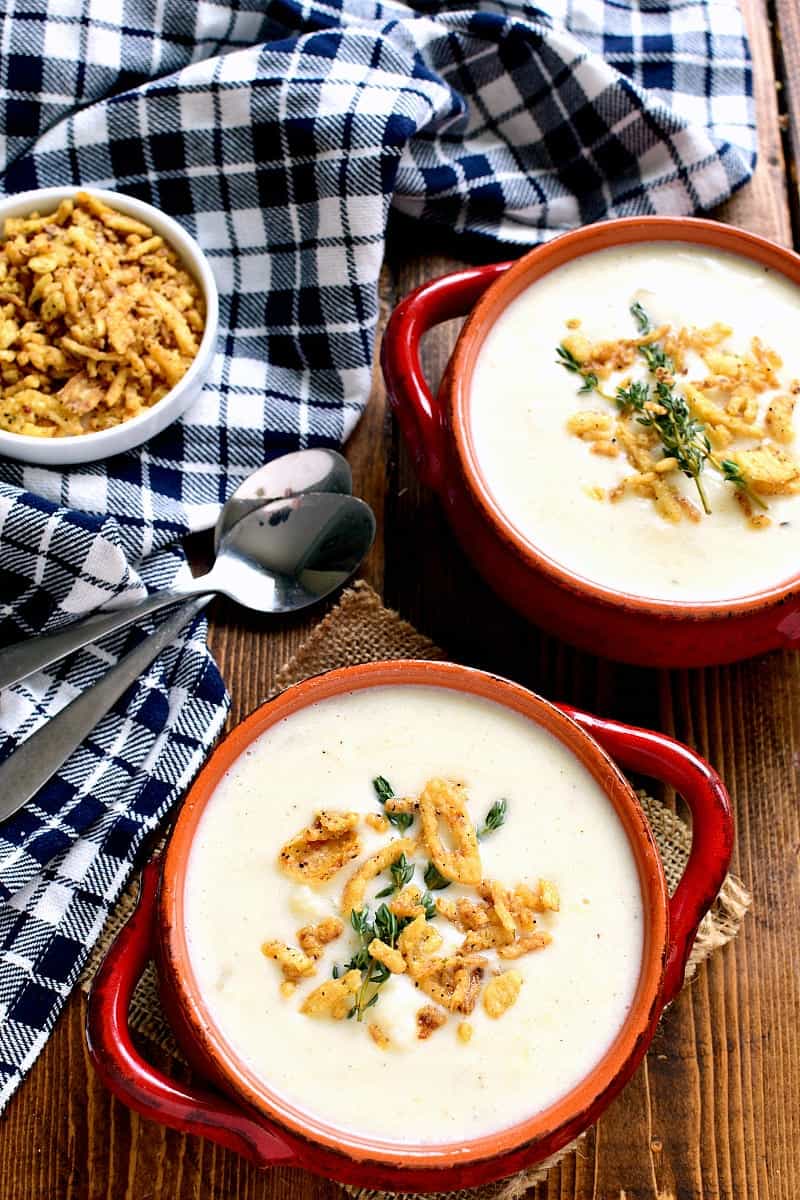 Cheesy Cauliflower Soup – Declutter your fridge
And not just clean in a surfacy kind of way. But clean clean. Organized clean. Less stuff clean. And you know what? It all goes hand in hand. Having less stuff makes it easier to keep things clean. And having your stuff organized makes it easier to buy less…because you know what you already have! I know I'm a little late to the game on this. Keeping things clean and organized isn't exactly a new concept.
But I honestly feel like life has been so busy since we moved in 5 years ago that the stuff has just been piling up. And now, suddenly, my world is opening up! In a beautifully decluttered kind of way.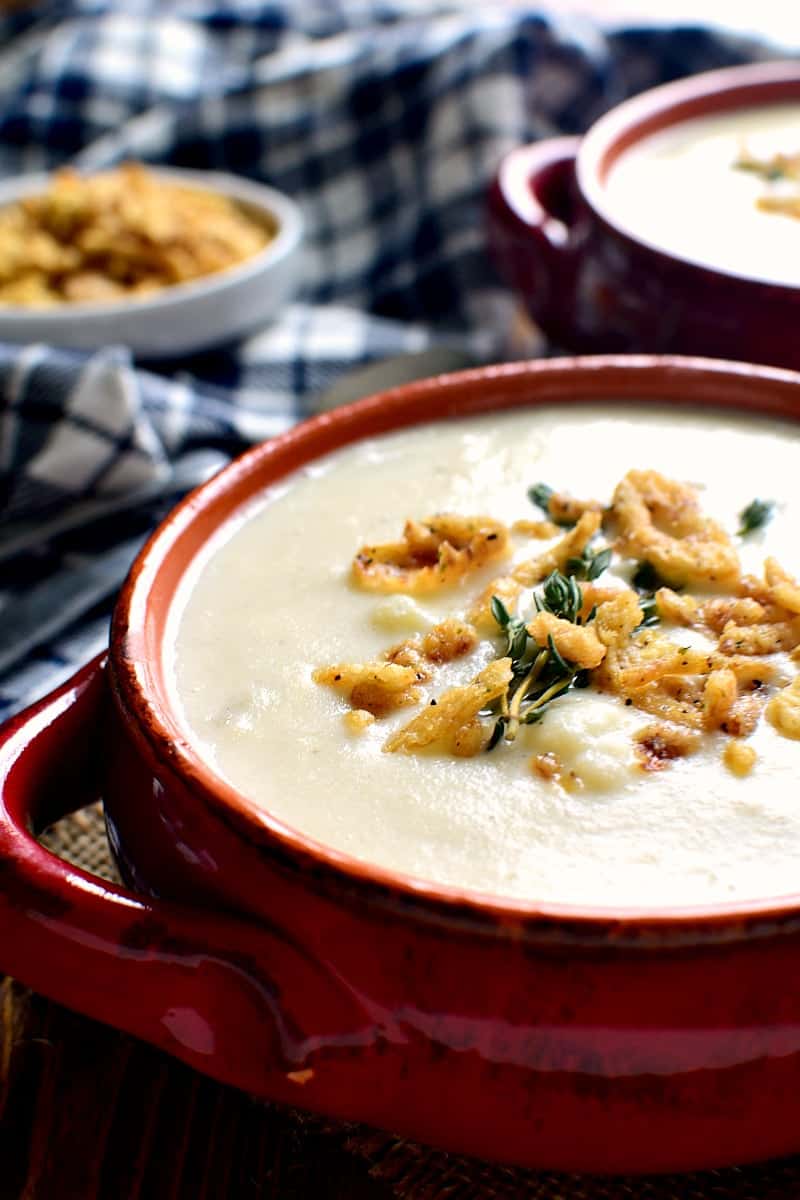 My one complaint? It takes a LOT to stay on top of it. Because even though I'm planning to shop less, there are still birthdays and holidays and so many new things that will inevitably make their way into our house. Not to mention the day to day struggle to keep the kids' clutteriness at bay…. So for now, I'm taking baby steps. Making sure the laundry and dishes don't pile up, having the kids help clean up their toys, and when I see something I'm not sure we need anymore…..putting it in a box for Goodwill!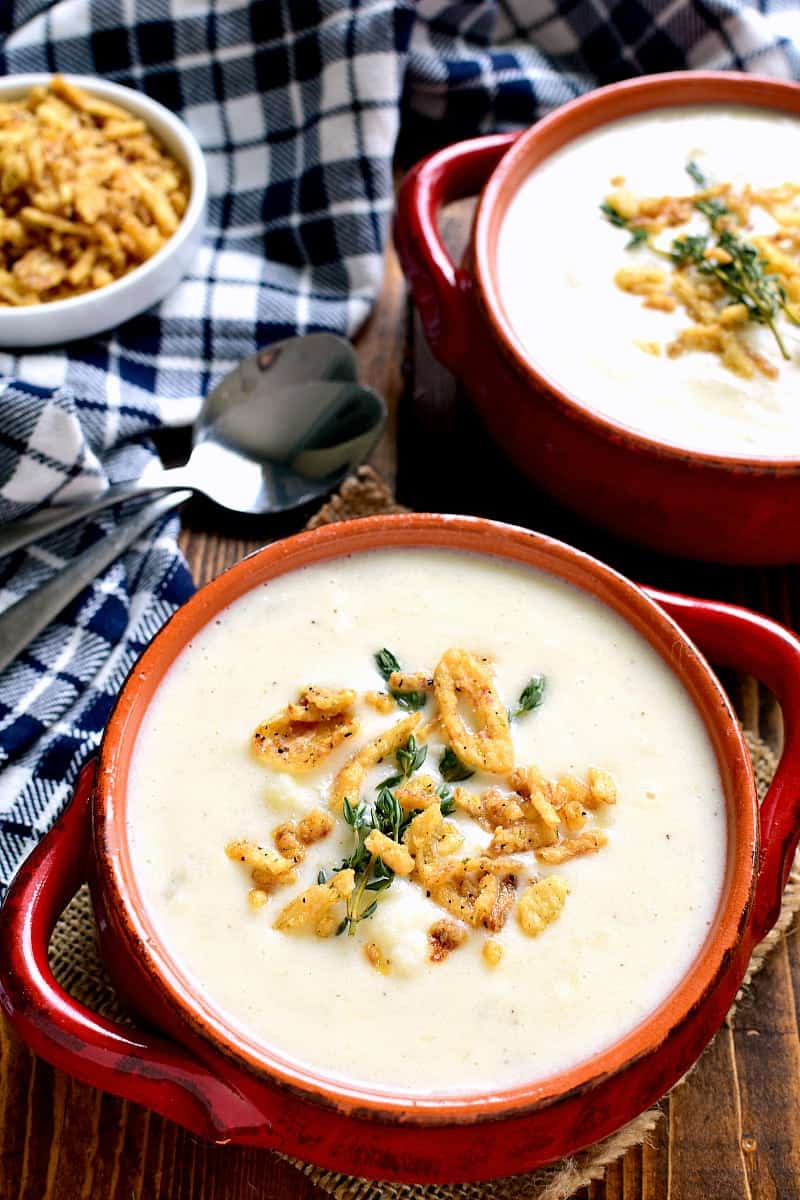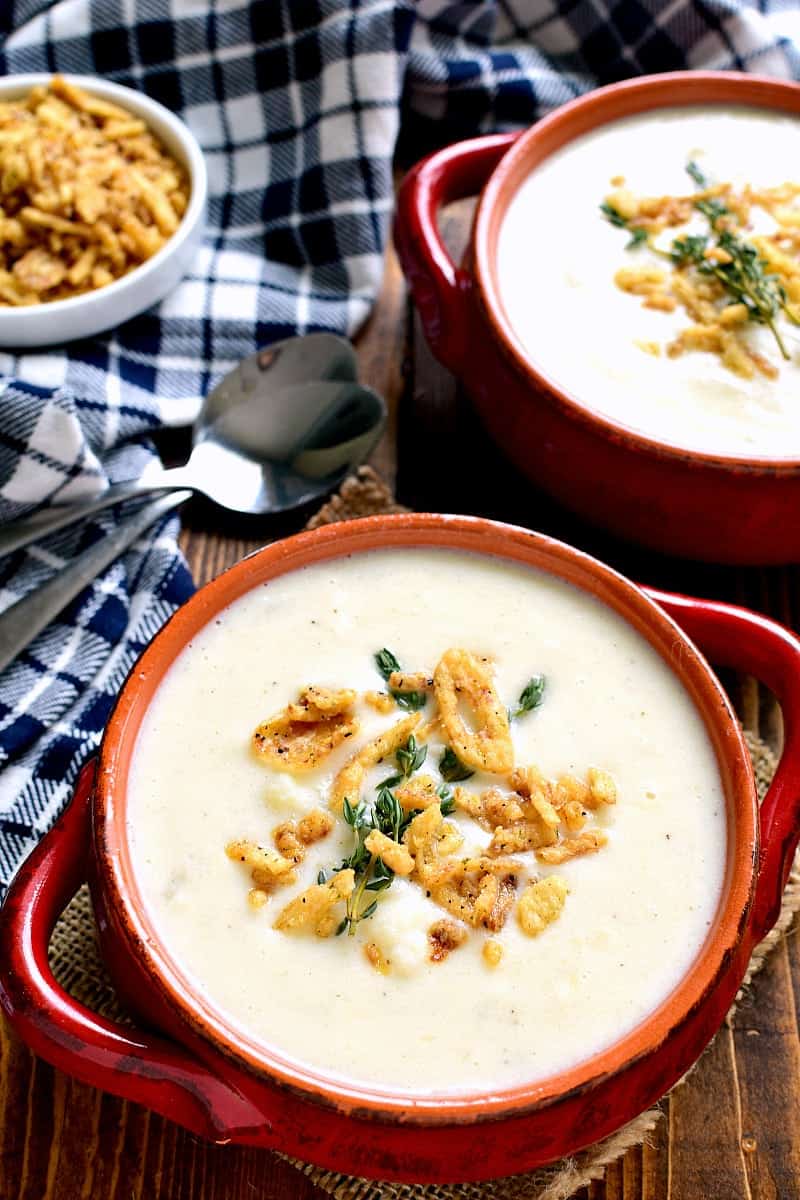 And when it comes to food, I'm trying to do the exact same thing. I'm trying to shop less and use more of what we have! Not exactly the easiest thing when you're a food blogger….but worth a try. So, with that in mind, I bring you Cheesy Cauliflower Soup. Made entirely from ingredients I already happened to have at home: fresh cauliflower, chopped onion, parmesan cheese, and thyme. And you know what? It turned out AMAZING. As in I could eat this Cheesy Cauliflower Soup every day…it's so delicious!
It's creamy and comforting and packed with the flavors of fresh parmesan and thyme. And best of all, it comes together in under 30 minutes. Cheesy Cauliflower Soup is simple enough for busy weeknights and comforting enough for lazy weekend days at home. Proof that sometimes less really IS more.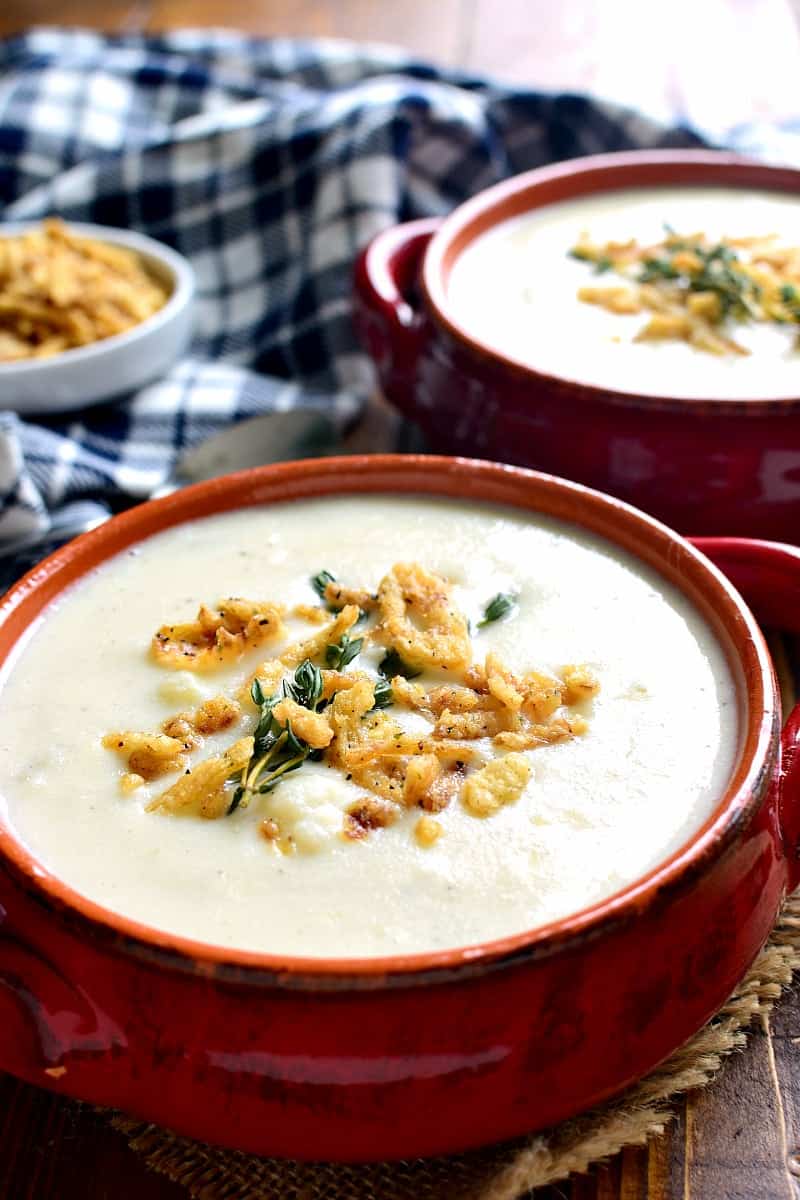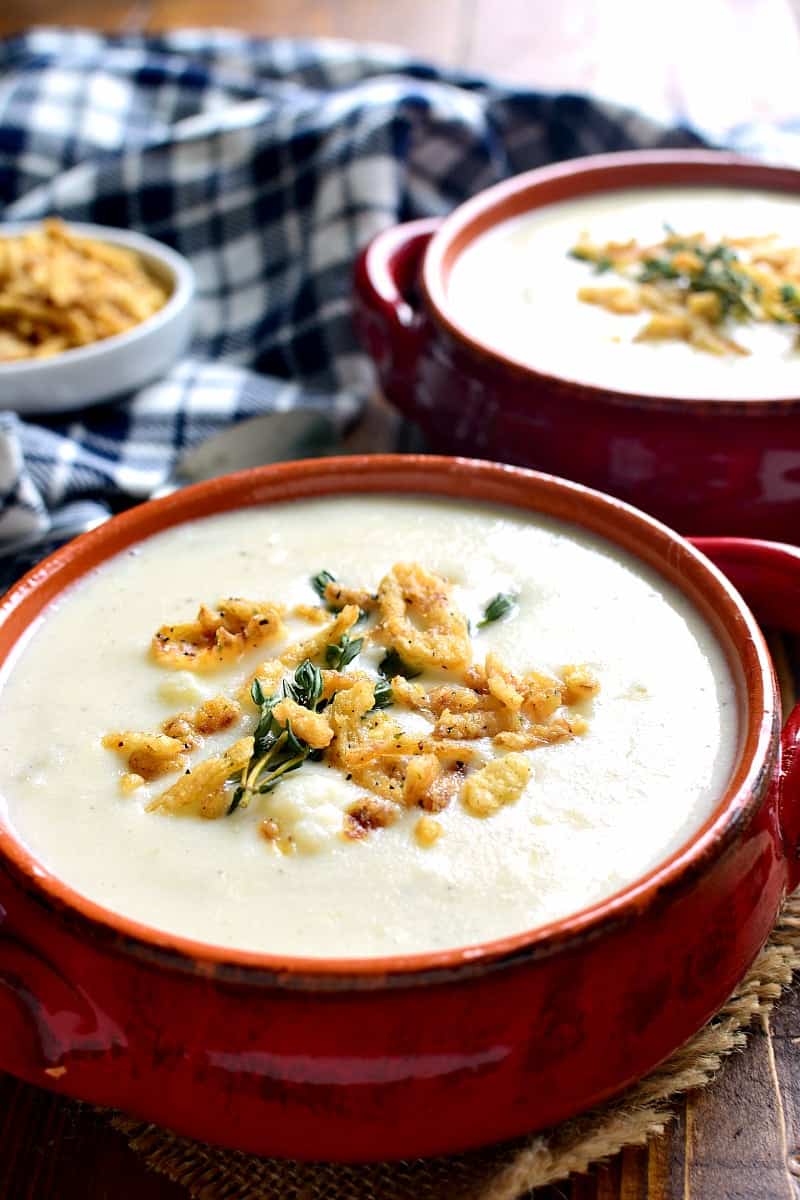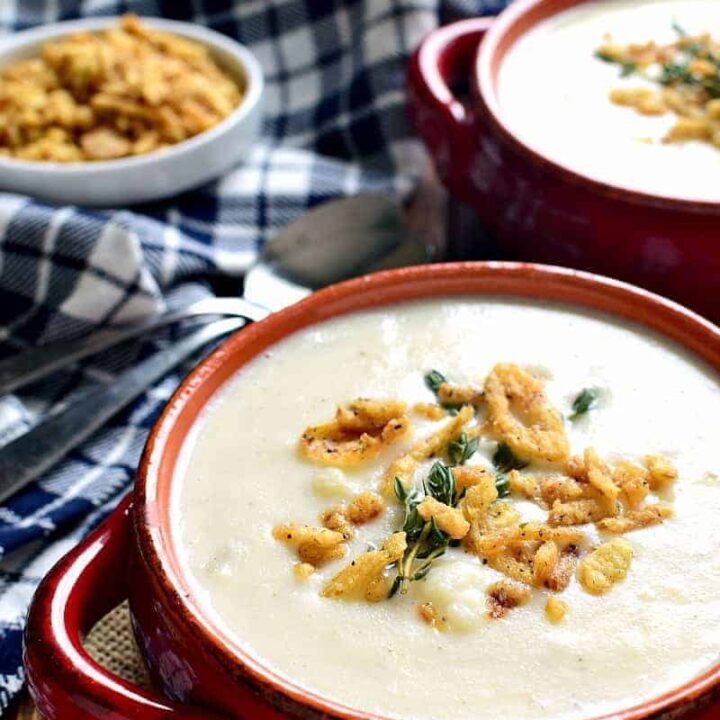 Cheesy Cauliflower Soup
This Cheesy Cauliflower Soup is creamy, comforting, and packed with delicious flavor! Perfect for busy weeknights or lazy weekends at home....and you won't believe how easy it is to make!
Ingredients
1 head of cauliflower
2 cups chicken broth
1 small onion, chopped
2 cloves minced garlic
1/2 teaspoon dried thyme
2 Tablespoons butter
2 Tablespoons all purpose flour
1 teaspoon salt
1/4 teaspoon pepper
2 cups half & half (substitute milk if desired)
1 cup shredded parmesan cheese
Instructions
Cut cauliflower into small florets.
Combine cauliflower florets in a medium saucepan with chicken broth, onion, garlic, and thyme.
Bring to a boil; reduce heat and simmer, partially covered, 10 minutes.
Remove from pan, reserving 1/3 of cauliflower.
Transfer remaining 2/3 to a food processor or blender OR use an immersion blender to blend until pureed. (*note: let cauliflower mixture cool slightly before using in a blender.)
In a large saucepan melt butter and flour over medium heat, stirring constantly.
Gradually mix in half & half; add salt and pepper.
Cook, stirring constantly, until mixture boils.
Blend in cauliflower puree and shredded cheese; heat, stirring occasionally, until cheese melts.
Stir in reserved cauliflower.
Garnish with fresh thyme or crispy fried onions, as desired.
Nutrition Information:
Yield:

4
Serving Size:

1 grams
Amount Per Serving:
Calories:

345
Total Fat:

25g
Saturated Fat:

16g
Trans Fat:

1g
Unsaturated Fat:

9g
Cholesterol:

75mg
Sodium:

1471mg
Carbohydrates:

18g
Fiber:

4g
Sugar:

9g
Protein:

15g