Impress your guests with the ULTIMATE Charcuterie Board! Loaded with cured meats, cheeses, crackers, fruits, nuts, jams, and more, it's the perfect appetizer for holidays and parties and ideal for easy entertaining!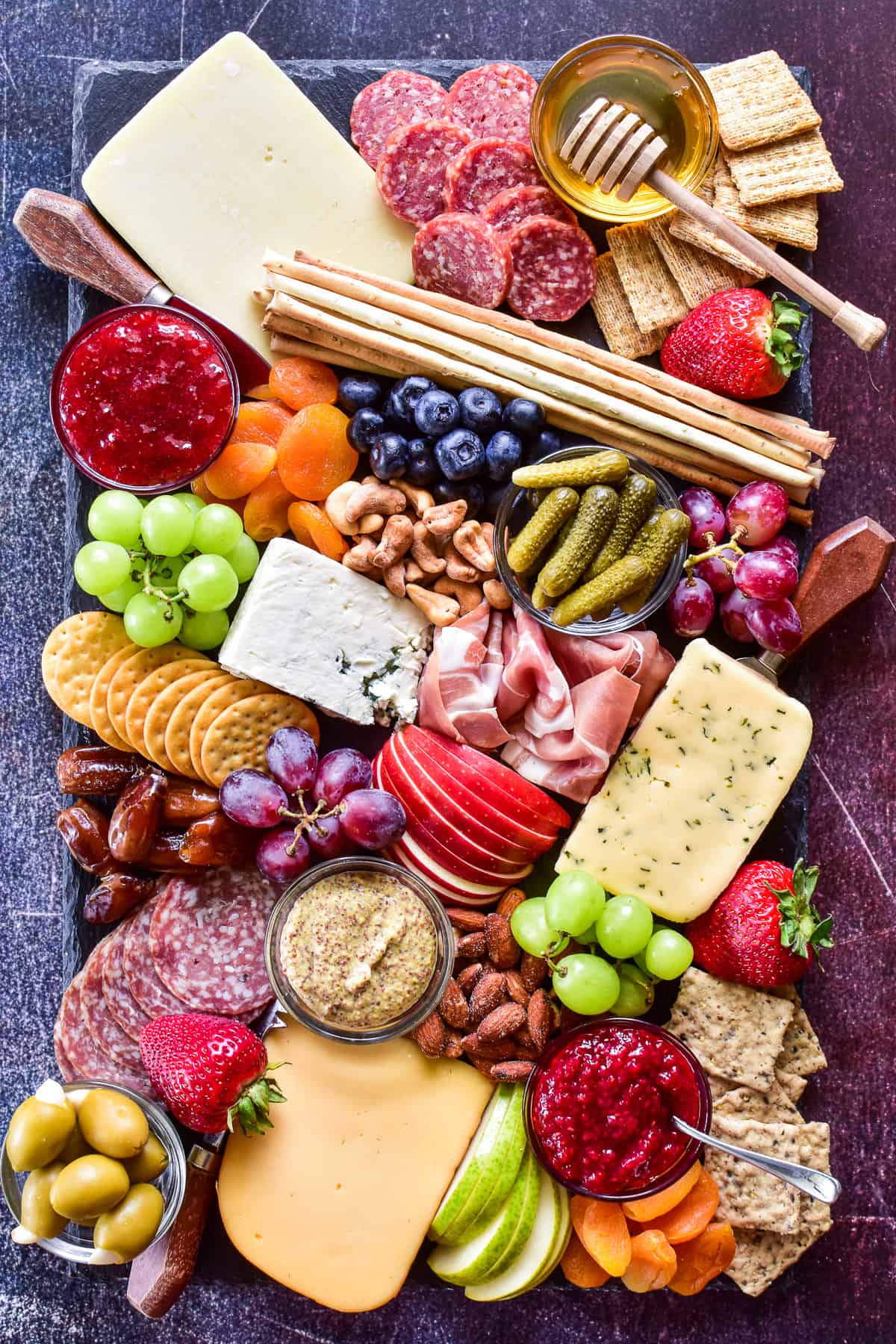 Everyone loves a good charcuterie board… and really… what's not to love!? Between the meat and the cheese and the fruit and the nuts, there's guaranteed to be something on there for everyone. Which means no more stressing over the perfect appetizer! (This is it!)
I first started making meat and cheese boards back when I had little kids and friends would stop over last minute. I've never been one to let guests go hungry… so I'd open up my cupboards and fridge and see what I could come up with. Of course, back then they may not have been as impressive as this one, but the reality is it never mattered. Charcuterie boards can be as simple or as fancy as you want them to be. There's really no right or wrong way to do them… the possibilities are endless!
And THAT, my friends, is the beauty of charcuterie. A little bit of this, a little bit of that… and you have yourself a simple, delicious appetizer that's guaranteed to bring people together. And best of all? They're SO fun to put together.
Not sure where to start? Follow my step-by-step guide below… including what kind of board to use, what to put on it, how to arrange it, and fun ideas for how to personalize it… and you're guaranteed to have your own ultimate charcuterie board in no time at all!
[feast_advanced_jump_to]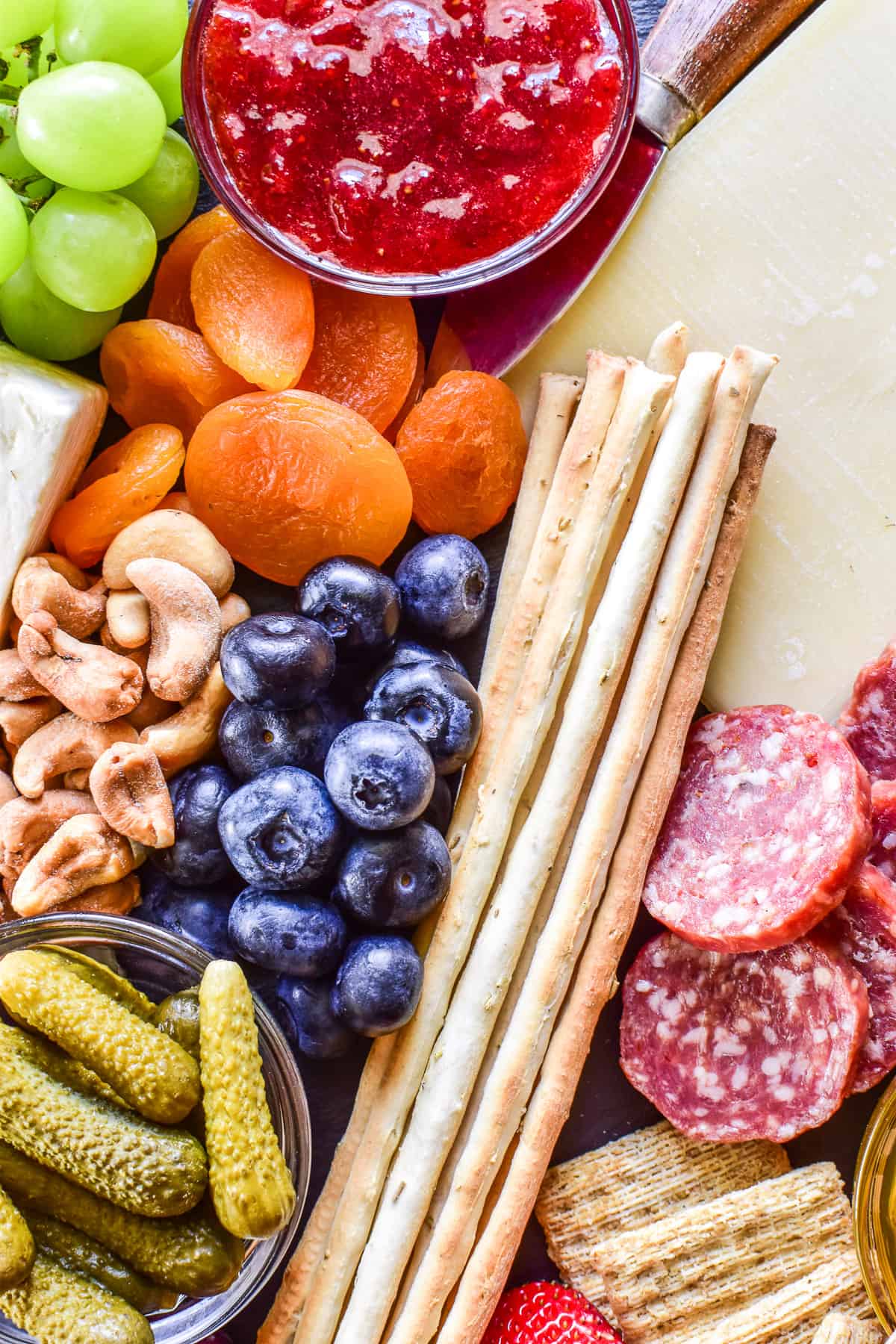 ❓What is charcuterie?
Charcuterie is a French term for a branch of cooking devoted to prepared meats, such as bacon, ham, sausage, and more. The word itself is derived from the French words for flesh (chair) and cooked (cuit), which is why these boards have a heavy focus on cured meats.
🗣 How to pronounce charcuterie
Charcuterie looks like a daunting word to pronounce, but it's actually quite simple: [shar-koo-tuh-ree]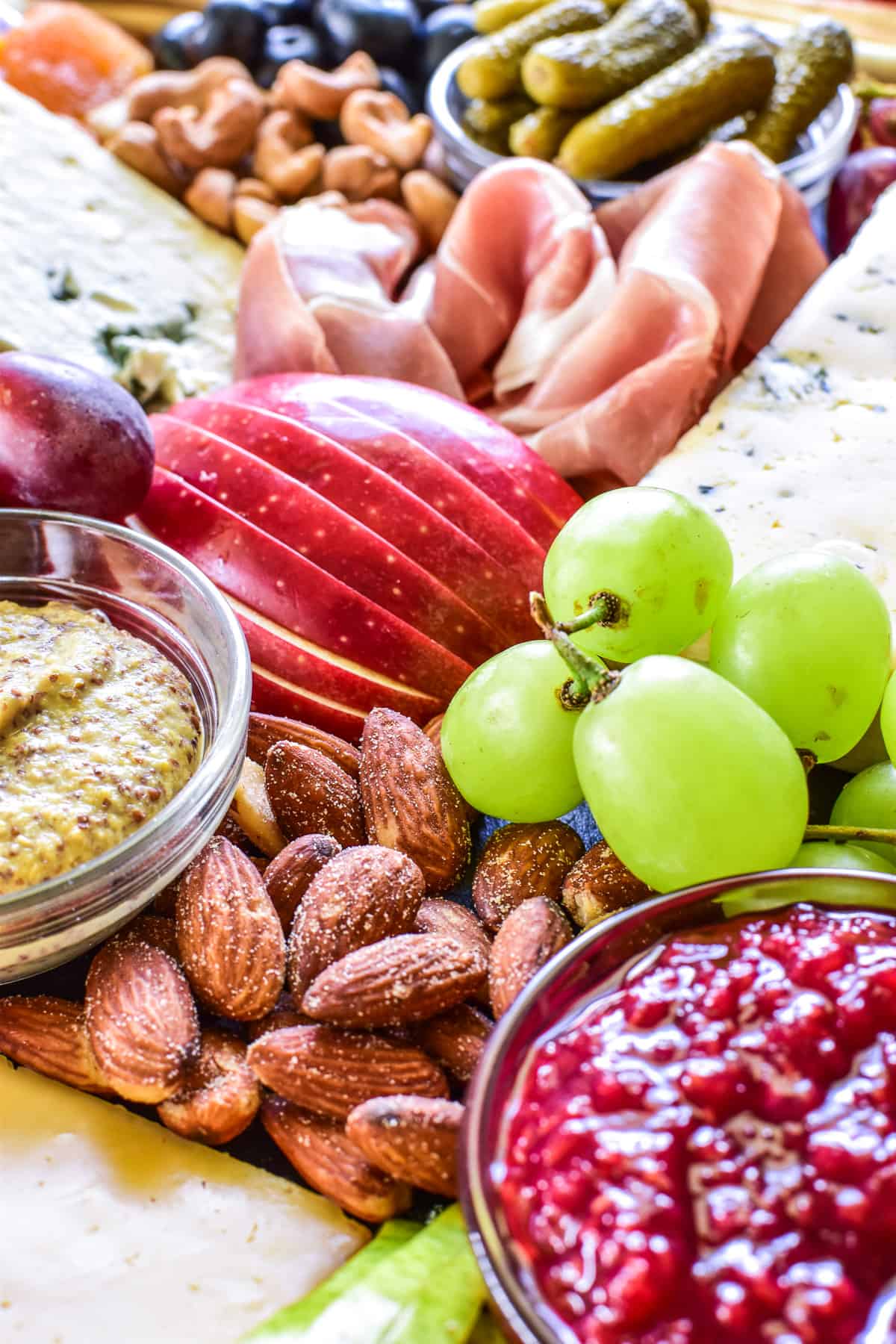 🍽 Choosing the board
Let's start at the very beginning. What kind of board should you use? Well, charcuterie boards are most often assembled on some type of wooden board that is specifically made for this purpose. The boards can be rectangular or round, big or small, and some may even have handles for easy transporting.
But wooden boards aren't your only option. As you can see, I assembled mine on a large slate board I happened to have at home. You can also use a marble serving tray, a cutting board, a ceramic platter, or even a large baking sheet. There's no need to splurge on a fancy board unless you really want to. I can almost guarantee you have something in your kitchen right now that would work just fine! Might as well save the money you'd spend on a new board and put it toward what really matters… the charcuterie!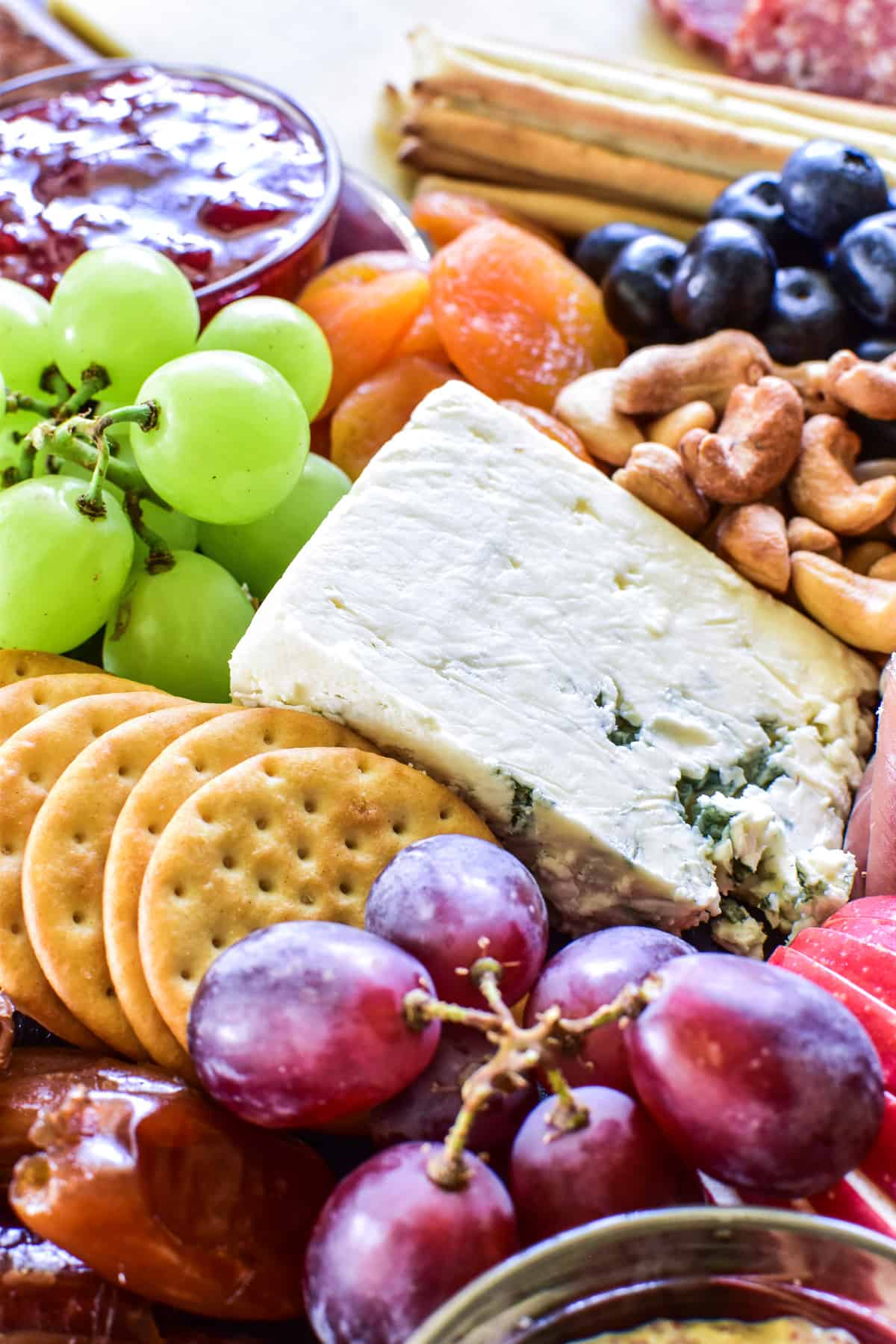 🥓 The meats
Once you have your board selected, it's time to start thinking about what to put on it. And what better place to begin than with the meats? Since charcuterie literally means cured meats, you'll want to look for any combination of the following, which can be found in the deli or specialty cheese area at your local grocery store:
Prosciutto
Mortadella
Genoa Salami
Soppressata
Calabrese
Peppered Salami
Italian Dry Salami
🧀 The cheeses
The next most important element to any charcuterie board? The cheeses! You'll want to select a variety of flavors (some more pungent and some more mild) as well as a variety of textures (some firmer and some softer). The easiest way to make sure you're accomplishing this is to choose one cheese from each of the following 4 families:
Aged: e.g. Aged Cheddar, Gruyere, Gouda, Asiago
Soft: e.g. Brie, Camembert, Goat, Fresh Mozzarella, Havarti
Firm: e.g. Manchego, Parmigiano-Reggiano, Edam, Aged Provolone
Blue: e.g. Gorgonzola, Roquefort, Stilton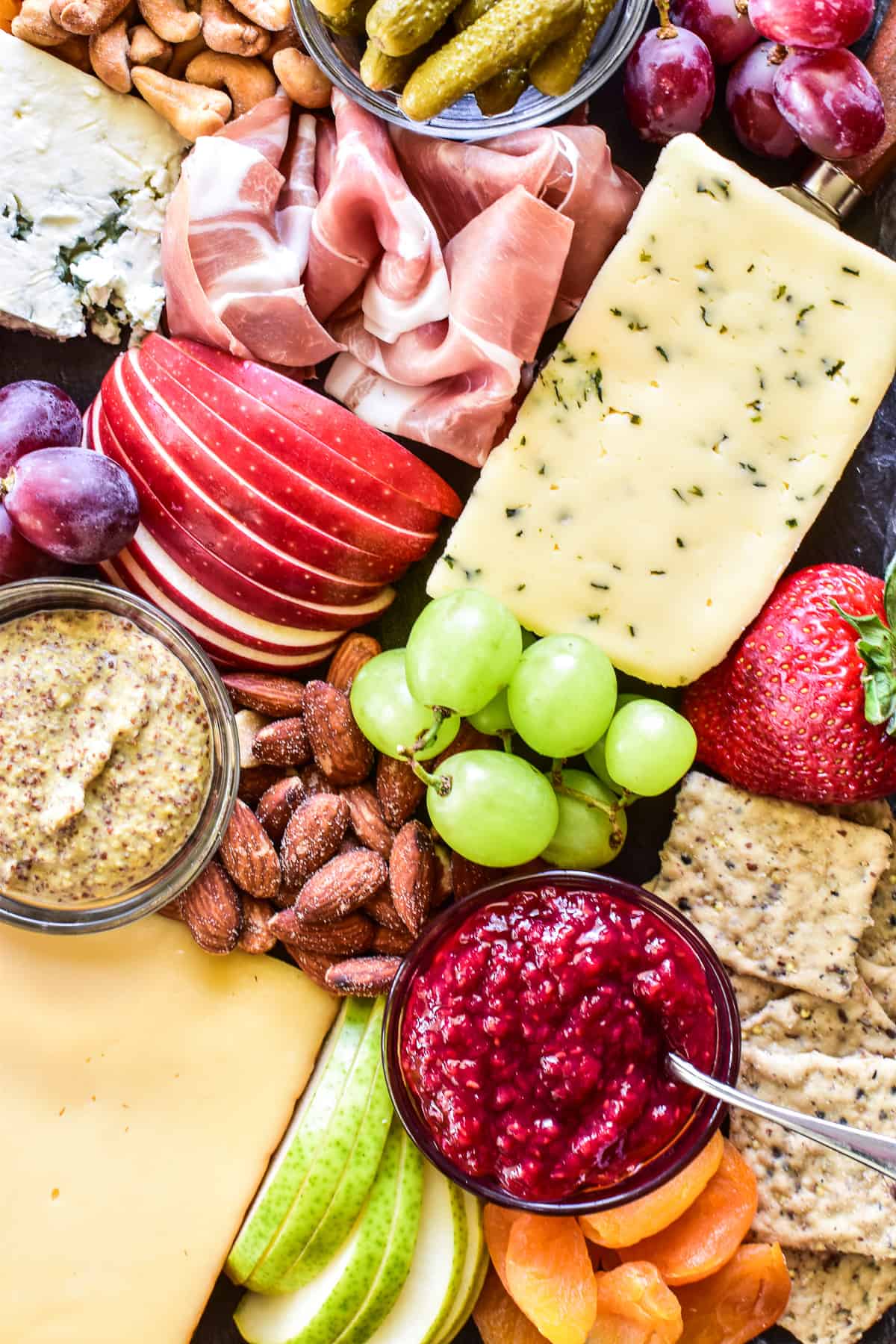 🍇 Fruits, nuts & extras
Once you have the meats and cheeses selected, it's time to have some fun! When thinking about what else you might want to include, consider things like color, texture, flavor, and variety. Also consider the season you're making it and what might be readily available. You can include any or all of the following:
Fruits – you'll often find sliced apples and grapes on a charcuterie or cheese board, but the possibilities here are endless! I also included pears, strawberries, blueberries, and dried fruits. My best advice? Consider the season and aim for variety!
Nuts – I love including salty or flavored nuts such as roasted almonds, salted cashews, honey roasted peanuts, or even pistachios. They're a great option for adding a bit of crunch to your board, and they pair well with the rest of the ingredients!
Crackers – what comes to mind when you think of cheese & meat? Crackers, of course! I try to include a variety of shapes, sizes, and flavors, as well as one or more gluten-free options for guests who may require that. You can also include breadsticks, crostini, pita chips, or even fresh sliced bread.
Olives – if you ask me, no charcuterie board is complete without some type of olives, pickles, or other pickled vegetables. I love using garlic or blue cheese stuffed olives and cornichons (tiny pickles), but you can also include roasted red peppers, sun dried tomatoes in olive oil, or any of your favorites.
Condiments – another essential part of any charcuterie board is the condiments. Think honey, jams, preserves, mustard, or even pesto. Condiments are what bring all the flavors together and take your board to the next level, so get creative!
Garnishes – garnishes are a great way to add a seasonal touch to your board. I love using fresh herbs like basil in summer or rosemary in winter. You could also consider adding fresh edible flowers, sugared cranberries, or pomegranate seeds.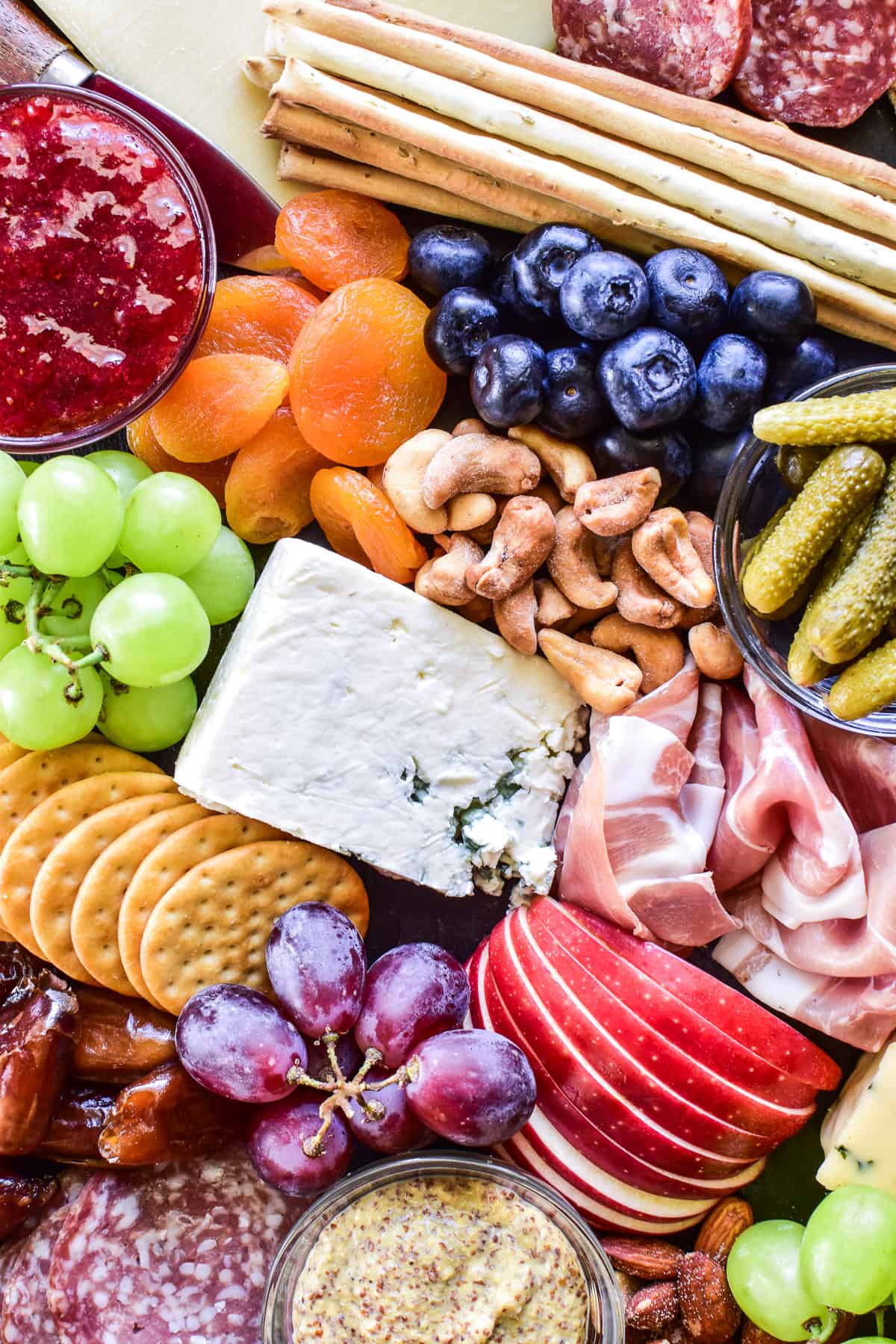 📋 Assembling a charcuterie board
There's no "right" way to assemble a charcuterie board, but I find that having a process definitely helps. Here are the steps I follow when assembling my own:
Arrange the cheeses: Since the cheese wedges tend to be one of the biggest elements, I like to start with them. I typically space them out across the board and angle them in different directions for visual appeal.
Add the meats: Next I add the meats, and my rule of thumb is to arrange at least one type of meat next to each type of cheese. This helps ensure that they're spaced out, just like the cheeses, and also ensures you have plenty of room to include as much meat as you'd like since meat is the star of the show!
Arrange the bowls: I typically add the bowls next, and fill them with condiments like jams, preserves, mustards, or other spreads. You can also include things like nuts, olives, cornichons, or dried fruits. Make sure the bowls are spaced out across the board, similar to the cheeses and meats.
Add the fruit: Next comes the fruit! Fruit is used to surround the meats, cheeses, and bowls and to begin filling in the gaps on the board. When arranging it, be sure to space out the different colors (i.e. don't put the red strawberries right next to the red apples!)
Arrange the crackers: Crackers can be placed along the edge of the board or in any remaining spaces. They can also overlap the meats or cheeses (or get tucked underneath) without a problem. When arranging your crackers, straight lines are ok, but don't be afraid to curve them around or stand them up for a little something different!
Add the nuts: Nuts and dried fruits are perfect for filling in any remaining gaps on the board. Add them wherever you need them!
Garnish & add knives: Finish it off with any garnishes you'd like to include… and don't forget the cheese knives!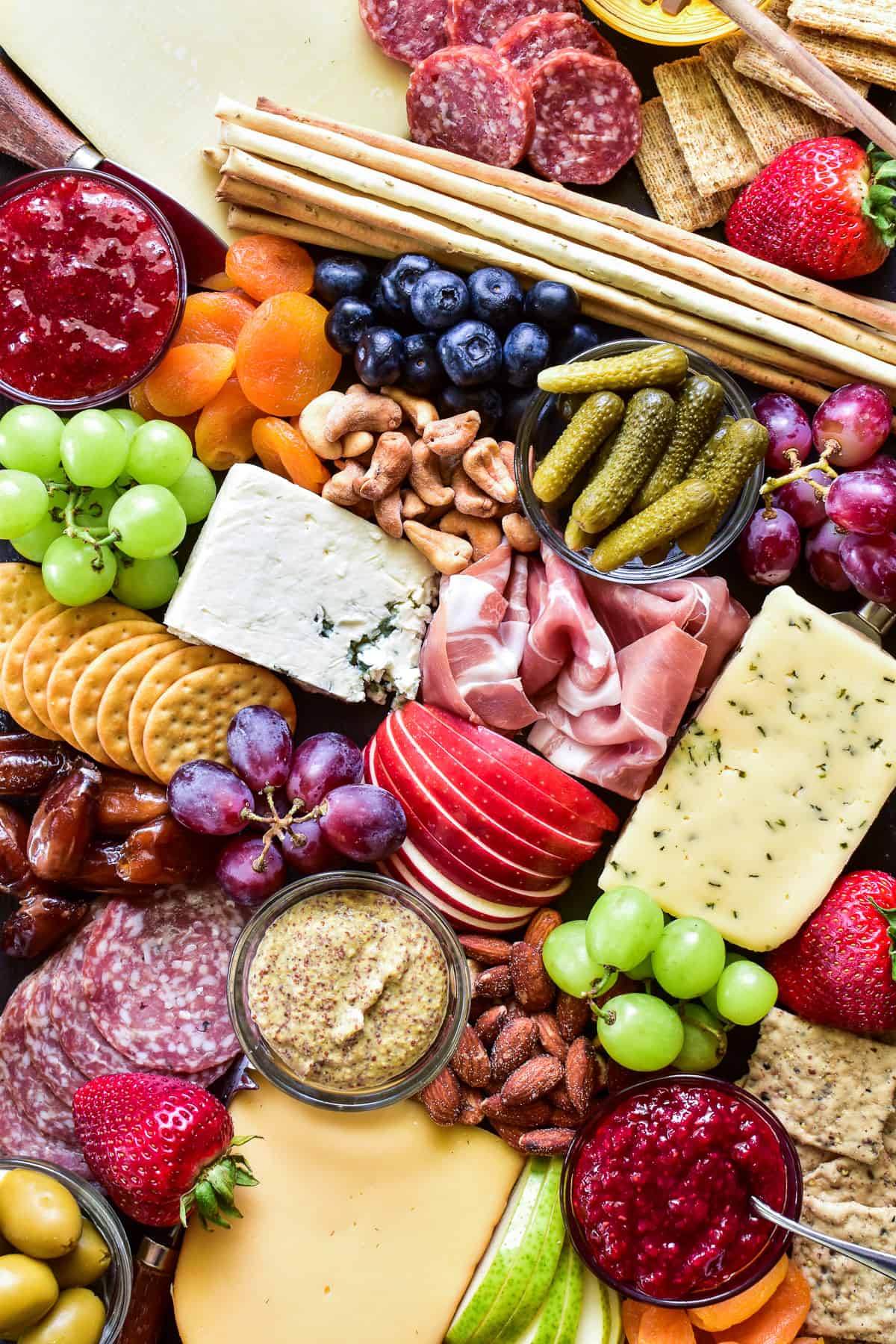 🍫 More fun board ideas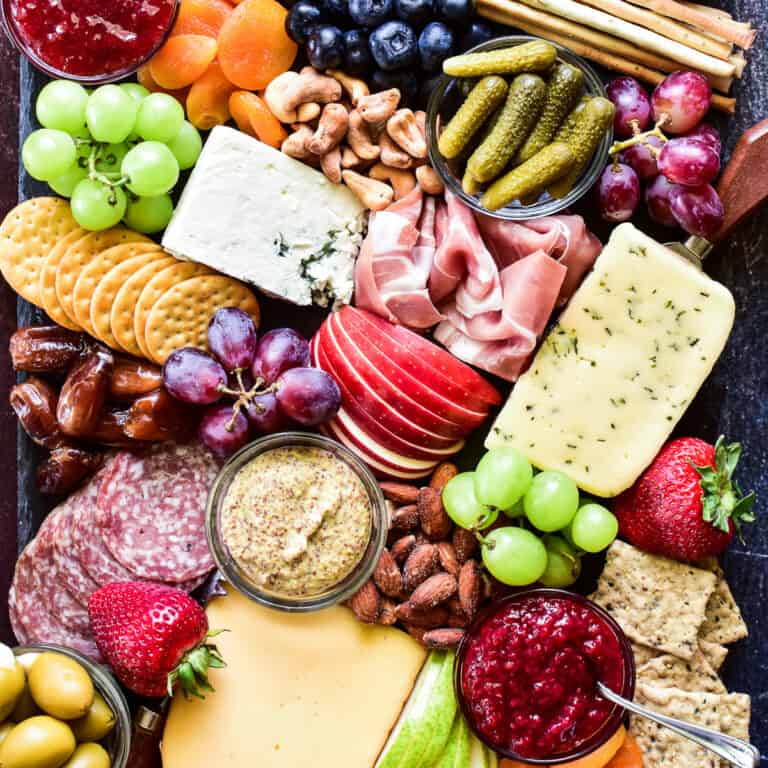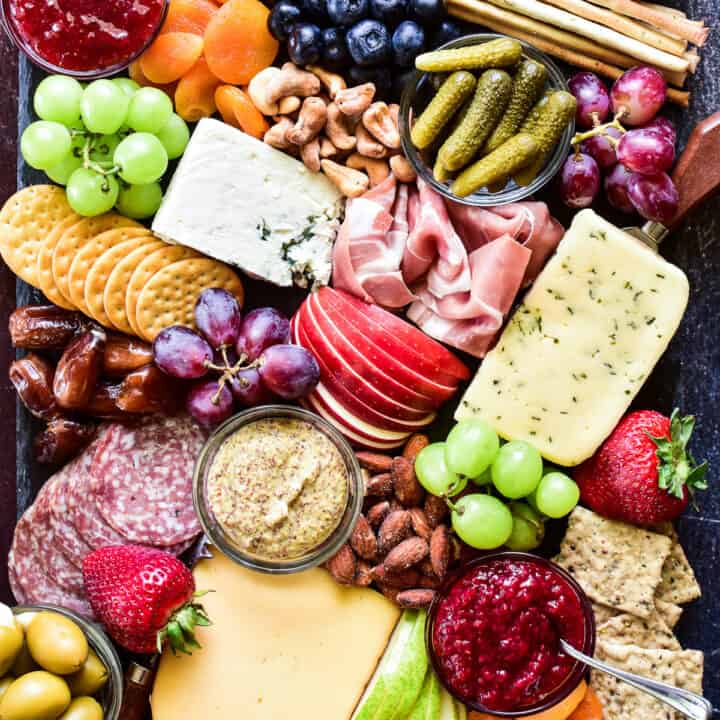 The Ultimate Charcuterie Board
Impress your guests with the ULTIMATE Charcuterie Board! Loaded with cured meats, cheeses, crackers, fruits, nuts, jams, and more, it's the perfect appetizer for holidays and parties and ideal for easy entertaining!
Ingredients
Meats & Cheeses
8 ounces cured meats (Prosciutto, Salami, Calabrese, etc.)
5 ounces aged cheese (Aged Cheddar, Gruyere, Gouda, Asiago, etc.)
5 ounces soft cheese (Brie, Camembert, Goat, Havarti, etc.)
5 ounces firm cheese (Manchego, Parmigiano-Reggiano, Edam, Aged Provolone)
5 ounces blue cheese (Gorgonzola, Roquefort, Stilton)
Fruits
1/2 red apple, thinly sliced
1/2 pear, thinly sliced
1 cup red & green grapes
1/2 cup blueberries
1/2 cup strawberries
1/3 cup dried apricots
1/3 cup dates
Crackers, Nuts, & Extras
6 ounces crackers, any variety
1/2 cup nuts (almonds, cashews, pistachios, peanuts, etc)
1/3 cup green olives
1/3 cup cornichons
Condiments
1/4 cup honey
1/4 cup stone ground mustard
1/2 cup any variety of preserves
Instructions
Assemble board, being sure to space ingredients out for variety and visual appeal.
Nutrition Information:
Yield:

24
Serving Size:

1
Amount Per Serving:
Calories:

258
Total Fat:

14g
Saturated Fat:

6g
Trans Fat:

0g
Unsaturated Fat:

7g
Cholesterol:

30mg
Sodium:

471mg
Carbohydrates:

24g
Fiber:

1g
Sugar:

15g
Protein:

9g