These ooey gooey Caramel Apple Bars combine all the flavors of caramel apples, along with shredded coconut & chopped walnuts, in a delicious magic bar that is perfect for fall!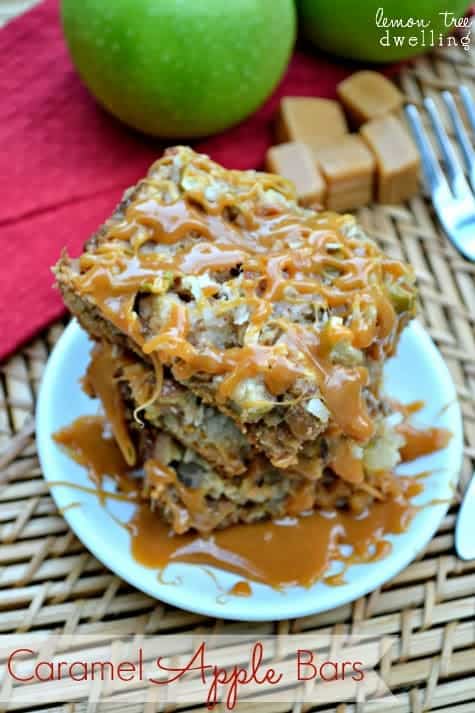 If you would ask me today if I'm a competitive person, I would tell you no…..and, of course, I'd be lying. The truth is I'm extremely competitive….and I always have been! Just not in the most typical ways. When it comes to sports, for instance, my competitive drive is almost nonexistent. But you better believe I want to be GOOD at the things that are important to me. Like cooking. Or parenting. Or blogging. Or throwing a fun party. Or being a good daughter, sister, or friend.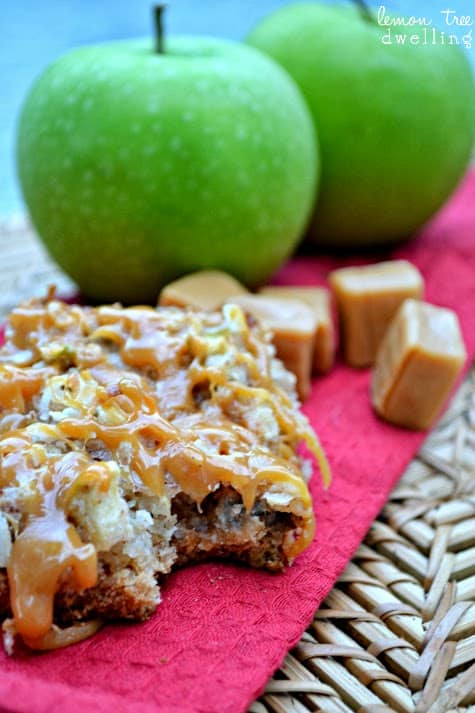 As a kid, my competitive side was reserved mainly for all things academic. I wanted to be the best reader, writer, speller. I took pride in being moved to the highest levels in various subjects. I loved knowing that I got the best score in the class, or being asked to read out loud, or joining kids from the next grade level because I was as smart as they were! And I LOVED winning the spelling bee!! That's right….I was the spelling bee champ three years in a row….and there was nothing that could have made my grade school self happier.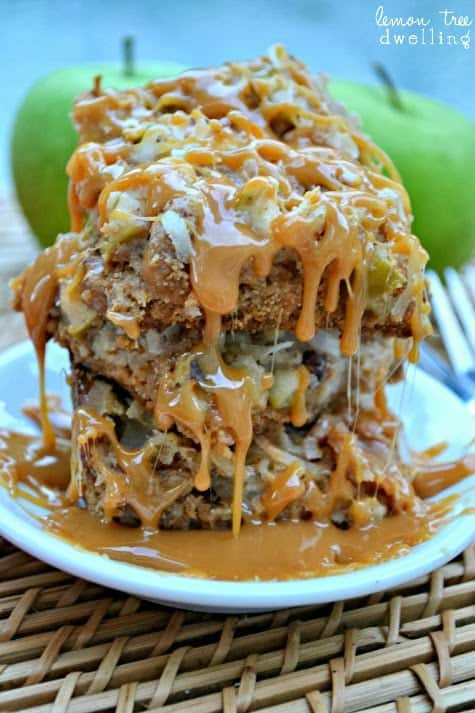 I will never forget the first year I didn't win….how heartbroken I was! I got out on the word anonymous….and I still stand by the fact that that's a tricky word for a 4th grader! It's funny….because it's not like being spelling bee champ really got me anywhere. It didn't earn me friends, or popularity, or even a prize, really. Unless you count the blue ribbon I got to hang on my bulletin board. But that's not what being competitive is all about….at least not for me. For me, it's about a feeling. It's about knowing I'm good at something, which has always felt like a prize in and of itself. As an adult, of course, there is even less of a chance of "getting anywhere" because of my accomplishments. Heck – there isn't even a blue ribbon to take home! So…for those times when I really feel like I need a prize….I made these Caramel Apple Bars. They're ooey and gooey and delicious. Just the type of prize I want. And best of all, I can make them for myself anytime I think I deserve them….which…..of course, is pretty much all the time. And so can you!!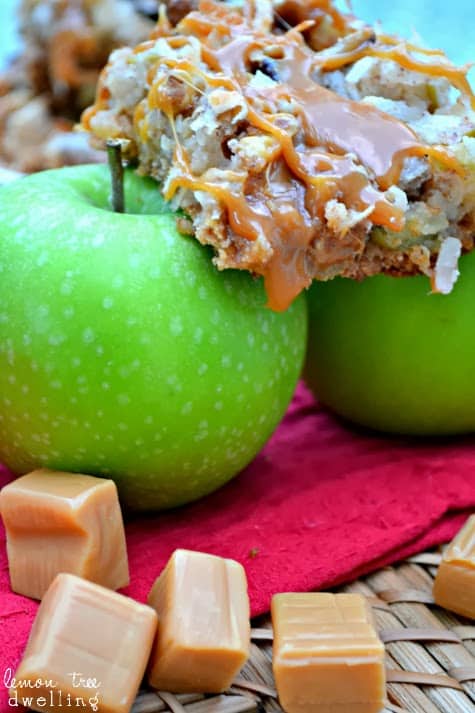 Caramel Apple Bars
1 box cake mix (I used Pillsbury Caramel Apple mix)
1 stick butter, softened
2 1/2 c. apples, chopped
1 c. walnuts, choped
1/2 c. shredded coconut
12 Kraft caramels, cut in half
1 can sweetened condensed milk
18 additional caramels for caramel drizzle
1. Mix dry cake mix and softened butter in a medium mixing bowl. Press into the bottom of a greased 9×13 inch pan.
2. Top with chopped apples, walnuts, coconut, caramels, and sweetened condensed milk.
3. Bake at 350 degrees for 35-45 minutes, until dark golden brown.
4. Cool bars, then cut into squares.
5. Melt 18 caramels and 1 Tbsp. water in a small saucepan over low heat, stirring constantly.
6. Drizzle over cut bars, still in pan.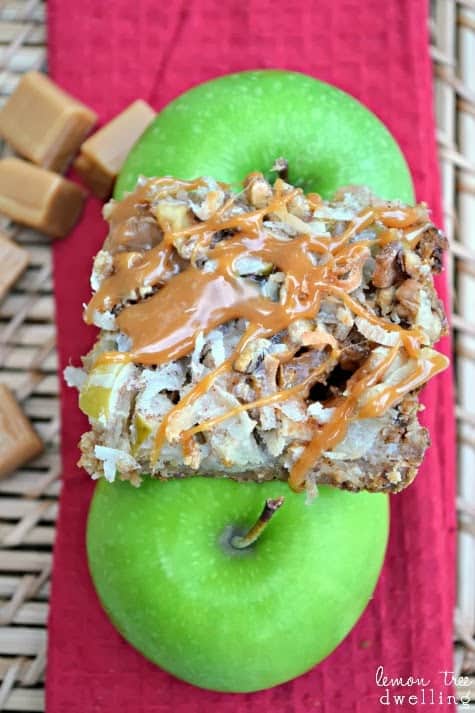 Enjoy!