Fresh mozzarella, sweet cherry preserves, and a drizzle of balsamic vinegar come together in this delicious baked crostini. Perfect for an appetizer, an afternoon snack, or a last-minute drop-in guest!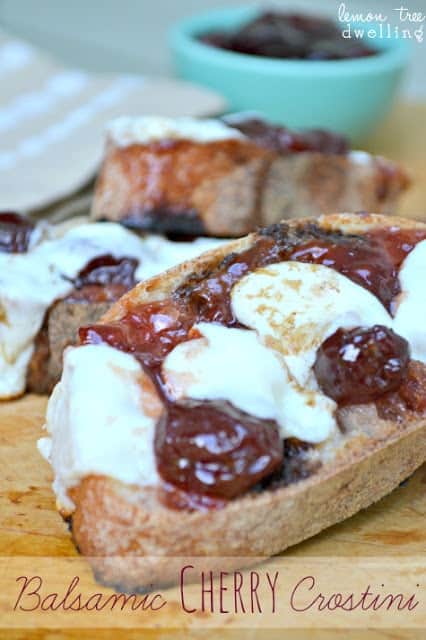 When we first moved into our house, we had a pretty heavily wooded lot. Not like state park wooded, but definitely campsite wooded….enough so that within our first year of living here, we had definitely seen raccoons, deer, wild turkeys, possums, chipmunks, squirrels, rabbits, and mice. All in our yard. All within 15 feet of our house. NOT always alive….but that's a different story. In terms of privacy, it was amazing! Most of the time we had no idea what our neighbors were doing (or if we even had neighbors…) and coming from our tiny starter lot, it was great!! And then the wild cutting began.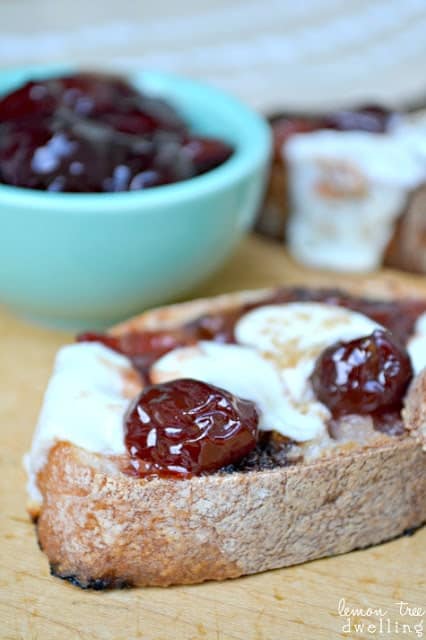 It started with a professional, who we hired to take down some seriously problematic trees (the worst offender? A GIANT evergreen hanging out right smack dab in the middle of our backyard.) And then everyone else joined in. Jorden, and the neighbors, and Jorden again…..until our wooded lot disappeared altogether and we gained a direct view into both next door neighbors' yards. The good news? We really like our neighbors! The other good news? At least we still had privacy behind us!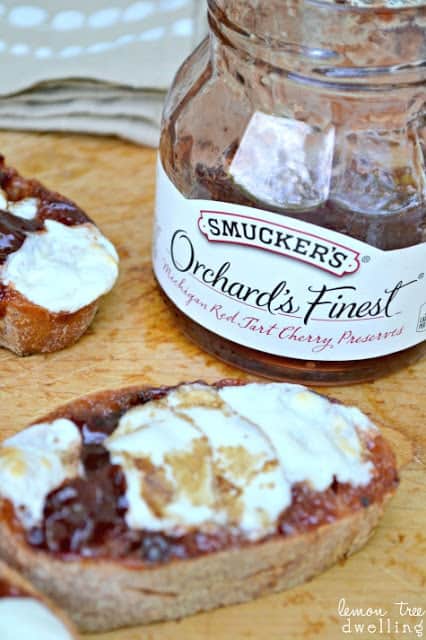 Key word: had. Because this past spring the power company sent us a note, saying that 4 trees on the edge of our lot….behind us….needed to come down. And so, just like that, any remaining privacy we had was obliterated! Since then, we've been tossing around ideas about what to do back there…..and in the mean time, the house behind us has gone up for sale. It's interesting – up until the trees came down, I wouldn't have cared at all that it was for sale….or who might buy it! Who you have as neighbors really doesn't matter if you don't even know they're there! But now? Now I am invested.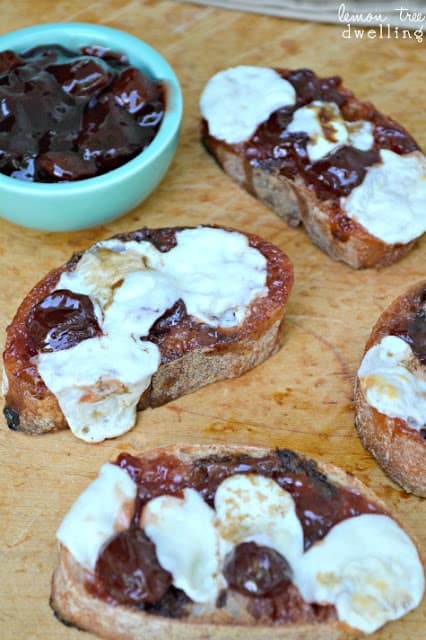 And so….when there was an open house there this past Sunday, we went! To scope it out….just in case we might be able to convince some friends or family members to move into our neighborhood….right behind us, in fact! Because even if they got into the habit of daily drop-ins, I'd so much rather have someone we know and like moving into that house! Just in case our convincing actually works, I'll be sure to have these 4 simple ingredients on hand….the perfect combination of sweet and savory, just right for your next get together…..or your new favorite drop-in guests!!
Balsamic Cherry Crostini
1 fresh baguette, sliced into 1/2 or 3/4 inch slices
1 (12 oz.) jar cherry preserves (I used Smucker's Orchard's Finest)
2 (8 oz.) packages fresh mozzarella pearls
balsamic vinegar
*exact amount of each will vary depending on size of baguette
1. Top each baguette slice with 1 Tbsp. cherry preserves, 4 mozzarella pearls, and a drizzle of balsamic vinegar.
2. Bake at 425 degrees 7-8 minutes, or until cheese is melted.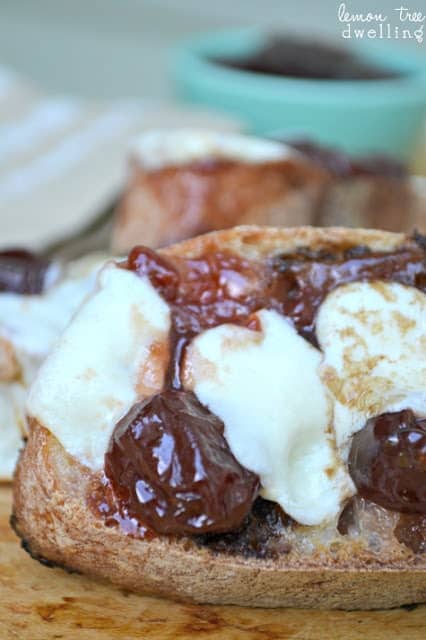 Looking for some more delicious balsamic recipes? Check out these ones!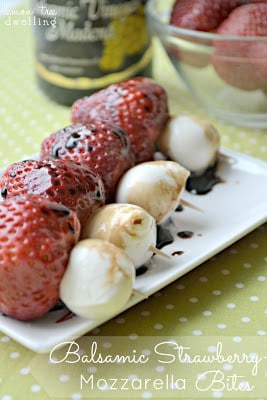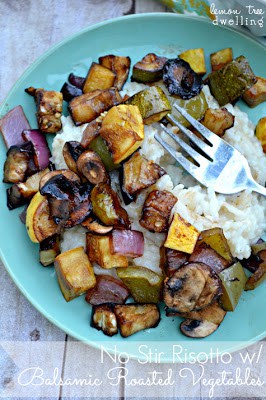 Thanks for taking a peek inside my Lemon Tree Dwelling…
I hope you feel right at home!
-Cathy