These Baked Reuben Sandwiches combine all the flavors of a classic Reuben with a delicious sauce that's baked right in! A delicious Reuben slider that is perfect for St. Patrick's Day or for feeding large crowds.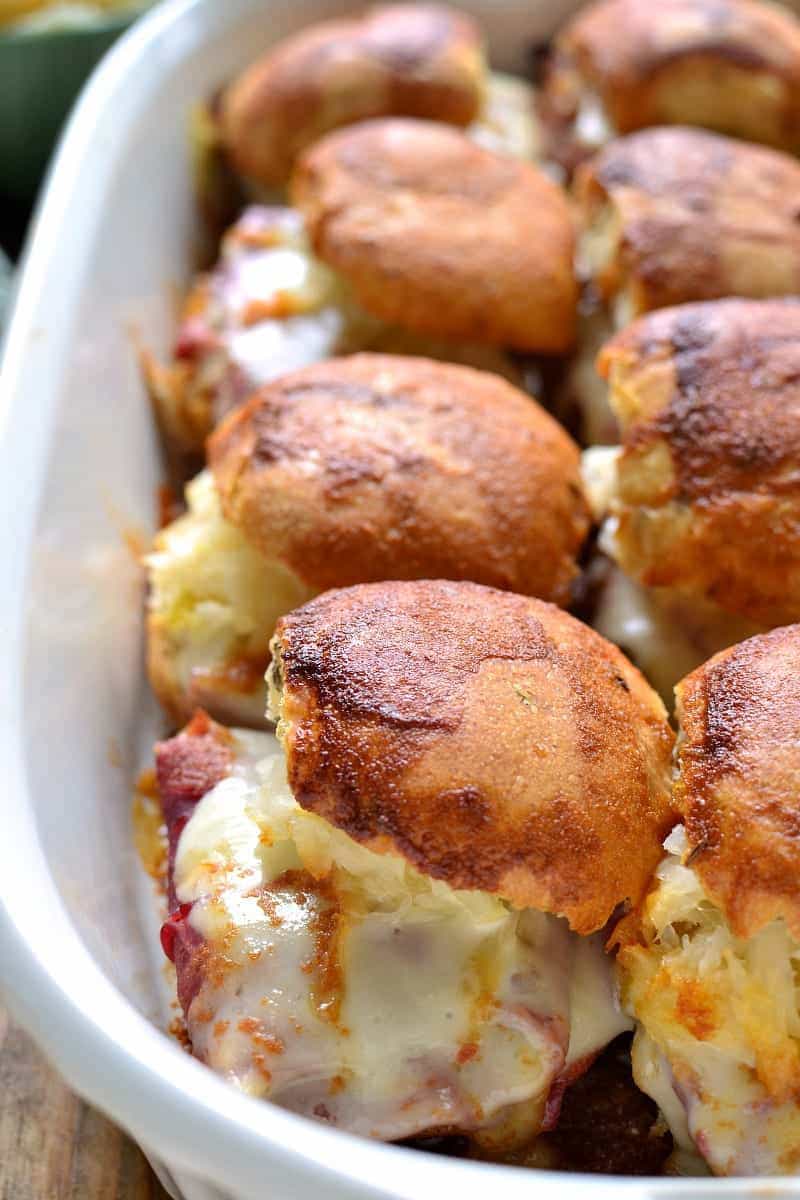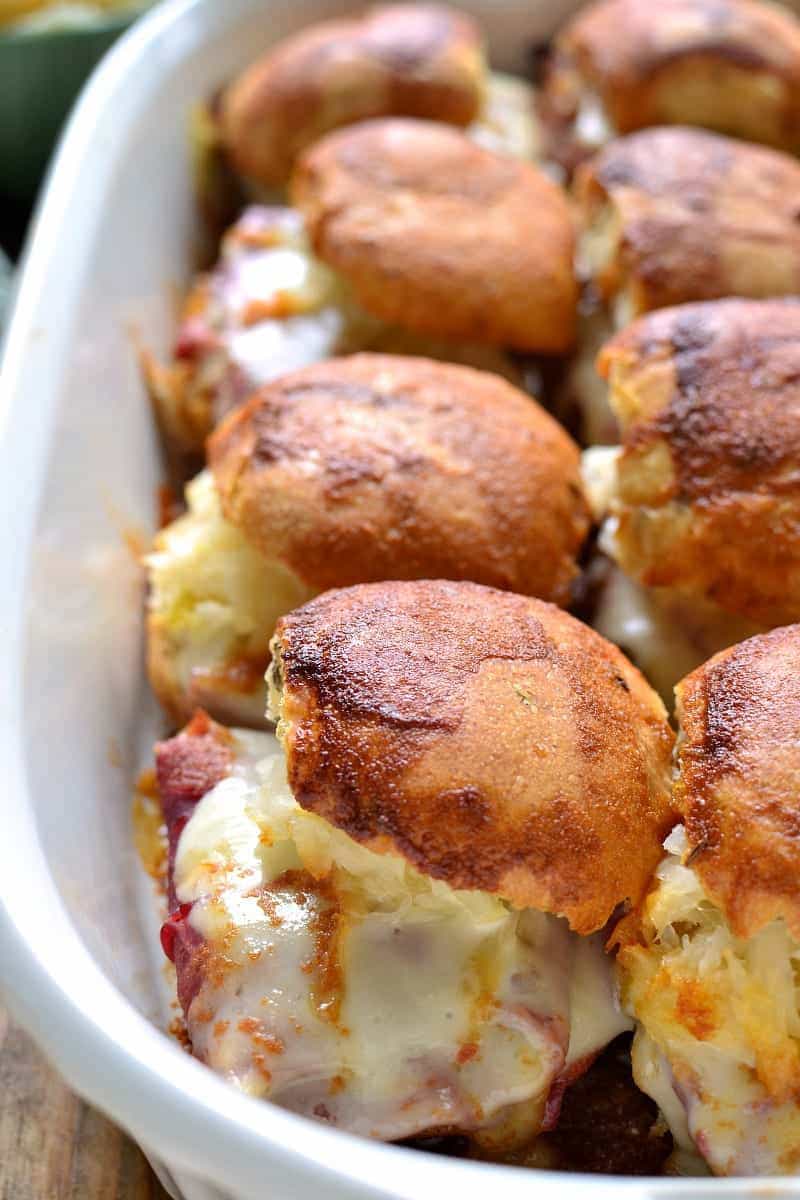 Have I ever told you about my intense fear of lightning? Probably not. It's something I try to keep on the down low (my friends think I'm ridiculous) but as I'm sitting here in a quiet house during a thunderstorm….I can't help but talk about it! Yes, I may need therapy.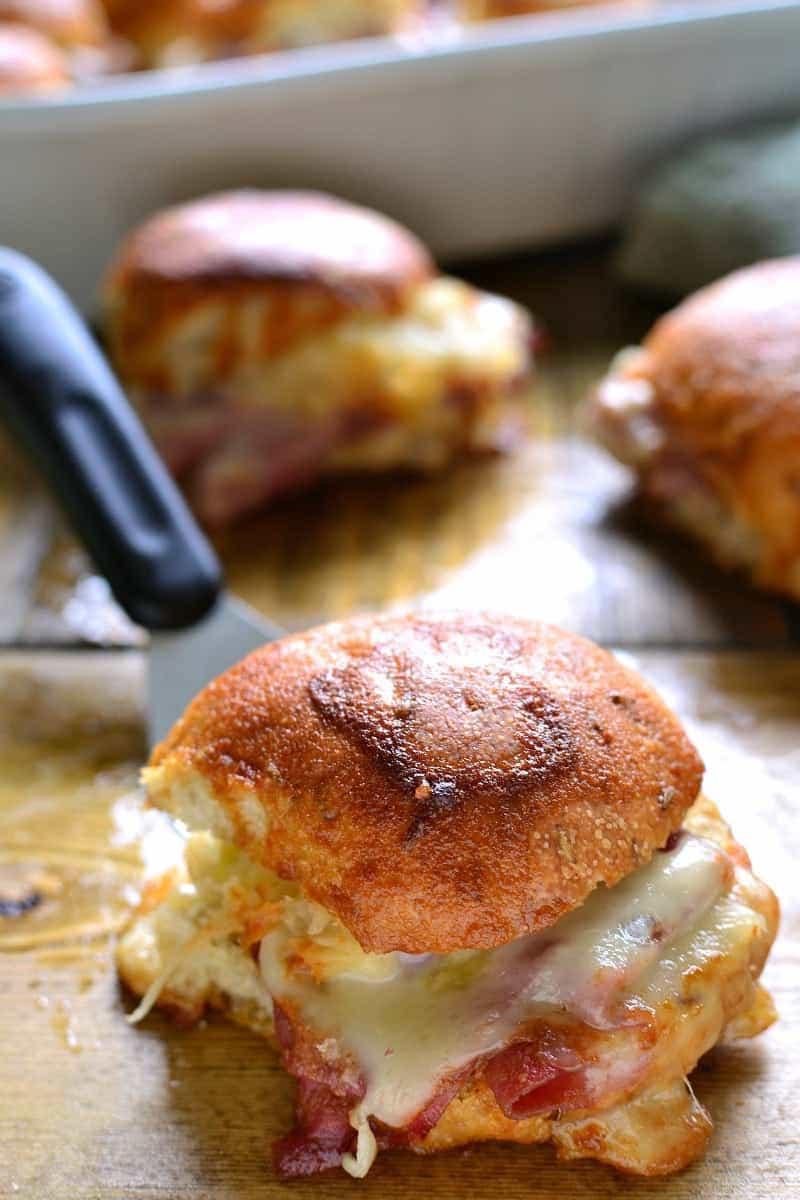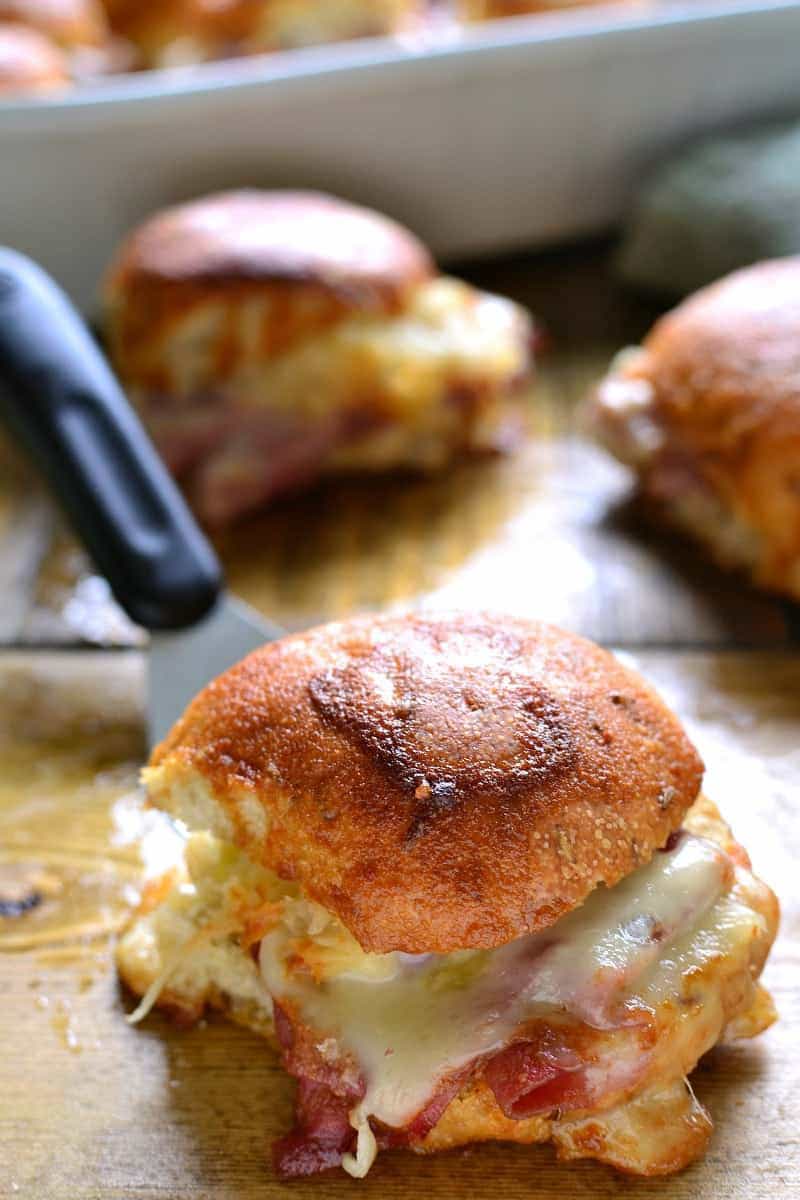 It all started back in childhood, when thunderstorms ALWAYS meant power outages and fried electronics and camping out in the basement. And as an adult, I've been too close to lightning strikes too many times to feel good about it.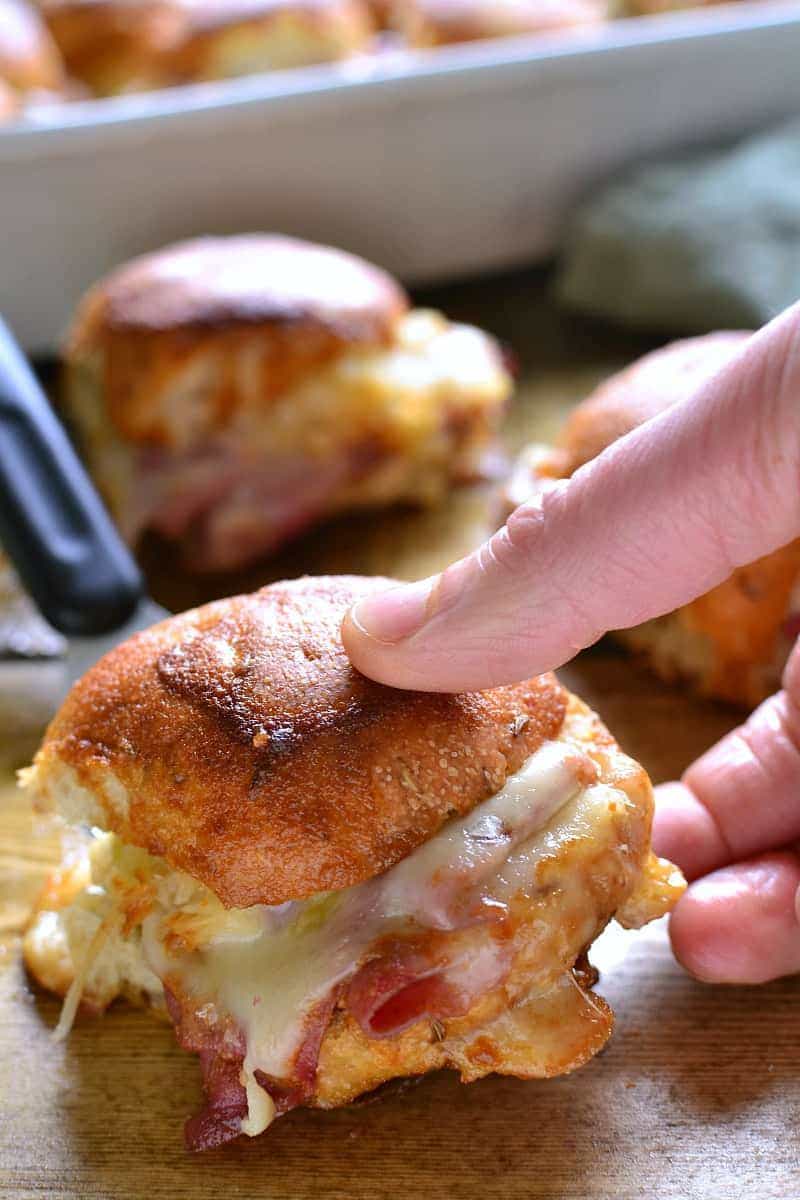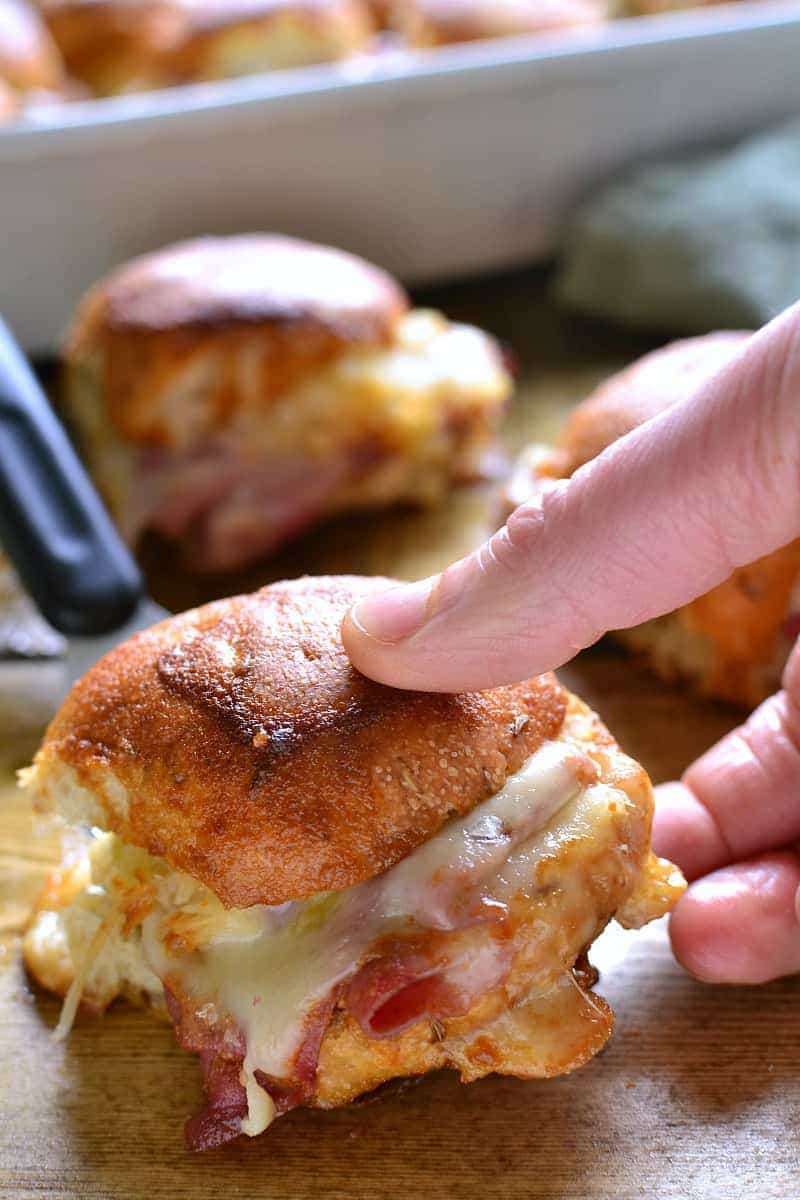 The first one was back in college, when I was driving back to my parents' house during a storm and lightning struck something close to me. Like SUPER close to me….because I felt the heat and electricity run through my entire body, followed by a bright orange glow and then a gray haze.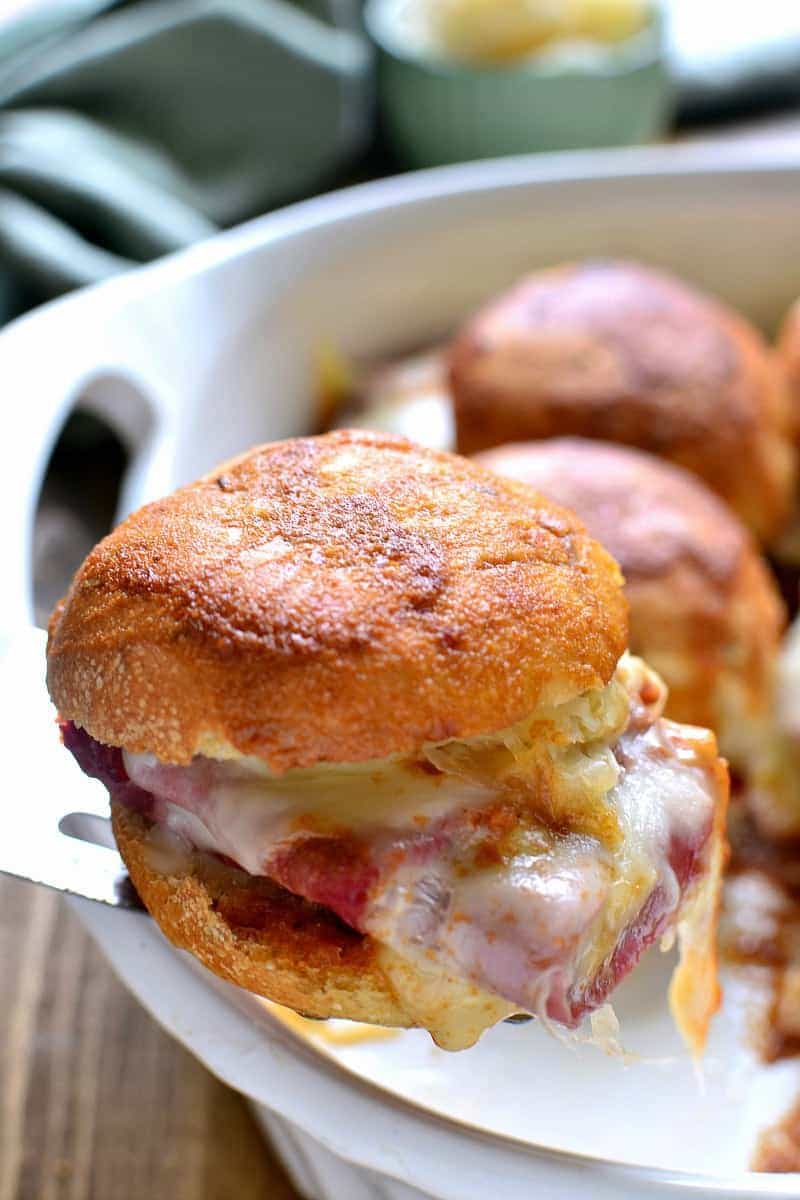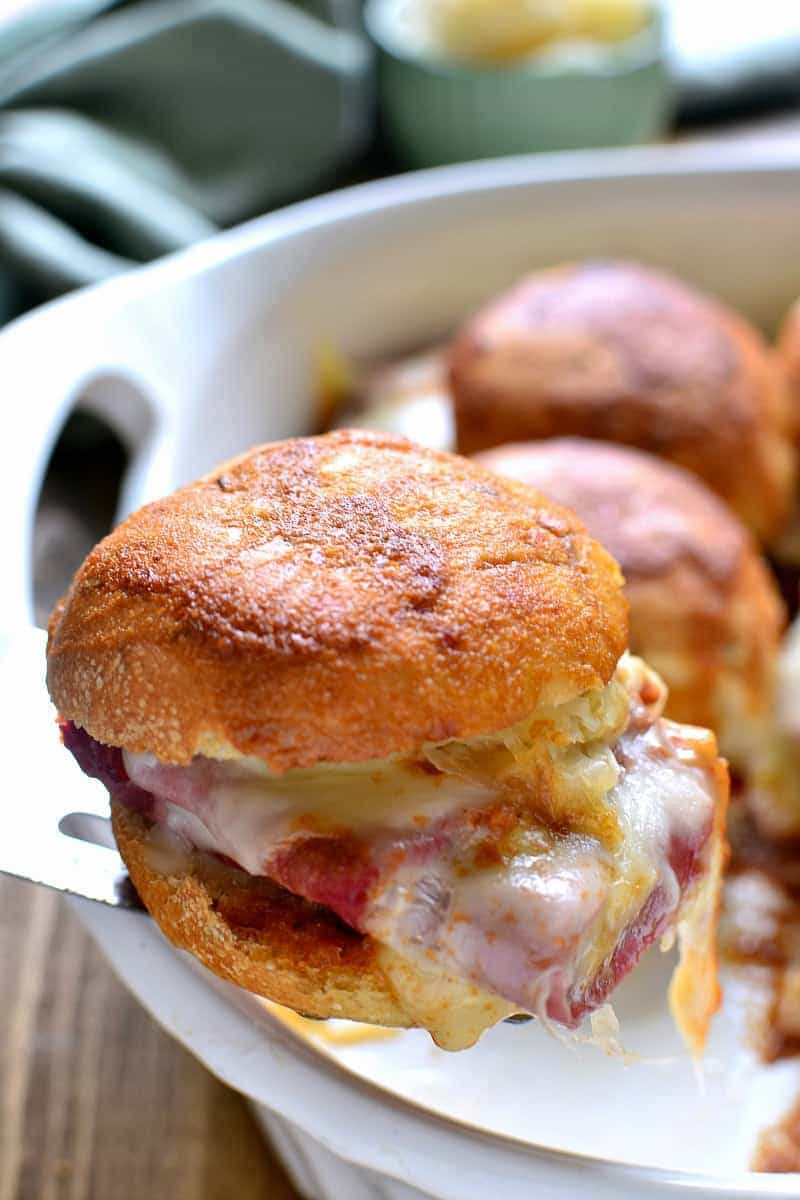 And as if that weren't enough, I had a similar-but-not-as-intense experience a few years later and then, just a few months ago, a tree outside our house was struck, resulting in the loudest BOOM and house shake ever. And now I'm scarred for life. Ha!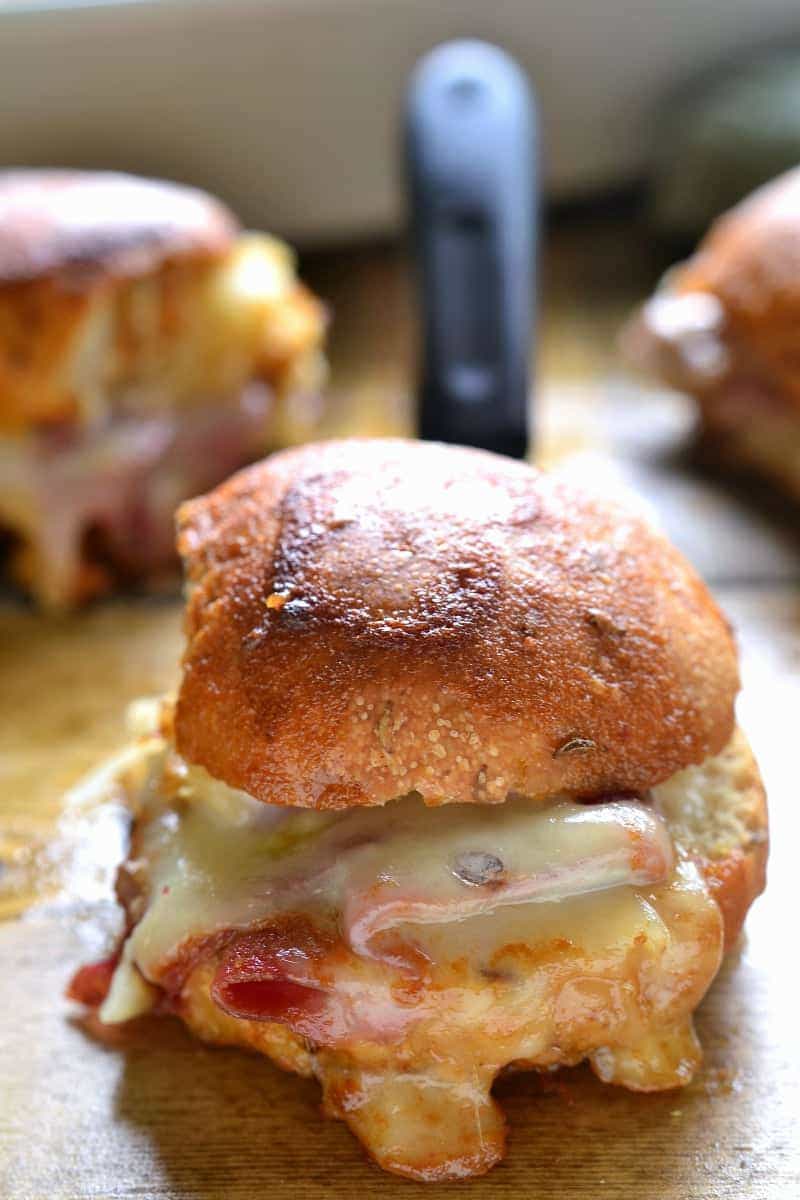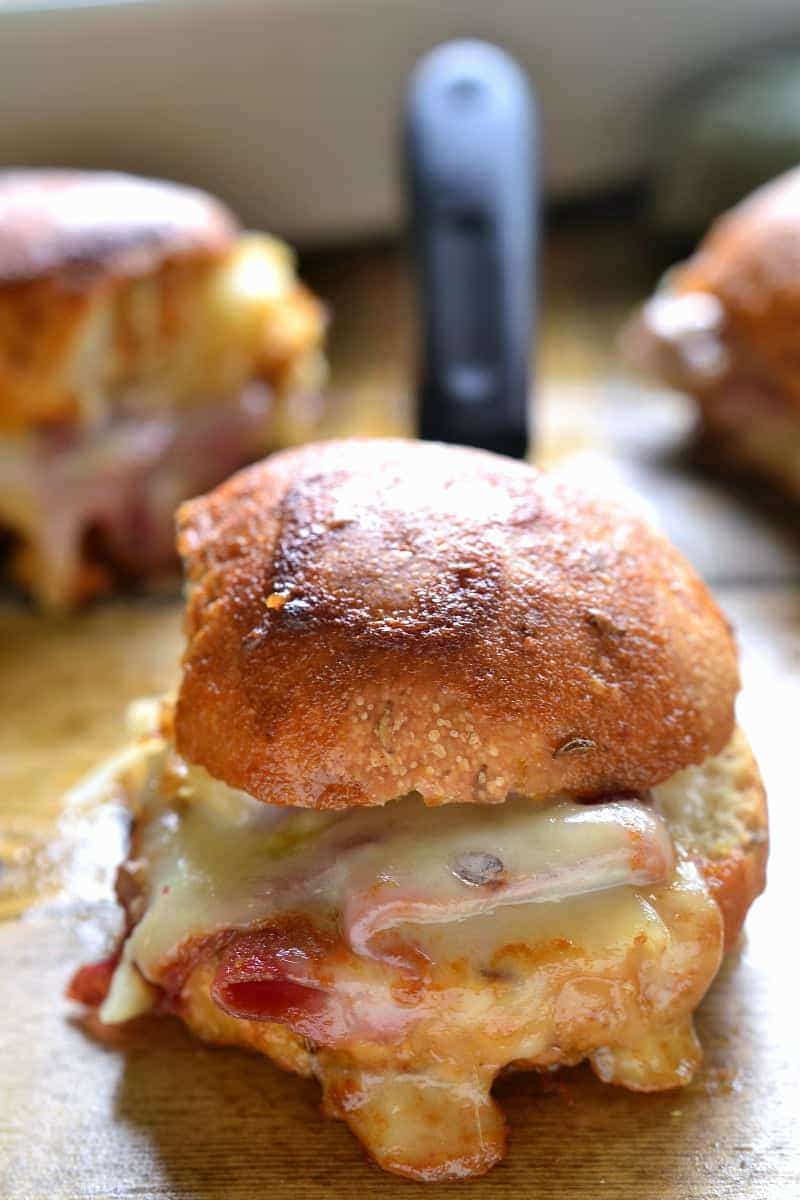 Baked Reuben Sandwiches – A game day meal
And now that I've thoroughly freaked you out, let's talk about these sandwiches, shall we?? Because if there's one thing that can ALWAYS make me feel better about things, it's a delicious distraction! These Baked Reubens are just that. Corned beef, swiss cheese, sauerkraut, rye rolls, and a yummy sweet and savory sauce that bakes right into the bread. Just in time for thunderstorm season…..and, of course, St. Patrick's Day!!!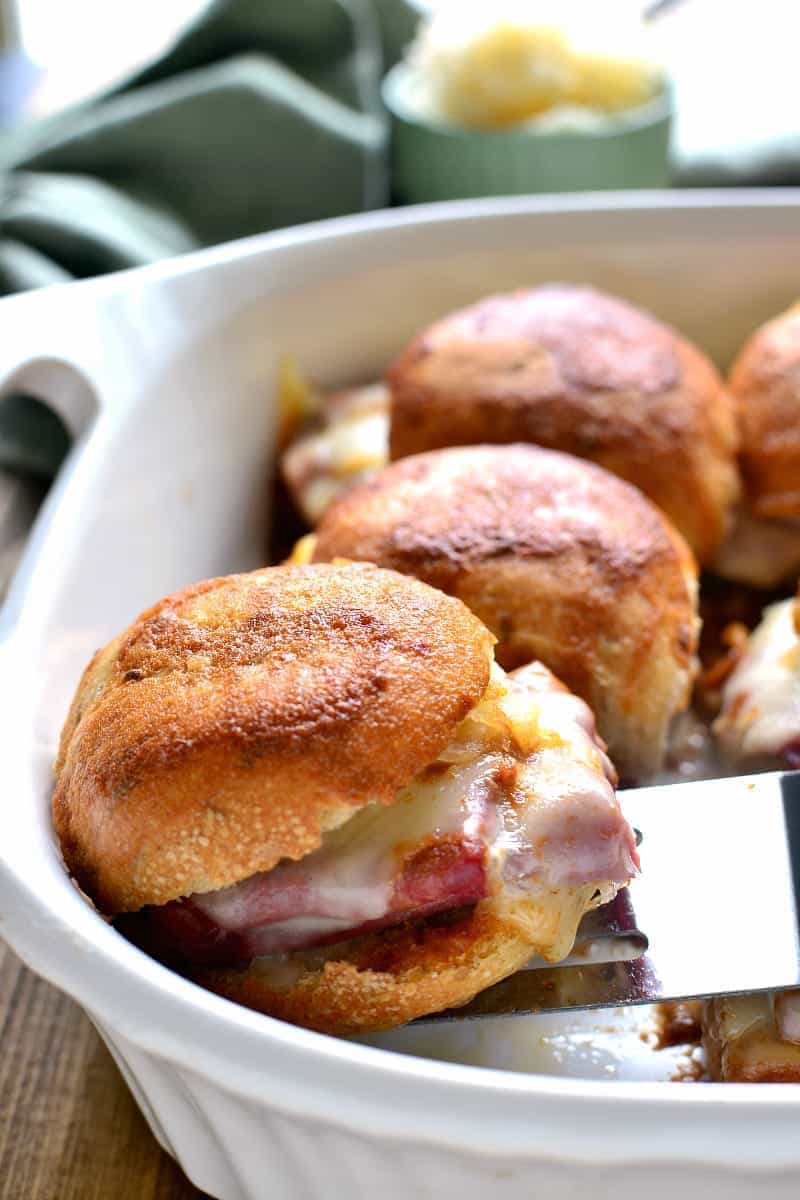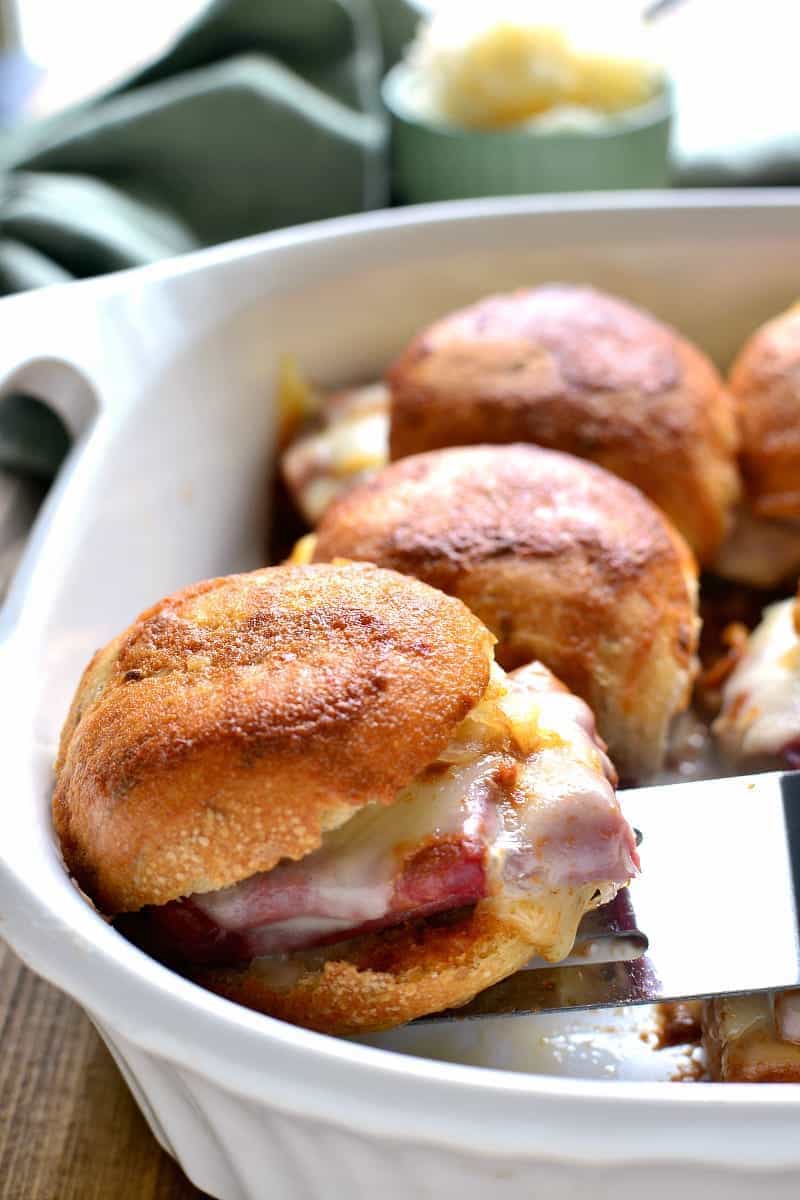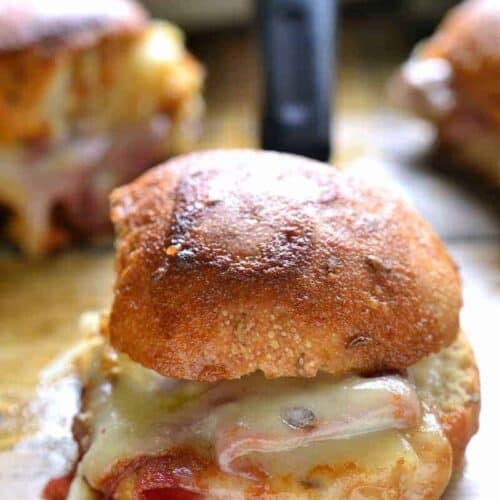 Baked Reuben Sandwiches
These Baked Reuben Sandwiches combine all the flavors of a classic Reuben with a delicious sauce that's baked right in! Perfect for St. Patrick's Day or all year round, and great for feeding a crowd!
Ingredients
12

rye dinner rolls

if you can't find rye, substitute any type

1/2

pound

corned beef

6

slices

swiss cheese

3/4

c.

sauerkraut

1

stick butter

1

Tbsp.

brown sugar

1

Tbsp.

ketchup

1

Tbsp.

worcestershire sauce

1

Tbsp.

dried mustard

*Thousand Island dressing

if desired
Instructions
Prepare sandwiches by dividing corned beef and cheese evenly among buns.

Add 1 Tbsp. sauerkraut (drained) to each sandwich.

Place sandwiches in a 9x13 inch pan or a rimmed baking sheet.

In a small saucepan, combine remaining ingredients. Bring to a boil over medium-high heat.

Remove from heat and pour over sandwiches.

Cover with foil and refrigerate sandwiches overnight. (*Note: this step can be eliminated if necessary)

Uncover sandwiches and bake at 350 degrees for 20-30 minutes.

Serve with Thousand Island dressing if desired.
For more great baked sandwich recipes try out these!
Baked Turkey and Cheese Sandwiches
Garlic Butter Monte Cristo Pull Apart Sandwiches