Old fashioned oats, blended with sliced almonds, dried fruit, shredded coconut, brown sugar, and a hint of cinnamon….then baked to crunchy perfection. Sweetly satisfying with yogurt, milk, or just by the handful!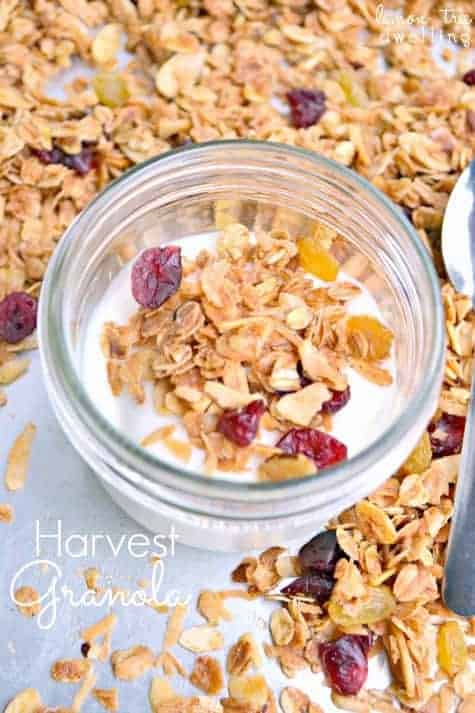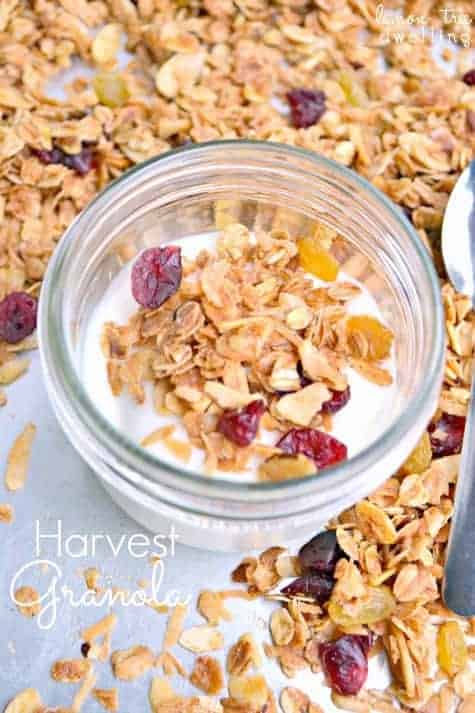 As I mentioned a few days ago, my kids have pretty much lost all faith in me when it comes to delicious weekday breakfasts. It happens quickly with kids – the boredom, the dissatisfaction, the loss of faith. And when I had to explain to them for the fourth day in a row that we had cereal but no milk, peanut butter but no bread, pancake mix but no eggs to actually make it…..I couldn't really blame them for giving up hope.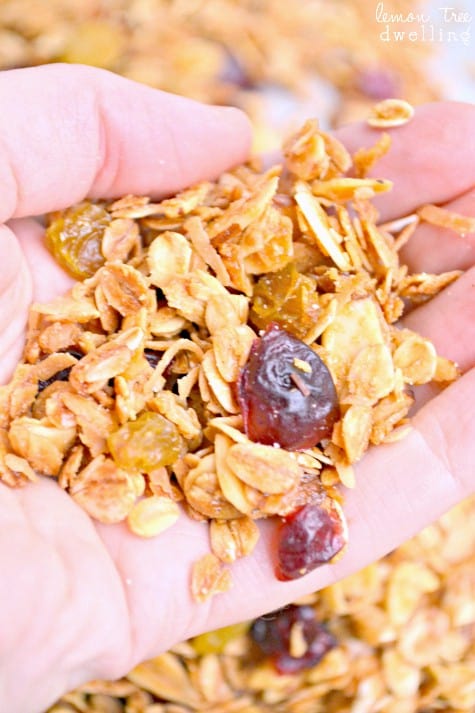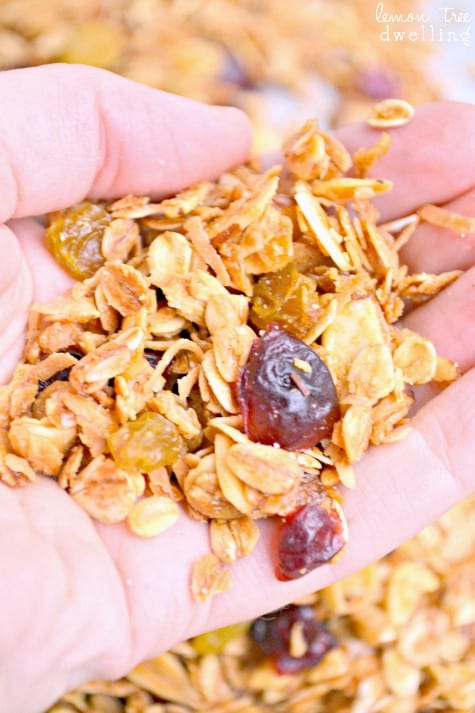 The good thing about kids, though, is that it's just as easy to regain their faith as it is to lose it in the first place….at least when it comes to something like breakfast foods. So I started on a mission to satisfy their morning tastes, and I'm happy to report we've had a HUGE turnaround! It's amazing how well it works to give them multiple NEW options instead of the same 3 choices every morning! (Ha!)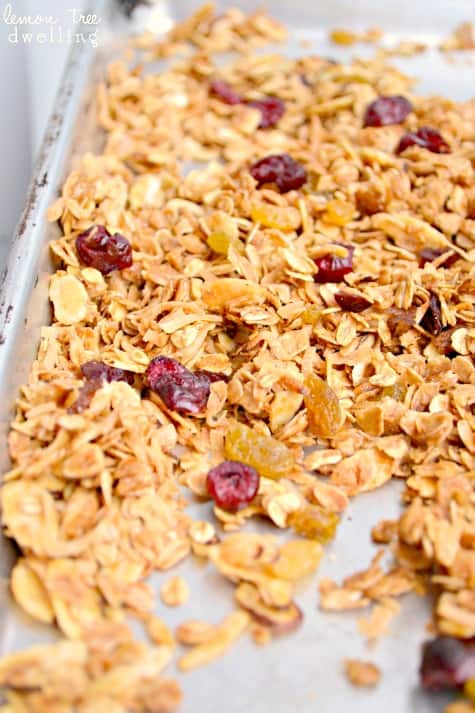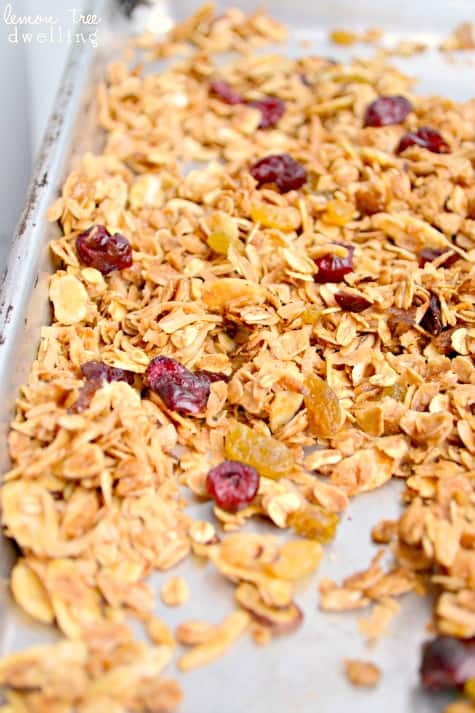 We're going for variety here….so we've made blueberry muffins, Ham, Egg & Cheese Breakfast Pockets, Maple Sausage Crescent Rolls, and now this delicious Harvest Granola. At the same time, we've stocked up on bagels, cinnamon swirl bread, oatmeal, Cream of Wheat…..and, yes, milk. Honestly, it's hard to say which foods are going over better – the homemade or the store bought. And, to be honest, I don't really care. What I do care about is giving my kids a variety of options that will fill their bellies, get them ready for school, and….of course….help them regain hope and faith in their mother. And in her breakfast abilities.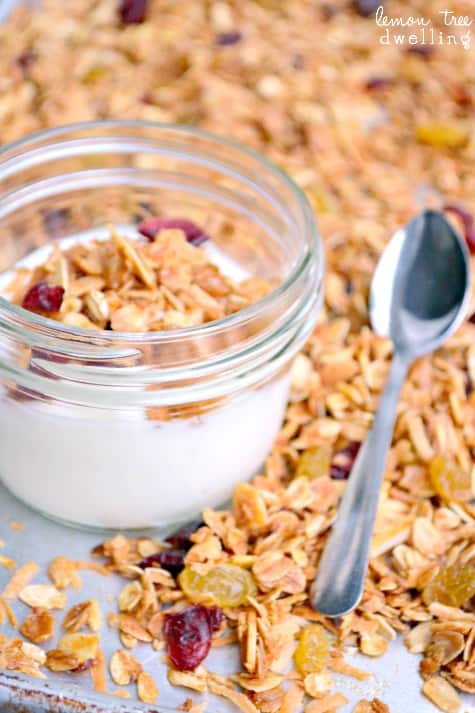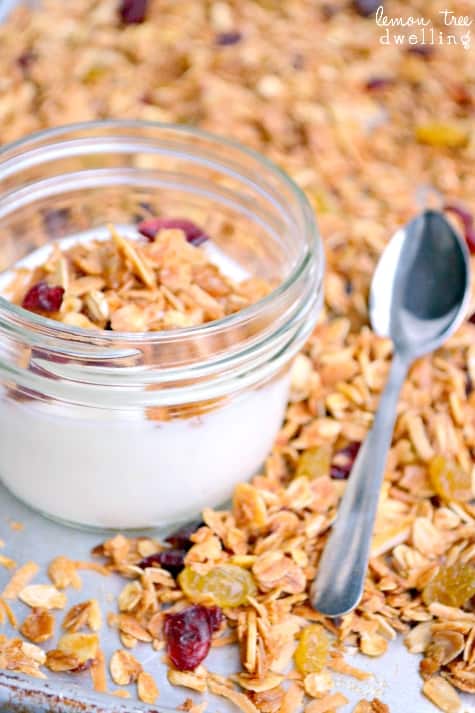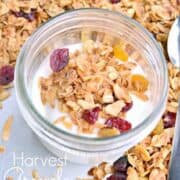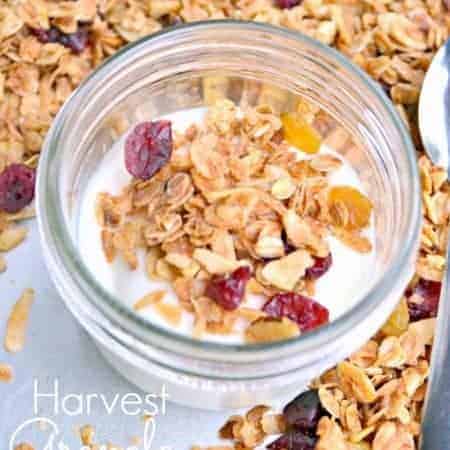 Harvest Granola
Ingredients
3

c.

old-fashioned oats

1

c.

sliced almonds

1/4

c.

1/2 stick butter, melted

1/4

c.

packed brown sugar

1/4

c.

honey

1/2

tsp.

cinnamon

1

c.

flaked sweetened coconut

1/4

c.

golden raisins

1

c.

craisins
Instructions
Toss the oats and almonds in a bowl.

Combine the butter, brown sugar, honey and cinnamon in a bowl and mix well. Drizzle the butter mixture over the oats and mix to combine.

Spread the entire mixture on a 10x15 inch rimmed baking sheet.

Bake at 250 degrees for 35-40 minutes. Stir in coconut.

Bake for 45 minutes longer, stirring every 15 minutes.

Remove from oven. Stir in raisins and craisins. Let stand until cool.

Store in an airtight container at room temperature.

(*Recipe adapted from An Occasion To Gather)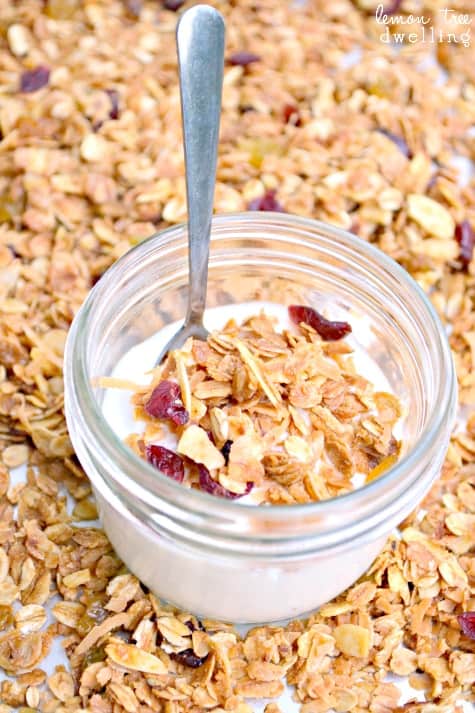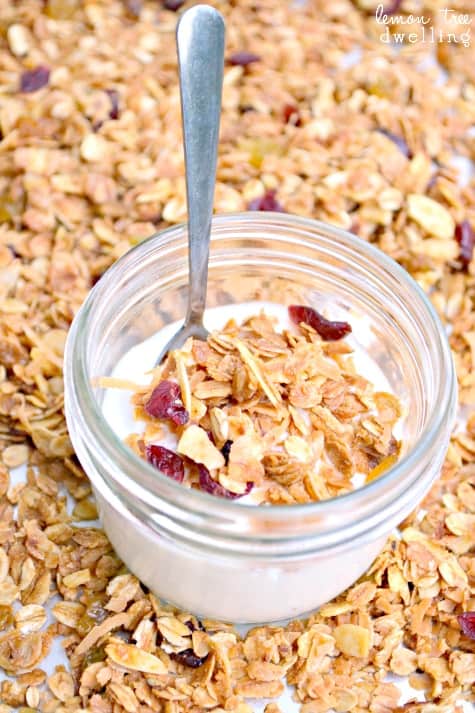 Enjoy!
Looking for more delicious breakfast recipes? How about these!