Apple Brie Salad combines fresh, crisp apples with creamy Brie cheese, dried cranberries, and pecans in a fall salad that's perfect for lunch, dinner, or holiday gatherings!
So. I got called out the other day. By my brother in law….who follows me on Facebook….and was apparently complaining to my sister: "She posts all this delicious looking food on Facebook….and then brings SALAD to family get togethers." Oops.
He's right – I do post a lot of delicious food. And I do bring a lot of salads to family get togethers! It's just that…. I love salad! It's one of my VERY favorite foods. And I sometimes forget that other people don't love it as much as I do.
So what do I love so much about it? How about the fact that it's basically a blank canvas for ALL your favorite toppings!? Savory, sweet, crunchy, creamy – I love them all. And I love combining them in different ways!
This Apple Brie Salad is the kind of salad I've been craving lately. Mostly sweet, a little bit savory, with plenty of different flavors and textures. And the BRIE! It's soooo good with the apples!! It kinda makes me want to add brie to all my salads. Are you with me?
That being said… my brother in law's complaint has been duly noted. And from now on, I'm making sure I have something cheesy or chocolatey in one hand, and the salad in the other.
what you'll need for this recipe
Mixed greens – I used mixed greens as the base of this recipe. I like using a 50/50 blend with half spinach, half spring mix, because the spinach helps it hold up better to heavier ingredients like apples.
Apples – Fresh chopped apples are one of the key ingredients in this salad. I used Gala, but any of your favorite varieties will work well!
Brie cheese – Brie cheese is an unexpected yet delicious addition to this salad. I love how creamy and buttery it is and how it pairs with the sweet, crisp apples. You can find brie in the specialty cheese section at your local grocery store.
Dried cranberries – Dried cranberries pair well with the apples and brie cheese and add a delicious sweet, tart element to this salad. Not a dried cranberry fan? Dried cherries would work well too!
Chopped pecans – Chopped pecans add delicious crunch to this recipe. I used unsalted pecans from the baking aisle, but salted would be fine too. You could also consider Candied Pecans instead!
Green onions – Sliced green onions (or scallions) add extra flavor and another savory element to this recipe. Feel free to substitute red onions if you prefer.
Apple cider vinaigrette – I made a simple apple cider vinaigrette using olive oil, apple cider vinegar, apple cider, honey, ground ginger, and pepper. You could also use balsamic vinaigrette or a basic oil and vinegar dressing.
how to make apple brie salad
In a large salad bowl, combine mixed greens, chopped apple, sliced Brie, dried cranberries, pecans, and sliced green onions.
In a small container with a lid, combine olive oil, apple cider vinegar, apple cider, honey, ginger, and pepper. Shake well.
Pour dressing over salad and toss to combine.
what kind of apples should you use in salad?
I used Gala apples in my salad, but any crisp, sweet variety would work well. Other good options include Honeycrisp, Fuji, or Pink Lady. For a different flavor, you could also use a tart variety of apple such as Granny Smith.
more delicious fall salad recipes
more recipes using brie cheese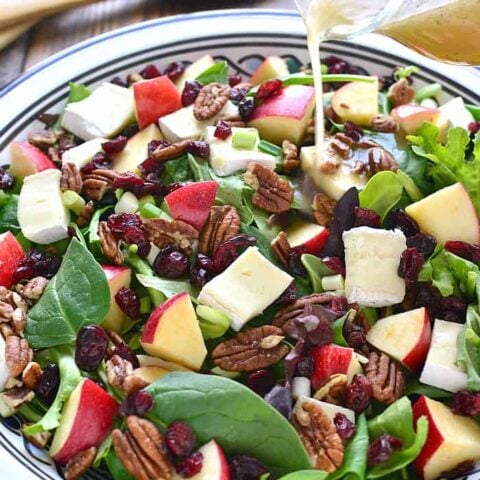 Apple Brie Salad
This Apple Brie Salad combines the crispness of apples with the creaminess of Brie cheese in a delicious salad that's perfect for winter!
Ingredients
Salad
6 ounces mixed greens
4 ounces brie cheese, cut in 1 inch pieces
1 large apple, cut in 1 inch pieces
1/2 cup coarsely chopped pecans
1/2 cup dried cranberries
4 green onions, chopped
Dressing
1/3 cup olive oil
1/3 cup apple cider vinegar
1 Tablespoon apple cider
1 1/2 Tablespoons honey
1/4 teaspoon pepper
1/4 teaspoon ginger
Instructions
Prepare salad by layering ingredients in a large salad bowl.
Prepare dressing by combining all ingredients and shaking vigorously.
Drizzle dressing over salad.
Nutrition Information:
Yield:

8
Serving Size:

1 grams
Amount Per Serving:
Calories:

241
Total Fat:

18g
Saturated Fat:

4g
Trans Fat:

0g
Unsaturated Fat:

13g
Cholesterol:

14mg
Sodium:

100mg
Carbohydrates:

18g
Fiber:

2g
Sugar:

15g
Protein:

4g