All the flavors of an Almond Joy…..in popcorn form!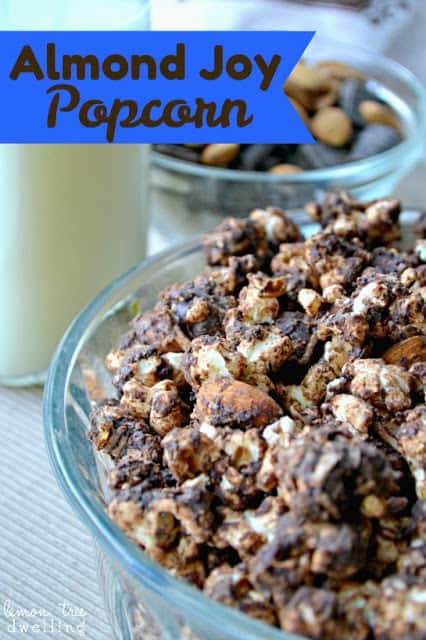 Before we get started, I have a quick little confession to make. I'm a little nervous to tell you this, because of the nature of this post…..but here goes. I don't even really like popcorn! Or Almond Joys, for that matter….! So how I decided to make this tasty little treat is beyond me. I think I can blame it on Trader Joe's. Ah, yes. Trader Joe's. I'm pretty sure it was the coconut oil.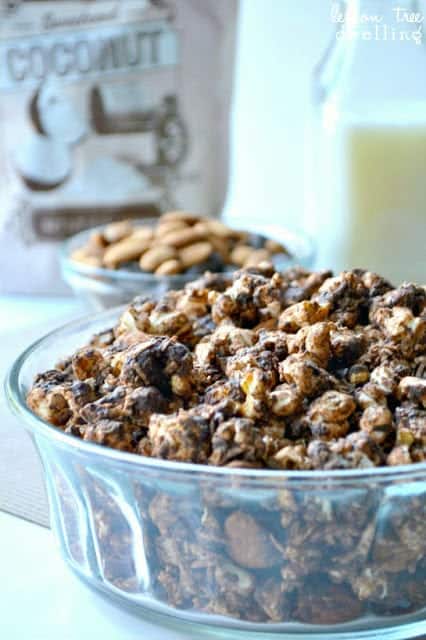 Have you ever seen coconut oil? I had hardly even heard of it before my trip to Trader Joe's last week! It comes in a little jar and is white and solid at room temperature. I saw it sitting on a shelf in the baking aisle, and I immediately knew I had to have it. And then the question came of what to do with it…..and, for obvious reasons, Almond Joys came to mind. Needless to say, I ran with it….!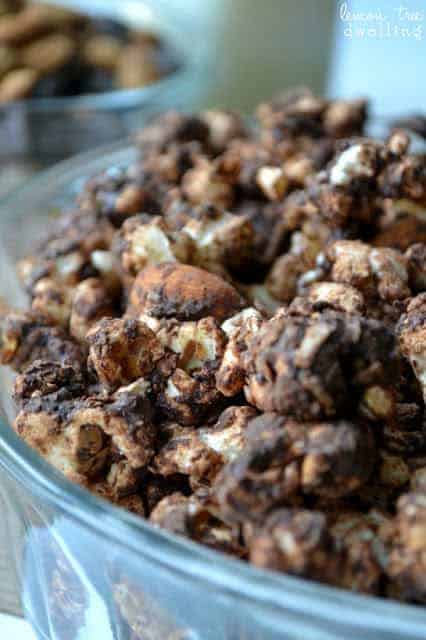 The question then became "Almond Joy what!?" And, one way or another, I settled on popcorn. Truth be told, although I have seen and pinned a million and one flavored popcorns, I have never actually looked at a recipe to see how I would go about making one. (I don't really like popcorn, remember!?) But, truth be told, I was secretly excited that I had no idea what I was doing. Because that meant I get to explore, and create, and be that much more excited when something I created actually turned out to be delicious!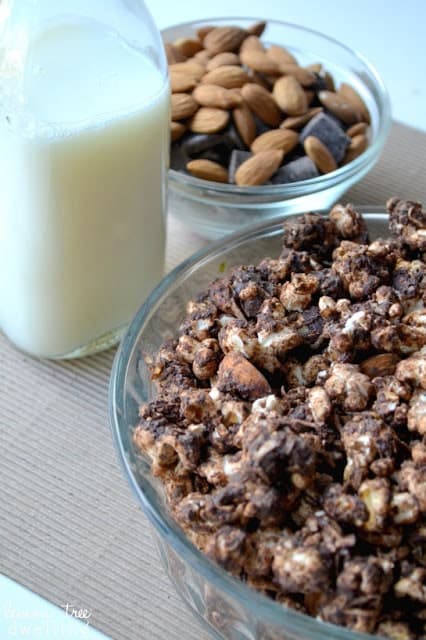 That's right……I said delicious! It turns out I DO like popcorn, after all….at least when it's covered in chocolate and coconut and all kinds of goodness…! And I'm guessing you'll like this popcorn, too (even if you're not much of a popcorn – or Almond Joy – person!)
Almond Joy Popcorn
4 c. popped popcorn (stovetop or microwave – I popped mine in coconut oil)
1/8 c. cocoa powder
1/4 c. powdered sugar
1 cup semi-sweet chocolate chips, melted
1/2 cup unsalted almonds
1/2 c. shredded sweetened coconut
1. Remove all un-popped kernels from popcorn.
2. Pour popcorn into an empty brown paper grocery bag; add cocoa powder and powdered sugar and shake to coat.
3. Add melted chocolate, almonds, and coconut to bag and shake until chocolate and coconut are (evenly) distributed.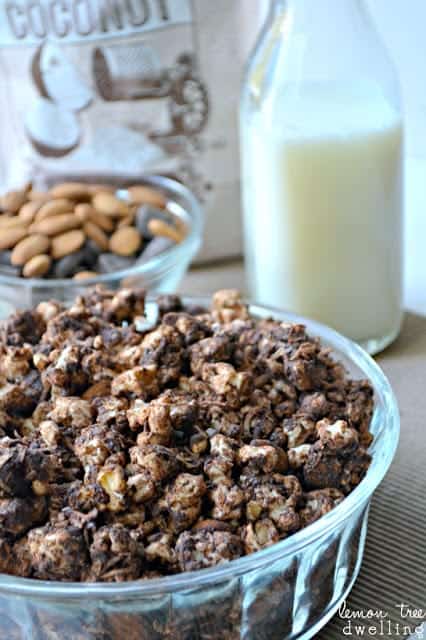 Thanks for taking a peek inside my Lemon Tree Dwelling…
I hope you feel right at home!