White Chocolate Ting-a Lings are one of our favorite holiday treats! Loaded with salty peanuts and crunchy chow mein noodles, then smothered in white chocolate and decorated with red, green & white Christmas sprinkles, they're the perfect salty-sweet no-bake treat. Also known as haystacks, spider cookies, chow mein clusters, and birds nest cookies, once you try them you'll know why they're everyone's FAVORITE! Perfect for gifting, too!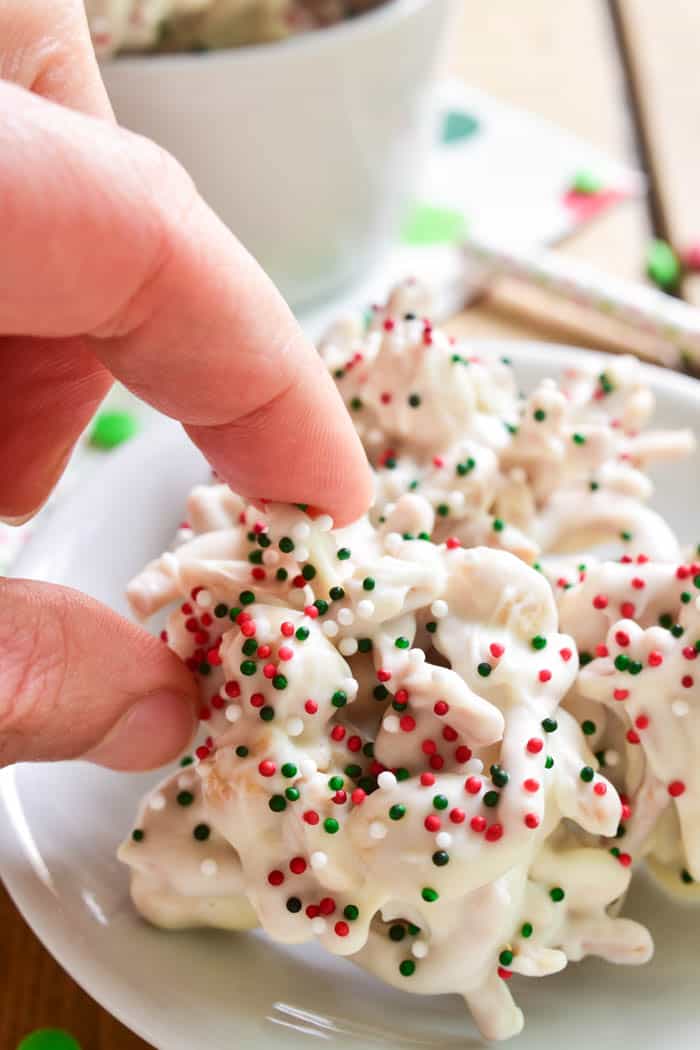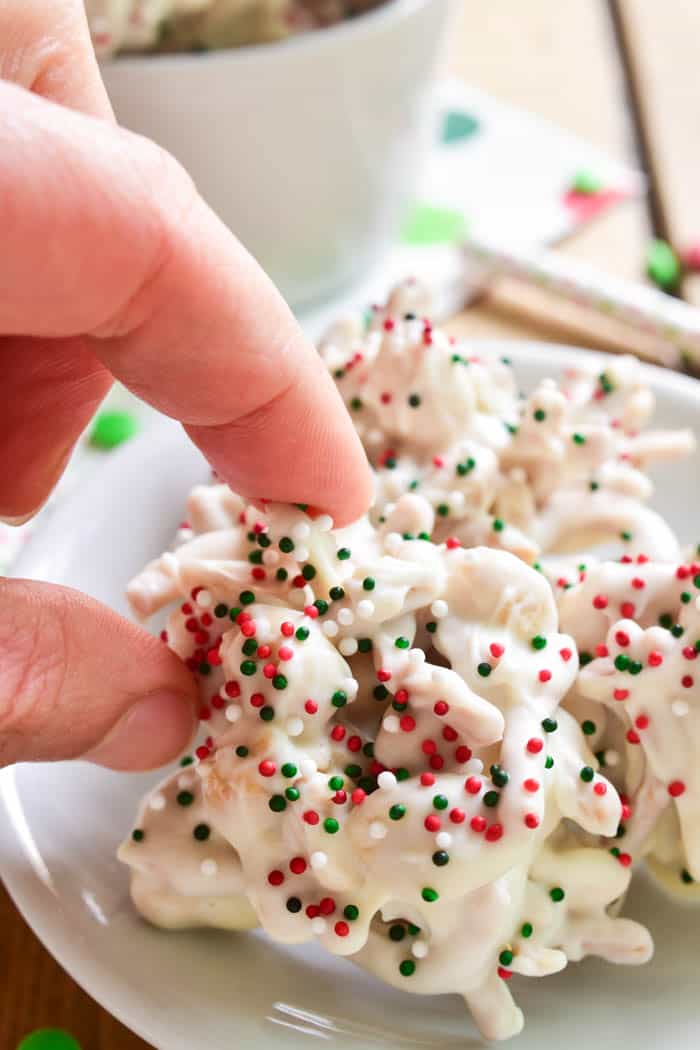 So I mentioned that I had some friends over for Christmas treat making this past weekend…..but did I mention that we made 17 different kinds of treats between the four of us?!?
Depending on who you are and how much you like being in the kitchen, that probably sounds either amazing…..OR absolutely dreadful. But between breakfast and lunch together and Christmas tunes and good conversation, the day ended up feeling like a lot of fun…..despite the fact that it was a lot of work.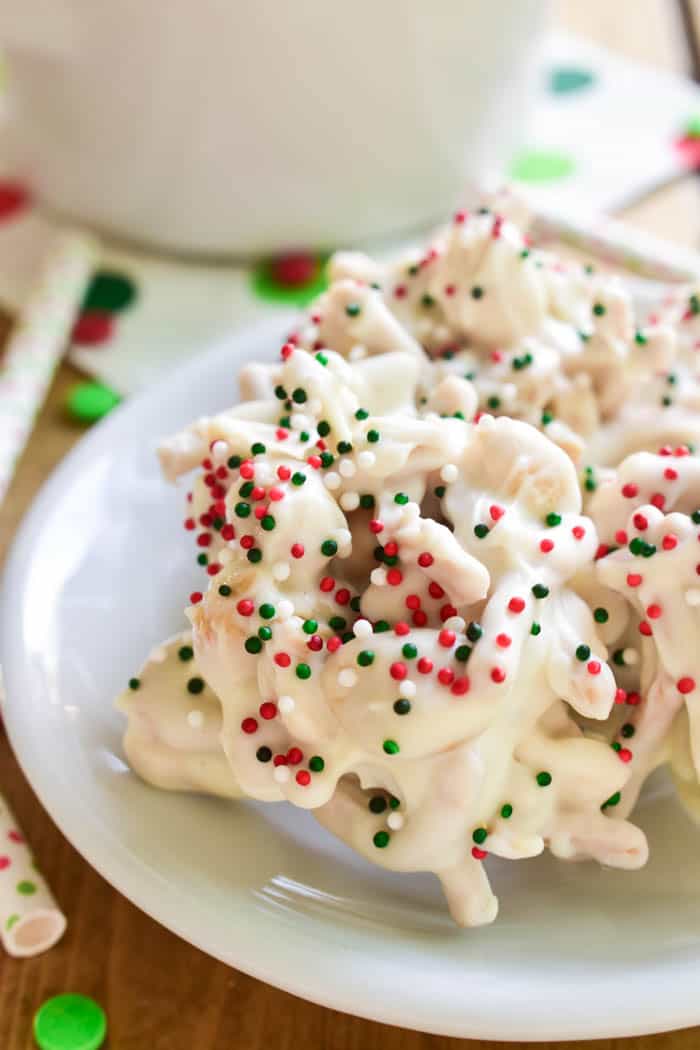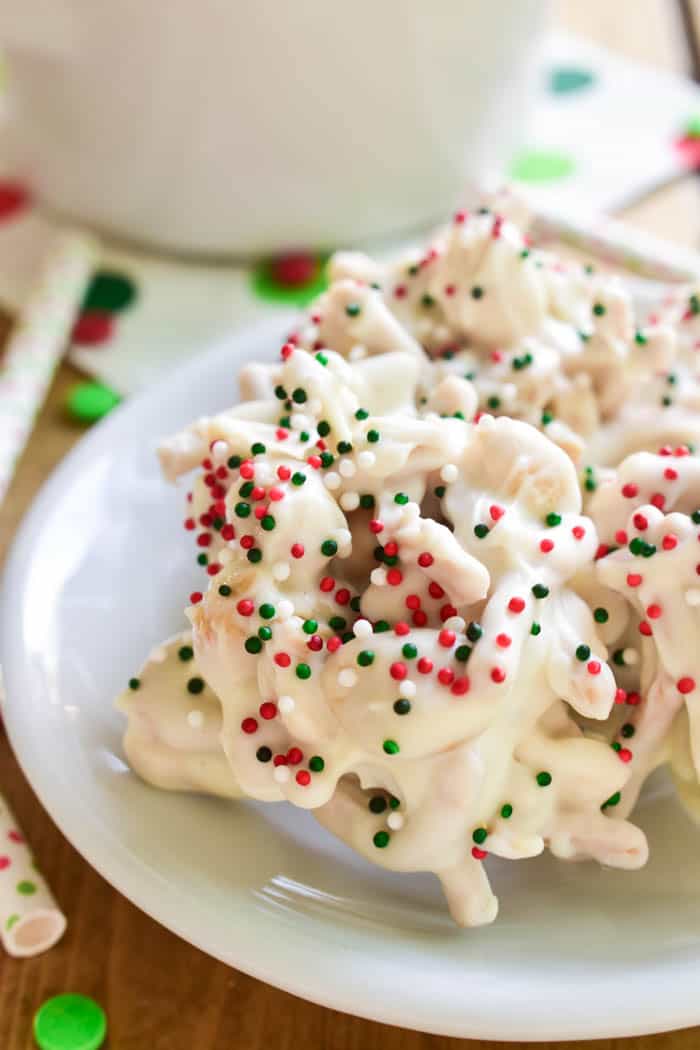 My contributions to the 17? The Gingerbread Buckeyes I shared with you yesterday, Chocolate Toffee Pretzels, Peanut Butter Cup-Stuffed Snickerdoodles (yummmm), and these White Chocolate Ting-a-Lings. Of the four, only one was a recipe I had made before. The rest I just winged at the last minute! But not to worry…..they all turned out DELICIOUS!!
No-Bake Treats make the perfect holiday gifts!
These White Chocolate Ting-a-Lings are not only delicious, they make the BEST holiday gifts! There's nothing better than getting a big plate of homemade cookies around the holidays, and when they're so easy to make, there's nothing better than giving them!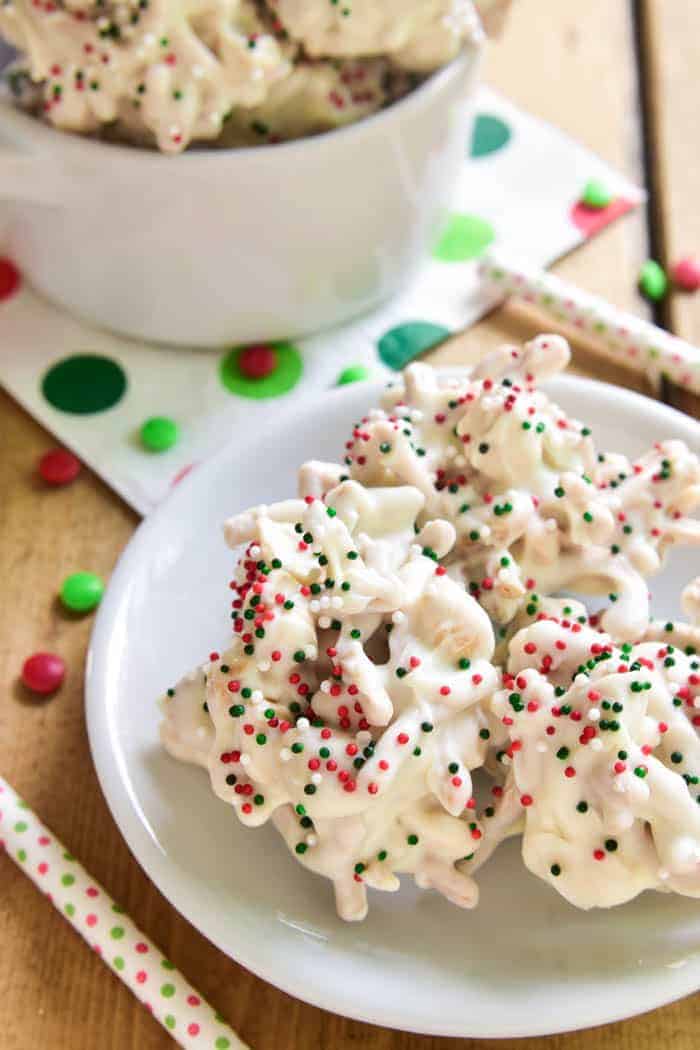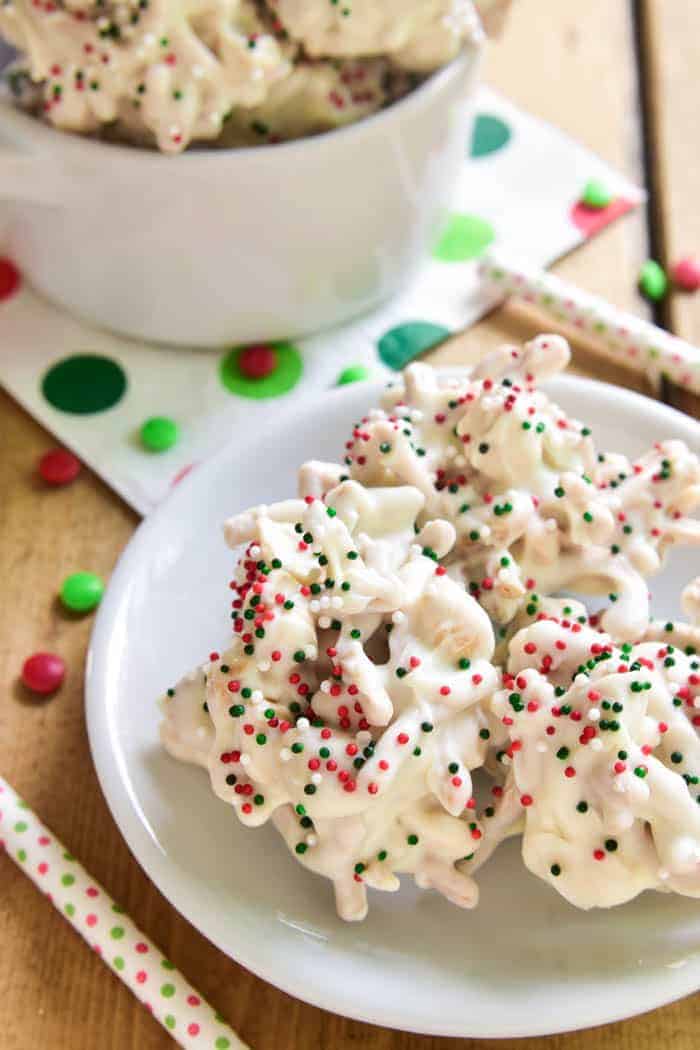 So which ones have I made before? These White Chocolate Ting-a-Lings! (Otherwise known as haystacks, according to my friends who were all but unwilling to call them ting-a-lings…..) They are one of my all-time FAVORITE Christmas treats, made with salted peanuts, crunchy chow mein noodles, melted white chocolate, and candy sprinkles.
They are the ultimate sweet & salty treat….and I could eat the whole batch, guaranteed! Just don't call them haystacks….at least not around me. They're ting-a-lings! Got it??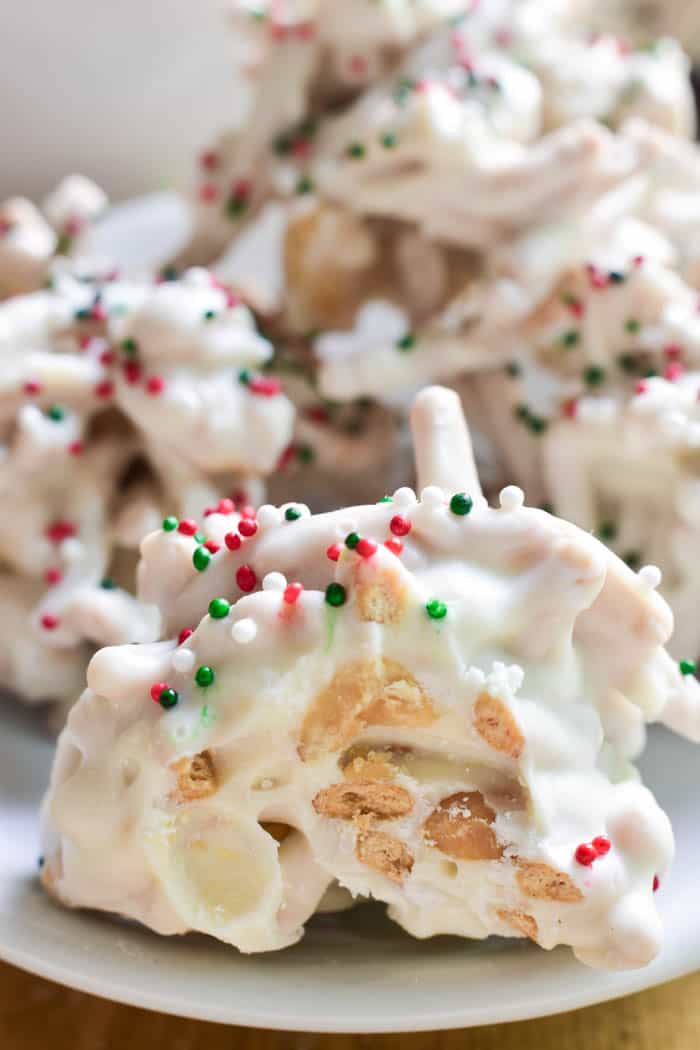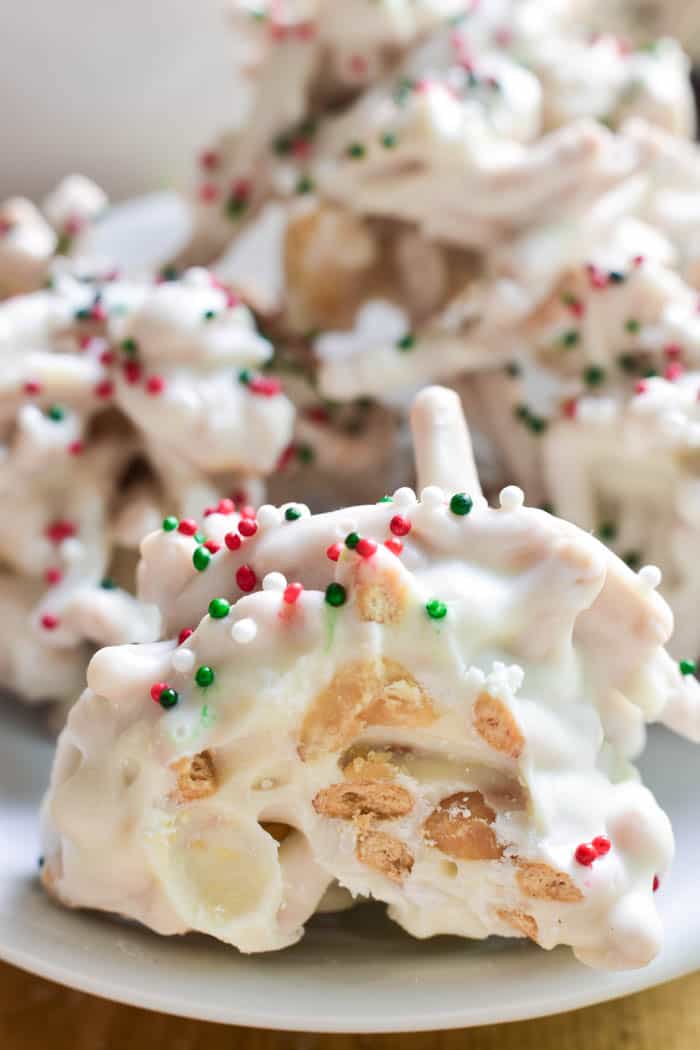 Tips for making Ting-a-Lings
Melt the chocolate slowly. I find that the microwave works especially well, but you can also melt it on the stovetop. Just be sure to use low heat and stir constantly to avoid burning.
If the chocolate starts to harden while you are working, don't worry! Just pop the whole bowl, noodles and all, back into the microwave until the chocolate is melted.
Feel free to mix it up. Substitute milk chocolate or butterscotch chips, cashews or pecans, pretzels or even cereal. The possibilities are endless!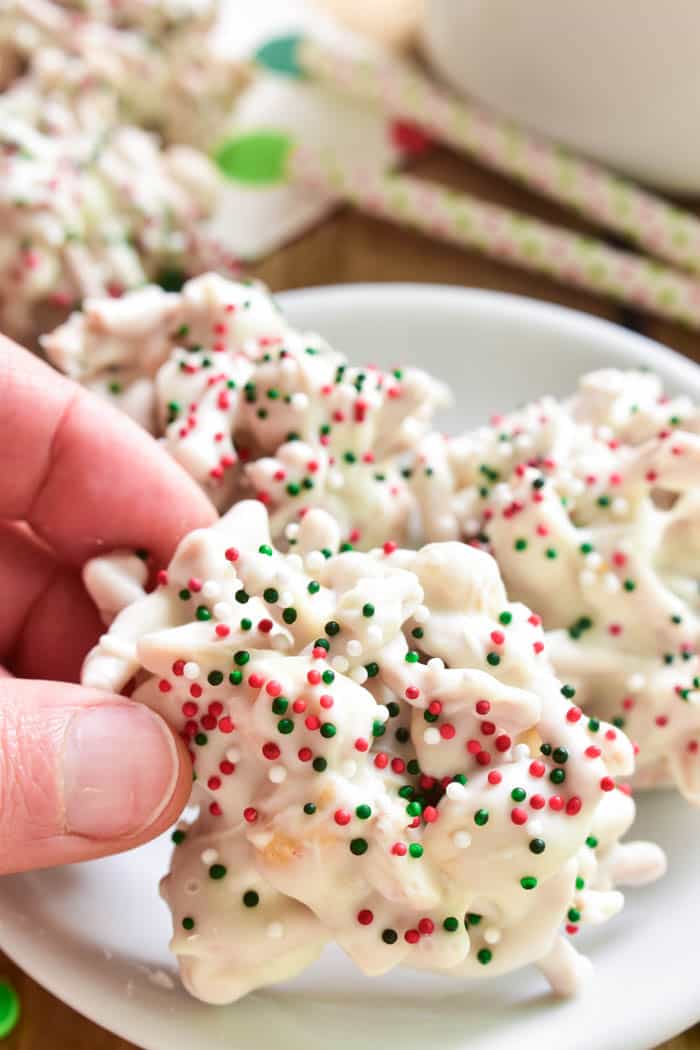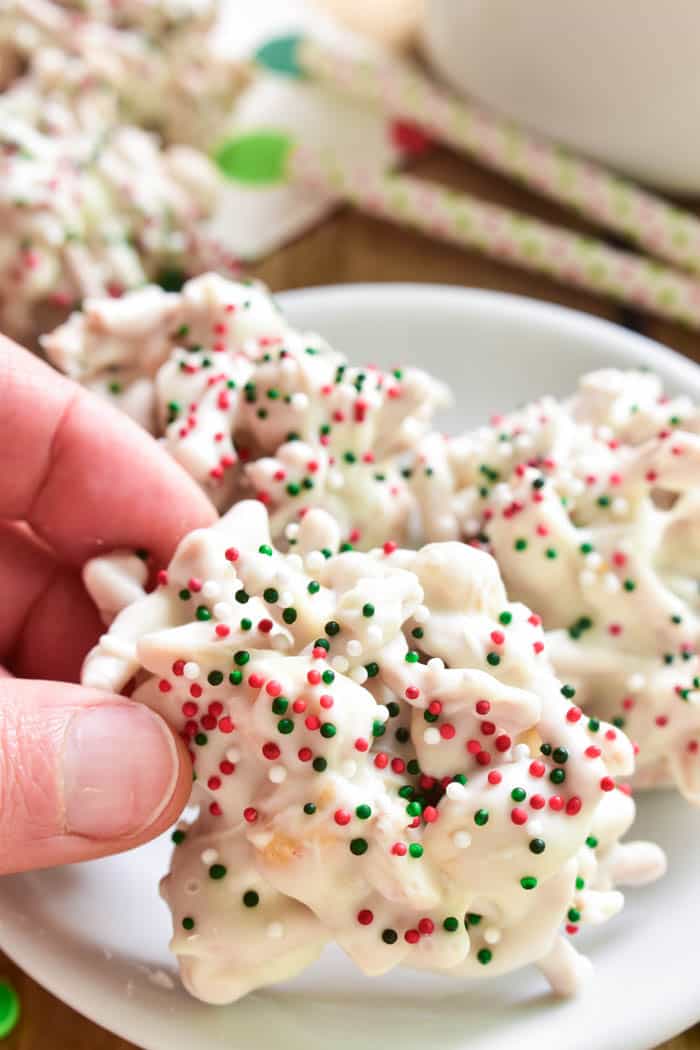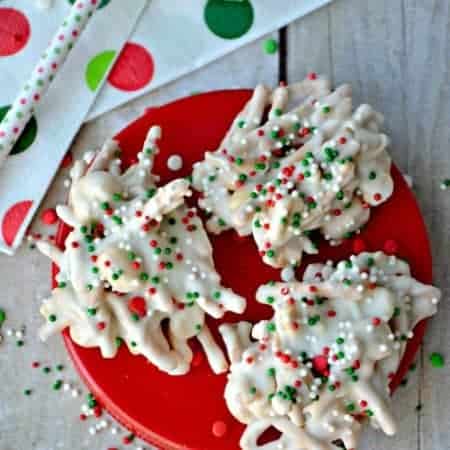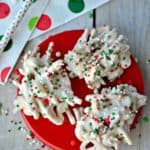 White Chocolate Ting-a-Lings
Ingredients
3 1/2

c.

chow mein noodles

2 1/2

c.

salted cocktail peanuts

32

oz.

white chocolate candy coating

I used Candiquik

candy sprinkles
Instructions
Mix chow mein noodles and peanuts in a large bowl.

Melt white chocolate over low heat until smooth; pour over chow mein noodles and peanuts and mix well.

Drop by spoonfuls onto wax paper; top with candy sprinkles.

Cool completely and store at room temperature.




Here are some more delicious ideas to fill up your Christmas tins!