Gingerbread Buckeyes combine traditional creamy buckeye filling with crunchy gingerbread cookies for an irresistibly delicious holiday treat! These insanely easy bites will be a favorite on your dessert table!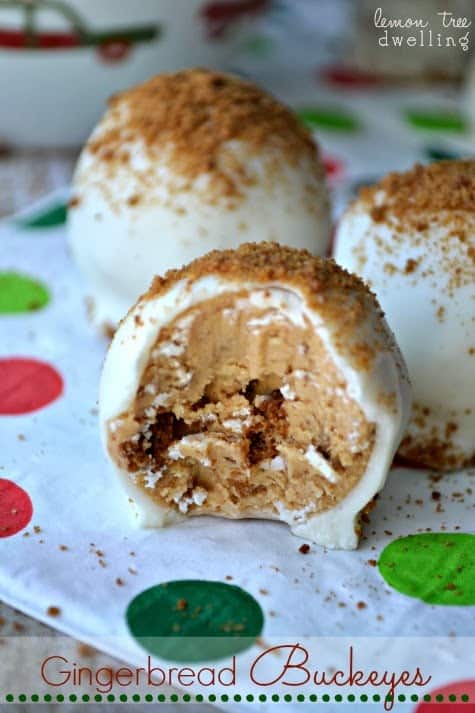 Only 15 days until Christmas…..one of the most wonderful days of the year!! Are you excited? Are you anxious? Are you ready?? I've been making a concerted effort this year NOT to freak out about Christmas prep or Christmas shopping or what I am or am not doing to make the most of the season (am I being creative enough? thoughtful enough? making it feel special enough for the kids?) Instead, I am trying to focus on doing the little things we always do at this time of year – decorating the tree, putting up the stockings, welcoming Cubby the elf, making Christmas treats, decorating sugar cookies, looking at Christmas lights, reading Christmas stories, snuggling on the couch under a warm blanket…..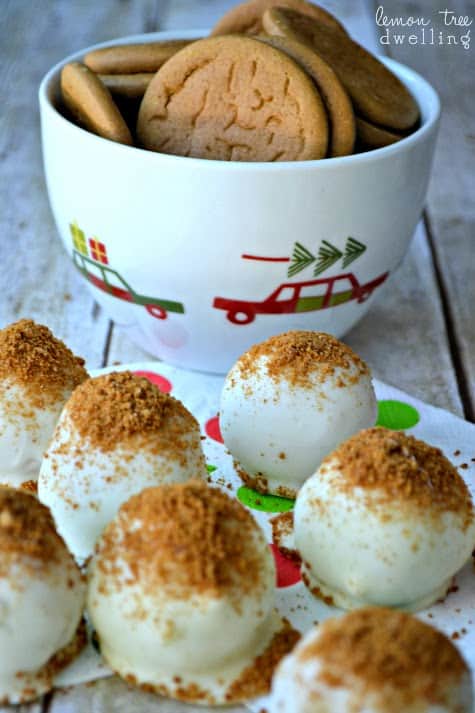 ….because, in the long run, I don't think my kids are going to remember how creative I was at Christmas time. Or how many cute little projects I came up with for them to do. I don't think those things are going to matter! What I do think they'll remember is Cubby. And Candy Cane Lane. The Polar Express. And snowy white breakfasts. And I think they'll remember cookie making with Grandma Betty and Christmas Eve with Grandma Dina. And that Christmas is about spending time with family. I think they'll remember the traditions!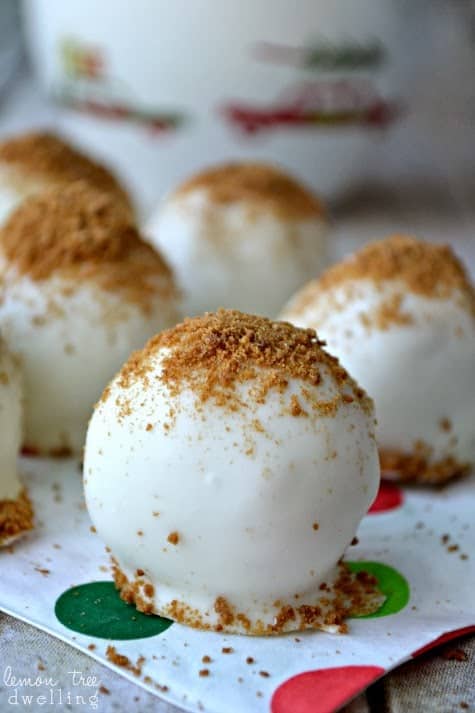 Gingerbread Buckeyes – A Christmas tradition
I was thinking about traditions when I got together to make Christmas treats with friends this past weekend (one of my very favorite traditions!) We were talking about how much people love traditional recipes, especially around the holidays. There is something that is just so comforting about them! Which is why I love to take traditional recipes and tweak them….like these Gingerbread Buckeyes! Just different enough from the original to make them new and exciting, but not so different that you lose the comfort factor. Because comfort = tradition! And tradition is everything….especially at Christmas time.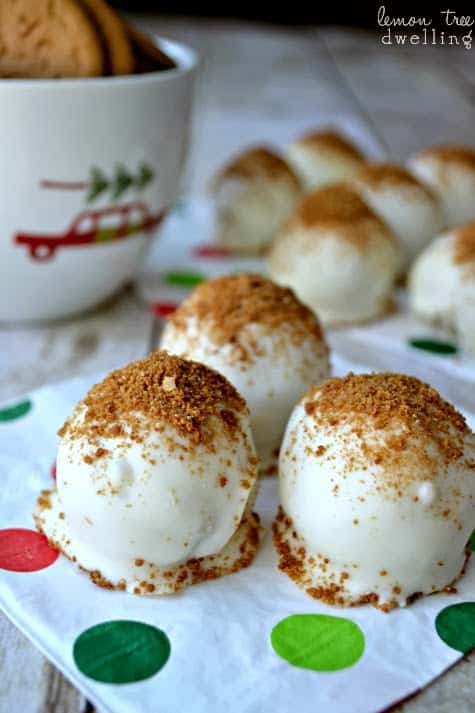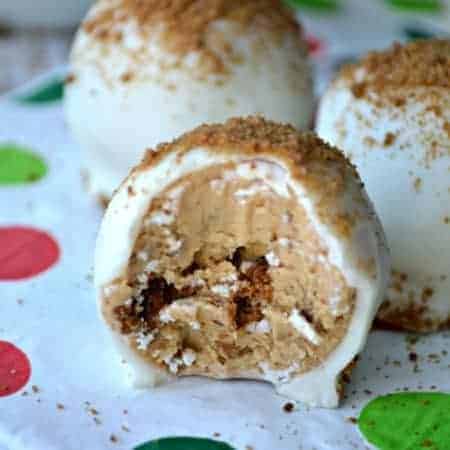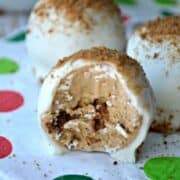 Gingerbread Buckeyes
Ingredients
1

c.

peanut butter

2

c.

powdered sugar

1/4

c.

butter

softened

1

c.

crushed gingersnaps

leave some pieces for crunch

16

oz.

white chocolate candy coating

I used Vanilla Candiquik

additional gingersnap crumbs for topping
Instructions
Mix peanut butter, powdered sugar, and softened butter in a large bowl until thoroughly combined.

Stir in gingersnaps.

Roll mixture into balls and set on wax paper. Chill 30 minutes.

Melt white chocolate over low heat. Use a fork to dip peanut butter balls into chocolate. Immediately sprinkle with gingersnap crumbs.

Cool until hardened. Store at room temperature.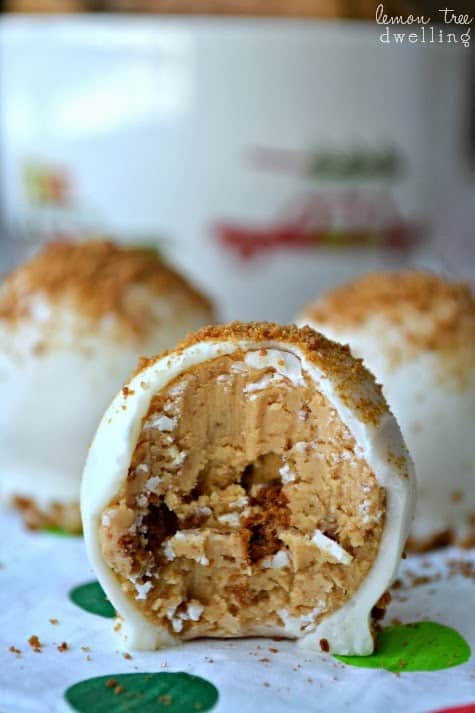 Enjoy!
Looking for more traditional
holiday
treats with a twist?