White Chocolate Cherry Scones are perfect with Bigelow Tea! These quick and easy scones are perfect for a late night snack or served with a cup of tea.
I am a member of the Collective Bias® Social Fabric® Community. This shop has been compensated as part of a social shopper amplification for Collective Bias and its advertiser.
White Chocolate Cherry Scones – A delicious snack
With Valentine's Day just 3 days away (!) I knew it was time to start thinking about BREAKFAST!! And not just any breakfast…..but a delicious Valentine's Day breakfast for the whole family. Because, around here, Valentine's Day (or any holiday, for that matter) is not just for the adults….it's for the kids! And a special holiday breakfast is ALWAYS on the agenda. I knew I needed to make something that would feel special enough for Jorden and me, but would also appeal to the picky tastebuds of kids. The final verdict? Delicious White Chocolate Cherry Scones with Bigelow Tea. The perfect combination for any morning….but especially for Valentine's Day morning!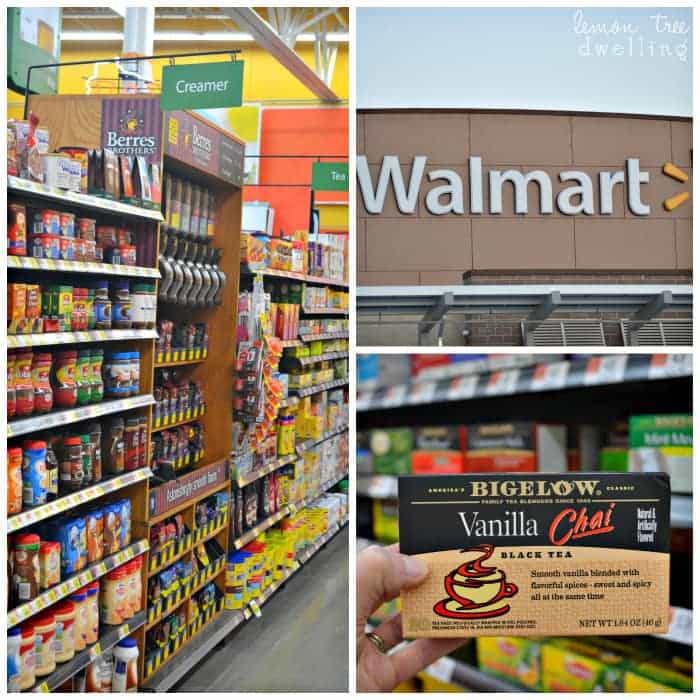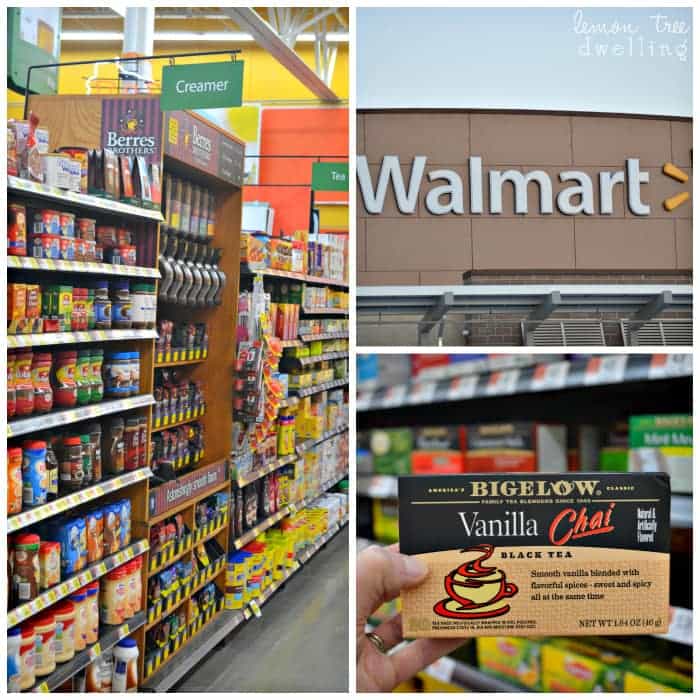 Having breakfast together as a family feels particularly important this year, of all years, because the girls are at an age where they feel really invested in how we celebrate holidays! Especially Ellia. She wants us to all be together, with a special dinner and family night consisting of a game or movie or snuggle time. So the fact that Greta was invited to a birthday party from 6-8 pm….on Valentine's Day….does NOT sit well with her! At all!!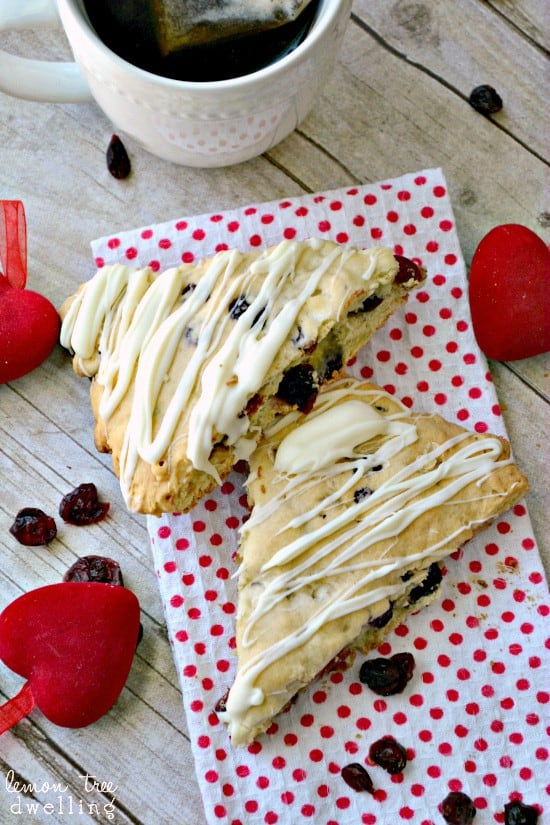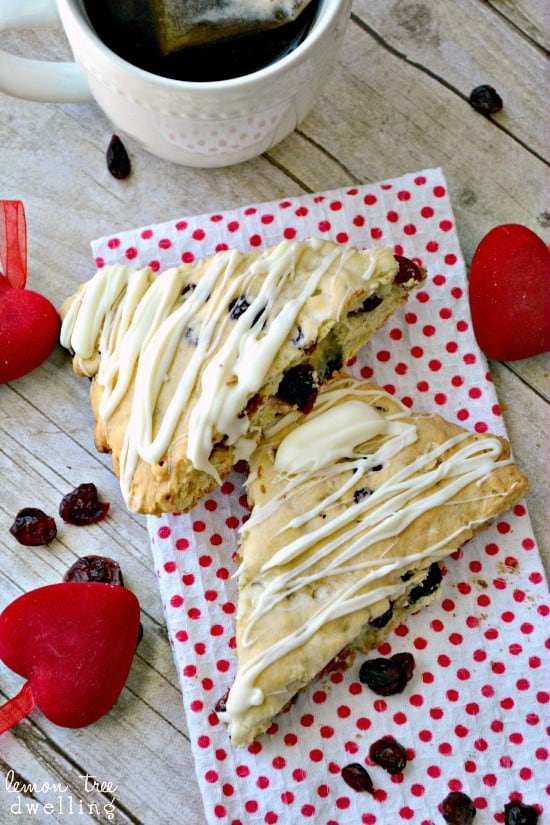 Not only does it feel unfair, because Greta has now been invited to about 6 birthday parties to her 2…..but, in her mind, this ruins Valentine's Day! Just yesterday she asked, "WHY would someone plan a birthday party on VALENTINE'S DAY??" And I knew we were doomed. Either that….or we really need to do up breakfast!! Which is why these scones are so perfect. They have everything you could want – dried cherries, almonds, white chocolate chips, a white chocolate drizzle – and they're soft and smooth and not too sweet.
White Chocolate Cherry Scones
And I'm pretty sure I picked the exact right tea to pair them with – Bigelow Vanilla Chai. Mmmmmmmm. It adds just the right amount of sweetness and spice, and complements the scones without overpowering them. I've always loved Bigelow Tea, but I recently had the chance to learn a little more about what makes it so great. It's a 3-generation, family-owned American company….and certainly, the quality tea speaks for itself. One of my favorite features of Bigelow teas? The fact that each bag is individually packaged in a foil pouch for freshness. You can REALLY tell the difference! I bought mine at Walmart….(which, by the way, has an incredible selection) and for a limited time, you can find Bigelow Tea bonus packs there….which means 4 extra tea bags (for free!) Count me in!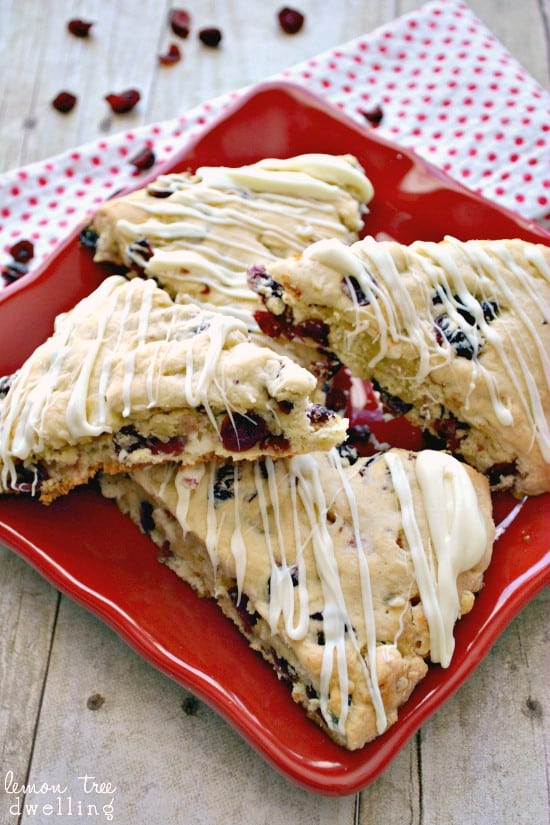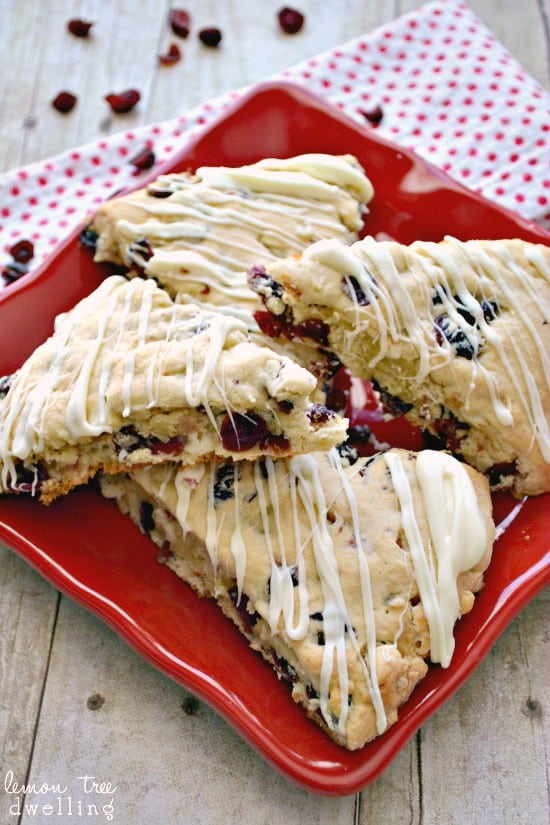 You know what will really make Ellia feel better about Valentine's Day? If we let her have her own little cup of tea. Ever since she had a tea party play date at a friend's house a few year's back, she's insisted that she LOVES tea! And of any tea to love, this delicious vanilla chai would be it! I can't wait for our special Valentine's Day family breakfast….which I'm hoping will leave everyone SO HAPPY that they forget about the injustice of Greta having a birthday party….at least for the time being.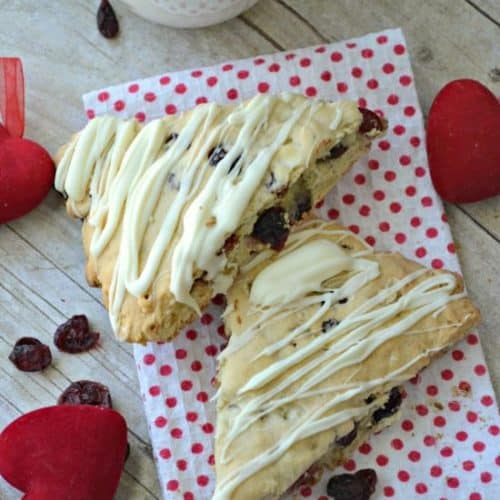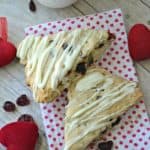 White Chocolate Cherry Scones & Bigelow Tea
Ingredients
1 3/4

c.

flour

1/3

c.

sugar

1 1/2

tsp.

baking powder

1/2

tsp.

baking soda

1/4

tsp.

salt

1/4

c.

butter

chilled

1/2

c.

buttermilk

1

egg

lightly beaten

1

c.

dried cherries

1

c.

white chocolate chips

divided

1/4

c.

sliced almonds
Instructions
Combine flour, sugar, baking powder, baking soda and salt in a bowl and mix well.

Cut the butter into the flour mixture until crumbly.

Add the buttermilk and egg and mix just until moistened.

Add 1 c. dried cherries, 1/2 c. white chocolate chips, and 1/4 c. sliced almonds and stir to combine.

Knead the dough lightly on a floured surface until no longer sticky. Add more flour if necessary.

Pat the dough into a 10 inch round on a baking sheet. Score into 8 wedges.

Bake at 400 degrees for 15 minutes or until golden brown.

Cool slightly; melt remaining 1/2 c. white chocolate chips and drizzle on scones.
For more inspiration and stories about Bigelow Tea, visit their Pinterest board!