Asian Noodles with Peanut Teriyaki Sauce makes for a quick and easy dinner. This healthy fish recipe whips together in minutes and is a delicious weeknight meal.
I am a member of the Collective Bias® Social Fabric® Community. This shop has been compensated as part of a social shopper amplification for Collective Bias and its advertiser.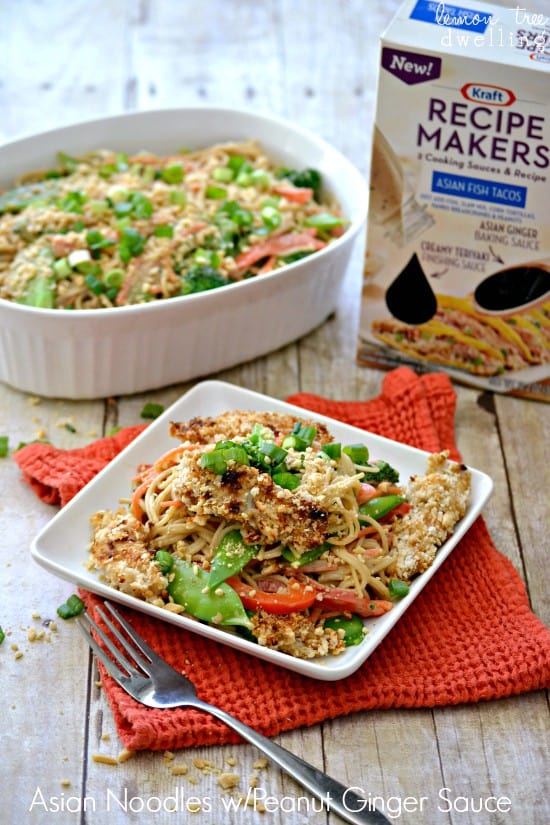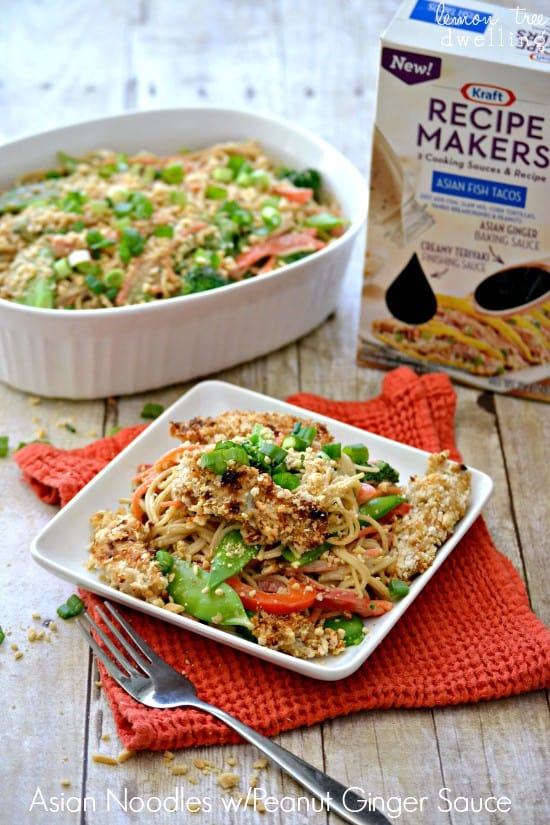 It has been nearly 3 years since we moved from our sweet little starter home into the home we lovingly refer to as our Lemon Tree Dwelling. For those of you who have read the story of our home, you know that it has been quite a project…a labor of love, if you will….starting even before we ever moved in. And in the past 3 years, SO MUCH has changed! We have transformed nearly every room in our house, we have created a yard where there were just pine trees and weeds and wildlife, and we have gone from feeling depressed about our decision to move, to feeling like it was one of the best decisions we've ever made!
But of all the things that have changed for us, one of the BIGGEST is that we now have neighbors we see and spend time with…..and neighbor kids we see OFTEN! And because they are often here on weeknights, after school is out and homework is done, I have become quite accustomed to the kiddos' requests for them to eat over. And, although I don't always say yes, I do like to say yes when I can…..so I try to have quick family meals on hand and ready to go!
Asian Noodles with Peanut Teriyaki Sauce – A quick dinner
Of course, we have our go-to easy favorites….like tacos, buttered noodles, quesadillas, and pizza….and, for the most part, it is easy to keep those ingredients on hand for last minute dinner guest requests. But I've learned over time that if I rely too heavily on a short list of favorites, even the favorites my kids LOVE, they'll eventually start to veto them! (Even the pizza!!) So….I've realized I need to get a little more creative. And I need to get a little more help!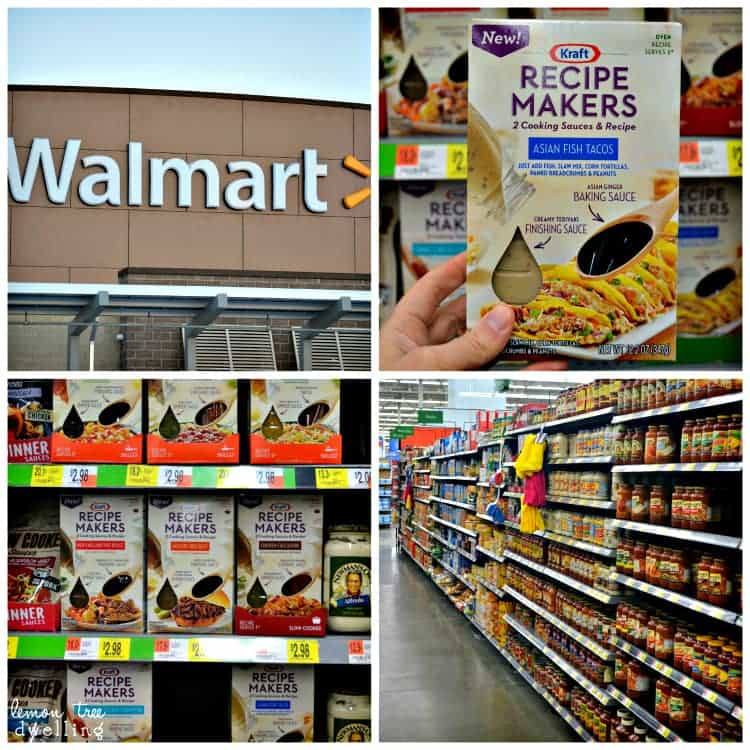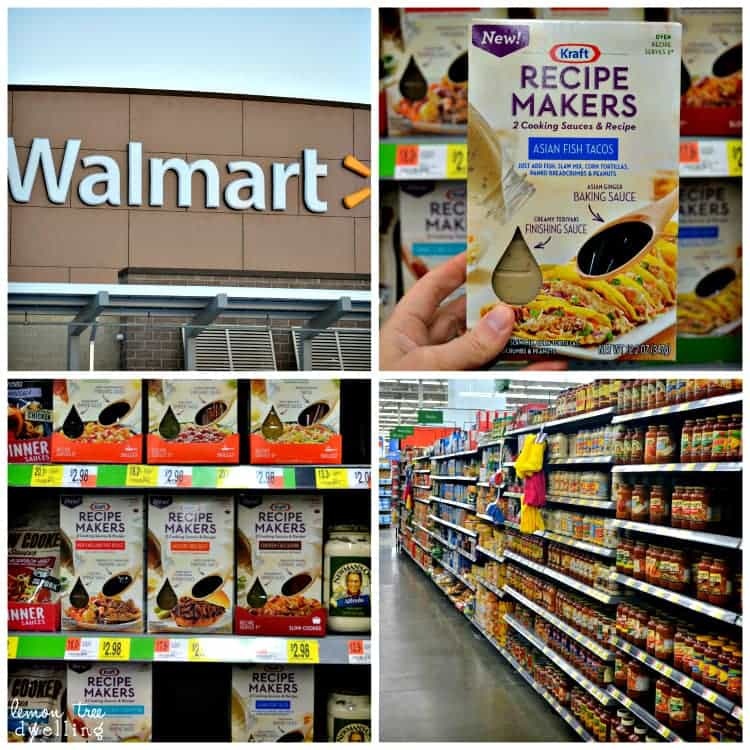 Enter: Kraft Recipe Makers. To be honest, this is the first time I've tried them….because I'm stubborn! I like to think dinner is something I can handle on my own (thank you very much) without the help of a recipe kit. And, certainly, I can. But every now and then it's fun (and necessary) to mix things up! To get out of your dinner rut and switch up the taco/buttered noodle/quesadilla/pizza rotation….if for no other reason than your kiddos will no longer eat what you're putting in front of them! So….on a recent trip to Walmart with #CollectiveBias…..I saw these #CookinComfort Recipe Makers, and I caved!
Asian Noodles with Peanut Teriyaki Sauce
In an attempt to go WAY outside our dinner rut, I decided to pick up the Asian Fish Tacos Kit. Sure, they're tacos….but they're Asian! And they're fish! Definitely much different than the traditional chicken or ground beef tacos from our rotation. I was intrigued! And then….just to really mix things up….I decided not to do tacos at all. (Remember, I'm stubborn! I wanted to feel like this dinner was still up to me!!) I decided, instead, to make a noodle dish with tons of fresh veggies and a creamy peanut ginger sauce. I've always loved Asian noodles but, for some reason, have never made my own. Until now.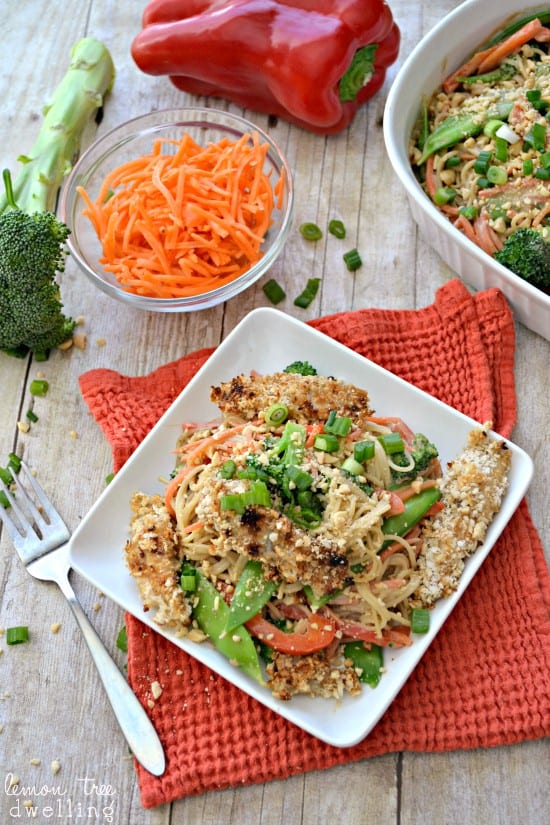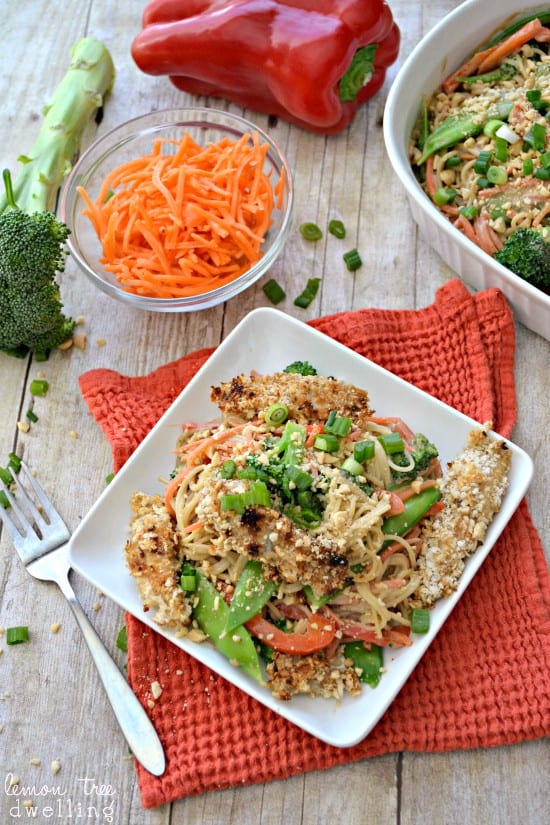 Since the Recipe Makers kit comes with two different types of sauce, I already knew that whatever I did would be delicious….which gave me the freedom to get creative! I used the ginger sauce on the fish, as suggested, and combined the teriyaki sauce with soy sauce and peanut butter. When I mixed it with the noodles, the veggies, the fish, and some extra chopped peanuts, it was AMAZING! Seriously delicious. And totally different from our usual. Now that I've opened the door to help….I can't wait to try all of the different varieties! Of course, I'm sure I won't just be able to follow the package instructions (I'm WAY too stubborn for that) but at least I'll get some new inspiration! And best of all, it will be easy enough to have on hand for the next time the neighbors want to stay for dinner…..which might just be tomorrow!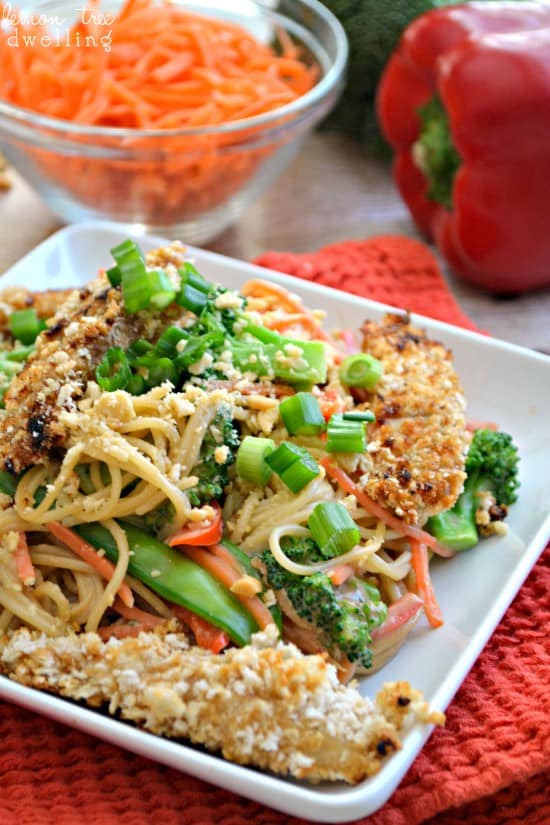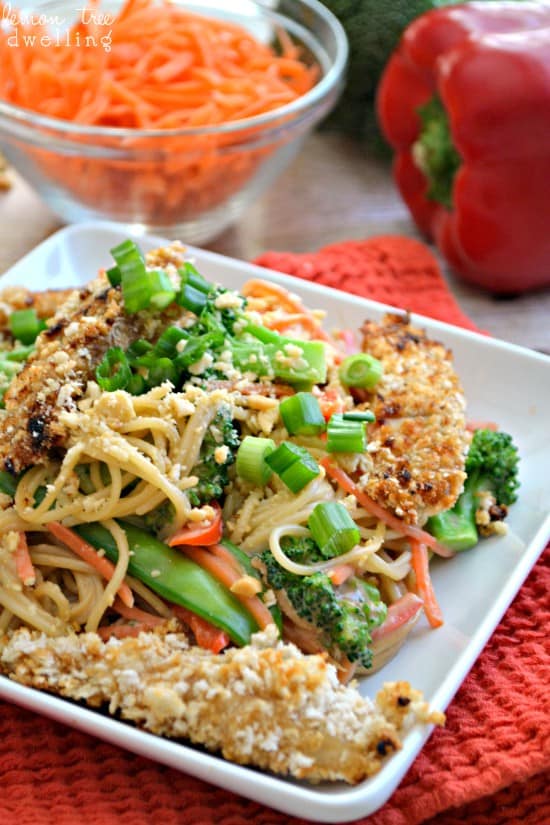 Asian Noodles with Peanut Teriyaki Sauce Recipe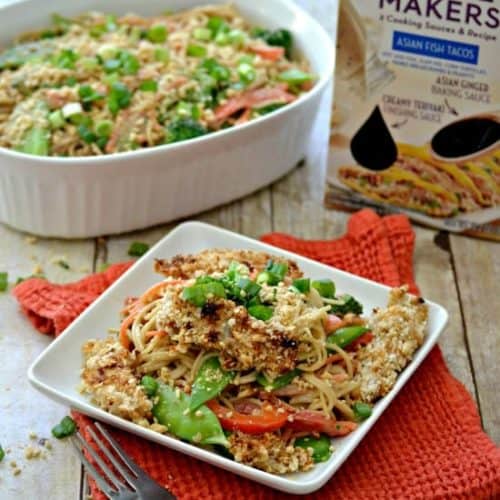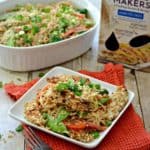 Asian Noodles with Peanut Teriyaki Sauce
Ingredients
1

Kraft Recipe Makers Asian Fish Taco Kit

1

lb.

tilapia filets

1 1/2

c.

panko bread crumbs

1/2

lb.

vermicelli or other long

thin pasta

3

oz.

snow peas

approx. 2 c.

1 1/2

c.

broccoli florets

1

c.

shredded carrots

1/2

large red pepper

thinly sliced

2

scallions

sliced

1/2

c.

chopped peanuts

1/4

c.

creamy peanut butter

2

Tbsp.

soy sauce
Instructions
Prepare fish according to Recipe Maker package instructions.

Cook vermicelli in a large pot, adding snow peas, broccoli florets, shredded carrots, and red pepper to pot for the last 2 minutes of cooking time.

Drain noodles and vegetables. Transfer to a large serving bowl.

Combine creamy teriyaki sauce from Recipe Maker package with 1/4 c. peanut butter and 2 Tbsp. soy sauce.

Pour sauce over noodles and vegetables and stir to combine.

Top with breaded tilapia, sliced scallions, and crushed peanuts.