Banana Split Dump Cake – with all the flavors of a Banana Split – is the perfect no-melt alternative to the real thing!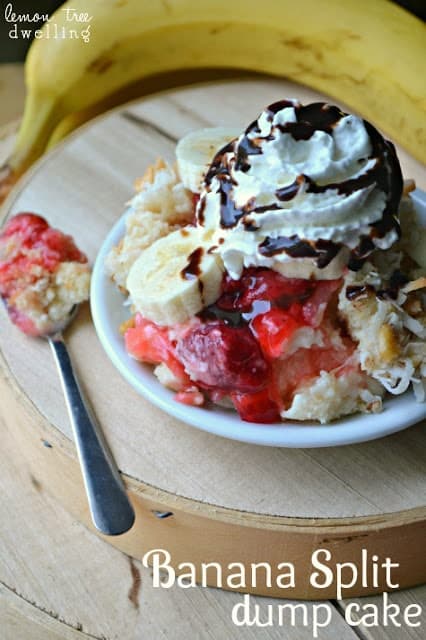 Is it just me, or do kids seem to have no end to their desire or love for ice cream?? Seriously! I feel like not a day goes by when my kids DON'T ask for ice cream….especially when it's hot outside and their favorite thing to do is open the freezer to stand in the doorway. (Remember doing that as a kid?) And while they're standing there, of course, they just happen to see the ice cream sitting there….and suddenly they just HAVE to have it! Every time! Of course, my job as a parent is to say NO at least half the time, and I do….although I have to admit the other day they had ice cream for breakfast!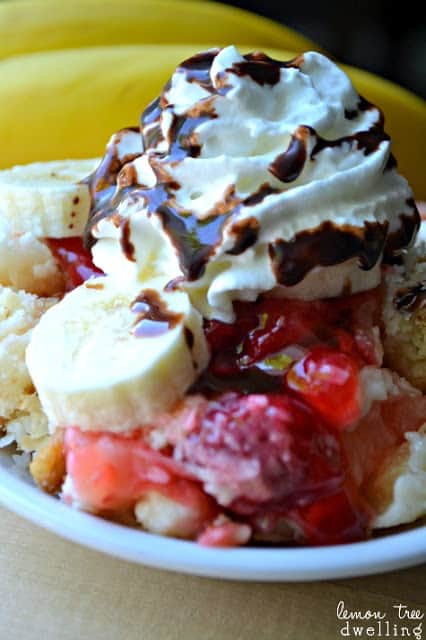 Let me explain. It's simple, really….the kids wanted smoothies, we were out of yogurt, and vanilla ice cream seemed like a logical alternative. The "smoothies" were delicious….except, of course, they weren't really smoothies at all. They were milkshakes!! And my kids, of course, thought it was the BEST DAY EVER….because Mom let them have ice cream for breakfast. They'll probably remember the "ice cream for breakfast" day forever, because that's what kids do! They store fun memories involving ice cream…I'm convinced!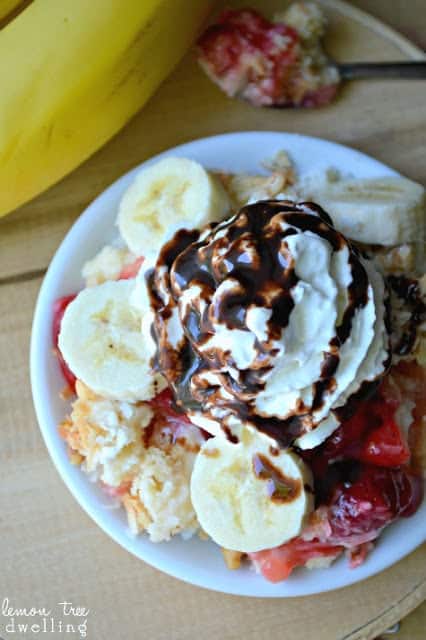 I have my own repertoire of fun ice cream memories from my childhood, like riding on the bike trail with my sisters to Le Duc's, or visiting friends in Minnesota and getting McDonald's ice cream cones that had to be at least 6 inches high, or my mom letting us make giant sundaes one time when my dad was out of town….and then eat them with a giant spoon! One of my craziest memories involving ice cream is from a friend's birthday party at a place called The Chocolate Factory, where they made the world's craziest ice cream sundae: a scoop of every flavor of ice cream, plus a drizzle or sprinkle of every topping, plenty of whipped cream, and a handful of cherries on top. Every kid was given a spoon….and we dug in! Definitely questionable, when I look back…..but SO FUN in the moment!!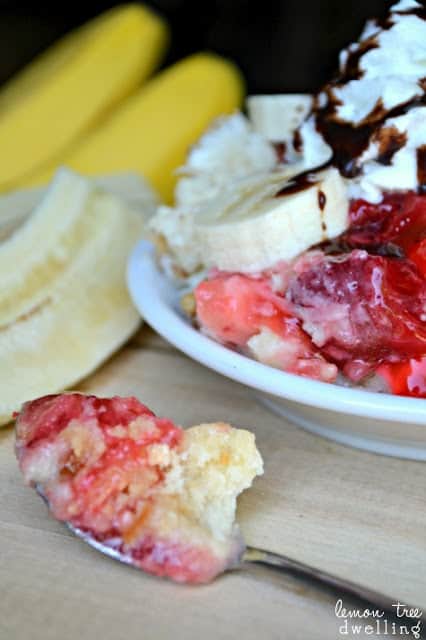 AND….the inspiration for this cake! If The Chocolate Factory can dump a bunch of things in a bowl and call it a sundae, then why can't I dump a bunch of things in a pan and call it a cake? Of course, dump cake is far from an original idea….but I thought it would be fun to turn traditional dump cake into an ice cream sundae-inspired dessert. Thanks to my days working at Murf's Frozen Custard in high school, I know exactly what goes into a true banana split: vanilla ice cream, strawberries, pineapple, chocolate syrup, crushed nuts, whipped cream, and, of course, bananas!! Since half of these ingredients are basic dump cake staples, it was a no-brainer! (I just dumped the rest of the ingredients right on top!) So here it is – Banana Split Dump Cake – inspired by many memories of ice cream. Have you made any ice cream memories of your own this summer??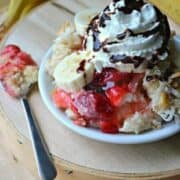 Banana Split Dump Cake
Cook Time
1
hour
5
minutes
Total Time
1
hour
10
minutes
Ingredients
1

21 oz. can strawberry pie filling

1

20 oz. can crushed pineapple (don't drain)

1

white cake mix

dry

1

stick margarine

cut in pieces

1

c.

coconut

1/2

c.

crushed nuts

For topping: sliced bananas

whipped cream, chocolate syrup
Instructions
Spread the strawberry pie filling in a greased 9x13 inch cake pan*.

Spoon on the pineapple, then the dry cake mix, then the margarine.

Top with coconut and crushed nuts.

Bake at 325 degrees for 60-75 minutes. Serve warm or cold.

Before serving, top individual pieces with sliced bananas, whipped cream, and chocolate syrup.

*I made mine in a round Corningware dish, but traditional dump cake is made in a 9x13 inch pan.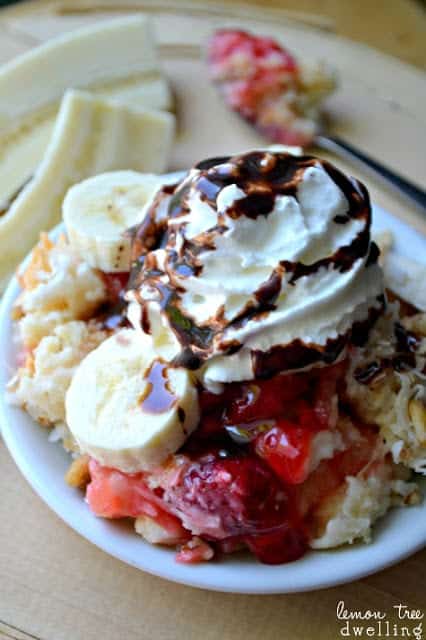 You might also enjoy these other fun summer treats: