I partnered with Pick 'n Save to bring you this recipe, but all ideas and opinions are my own.
Taco Pot Pie combines two classics in one delicious dish! All the taco flavors you love in a flaky, buttery crust that's sure to become a new family favorite!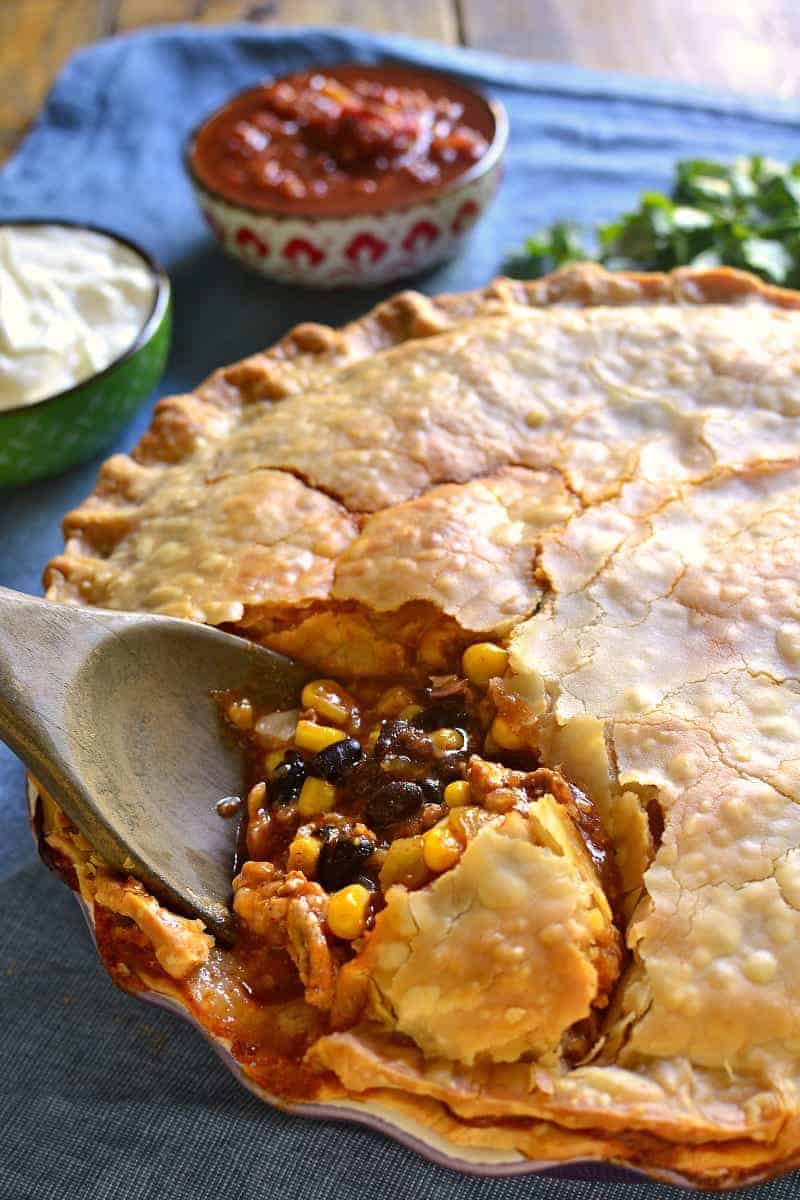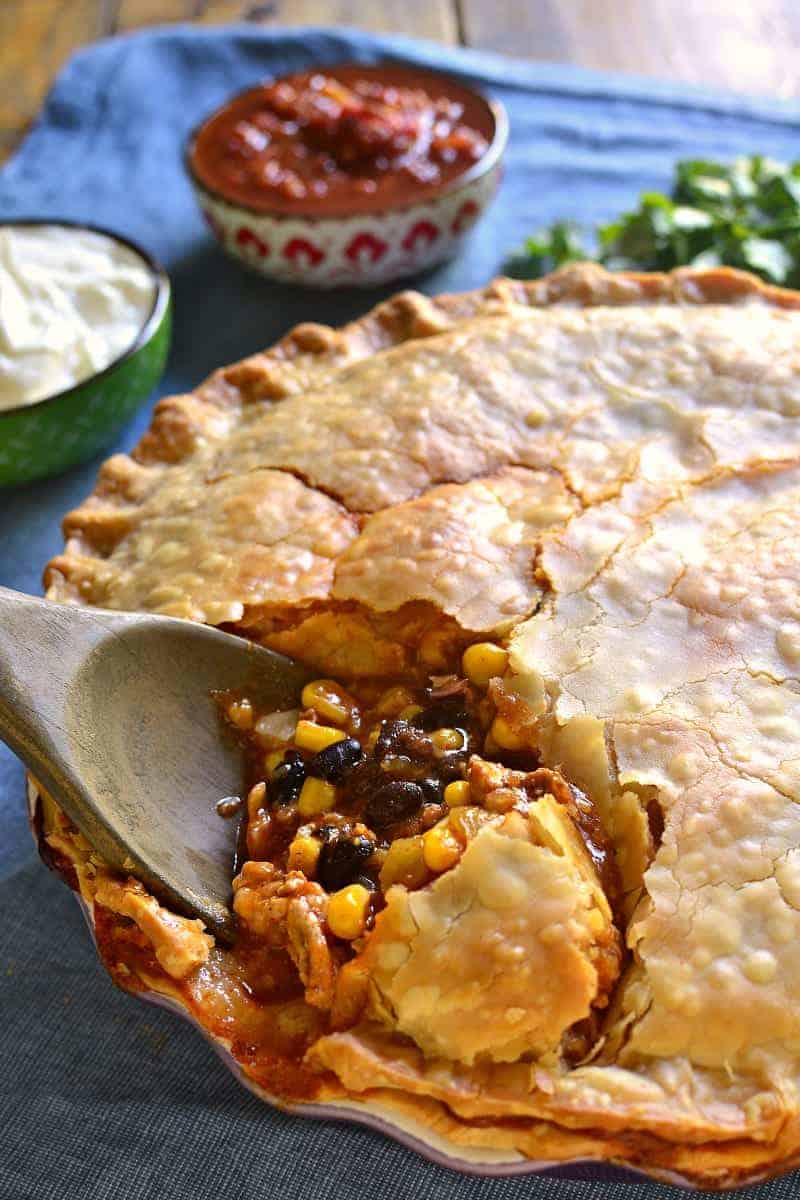 So….I have to admit. Ever since the school year started, dinner time has been a little rough around here. And by a little, I mean a LOT! Because the start of the school year also brought with it the start of soccer season, which means soccer practice two nights a week on top of the piano lessons we have year round. And let's just say it's really messing with family dinner!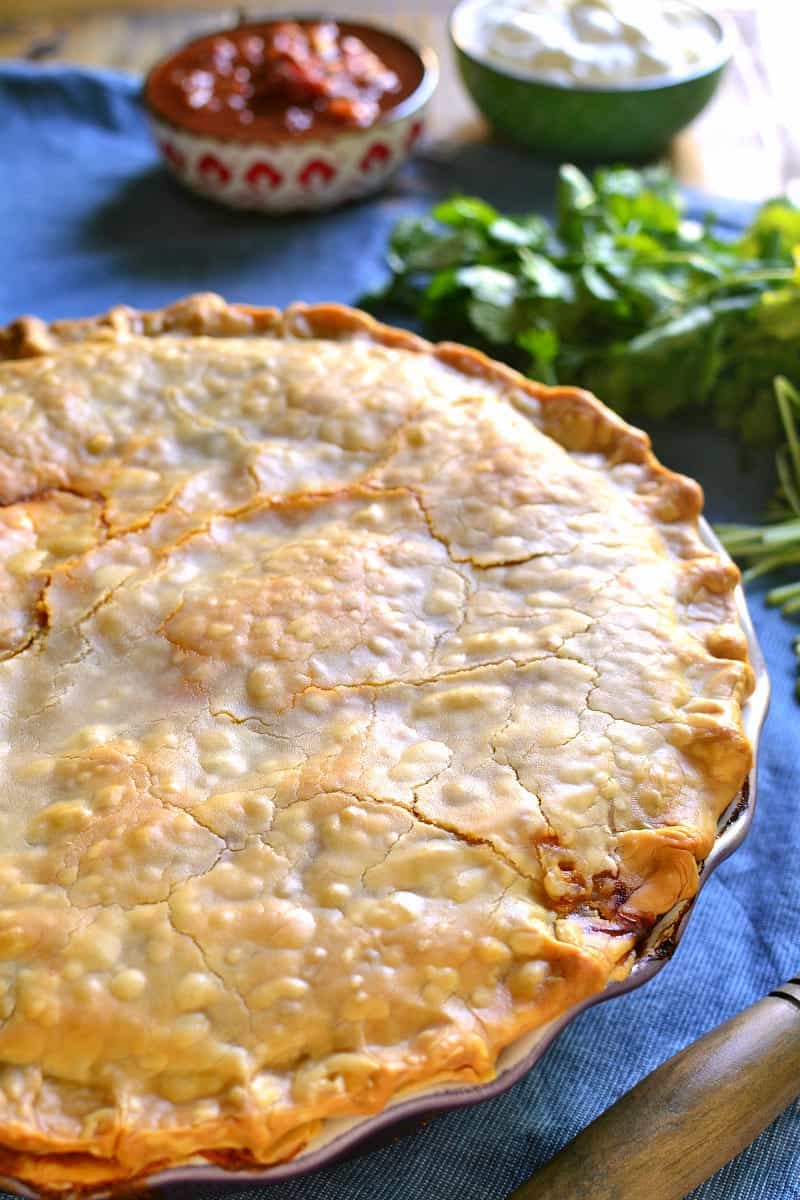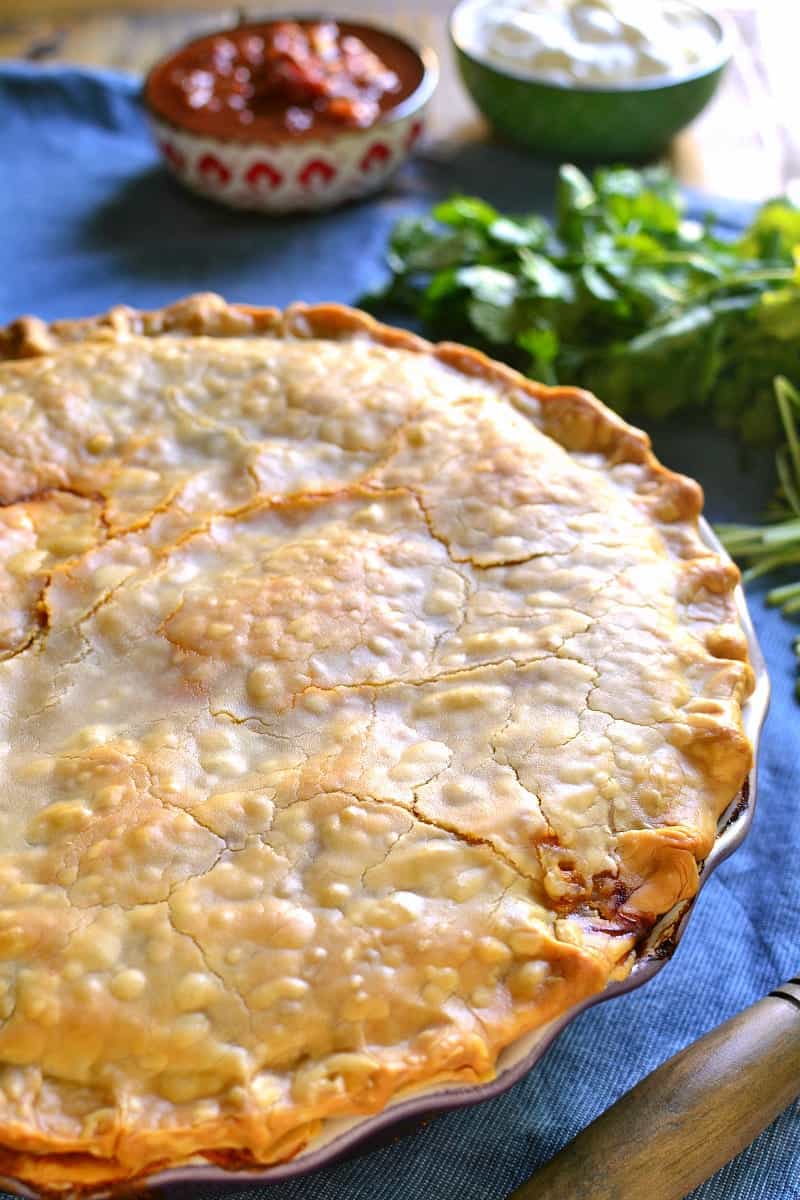 I'm not sure if it feels more crazy than it has in the past….or if I'm just not remembering….but I never would have said that eating dinner together as a family is a rare occurrence. Until now. And you know the most ironic part about it? This is the first year our school is moving to a "some homework is optional" approach – in order to give families more time together at night. I like the idea…in theory…but until we can move to a "soccer practice is optional" approach, it looks like family time will still be reserved for weekends. When we're not at soccer, of course.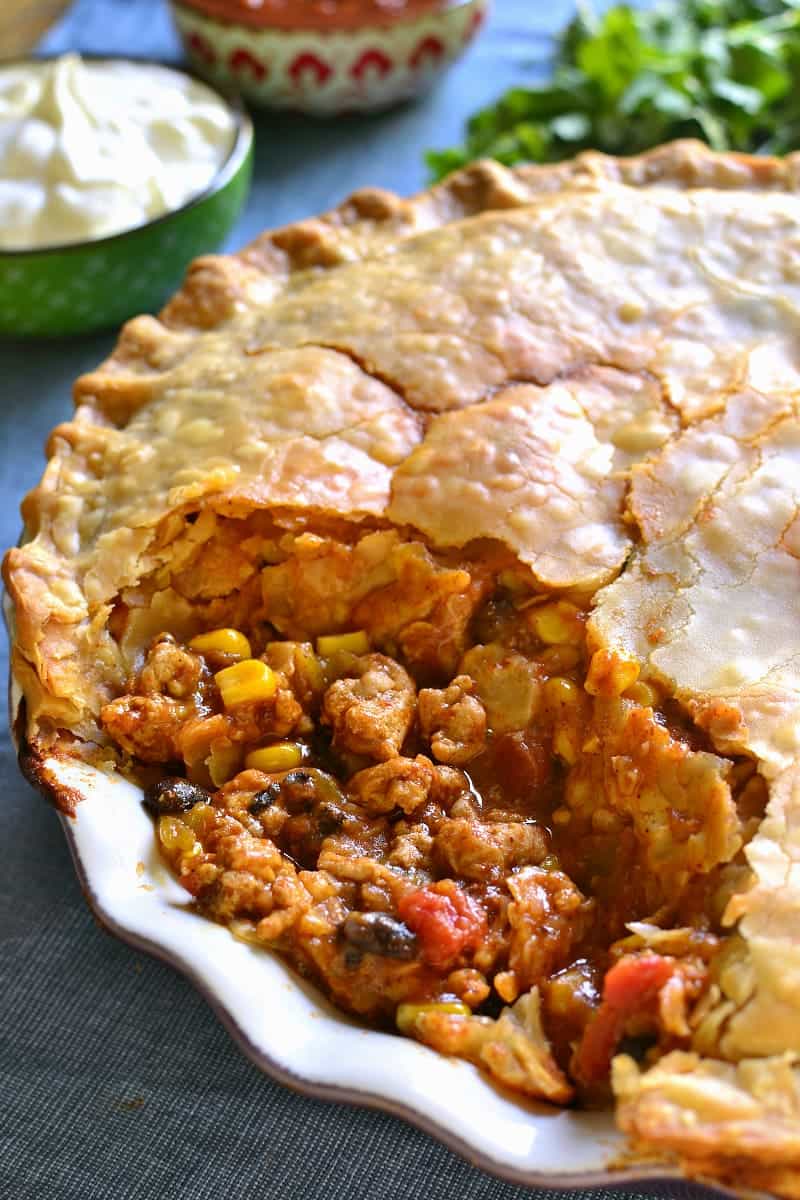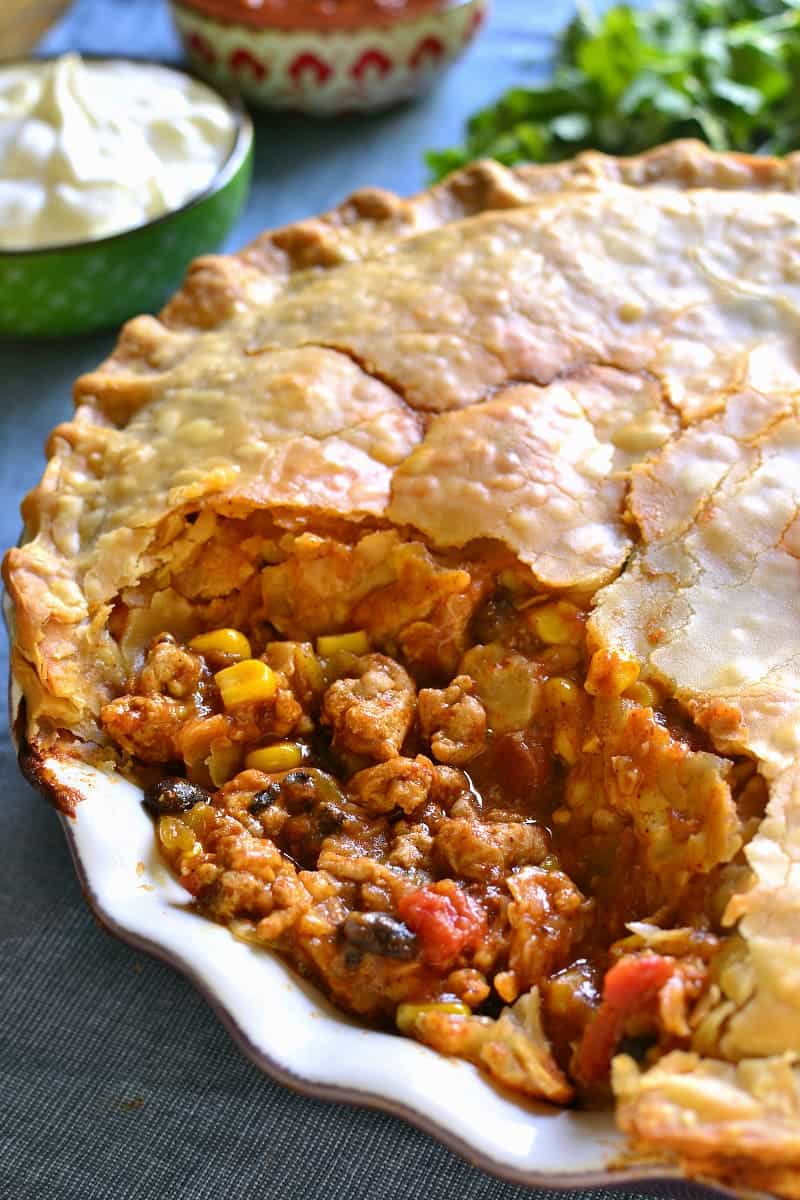 So what does this mean for me? Well, clearly I need to get my head in the game. In terms of how to make the most of a crazy weeknight schedule…particularly when it comes to dinners!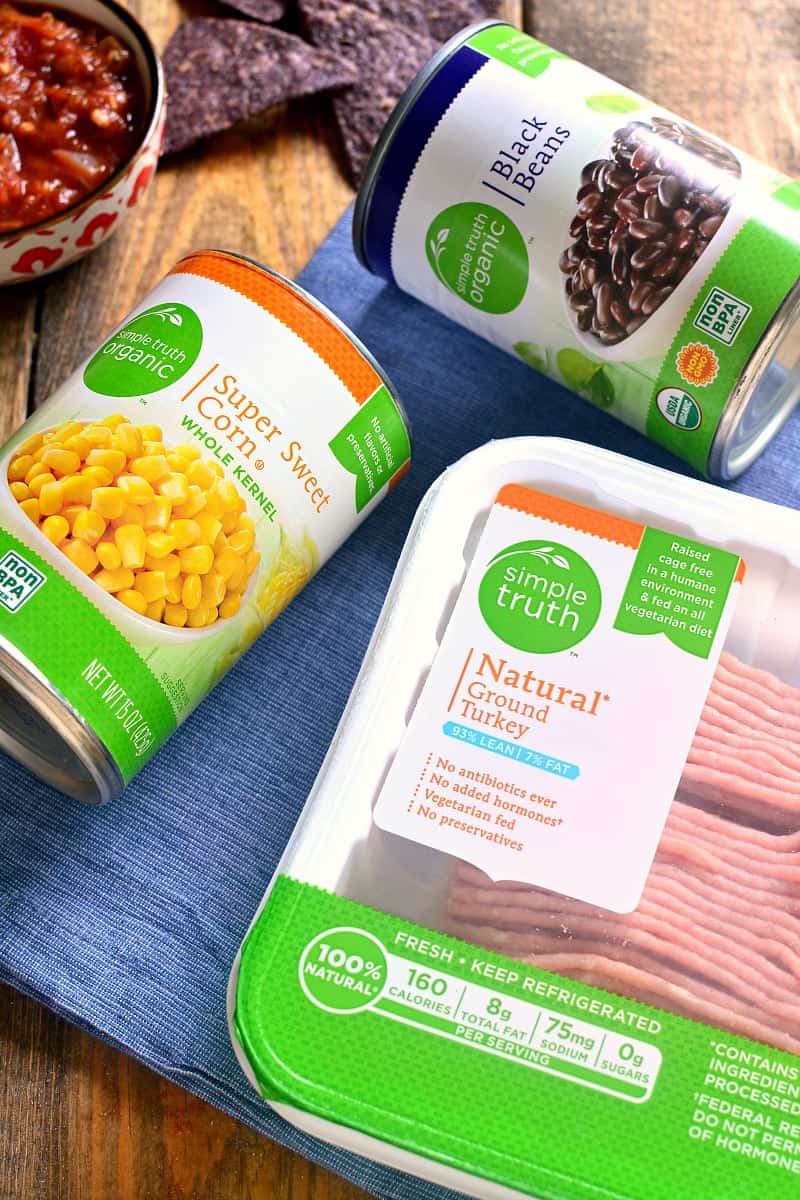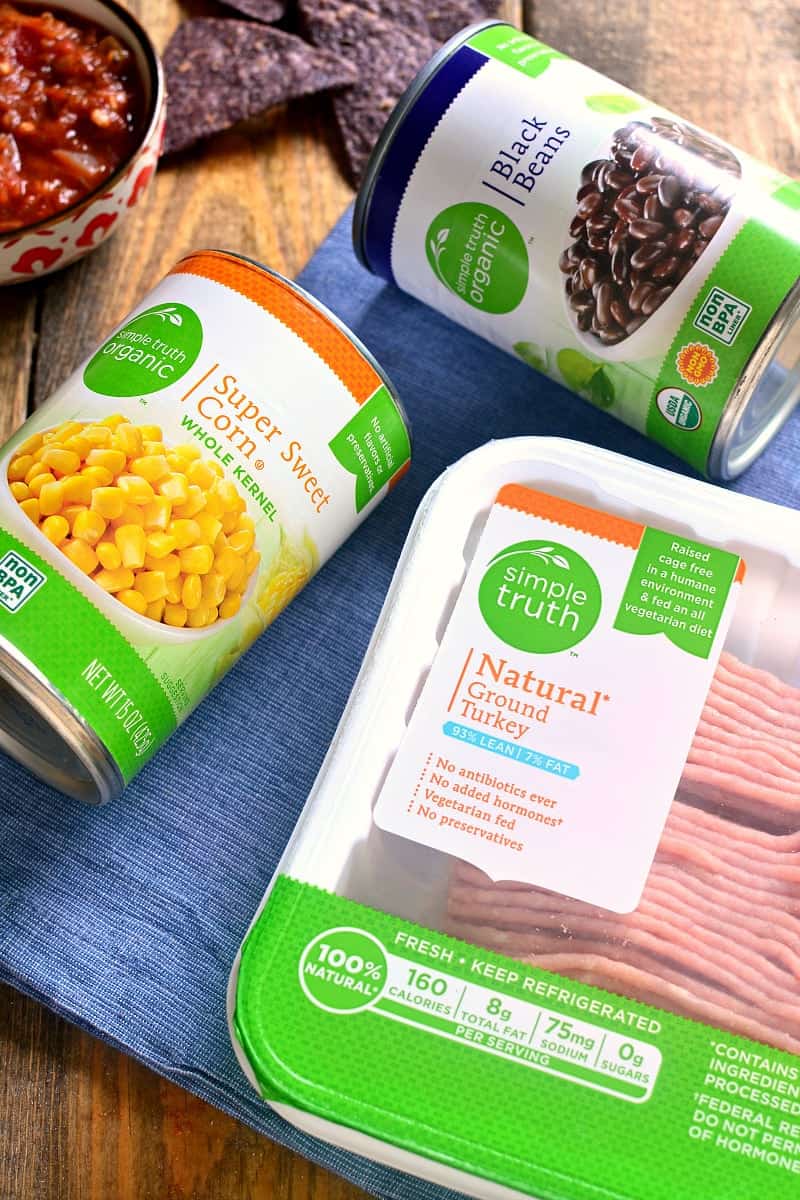 If you're anything like me, when life is busy, it's really tempting to just pick up a pizza or whip up a box of mac & cheese. And sometimes we do. But. There's only so much pizza and mac & cheese my kids (and I) can handle…..and then I'm forced to get creative. And practical. And come up with recipes my family will love, that also work with our schedule!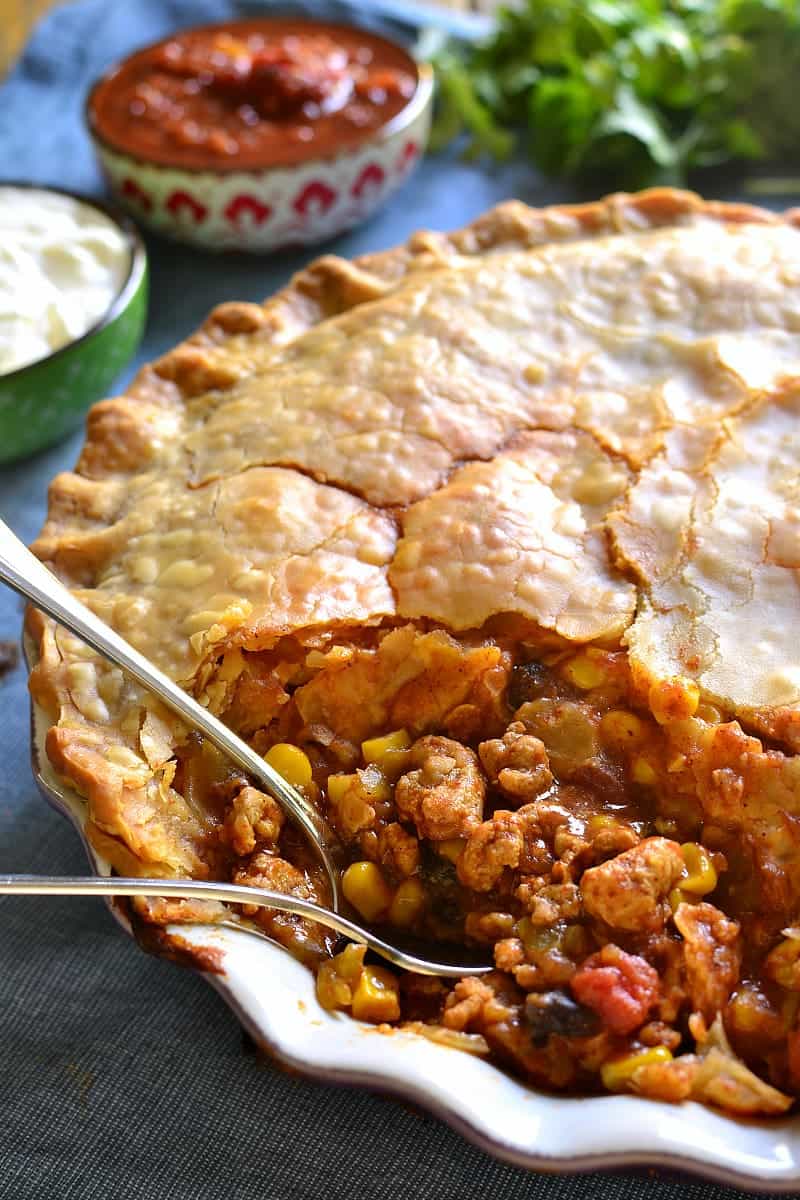 Introducing: Taco Pot Pie! All the flavors of tacos (one of my family's absolute favorites) in a delicious pot pie. Easy to whip up, totally able to be made in advance, and hot out of the oven in just 30 minutes. In other words, a life saver!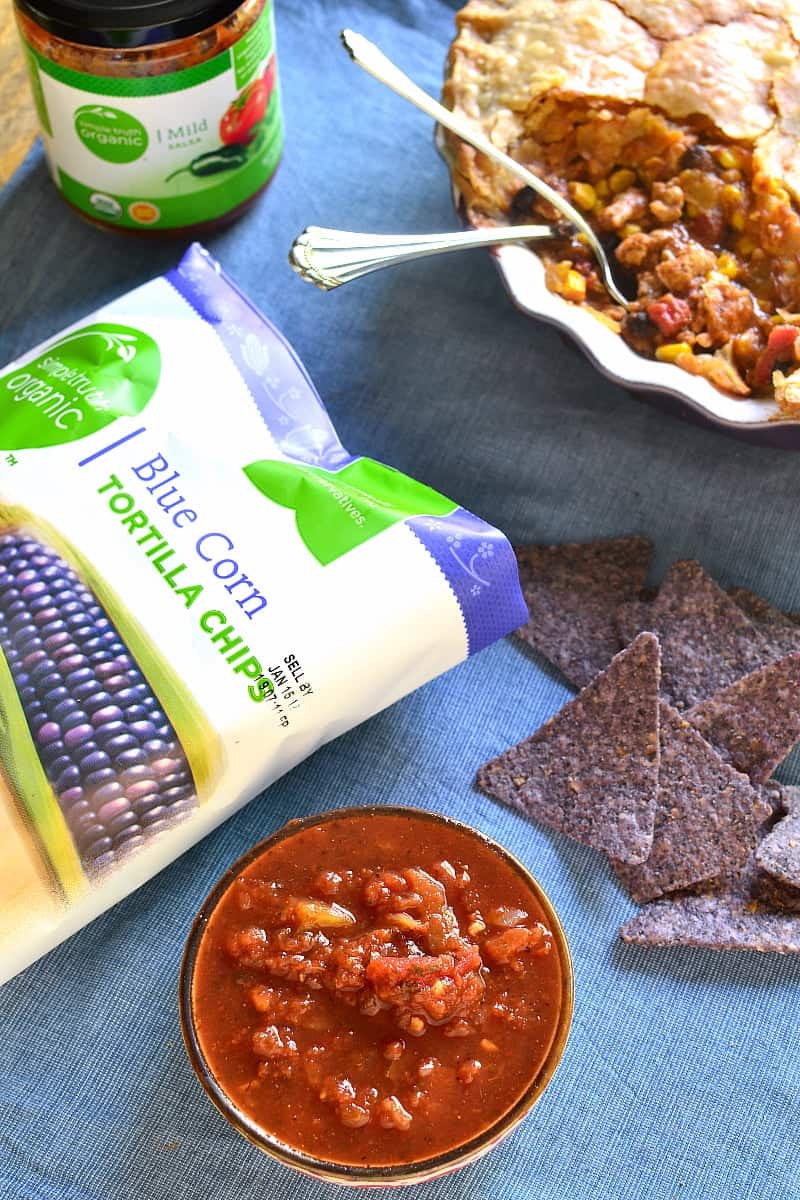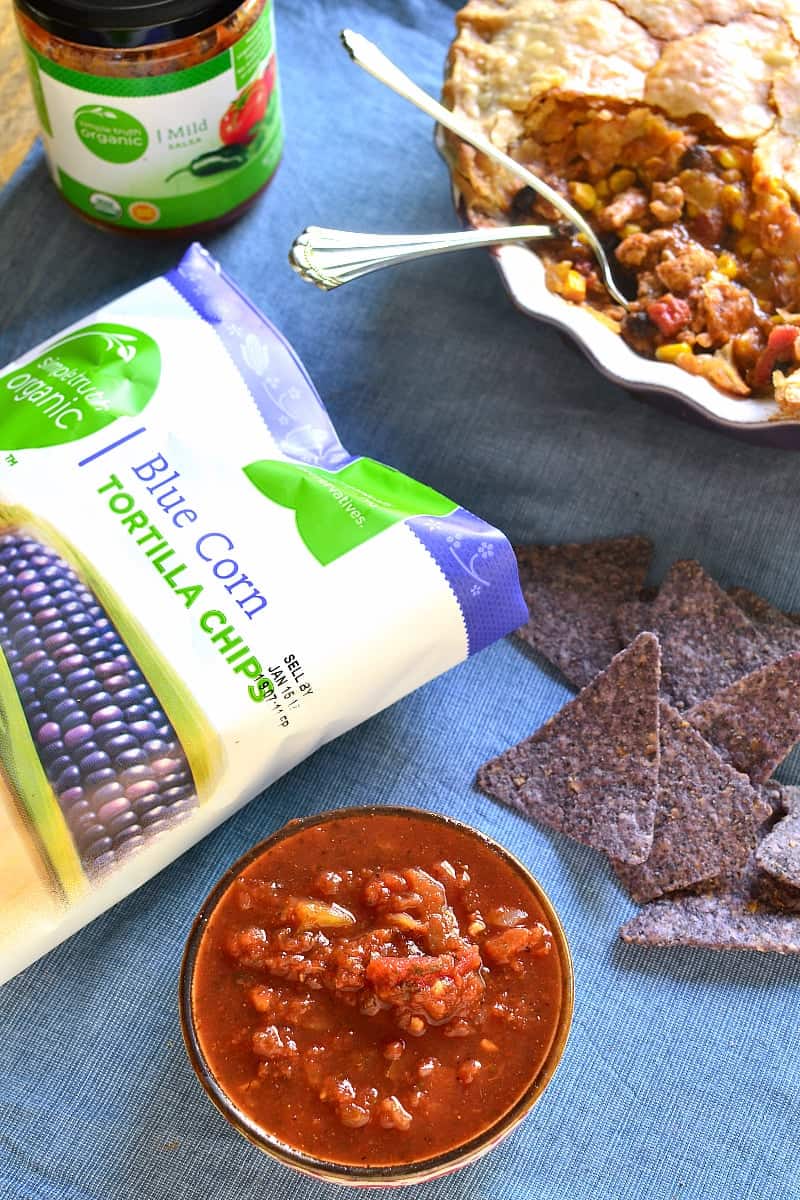 And even better when you can make it with ingredients you feel good about, like Pick 'n Save's new Simple Truth brand. I've been seeing their products around the store, and finally decided to give them a try. This Taco Pot Pie is made with Simple Truth ground turkey, black beans, and corn….and I must say I'm SOLD! Simple Truth products are honest, easy to understand, and affordable….not to mention delicious! Which makes dinner feel (and taste) better!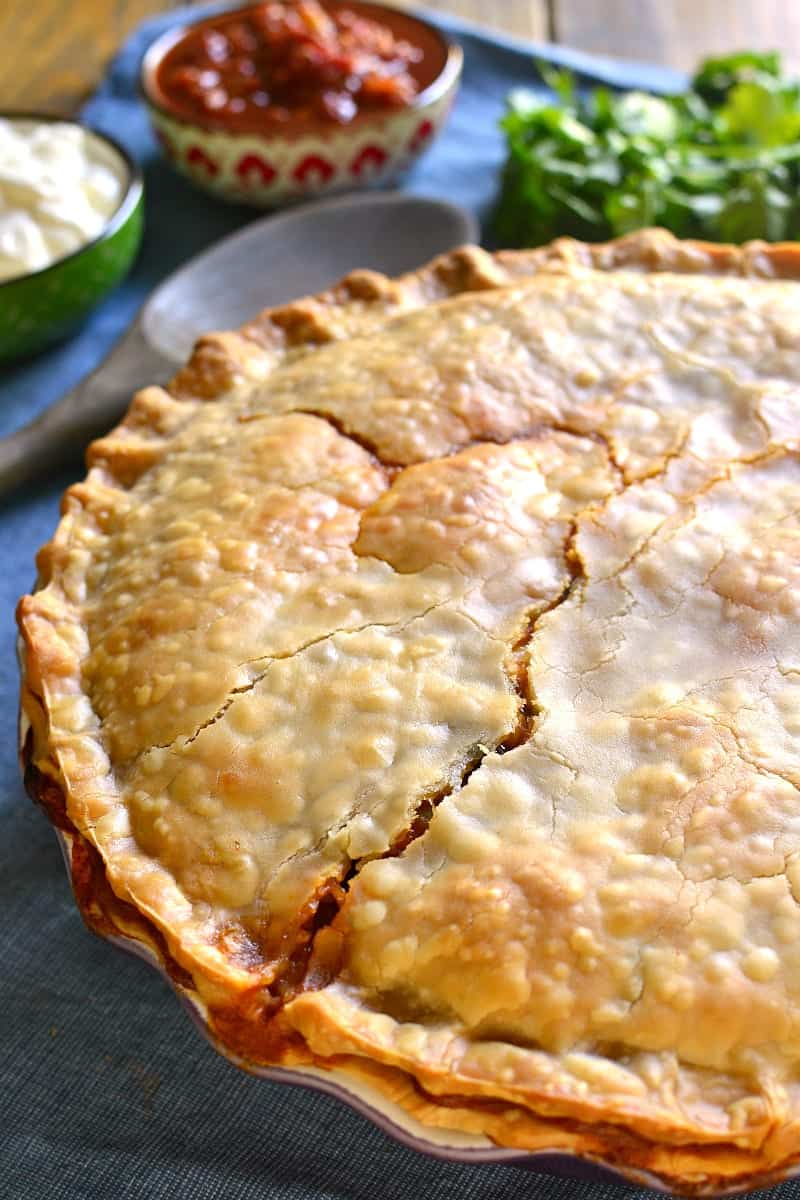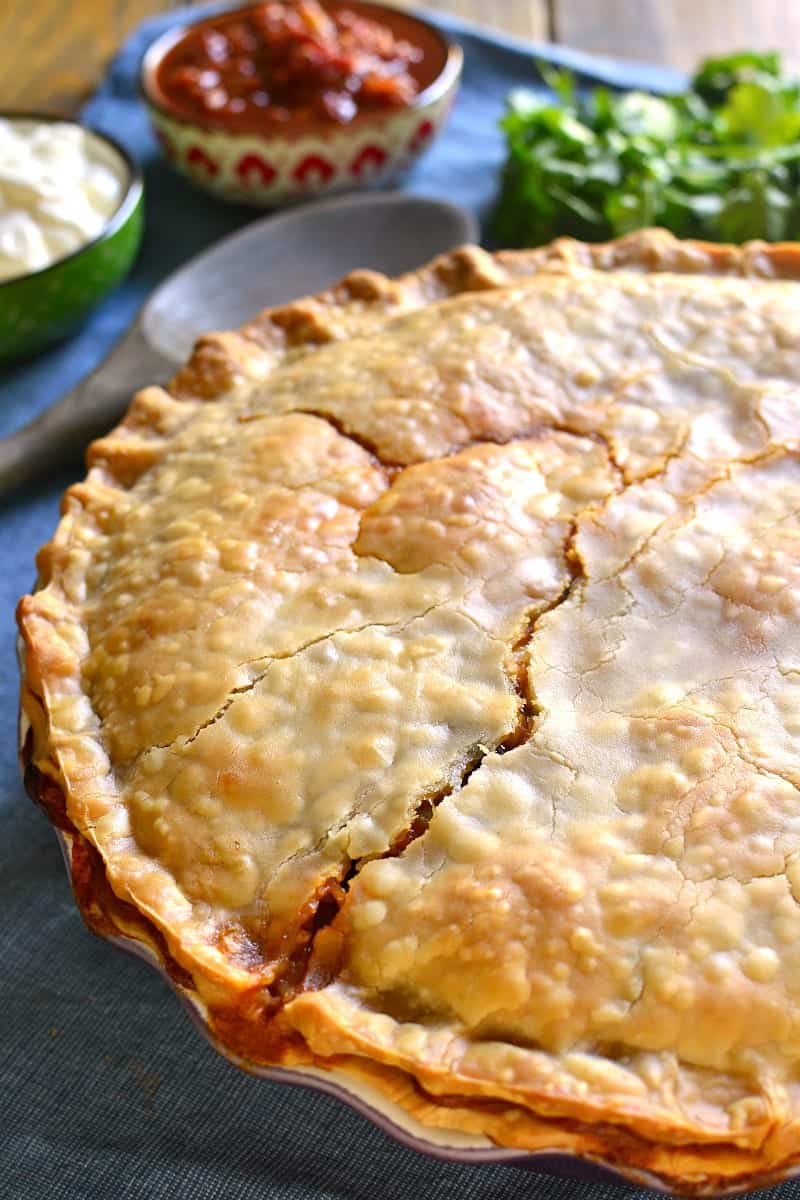 And since I KNOW I'm not the only one with a crazy busy weeknight schedule, this Taco Pot Pie is not just for my family, it's for yours, too! I hope you give it a try….and love it as much as we do!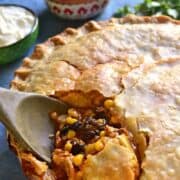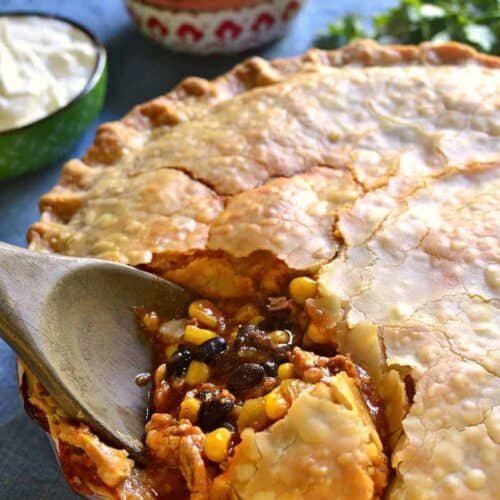 Taco Pot Pie
Taco Pot Pie combines two classics in one delicious dish! All the taco flavors you love in a flaky, buttery crust that's sure to become a new family favorite!
Ingredients
1

box refrigerated pie crust

contains 2 crusts

1

lb.

Simple Truth ground turkey

1/2

c.

diced onions

2

1 oz. packages taco seasoning

1

c.

water

1

15 oz. can Simple Truth corn, drained

1

15 oz. can Simple Truth black beans, drained

1

15 oz. can diced tomatoes

1

4 oz. can diced green chilies

8

oz.

shredded cheddar-jack cheese
Instructions
Press 1 crust into the bottom of a deep dish pie plate. Set aside.

In a large skillet, brown ground turkey with diced onions until turkey is no longer pink.

Add taco seasoning and water; bring to a boil and simmer 5 minutes or until sauce has thickened.

Transfer turkey mixture to a large mixing bowl.

Add corn, black beans, tomatoes, green chilies, and cheese.

Stir to combine.

Pour mixture into unbaked pie crust.

Top with second pie crust and pinch edges to seal.

Cover and refrigerate until ready to bake OR bake at 425 degrees for 30 minutes or until crust is golden brown.

Top with sour cream, cilantro, and salsa as desired.