Sun Dried Tomato, Spinach and Goat Cheese Pasta is a delicious Mediterranean dish that will have you wishing for more! A simple twist on traditional pasta, this vegetarian dish is perfect for lunch or dinner!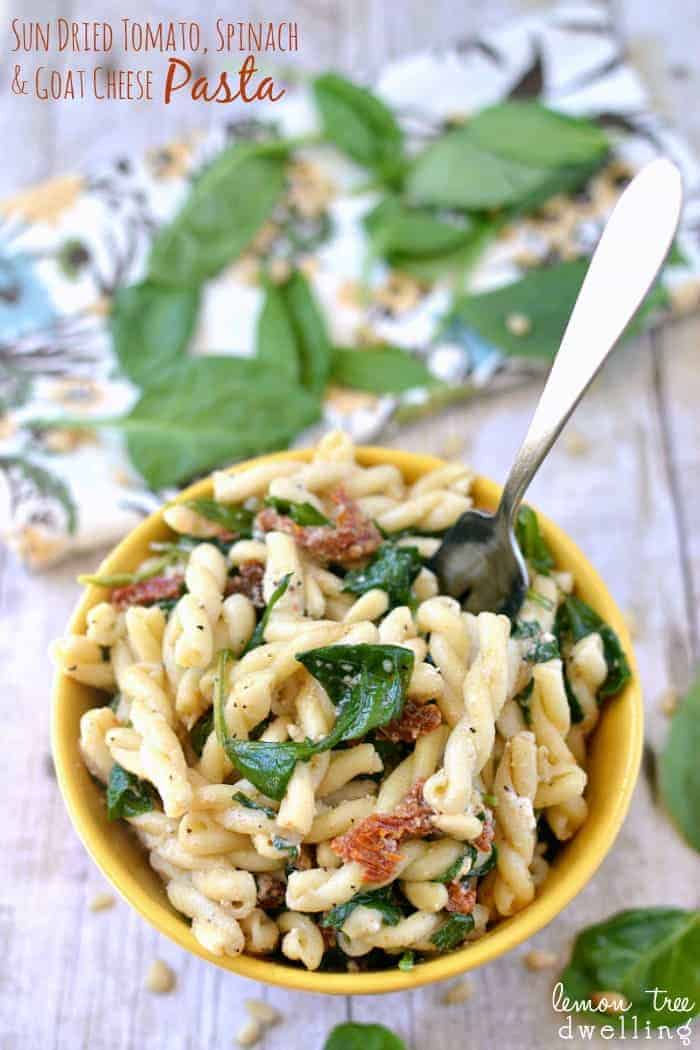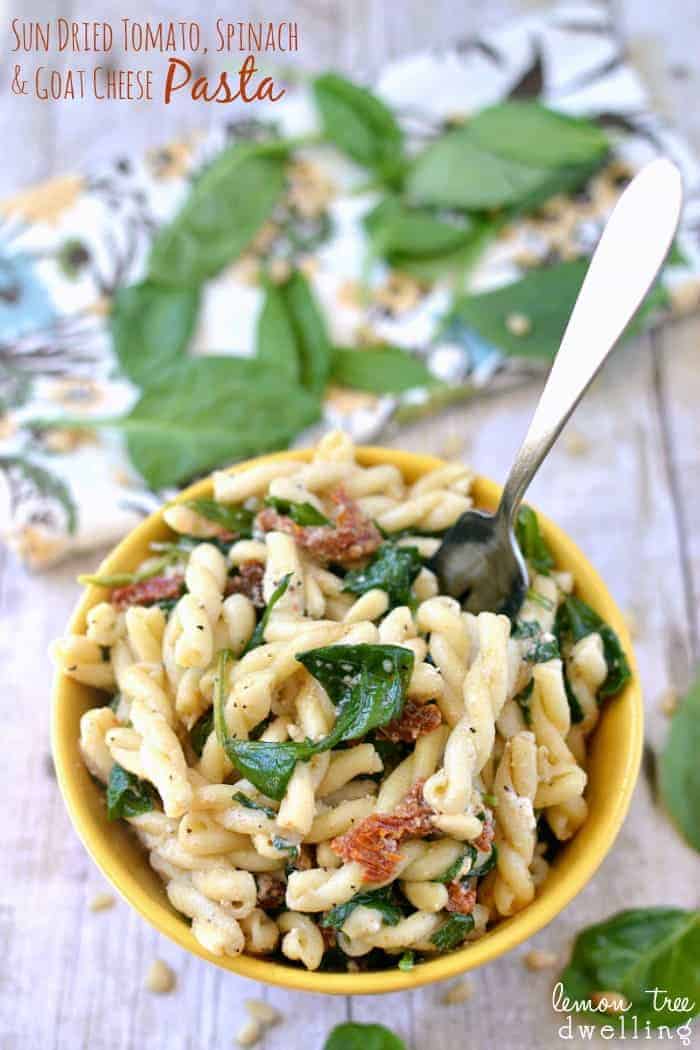 I've always kind of prided myself on being an adventurous eater. I love to try new things, particularly when it comes to new ethnic cuisines, different spices, bold flavors, and anything from Trader Joe's. Ha! (I'm only half-kidding.) But here's the deal. As adventurous as I like to consider myself, there are a decent number of things I just don't/won't eat. Namely, meat.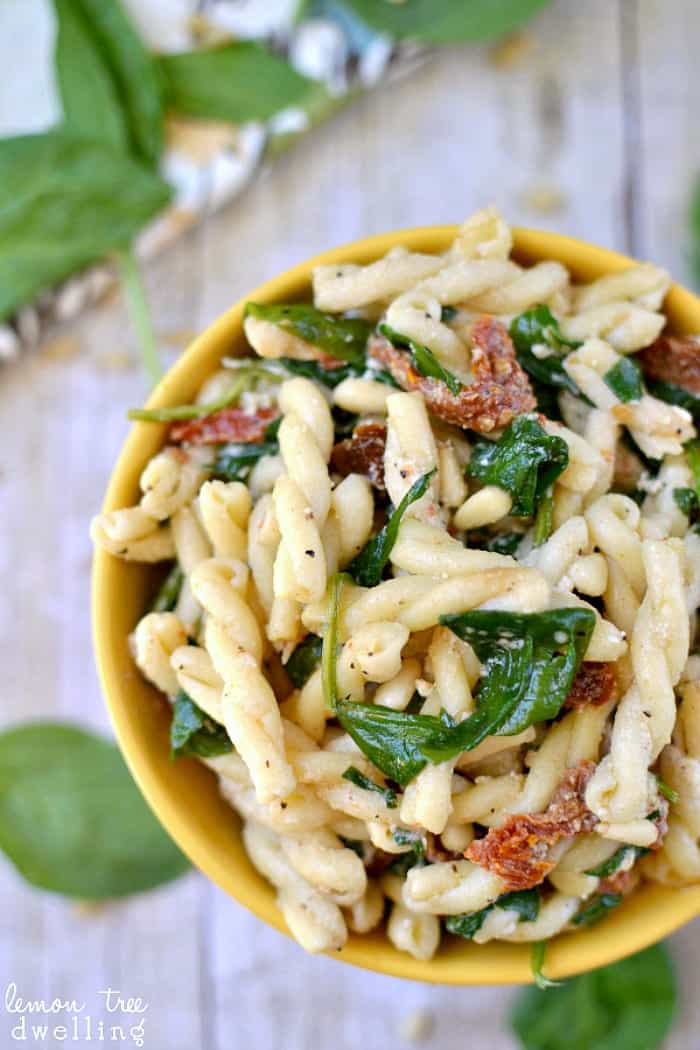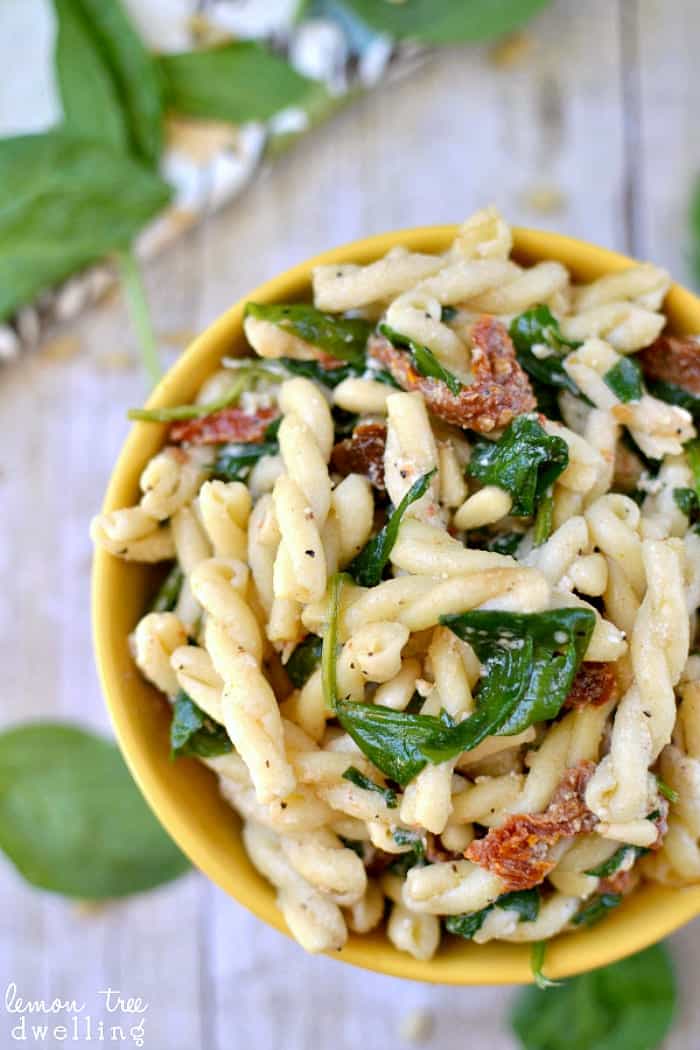 I've probably talked before about the fact that I was a vegetarian for a good chunk of time – about 10 years – and even though I eat meat now, there are still some types I can't even try. Like beef. Or veal. Or really anything other than chicken, turkey, and an occasional piece of pork. Which means that when I go out to eat, I automatically eliminate half of the menu! So much for being ready to try anything, right?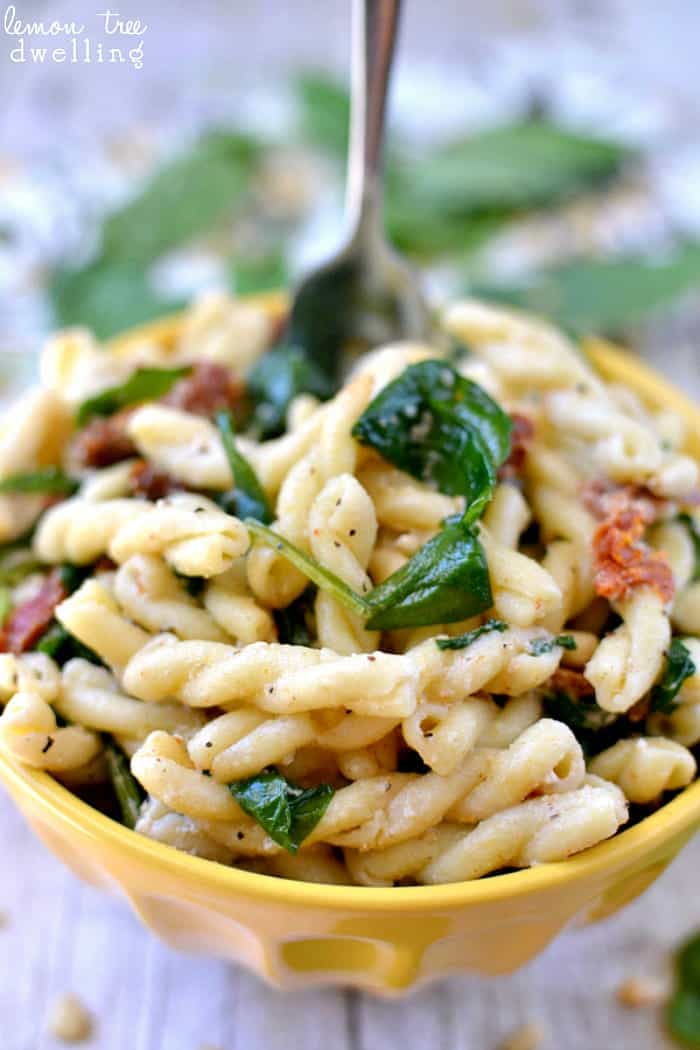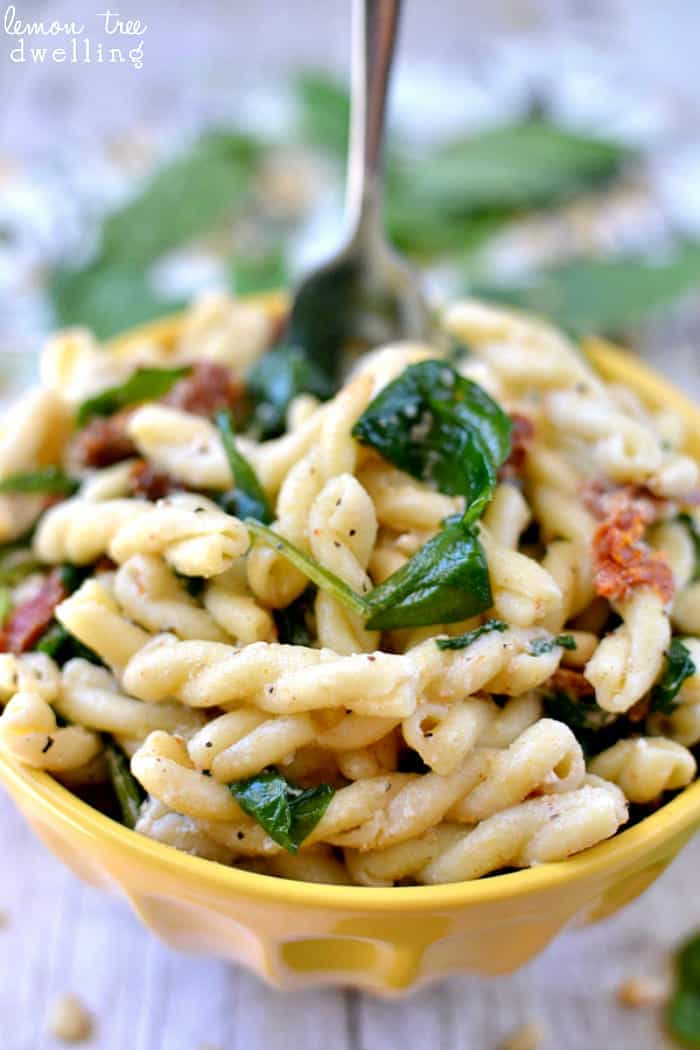 I was forced to level with myself the last time I went out for breakfast – to a new place I had been dying to try, mind you – and I was hard pressed to find anything I wanted to order! Not only did half of the menu include some type of chorizo, shredded pork or flank steak…..but the other half just didn't sound appealing. (Does anyone really want to eat spaghetti squash for breakfast??)
Sun Dried Tomato, Spinach and Goat Cheese Pasta
So there went my illusions of being an adventurous eater. Maybe I was fooling myself all along or maybe I'm just becoming more set in my ways as I get older! Either way, what I do know is there are some things that always sound appealing……like pasta! Especially when you pair it with classic flavors like sun dried tomatoes, spinach, goat cheese, and pine nuts. It's one of my favorite combinations….because it's delicious! And at the end of the day, delicious beats adventurous. Hands down.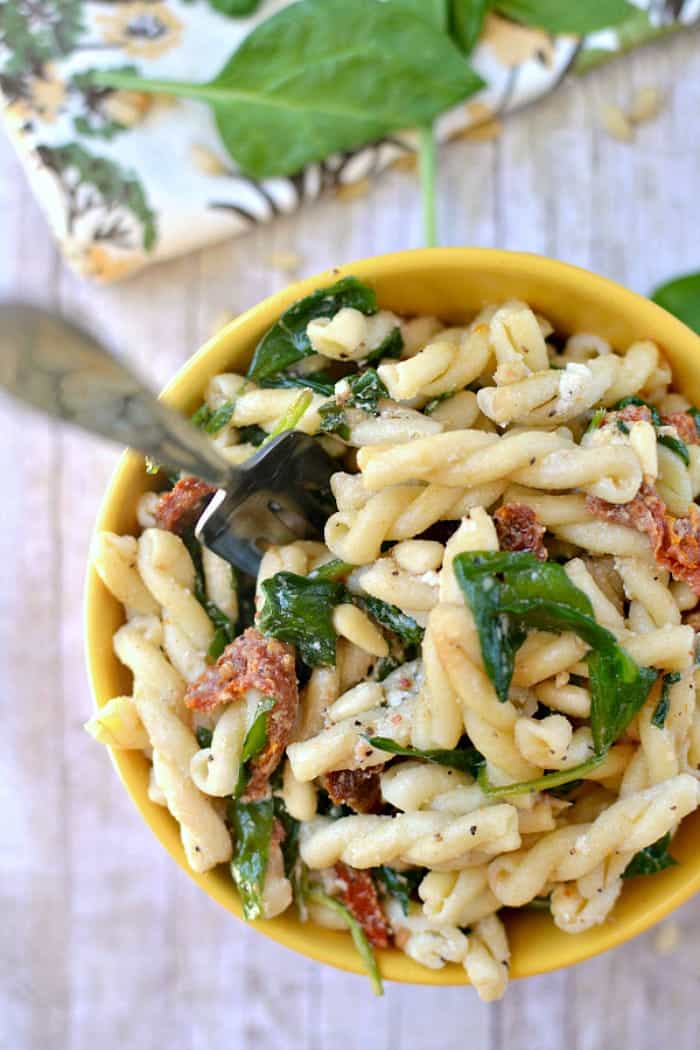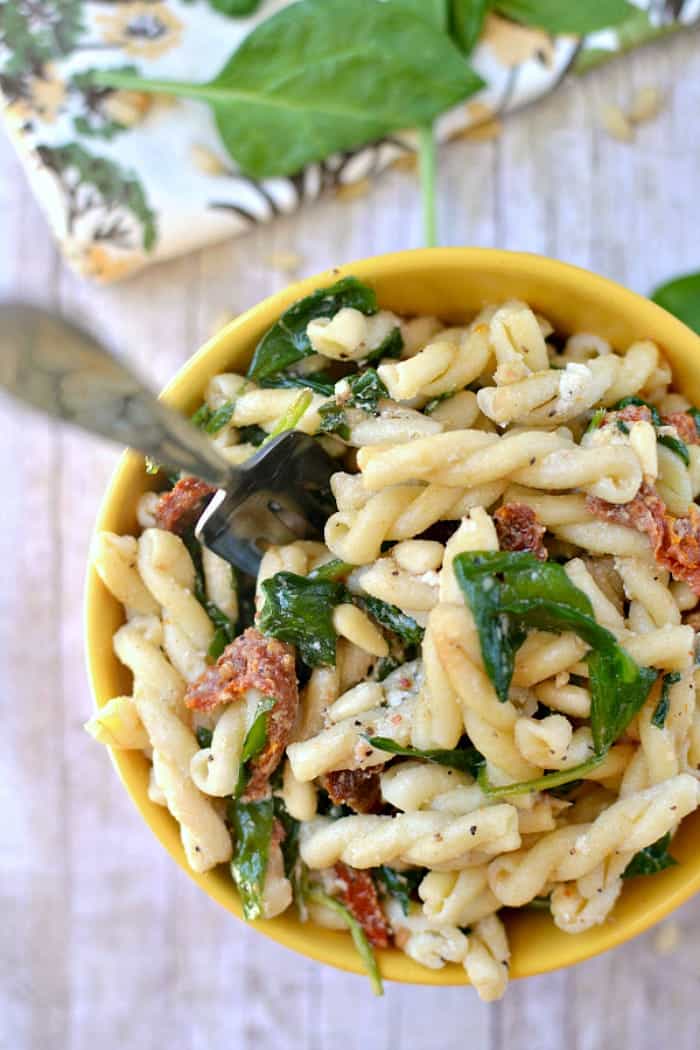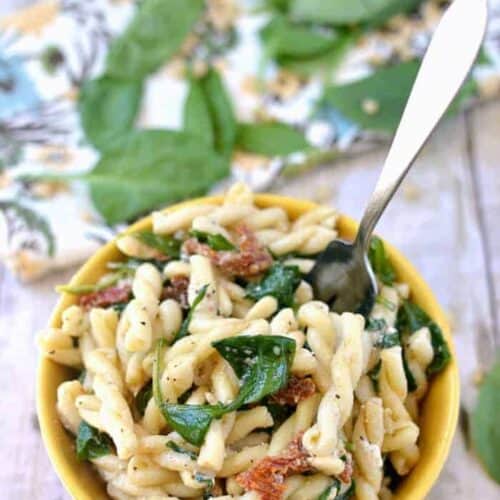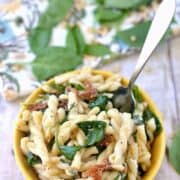 Sun Dried Tomato, Spinach & Goat Cheese Pasta
Ingredients
1

lb.

gemelli pasta

substitute penne or other similar type of pasta

6

oz.

fresh spinach

1

c.

oil-packed sun dried tomatoes

chopped

1/2

c.

pine nuts

4

oz.

goat cheese

4

garlic cloves

minced

2

Tbsp.

olive oil

salt & pepper

to taste
Instructions
Cook pasta according to package instructions; drain.

Add spinach, sun dried tomatoes, pine nuts, and goat cheese and stir to combine.

Stir in garlic, olive oil, salt & pepper.
Love this flavor combination? So do I! Here's the salad version: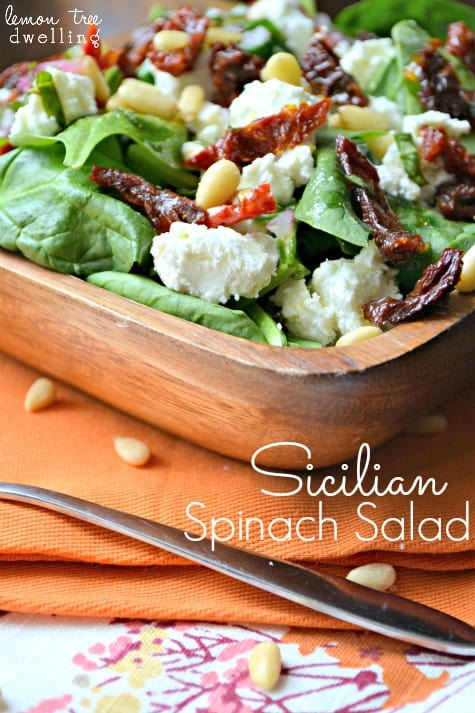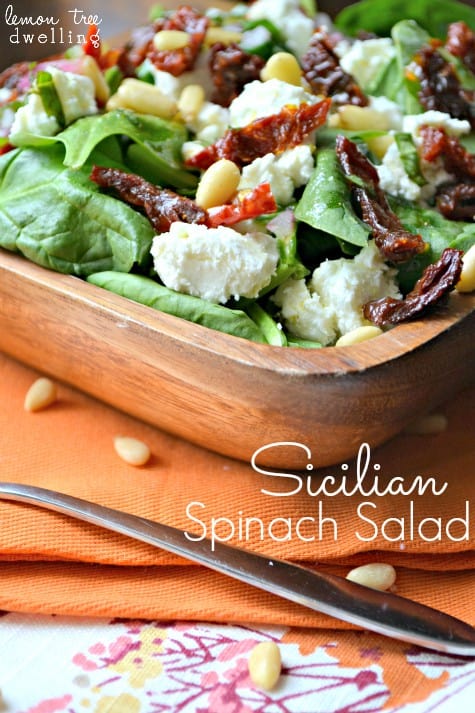 For another great pasta dish utilizing goat cheese, try this Mushroom Pasta with Goat Cheese from Pinch of Yum