Summer Citrus Shandy – a refreshing summer cocktail made with beer, lemonade, triple sec, and fruit. Treat him to one for Father's Day….and treat yourself, too!
Tomorrow is a big day for us…..it's the day our baby turns two! I have spent nearly every waking moment of her life with her, and yet I can't seem to figure out where the time has gone. Of course, when I think back to this time two years ago, and all that has happened in our lives since then, it becomes pretty clear where all the time has gone….this Lemon Tree Dwelling has been keeping us busy!
Two years ago, we had been in our house for two months, and we had a "to-do" list that was two miles long! Despite the fact that Jorden basically camped out and worked in the house for about a week before we moved in, there was still SO MUCH left to do! Like paint woodwork, hang cabinet doors, tile a laundry room, deal with a disaster of a backyard, hang curtain rods, finish a backsplash, figure out water issues, install light fixtures…..the list goes on and on. And that was on top of the week's worth of (so much) work we had already put in…and all with two kids and a baby on the way!
Like most expecting moms, I really wanted the work to be done before the new baby came. And a lot of it was! And for a few months after she was born, we took a break from all things related to the house. And then we realized all the things we still wanted or needed to do….like replace the windows and plant grass and refinish the fireplace and make over the bathroom and install more lighting and, and, and….
…..and now our baby's turning two. Just like that. And do you know what Jorden is doing this weekend? Replacing the flooring in the family room! No joke. And do you know what else we're going to be doing, after cake and presents and playtime (and floor replacement)? We're going to be sitting back and enjoying one of these Summer Citrus Shandies….and reminiscing on the last two or four or six years of our lives….figuring out where all that time has gone, and how we can put the brakes on! Something tells me this drink will be a great start 🙂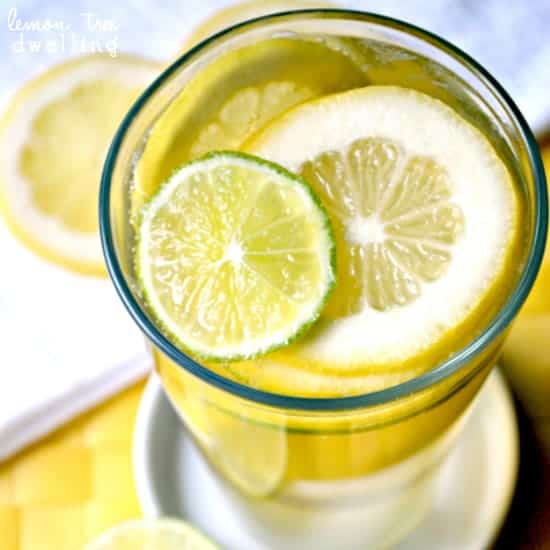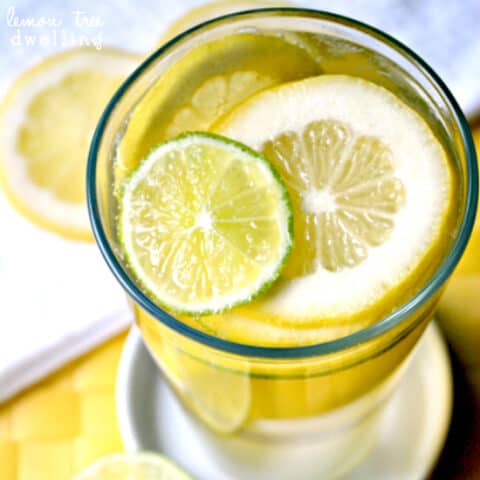 Summer Citrus Shandy
Ingredients
1 bottle of beer (I used Bud Light)
1 c. lemonade
1/8 c. Triple Sec
1/2 lemon, thinly sliced
1/2 lime, thinly sliced
Instructions
Combine ingredients and divide between two glasses.
Nutrition Information:
Yield:

2
Serving Size:

1
Amount Per Serving:
Calories:

170
Total Fat:

0g
Saturated Fat:

0g
Trans Fat:

0g
Unsaturated Fat:

0g
Cholesterol:

0mg
Sodium:

13mg
Carbohydrates:

26g
Fiber:

1g
Sugar:

17g
Protein:

1g