Golden Oreo Truffles made with strawberry cream cheese and dipped in red candy coating to look like real strawberries! A fun and delicious summer treat!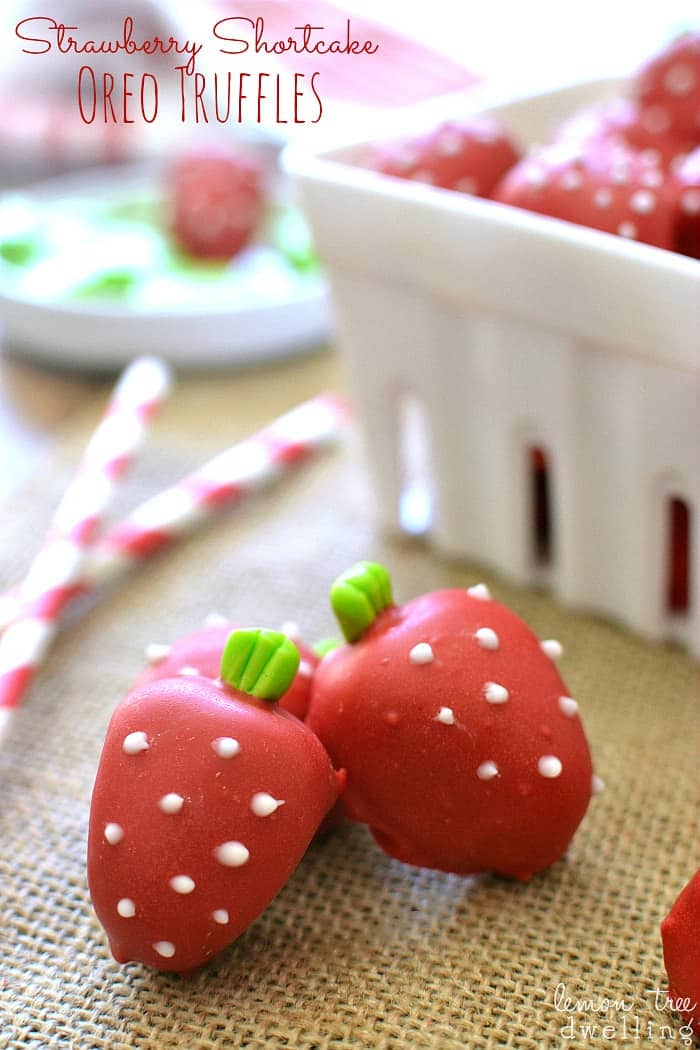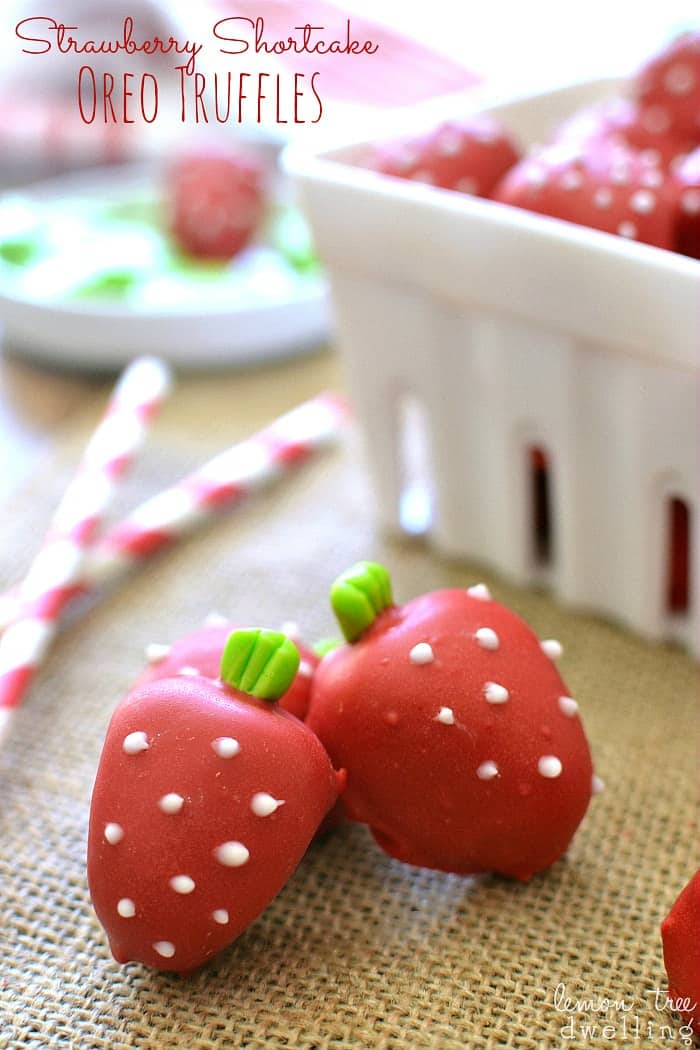 Have you ever watched Supernanny? You know…..the show where the British nanny drops in on the out-of-control family, whips them into shape, and totally saves the day? It's funny….I'm pretty sure I watched it regularly before having kids, but now that I could actually use it, I haven't seen an episode since! I'm too busy in my own "supernanny" situation (minus the super AND the nanny, of course)….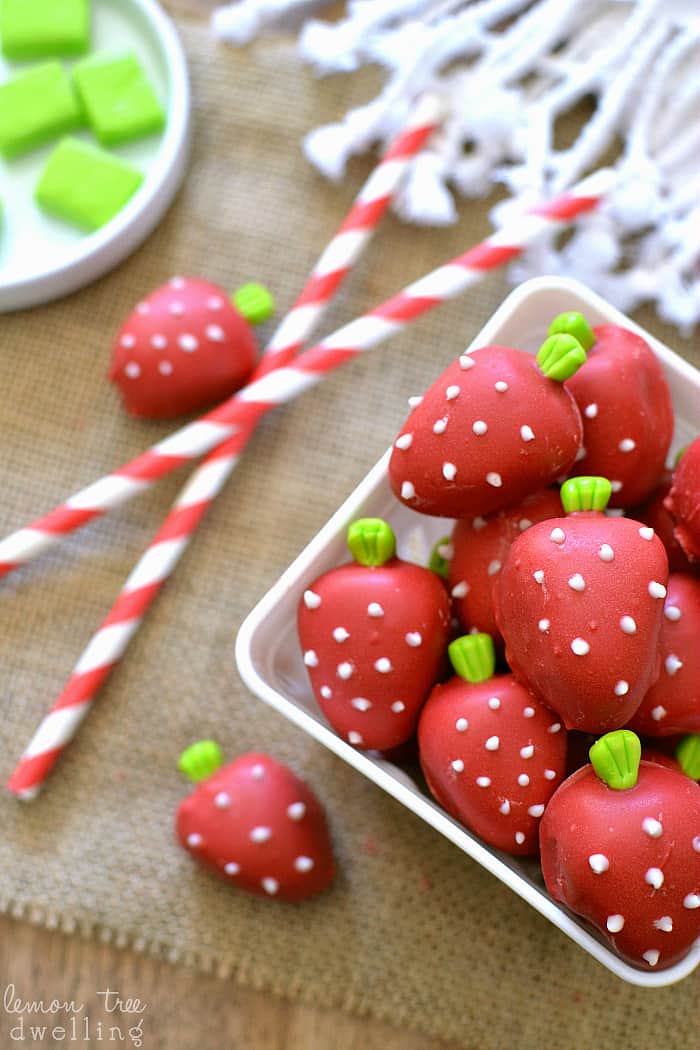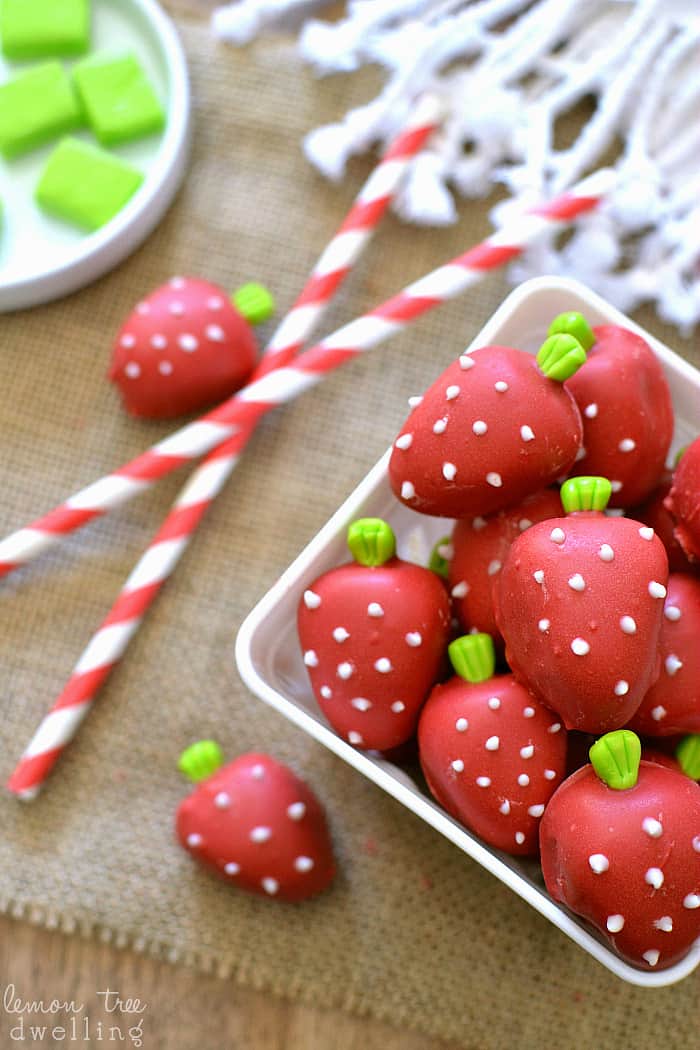 What I remember most about the show is the way Supernanny could come into any home, with any kids, and any parents, and completely turn things around. Without ever losing her cool, no matter how crazy things got! She had a bagful of tricks and an air of supreme authority. And right about now, I could use a little bit of both!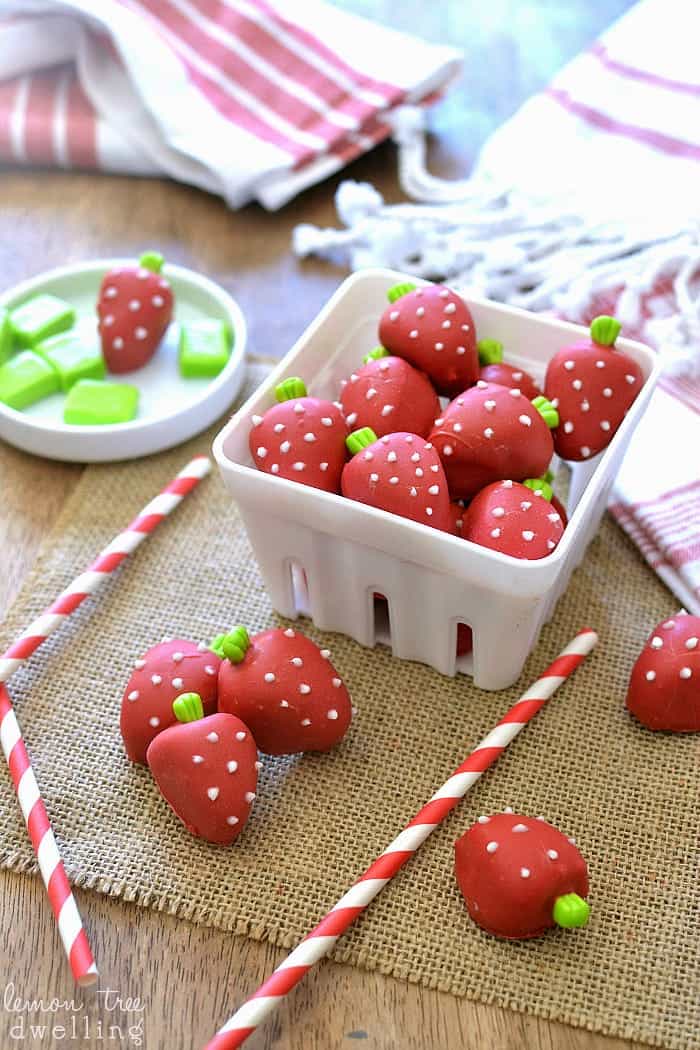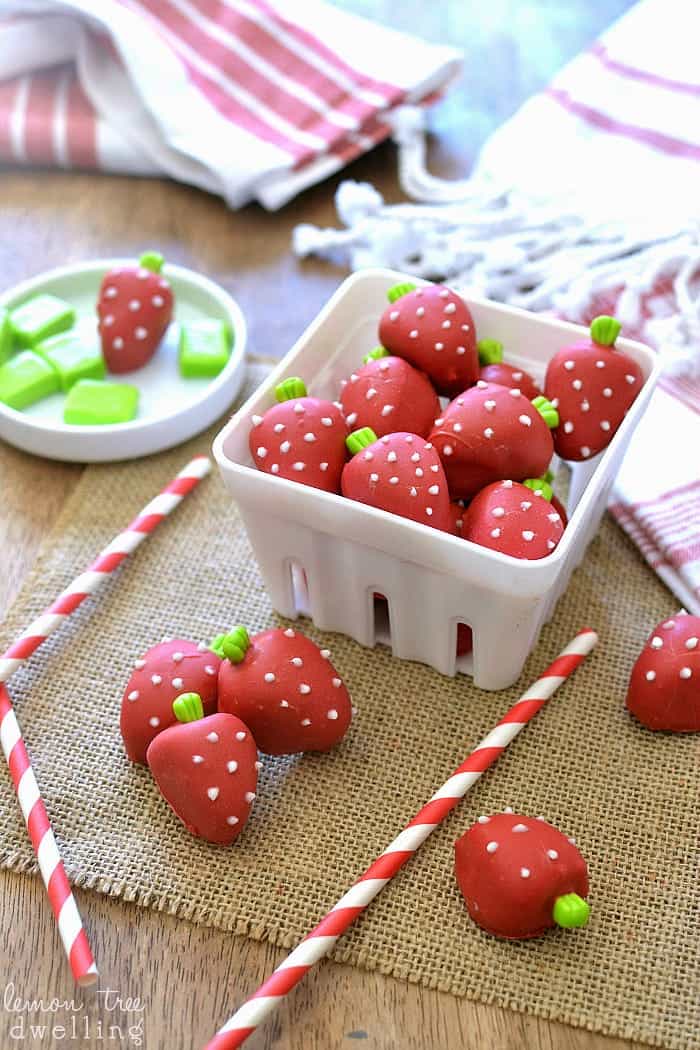 True, I used to watch the parents on the show and wonder how they could be so clueless….and I used to swear up and down that my family would never even vaguely resemble the families I was watching….but let's just say it's easy to feel clueless when it comes to kids. Especially your own kids!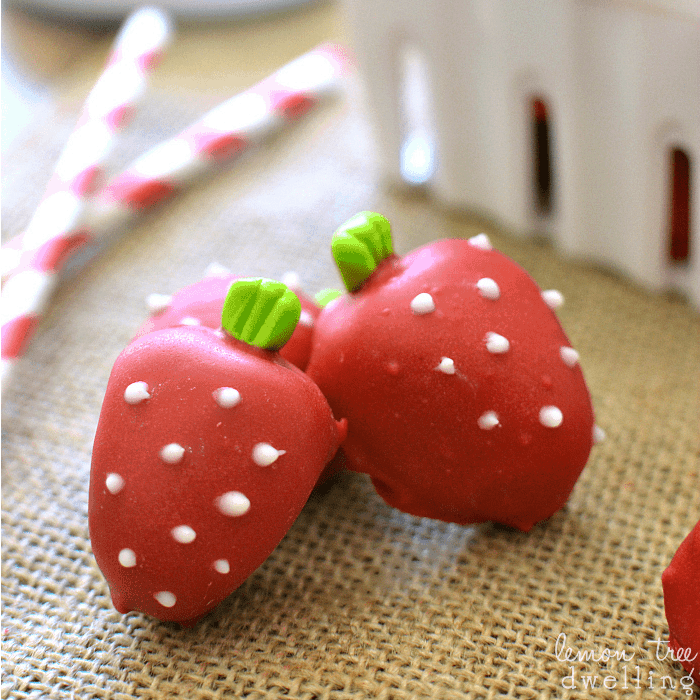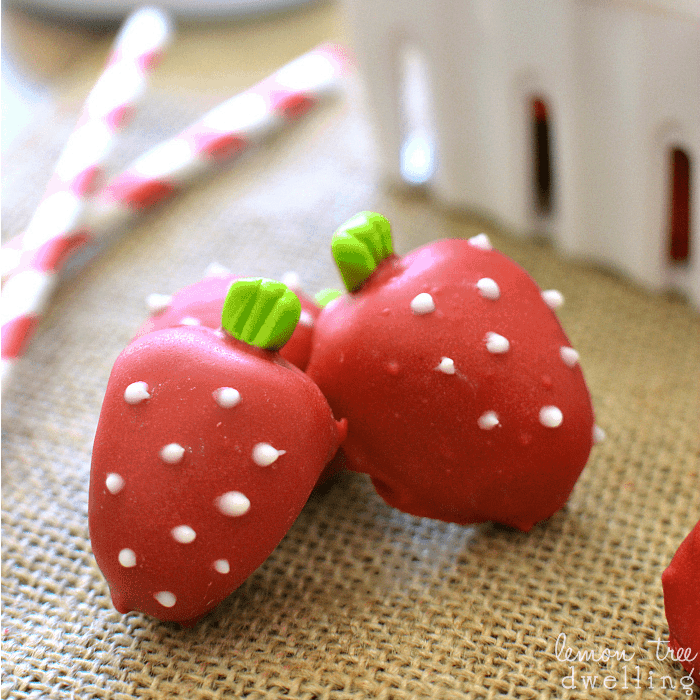 Lately I've been feeling clueless about 90% of the time…..and although I'm sure the answers are simple, I have no idea what they might be. Were is Supernanny when you need her!?!?!?!?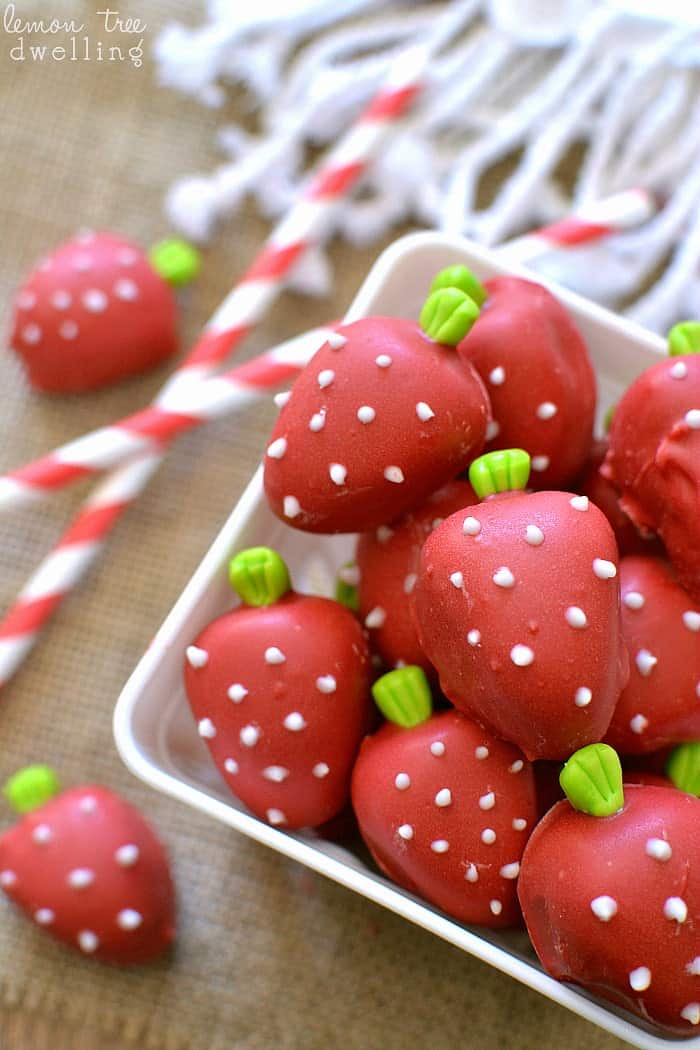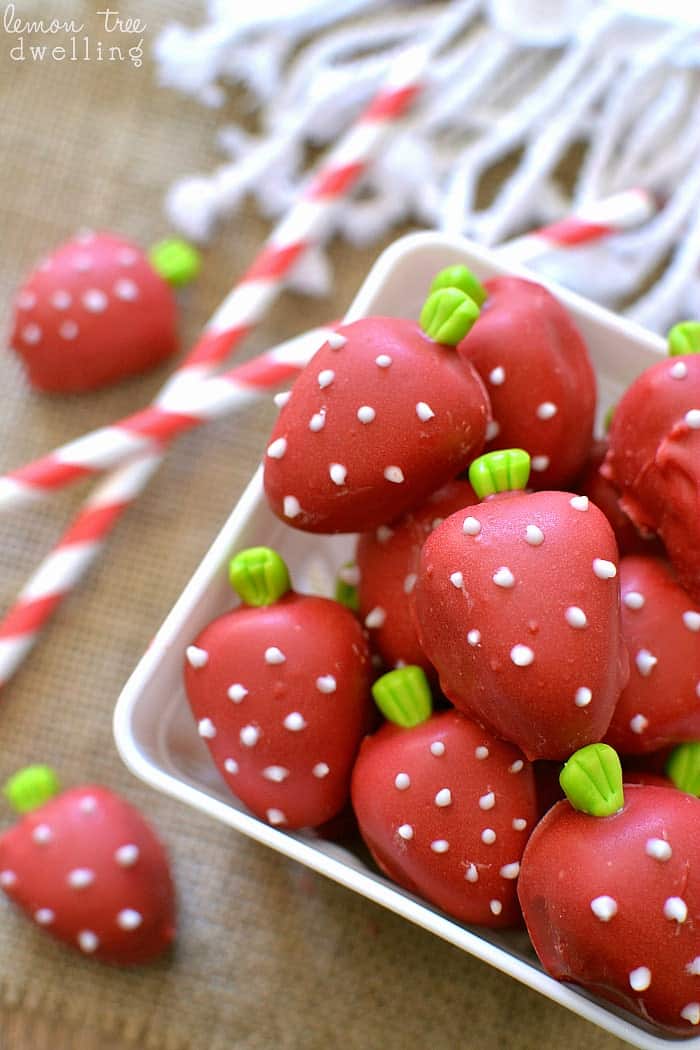 Well….since Supernanny is nowhere to be found, I'm thinking it might be time for me to practice a little bit of escapism. You know – escaping to a happy place in the midst of the crazy. And if there's anything that can instantly transport me to from crazy to happy, it's these Strawberry Shortcake Oreo Truffles! Not only are they delicious and adorable, but they're super simple to make. Just mix, shape, dip, and chill…..and you have the sweetest little treats you've ever seen! And best of all – they require just the right amount of concentration – so you really can get lost in making them. Which, if you ask me, is exactly what all moms need from time to time.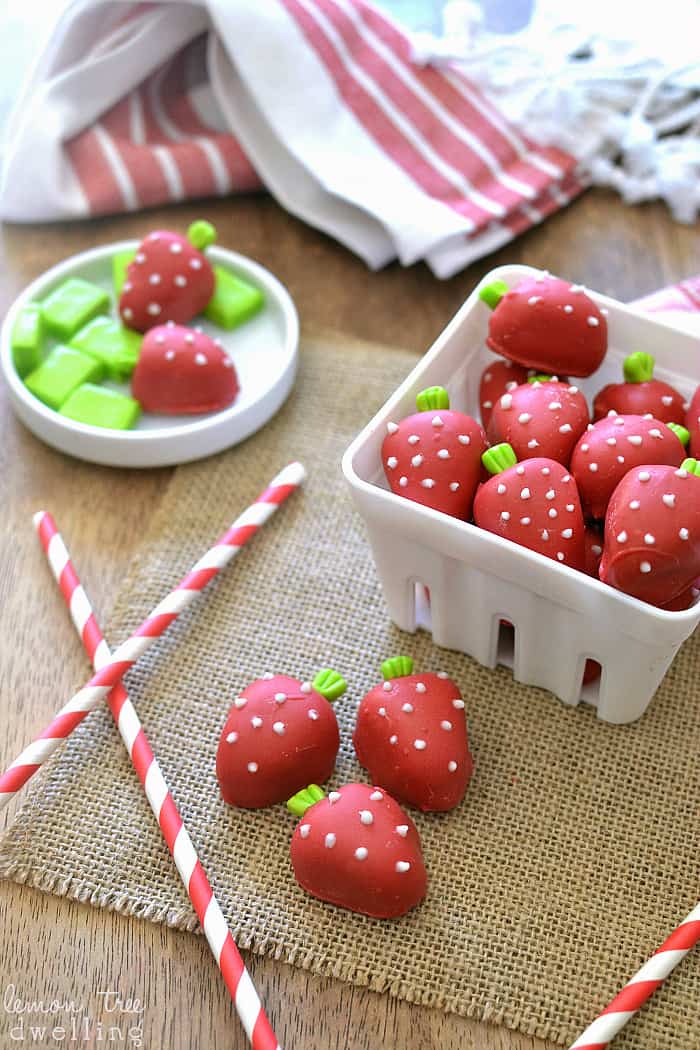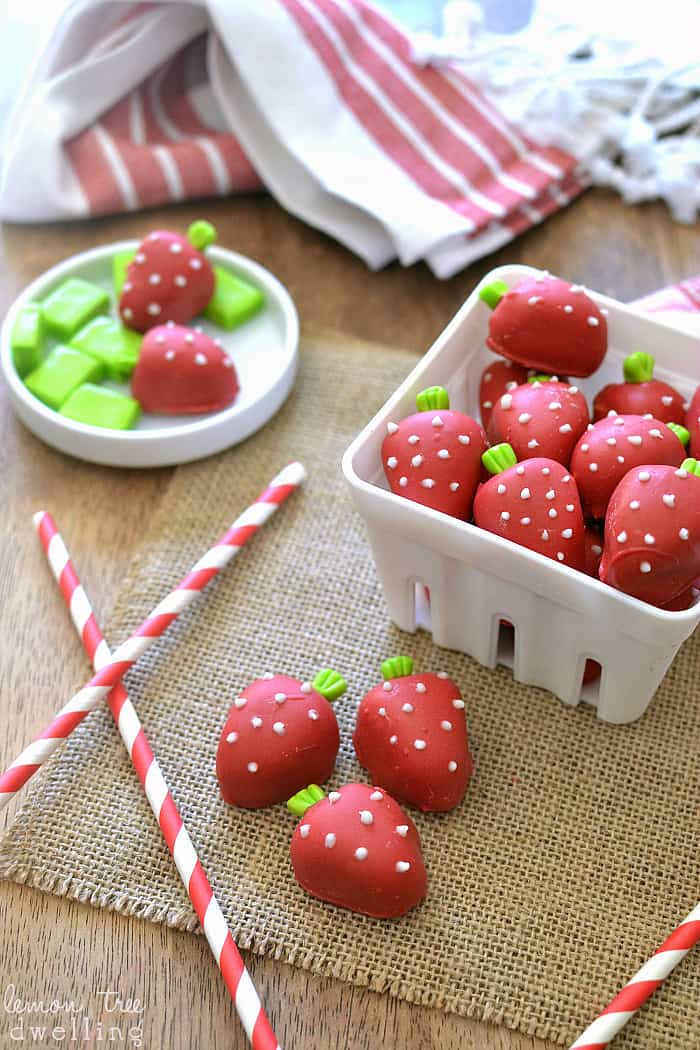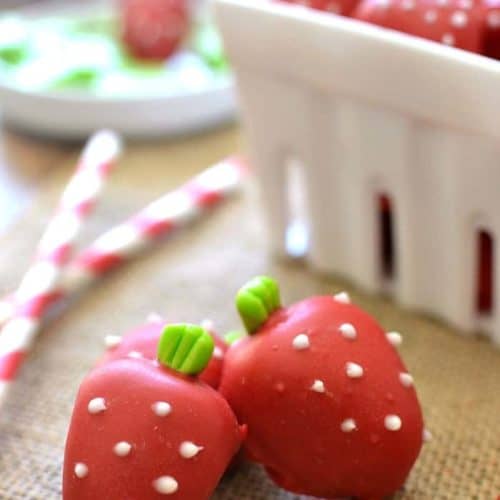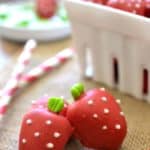 Strawberry Shortcake Oreo Truffles
Prep Time
1
hour
30
minutes
Total Time
1
hour
30
minutes
Ingredients
1

package Golden Oreos

finely crushed

1

8 oz. container strawberry cream cheese

1

12 oz. bag red Wilton Candy Melts

2

oz.

white chocolate

8-10

green fruit chew candies

I used Jolly Rancher Fruit Chews
Instructions
Combine finely crushed Oreos and strawberry cream cheese and mix until blended.

Shape into 48 (approx.) 1 inch strawberries by rolling into a ball and pinching one end to create a strawberry shape.

Refrigerate 30 minutes or more, until firm enough to dip in melted chocolate.

Melt 1/3 bag of candy melts until smooth; dip truffles until coated and place on wax paper to cool.

Immediately insert a green candy stem into the top of each.

For stems:

Cut each fruit chew into 6 pieces. Flatten slightly and shape into a small stem. Use a knife to create grooves.

Once truffles have cooled and hardened, melt white chocolate and use a toothpick to make "seeds" on the strawberries.
Looking for more fun strawberry treats?