White wine sangria with fresh sliced peaches and strawberries – a beautifully delicious summer drink!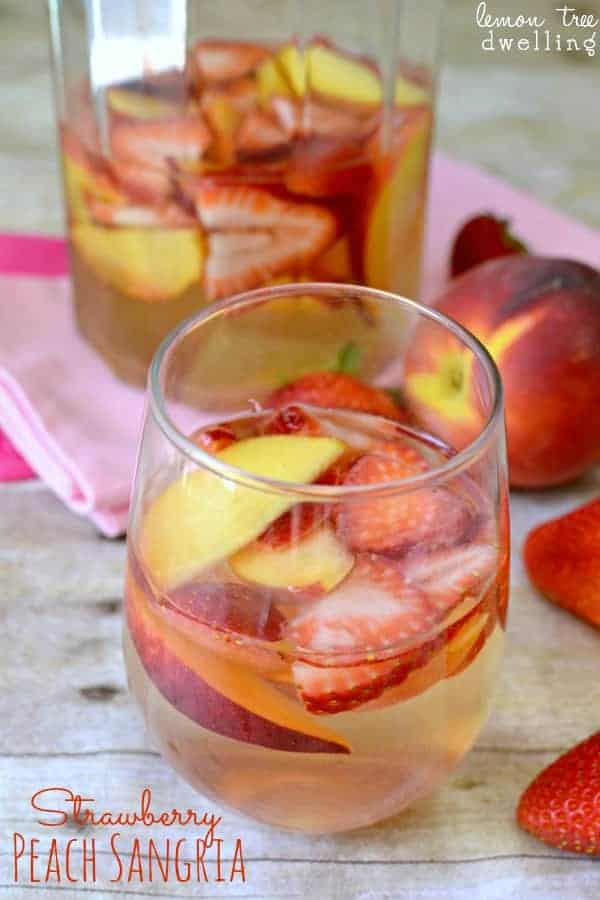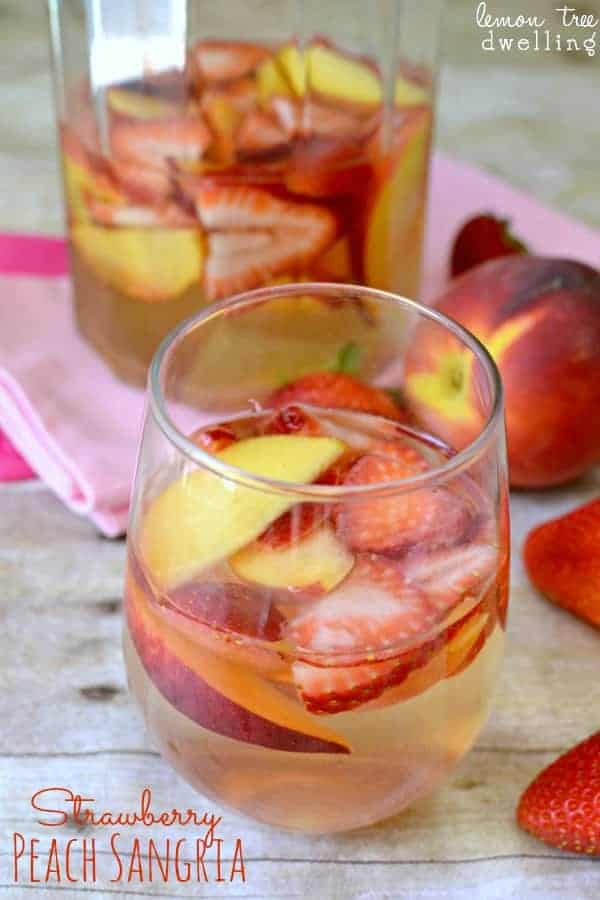 Years ago, I was part of a book club. And not just any book club, but one that I helped create….meaning it was filled with all my favorite people (or at least most of them)! I loved book club, not so much for the books as for the good company….and I looked forward to it every time we met (whether I had read the book or not!)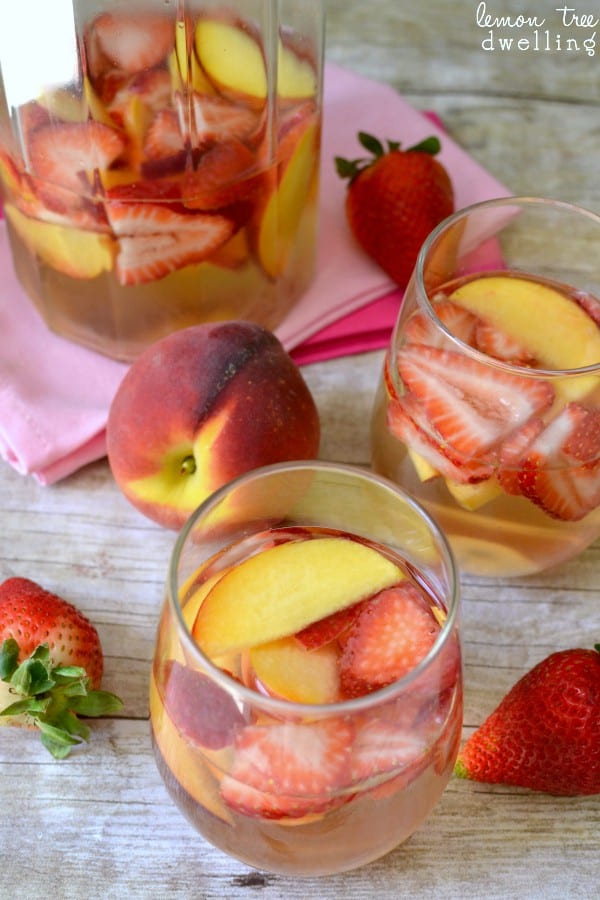 There's something about getting together with good friends and good conversation that just feels so worth it, and no matter how busy my life got, it still felt worth it! We would get together at one of our houses, and all bring something delicious to share, and stay out way too long enjoying one anothers company.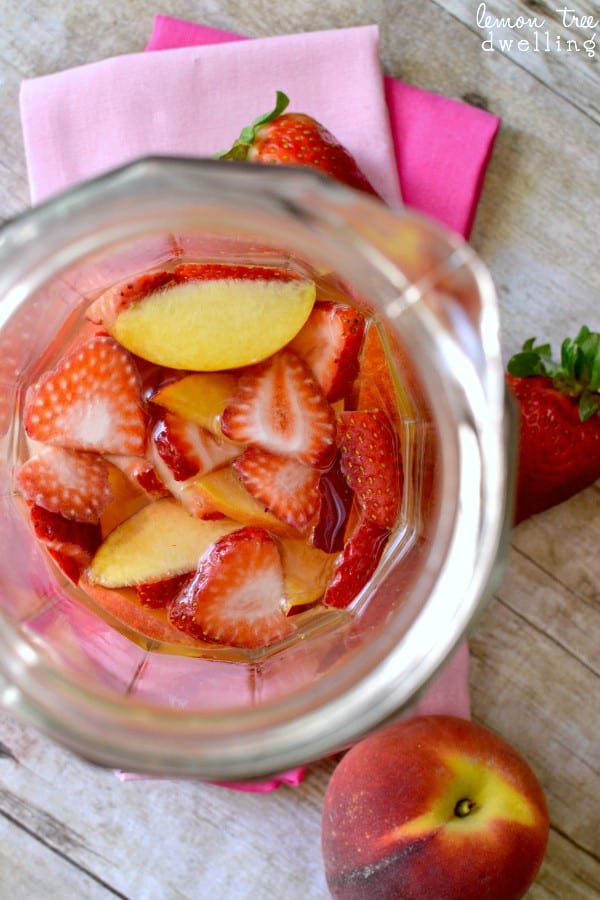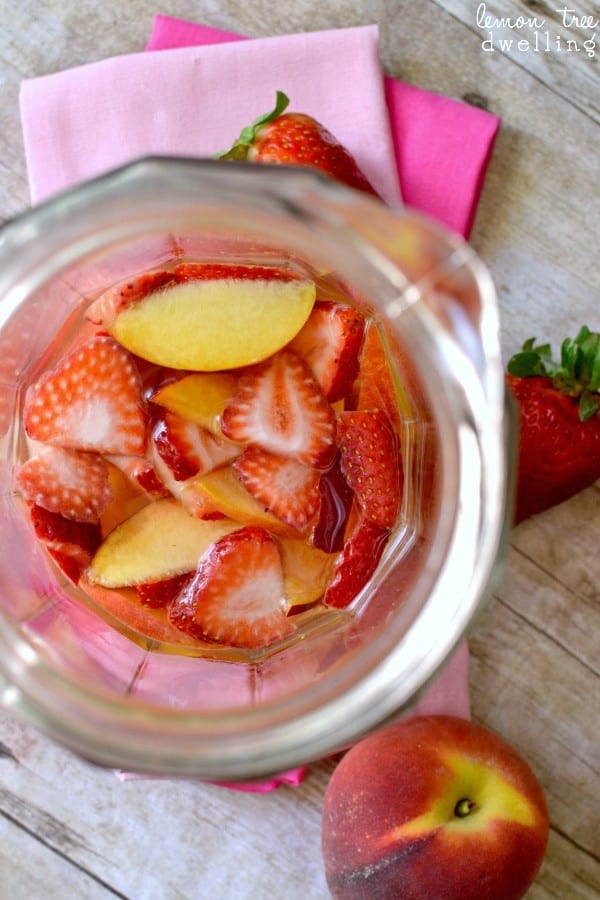 And then….just like that….book club started to crumble. People started having kids, and then more kids, and work schedules got busier, and two people moved away, and two others had a falling out…..and suddenly the book club I loved was no more. Sad, right? But here's the good news. I'm still friends with everyone from book club….and (every now and then, since life is crazy) I still get to see them!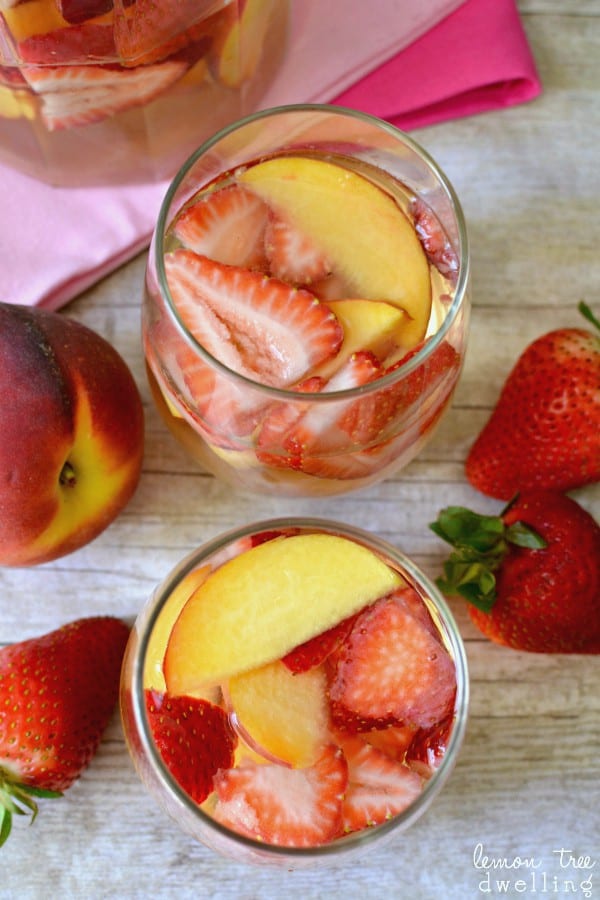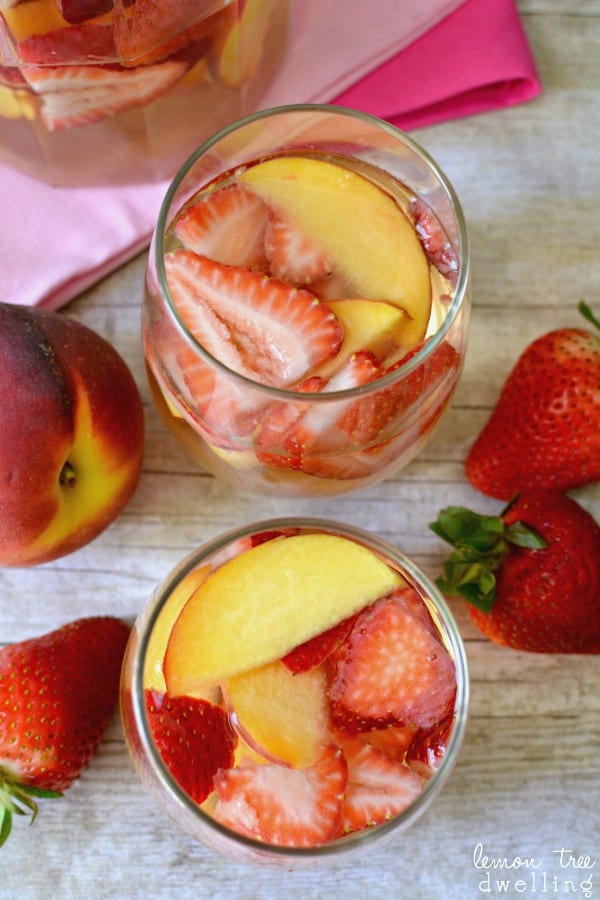 In fact, I saw a few of them just last week when we got together to celebrate a birthday. And, just like in book club, we had good food, good company, good conversation, oh – and did I forget to mention? Good wine! We almost ordered a pitcher of peach sangria but stopped ourselves….so in honor of book club and birthdays and the best friends anyone could ask for, I decided to make my own version! Now I just need my book clubbers to share it with!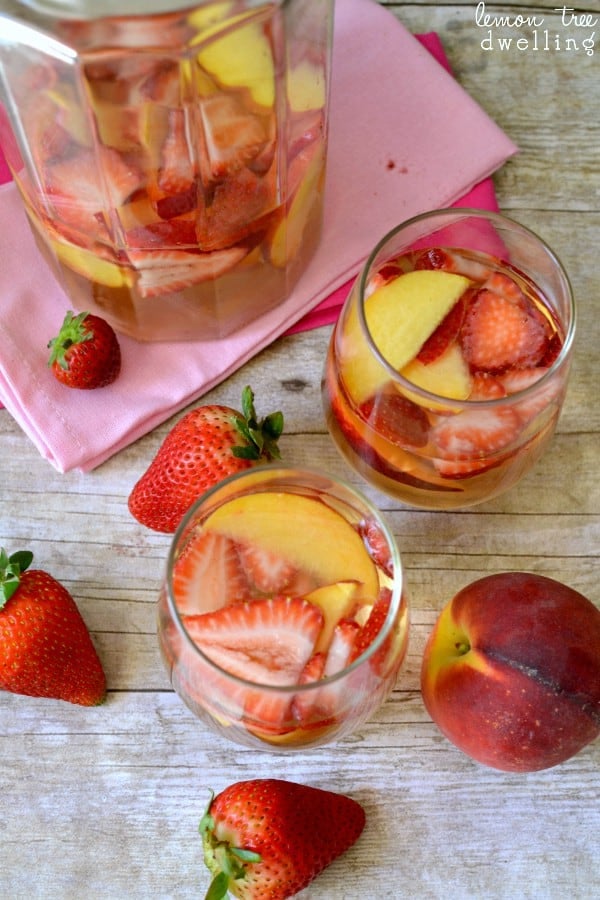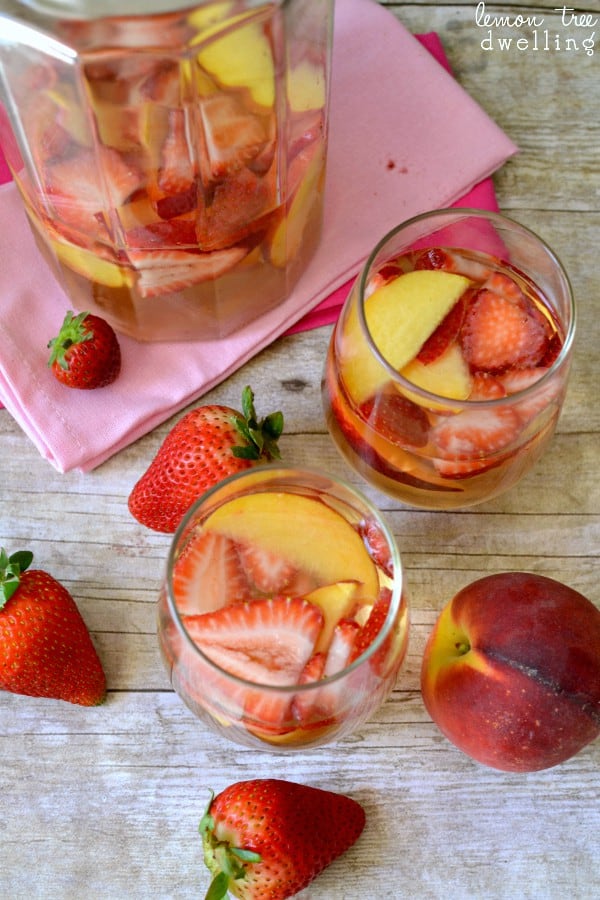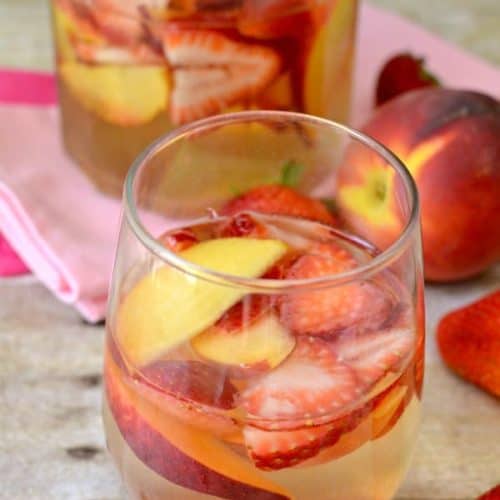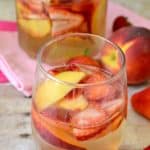 Strawberry Peach Sangria
Ingredients
1

bottle white wine

I used Sauvignon Blanc

1/2

c.

white rum

1/4

c.

Peach Schnapps

1/8

c.

strawberry simple syrup

combine 1/8 c. water with 1/8 c. sugar; bring to a boil. Remove from heat; add 1/8 c. sliced strawberries and cover until cooled

1

c.

sliced strawberries

1

peach

sliced

1

can white soda

like Sprite
Instructions
Combine white wine, rum, Peach Schnapps, and strawberry simple syrup in a large pitcher.

Refrigerate until ready to serve.

Before serving, add sliced strawberries, sliced peaches, and soda.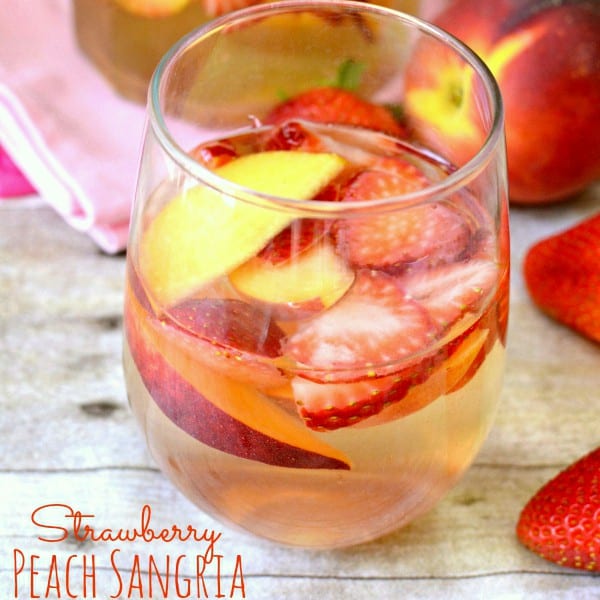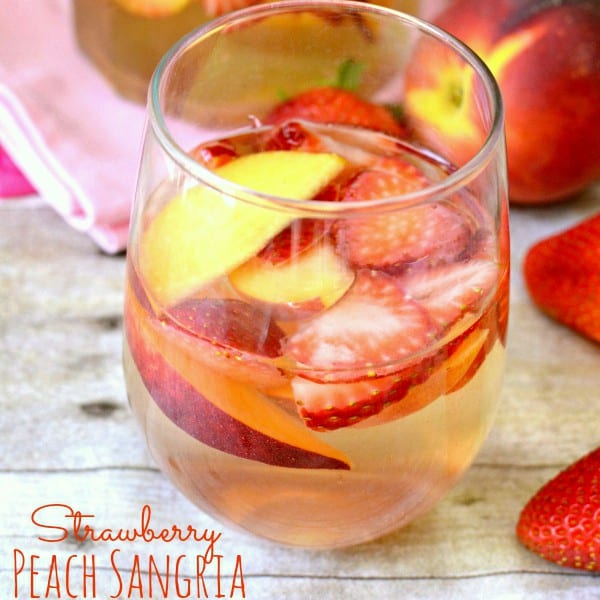 Also be sure to check out these delicious sangria recipes (and pin them for later!)