Oreo Truffles meet S'mores in a match made in Heaven!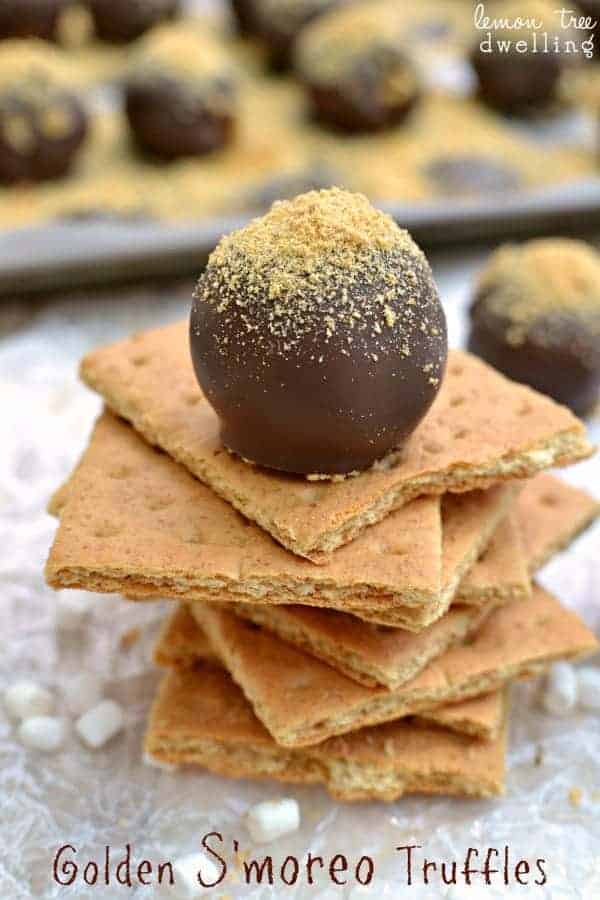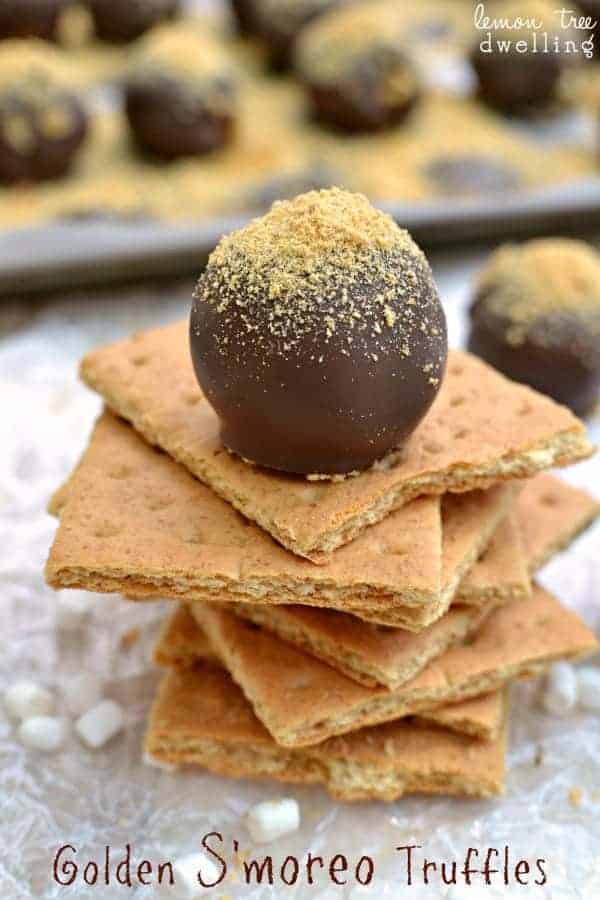 I'm sure I speak for everyone when I say that summer is FLYING by! Summer school is over, my friend Tanya's wedding is over, and (ohmygosh) July is almost over, too! And we all know that once August hits, the rest of summer basically becomes a countdown to the first day of school! Good thing it's S'mores Week in Blogland so we all have something to look forward to…!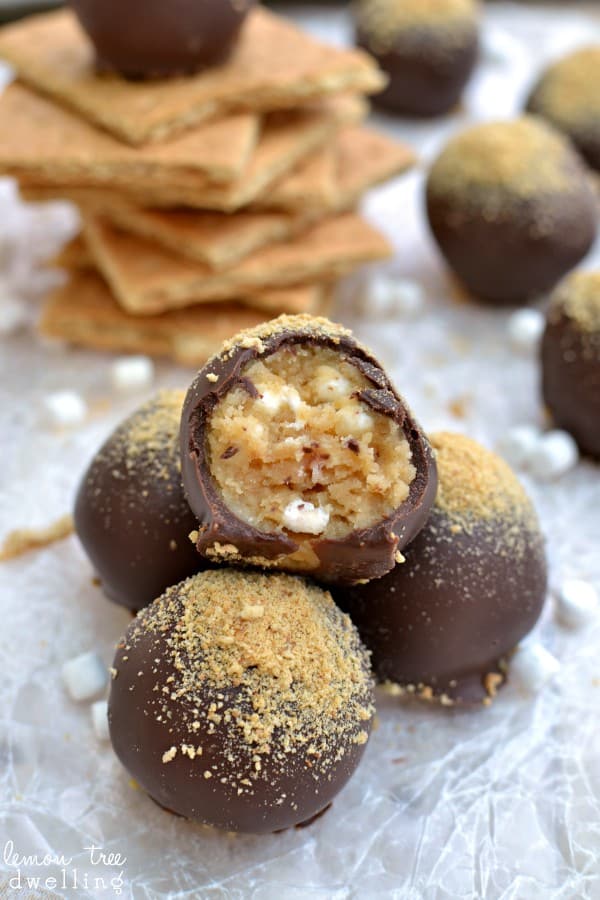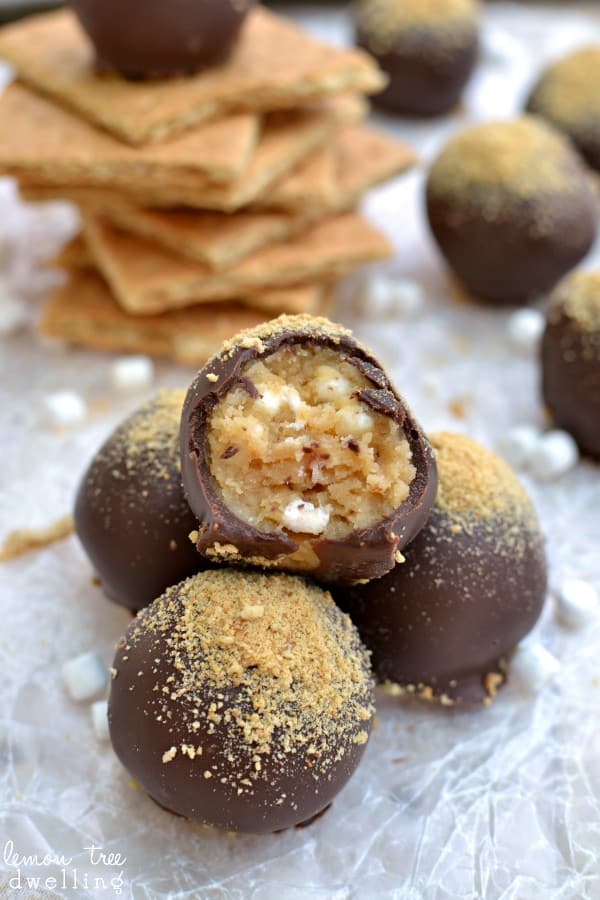 And you know what else we have to look forward to? Our annual family vacation coming up this weekend! Okay, to be honest, calling it a vacation is a little bit of a stretch. (And not just because nothing feels like much of a vacation with 4 kids!) It's more of a getaway, to a house we rent that's about 2 1/2 hours away. It's a tradition we started with my parents and siblings 4 years ago, and it's a trip we all look forward to each year! ESPECIALLY the kids.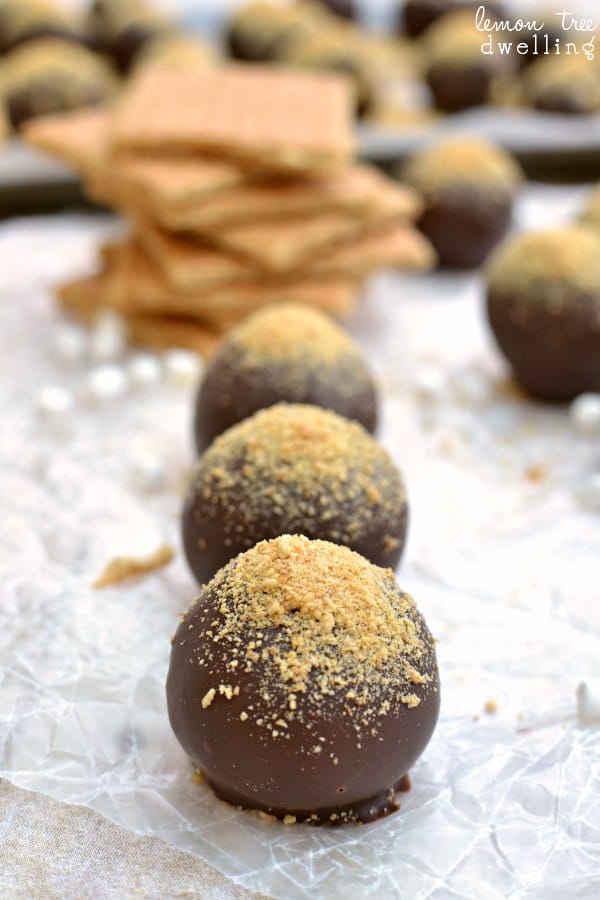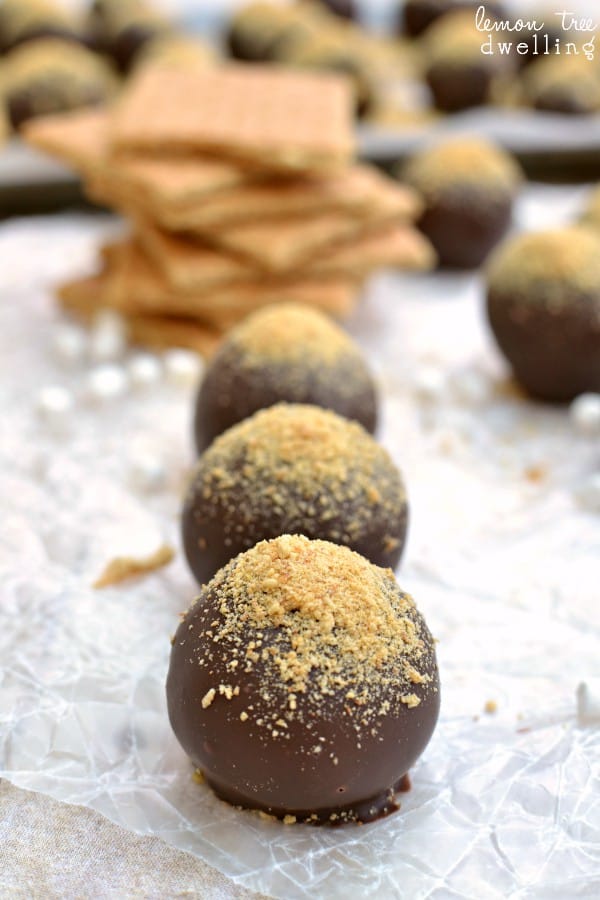 There's swimming and lawn games and board games and relaxing….there's lots of eating and drinking and laying around and just being together. Of course, there's also a healthy dose of chaos and a tad bit of stress involved….but for the most part, it's a chance to unwind and unplug and spend some quality time with one another.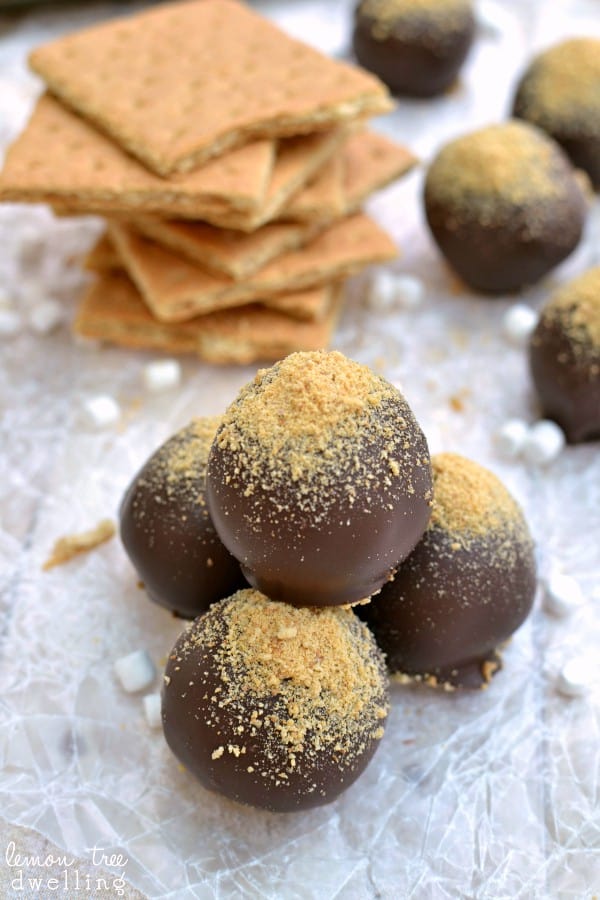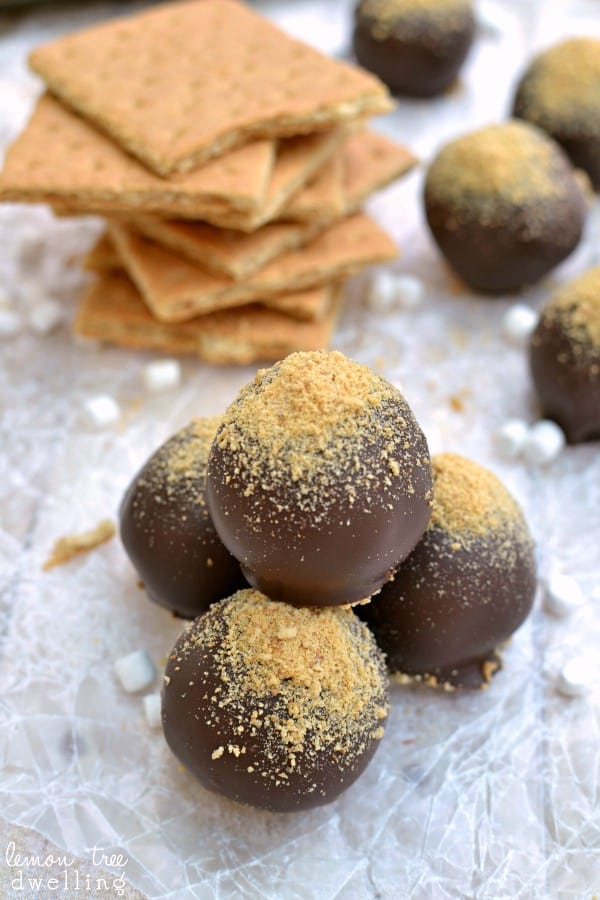 The only thing that's missing? A fire pit for roasting s'mores! The house we rent just doesn't have one ….which is a real shame. Because we all know that summer isn't complete without s'mores, and we have yet to make them happen! No, we've been too busy enjoying all kinds of s'mores-ish treats….like these awesome Golden S'moreo Truffles…..which, it turns out, would be the perfect solution to our fire pit-less house! (Don't you love it when things just work out??)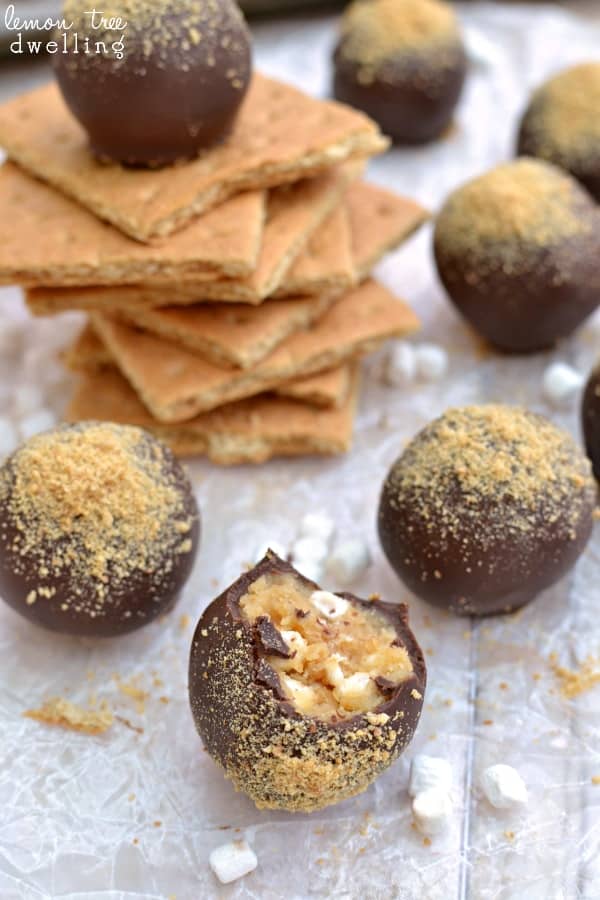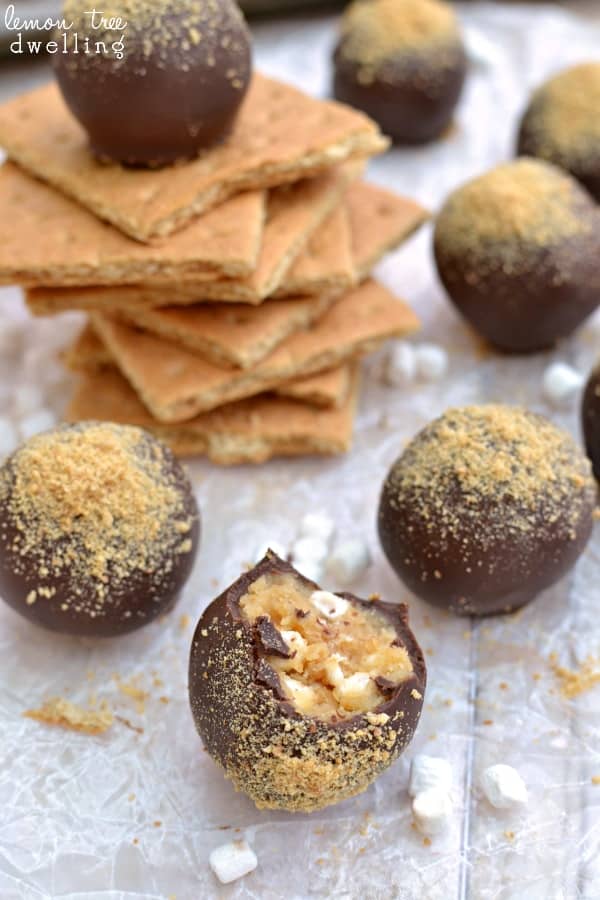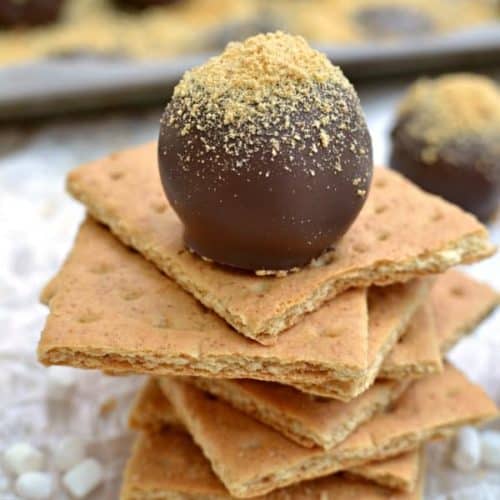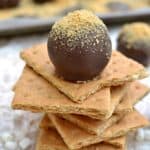 Golden S'moreo Truffles
Ingredients
1

package Golden Oreos

1

8 oz. package cream cheese, softened

1

c.

Kraft Jet-Puffed Mallow Bits

1

16 oz. package milk chocolate Candiquik

1/2

c.

graham cracker crumbs
Instructions
Using a food processor, crush Oreos into crumbs.

Combine cookie crumbs, cream cheese, and marshmallow bits in a medium bowl.

Roll into 1-inch balls and place on cookie sheet lined with wax paper.

Refrigerate until firm.

Remove from refrigerator and dip balls into melted Candiquik.

Sprinkle immediately with graham cracker crumbs.

Makes 36.
So are you ready to check out the rest of the S'mores Week posts? I thought so!!