Strawberry Cheesecake Monkey Bread is a decadent twist on the original. An easy snack that doubles as a delicious strawberry dessert. Perfect for Valentine's Day Brunch.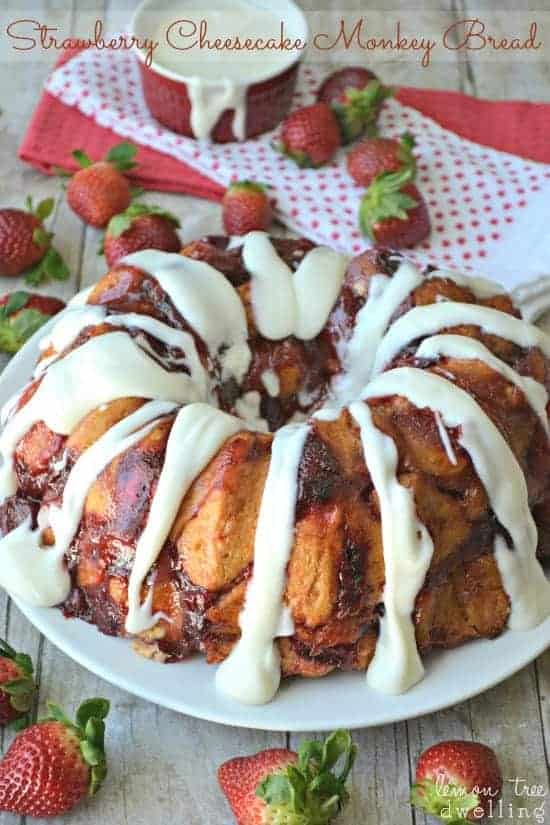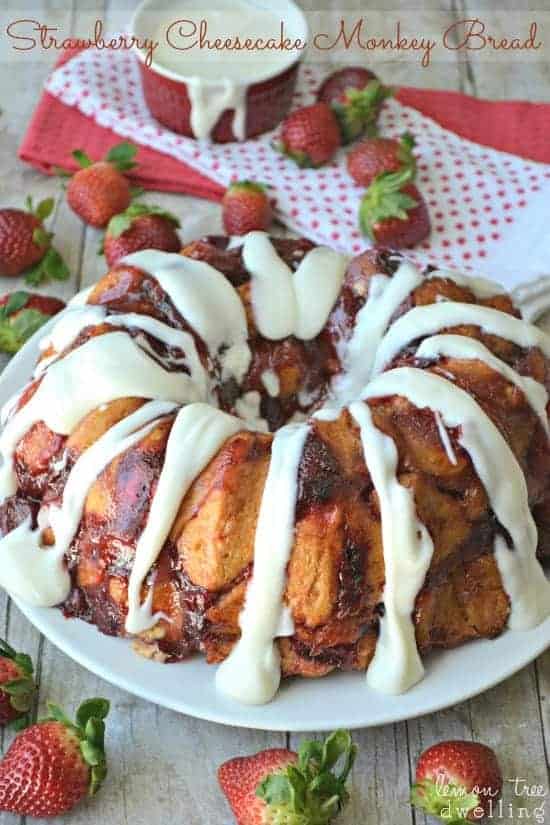 Well….today's the day when the kiddos go back to school and I (finally) get a little peace and quiet around here! Ha – I wish!! Of course, there's no such thing as peace and quiet when you're hanging out with a two year old all day…..especially a two year old who has recently decided NOT to nap…..but I can guarantee it will be quieter than it has been the last few days! In addition to a scheduled day off on Monday, school was cancelled yesterday due to extreme cold. Which means, not only have the kiddos been at home, but it's been too cold for them to play outside and too cold for us to go anywhere!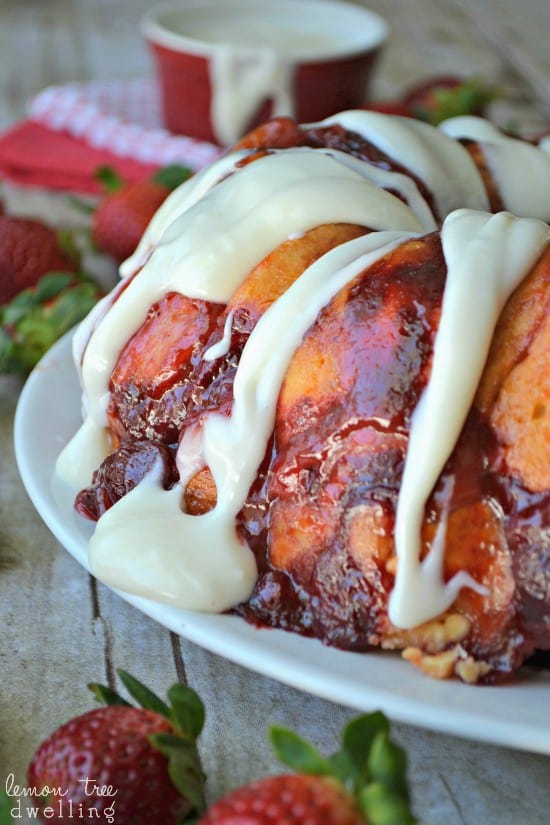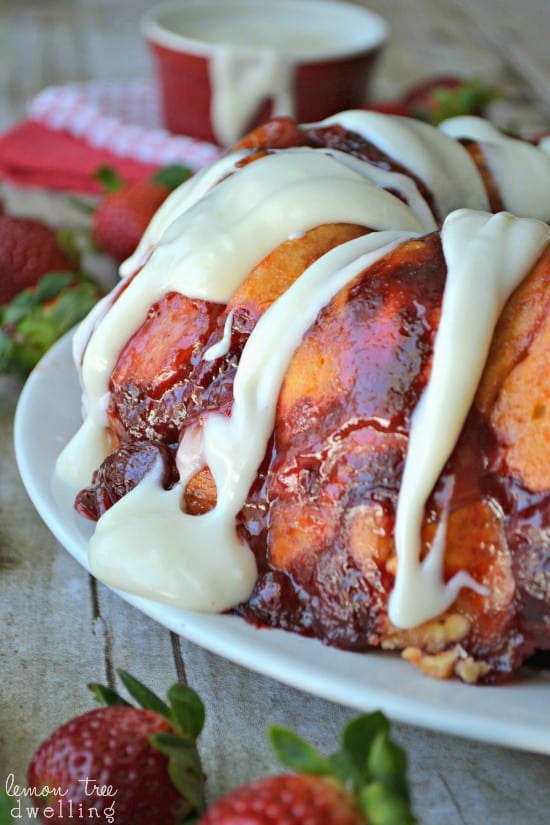 Strawberry Cheesecake Monkey Bread – A playdate treat
Things have actually gone surprisingly well, given the circumstances. Aside from a lot of loud music, dance parties, play-doh messes, and foam shapes strewn about, everyone has stayed relatively calm and, most importantly, happy! And I give all the credit to FRIENDS. We had three of them over Monday morning, one of them over Monday afternoon, and a play date at a friend's house yesterday! Yes…..our past two days have been jam packed with friends….and it has made all the difference.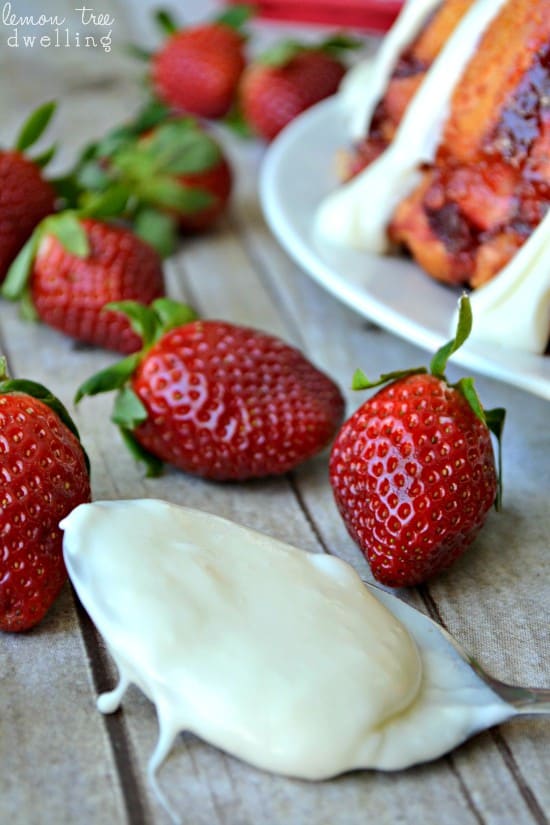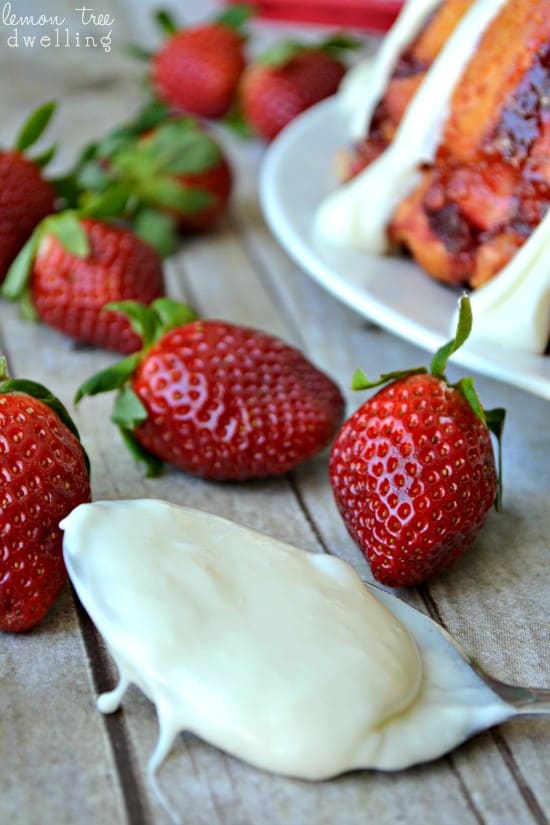 It's funny….because every time I mention to other people that there are four or five or six kids at my house, they pretty much think I'm crazy. And I have to admit, sometimes I think I'm crazy, too! Because there's a chance that everything will go smoothly and it will actually be EASIER on me….and there's also a chance that our house will erupt into sheer chaos! Believe me….we've had it both ways….and once you've experienced a certain level of chaos, you know that you definitely don't want to go back there! So you hope for the best!!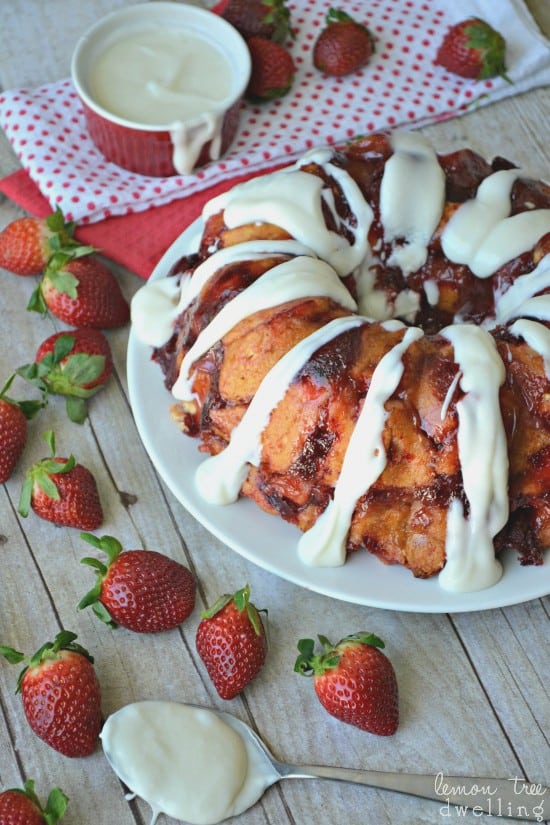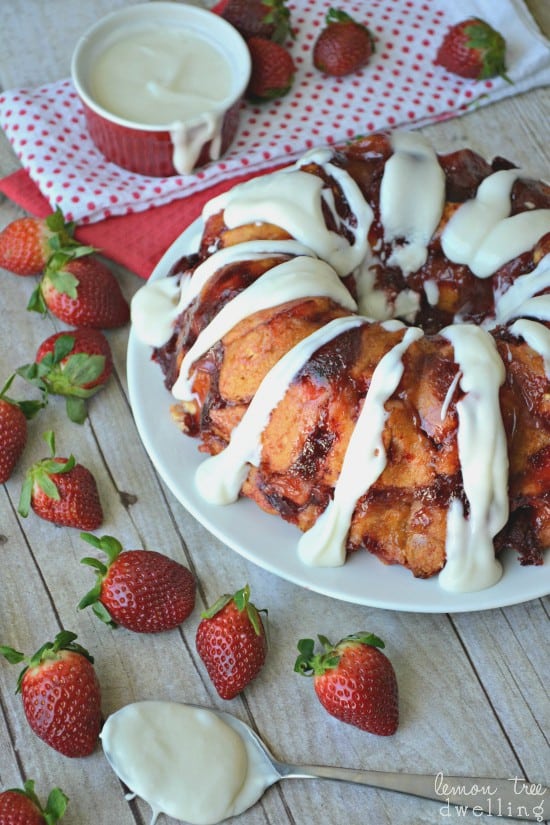 Strawberry Cheesecake Monkey Bread
Knock on wood, we had the right combination of kids and moods and things to do…..and I've actually kind of enjoyed having the older two home! Now, that's not to say I'm not ready for them to go back to school…..I am! Because as much as I've enjoyed having them home, I can guarantee I'll enjoy a plateful of monkey bread, a hot cup of coffee, and a quiet(er) house even more. I'm pretty much convinced that this is the best monkey bread I've ever made, and I've loved them all! There's just something about the way the strawberries, the white chocolate, the graham cracker crumbs, and the cream cheese icing all come together that makes you want to sit and eat it all day long! It's a good thing Nora's still home with me….or that might be exactly what I'd do!!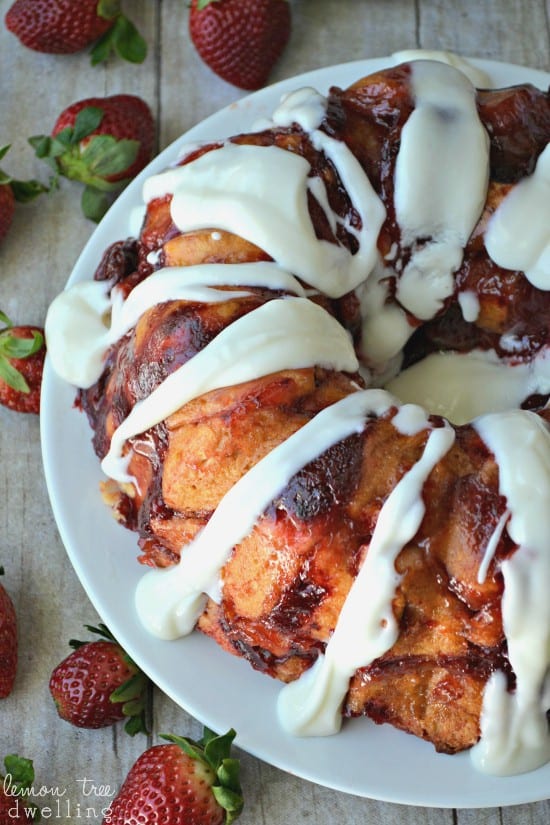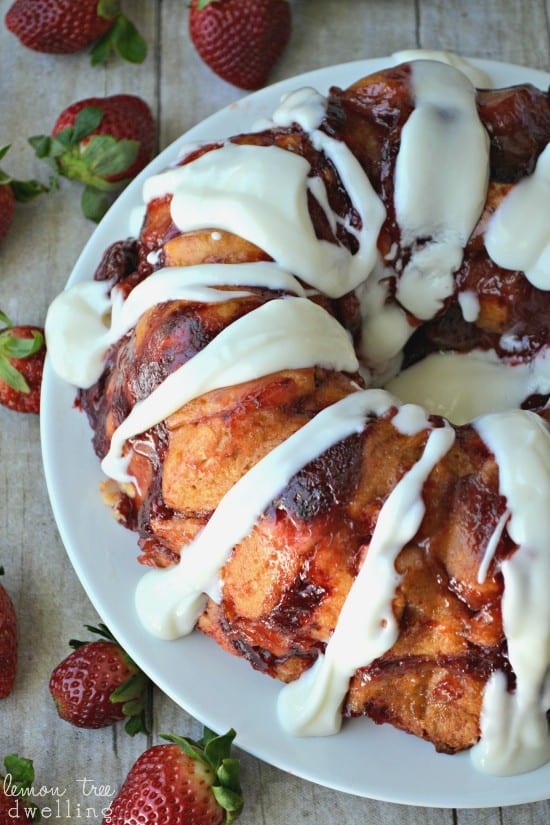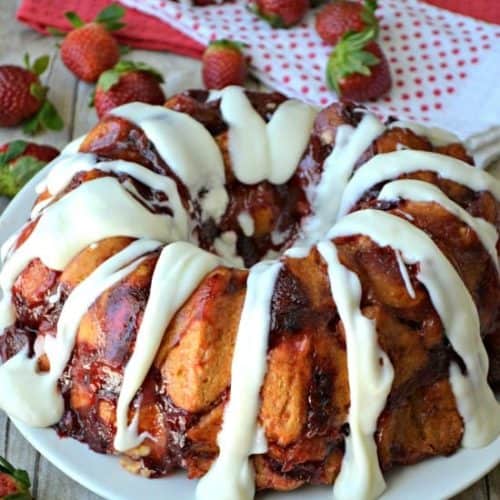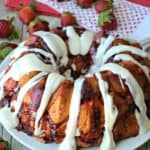 Strawberry Cheesecake Monkey Bread
Ingredients
2

cans Pillsbury Grands! biscuit dough

1/4

c.

graham cracker crumbs

1/4

c.

sugar

1

c.

white chocolate chips

2

Tbsp.

butter

softened

1

21 oz. can strawberry pie filling

4

Tbsp.

butter

3/4

c.

powdered sugar

3

oz.

cream cheese

1 1/2

Tbsp.

fat free half & half

or milk

1/2

tsp.

lemon juice
Instructions
Unroll biscuits and cut into quarters or sixths.

In small bowl, mix 1/4 c. graham cracker crumbs, 1/4 c. sugar, and 2 Tbsp. softened butter until crumbly. Pour into gallon-size Ziploc bag, add cut biscuits, and shake to coat.

In a medium saucepan, mix 1 can strawberry pie filling and 4 Tbsp. butter. Bring to a low boil and stir for 1-2 min. Remove from heat.

Pour strawberry sauce over biscuit mixture, add white chocolate chips, and stir gently to combine.

Pour biscuits and sauce into a greased bundt pan. Place the bundt pan on a baking sheet and bake at 350 degrees for 45 min, or until golden brown.

While bread is baking, prepare icing by mixing powdered sugar, cream cheese, half & half, and lemon juice until smooth.

Remove bread from oven and cool 5-10 minutes before inverting onto a serving plate.

Drizzle with icing; serve warm.
Looking for more amazing monkey bread recipes?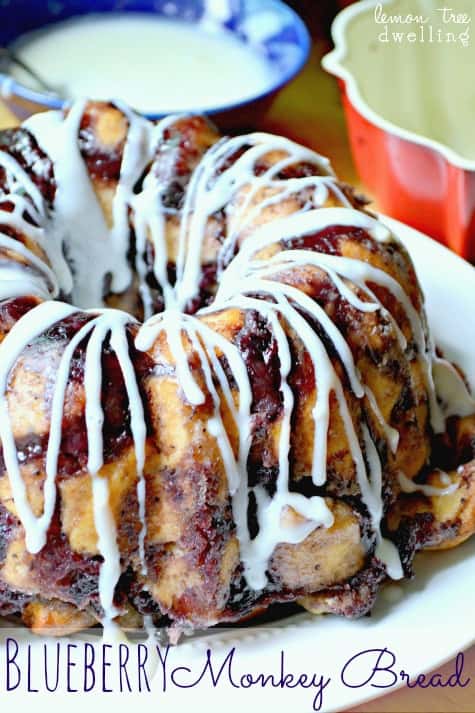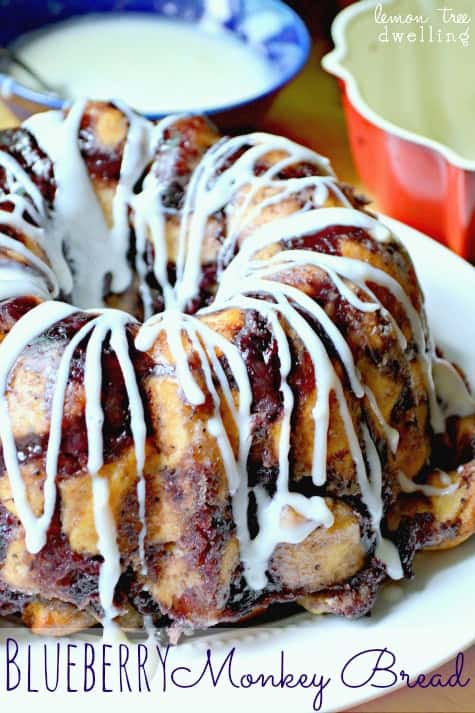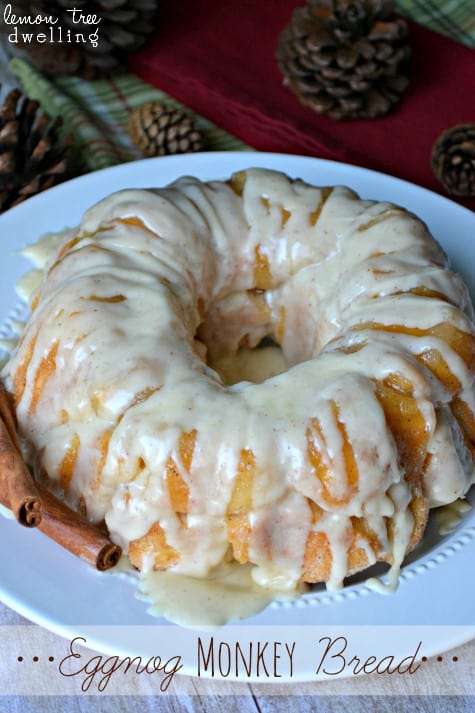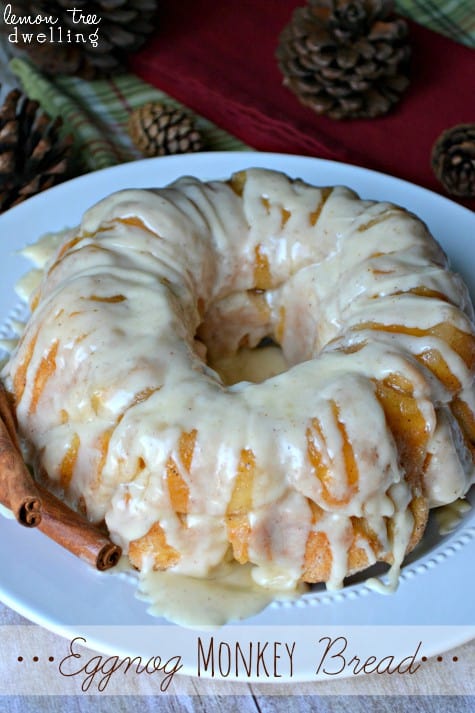 Check out this amazing Strawberry-Lemon Lattice Pie from Bon Appetit!