Moist & delicious Strawberry-Rhubarb Muffins with Sweet Basil Glaze. These muffins are packed with fresh fruit and finished with a hint of basil. Perfect for summer!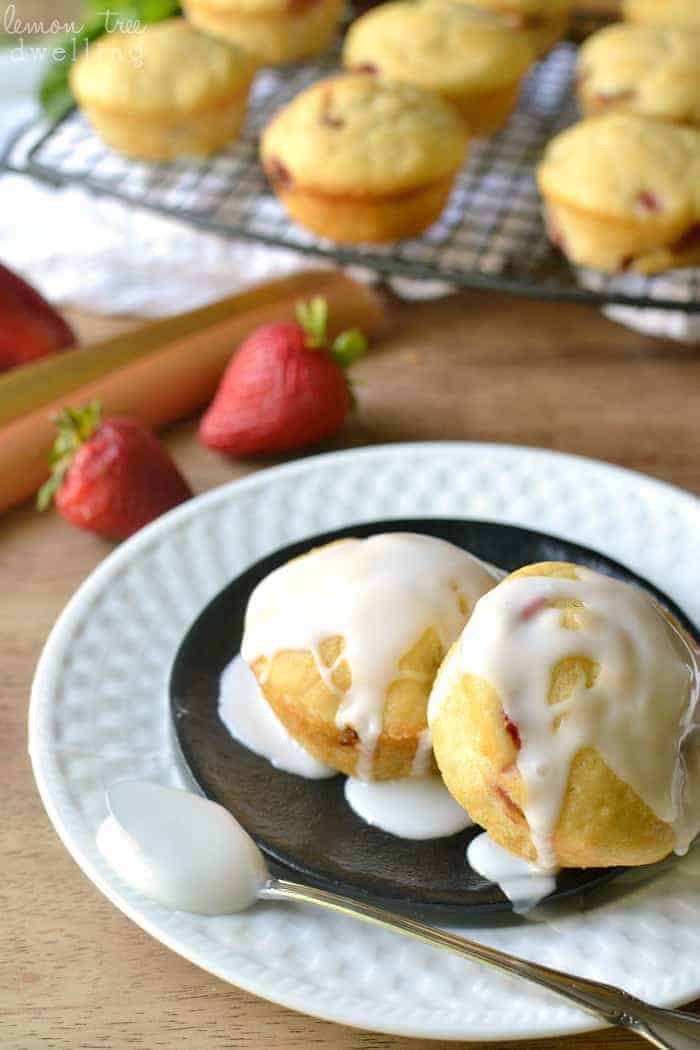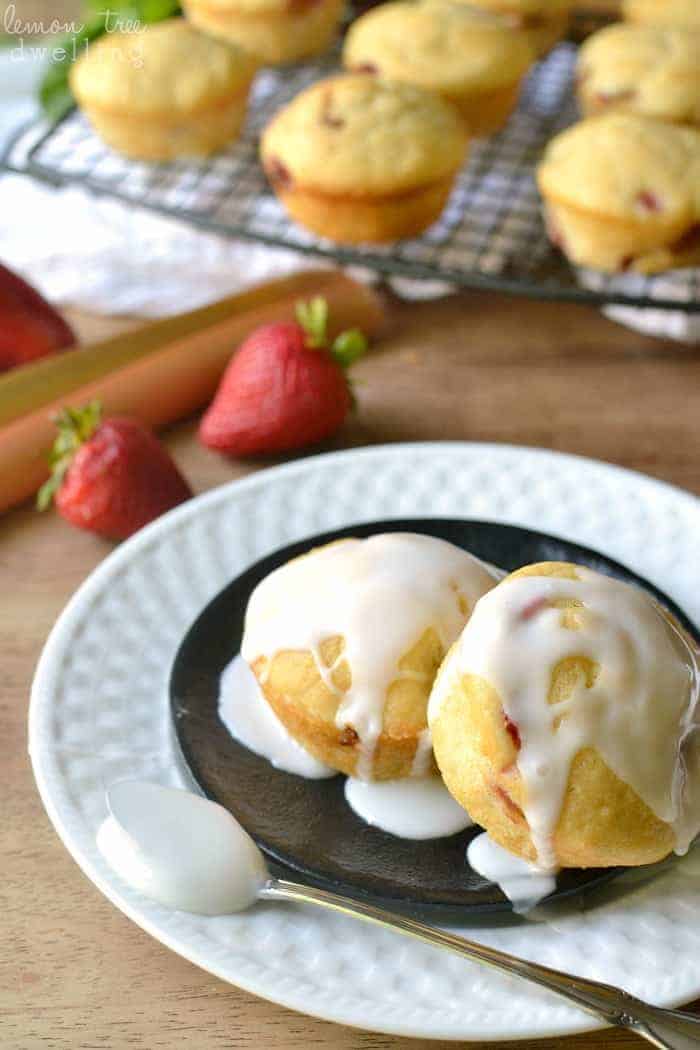 When Jorden and I were first married, we had visions of moving out of state, somewhere far away, and having a fun little adventure. We were both born and raised in Wisconsin, actually only a half hour from each other, and in our early 20's neither of us had never lived anywhere else. We never planned on it being a permanent move, since both of our families are here……we just wanted a new city to explore for a while before settling down.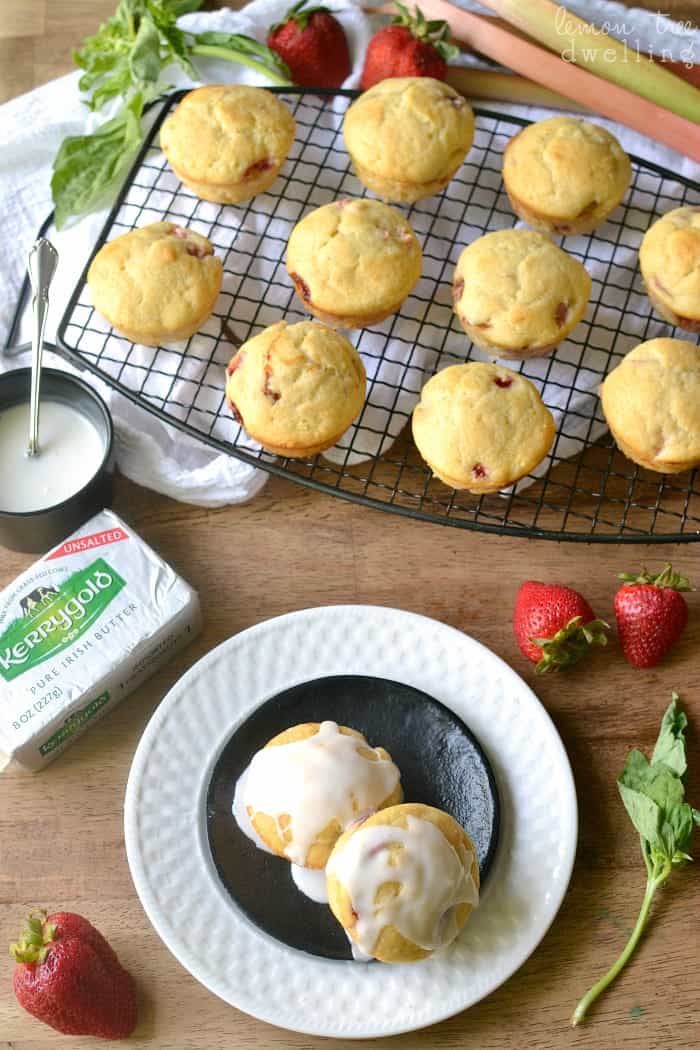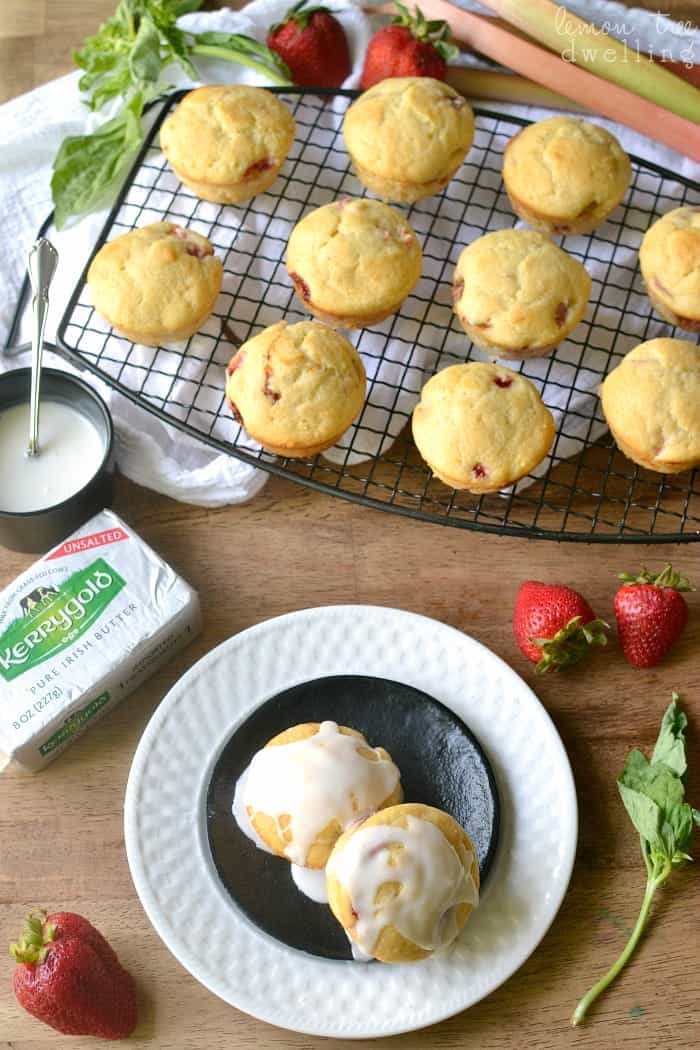 Well, 10 years later, we are still living in Wisconsin. We never had our little adventure…..and at this point, I think it's safe to say we probably never will! Between the two of us, we have two sets of parents, 4 siblings, 9 nieces and nephews, a stable job, a house we've poured our sweat, blood and tears into, a school we love, and all the roots our kids have started putting down. Yep, we're pretty much stuck here forever.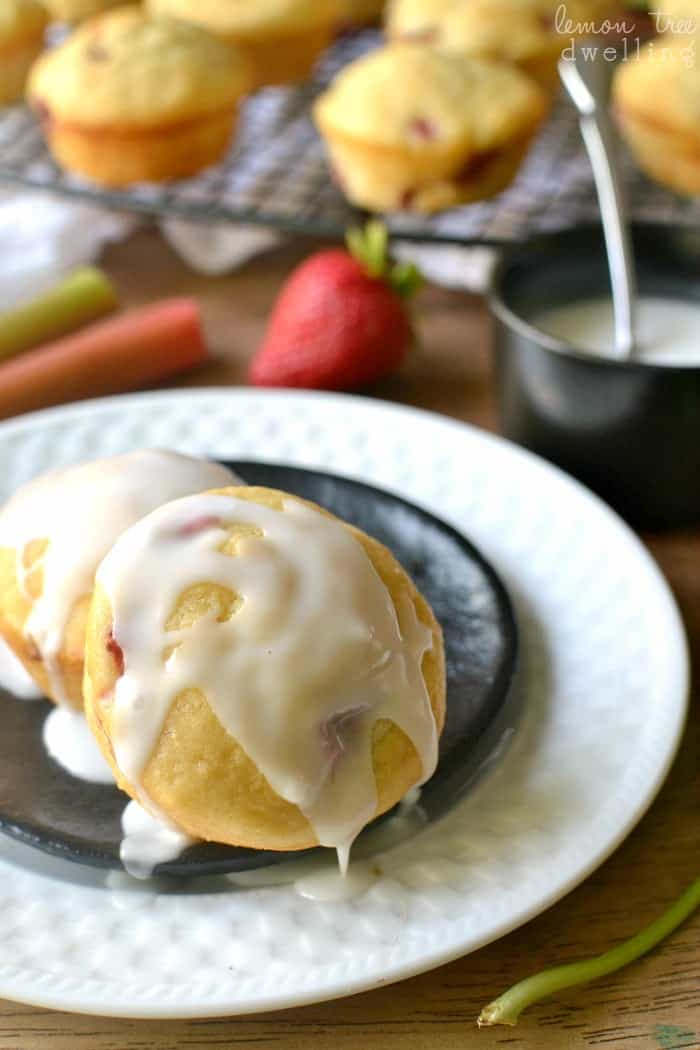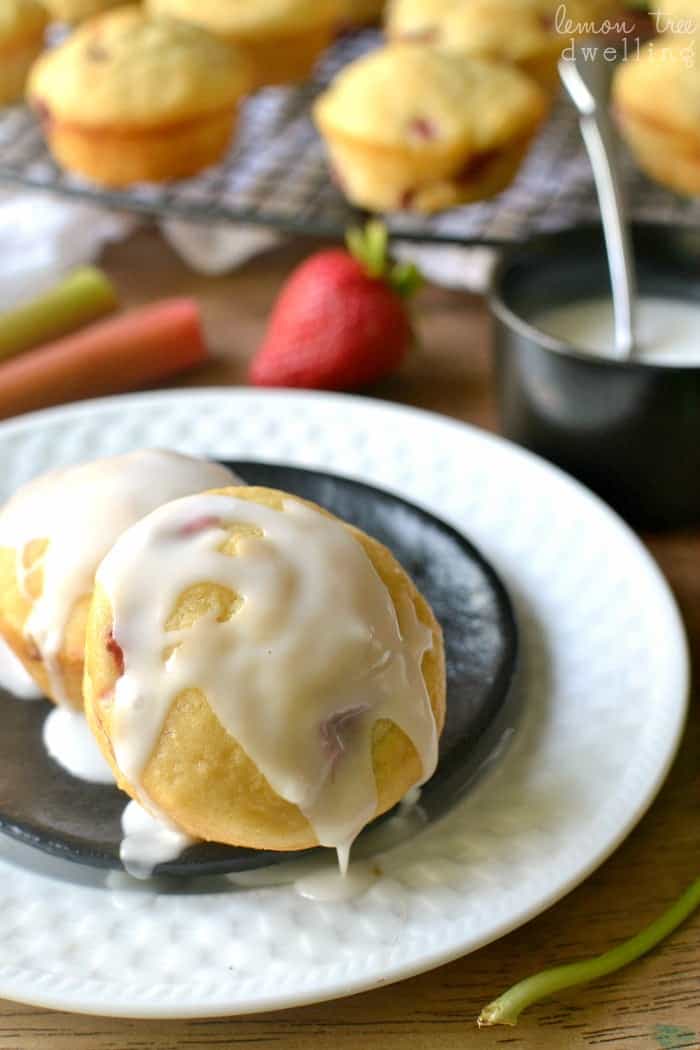 At one point, I might have said it's a reality that makes me kinda sad. To never live anywhere but the city you grew up in….who does that!? Apparently, I do! And I'm here to say it's not all bad. In fact, there's a lot of good. Like the fact that we can go to a gymnastics open gym with cousins on a random Thursday. Or the fact that we can invite family over for a Sunday cookout whenever we want. Or the fact that we can meet for breakfast or dinner or shopping or ice cream or a Saturday morning movie at the drop of a hat. Or the fact that my dad can give me firsthand advice on my rhubarb.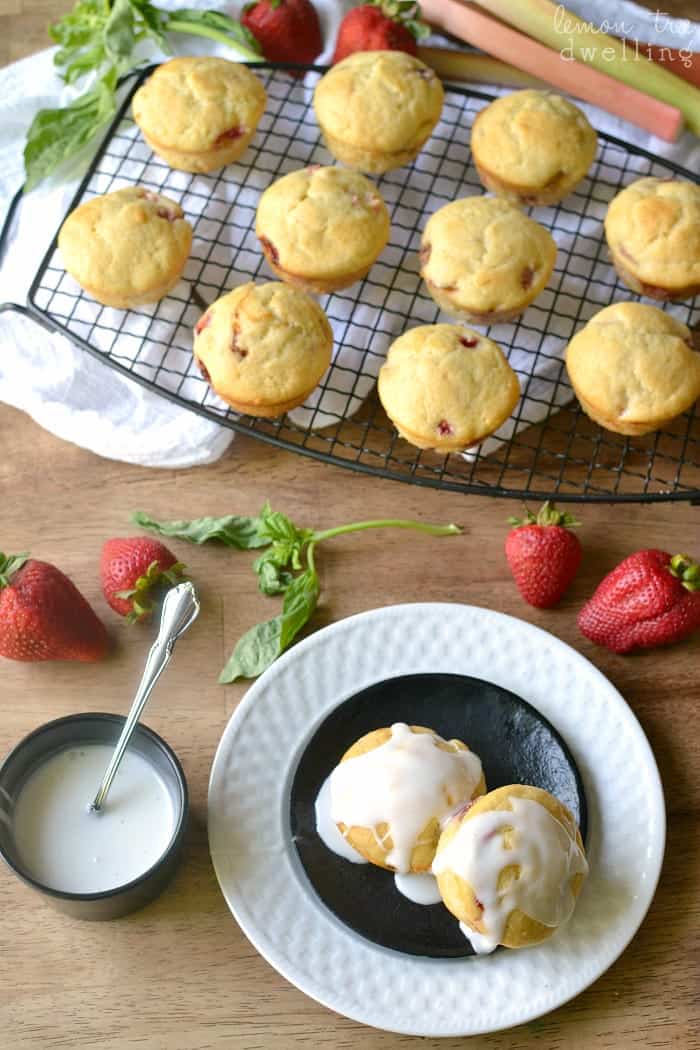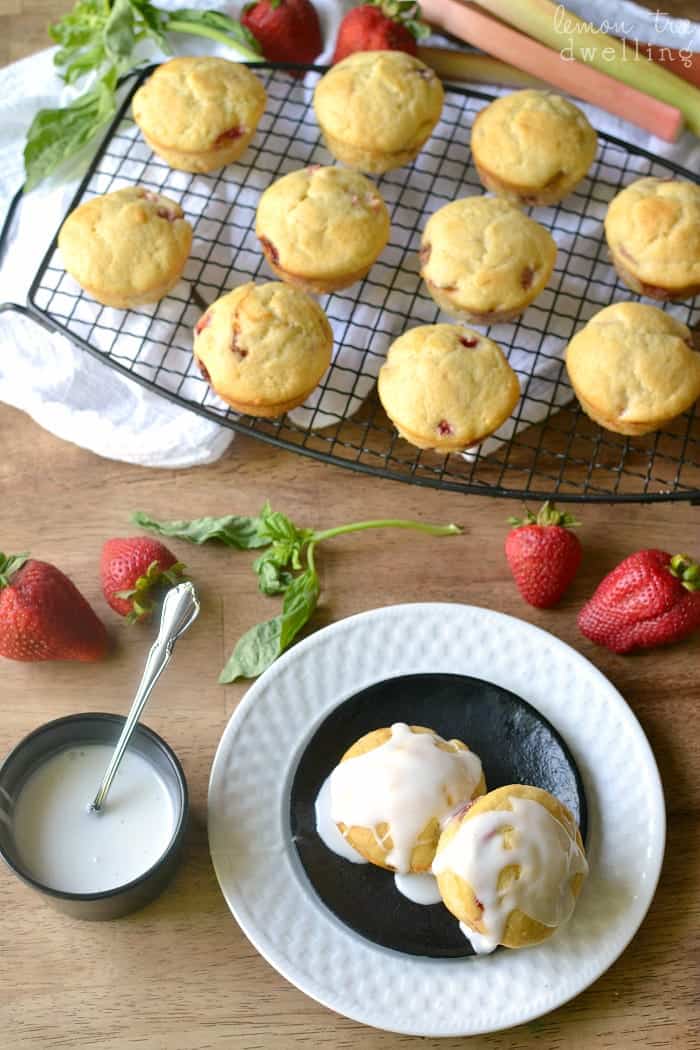 What's that, you say? Advice on rhubarb? Why yes….that's really a thing. See, when you live in the same city you grew up in, your parents can stop by on their way home from an oil change and give you advice on your rhubarb as they walk in the door. Namely, "It needs to be picked!!!!" Which is exactly what happened the other day. So I had some rhubarb sitting around…..and a craving for muffins…..and that's how these little sweet things came to be. Like I said – living in the same city you grew up in is not all bad. In fact, I kinda love it. And you're going to kinda love these muffins, too!!!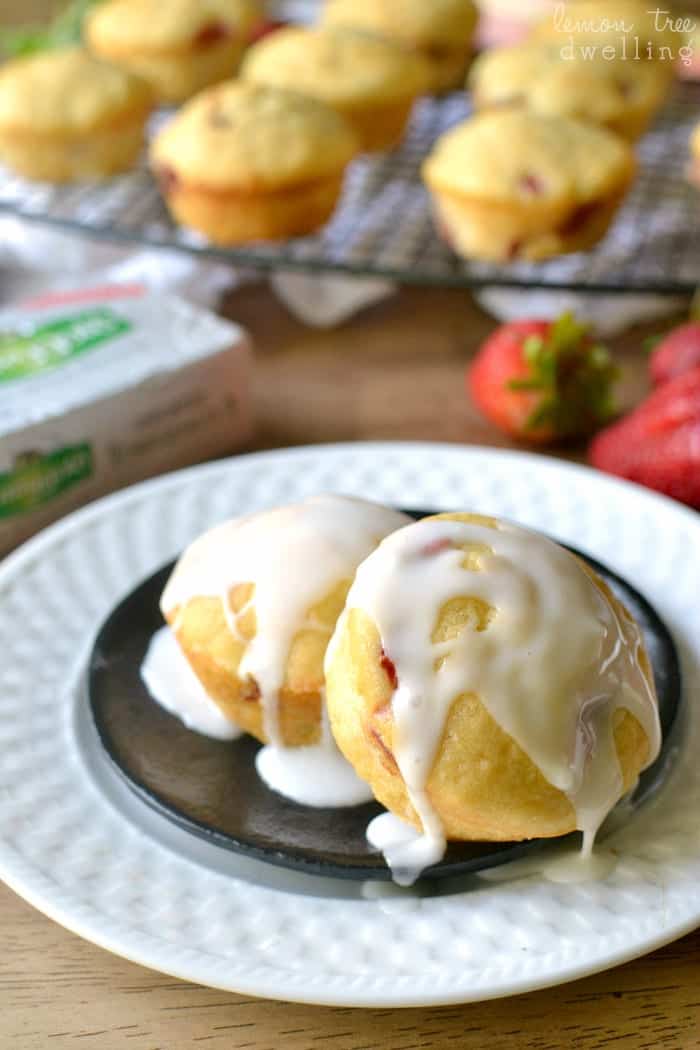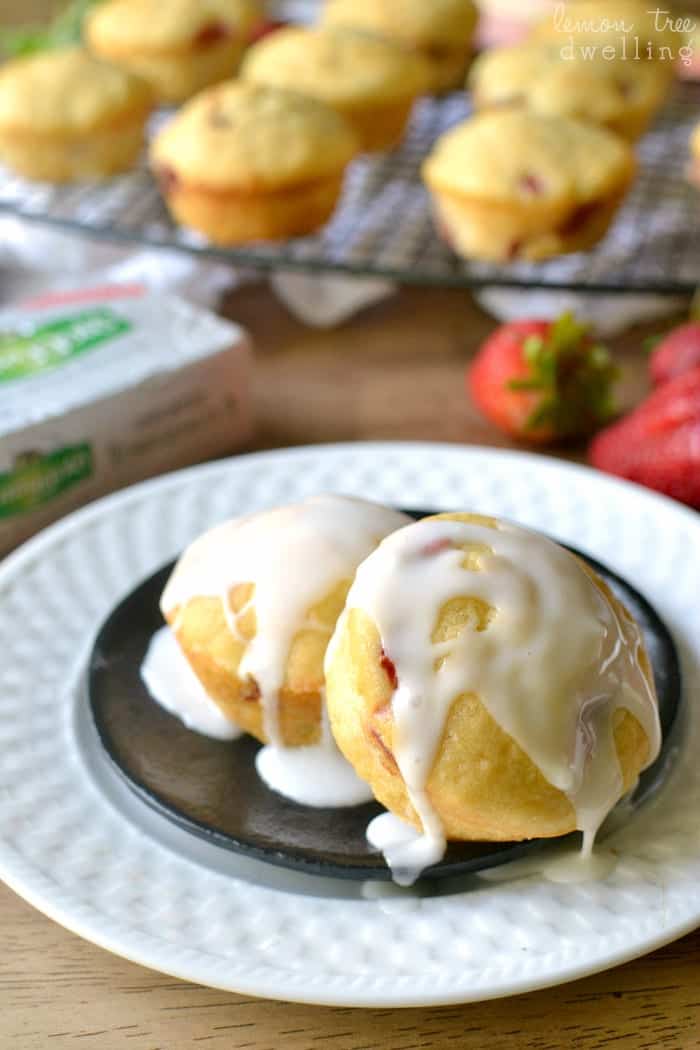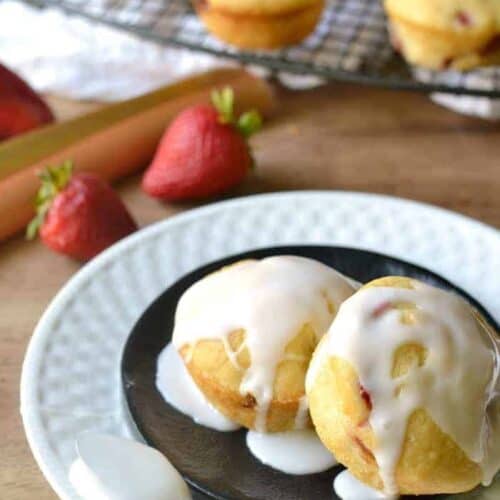 Strawberry Basil Rhubarb Muffins
Ingredients
3

c.

all-purpose flour

1

c.

sugar

1

Tbsp.

baking powder

½

tsp.

baking soda

½

tsp.

salt

1

c.

sour cream

¾

c.

milk

2

large eggs

1/2

c.

unsalted butter

melted and cooled (I used Kerrygold)

1

tsp.

vanilla

1

heaping c. chopped

fresh strawberries

1

heaping c. chopped rhubarb

1

c.

powdered sugar

2

Tbsp.

basil simple syrup

bring equal parts sugar and water to a boil; remove from heat and add fresh basil leaves. Cool.
Instructions
Preheat oven to 375 degrees. Prepare two 12-cup muffin tins with cooking spray.

Mix the flour, sugar, baking powder, baking soda and salt together in a large bowl.

Whisk the sour cream, milk, eggs and vanilla together in a separate bowl.

Mix the wet ingredients with the dry ingredients and stir gently to combine. Add the melted butter and stir well.

Fold in strawberries and rhubarb.

Fill each muffin cup ¾ full. Bake until golden brown, 25-30 minutes.

Let cool in pan 5 minutes, then remove to wire rack. Shortly before serving, top with glaze.

For glaze:

Combine powdered sugar and basil syrup in a small bowl.