Fresh, tart rhubarb in a deliciously rich and moist coffee cake with a buttery crumb topping – a little piece of heaven for your morning.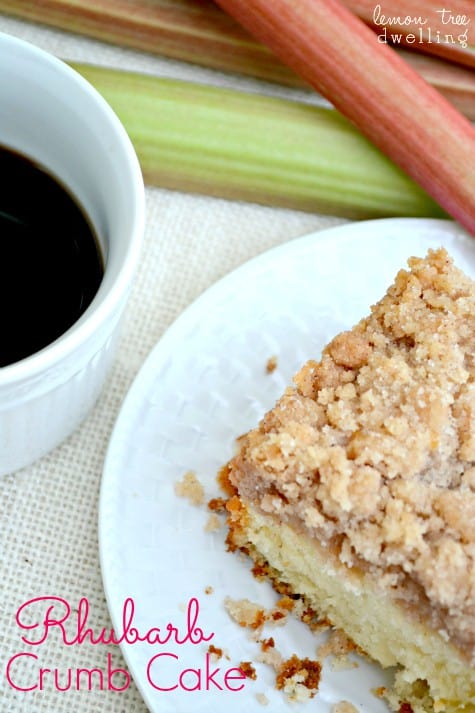 Growing up, we always had a big rhubarb plant in our backyard. My mom used to make Rhubarb Crisp as a special summer treat. She would serve it warm, with vanilla ice cream on top. Mmmmmmm. The only problem was that, as a child, I wanted nothing to do with rhubarb. Clearly I didn't know what I was missing! Luckily, my tastes have changed since then…and these days, passing up a rhubarb treat would be completely unheard of!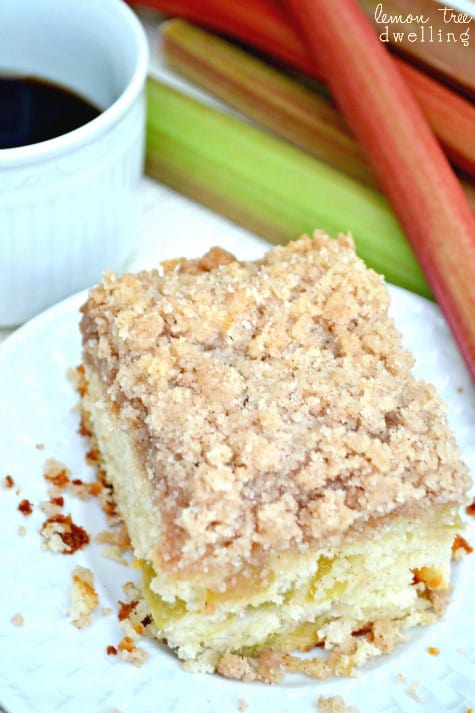 So when I looked outside the other day and noticed that my rhubarb was a bit overgrown….(okay – a LOT overgrown)….my mind started racing with all the delicious things I could make. Rhubarb crisp, rhubarb pie, rhubarb cake, rhubarb jam, rhubarb muffins….? Yes, yes, and yes! I'm pretty sure we have enough to make it all….take a look at how much I picked!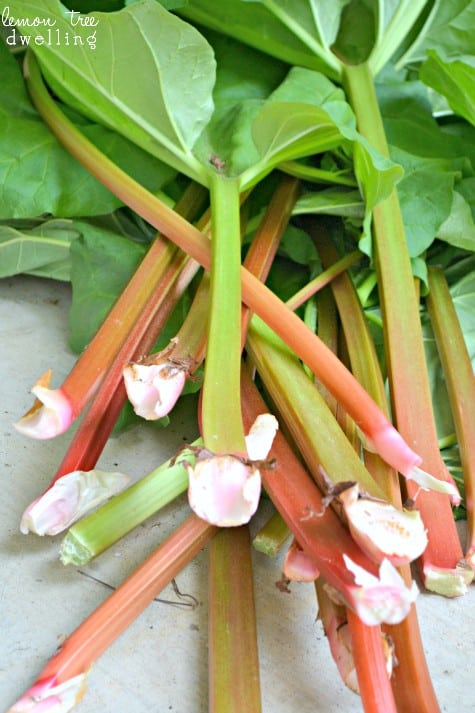 And this is only half of what was there. Since it will grow back at least once or twice this season, I clearly have enough rhubarb to last me all summer (and then some). Needless to say, I may be sharing a few rhubarb recipes with you. My theory is you can never have too many ways to use something….especially something that grows in such abundance! Hopefully you agree.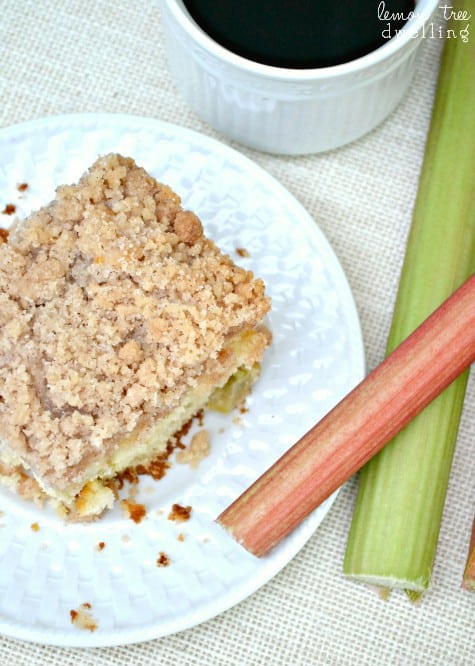 First up? Coffee cake. What I love most about coffee cake is that you wake up knowing you have something to look forward to. And what better way to start your day than with a cup of coffee and a piece of cake!? Genius! This particular coffee cake is one of my personal favorites. It is rich and buttery, and the sweet crumb topping works especially well with the rhubarb. Definitely a winning combination.
The best news of all? My kids love it, too! Rhubarb, that is. They loved this coffee cake and can't wait to see what comes out of the oven next. And you know what? Neither can I!
Rhubarb Crumb Cake (adapted from An Occasion To Gather: Blueberry Crumble Cake)

1 1/4 c. sugar
2/3 c. flour
1 tsp. cinnamon
2 c. fresh rhubarb, chopped
1/2 c butter, softened
2 c. flour
2 1/2 tsp. baking powder
3/4 tsp. salt
3/4 c. milk
3/4 c. sugar
1/4 c. butter, softened
1 egg
1. Crumb Topping: Combine 1 c. sugar, 2/3 c. flour and cinnamon in a bowl and mix well. Add 1/2 c. butter and mix until crumbly. Set aside.
2. Combine 1/4 c. sugar and chopped rhubarb in a small bowl. Mix well and set aside.
3. Mix 2 c. flour, baking powder and salt together.
4. Beat milk, 3/4 c. sugar, 1/4 c. butter and egg until creamy. Add the dry ingredients and mix until just blended. Stir in the rhubarb.
5. Spoon the batter into a greased 8×8 inch pan and sprinkle with the crumb topping.
6. Bake at 350 degrees for 50 minutes or until golden brown.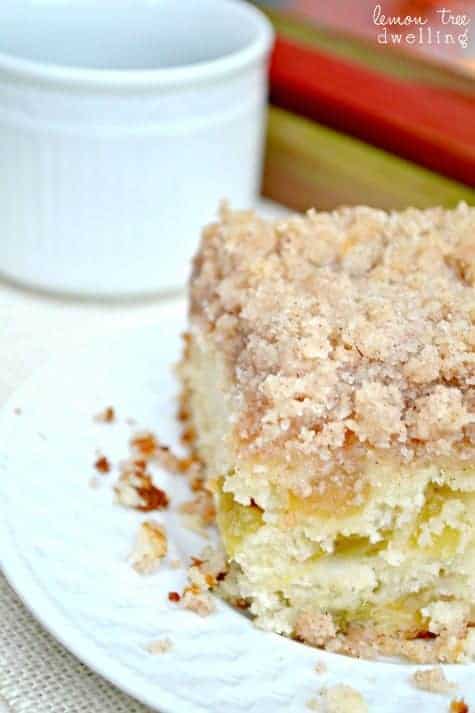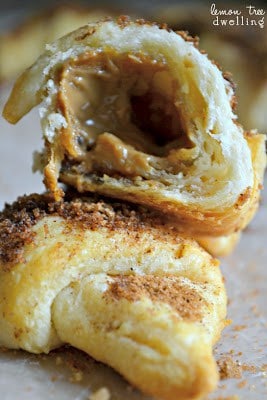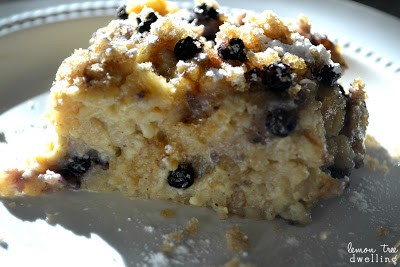 Thanks for taking a peek inside my Lemon Tree Dwelling…
I hope you feel right at home!