Red Velvet Mocha Milkshake is not your average shake! This coffee flavored milkshake is complete with a touch of cream cheese for that perfect red velvet flavor. The perfect treat for Valentine's Day!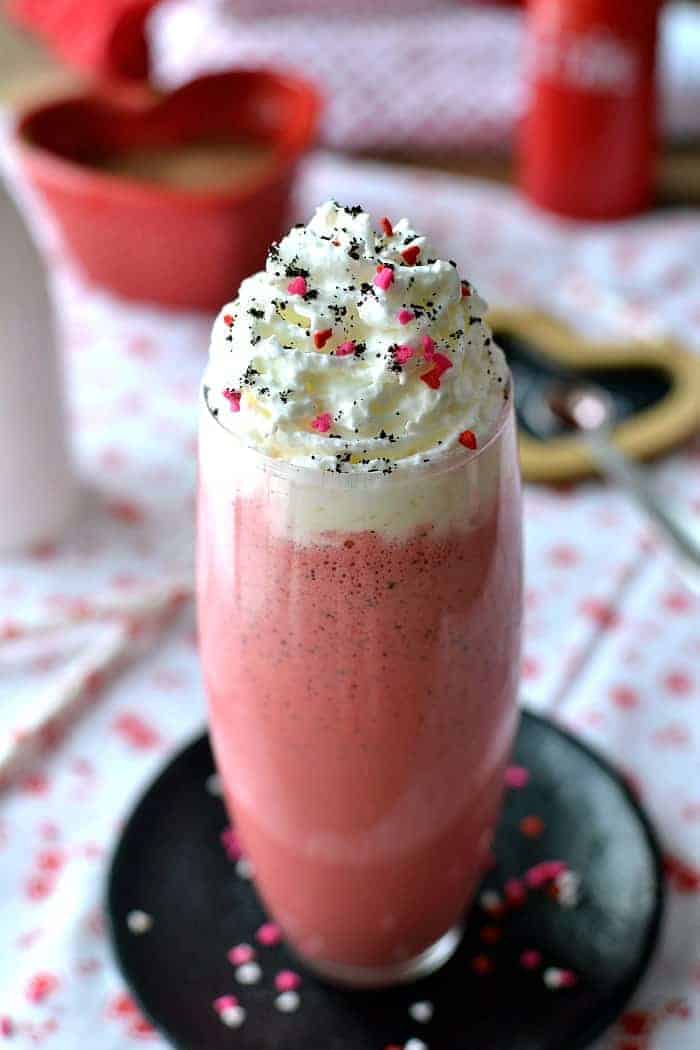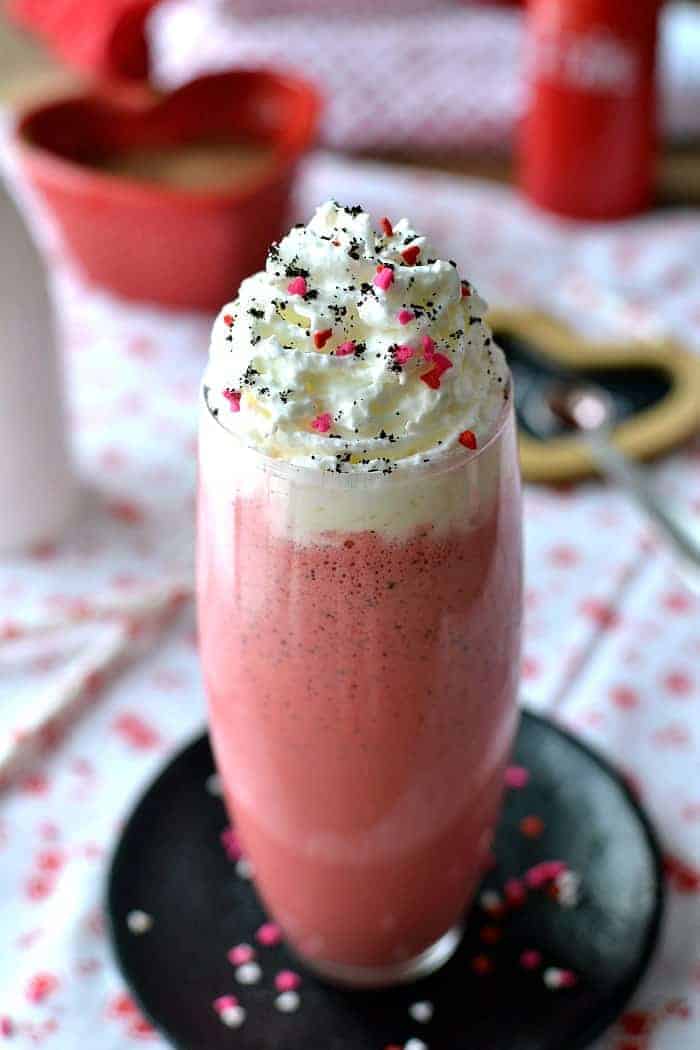 At some point in my life, I'd be a great candidate for an espresso machine. Not only because I love the taste of espresso (my morning coffee resembles it), and not only because I've worked in numerous coffee shops and already know how to make it, but because it might stop me from wanting to infuse everything I make with a delicious hit of the stuff! Or…..I guess……it could make my obsession worse!?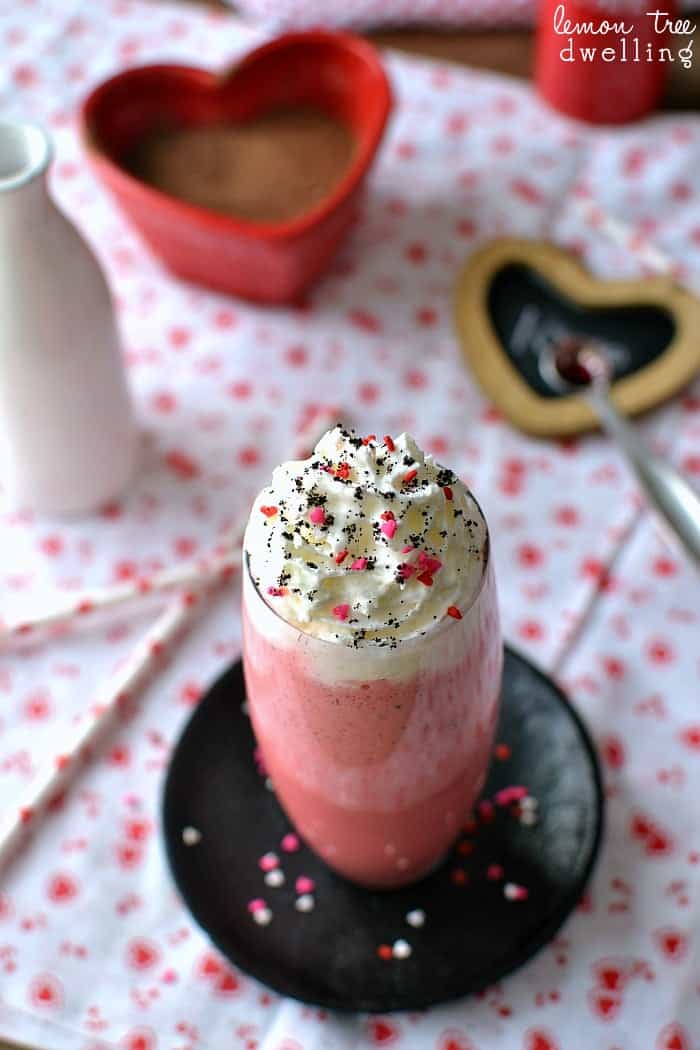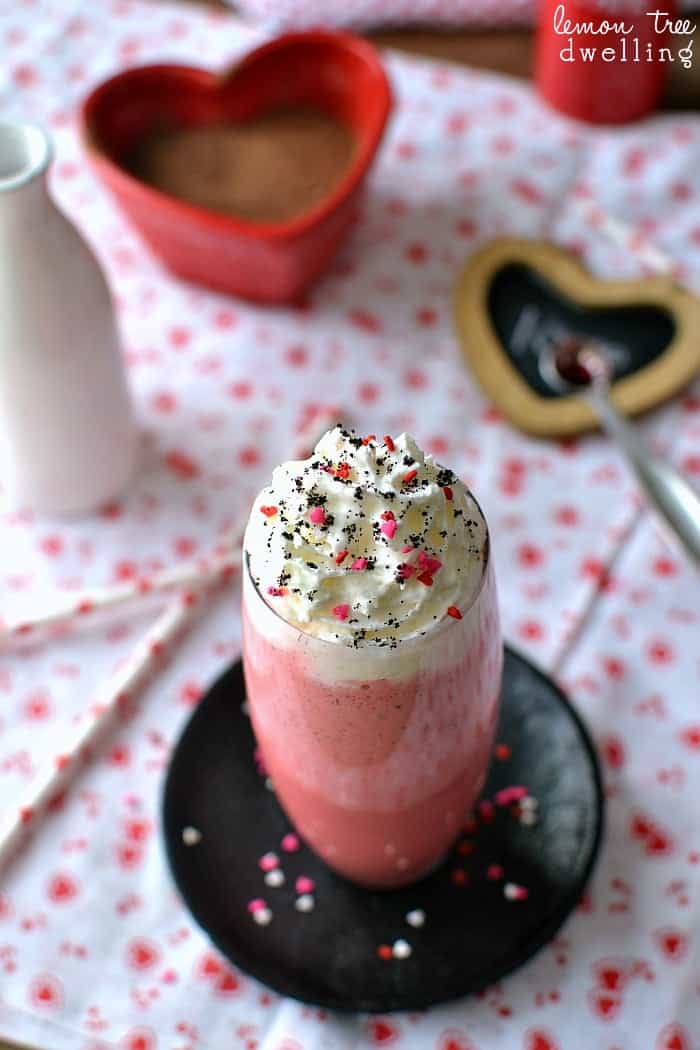 For me, there's just something about the whole coffee experience that I savor. The sound of it brewing, the aroma in the air, the warmth of the cup in my hands……I've said this before, but there are definitely days when coffee is the only thing that gets me out of bed!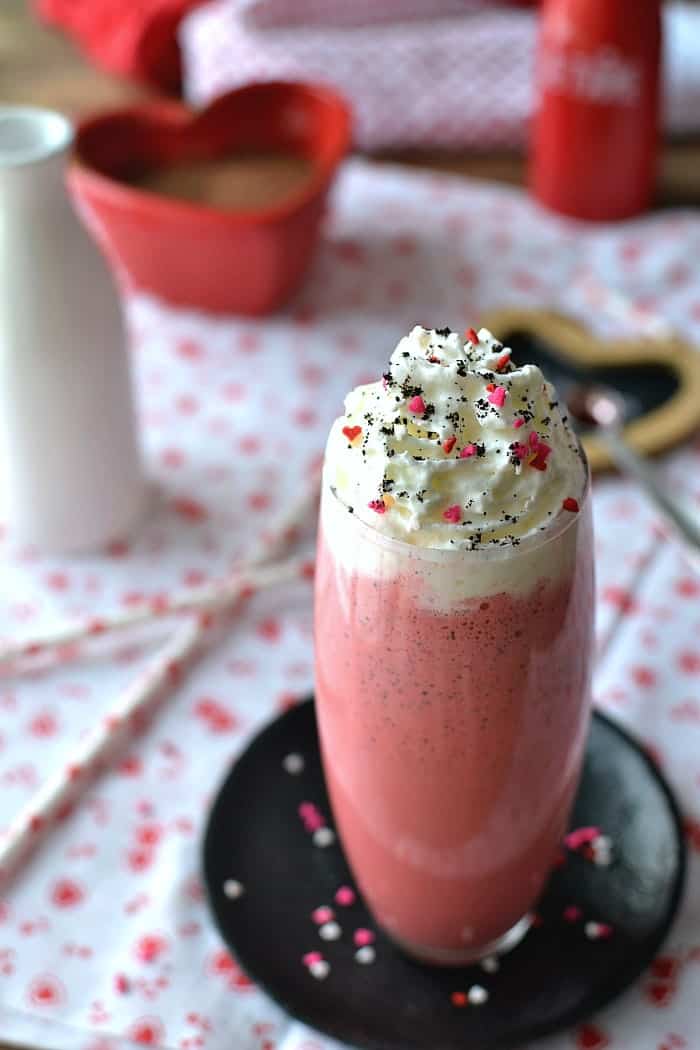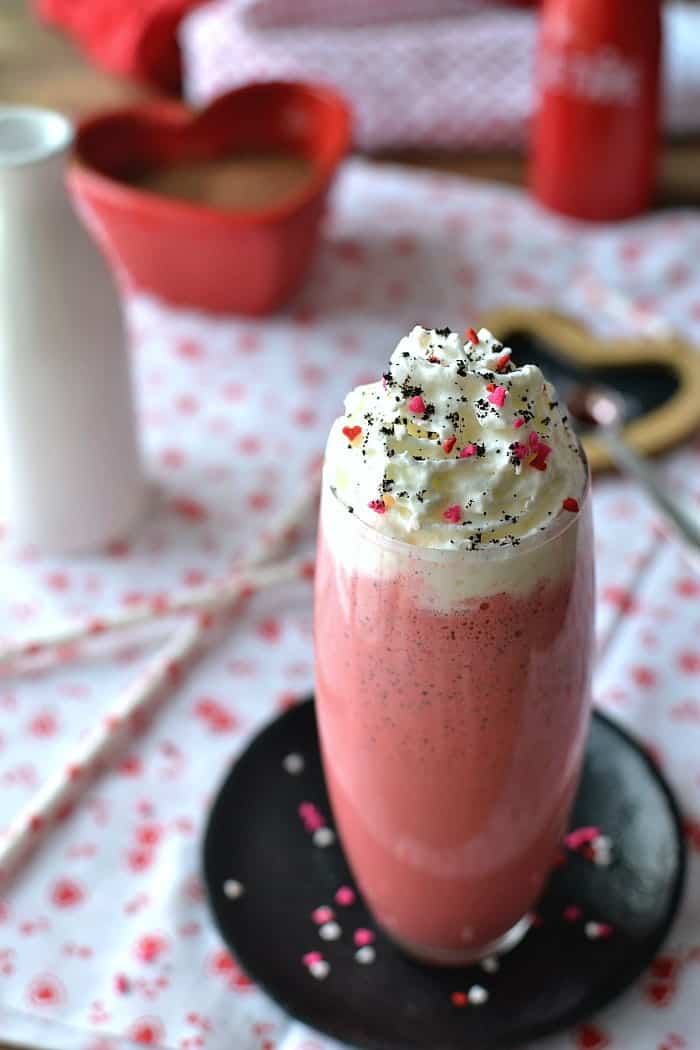 But here's the deal. I limit myself to 2 cups a day…..in the morning. So by 9 am, my coffee fix is over! What's a coffee-loving girl to do, other than find a way around my own limits? You see where I'm going with this? Now, I realize that for those of you who don't love coffee as much as I do, coffee-flavored desserts are probably not that exciting. And to you I say GET ON BOARD! Haha – just kidding. But you might want to consider it……
Red Velvet Mocha Milkshake
Actually, though, this milkshake is easily de-mochified (just leave out the ground coffee!) Either way you like it, the one thing I can guarantee is you will like this treat. In fact, you will probably LOVE this it!. It's delicious, it's pretty, and it's so easy to whip up and share with family and friends. Or enjoy all on your own. I definitely wouldn't judge.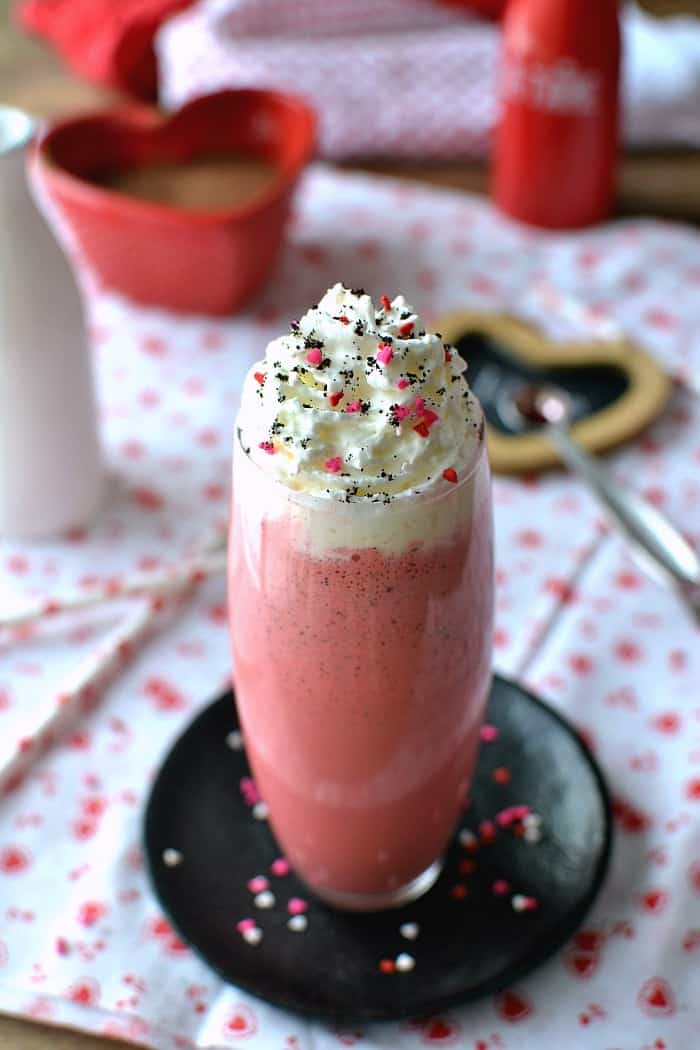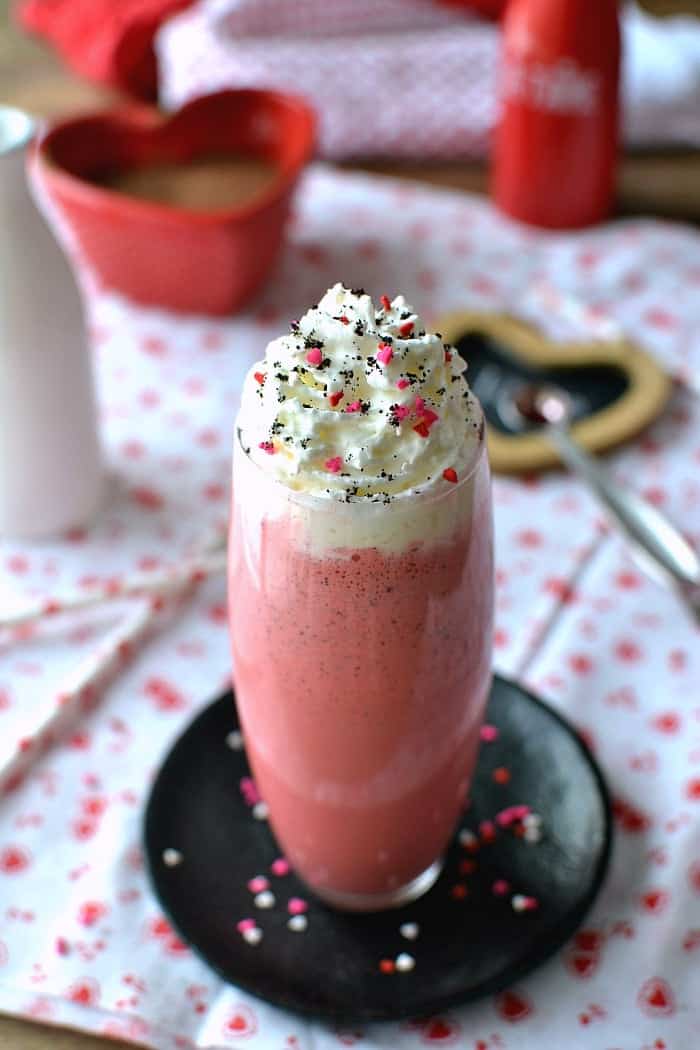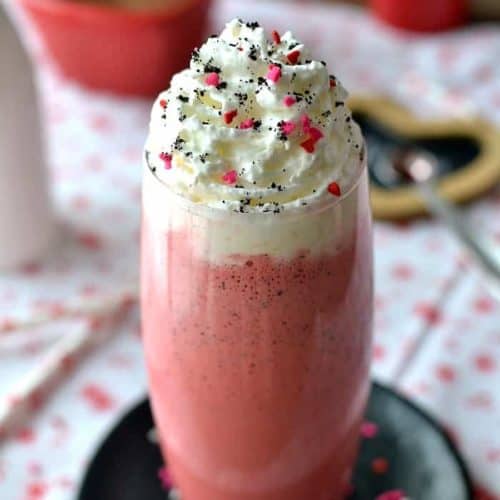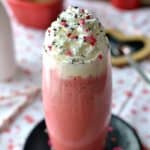 Red Velvet Mocha Milkshake
Ingredients
1

c.

vanilla ice cream

1/2

c.

half & half

2

Tbsp.

cream cheese

1

tsp.

cocoa powder

1/2

tsp.finely ground dark roast coffee

1/2

tsp.

red food coloring

whipped cream

sprinkles
Instructions
Combine ice cream, half & half, cream cheese, cocoa powder, ground coffee, and food coloring in a blender. Blend until smooth.

Top with whipped cream and sprinkles.
For another great grown up Milkshake, try my Boozy Cinnamon Dolce Milkshake


Be sure to follow us on Facebook to keep up with all our latest recipes!