These 3 Ingredient Cheese Spreads will enhance your crackers and cheese snack! Three delicious cheese spreads made with just 3 ingredients each! Why choose between Wasabi Cheddar, Sun Dried Tomato Feta, and Pesto Parmesan when it's so easy to make all three? Eat them with crackers, pretzels, or even veggies for an awesome snack or party appetizer!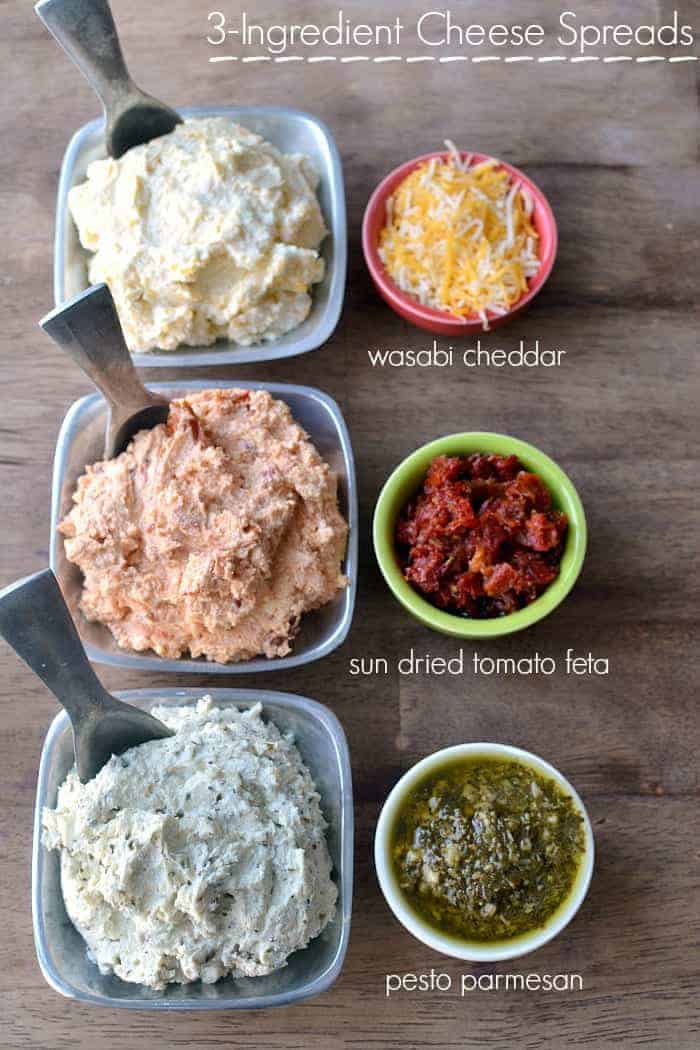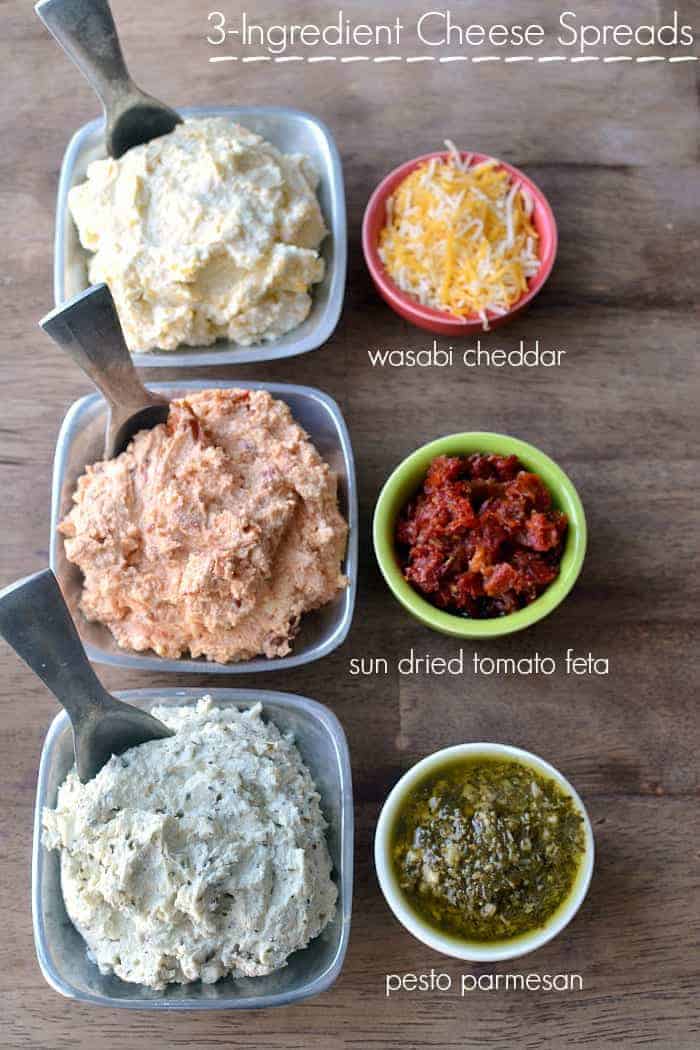 Let's just get this out there. I'm a complete sucker for anything I can put on top of something else. Dips, dressings, drizzles…..toppings of any kind…..sign me up! And plan on me eating more than my fair share.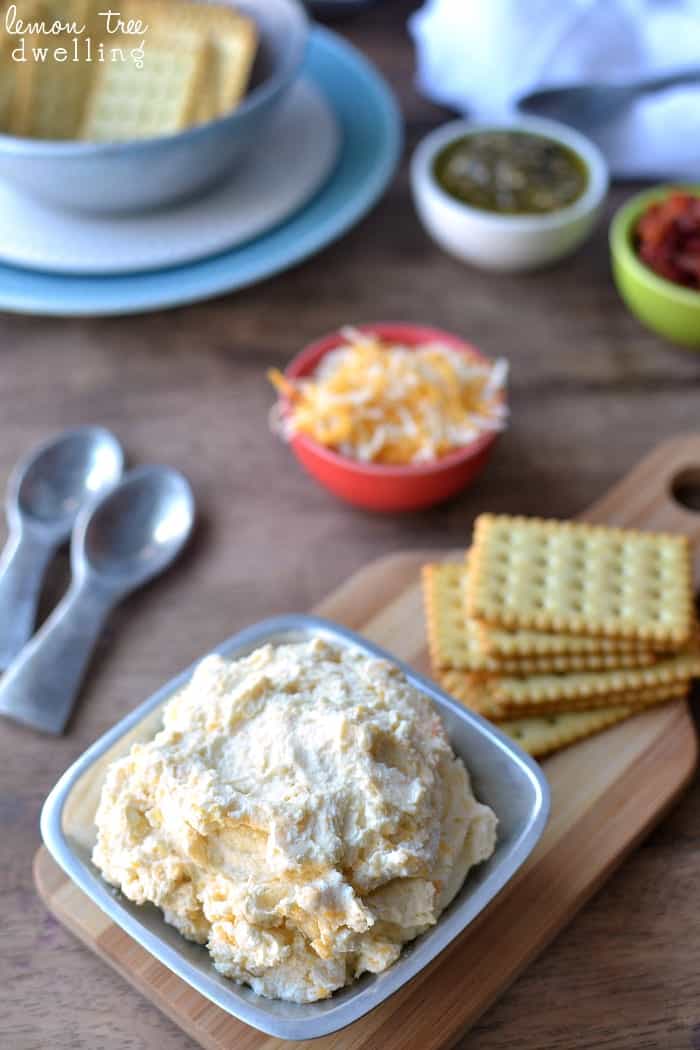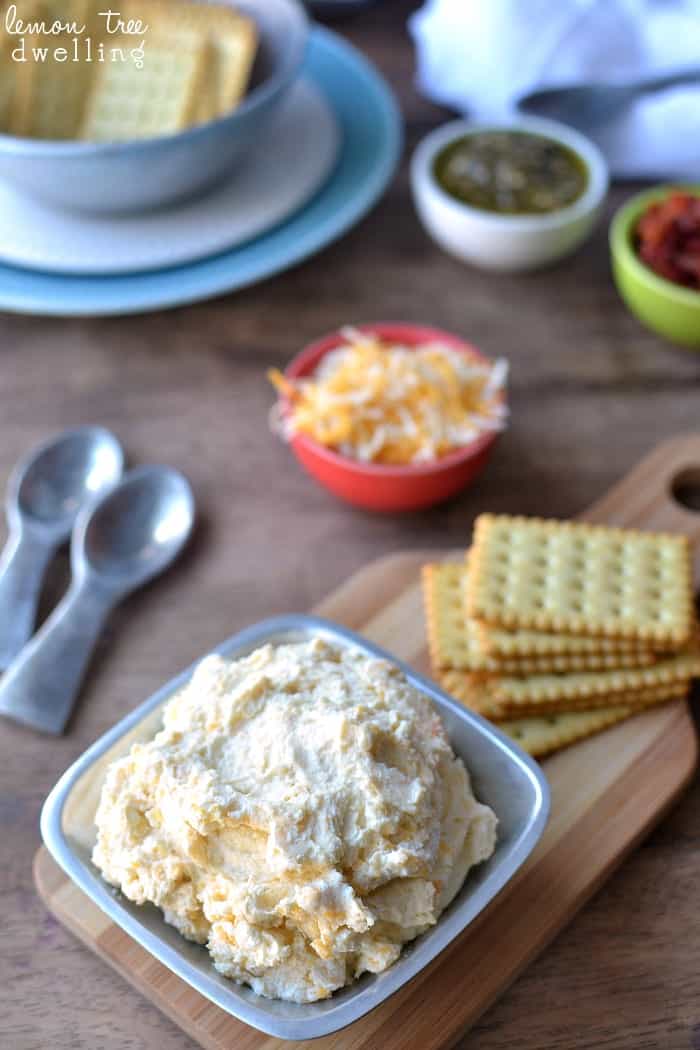 It's apparent any time we get sushi, and I finish all my soy sauce and ginger halfway through it and have to start dipping into Jorden's. Or any time we go out for Mexican, and we literally go through 8 little cups of salsa. Or any time I order a salad and have to ask for more dressing before I can finish eating. Or any time you open my fridge and see a disproportionate number of condiments……!
3-Ingredient Cheese Spreads for Grown up Cheese and Cracker
What can I say? I love my toppings! I especially love anything cheese and crackery….but I like big, bold flavors, too! Which is why these spreads are perfect. They're basically cheese (and crackers) with a twist…..of pesto, sun dried tomatoes, and wasabi. The flavors are bold, the texture is creamy, and they make an awesome snack with crackers, pretzel flats, or even veggies!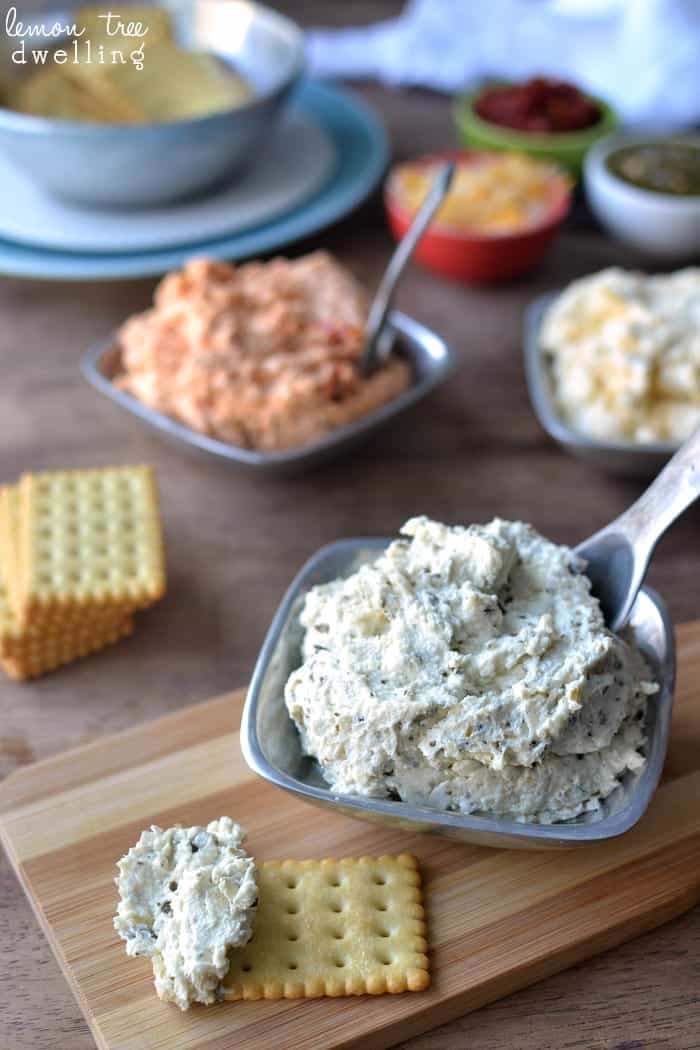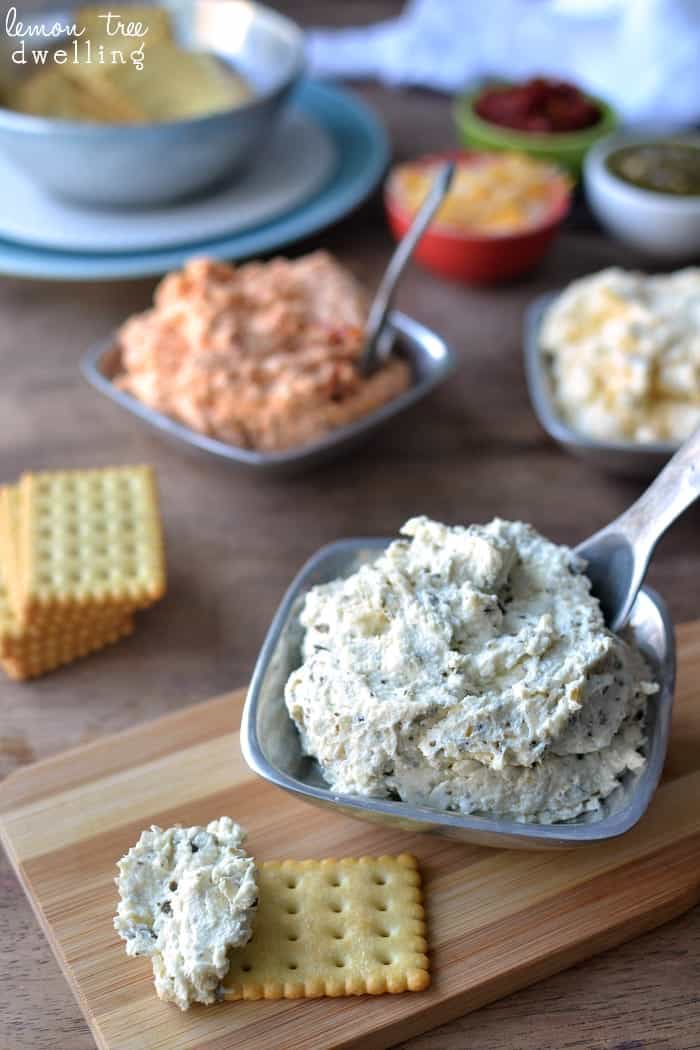 And just for good measure, each cheese spread has double the cheese. Because the only thing better than cheese is……more cheese! I have to say – I was kind of like a kid in a candy store, searching through my fridge to find the best 3-ingredient combinations. Because when you love dips, dressings, drizzles and spreads as much as I do……these are not decisions to be taken lightly!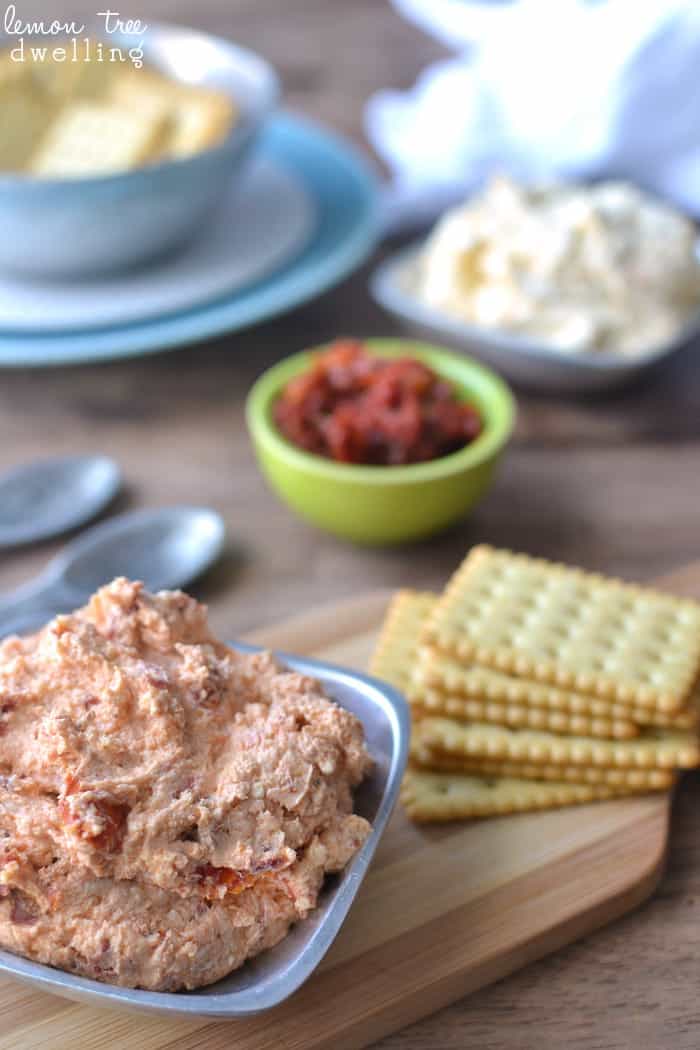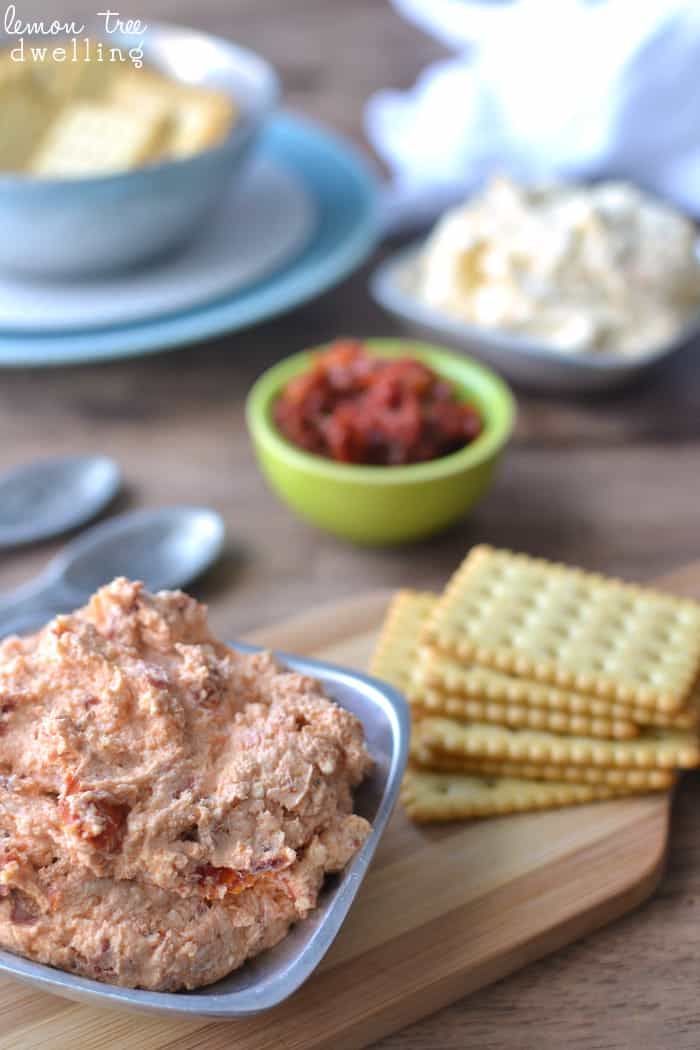 3-Ingredient Cheese Spreads – Recipes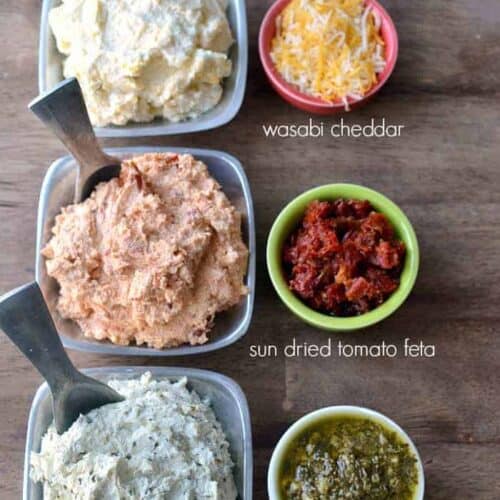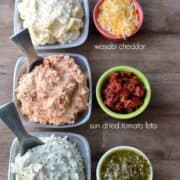 3-Ingredient Cheese Spreads
Ingredients
Pesto Parmesan:
1

8 oz package cream cheese, softened

3

Tbsp.

prepared basil pesto

1/3

c.

grated Parmesan
Wasabi Cheddar:
1

8 oz package cream cheese, softened

2

tsp.

wasabi paste

1

c.

finely shredded cheddar cheese

or cheddar blend
Sun Dried Tomato Feta:
1

8 oz package cream cheese, softened

1/2

c.

sun dried tomatoes

packed in oil & herbs (do not drain)

4

oz.

feta cheese
Instructions
Prepare each dip by combining ingredients in a small mixing bowl and, using a hand mixer, mixing on medium-high speed until thoroughly smooth and spreadable.

Serve with crackers, pretzels, sliced baguette, or vegetables.

*Best when served at room temperature
For another great cheese spread option, try my Swiss Almond Cheeseball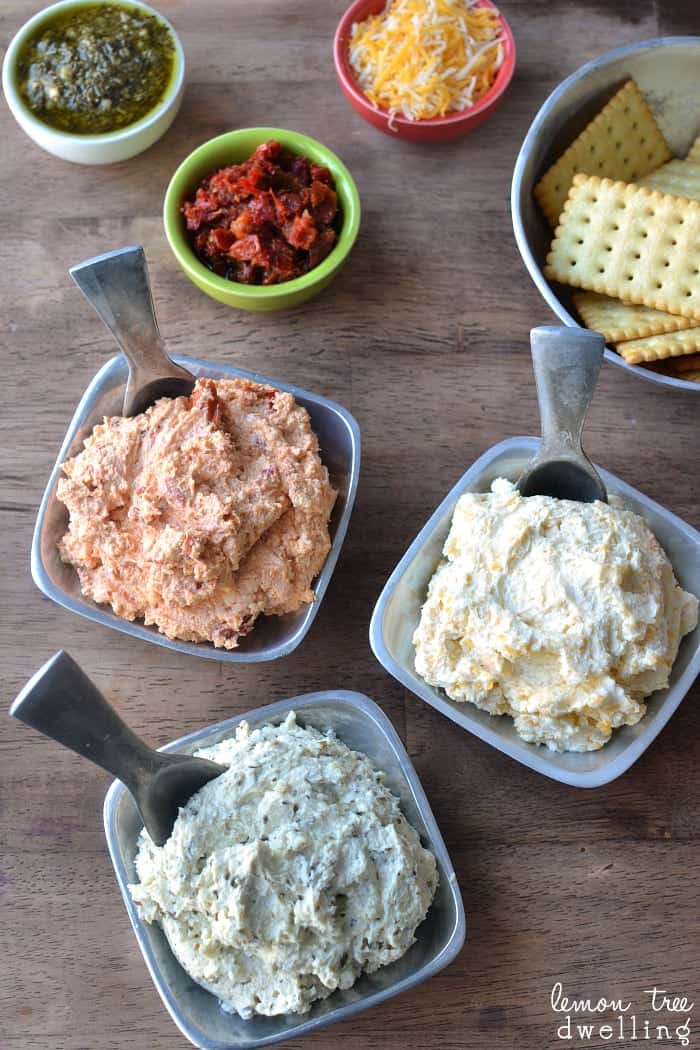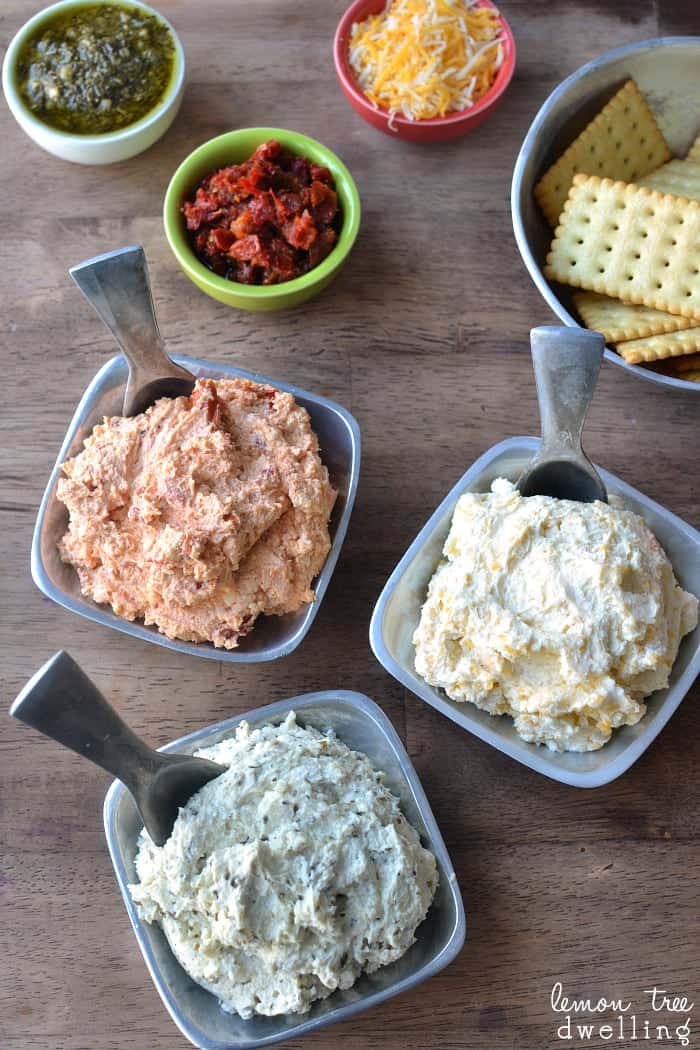 Want to try your hand at making your own crackers for your cheese spread? Try these Homemade Flatbread Crackers from Pinch of Yum