Quinoa Taco Bowls are healthy and delicious, combining the flavors of taco salad with the added benefits of quinoa, creating a dinner recipe that everyone is sure to love!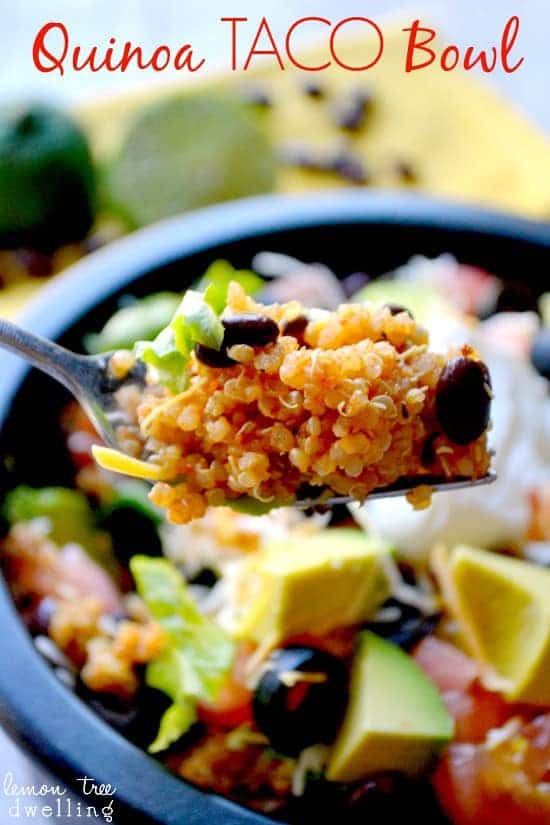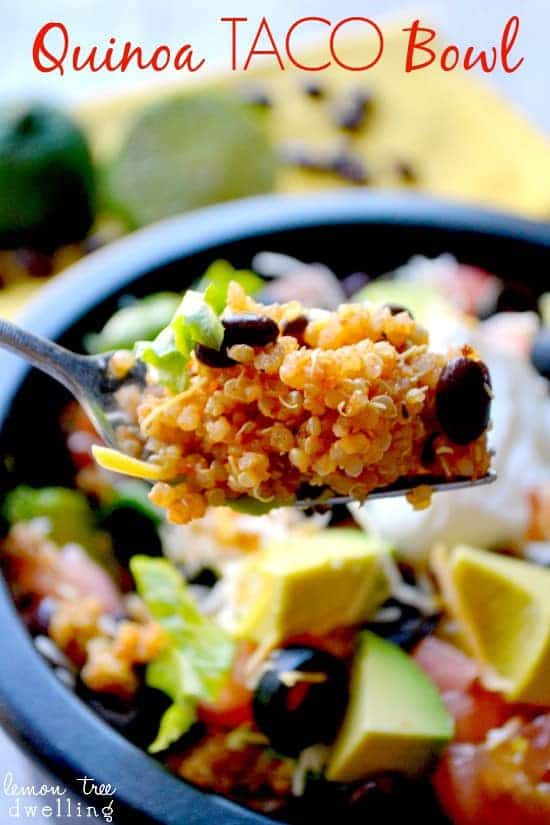 Quinoa - it's one of those things I am bound and determined to make my family love. Not only is it a healthy, inexpensive option, it's also extremely versatile! The possibilities of what you can do with quinoa seem almost limitless. Quinoa chicken salad, quinoa chili, and even chocolate quinoa cake! It's along the lines of pasta or risotto -items which make dinner prep infinitely easier! If you have quinoa in the cupboard, you can pretty much mix it with anything and call it dinner. The key, though, is getting your family on board....!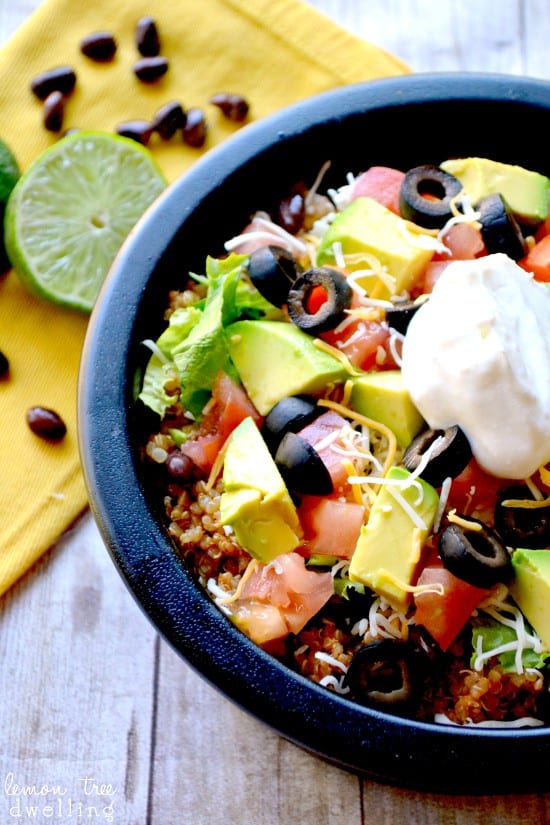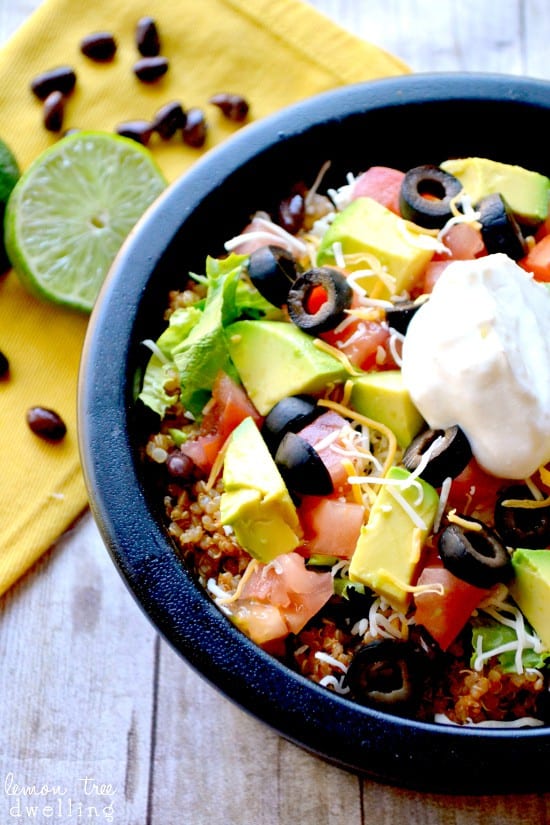 To be honest, I have shied away from doing much with quinoa....not because of my kids, but because of my husband!! Jorden is not typically the most adventurous eater (he scoffs at couscous and wants nothing to do with kale)....and after making quinoa once without much of a reaction, I was convinced he had placed it in the same category as all the other things he has no interest in! But I decided to try it one more time, just to be sure.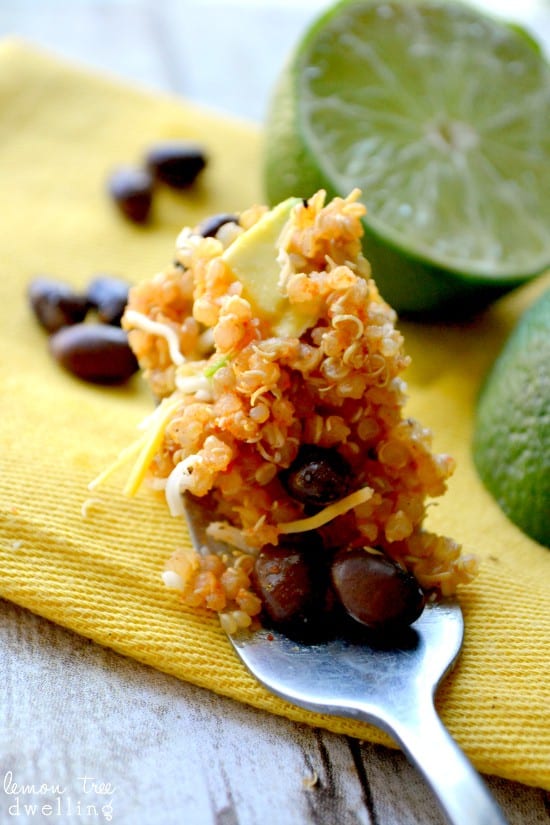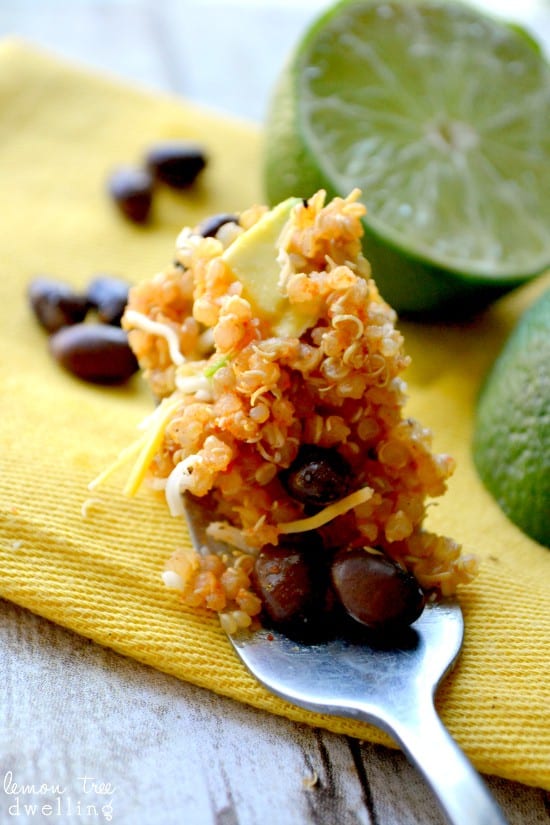 I knew that my best bet was combining quinoa with something my family already loves, and when it comes to deciphering what my family loves most, the answer is clear: TACOS!! I'm pretty sure they could eat tacos a few times a week without any complaints, and there are plenty of weeks we have tacos one night and a different Mexican dish another. Which is totally fine with me - there's nothing quicker or easier than tacos, and I love all Mexican food (especially when I can have a margarita to go with it)! I decided to make QUINOA TACO BOWLS.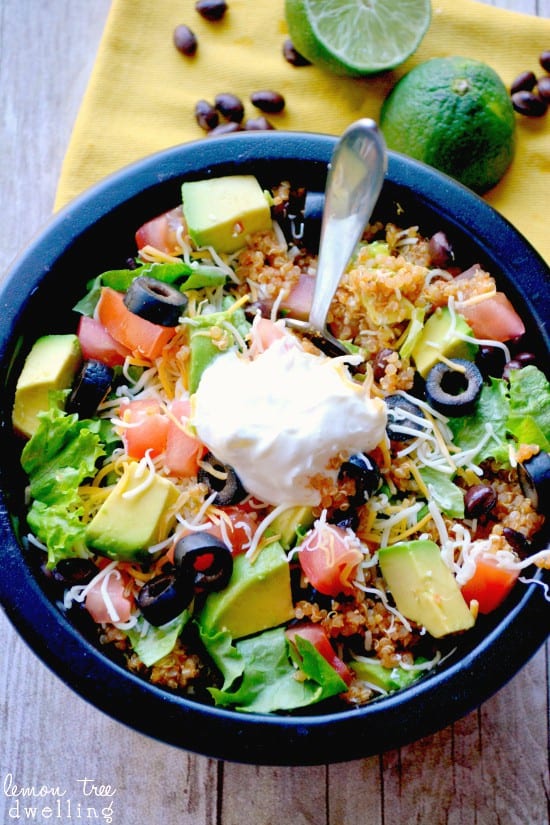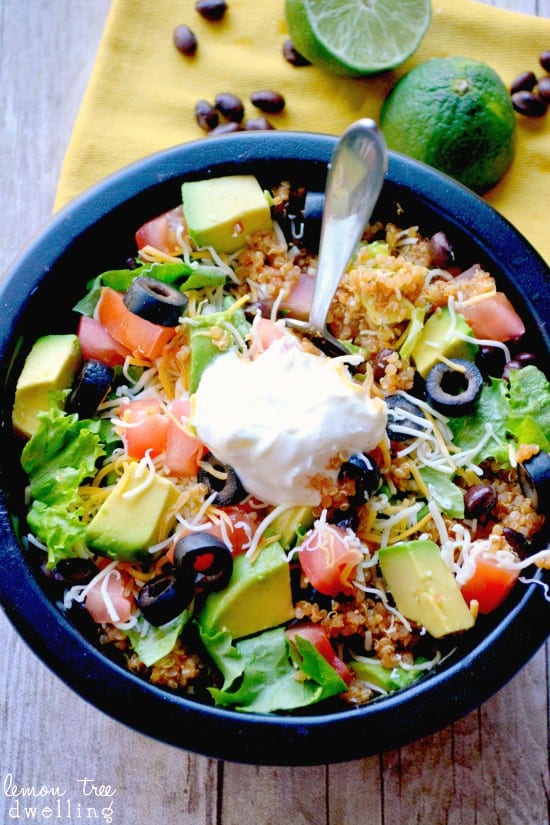 For this quinoa taco bowls recipe, I eliminated the meat altogether, since quinoa is a complete protein.
I simply added the taco seasoning to the cooked quinoa. Then I piled on our favorite toppings - lettuce, tomatoes, black beans, avocado, black olives, shredded cheese, sour cream, and salsa - and we were all set! Time for the true test. I held my breath as everyone took their first bite.....and lo and behold, they all loved it! And when I say loved it, I mean there were NO complaints out of anyone's mouth. I'm not sure about your house, but around here that says A LOT!! So I guess quinoa is back on the table. Success!!!!!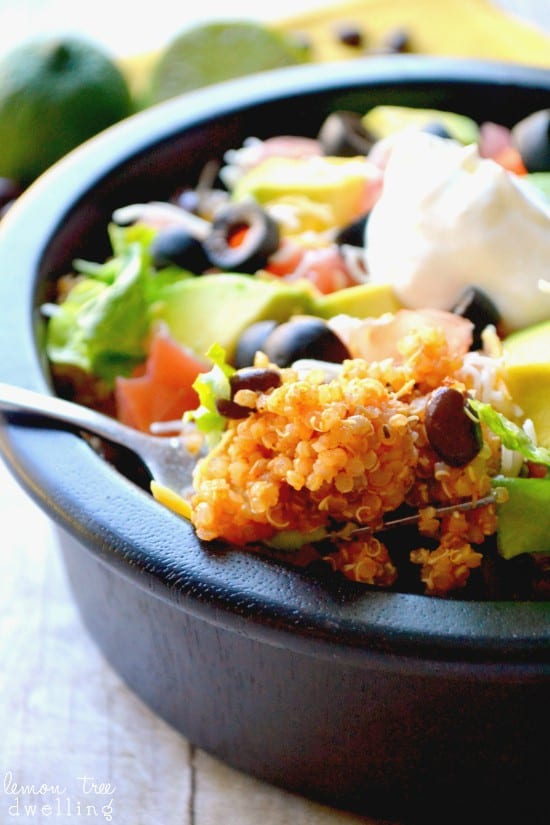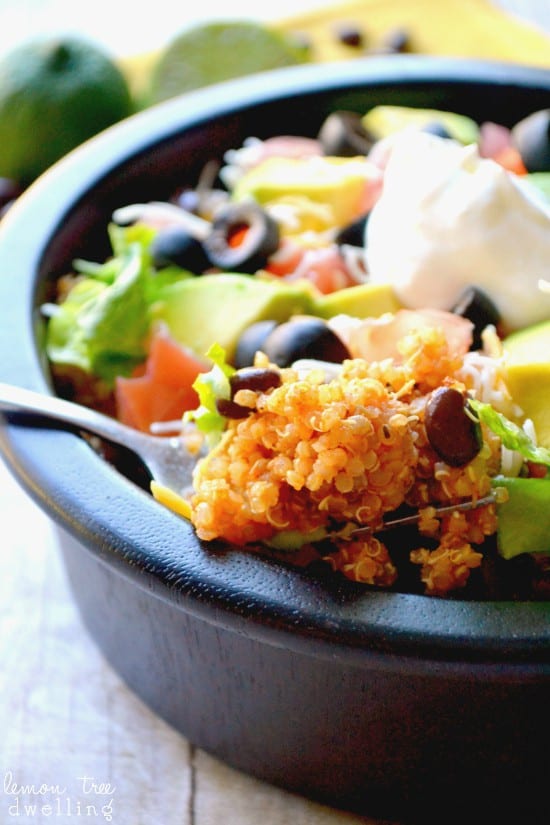 With a healthy recipe for tacos at your disposal, don't you think these quinoa taco bowls would be an awesome Taco Tuesday dinner idea?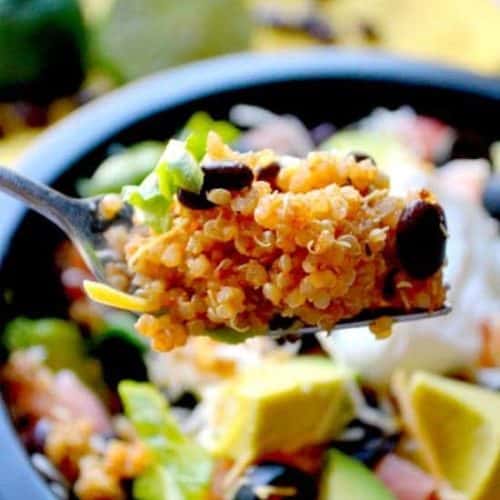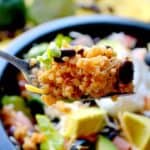 Quinoa Taco Bowls
Ingredients
1 ½

c.

dried quinoa

3

c.

water

1

1.3 oz. package taco seasoning

1

14 oz. can black beans

8

oz.

shredded cheese

3

c.

chopped lettuce

1-2 to

matoes

chopped

1

avocado

chopped

1

small can sliced black olives

drained

salsa

sour cream
Instructions
Cook quinoa according to package instructions.

Stir in taco seasoning.

Spoon flavored quinoa into bowls; add toppings as desired.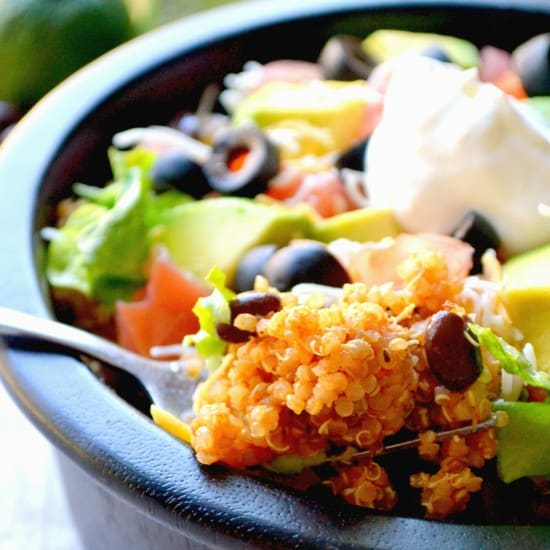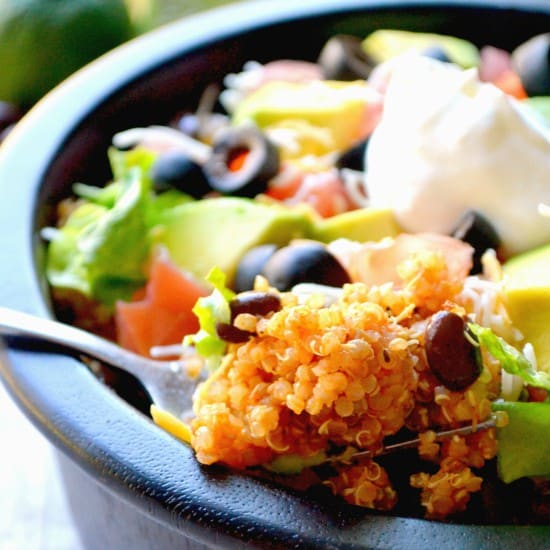 If you like this recipe, check out the delicious Blender Black Bean Soup I created for sponsored post with El Yucateco: