Pizza Stuffed Mushrooms combine all the things you love about pizza, minus the crust! Stuffed with cream cheese, Italian sausage, green peppers, onions, and mozzarella, they make the perfect little bite-size appetizer!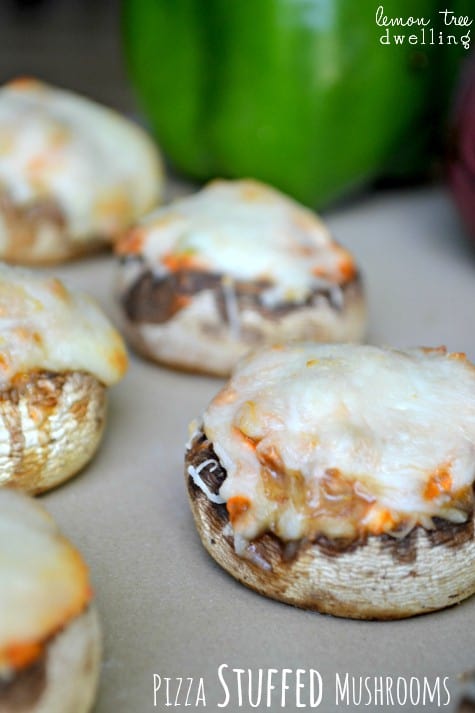 Happy Hump Day! For those of you who started school yesterday, I hope all went well…..we had very little reporting when mine got home other than a few stories about "jitter juice", playground dynamics, and the fact that I forgot to send Greta's nap mat. (Of course I forgot to send Greta's nap mat…..) But overall, it sounded like a pretty good day. When I asked Greta if she wanted to go back today, her response was, "Well…..I have to." Good point.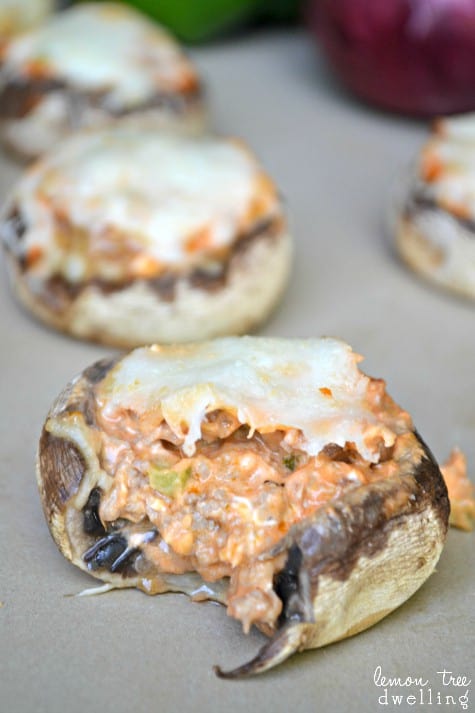 It's funny how early in life we start realizing there are just some things we have to do……like going to school. And then, as we get older, we realize that we could spend our entire lives just doing the things we have to do! The really interesting thing? How we start to become content just doing the things we have to do….and we actually stop putting effort into having fun! (Am I the only one??) I feel like I regularly turn down offers for fun because I am "too tired" or "have too much to do". What!? Which is why I've been trying to have more fun lately!! So when Jill asked me to go to a Brewer game over the weekend, I said YES! And when Erin invited us over for a Labor Day extravaganza, I said YES! And when Lisa asked me if we wanted to go to Mumford & Sons…..I said YES!!!!!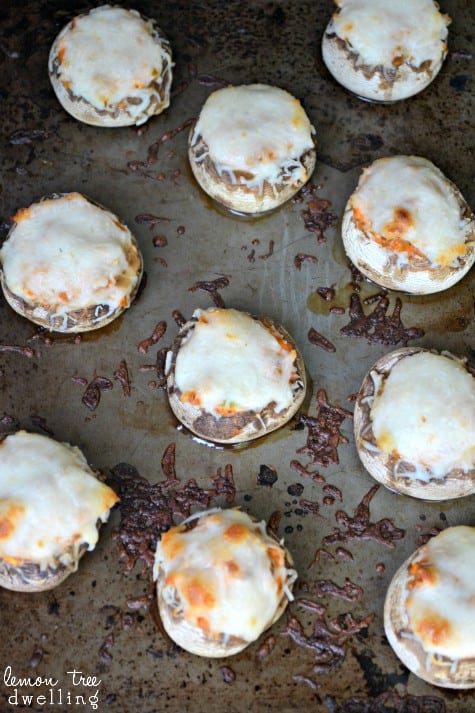 So last night, while the kids were asleep after their first day of school, Jorden and I were at Mumford & Sons…..having a blast! Watching the guy 4 rows in front of us jam like a crazy person, watching the girl 3 rows in front of us try incessantly to make out with her boyfriend, watching the woman next to us (who looked like she should be at a sewing convention) smoke her electronic cigarette….and, of course, enjoying the show. Remembering what it feels like to do things you actually WANT to do! Like eat these delicious Pizza Stuffed Mushrooms. Just because you can.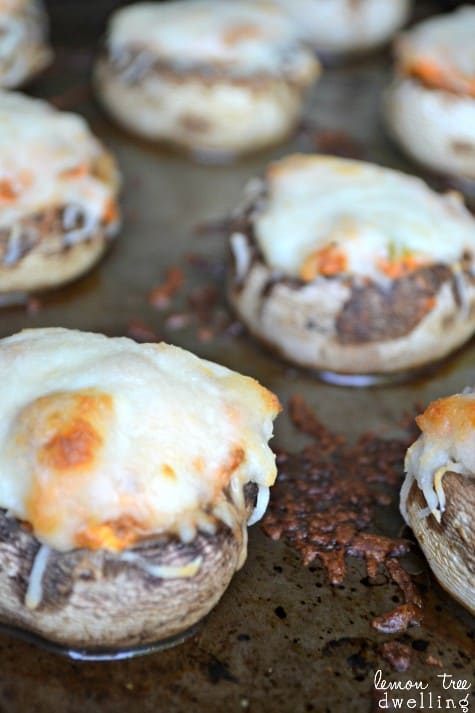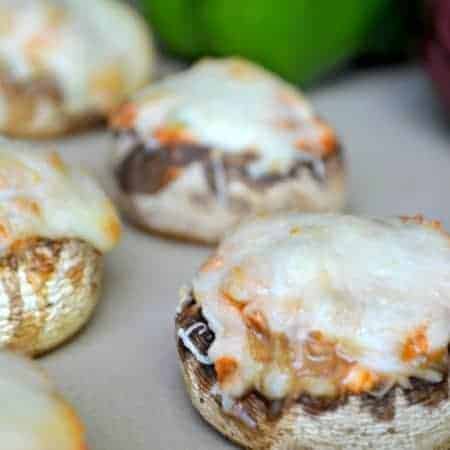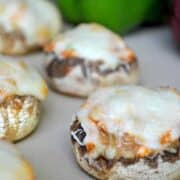 Pizza Stuffed Mushrooms
Ingredients
10

large stuffing mushrooms

1

Italian sausage link

I used Jennie-O Italian Turkey Sausage

2

Tbsp.

onion

minced

2

oz.

cream cheese

softened

2

Tbsp.

green pepper

minced

2

Tbsp.

pizza sauce

1/2

c.

finely shredded mozzarella cheese

at room temperature
Instructions
Wash mushrooms and remove stems; place on baking sheet and set aside.

Remove sausage from casing. Cook sausage and onion in a frying pan, crumbling sausage with a spatula, until it is cooked through.

Remove from heat. Add cream cheese, green pepper, and pizza sauce and stir well to combine.

Fill each mushroom cap with cream cheese/sausage mixture. Divide filling equally - caps should be completely full and slightly mounded.

Top each mushroom cap with 2-3 tsp. shredded mozzarella cheese.

Bake at 400 degrees for 10-12 minutes.

*Note: mushrooms will be juicy....you may want a plate!